Absolutely delicious, these are the BEST twice baked potatoes ever! The potatoes are baked first, then scooped out and mashed with tons of cheese (2 kinds!), then scooped back into their jackets. I love making these in advance for Thanksgiving or a steak dinner. And, if you have leftover baked potatoes you can use them in Potatoes Romanoff!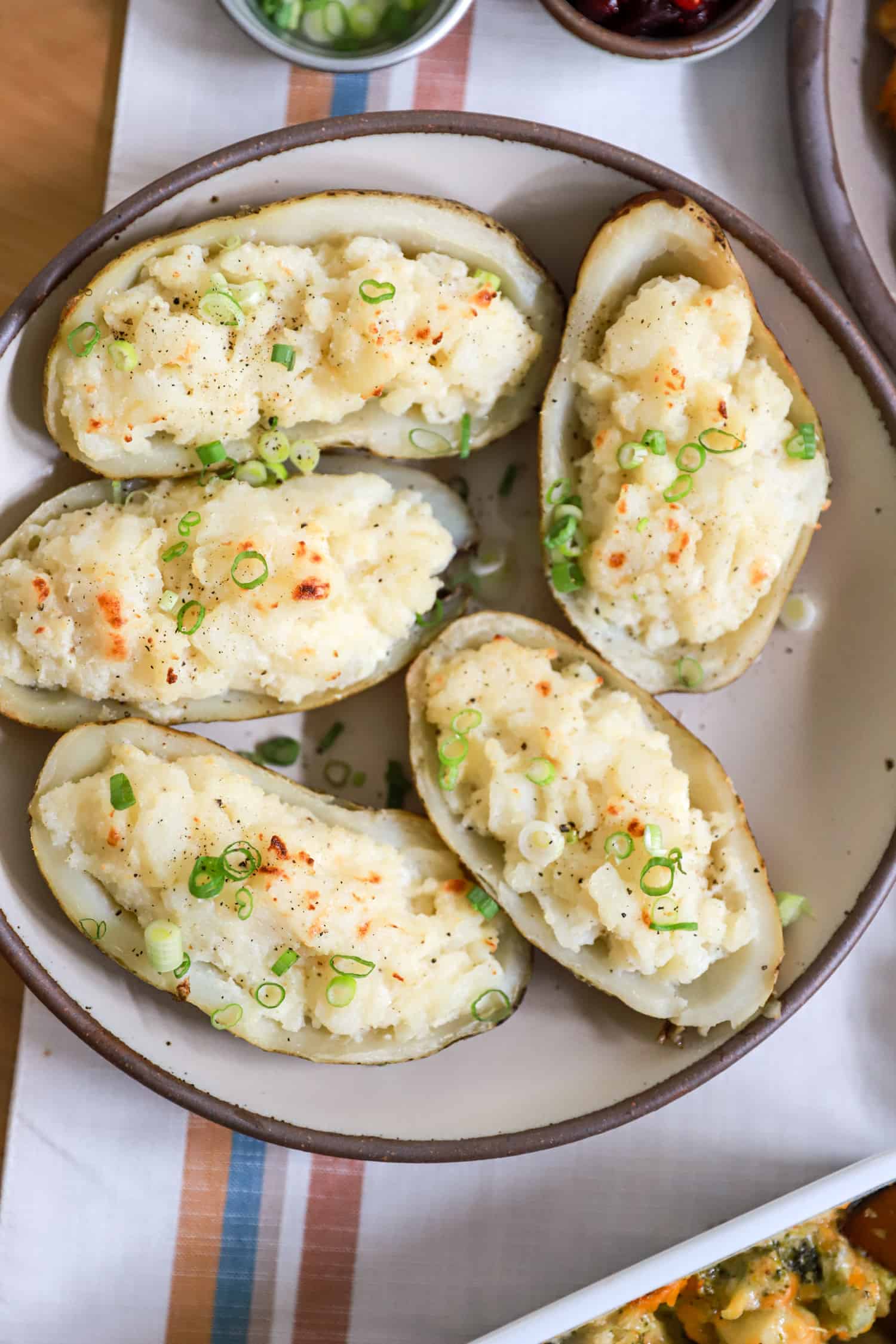 HELLO, twice baked potatoes of my dreams! I find that, more than anything, a potato dish is universally pleasing: they're often gluten free and vegetarian, and many, like these easy twice baked potatoes, can be made in advance!
Plus, potatoes are delicious and cheap, so you can make them for a huge crowd of people and not feel poor or stressed or weird. (I mean, you might feel weird)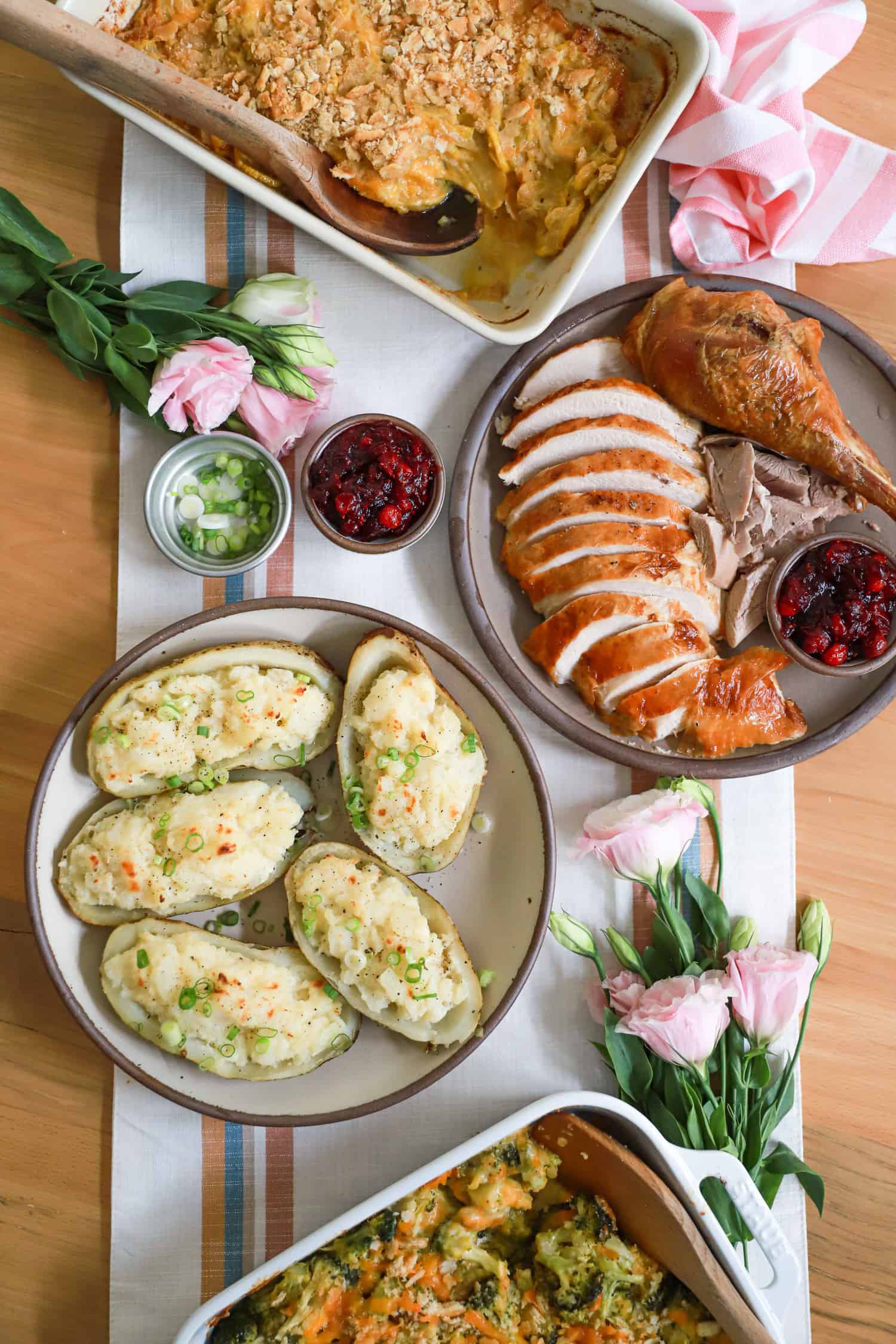 (on that table with the potatoes: broccoli casserole, smoked turkey, drunken cranberry sauce, and squash casserole. HELLOW.)
Recipe Notes
These twice baked potatoes are CHEESY and flavored with cream cheese and sharp white cheddar, which is absolutely delicious.
The written recipe below calls for potatoes that are already baked, so be sure to allow time to actually bake the potatoes. This can be done in advance (there's a quickie recipe below), or you can make a ton of baked potatoes in the slow cooker!
The recipe as written is gluten free and vegetarian, but hearty enough with the cheese to serve as a main dish for folks that don't eat meat when paired with some veggie side dishes.
Ingredients and Ingredient Variations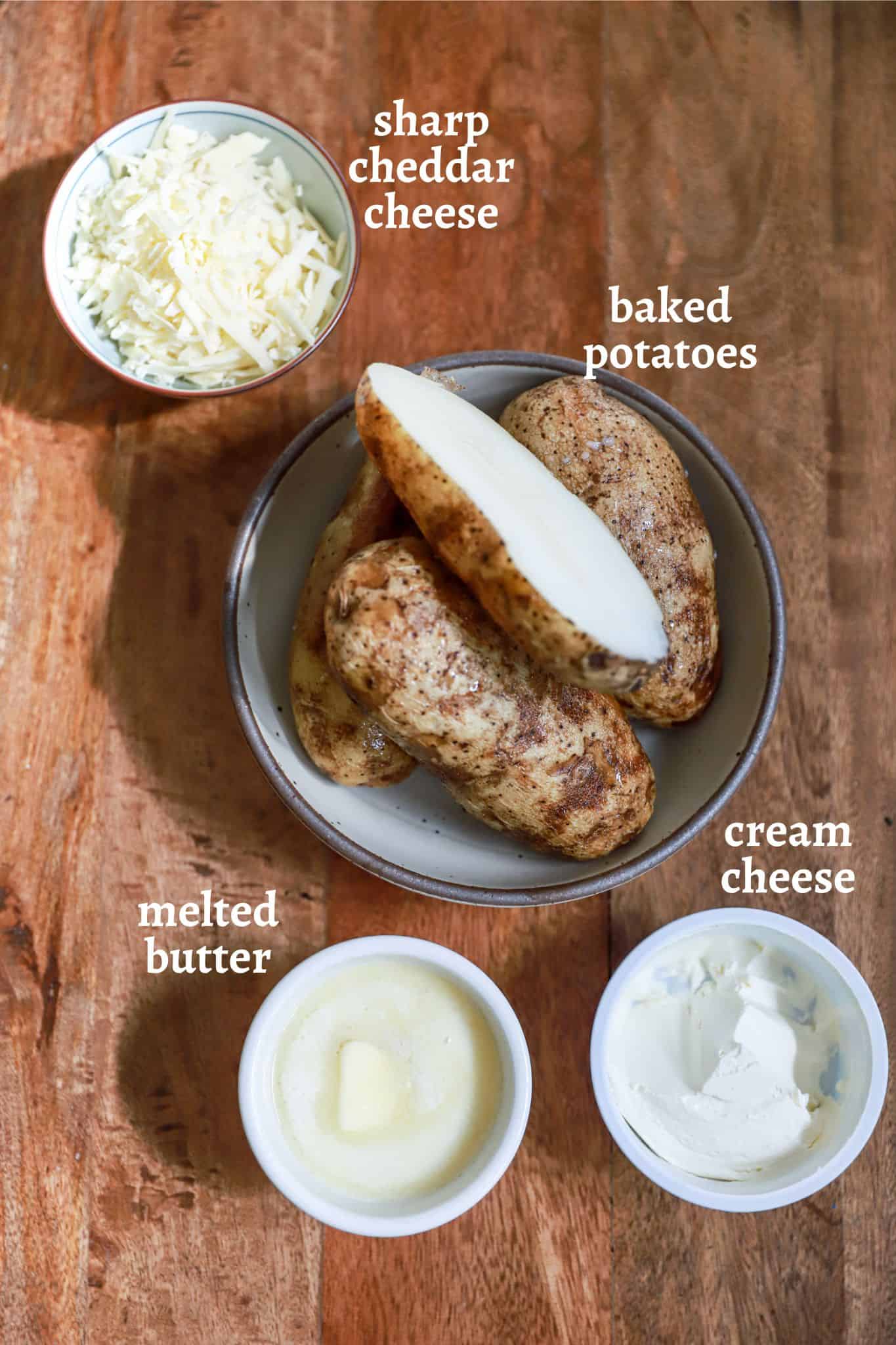 Baked Potatoes: The potatoes (Russet) can be baked any way you like, and need to be cool enough to handle. You can also use leftover baked potatoes for this recipe.
Melted Butter: It's always salted butter for me, but if you have unsalted butter just add a tiny bit more salt to the mashed potato mixture when you're tasting it - potatoes need a good bit of salt to get really flavorful.
Cream Cheese: Full fat for the best flavor and texture.
Grated Sharp Cheddar Cheese: I like white cheddar for this, but any kind of freshly grated cheese you like for this works well - provolone (non-smoked), gruyere, and fontina would all be delicious alternatives.
Salt and Pepper: To bring out all these yummy flavors!
Basic Baked Potato Method
Here's how to easily bake potatoes perfectly every time:
Preheat the oven to 425F.
Scrub several russet potatoes, and prick them all over with a fork.
Place each potato on a small square of aluminum foil, large enough to completely wrap the potatoes individually.
Drizzle each potato with 1 tablespoon of olive oil and sprinkle with ¼ teaspoon salt (eyeball it here, don't obsess).
Rub the oil and salt evenly over the potatoes, then wrap each one tightly in foil.
Place the wrapped potatoes on a baking sheet, and bake for 1 hour. Serve as desired, or proceed with the recipe here!
Step By Step Instructions
SO. We have our baked potatoes and we have our ingredients prepped. Let's go!
Start by cutting the potatoes in half lengthwise - I portion ½ potato per person since we're adding a bunch of cheese and usually twice baked potatoes are served as part of a larger meal.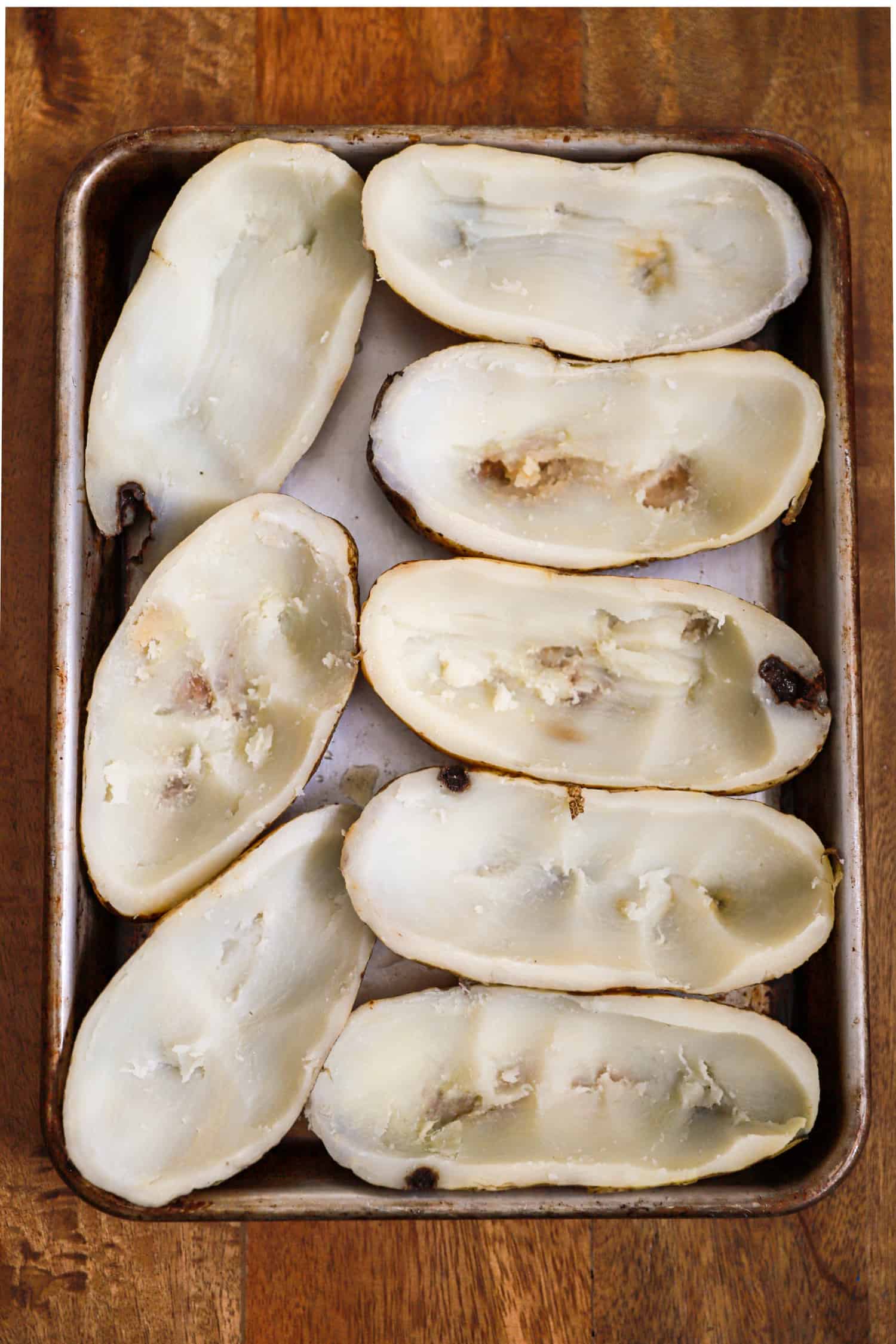 Scoop out the potato halves, and leave about ¼ inch border all the way around so the potato skins hold their shape when we re-stuff them.
Place the scooped out potato flesh into a large bowl. Use a fork to mash the potato insides with the rest of the ingredients - cheeses, butter, and salt and pepper.
Taste the twice baked potato filling and add more salt and pepper to your preference. It should taste REALLY good.
Re-fill the potatoes. Scoop the potato and cream cheese filling back into the potato skins. I use my hands to really press the potato mixture into the skins; mounding it up as you go to get all of the cheese and potato mixture into the baked potato skins.
Transfer the stuffed potatoes to a small baking dish or baking sheet - something the size to hold them all without a ton of extra space so they don't tip over.
Here's your meal prep stopping point. If you'd like, make the potatoes up to this point and cover the baking dish with plastic wrap or a lid. Keep the stuffed potatoes in the fridge for up to 3 days, or freeze them for later!
When you'd like to serve, preheat the oven to 375F and stick the baking dish in the oven for 20-30 minutes uncovered until the potatoes are lightly browned on top and hot all the way through.
If baking the twice baked potatoes from frozen, you may need to add a bit of time to get the potatoes hot all the way through, but there's no need to thaw them in the fridge or anything like that. These are VERY forgiving.
HAYYY. Omg. There isn't a ton better than a super cheesy potato situation, seriously. Serve these with your favorite meal, and you're good to go!
Serving Pro Tip: I love these as-is, but topping them with a few sliced green onions really lends a loaded potato flavor profile, thanks to the cheddar cheese, that is VERY yummy. Very.
What to Serve with Twice Baked Potatoes
(over/under on dining room decor that's just a bunch of massive Thanksgiving plates on canvas?)
I serve these sometimes with weekend dinners - steak, chicken, veggie sides, that sort of thing. I also love twice baked potatoes for Thanksgiving or Christmas; they're so easy to make way in advance and the individual portions somehow make plates look fancy. Is that a thing? It's a thing.
Here are some of my favorite dishes to go with these potatoes:
Make Ahead and Leftover Storage
There are two options for making these twice baked potatoes in advance:
You can make just the baked potatoes in advance, and have them ready to go when you start the rest of the recipe.
You can also make the entire recipe in advance UP TO the last baking step, then keep the baked potatoes covered in a baking dish in the fridge or freezer until you'd like to serve them.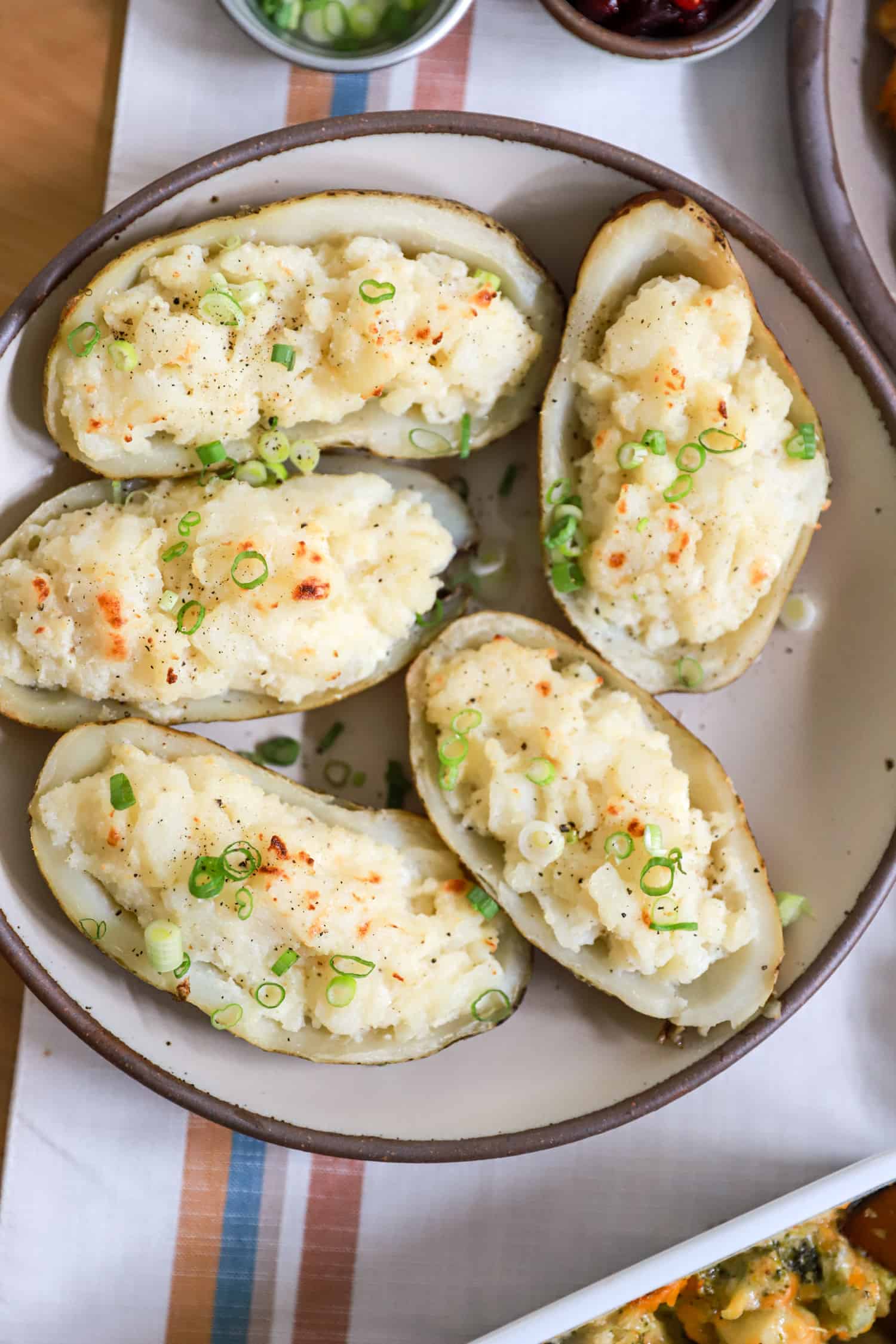 Leftovers keep nicely in the fridge for at least 4 days; just microwave the potatoes to reheat them with other yummy leftovers!
These are absolutely delicious, such a classic cheesy potato flavor that everyone will love. Try them soon, and I bet you'll end up making them all the time.
Enjoy!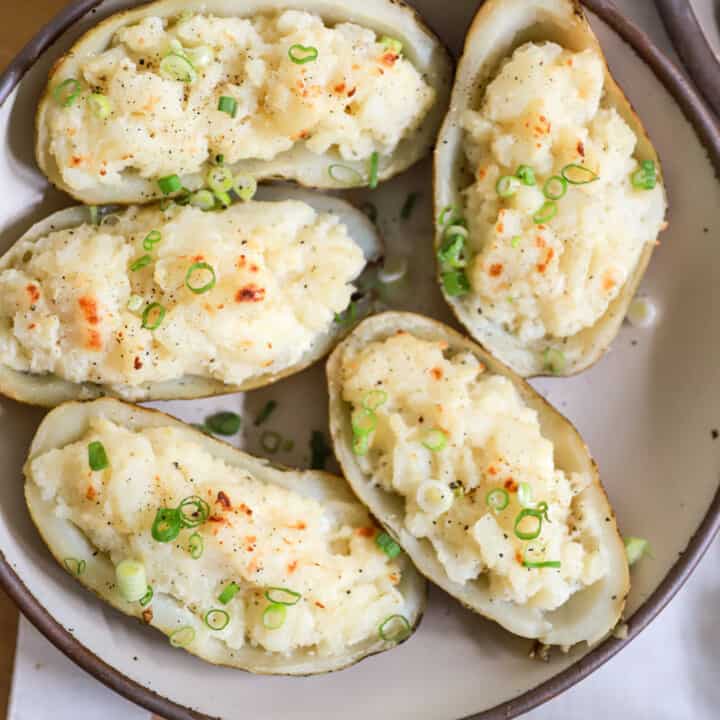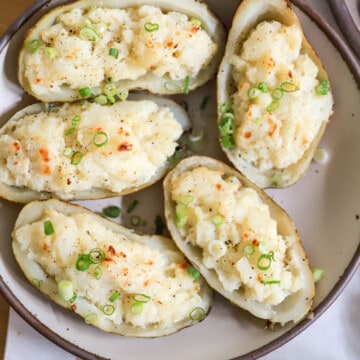 Easy Twice Baked Potatoes with Cream Cheese
VERY legit twice baked potatoes with cream cheese and sharp cheddar. These are SO good, and perfect to make in advance of a big meal!
Ingredients
4

baked russet potatoes, cooled enough to handle (see note below)

½

stick

melted butter

4

ounces

cream cheese,

softened to room temperature

1

teaspoon

salt

black pepper

to taste

1

cup

sharp white cheddar cheese

grated
Instructions
**Note that this recipe calls for already-baked potatoes. See note below for an easy baked potato method. To begin, slice baked and cooled potatoes in half lengthwise to form 8 "boats."

Use a spoon to scrape out the flesh from the inside of the baked potato halves, leaving about a ¼ inch border all the way around.

In a large bowl, mash the baked potato insides with the rest of the ingredients using a fork or potato masher. Taste the mixture (seriously yum) and add more salt or pepper to your preference.

Scoop the mashed potato mixture back into the potato skins, using your hands if needed to press the filling into the potatoes and mound it up.

Transfer the stuffed potato halves to a baking dish. At this point, cover the potatoes with plastic and stick them in the fridge (this is your prep stopping point), or transfer them directly to the oven.

To heat and serve, bake the potatoes uncovered for 20-30 minutes at 375F until heated through and slightly browned on top.
Notes
Easy Baked Potatoes: To bake perfect potatoes, scrub russet potatoes and prick all over with a fork. Drizzle each potato with olive oil and sprinkle generously with salt. Wrap potatoes individually in foil. Bake at 425F for 1 hour, then cool and serve as desired. For these twice baked potatoes, this step can be done up to 3 days in advance.
I love making these as part of a larger meal prep for the week. Bake twice as many potatoes as you need and use half for a baked potato night, half for these twice baked potatoes.
Feel free to swap out any grated cheese you like in this recipe. Gouda and gruyere are particularly delicious.
These potatoes can be frozen! To reheat, place in the oven from frozen at 375F for about 45 minutes until hot all the way through.
This post was originally published in January 2012 (!) and has been updated with new images and instructions. We have been making these delicious potatoes forever!
More Delicious Potato Recipes to Try
FAQ and Troubleshooting
Why are my twice baked potatoes falling apart?
It could be that the potatoes weren't cool enough when you scooped them out. Potatoes need to cool a bit after baking to solidify (same concept as resting a casserole), which is why twice baked potatoes work great with leftover potatoes.

If you're using freshly baked potatoes, be really gentle when scooping out the flesh.
Why are my twice baked potatoes sticky?
Potatoes can get sticky or gluey if mixed too much once they're mashed. To avoid this, use a fork to mix the filling together gently; don't fixate too much on making the filling perfectly smooth.
What's the difference between mashed potatoes and twice baked potatoes?
Twice baked potatoes are mashed potatoes (or a mashed potato mixture) stuffed into baked potato shells, then re-baked to heat up the filling and any flavors such as cheese. The potatoes are baked once, then mashed/refilled, then baked again - twice baked!
Can you do twice baked potatoes ahead of time?
YES! This is one of the best things about twice baked potatoes; they absolutely don't need to be made freshly. The potatoes can be stuffed and kept covered in the fridge for up to 4 days or in the freezer indefinitely. Just bake them at 375F until they're hot and bubbly, from the fridge OR from frozen, to bake and serve.