Delicious, easy whole smoked turkey breast with just a few simple steps! This is a smoked turkey WITH NO BRINE for no mess or extra planning. A turkey dry rub for smoking and a few hours in the smoker produce the most delicious, juicy turkey breast ever! I particularly love this with a squash casserole with Ritz cracker topping, aka heaven.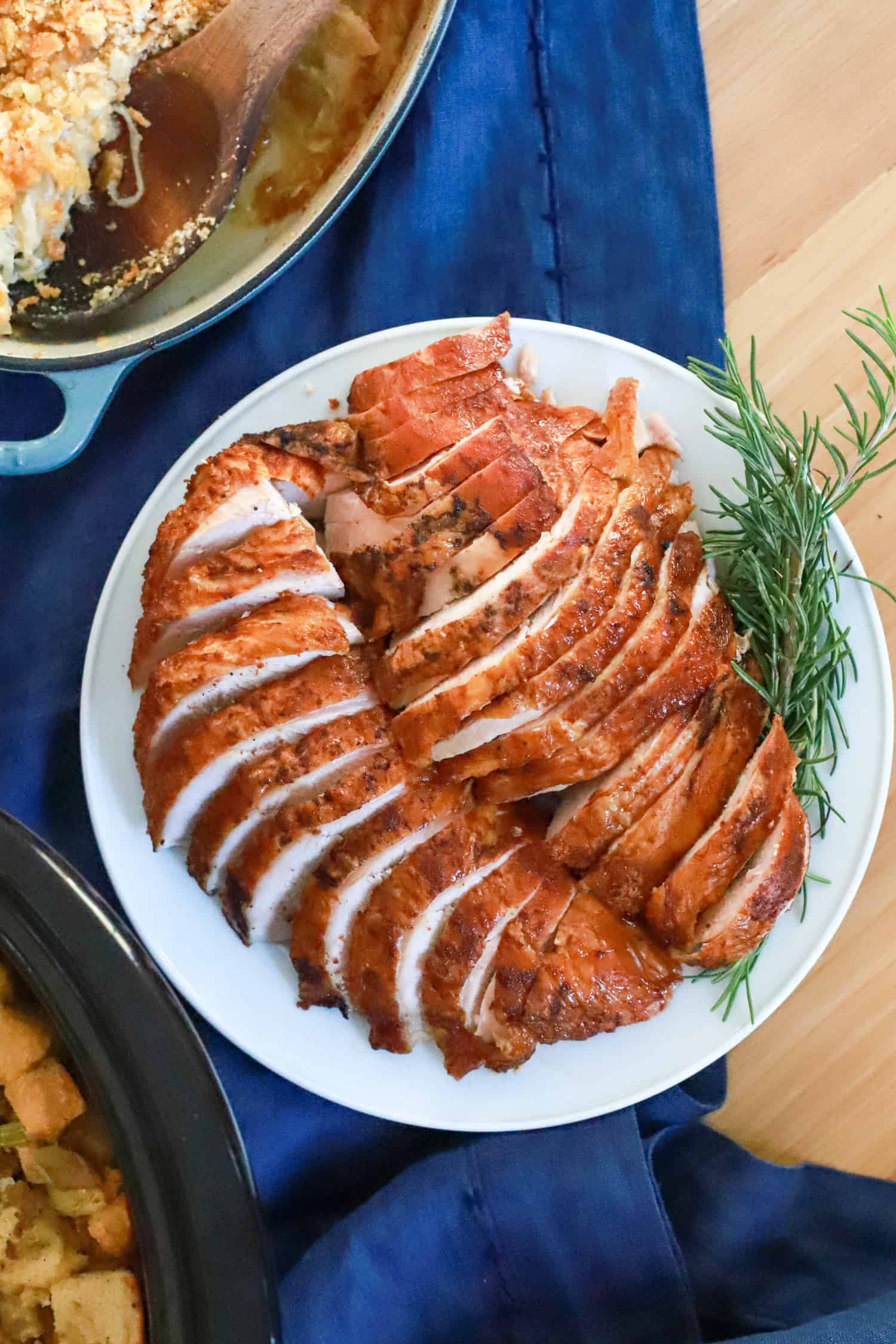 One thing about turkey: people either love it or "meh" it and really love sides. I fall on the "sides are preferable" side (lol) of things generally, unless the turkey is really freaking good.
And let me say this: smoked turkey is really freaking good.
(although, if you don't have a smoker, I have a roasted turkey breast and foolproof whole roast turkey that are also really, really good!)
I LOVE smoking turkeys for Thanksgiving or Christmas. The benefits are endless: the oven is free for side dishes to bake, and the low + slow way the smoker works means that the turkey stays super flavorful and juicy.
Recipe Notes
This is a smoked turkey breast without brine. I've brined turkeys over the years, and honestly I don't think it's worth it. The amount of liquid + time + fear of mess (yes I have spilled turkey brine, yes it was awful) just doesn't add up to THAT much extra flavor, for me.
Smoking a turkey, on the other hand, adds TONS of extra flavor.
Instead of brining, I do a dry rub overnight, uncovered, for the turkey. This allows the skin of the turkey to really dry out, so you'll still want to let the turkey be totally thawed by the night before you'd like to cook it.
I have smoked whole turkeys and turkey breasts, and I like both methods. One reason I chose a turkey breast is that the meat cooks all at the same time, and in a little bit less time - around 20 minutes/pound depending on the settings of your turkey. If you want some dark meat, it may be easier to buy turkey parts (split breast, legs, thighs, wings) and smoke them separately rather than doing a whole turkey. This further decreases the cooking time AND ensures even cooking on all parts of the turkey.
Choose a turkey or turkey breast (this is if you're doing a whole breast like in these pictures or a whole turkey) that is 10-14 pounds. Larger than 14 pounds can be unsafe for smoking because the internal temperature hovers for too long around 140F, which is the PERFECT temperature for unsafe bacteria to grow. GROSS. That said, if you need to smoke more than 14 pounds of turkey at once, just use the "cut into pieces" method like I described above and things will be fine.
Smoking Boneless Turkey Breast: This method works for bone-in OR boneless turkey. In general, smoking with bones in yields more flavor and zero dryness. However, boneless turkey breasts are lovely in the smoker, they'll just take lots less time - usually under an hour for split turkey breasts. Just keep an eye on the internal temperature to be sure they don't dry out.
Turkey Dry Rub for Smoking Ingredients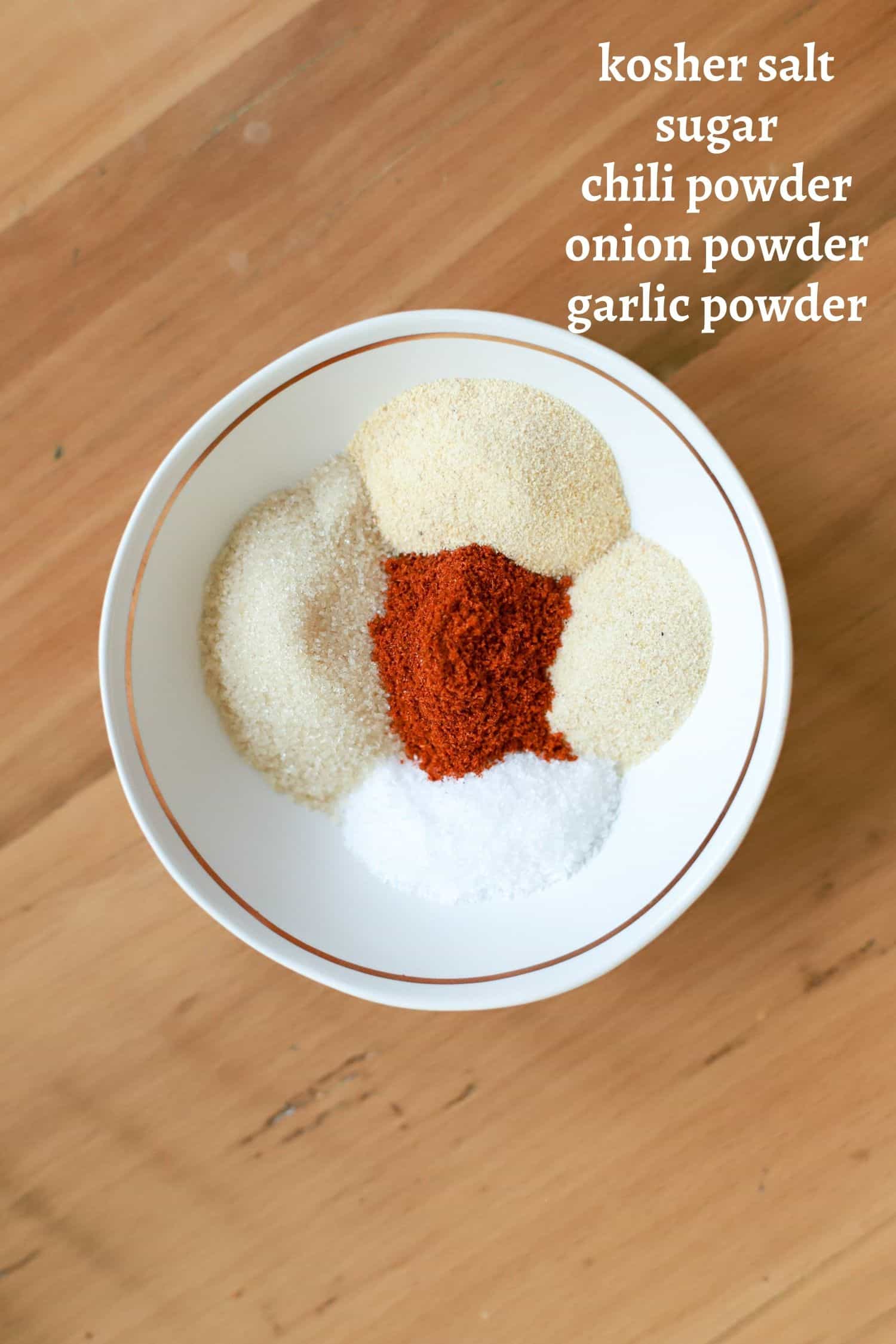 For this smoked turkey breast rub I use onion powder, garlic powder, salt, sugar, and chili powder. This is a dry rub combo that I use on EVERYTHING; fish, chicken, anything broiled, grilled, or smoked - it's basically a really good homemade blackening seasoning to keep around at all times, if I do say so myself.
Tools For Smoking a Turkey
I have had a fairly inexpensive smoker for YEARS and we love it. It's also possible to turn a gas grill into a smoker - there are Youtube videos for everything. Before smoking a turkey, we always check to be sure we have an extra full propane tank, wood chips, etc.
Step By Step Instructions
Start by measuring and mixing the ingredients for the dry rub. Place a wire cooling rack inside of a baking sheet, then put the turkey breast on the rack.
Drizzle the turkey breast with some oil (anything you cook with is fine), and rub the spice blend all over the turkey breast.
Then, place the turkey breast in the fridge UNCOVERED and let it rest overnight. This will allow the skin to dry out a bit and get really crispy in the smoker.
Now, it's time to cook the turkey!
To smoke, follow the instructions on whatever smoking device you're choosing to use. Mine is gas, so I light it, fill a pan with smoking wood chops and a pan with water, stick the turkey in, and wander off.
Set your smoker to cook on low, 175F-200F is the ideal range here. The higher the temp, the faster the turkey will cook, so keep an eye on it and adjust the temperature on the smoker as needed to maintain a low cooking temperature.
A note on wood: sometimes with these long smoking endeavors, the wood will stop smoking after 3 hours or so if you've only used a bit of wood. That is FINE. As long as the gas or charcoal are still going the bird will still be cooking. Frankly, things taste pretty darn smokey after 4 hours of being covered in wood smoke.
I like to test the internal temperature of the bird after about 3 hours, then again every hour or so until the turkey breast is done. Digital or standard thermometers work fine, don't obsess over it. I use a digital candy thermometer.
The ideal internal temperature for a healthy cooked turkey is 165F. The turkey will continue to cook AFTER it is out of the smoker, so remove it from the smoker sometime between 155F and 160F - it'll be fully cooked, I promise.
Take the bird out, let it rest, prepare your other side dishes.
Smoked Turkey Breast FAQ
How Long Do I Smoke A Whole Turkey?
The general rule of thumb for smoking a whole turkey is 30 minutes per pound plus one hour when smoking on low heat (175F-200F). I find this to be a bit generous, but it's good for planning purposes. The turkey is ready to be removed from the smoker when the thickest part of the thigh reaches 160F (it will continue to cook after it is removed from the smoker to reach 165F, the correct internal temperature for turkey).
How Long Do I Smoke A Turkey Breast?
Turkey breast smokes for about 20 minutes per pound when smoking on low heat (175F-200F). It's ready to be pulled from the smoker when the thickest part of the best reaches 160F with a meat or candy thermometer.
Do You Smoke Turkey Breast Up Or Down?
For a whole turkey breast, be sure you smoke the turkey breast side up to maximize crispy skin all over. Although, I've smoked a turkey breast upside down before and it's completely fine. This is not something I'd worry about, sorry to the purists.
Serving and Leftover Storage
To slice your turkey breast, use a sharp knife to cut the entire breast off the bone on each side (so you'll do this twice). Then, cut thin slices across the turkey breast.
Leftovers keep nicely in the fridge for 4 days or so - a little bit longer than roasted turkey because the meat doesn't dry out as quickly. I also sometimes freeze smoked turkey to get out later and use in chili or on sandwiches.
SERIOUSLY this the most delicious, flavorful, juicy turkey breast you'll ever eat. You will love it.
Note that sometimes with smoked turkey (and other meats), it'll look a little pink on the inside. It's not raw. It's just...what happens when you smoke things. It has to do with the conversion in the meat of nitrites to nitrates. I looked it up!
Enjoy this smoked turkey breast! It is totally foolproof, delicious, and leftovers keep really well in the fridge - this turkey won't dry out nearly as quickly as roasted turkey will, and it's excellent frozen for sandwiches later on.
Happy smoking!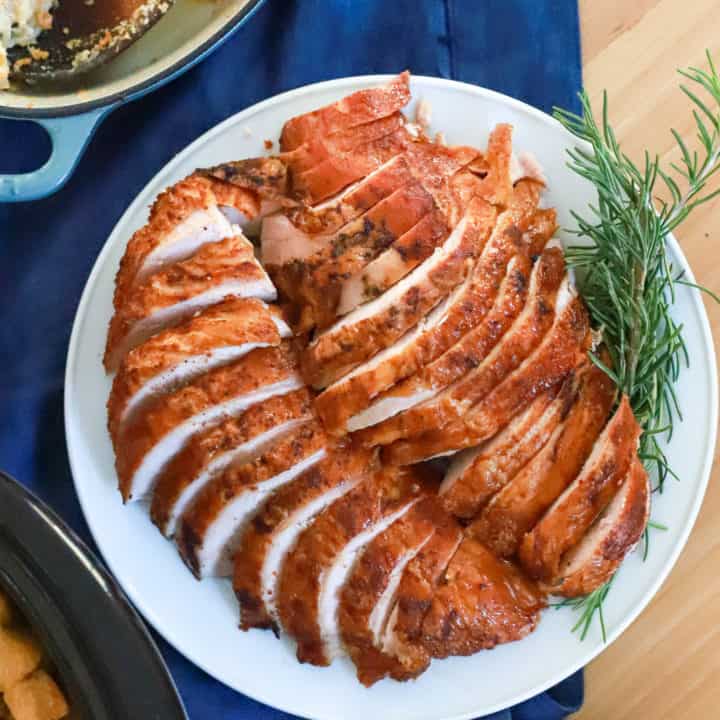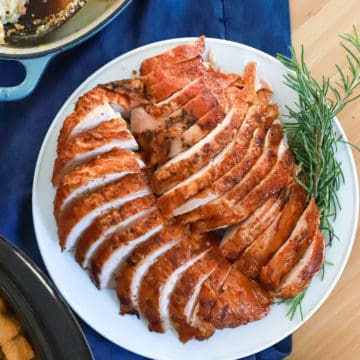 Smoked Turkey Breast Without Brine
The most foolproof method for smoking a whole (or half) turkey breast. No brine, tons of flavor! Try this ASAP, trust.
Ingredients
1

turkey breast

10-12 pounds, thawed

1

tablespoon

kosher salt

2

tablespoons

sugar

1

tablespoon

chili powder

1

tablespoon

onion powder

1

tablespoon

garlic powder

2

tablespoons

oil

any kind you cook with
Instructions
The night before cooking the turkey, place the turkey skin-side up on a large platter or roasting pan – anything fairly secure that will fit in the fridge.

Mix all of the seasonings together (this is a great all-purpose grilling blend, FYI!).

Drizzle the turkey with the oil, and rub the spice blend all over the turkey, using it all up. Place the turkey on the platter (or vessel) UNCOVERED in the fridge overnight.

About 6 hours before you'd like to eat, prepare your smoking setup. Smoke the turkey at a low temperature, 175F-200F for about 4 hours, checking the internal temperature with a meat thermometer after 2.5 hours and then every 45 minutes after that.

At this low temperature, plan for about 20 minutes per pound of smoking time. However, be mindful that the size of your turkey, your smoking setup, and how cold your turkey is at the starting point will affect overall cooking time.

The turkey is done when the internal temperature reaches 165F at the thickest part. Remove the turkey from the smoker and let it rest on a platter for 30 minutes (at least) before slicing and serving.
Notes
This recipe works well with a whole turkey or just a breast, like I did here. However, be mindful that turkeys larger than 14 pounds can sometimes be cause for concern when smoking as they sit in a dangerous, bacteria-growing zone longer than is recommended for food safety. If you'd like to cook a whole turkey and need more than 14 pounds of meat, I recommend smoking two smaller turkeys OR cutting the large turkey into smaller pieces for more quick, even cooking and no questionable food safety. If you aren't into cutting up whole raw turkeys, most meat counters will do it for you.
On timing, I like to start the turkey EARLY in the morning (like, 5am and then back to bed) for a larger bird, especially for a lunchtime meal. The turkey will be fine if it gets done quickly to rest at room temperature, and longer cooking time allows for smoking on a lower temp which results in juicier, more tender turkey. If short on time, the smoker can be turned up to 225-250F.
To portion turkey, plan for 1 pound of turkey per person to include leftovers. A 12 pound turkey can serve 12+, for example.
To thaw a turkey, leave it in the fridge for at least 48 hours. If you forget, leave it on the counter for several hours, then in the fridge overnight with the dry rub on the uncovered turkey.
Smoking: This recipe was tested using a gas smoker – the chimney kind that uses propane and wood chips. It hasn't been tested with a pellet smoker, big egg-style, or grill-turned-into-smoker. However, the method is the same: keep the temperature as close to 175-200F as you can, let the slow-smoke magic happen, and the bird will be done when the internal temperature reaches 165F.
Side Dishes For Smoked Turkey