HELLO to our favorite Christmas broccoli casserole! (or, let's be honest, all the time casserole) This is a fresh broccoli casserole with Ritz crackers and NO condensed soup. It's creamy, crunchy on top, totally foolproof, and absolutely delicious! I love it with homemade Honeybaked Ham and mushroom rice.
I know that some people are all about that #soupseason life, but in the colder months I'm absolutely Team Casserole.
This broccoli casserole is so simple to make and absolutely delicious - it's similar to this easy asparagus casserole which is the most popular recipe on my site for the last 5 years! The broccoli version is just as good - creamy filling, crunchy Ritz cracker topping, and a make-ahead option to keep things simple.
Recipe Notes
Classic broccoli cheese casserole often has cream of chicken or cream of mushroom soup in it. I love those versions and they are SO simple. This version, however, uses fresh broccoli and a homemade white sauce with sharp cheese (broccoli casserole without cream of mushroom soup) - think a cross between a casserole and broccoli cheddar soup.
The best thing about this casserole is it can be made WAY in advance and baked right before serving.
I serve this mostly as a side dish, but have also added shredded rotisserie chicken to it and served it plain as a low carb dinner situation OR over rice for a bigger meal. It's great as a side or a main dish!
Ingredients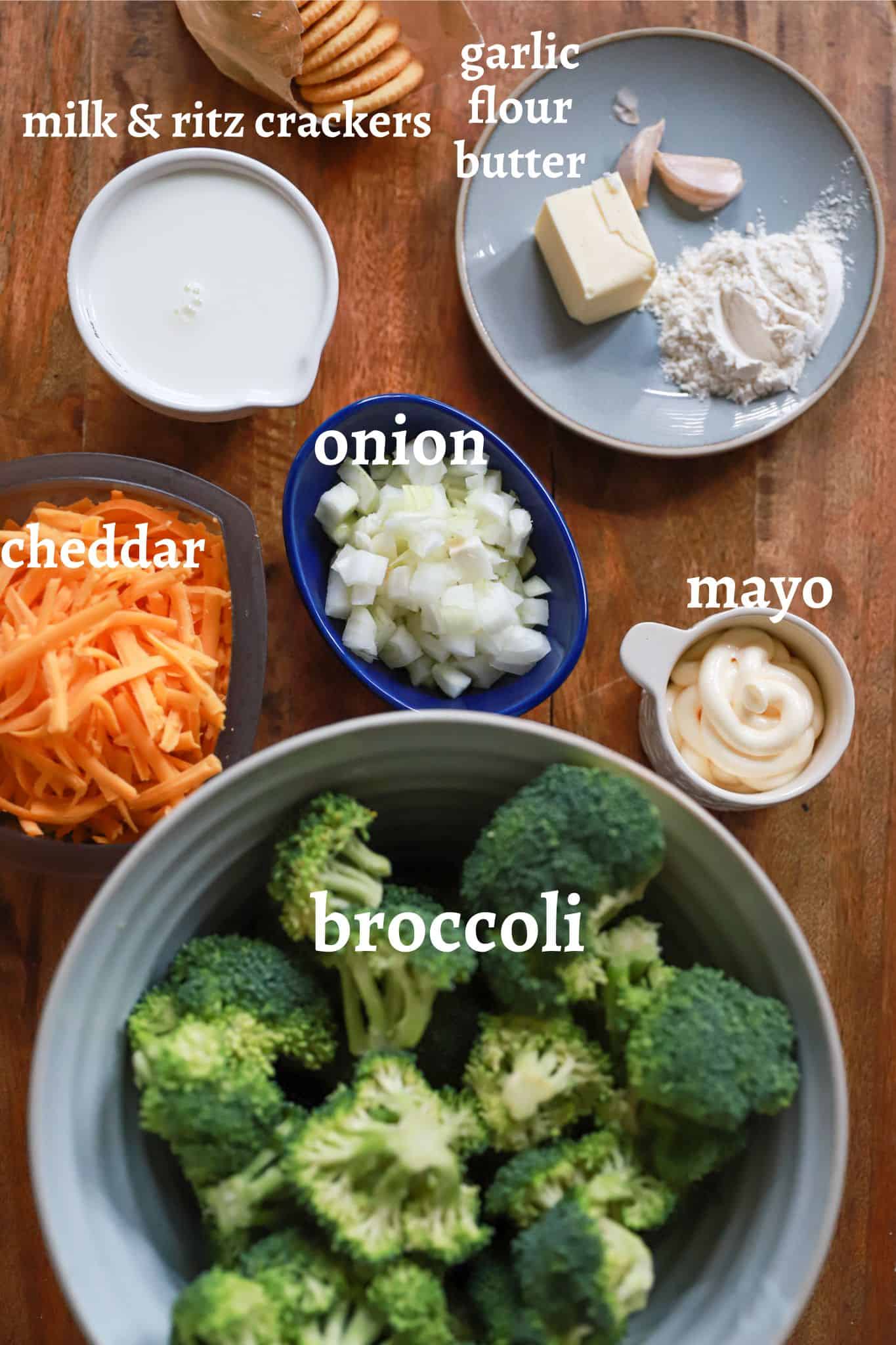 This is a big recipe - 8 servings or so. It works well cut in half for weeknight meals, though!
Ingredients are: broccoli, mayo, cheddar cheese, onion, butter, flour, garlic, milk, salt&pepper, and Ritz crackers for topping.
Ingredient Variations and FAQ
Broccoli: I use fresh broccoli here, but you can absolutely use frozen broccoli if you prefer. Both work well!
Cheese: Freshly grated cheese works best for melting; choose any cheese that you really like. Sharp cheddar, gruyere, and fontina are all delicious in this recipe.
Make this gluten free with a GF flour blend instead of the flour as a thickener and gluten free crackers. It works wonderfully!
Crackers: Ritz crackers are a classic topping on this casserole, but feel free to use anything else crunchy on top that you like. Broccoli casserole with Cheese-It crackers in particular is VERY good, as is using fried onions as a topping.
Mayo: Please do not be turned off by the mayo in this recipe. It is absolutely necessary to hold the dish together and create a creamy cheesy sauce with tons of flavor. The recipe DOES NOT taste like mayonnaise, I promise.
Does Broccoli Need to Be Cooked Before Casserole Making?
Nope! I like to use fresh broccoli to prevent it overcooking and getting mushy. You can absolutely use frozen broccoli if you prefer, but there's no need to blanch or par-cook broccoli before putting it in a casserole.
Can Broccoli Casserole Be Frozen?
Short answer, eh? It won't hurt it, but freezing casseroles with lots of water (from the broccoli) and dairy doesn't usually thaw very well. It will be FINE, but not as great as freshly baked.
What Meat Goes with Broccoli Casserole?
I love this as a side dish for Thanksgiving dinner or Christmas dinner, but for weeknight dinners I love it with meatloaf, pork chops, or grilled chicken.
Step By Step Instructions
One of the best parts about this recipe is that we don't blanch or do anything to the broccoli - just cut it into bite sized pieces and good to go! I save time by buying bagged broccoli florets and just dump them in the casserole.
Prep for cooking by placing the broccoli, mayo, and grated cheddar cheese in a large bowl. No need to stir, just get it ready. Grab a baking dish, 9x13 or equivalent, and spray it with cooking spray.
Next up: the creamy sauce!
Heat a skillet (small-to-medium) over medium heat with the butter. Add the onion, salt, and pepper and sauté until the onion is soft and translucent but not browned.
Sprinkle the flour over the onion and add the garlic to the skillet. Stir for one minute to combine the flour with the butter.
Slowly pour in the milk (or half and half, whatever you prefer), stirring as you go. The milk will incorporate with the flour and thicken the sauce. Turn the heat OFF and stir for another minute or two until the sauce is very smooth.
Add the sauce to the broccoli/cheese/mayo bowl you've prepared, and stir everything together.
**Note that at this point you'll have a little bit of cheese left, combine it with the crushed crackers in a small dish for later; we add the topping after the casserole has baked a bit.
Now, because this is a recipe generally used for holiday meals, there's a two part baking process. It's not STRICTLY necessary, but I do it to basically cook the casserole halfway, then heat up the casserole and let it finish cooking closer to time to eat.
The baking goes like this:
COVER the casserole, then bake it for 20 minutes.
Uncover the casserole, and give everything a stir - this helps the creamy sauce really come together and allows the broccoli to cook evenly. (THIS is the point where you'd stop if you were making this in advance)
Top the casserole with extra cheddar and the Ritz crackers, then bake uncovered for 20-30 minutes more to melt the topping and brown the crackers.
Serve!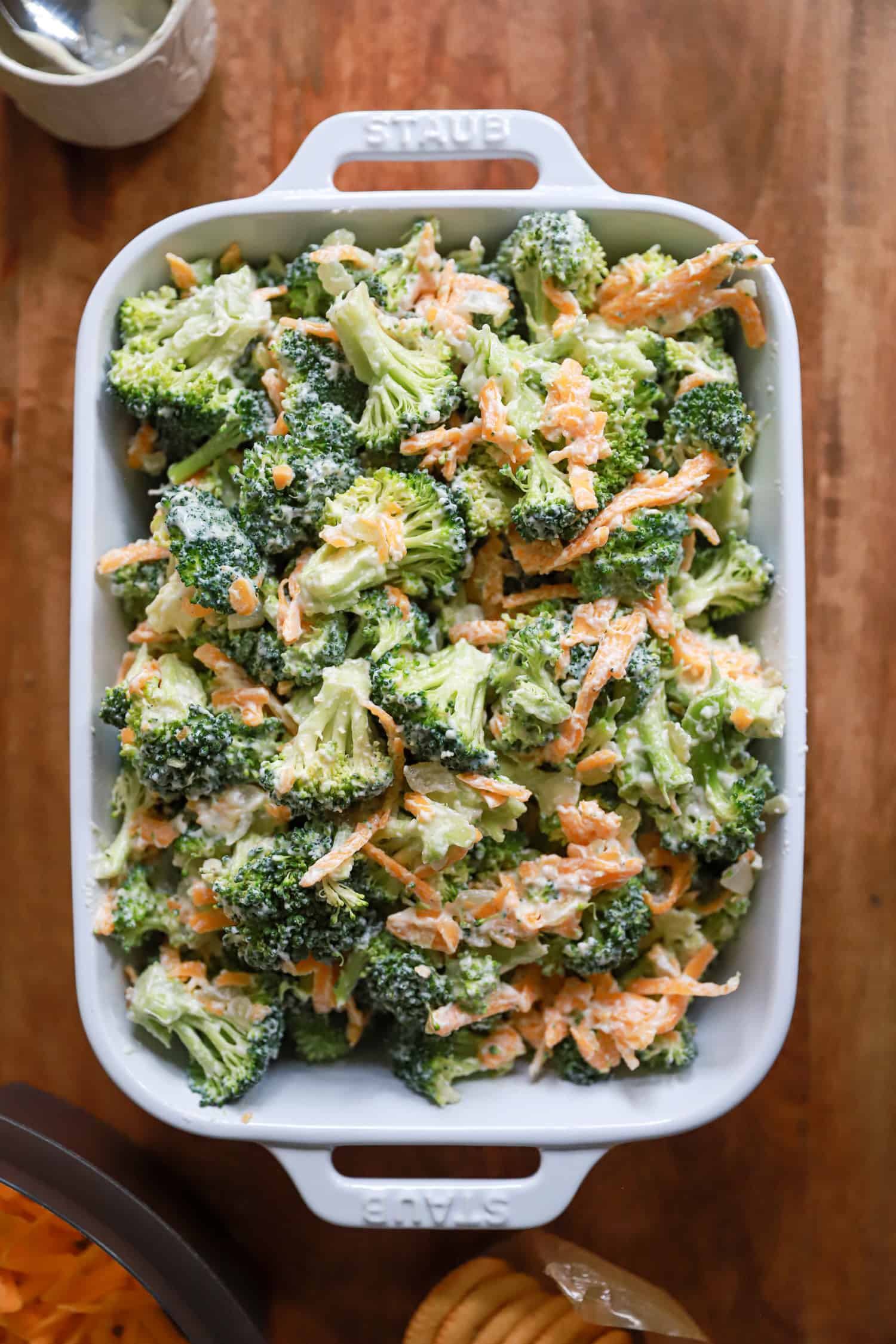 You can see that after the first bake the broccoli is MOSTLY cooked but still toothsome - I like this method a lot for make-ahead holiday dinners because it gives the broccoli somewhere to go in the final reheating period to not get mushy.
Make Ahead and Leftovers Storage
For making ahead, there are two options:
First choice, you can make the entire casserole UP TO the last baking time (so bake halfway, stir, add the topping, then stop), then bake the last baking time right before serving.
Second choice, make the entire recipe as directed and reheat in the oven right before serving just until warm. This will cook the broccoli a bit more, but both methods work well!
Leftovers are great warmed up in the microwave and will last in the fridge for at least 5 days.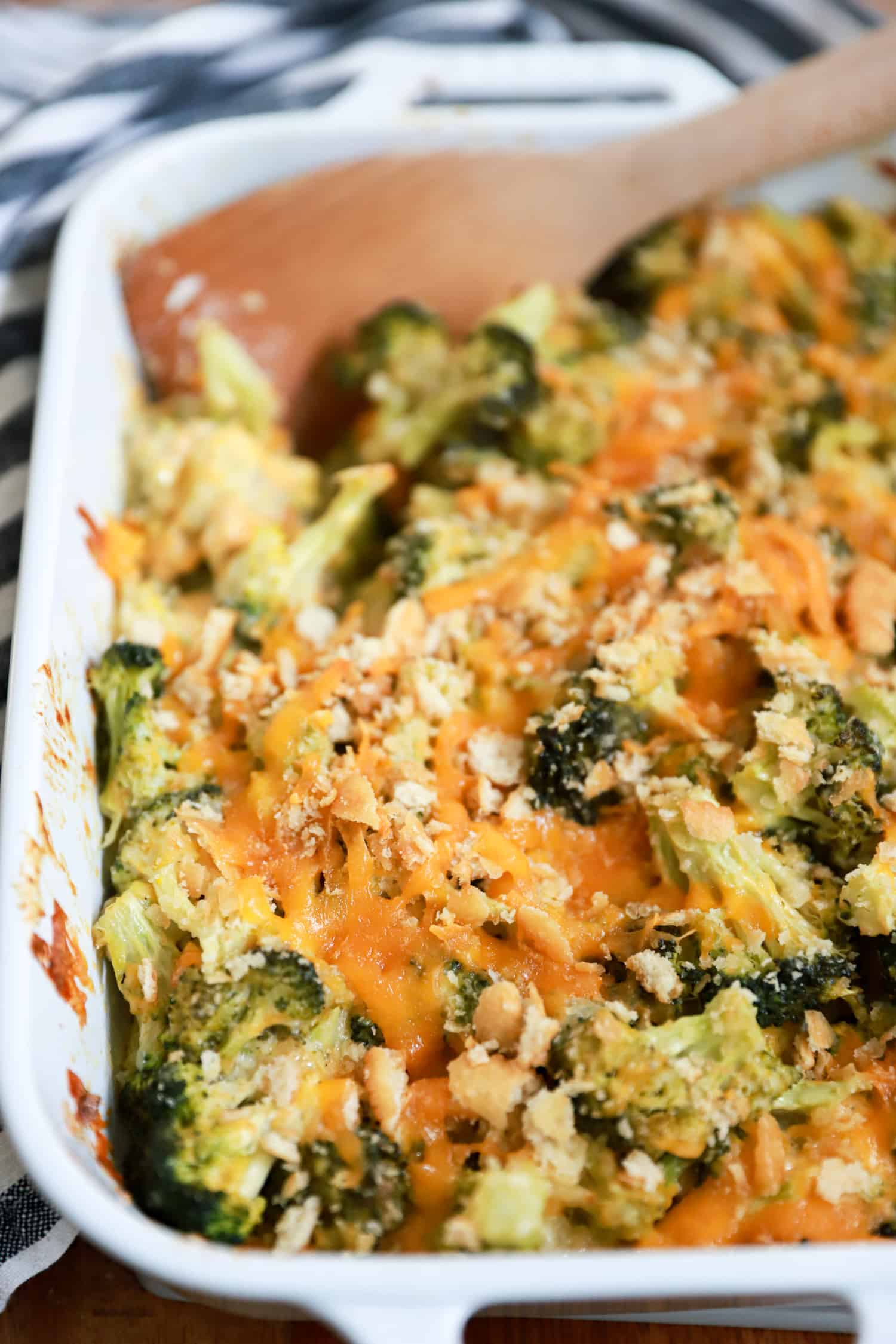 I hope you love this! It is one of my absolute favorite Christmas casseroles (or anytime, let's be honest), totally foolproof with the yummy white sauce that we make, and ~chef's kiss~ to any and all Ritz Cracker-topped things, you know? You definitely know.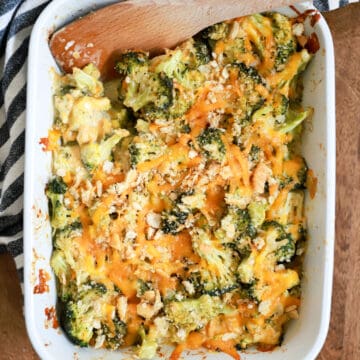 Broccoli Casserole with Ritz Crackers
Cheesy broccoli casserole with NO canned soup, crunchy Ritz topping, and all of the holiday side dish glory we ever need. You will LOVE this.
Ingredients
2

pounds

broccoli florets

½

cup

mayonnaise

8

ounces

grated cheddar cheese

½

onion

diced

3

tablespoons

butter

1

teaspoon

kosher salt

black pepper

2

tablespoons

flour

2

cloves

garlic

minced

1 ¼

cups

milk or half and half

15

Ritz crackers

crushed
Instructions
Preheat the oven to 375F and prepare and baking dish with cooking spray.

In a large bowl, add the broccoli, mayo, and all the grated cheddar except for ½ cup. Set aside.

In a medium skillet, heat the butter with the onion, salt, and pepper over medium heat. Stir for a few minutes until the onion turns translucent and starts to soften.

Sprinkle the flour over the onion and add the garlic to the skillet. Stir to combine; the mixture will become thick and pasty. Let the flour cook into the butter for 1 minute.

Slowly stream in the milk or half and half, stirring as you go, to combine with the flour and onions. Let the mixture bubble and thicken, then turn the heat off.

Pour the milk mixture over the broccoli/cheese/mayo, stir well to combine everything. Transfer the mixture into the prepared baking dish.

Cover the casserole, and bake for 20 minutes at 375F. Remove from the oven and STIR to distribute the cheese sauce evenly.

Top the casserole with the reserved cheddar and the crushed crackers, then return to the oven uncovered for 20-30 minutes until the broccoli is tender and the casserole is bubbly. Serve with your favorite dinner.
Notes
Cheese: If you can, grate your own cheese. It will melt a bit better into the casserole for a creamier result. You can also change the kind of cheese you use - fontina, gruyere, and provolone are all yummy in this casserole. Make Ahead: To make in advance, make the entire casserole up to right before the first OR second baking period - both work for prep depending on how much time you'll have to bake the dish right before serving. Make this Gluten Free with GF crackers and a 1-to-1 flour blend when making the milk sauce.
This recipe was originally published in December 2011 and has been updated with new instructions and pictures.
More Easy Casserole Recipes