This super easy healthy Thanksgiving side dish is made in the microwave with just a few ingredients! The citrus + ginger in this healthy sweet potato casserole SHINES, and anything off the stovetop and out of the oven is a win for big holiday meals. We love this as a side dish for garlicky roast pork as well!
...I type as I'm going back and forth with two different families about Thanksgiving menus, aka MY SUPER BOWL.
I love meal planning so much, it's just the best.
THESE, also, are just the best, I present to you, Grandmother's Sweet Potatoes (healthy sweet potato casserole). My grandmother was a lifelong reader, and very often would send me recipes or clippings of food articles she found that she thought would interest me (they all did, I adore reading about food). I think that's how this recipe came to be; she found a version of it in the newspaper or in a magazine, then my dad started making it once he took on Thanksgiving for our family.
We have these lightened up sweet potatoes every Christmas and Thanksgiving, and I've already made them once this year for a Friendsgiving! They are SO good, and really different from anything else sweet potato you've had before, I can almost promise.
First and foremost, this entire recipe can be made in the microwave, which is huge when it comes to fighting for oven space before big meals. We've finished these in the oven or microwave, and I swear you can't tell the difference one way or another. The sweet potatoes are also initially baked in the microwave, which saves time and doesn't heat up the whole dang house. THEN, the potatoes are mashed with lemon juice and orange juice and just a teensy hint of salt, sugar, and butter. The mixture goes into a baking dish, is nuked or baked a little more, and the lightest, brightest sweet potatoes ever are ready for your Thanksgiving table.
Reviews last weekend included "I was not expecting to like these at all but I did!" So, there. Glowing? Glowing!
Healthy Sweet Potato Casserole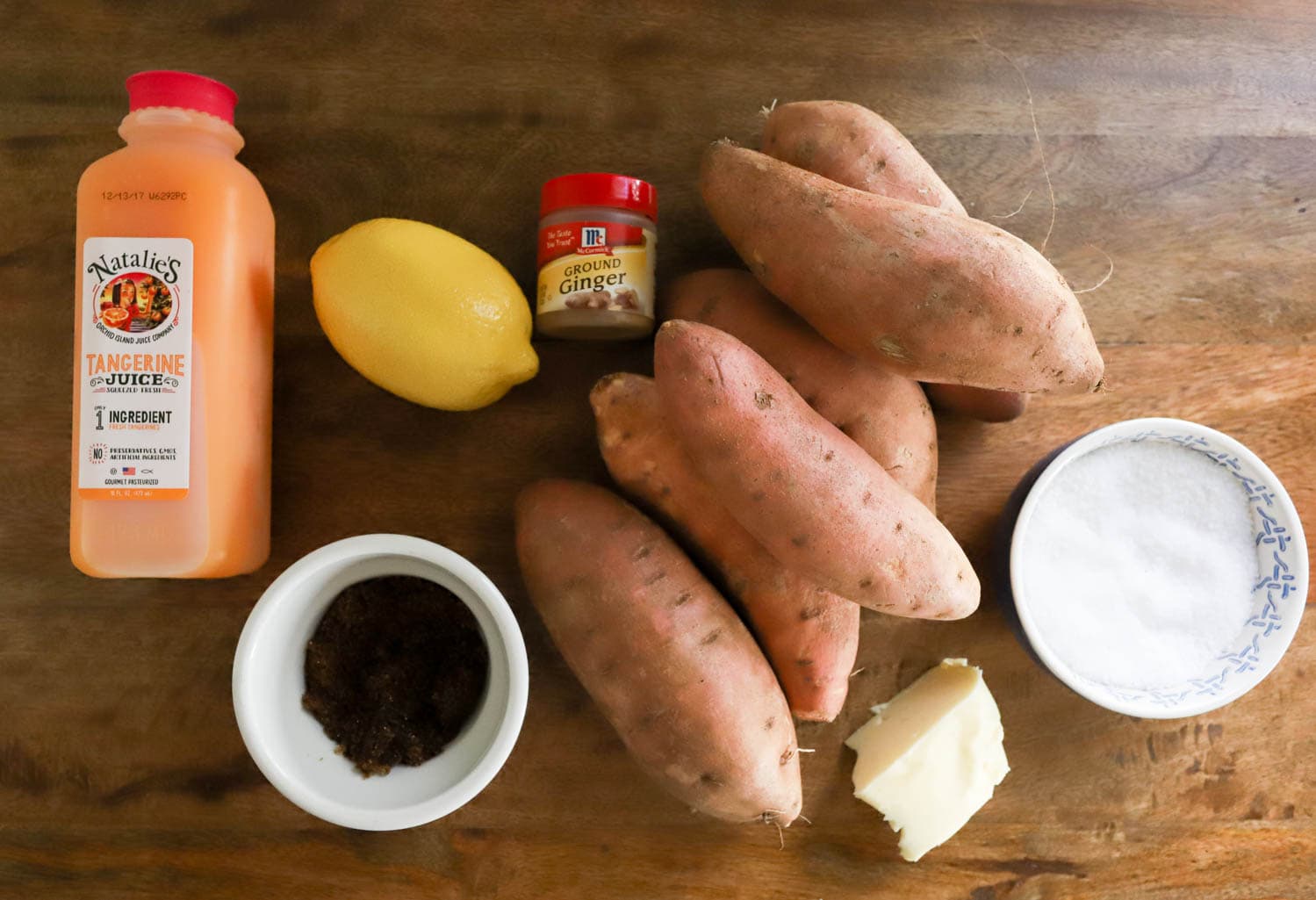 You need sweet potatoes! Three pounds or so (this is for 8 small servings since no one will eat a full serving of anything on Thanksgiving), scrubbed. Then it's orange juice, lemon juice, brown sugar, ground ginger, salt, and butter. Not a ton of any one ingredient, so the sweet potatoes really shine.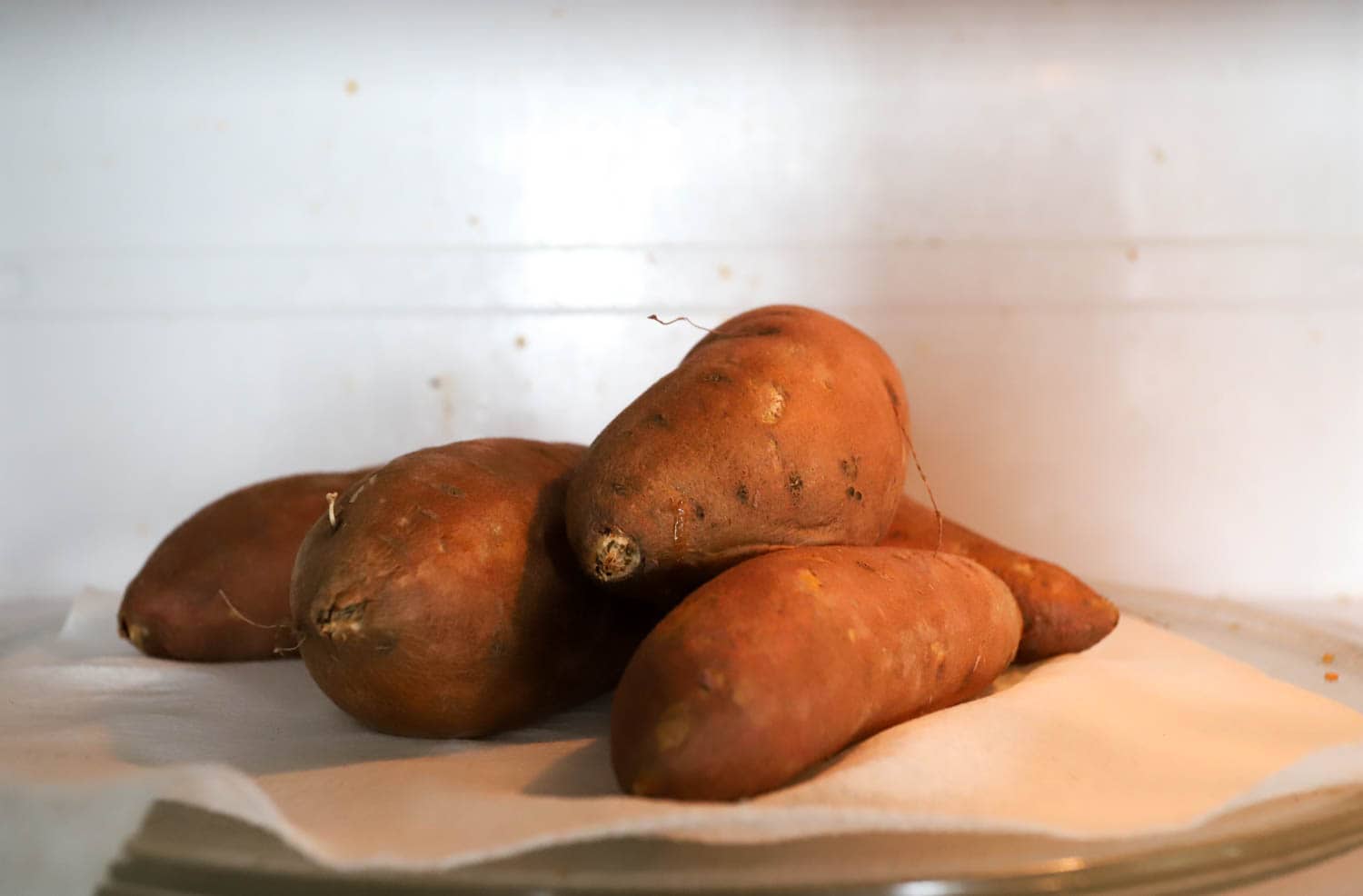 The only time consuming part of this entire recipe is baking the potatoes. So, prick them a little bit with a fork, then stick them in the microwave for 20 minutes. If you have very large sweet potatoes, you may need 25 or 30 minutes to get the potatoes soft all the way through. Test them with a fork, which should go easily all the way to the center of the potato. Also, yes, that is my microwave and YES I know it's easier if you just wipe it out every day.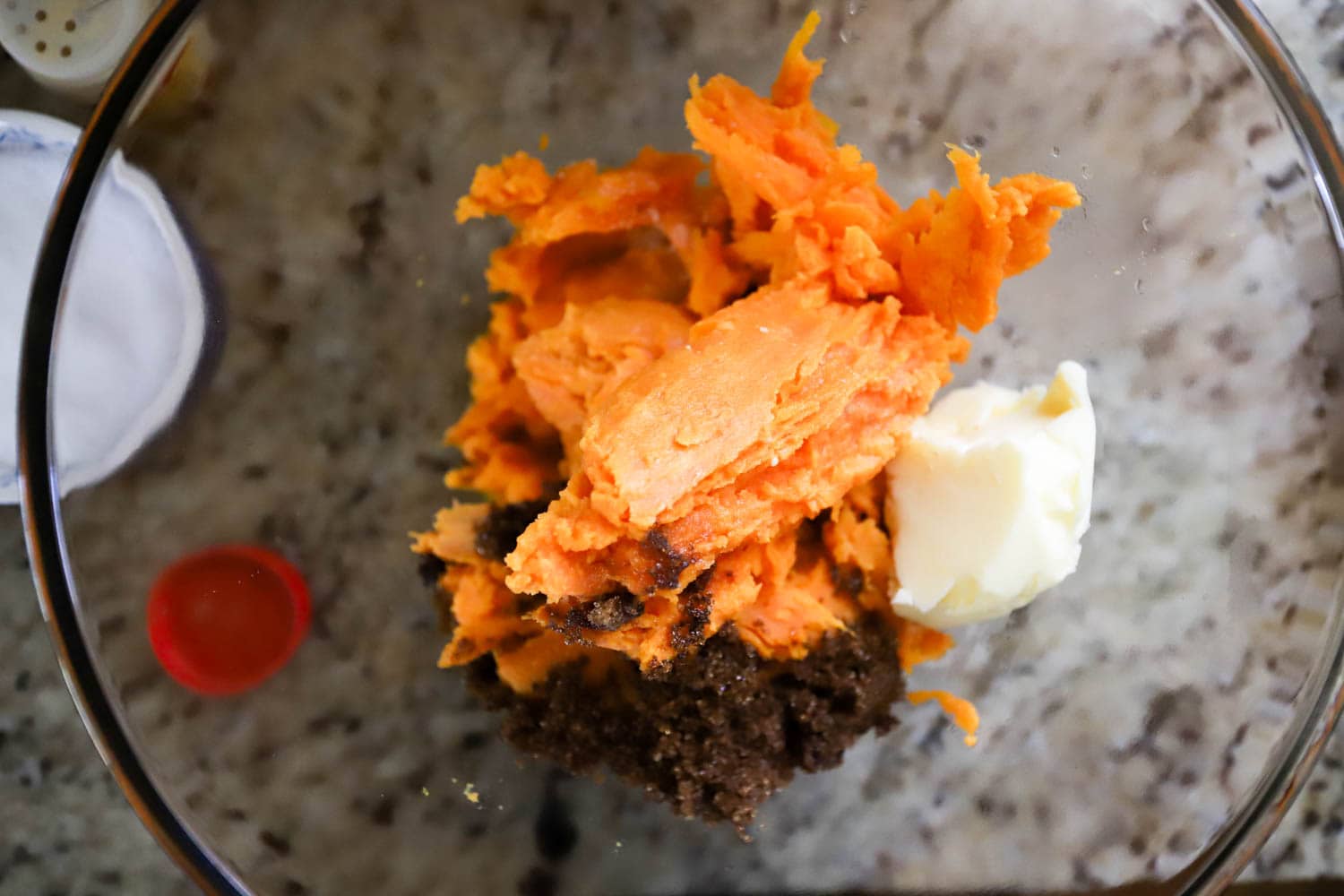 Let the potatoes cool until you can handle them, then peel the skin away and put the flesh in a large bowl with the rest of the ingredients.
Use a fork to mash everything together, then taste the mixture! Add more of anything you'd like, and REALLY you could eat the potatoes right now.
But, spread them in a baking dish (a small square, or size similar to this medium roasting dish) and microwave them for 10 minutes more to heat through, or bake them covered at 350 or so (whatever the oven is already on for other dishes) for 20 minutes or until they're hot.
And that's it! Healthy sweet potato casserole with just a few ingredients, tons of flavor, very little effort. What I love about these is that they are such a different flavor profile than most traditional Thanksgiving side dishes, not heavy or dense, and without a ton of fat or sugar added.
These are great to make-ahead and will last in the fridge for at least 3 days before a big meal, then will just need to be heated up before you'd like to eat.
The flavors, the method, the ingredients are all so simple and so flavorful here. Mashing the potatoes with a fork means they stay nice and fluffy, and the tang of the citrus juice is wonderful with the deeper flavors of Thanksgiving, turkey + gravy, etc.
Other Healthy Thanksgiving Recipes:
I am starving now. Enjoy!
Print
Healthy Sweet Potato Casserole (In the Microwave!)
---
Total Time:

40 minutes

Yield:

Serves 8
Description
This healthy sweet potato casserole is made entirely in the microwave, has tons of citrus flavor, and has just 7 ingredients. BOOM.
---
3

pounds sweet potatoes, scrubbed

½ teaspoon

salt

½

lemon, juiced

¼ cup

orange juice

¼ teaspoon

ground ginger

¼ cup

brown sugar

¼ cup

softened butter
---
Instructions
Prick the sweet potatoes all over with a fork. Microwave on paper towels or a plate for 20-25 minutes until very soft all the way through.
When the potatoes have cooled enough to handle, remove the skin and place the flesh of the sweet potatoes in a large bowl with the rest of the ingredients. Use a fork to lightly mash the potatoes into the seasonings, then taste the mixture and adjust the seasonings to your preference - add more of anything you'd like!
Spread the mixture into a small baking dish (mine was 8x8 for these pictures), and microwave for 10 minutes more to heat through. Or, bake at 350F for 20 minutes.
Serve with your favorite meal. Enjoy!
Notes
This can be made ahead! Make the dish up to the last heating step, then keep in the fridge for a few days before you'd like to serve them. Allow a bit of extra time to heat them through, maybe 15 minutes in the microwave and 30 in the oven if they are coming straight out of the fridge.
I love these as a side dish as well for regular meals; wonderful for meal prep and to serve with some marinated grilled chicken or similar.
Prep Time:

10 minutes

Cook Time:

30 minutes
Keywords: healthy sweet potato casserole, healthy thanksgiving recipes, healthy thanksgiving sweet potato recipes, healthy sweet potato recipes