Indian butter chicken in a slow cooker! This super delicious crockpot chicken curry has just 10 ingredients and no searing or extra chopping. The end result is luscious, creamy, delicious butter chicken with hardly any effort.
Hello, HELLO. I have been dying to tell you about this, 90s-sitcom-drama style.
The thing about Indian curry dishes is that they are not known for their ease of making. The really good ones have lots of ingredients, whole spices, hours of simmering, and generally lots of things that making cooking really fun, in my opinion.
BUT. Sometimes we want curry tonight. Now. Fast. Not a lot of fuss. The crockpot is an ideal cooking vessel for long-cooked stuff that needs time to develop flavors, and I love it because it can (probably, mostly) be left on while we leave the house or wander off to do other things. No checking, stirring, adjusting liquid levels, just easy crockpot chicken curry with 10 ingredients.
Crockpot Chicken Curry Ingredients
Ingredient Notes + Other Things To Know
By the time I landed on this recipe I think I had tested this slow cooker Indian butter chicken....six times? Seven? It was a very delicious labor of love, let me tell you. I wanted to be sure I had the fewest ingredients with the most flavor, and getting the list down to 10 was about the best I could do.
I tested this with fresh onion, garlic, and ginger. It was absolutely delicious that way, but honestly the difference was so hard to tell in the end that I left it out. Chicken curry with only pantry ingredients seemed the way to go. The spices added plenty of flavor without fresh aromatics.
Chicken thighs and chicken breasts both work really well here. Any boneless skinless chicken you have, cut into pieces. You could leave the pieces whole, and they'll shred easily at the end, but I found that cutting the chicken before cooking and NOT shredding it gave a more familiar restaurant Indian chicken texture.
Tomato sauce is important here. Canned tomatoes, diced tomatoes, tomato puree or similar are OK, but they don't have onion, garlic, salt, and spices like tomato sauce does. It's an ingredient that takes the place of a few others, and a great one to have in your pantry. If you don't have tomato sauce, use any other kind of canned tomatoes and add extra pinches of salt and sugar to be sure the curry is really flavorful.
Chili powder comes in so many forms, and for this I used the really basic regular one I use for Mexican food. If you have Indian chili powder use WAY less, as Indian chili powder is usually really spicy and this is a mild curry.
Garam Masala is an Indian spice blend that, frankly, makes Indian food taste Indian. I find versions at most grocery stores, and it's another heavy-hitting ingredient because it's a lot of spices all in one that save time and money when we use it.
Is butter chicken the same as tikka masala?
Nope! Butter chicken is traditionally a North Indian dish, and tikka masala was created in England. They're similar, but the difference is that tikka masala tends to have an onion-based gravy, hence my decision (among other reasons) to leave onions out of this dish. They're both really, really yummy curries, though.
Method
One of my main slow cooker recipe rules is that searing is annoying, so I only tested this recipe without searing the chicken first. Add the chicken to the slow cooker with salt, sugar, spices, and tomato sauce.
Let the chicken and tomato mixture cook for 3 hours on HIGH or 6 hours on LOW (then let it go to warm if you aren't home). Then, whisk together the cornstarch and cream - this will thicken the curry into a super yummy gravy consistency.
Add the cornstarch mixture to the curry and stir it into the chicken mixture. Put the lid back on the curry and cook for 30-45 minutes more (depending on if you're cooking on high or low at this point) to thicken the chicken curry.
After the curry has thickened, stir in the butter because, butter chicken. This gives a last little nudge of glossy creaminess that is NOT TO BE SKIPPED.
Taste the butter chicken, maybe a little more salt? Sure! Probably at least a pinch or two.
I wish you could smell this, seriously. The light curry flavors, the tender chicken, little bit of tang from the tomatoes; it all just WORKS and is so satisfying in how simple it is to make.
But Lindsay, there is heavy cream and butter in this dish.
I know, and that is a good thing, truly. You can of course skimp on those quantities, use half and half, etc, but this is a creamy dish and should be honored as such. The recipe won't taste the same with substitutions, so I say go for it.
If you'd like a lighter curry, which I also love, this chicken and spinach curry is a great, also very delicious option that we make all the time.
Serving + Meal Prep + Storage
I like this with white rice, but some naan would be delicious with this. I also used to go to an Indian restaurant in Japan that served every curry with a little bit of shredded cabbage + yogurt dressing, which is really lovely as well. Cilantro leaves, lime wedges, and sliced cucumber are all really nice for Cold Green Stuff to offset the slow cooked, rich chicken curry.
This entire dish can be made in advance, OR you could prep it on the weekend by cutting up the chicken and measuring the spices, then dumping it all in the slow cooker with the tomatoes in the morning before work or on your lunch break.
This makes enough for 4-6 servings, and leftovers keep in the fridge for up to a week; just microwave before eating. Because of the cornstarch the cream holds up pretty well and doesn't break too much when the curry is reheated for leftovers.
Friends, humans, I can't say enough: make this crockpot chicken curry SO SOON. Curries of all kinds are favorites of ours, but this one is truly a gem and absolutely delicious. I hope you love it!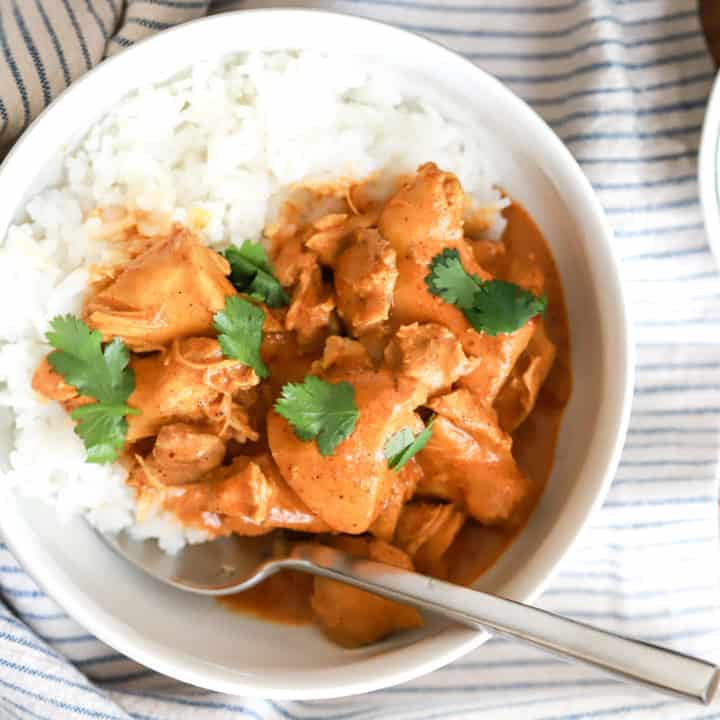 Easy Crockpot Butter Chicken
The best ever slow cooker chicken curry! This version has 10 ingredients and tastes just like your favorite Indian takeout.
Ingredients
2

lbs

chicken thighs

cut into 2-inch pieces

1

tablespoon

sugar

2

teaspoons

chili powder

1

teaspoon

ground turmeric

1

teaspoon

garam masala

1 ½

teaspoons

kosher salt

1 teaspoon if using table salt

15

ounces

tomato sauce

1 can, be sure it's sauce and not puree

¾

cup

heavy cream

1

tablespoon

cornstarch

2

tablespoons

butter

Cilantro leaves and white rice or naan

optional, for serving
Instructions
Place the chicken in the slow cooker with salt, sugar, spices, and tomato sauce. Cover with the lid and cook on HIGH for 3 hours or LOW for 6 hours.

Whisk together the cornstarch and heavy cream. After the initial cooking time, pour in the heavy cream mixture and stir to combine. Return the lid to the slow cooker and cook for 30 minutes more on HIGH or 45 minutes more on LOW to thicken the sauce.

After the gravy has thickened, swirl the butter into the, well, butter chicken.

Taste the butter chicken and add more salt if you would like to – at least a pinch or two at the end of the cooking process can brighten up the dish considerably.

Serve butter chicken over rice, with naan for dipping, and with cilantro leaves for topping if you'd like. YUM.
Notes
Garam Masala is a spice blend that, frankly, makes Indian food taste Indian. If you don't have any on hand, it's a great ingredient to buy for curries or marinades for meat (with some salt and olive oil). I find it at almost every grocery store or online.
I have made this with chicken thighs and chicken breasts, and both are delicious. Cutting the chicken in pieces before it goes into the curry ensures that the chicken stays together while becoming very tender in the slow cooker.
Leftover are really, really good of this butter chicken and reheat nicely in the microwave.
More Easy Crockpot Recipes