The BEST weeknight shrimp recipe ever! this Japanese hibachi shrimp recipe is done in just 5 minutes with a few easy ingredients. It's a nice imitation Benihana hibachi shrimp recipe for quick and healthy dinners. I love this with plain white rice and hibachi vegetables.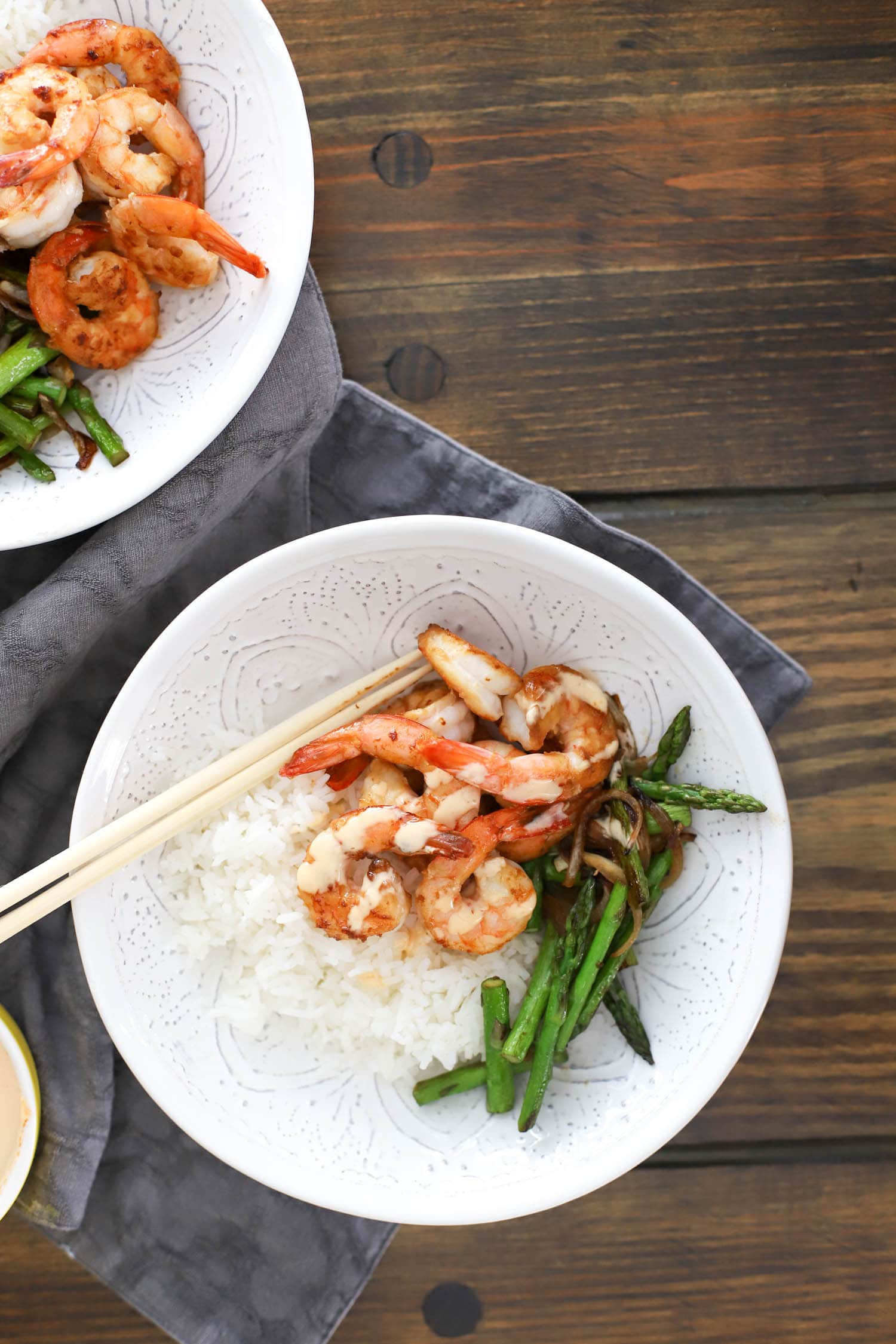 Three ingredients and five minutes to a great protein, yes we can.
This is a simplified, health-ified version of hibachi shrimp! Super simple seared Japanese shrimp that I pair with veggies and white rice or fried rice. There is a quick white sauce recipe (sometimes called yum yum sauce or hibachi shrimp sauce), so nothing about this is bland or boring.
I love this hibachi shrimp recipe because it comes together so quickly with just a few tips and tricks to make it taste great. It features only three ingredients, so by the time you cook some rice you'll be on your way to homemade hibachi greatness.
What is Hibachi Shrimp?
In America hibachi means a variety of things, but generally it means some protein and vegetables seared with "special" soy sauce (the special part is lemon juice) and served with fried rice and something pale pink and sweet called shrimp sauce.
What is Hibachi Shrimp Sauce?
Sometimes called Yum Yum Sauce or White Sauce, hibachi shrimp sauce is a mayo-based sweet/savory sauce that is SO GOOD drizzled on rice and hibachi shrimp and vegetables. It's also available bottled in stores, but is super easy to make homemade!
How to Make Hibachi Shrimp
Ingredients
First, grab some shrimp, soy sauce, and lemon juice. Oil for the pan - I use olive oil, but canola or any other light cooking oil will be fine.
This is so easy, I'm embarrassed.
Note: Once you start the shrimp they'll be completely done in about 4 minutes, so be sure you have your other meal components ready to go when you add the shrimp to the hot pan.
Step By Step Instructions
Turn a large pan to medium-high heat, and let it get really hot. I use a 12-inch stainless steel pan for this and it holds 12 ounces of shrimp, but not much more.
You'll want a pan big enough so that when you put the shrimp in it it can fit all in one layer for extra crispy shrimp. If you need to use two pans or cook the shrimp in batches that's fine, do that!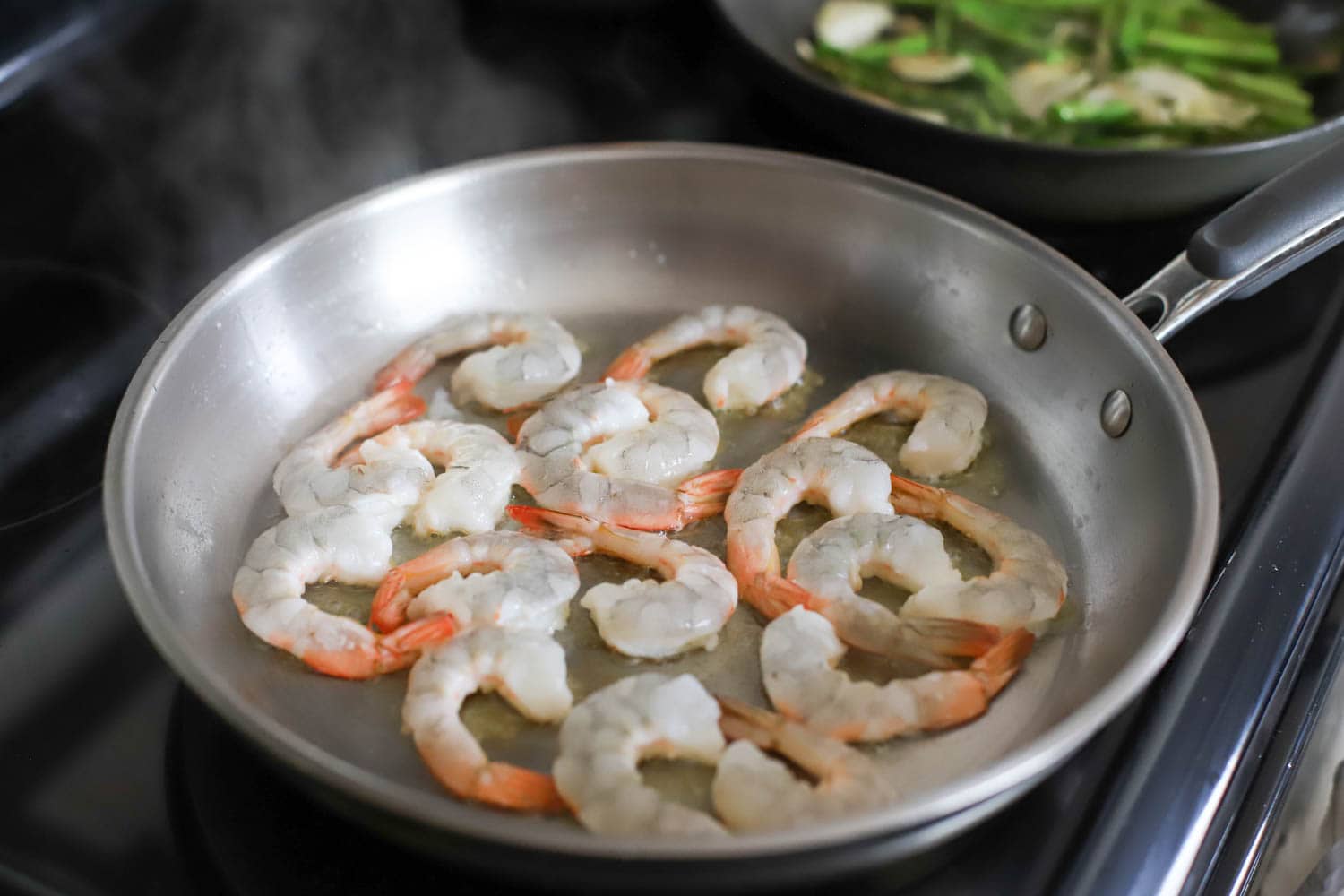 When the pan is really hot, drizzle a bit of oil in the pan and add the shrimp in one even layer - they should sizzle a lot!
Cook the shrimp for about 2 minutes until they start to get golden, then flip them and sprinkle the soy sauce all over the shrimp. Some of it will burn and that's the magic - little crispy bits of soy sauce all over your hibachi shrimp.
After another 1 minute, squeeze a wedge of lemon over the entire skillet. Toss the shrimp around in the skillet once more, and serve! The shrimp should be just barely cooked, so this entire process takes 4 minutes max if your pan is really hot.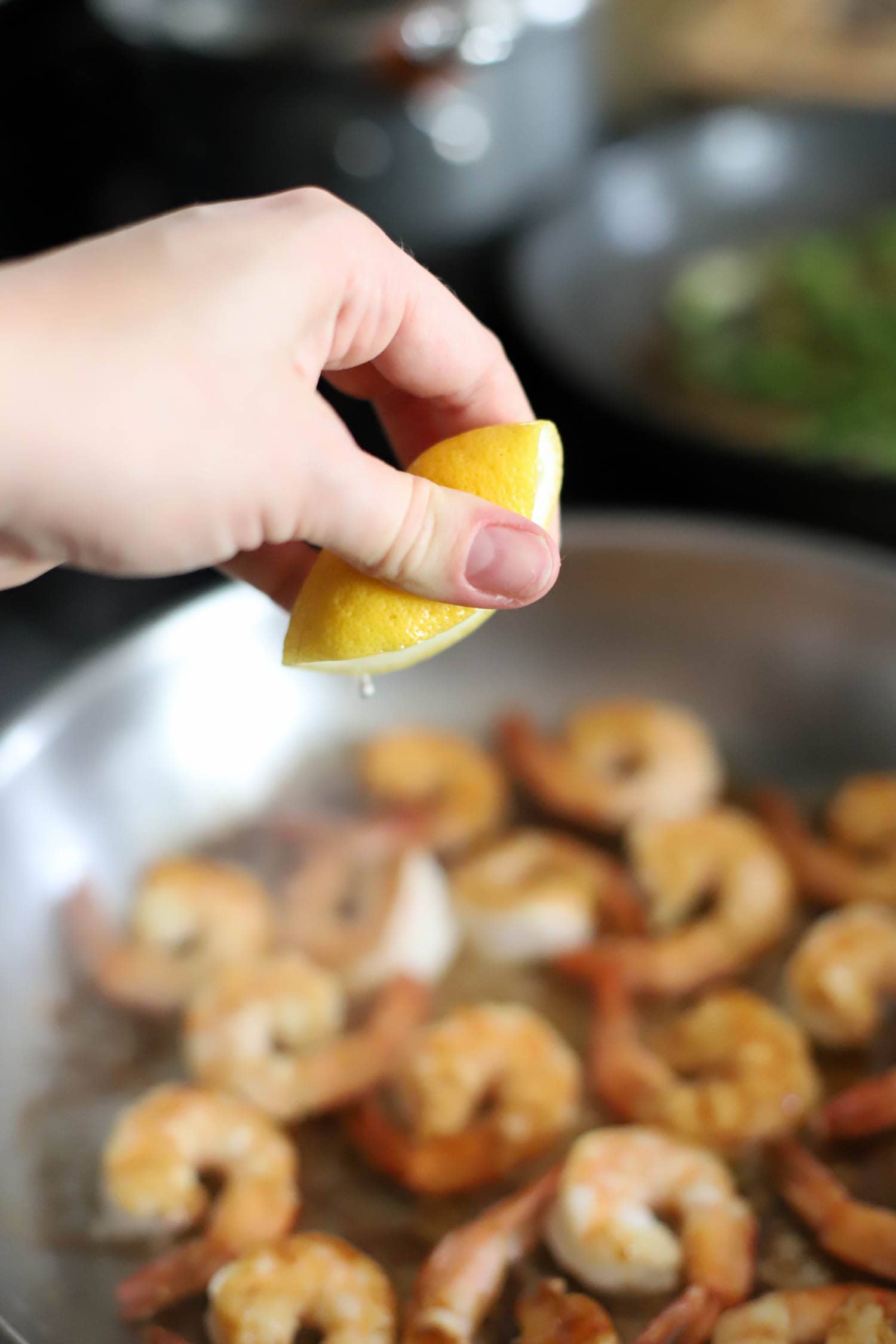 And that's it! Perfect homemade hibachi shrimp every time. You could add a drizzle of sesame oil for some extra flavor, but this is delicious with just the soy sauce and lemon juice.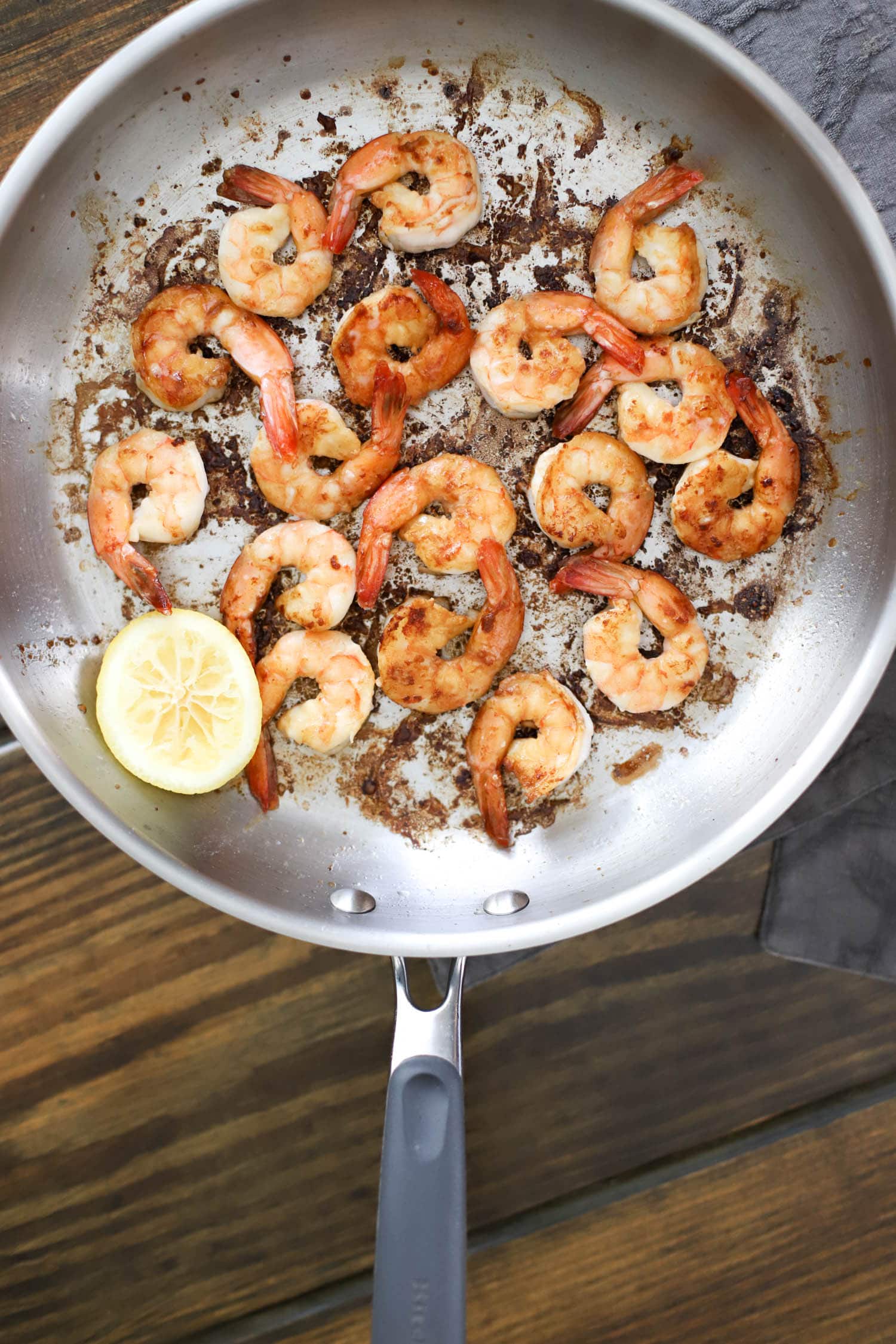 Homemade Yum Yum Sauce
The white sauce is simple - just stir the ingredients together and taste - adjust the flavors to your liking and drizzle all over your shrimp.
Note that Kewpie Japanese Mayo is usually what's used to make hibachi shrimp sauce - buy a bottle if you can get ahold of it! It has a slightly tangier taste than American mayonnaise and is wildly delicious on almost anything.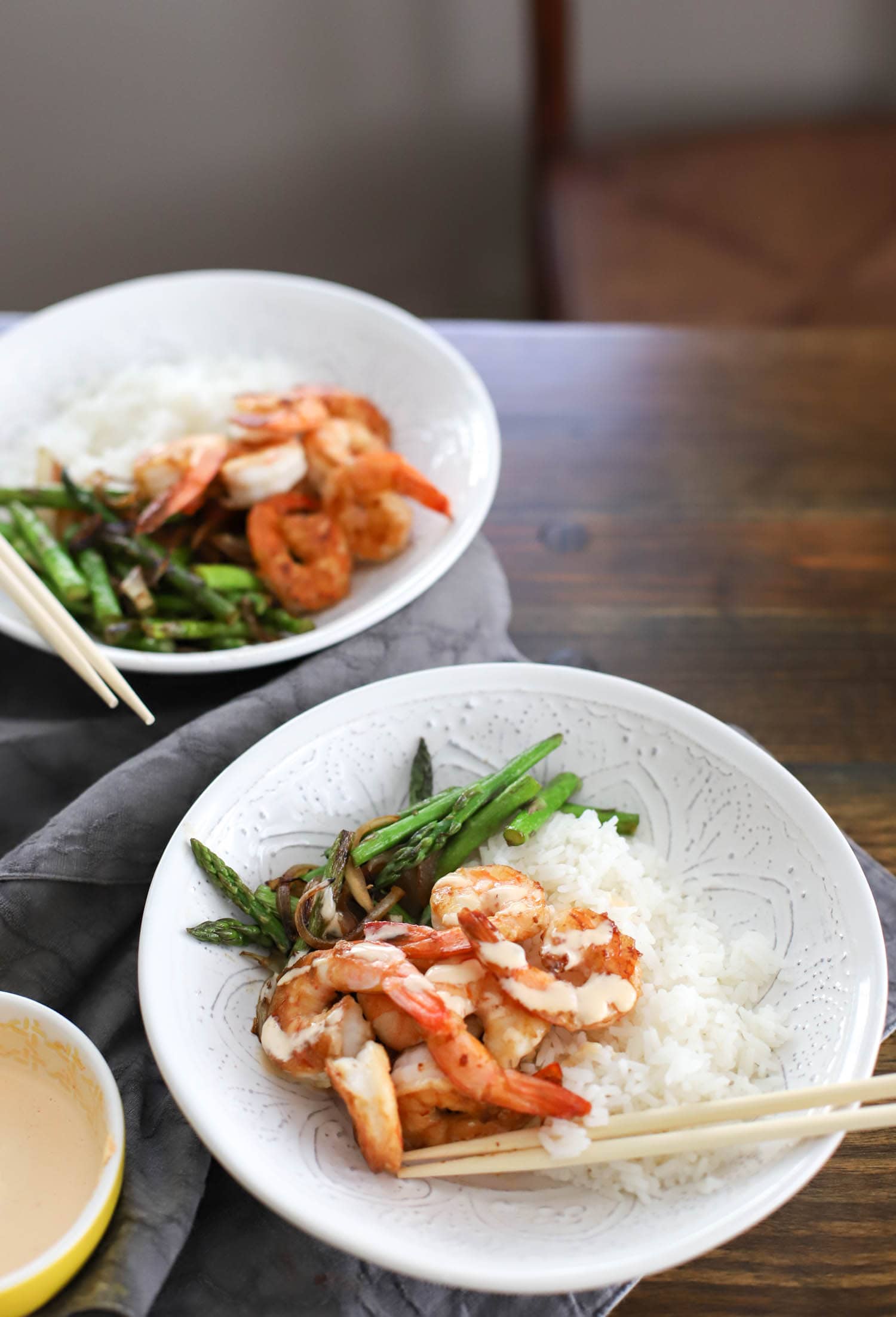 Serving Suggestions
For the veggies in these images (and how I make them all the time), I cook them exactly like the shrimp, but in a separate skillet since the veggies take a bit longer to cook than the shrimp. I use broccoli, carrots, peppers, onions, anything I have on hand. The result is a super delicious hibachi shrimp and vegetables rice bowl!
Vegetarian Option: If I know I'm cooking for some folks that don't like seafood, I will separately sear a batch of tofu steak to go with the same side dishes.
Other Ideas:
How To Make Hibachi Shrimp and Chicken Variation
I've also done this with multiple proteins - adding chicken or steak to the same skillet with the shrimp for a hibachi shrimp and chicken dish with vegetables.
The key to making this work is to start the OTHER protein first - chicken until it's nearly cooked through, then adding the shrimp just in the last 2 minutes so it doesn't overcook. Right before serving, add the soy sauce and lemon juice like in the recipe instructions.
PS for another Japanese bowl situation, the second most popular recipe on this site is Spicy Crab Salad that I use in these Spicy Crab Poke Bowls. Don't miss those!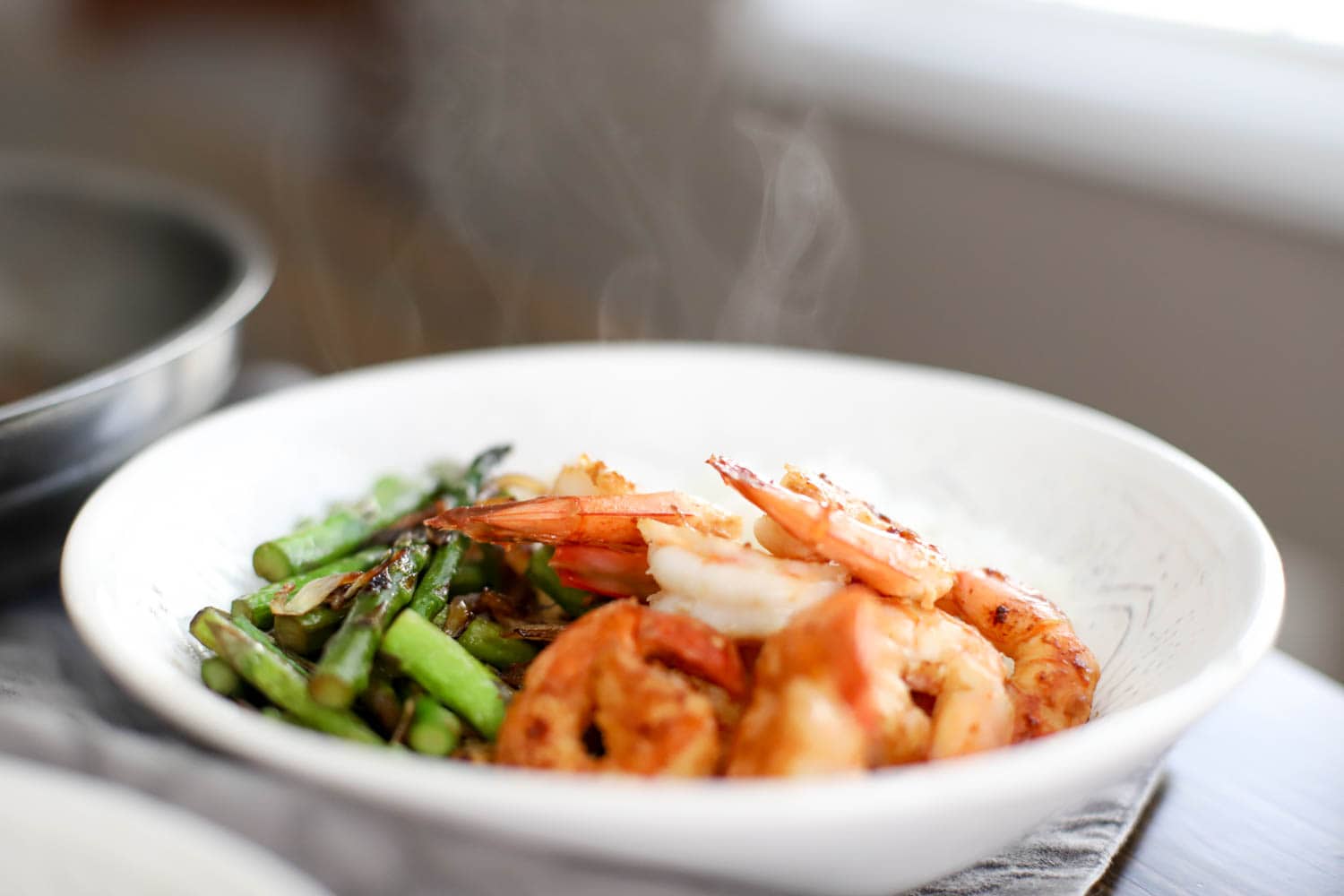 Meal Prep and Storage Notes
I love leftovers of this recipe, and often will double up everything to have leftovers for a few lunches. I store them in meal-sized portions (a little rice, some veg, some shrimp) and microwave for 1 minute before eating.
The leftovers will keep in the fridge for about 3 days.
To prep, I cut up the veggies, peel the shrimp, and make the yum yum sauce in advance. With those items done, the entire dinner is done in the time it takes to simmer some white rice.
Try this homemade hibachi dinner soon! It's such a quick favorite and is perfect for lunches or weeknights. Enjoy!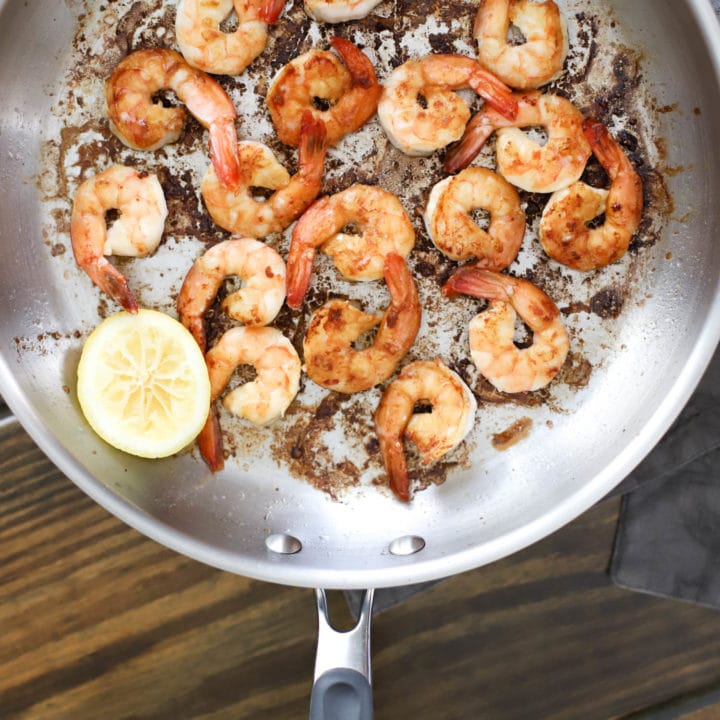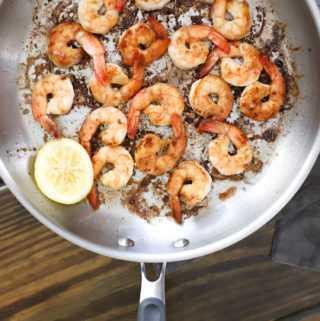 Easiest Protein EVER - Hibachi Shrimp
Delicious hibachi shrimp in under five minutes with three ingredients! Dinner has never been simpler.
Ingredients
Hibachi Shrimp
12

ounces

shrimp

peeled and deveined (tails on or off is your preference!)

2

tablespoons

olive or canola oil

2

teaspoon

soy sauce

1

wedge lemon
White Sauce (hibachi shrimp sauce)
¼

cup

mayonnaise

Kewpie mayo is my favorite for Japanese food

1

teaspoon

sugar

1

teaspoon

sriracha

2

teaspoons

rice vinegar

½

teaspoon

toasted sesame oil
Instructions
Sauce: combine all ingredients in a small bowl. Taste, and adjust seasonings to your liking. Refrigerate until ready to use.

Hibachi Shrimp: Preheat a large skillet (12-inches or so) to medium-high heat with the oil until very hot. Add the shrimp in one layer and cook for 2 minutes until the shrimp starts to brown. Flip the shrimp and sprinkle all over with the soy sauce and lemon juice. Continue to cook until browned on both sides, maybe one or two minutes more.

Serve the shrimp with rice and/or veggies drizzled with the white sauce. Enjoy!
Notes
This same method works really well with chicken and veggies! Try to time it so that the shrimp goes in about 2 minutes before everything else is done since it's usually the ingredient with the shortest cooking time.
I alternate between cooking hibachi shrimp in the stainless steel skillet seen here and a cast iron skillet. Both work great!