Just like the kind you find on hibachi plates, Japanese sweet carrots to level up your homemade Japanese fusion food! Make these super easy sweet glazed carrots a meal with my favorite hibachi steak, hibachi shrimp, and hibachi vegetables!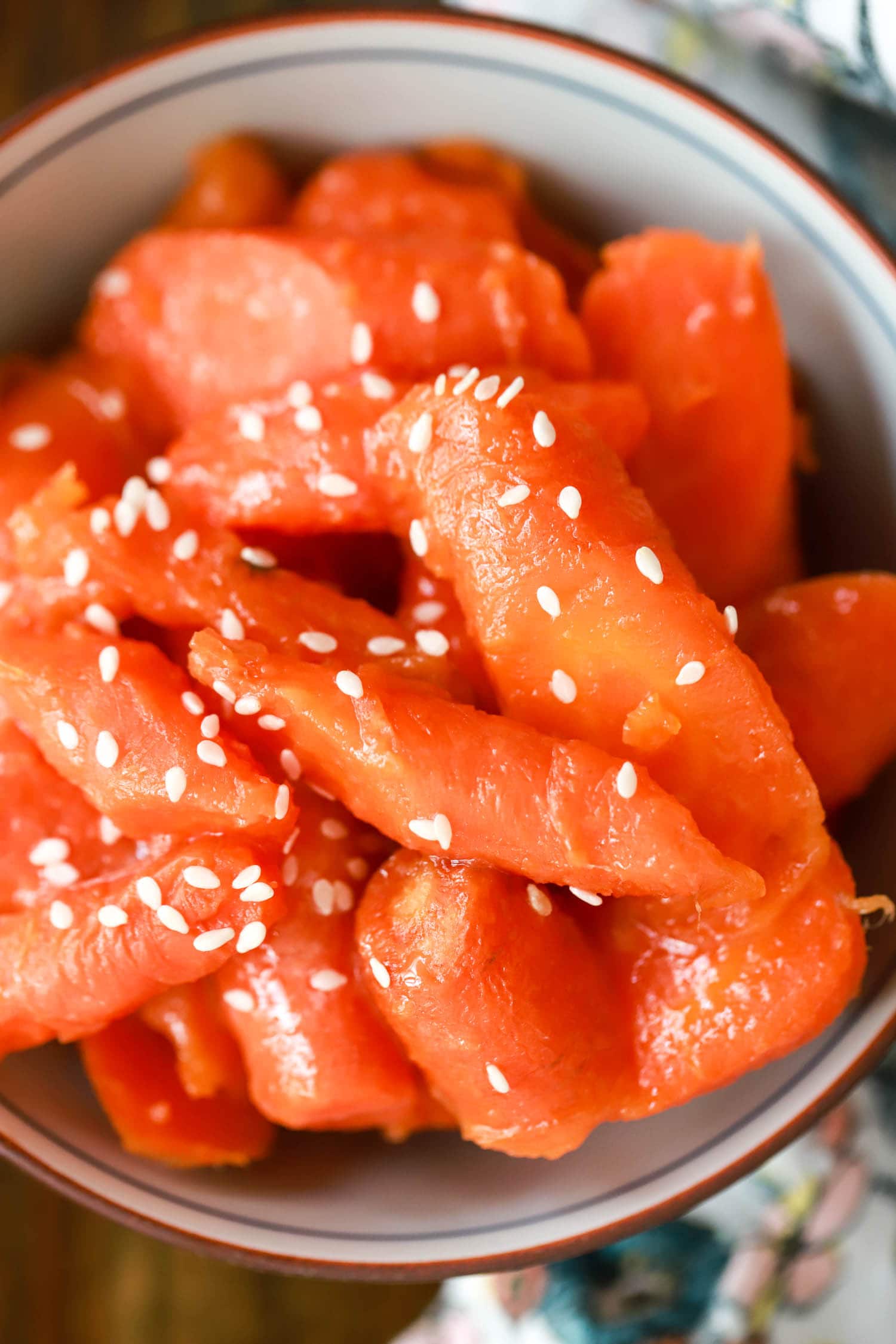 More hibachi! This time my favorite little nibbly side dish, the sweet carrots that come on the side of hibachi meals, mainly of the takeout variety.
And, listen, when I talk about hibachi I know that some people think of American-style Japanese steakhouse types of places (I see you, Benihana fried rice), and those are great. And also expensive.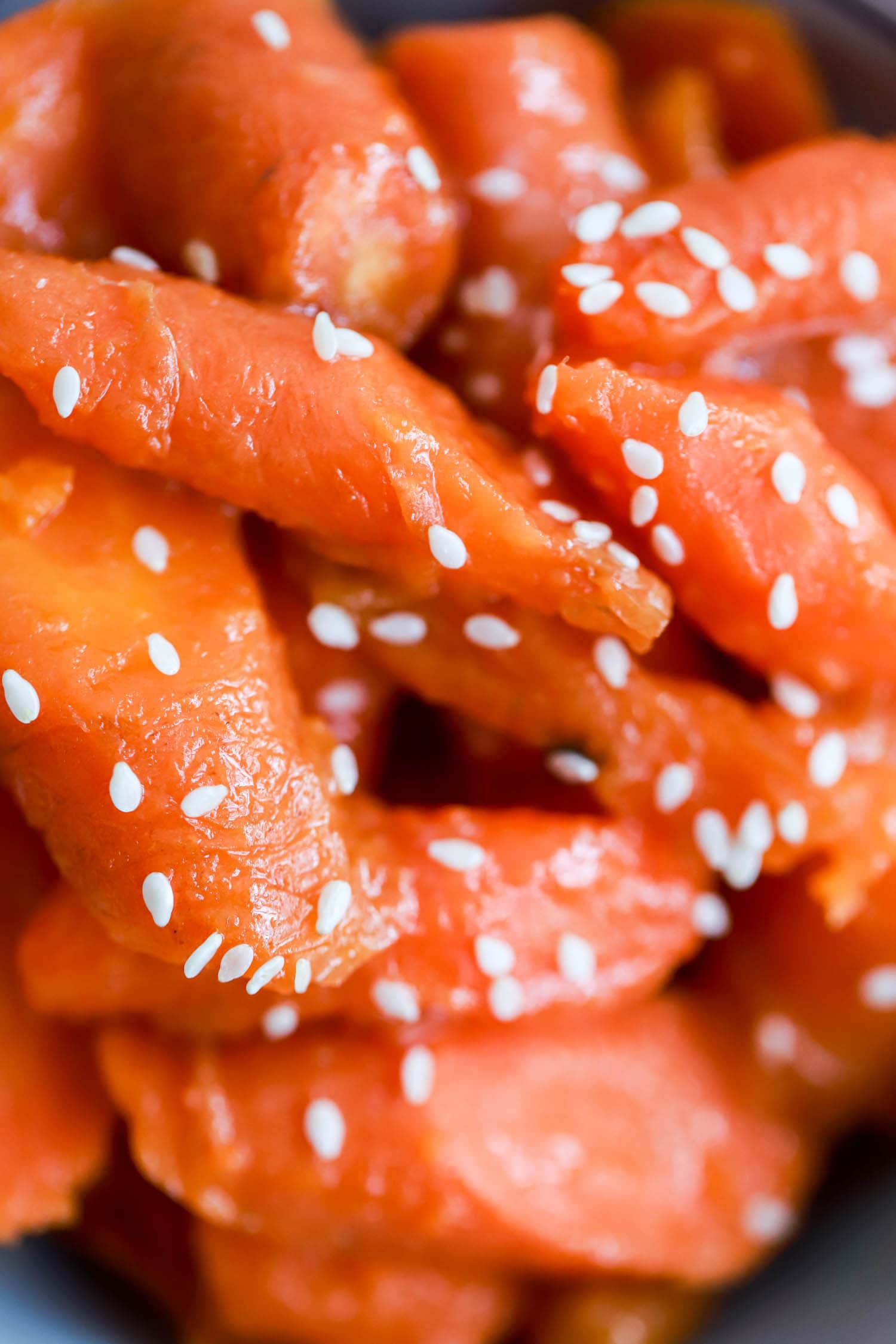 For me, I find the best hibachi at cheap places. We have one locally that's straight up in a gas station, and it is OMGSOGOOD. I love it.
These glazed carrots for sure aren't authentic Japanese (at least, not that I ever had while there), but the sweet carrots go really nicely with the super umami that comes from soy sauce + buttery cooked shrimp or chicken. Sweet carrots, plain rice, salty crispy meat, spicy yum yum sauce? YES.
Ingredients
OK, carrots! Four ingredients, done and done: carrots, salt, sugar, and butter. I've done this with large pieces and baby carrots and any size of carrots works great, you may just have to boil them for a bit longer to cook all the way through.
Pro Tip: Baby carrots work perfectly here, just throw them in the pot and boil them! Zero prep, hello best baby carrot recipe ever!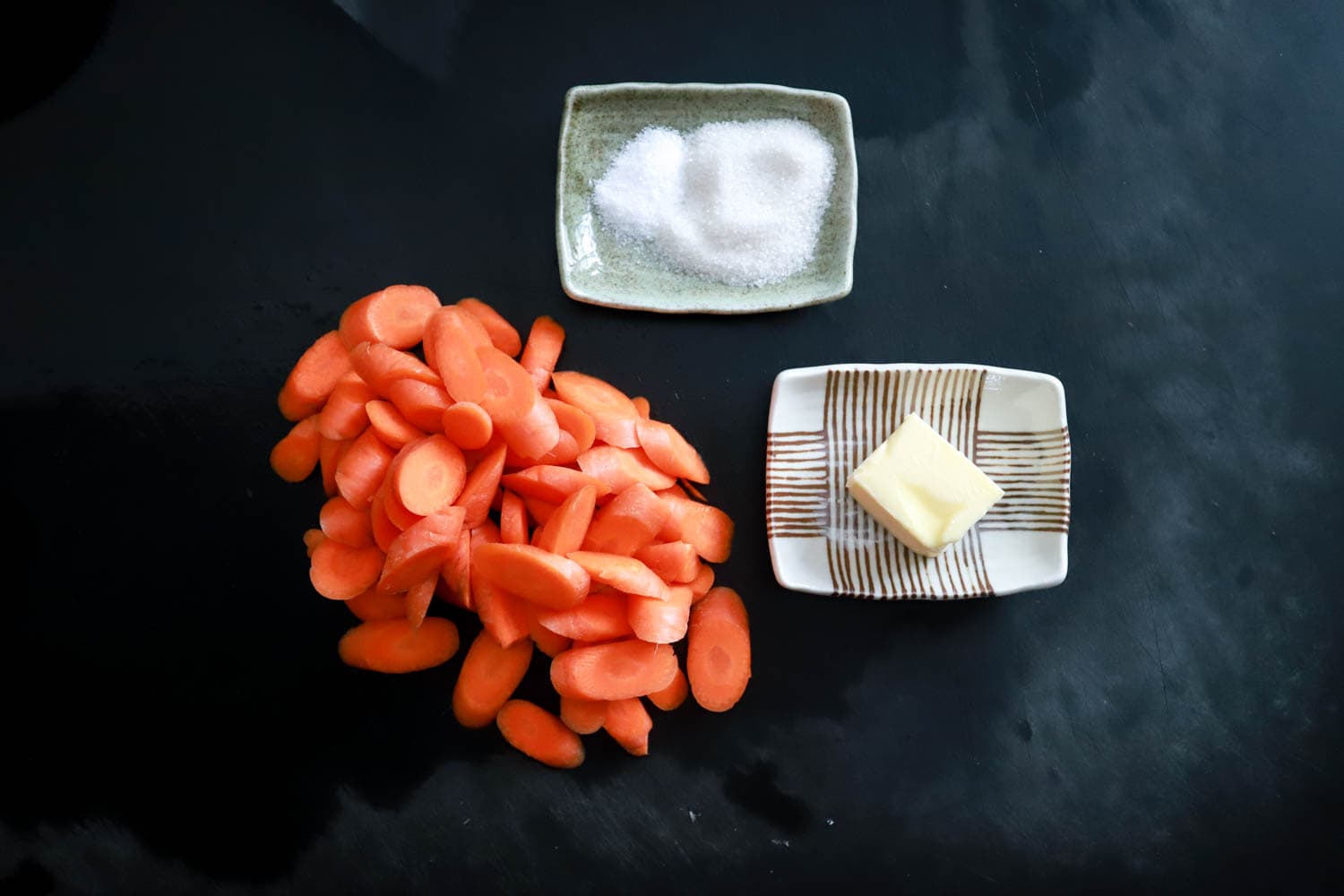 How To Make Sweet Carrots with White Sugar
Start with the carrots, salt, and sugar in a small pot covered with water. This recipe is for 4 small side dishes - more of an accompaniment where I'd have hibachi vegetables as the "main" side dish. Feel free to double the recipe if you'd like more carrots!
Keep the pot uncovered while you cook the sweet carrots. Bring the mixture to a boil and let boil uncovered over medium heat for 5-7 minutes, just enough for the carrots to get tender but not mushy.
After 5 minutes, poke the carrots with a fork to see if they're done. If the carrots aren't tender yet, keep boiling and testing ever 2 minutes or so until the carrots are soft. Total boiling time will be in the 5-10 minute range depending on how large your carrot pieces are.
When the carrots are cooked through, drain any liquid remaining and put the carrots back in the hot pot. Add the butter and swirl it around to coat the carrots.
Make Hibachi At Home
YUM. These aren't cloyingly sweet but they definitely have the sweet + creamy flavor from the butter that is so delicious. I use salted butter for extra flavor - add a pinch of salt right at the end if you are using unsalted butter.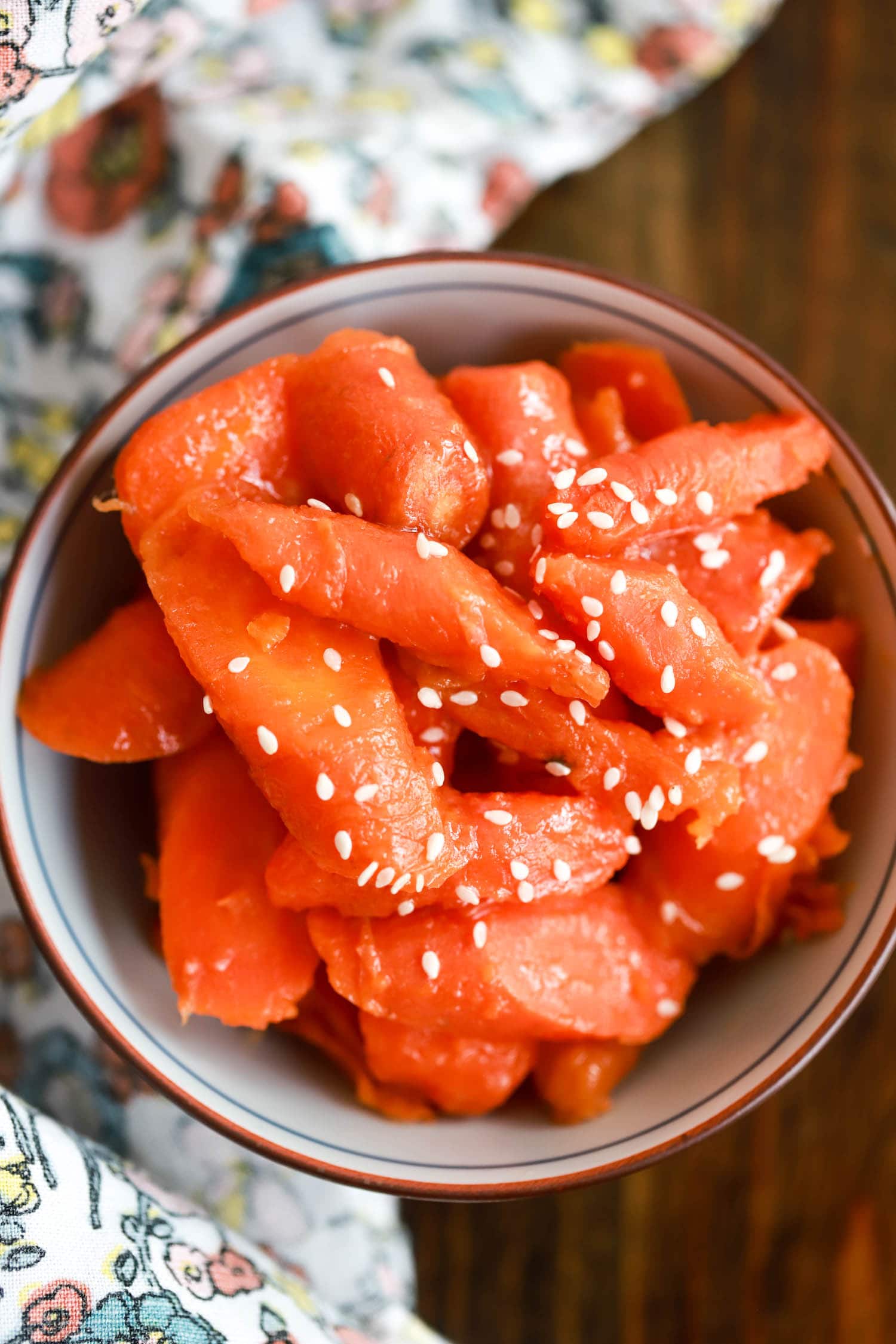 And that's it! Hibachi sweet carrots, the perfect side dish for hibachi steak and vegetables. Try these soon, or some other favorite weeknight Asian style dinners.
More Favorite Asian Fusion Recipes:
Enjoy!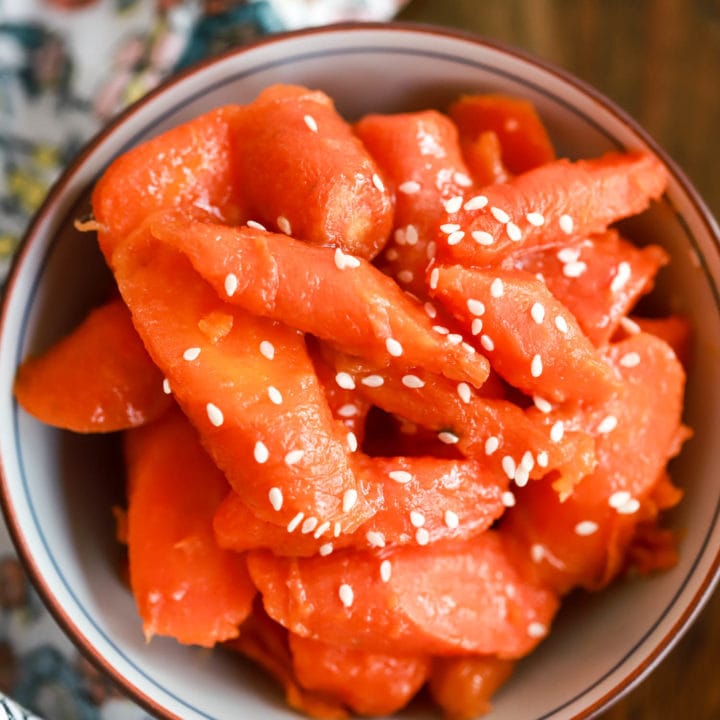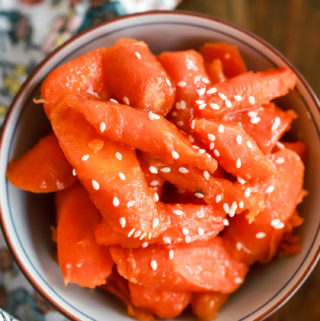 Hibachi Sweet Carrots
Super easy sweet carrots that go perfectly as a side dish to your favorite homemade hibachi dinner!
Ingredients
½

pounds

carrots

cut into bite-sized pieces

2

tablespoons

sugar

1

teaspoon

kosher salt

1

tablespoon

butter
Instructions
Place the carrots in a small pot with 1 cup of water (approximately), enough water to cover the carrots by about half. Add the sugar and salt to the water.

Bring the carrots to a boil and let boil uncovered for 5-7 minutes, testing after 5 minutes, until tender.

Drain any remaining water and return the carrots to the hot pot. Add the butter and swirl to coat and melt.

Serve as a small side dish to your favorite dinner. enjoy!
Notes
Use any kind of carrots you like! Whole baby carrots work great, or larger chunks of big carrots. If you use larger carrots than bite-sized, you may have to boil them for a few minutes longer to cook them all the way through.
I use salted butter for this dish. If you use unsalted butter, add a pinch of salt when you swirl the butter into the carrots.
This makes 4 small servings as these sweet carrots are commonly found as a second side dish with hibachi vegetables. Feel free to double or triple the recipe if this is your primary side dish! Or, like, if you just love carrots.