These everyday pancakes by Mark Bittman are the best basic homemade pancakes you'll ever have! I mix the dry ingredients in advance for homemade pancake mix - it's great for travel or meal prepping to save time later. This recipe was last updated September 2020 with new notes and improved instructions.
We all agree that the weeks after the long weekends are the hardest, right?
Because I believe this to be a truth, I'm feeling like THIS weekend should be the special one. We're celebrating making it through a gob-ton of rain and FOUR WHOLE DAYS OF WORK. We've earned this.
I've made these easy homemade pancakes three or four times now, after maybe a year of trying different recipes for things labeled "regular pancakes" or similar. There are gazillions of recipes for basic pancakes like this on the internet, but this is the first one that I've been consistently impressed with. It doesn't have random ingredients, the measurements are simple (lots of 2-of-x), and the quantity isn't so massive that you need to have your entire extended family over to enjoy these. Or may be we eat large portions. The original recipe is by Mark Bittman, but I found it on Tracy's site and her pictures made me feel like these were the pancakes of my weekend dreams, for sure.
These pancakes are, in a sense, regular, but I don't see that as a bad thing. I'm all about jazzed up things, but a plain waffle? pancake? burger? Some classics are, to me, perfect as they are and I'd much prefer to have a basic version over and over than be constantly reinventing something that's already great. This is particularly true for me re: breakfast foods because we don't make them a ton, so when we do I'm all about ease and nostalgia.
Beck has taken to "helping" make these pancakes, and loves them plain, although waiting for them to cool down is so.hard. "I DON'T WANT THESE PANCAKES TO BE HOT!!!" and somehow the act of taking a bit longer to make breakfast makes her think that she can walk around while eating, which we've become entirely too permissive with on mornings where we'd like to drink coffee without rushing around to fetch things and deliver them to the high chair. Beck loves these so much, in fact, that yesterday morning she had a full on meltdown because the last one of this particular batch had gotten moldy after we'd told her it was hers for breakfast. ~baby wailing~ "but I want to eat that last pancake I don't want it to be in the trashcannnnnn....!" Don't worry, we fixed that one with a leftover chocolate chip bagel like the stellar parents we are.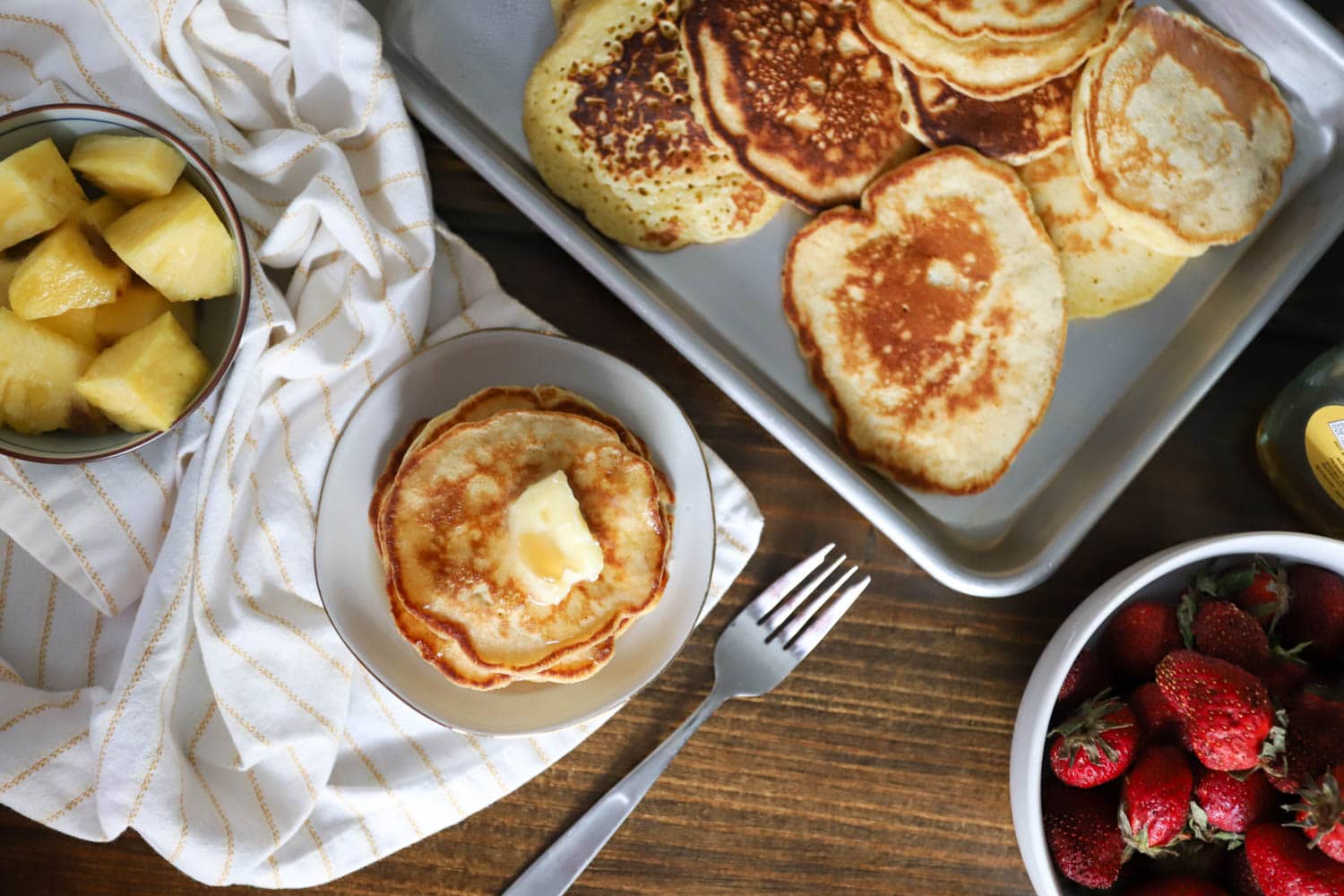 Fluffy Homemade Pancakes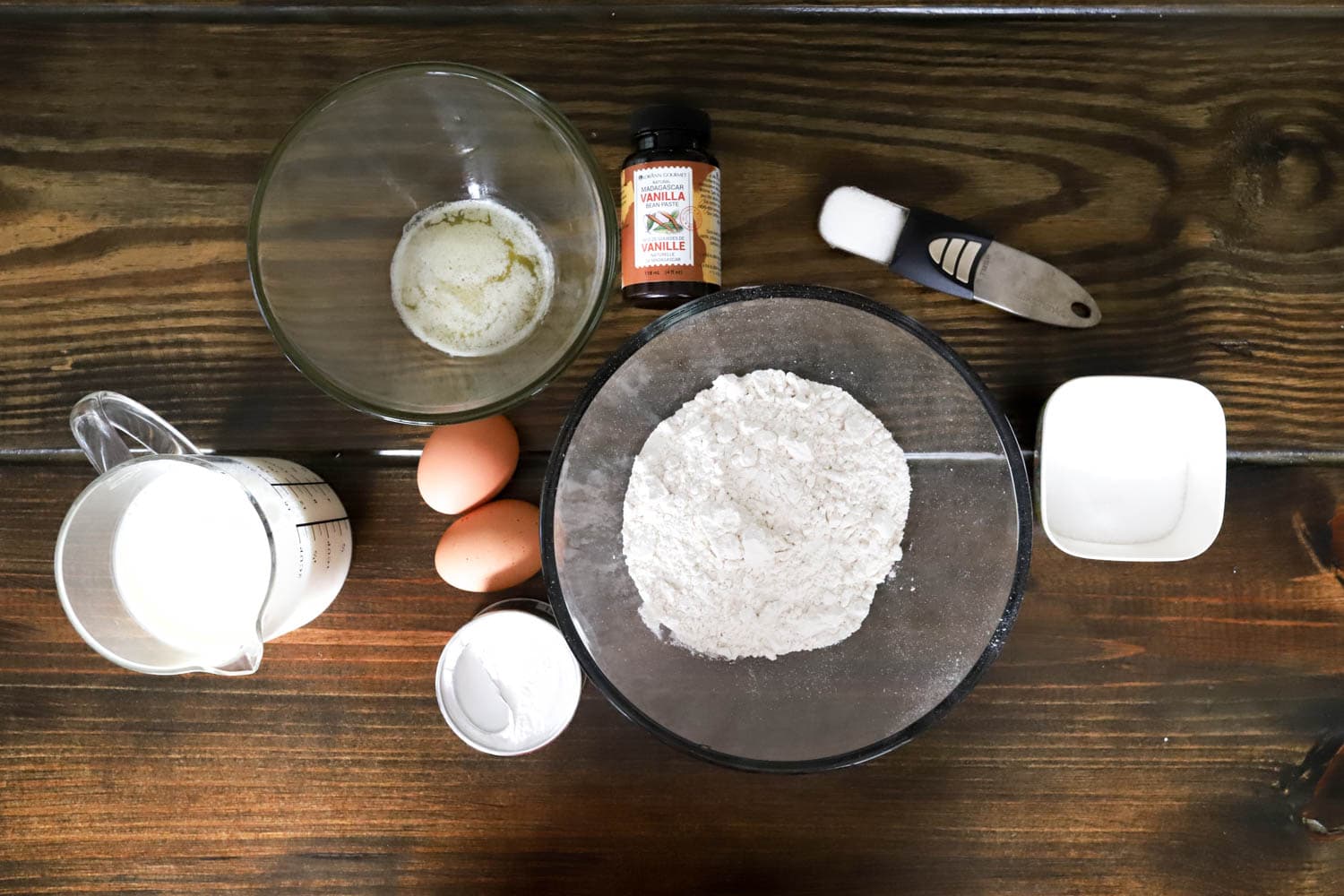 For this quick batter, you'll need flour, salt, sugar, baking powder, melted butter, vanilla, eggs, and milk. Easy! Skip the vanilla and/or sugar if you'd like a more savory pancake, but I'm all about the sugar first thing in the morning.
Start by combining the dry ingredients in a large bowl and crack the eggs in a small bowl.
Add the melted butter and milk to the eggs and vanilla...
...then whisk the wet ingredients together to break up the eggs somewhat.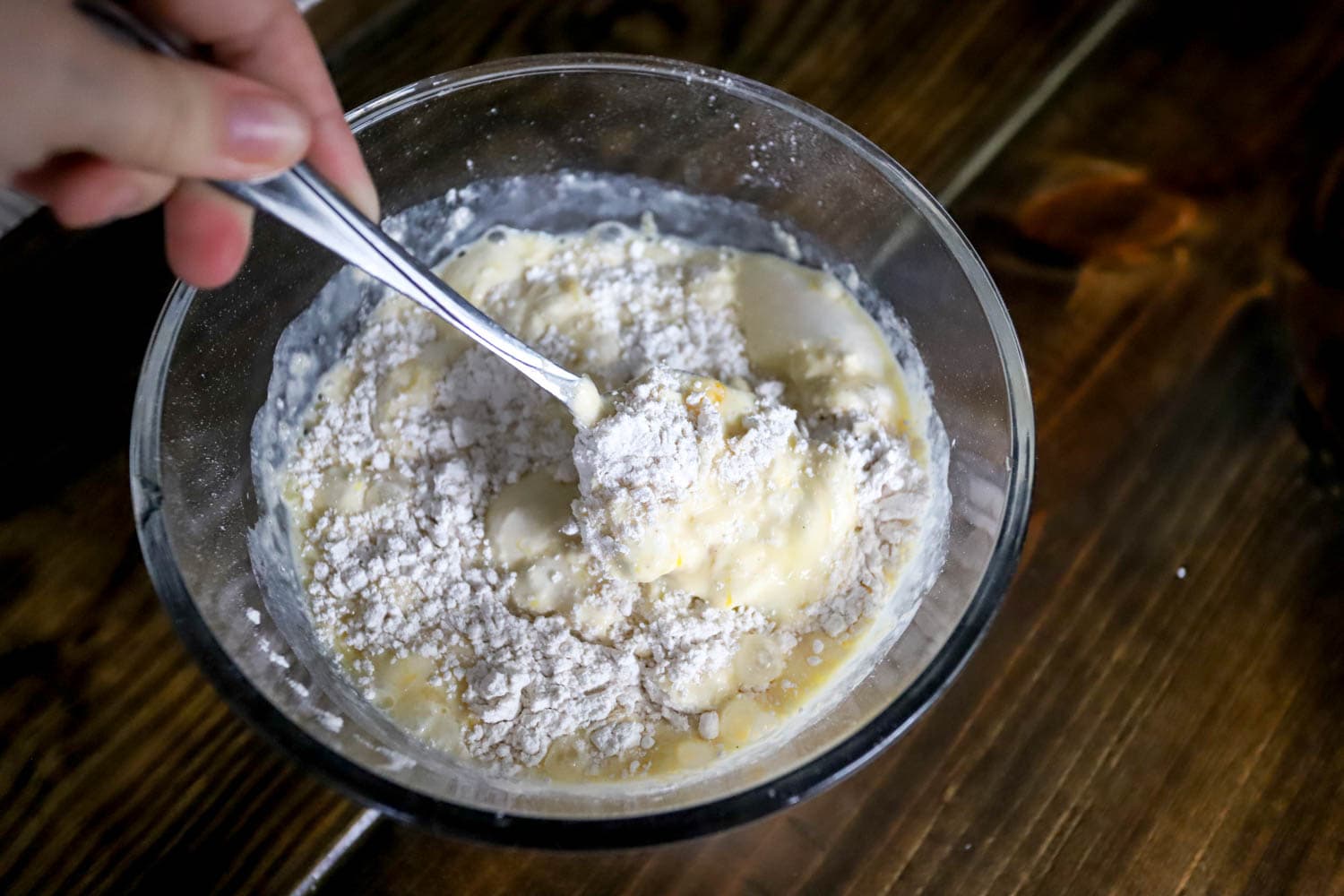 Add the egg mixture to the dry ingredients and stir gently to just moisten everything - it's fine if there are some lumps in the batter. Add a few more splashes of milk if the batter seems especially thick; I use about 1 ¾ cup milk most of the time for these.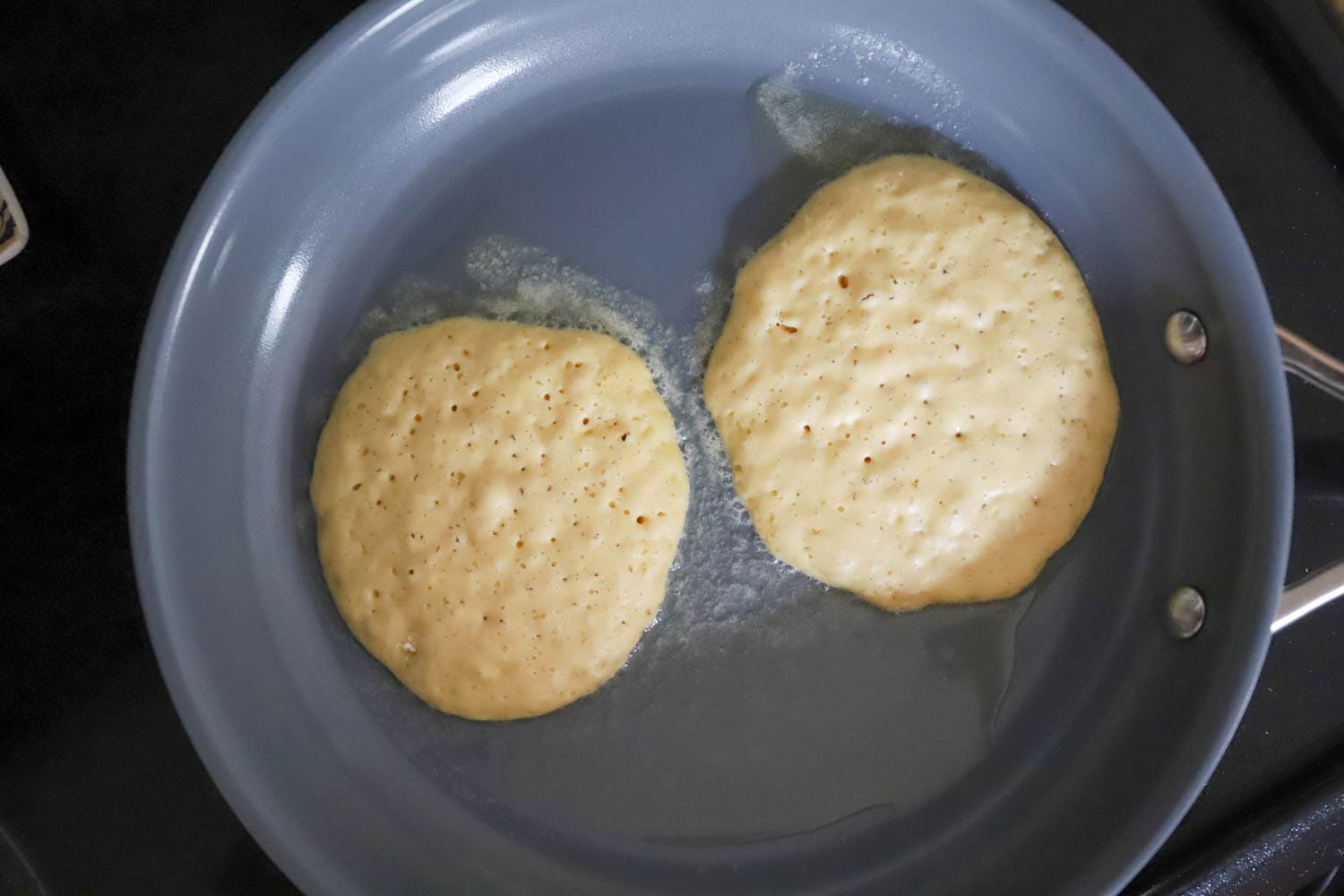 When you're ready to cook the pancakes, heat a nonstick skillet (or a few!) or a griddle to medium heat with a pat of butter. When the pan is hot, add the batter to make a few pancakes at a time - I use a ⅓ cup to make mostly-even pancakes.
Cook the pancakes for 3 minutes or so on each side depending on how hot your pan is. When the first side starts to bubble, they're ready to flip!
After flipping, let the pancakes cook for another minute or two until golden, then remove from the skillet.
I make all of the pancakes at once - this batter changes textures somewhat when kept in the fridge overnight.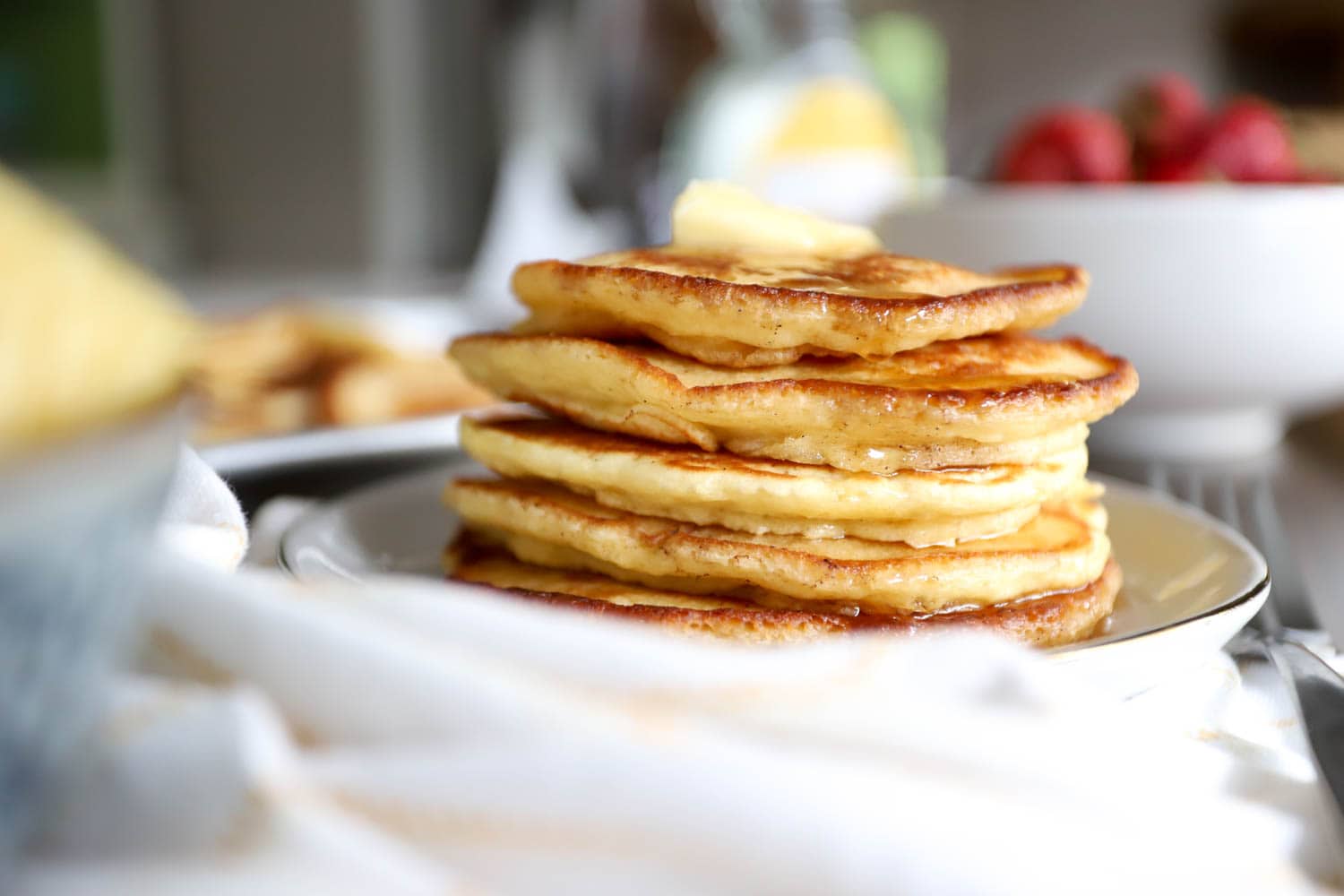 And, done!
Like I said, I love these with butter and syrup, and throwing some fruit, bacon, sausage, or whatever else you like for breakfast on the table makes this feel fancy without a ton of extra effort.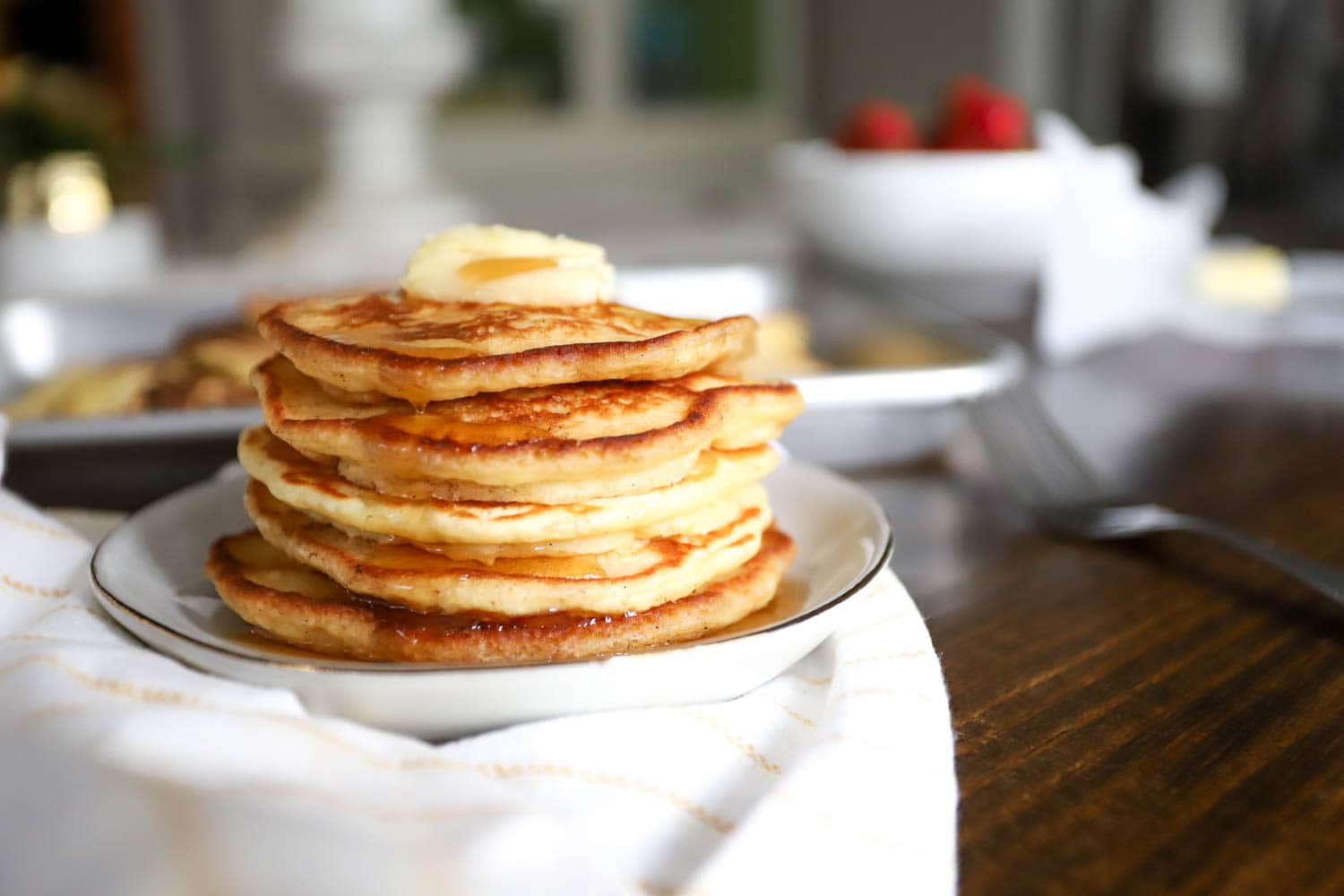 These easy, fluffy pancakes are SO good. They're light on the inside and slightly crispy on the outside from being cooked in butter, and they puff up just a bit but aren't overly bready or cake-like.
I use pats of salted butter because salt + sweet is not to be toyed with, but that's just me.
Here's your weekend love, and the leftovers on a Monday morning are just the icing(syrup) on the cake(made of pancakes). Enjoy!
Mark Bittman's Everyday Pancakes
Perfect Easy Homemade Pancakes from scratch! Mark Bittman's Everyday Pancakes are foolproof, delicious, and a perfectly easy breakfast. Memorize this recipe - it's worth it!
Ingredients
2

cups

all purpose flour

2

teaspoons

baking powder

¼

teaspoon

salt

1

tablespoon

sugar

2

eggs

1

teaspoon

vanilla

1 ½ - 2

cups

milk

2

tablespoons

melted/cooled butter

salted if possible

extra butter for cooking and serving
Instructions
In a large bowl, mix together the dry ingredients.

In a small bowl, whisk together the wet ingredients.

Combine the egg mixture with the flour mixture gently until just moistened.

Heat a large nonstick skillet or griddle over medium heat with a pat or two of butter. When the skillet is hot, add the batter to the skillet to form pancakes - I use a ⅓ cup to make medium sized pancakes.

When bubbles form on the top of the pancakes and they have browned on the bottom, flip and cook until browned on the second side. Repeat until all of the batter is used.

Serve as desired, preferably with loads of butter and syrup.

Enjoy!
Notes
How to make homemade pancake mix: Mix the dry ingredients in advance and store! When you want pancakes, add the melted butter, eggs, vanilla, and milk. I do this often for vacation prep - it's so easy to have pancakes with the dry ingredients already measured and mixed!