Super yummy chicken spaghetti casserole that is a perfect make ahead weeknight dinner! Creamy cheesy sauce, noodles, and veggies chopped up with tender chicken for an all-in-one casserole meal. Add an extra veggie with my favorite lemon kale salad, if you'd like!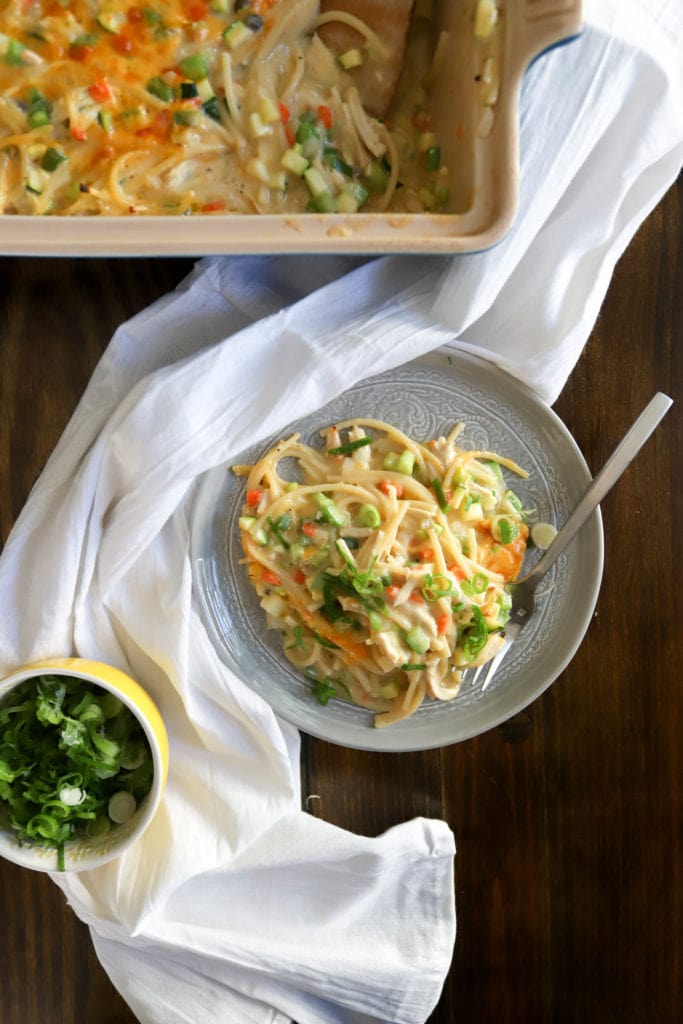 Have you watched Ugly Delicious?
This is kind of that. It's the food we're supposed to turn our noses up at, food of a different era, the dirty little secret of food. It's a casserole with cream of mushroom AND cream of chicken soup, it's not particularly attractive, and it's utterly delicious.
I've made this off and on for the last ten or so years, usually pulling it out for family vacations or special events that call for easy comfort food. Specifically, I froze a batch of this when I was pregnant with both of my kids, and we had it on our first night home (the day they both were born) with each of them. So, to say that this casserole holds some meaning to me is an understatement.
The original version of this casserole (Chicken Spaghetti by the Pioneer Woman) is SALT AND CHEESE, but I've added lots of extra veggies in this version. We cook the noodles about halfway and then keep the veggies raw so that they don't get too mushy when we bake the casserole. This does yield a little bit of a soupy casserole, but I find that to be delicious, and the casserole sets up once it rests after baking.
Ugly or not, you absolutely want to eat noodles baked with chicken, cheese, vegetables, and a creamy gravy. Right? Right.
Chicken Spaghetti Casserole Ingredients
(I had another picture of the ingredients, but this one with Beck's stealing hand is just so cute I decided to use it because it's my blog and no one pays me to write it and I do what I want.)
So we need! Any kind of cooked shredded chicken you like. Leftovers, rotisserie, whatever. Then tons of chopped veggies! This takes a little bit of time but watch TV while you do it and drink wine. Bell pepper, zucchini, carrot, celery, and onion are all here. Then we have noodles, broken in half, half and half, chicken stock, seasoned salt, cayenne pepper, onion powder, garlic powder, cream of mushroom soup, cream of chicken soup, and grated sharp cheddar. Basically all good things.
Start by boiling the spaghetti to about four minutes less than indicated on the box. We want REALLY al dente noodles, not cooked enough to eat at all. When the noodles are done, throw everything into a massive bowl with all but a handful of the cheese. That's it!
Stir the ingredients together and taste: the veggies are raw, but the mixture should be nice and flavorful, so add lots of salt and pepper until it gets there. Since things are undercooked, it should be....good without actually being good, get it? Good.
(PS I have made this with sauteed veggies and it works well to soften the veggies a bit more, especially for kids that might not be keen on veggies. Leftover chopped roasted veggies make an even quicker shortcut!)
Spread the food into a casserole dish and top it with the rest of the cheese. At this point you can freeze it, stick it in the fridge, or bake it.
Can You Bake A Casserole From Frozen?
I've frozen Chicken Spaghetti Casserole from this state and it bakes beautifully from frozen - my tip is to stick it in a cold oven frozen, then turn the heat on, so the casserole warms gradually slash doesn't break the dish (obviously use an ovenproof dish).
Alternatively, you can let this thaw overnight in the fridge and let it bake from there. Bake time depends on your oven and how cold the casserole is, but vaguely 375F until the entire dish is hot and bubbly. You'll know when it's done!
Feel free to broil the top for extra cheese crisping action.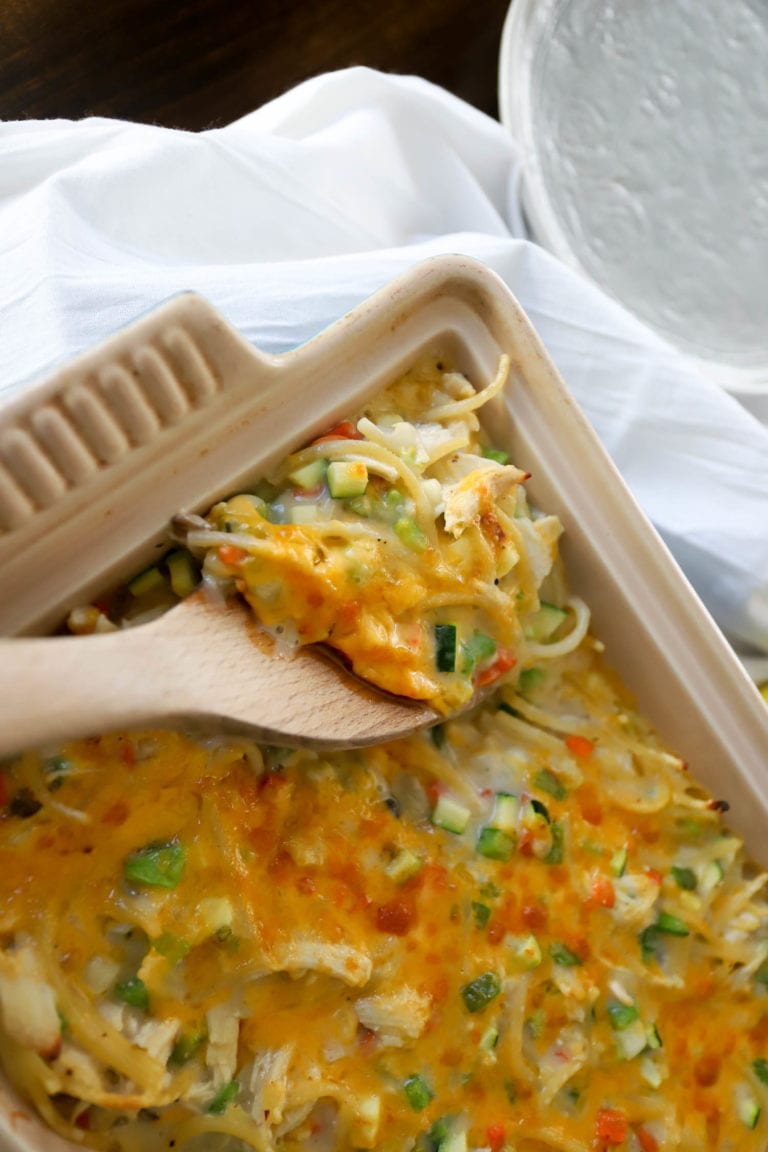 I know it's not particularly glamorous. I know it doesn't tick a ton of nutrition boxes. I do know, though, that this combo of cheese + pasta + veggies is absolutely delicious and will carry you through the winter if you don't think too hard about cream of mushroom AND chicken soup in one dish.
Keep this chicken noodle casserole bake in your arsenal, make it for friends who have family in the hospital or just had a baby. Keep one in the fridge for kid sleepovers. Eat half of it yourself. You get it. Enjoy!
Cheesy Chicken Spaghetti Casserole
Tender noodles and chicken with veggies, cheese and gravy make a delicious, easy make-ahead chicken noodle casserole. Try it soon!
Ingredients
1

pound

chicken

cooked and shredded

8

ounces

dried spaghetti

broken

1

bell pepper

chopped

1

medium zucchini

chopped

1

medium carrot

chopped

1

stalk celery

chopped

½

onion

chopped

1

cup

half and half

1

cup

chicken stock

or water from cooking the pasta

1

teaspoon

EACH seasoned salt

onion powder, garlic powder

½

teaspoon

cayenne pepper

2

cans cream of chicken soup

or cream of anything!

8

ounces

sharp cheddar cheese

grated
Instructions
Cook the pasta to VERY al dente in salted water, about 3 minutes less than the minimum time on the package. Drain and set aside, reserving some pasta water if using.

In a large bowl, combine the pasta and the rest of the ingredients with all but a handful of the grated cheese. Taste the mixture and add more of the spices to your preference. It will be slightly soupy and weird because the veggies are raw, but should still taste good!

Transfer the mixture to a large baking dish, 9x13 or so, and top with the rest of the cheese.

Bake at 375F for 20-30 minutes until hot and bubbly. Let rest for 5 minutes before scooping into shallow bowls. Enjoy!
Notes
To make-ahead, do everything but the final baking step. This can be frozen for several months, then baked from frozen (start in a cold oven, turn to 375F) or thawed in the oven overnight. This can also be kept in the fridge for a few days prior to baking and serving.
If you don't have seasoned salt, kosher salt works fine in this dish!