Delicious Mexican ground beef that can be used in tacos, burritos, or over nachos! This is one of those foolproof recipes that is delicious, and features your own homemade taco seasoning, hard shell tacos with no seasoning packet! This ground beef is extra delicious with sour cream guacamole.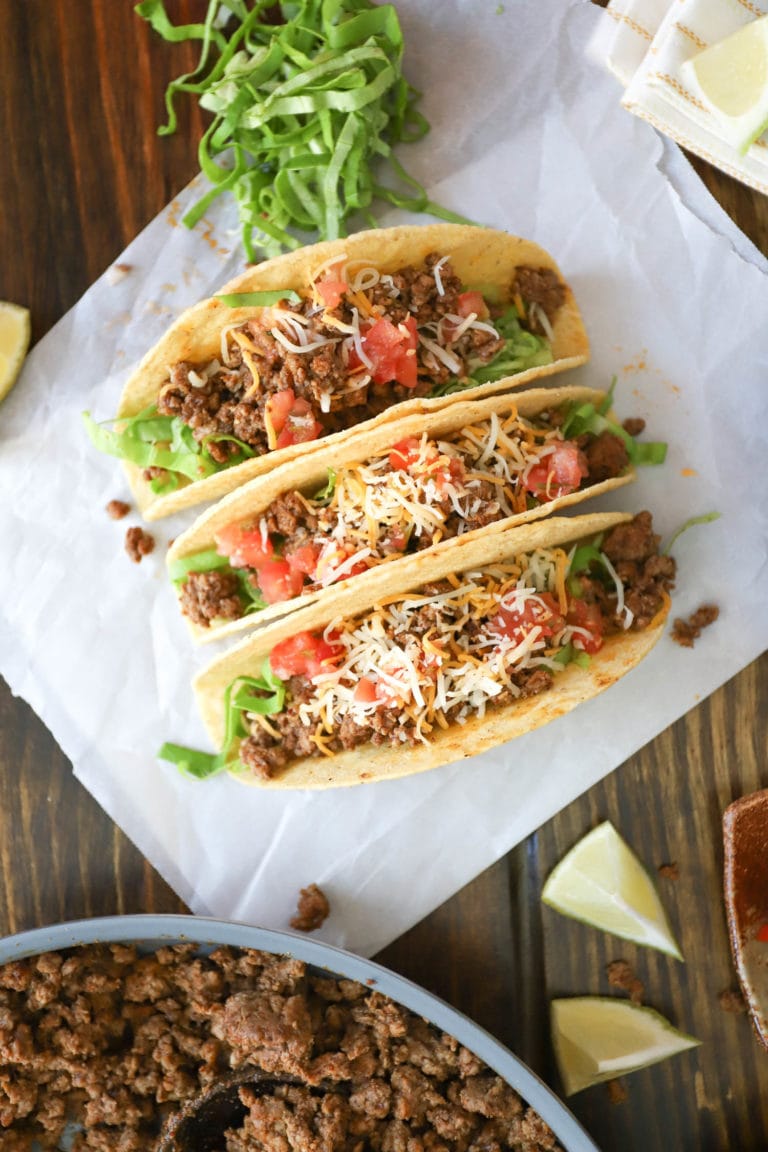 For Taco Tuesday hard-shell tacos, DUH.
We are a week away from Cinco de Mayo! This is excellent news because MEXICAN FOOD OBVS. Mexican and Indian are my true all the time, tried and true, even love the leftovers, favorite cuisines of all time. We eat a variation of each at least once per week, and I love that Mexican food specifically lends itself to so many different types of foods, uses for extra veggies, all of the good stuff. Plus: flavor. condiments. cilantro.
This Mexican ground beef is super basic and probably not very authentic at all. I am a huge sucker for plain ground beef, though, and this version is super simple and foolproof - no seasoning packet necessary.
I use the same spice blend with crumbled tofu, ground chicken, even fish flaked for tacos, and the results are delicious and adored each time. How you use the beef is up to you - hard shell tacos are so fun and easy, but this is great on salads, in burritos, or as a part of any other Mexican meal you enjoy.
I love making a batch of this at the beginning of the week and using it several ways for a few meals. Taco meat leftovers are the best kind of leftovers, imo.
Taco Meat Ingredients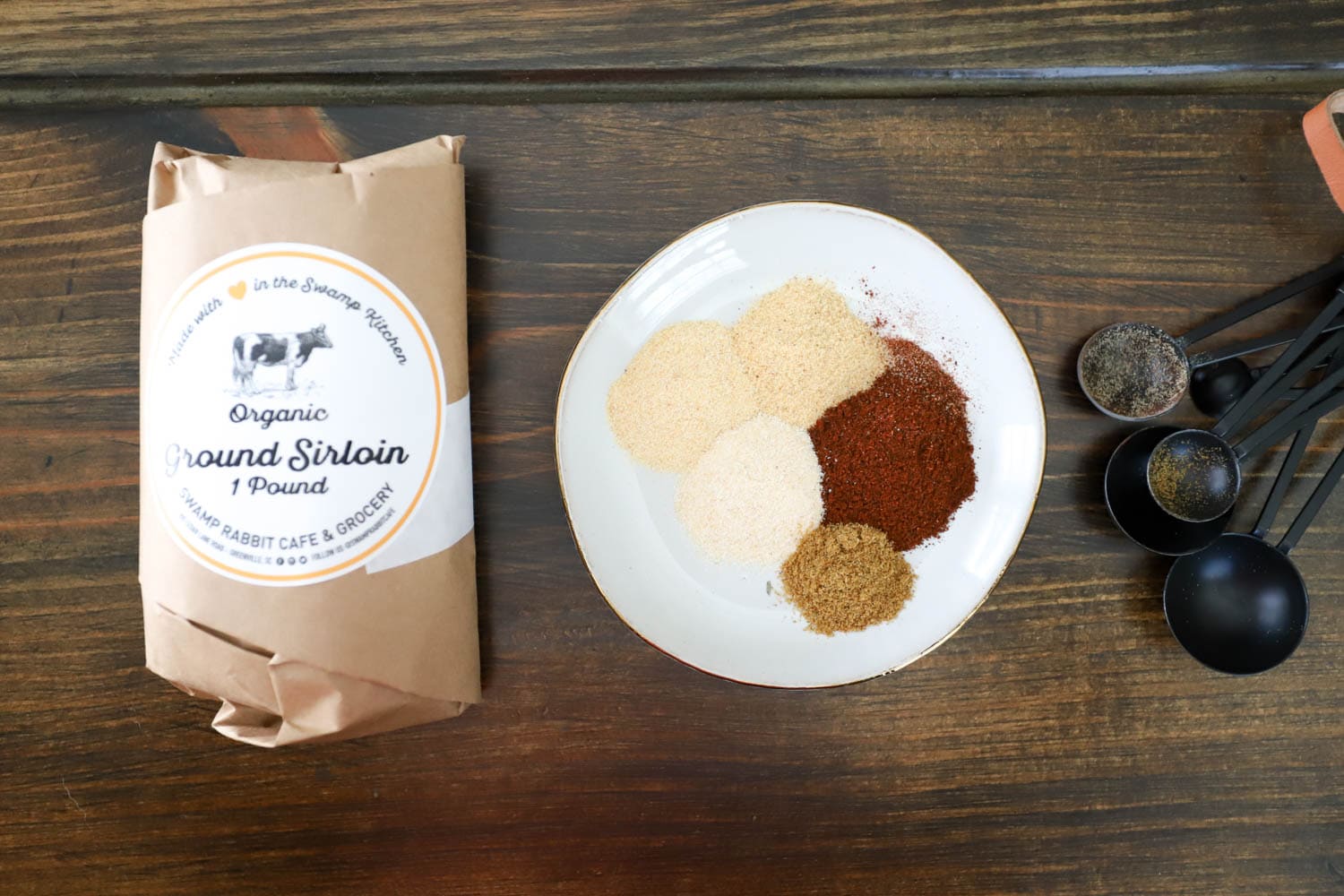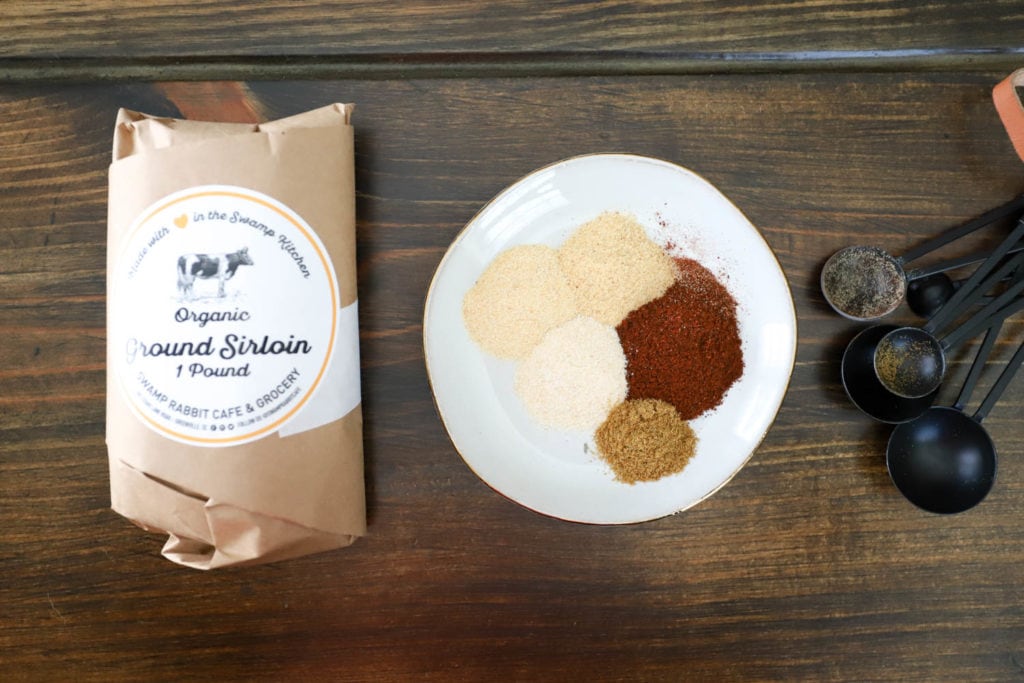 You need ground beef, any kind you like. The spices are seasoned salt (or regular salt if you don't keep seasoned salt around), chili powder, cumin, onion powder, and garlic powder. The beef is cooked in a combination of oil and butter and we simmer it with some water for just a few minutes before serving.
Note that some recipes use cornstarch or flour to thicken the ground beef during the water simmering phase. This is a yummy thing to do, gives kind of a gravy texture to the whole dish. HOWEVER, I couldn't be bothered, and not using flour ensures that this is a gluten free ground beef recipe, aka EVERYONE GET IN ON THIS.
How To Cook Ground Beef
To start, heat a skillet over medium-high heat with the oil and butter. When the skillet is very hot, add the beef and break it up with a spoon.
Let the beef sit for about a minute between stirring each time to develop a crust on the outside. After about 5 minutes, add the spices to the skillet and stir them into the beef.
Let the spices cook for two minutes, then add the water and simmer for about three minutes to make a teensy bit of a sauce and meld the flavors. Taste the beef and add any more of the spices that you'd like. You can also sprinkle in some hot sauce or cayenne pepper if you like things spicy!
Beef Taco Topping Ideas:
Now, to serve. The serving options and topping ideas for a simple beef like this are endless.
One of our favorite dinners is a batch of red Mexican rice, this beef, and any toppings we can quickly grab out of the fridge. Sometimes I make some quick skillet fajita veggies, sometimes we cut up a bunch of lettuce and tomatoes and call it a salad on our rice bowls.
This is a great ground beef recipe for low carb taco salads as well!
Make Ahead:
To meal prep this, make the entire recipe and let it cool, then store the ground beef in the fridge for up to 5 days or freezer for...until you eat it. I often make a double batch and have some the week I make it, then freeze the rest for the next time we need a quick weeknight Mexican dinner.
Add this to your weeknight arsenal - it's so versatile that the meals you use it in will feel different each time, and you'll never have to force the taco meat leftovers on anyone (if there even are any).
Enjoy!
Print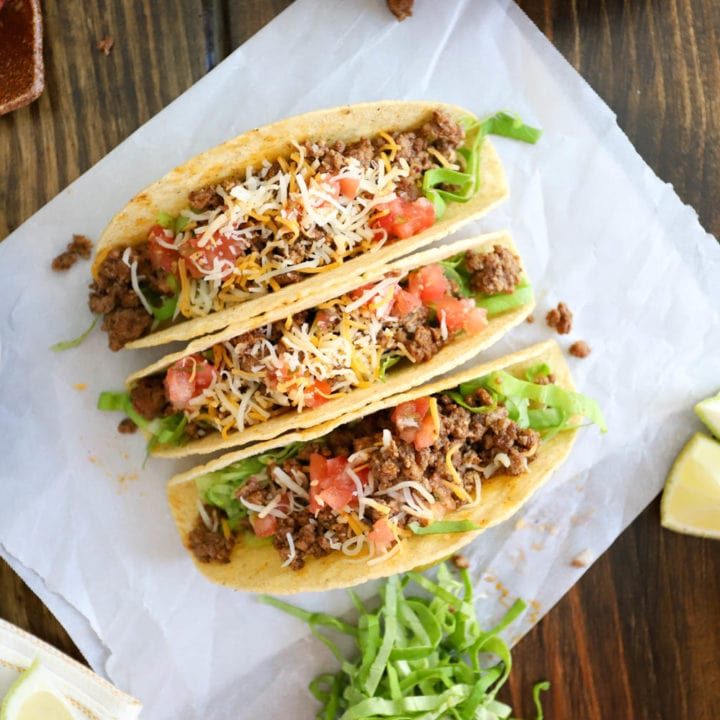 Easy Mexican Ground Beef
---
Total Time:

20 minutes

Yield:

Serves 4
Description
DIY taco meat with no seasoning packet, just tons of flavor and simple spices. This is done in just a few minutes and is perfect on tacos, nachos, salads, and burritos.
---
2 tablespoons

butter

2 tablespoons

olive oil

1

pound ground beef

2 teaspoons

chili powder

1 teaspoon

seasoned salt or kosher salt

1 teaspoon

onion powder

1 teaspoon

garlic powder

½ teaspoon

ground cumin

½ cup

water
---
Instructions
Preheat a skillet to medium-high heat with the oil and butter. When the skillet is hot, add the beef and cook for about 5 minutes, breaking it up with a spoon as you go.
Add all of the spices to the skillet and stir to combine for 2 minutes. Pause between stirring to allow the beef and spices to toast together.
Add the water to the skillet and let reduce until there is just a bit of sauce left in the skillet. Taste the beef and season additionally with any of the spices as desired.
Serve in tacos, burritos, over rice, or with salads. Excessive toppings encouraged. Enjoy!
Equipment
Notes
This method is delicious with ground turkey, pork, or chicken. Try all and see which you like best!
I often make a double batch of this taco meat and freeze half for later. Thaw in the fridge overnight, and serve with burrito bowls for a quick weeknight dinner option.
Prep Time:

5 minutes

Cook Time:

15 minutes
Keywords: How To Cook Ground Beef, Mexican Ground Beef, Taco Meat Leftovers,
This recipe was originally published in April, 2018, and has been updated with more clear instructions.