These green chile chicken enchiladas are straight from an old-school midwestern church cookbook - creamy, super simple to make, and absolutely delicious. Cream of chicken soup makes the base of the chicken filling, and diced green chilis, veggies, and salsa verde add lots of tangy flavor. You. Will. LOVE. These.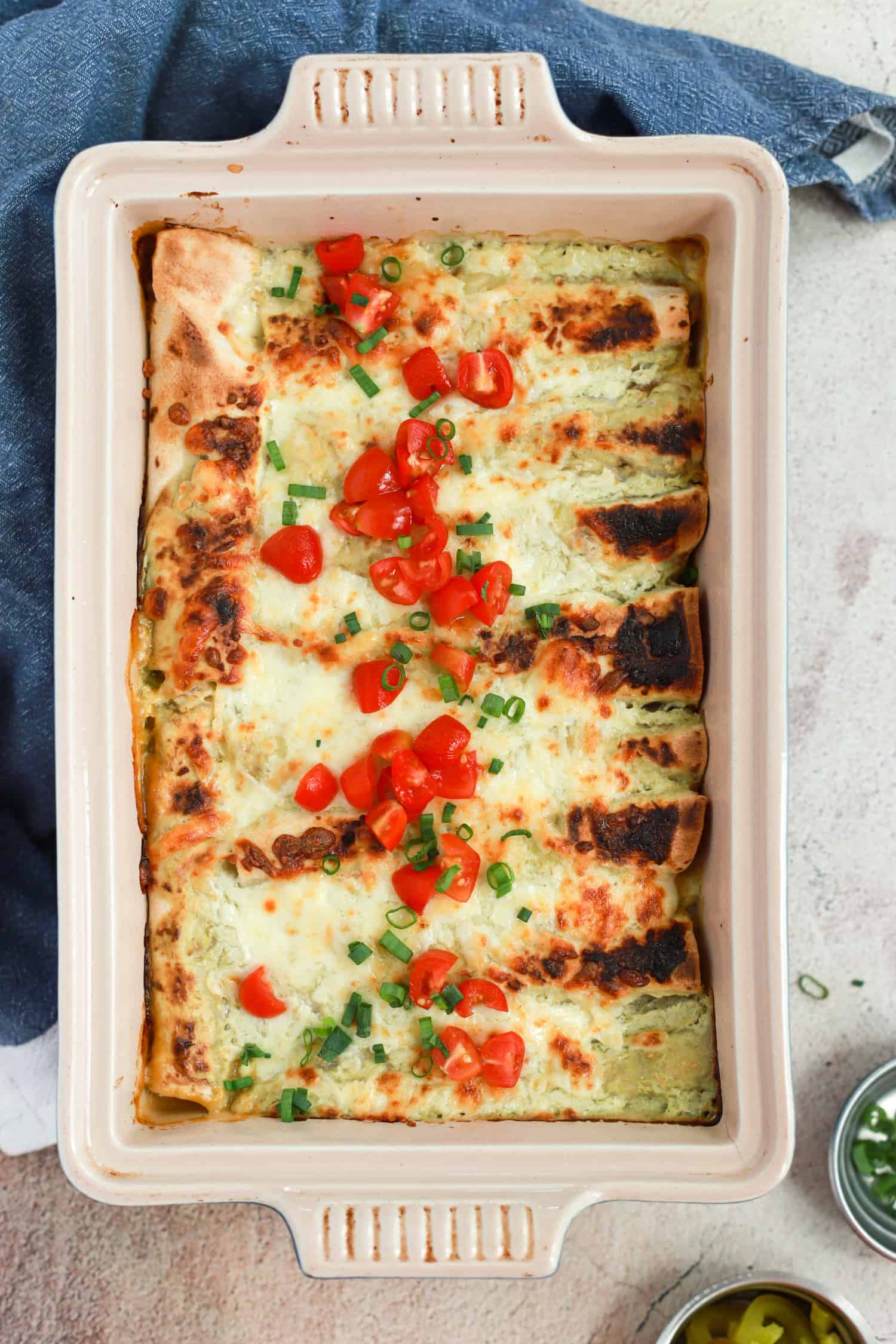 We've discussed before that I love Mexican food, right? Because I do. So much. Sour cream, tomatoes, chilis, and cheese are all SO good separately, and even better together. So, I love Mexican food.
I adapted this chicken enchilada recipe from a 70's-era family cookbook that I got from a friend - these are easy, delicious, and a GREAT make-ahead dish.
Recipe Notes
As much as I'd love to shout AUTHENTIC ENCHILADAS, COMING UP, this is absolutely not that recipe. This is a recipe born in the Midwest of necessity and a love of cream of chicken soup, which, imo, is a very underrated ingredient. Americanized enchiladas are lovely, but authentic they are not.
This version of enchiladas uses cooked shredded chicken, and, yes, this is absolutely a great place to use up leftover shredded chicken or grab a rotisserie chicken. I often simply boil chicken breasts and then save the liquid for homemade stock that I'll make a day or so later (keep the cooking liquid in the fridge).
The short method is this: cook some chicken, sauté some veggies in taco seasoning, mix everything up with cream of chicken soup, sour cream, and canned chilis. Roll the mixture into small tortillas, top with salsa verde and sour cream, bake, DONE. Top with all your favorite Mexican toppings.
I don't do any weird tortilla-in-oil maneuvering, I feel that it doesn't add any flavor, though there are some versions of enchiladas that call for dipping tortillas in sauce rather than oil. That adds flavor but also adds a step to the recipe, and I like keeping these simple.
Ingredients
Look how yummy! Chicken, veggies, spices, canned soup AND canned chiles, sour cream, cheese, salsa verde, and taco-sized tortillas.
We're building flavors that land us somewhere in a green chile chicken/salsa verde heaven. The flavor in these enchiladas is just SO GOOD.
Ingredient Notes and Variations
Shredded Chicken: Literally ANY way you like cooking chicken is great in this recipe. A whole rotisserie chicken, with bones and skin removed, is also the amount of chicken you'll need for this recipe. You can also bake chicken breasts or thighs with salt and pepper and olive oil for about 20 minutes in the oven at 375F until the internal temperature registers 165F.
Veggies: I make these enchiladas with onion, green bell pepper, and celery. You can add more or different veggies if you'd like - mushrooms in particular are lovely in this dish.
Vegetarian Variation: feel free to double the amount of veggies in this recipe and skip the chicken, or add other veggies if you prefer. Use cream of mushroom or cream of celery soup instead of the cream of chicken.
Gluten Free Variation: Use corn tortillas and GF cream of chicken soup to keep this gluten free!
Cheese: Any white melting cheese you like will work well in this dish, although it might change the flavor slightly. A Swiss cheese will give a delicious Enchiladas Suiza variation - highly recommend! Monterey Jack cheese is also fabulous in this recipe.
Tortillas: I like flour tortillas in this recipe, literally use the smallest version you can find. Corn tortillas are also wonderful but may fall apart a big during baking (the dunking in sauce maneuver mentioned earlier may help with this), but the flavor is absolutely delicious. Use whatever kind of tortilla you like!
Salsa Verde: The salsa verde + sour cream is an absolutely delicious topping. I save time with jarred salsa, but you could absolutely use homemade salsa verde OR a can of green enchilada sauce.
Green Chicken Enchiladas FAQ
Are Enchiladas Better with Corn or Flour Tortillas?
This is totally up to you! I usually use flour tortillas, but the flavor that corn tortillas give to baked enchiladas is really, really good. Note that lots of corn tortillas are gluten free so that can be a good option to making this recipe GF.
Is Green Enchilada Sauce The Same as Salsa Verde?
Nope, but they're super similar! Salsa verde is usually made with raw ingredients, and green enchilada sauce is cooked. They taste similar and have similar ingredients, though! In this recipe I actually prefer salsa verde as the "sauce" for the bright tang it adds to the final dish.
Step By Step Instructions
Timing Note: If you don't have already-cooked chicken, that can add a bit of time to this recipe. When I'm cooking chicken before making these, I start the chicken then use the cook time to chop and measure the rest of the ingredients, then move on to making the enchilada filling.
Once the ingredients are gathered and prepped, grab a large skillet and preheat it to medium heat with a drizzle of olive oil.
Add the veggies, and let them sauté for a few minutes to start to soften. Then, add the salt, cumin, and chili powder to the mixture.
Keep cooking the veggies until they are soft and their liquid evaporates (maybe 10 minutes total, but watch the veggies more than the clock), then turn the heat OFF the pan.
To the hot pan of veggies (this is the benefit of having your ingredients all ready!), add the chicken, cream of chicken soup, canned green chilis in their juices, and HALF of the sour cream and shredded cheese to the skillet.
(The rest of the cheese and sour cream will be used for the topping.)
Now that the filling is done, grab everything you'll need to make the enchiladas:
a large baking dish.
small flour tortillas.
white chicken enchilada filling.
sauce: whisk together the salsa verde and the rest of the sour cream.
the rest of the cheese.
The salsa verde + sour cream is a REALLY yummy sauce, but if you happen to have a can of green enchilada sauce on hand, use that instead!
Build the enchiladas by scooping about ⅓ cup of filling into each tortilla, then rolling it up gently and placing the enchilada seam side DOWN in the pan.
Repeat this with as many tortillas as it takes to either 1. fill the pan or 2. use up all the filling - ideally both, but life isn't always perfect.
Pour the verde sauce over the enchiladas, then sprinkle the rest of the cheese over top of the dish.
Now, bake! 375F for 30 minutes or until the dish is hot and bubbly.
Serving and Topping
Sort of like lasagna, let the enchiladas rest for 5-10 minutes before scooping them out and serving. I usually do 1 enchilada for a kid and 2-3 for and adult serving.
I like TONS of toppings on enchiladas, and usually choose 3-4 from the following list:
Salsa
Sour cream
Shredded lettuce or cabbage
Chopped tomatoes
Lime wedges
Cilantro leaves
Seriously the sky's the limit in terms of how to serve these. I usually serve them plain for dinner, but you could also make a side of green rice or red Mexican rice that would be really delicious.
Make Ahead Tips and Leftover Storage
I love making these in advance and storing the entire dish, unbaked, in the fridge for 3-4 days and then baking them on a busy weeknight.
One thing that can happen with the sauce poured over the enchiladas is that the tortillas can get a little soggy, so another alternative is to make the filling and keep it in the fridge, then build the enchiladas on the day you'd like to eat them.
Leftover keep great in the fridge for about a week; I just microwave the portion I'm going to eat for a minute or so, then add some fresh toppings to liven things up.
You will absolutely love these, I promise. Make them soon, and enjoy!
Green Chicken Enchiladas
The best creamy chicken enchiladas! Tangy green sauce, tons of veggies, and tender chicken all cozied up with cheese and sour cream. This is the perfect one dish dinner!
Ingredients
1

pound

cooked

shredded chicken (about 3 cups total)

½

onion

diced

1

green bell pepper

diced

2

ribs celery

chopped

½

teaspoon

salt

plus more if needed

1

teaspoon

ground cumin

1

teaspoon

chili powder

1

can

13 ounces cream of chicken soup

2

cans

4 ounces each mild green chilis

⅔

cup

sour cream

4

ounces

shredded Monterey jack cheese

1

cup

salsa verde

10-12

taco-sized

small flour tortillas
Instructions
Preheat a large skillet to medium heat with a drizzle of oil. Add the onion, bell pepper, and celery and sauté for about 5 minutes to soften.

Add the salt, cumin, and chili powder and stir to coat the veggies for about 3 minutes more. When the veggies are soft, turn the heat OFF the skillet.

Add the chicken, cream of chicken soup, chilis, half the cheese (2 ounces) and half the sour cream (⅓ cup) to the skillet. Stir to combine and taste; add more salt until very flavorful. This is the enchilada filling.

In a separate bowl, whisk together the remaining sour cream and the salsa verde with a pinch of salt.

Build the enchiladas. Prepare a 9x13 baking dish (or similar) with cooking spray. Spoon about half a cup of the filling into a tortilla, then roll up (it's ok if the edges are open, we aren't making burritos) and place seam side down in the baking dish.

Repeat with the rest of the tortillas and the filling, pressing the enchiladas together to fill every space of the baking dish. Save any leftover tortillas or filling.

Pour the green sauce over the enchiladas and top with the rest of the cheese. To this point, the recipe can be made in advance.

Bake the enchiladas at 375F for 30 minutes uncovered until hot and bubbly and slightly golden on top. YUM.
Notes
Chicken: Leftover shredded chicken is wonderful for this, or you can make freshly baked chicken. To bake chicken, season boneless, skinless chicken breasts to your preference (I use salt, pepper, and chili powder for this recipe) then bake in a small baking dish or roasting pan at 350F for 30 minutes or until cooked through. This recipe is also wonderful with shredded rotisserie chicken. Use any size tortillas you'd like for this recipe! I use small street taco size, but larger tortillas or corn tortillas work just as well. Make it Spicy: For spicy enchiladas, use a spicy salsa verde, spicy canned green chilis, grated pepper jack cheese, and add a minced jalapeno to the vegetable mixture. Do one or all 4 depending on your preference for heat.
This recipe was originally posted in October 2011 and has been updated with more clear instructions and images.
More Yummy Mexican Recipes