The absolute best recipe with leftover bread - homemade garlic butter croutons! These taste just like restaurant style garlic bread made into croutons and are absolutely delicious on top of any salad. I love making these with leftover no-knead bread and serving them on kale salad for a quick lunch.
Croutons are....the best part of a salad, if they're good. I recently saw a meme that said something like "I love eating a salad because it's like a treasure hunt for foods you actually want to be eating," and kind of .... yes, when it comes to croutons.
I love a really, really good salad, but the bread's where it's AT.
Homemade croutons are seriously simple to make, and a great use-up of leftover bread or stale bread from other meals. I often cube leftover bread and store it in the freezer, then make small batches of these garlic bread croutons whenever I'm making big salads.
Enter: the best garlic croutons recipe!
Recipe Notes
Any bread is delicious for homemade croutons - I particularly like leftover crusty bread like no-knead bread or pizza dough focaccia.
If I only have a piece or two of bread left I stick it in a bag in the freezer, and add to my leftover bread bag whenever I have more bread. Frozen leftover bread can be used for croutons, bread crumbs, or in meatloaf!
The spices in this recipe are all dried - no mincing fresh garlic or chopping of anything. Save even more time by cubing the bread in advance.
We're talking a lot about salad here, but croutons are really good on top of soup - blender tomato soup, for example.
Meal Prep Pro Tip: This is a perfect time to see exactly how I meal plan and my thought process for using ingredients a few times in a week. If I know I'm making bread for a pasta dinner, I'll also anticipate having leftovers and plan a big salad for dinner with grilled chicken the night or two after, knowing that I'll have leftover bread for croutons.
Ingredients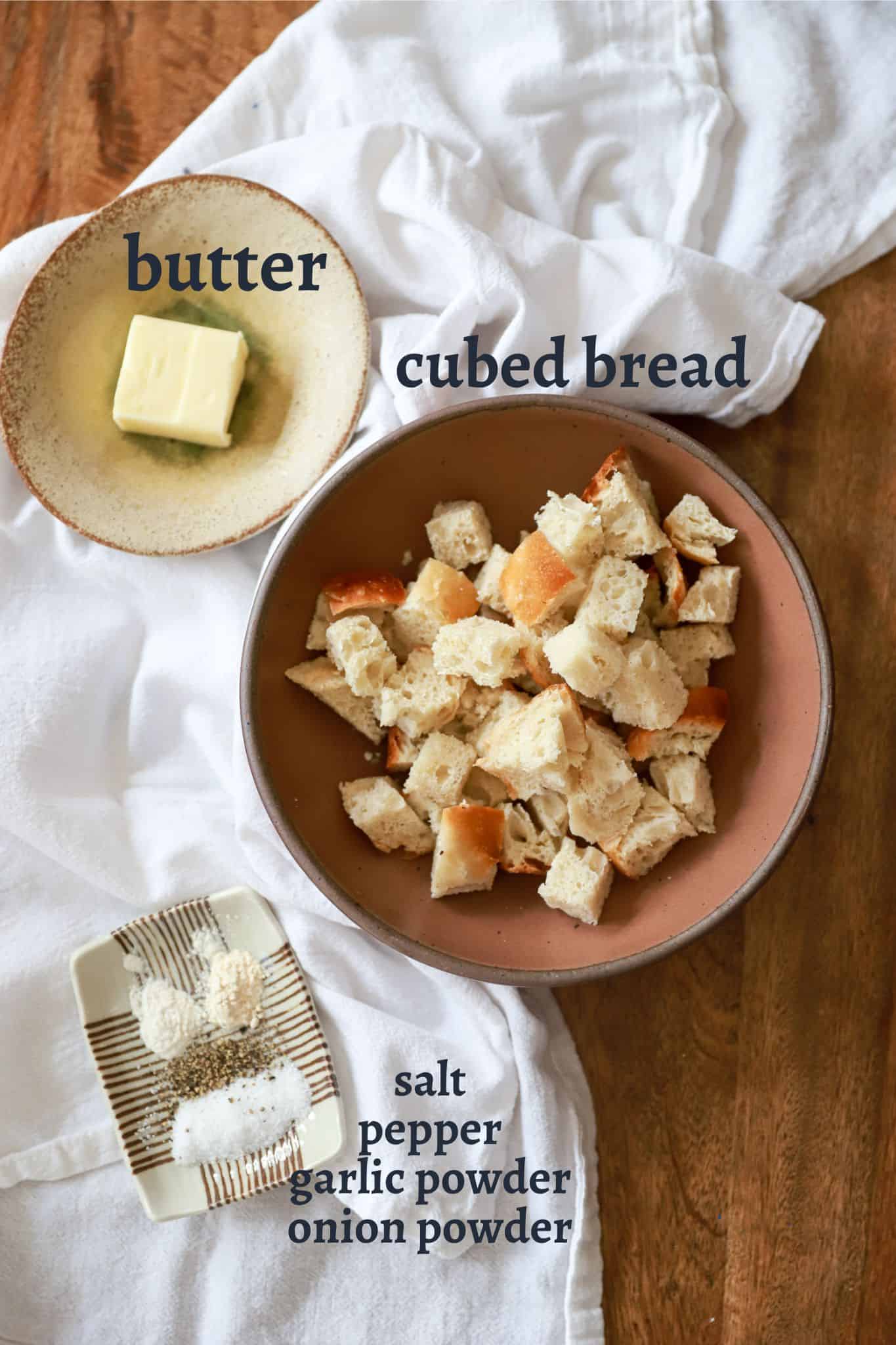 We start with leftover bread, then these croutons are flavored with butter, salt, onion powder, garlic powder, and black pepper. Easy!
I always buy salted butter because I think it makes everything taste so yummy, but unsalted butter is fine - you just might need a pinch more salt.
Step By Step Instructions
Ok, how to make garlic butter croutons! The hardest part of this entire recipe is gathering your ingredients and measuring the spices.
Once that is done, grab a skillet (large enough to fit the bread cubes in one layer, this Le Creuset nonstick skillet is my favorite and absolutely perfect), and heat it to medium heat with the butter.
Temp Note: You may have to play around with the temperature a little bit; the goal is to gently toast and dry out the bread at the same time, so we don't want to rush the process.
When the butter has melted, add the bread cubes and swirl them around to coat the bread in the butter.
Let the bread toast for about 7 minutes, tossing the cubes every minute or so so they brown evenly.
When the bread cubes are lightly golden brown, sprinkle the spices evenly over the croutons and toast for 5 minutes more until the croutons are nicely golden and the spices are toasty but not burned.
You may need a little more or less time depending on your stove and skillet, so just keep tossing the croutons until they are toasty and dried out but not burned. Taste a crouton (hell yes) and add a few more pinches of salt if needed.
When you're satisfied that your croutons are salty, buttery, garlicky, and crunchy enough, remove them to a plate to cool and try not to eat them all while you make your salad! I promise you will NEVER go back to storebought croutons again after making these.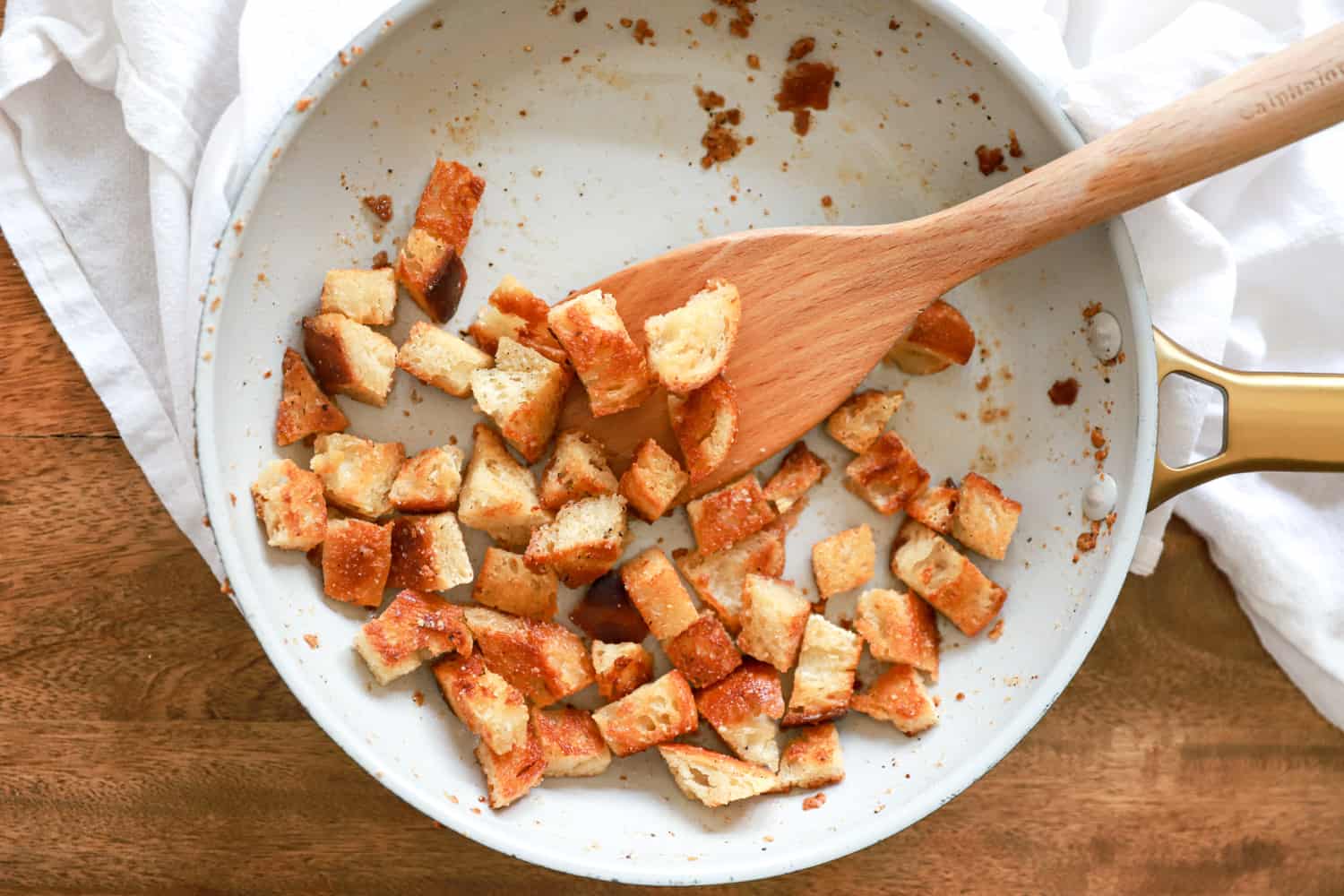 Garlic Parmesan Crouton Variation
NOW, if you want to go all out, sprinkle some parmesan cheese - 2 tablespoons or so - over the croutons and give them one final toss before you take them out of the pan - crispy cheese is a very happy thing to have happen to your croutons!
Make Ahead and Storage
These are delicious cooled on a plate and served right away, but can also be made in advance and kept in a storage container for a few days on the counter.
If I know I'm going to be serving these on the day I make them, I leave them uncovered until I serve them, even if I make them in the morning for dinner. I find that the croutons stay crispier when kept uncovered.
How Do You Keep Homemade Croutons Crispy?
I find that these croutons stay crispy in a covered container for at least 2 days on the countertop. The key to keeping them crunchy is to cook them slowly enough that the bread dries out as the outside toasts in the butter and spices.
Salads That Benefit From Croutons
Any salad is made better with croutons, for sure, but here are some of my favorites!
No matter how you use these croutons, I hope you love them! They are so simple and add such a nice buttery crunch to salads.
Garlic Butter Croutons
Making your own homemade croutons is so simple and a great way to use up leftover bread! Extra crispy, buttery, salty bites of love can be yours in just 15 minutes.
Ingredients
2

cups

cubed bread

3

tablespoons

butter

½

teaspoon

salt

¼

teaspoon

onion powder

¼

teaspoon

garlic powder

fresh black pepper
Instructions
In a skillet, warm the butter over medium heat.

When the butter melts, add the bread cubes and toss every few minutes for 5-10 minutes until the bread is lightly toasted.

Sprinkle the salt, onion powder, garlic powder, and as much pepper as you'd like all over the croutons.

Keep tossing and stirring to coat everything evenly in the butter and spices until the croutons are deeply golden brown.

Transfer to a plate to cool completely before storing or serving on salads.
Notes
Bread: Use any kind of leftover bread you have for this! I have used sandwich bread, French bread, or homemade no-knead bread. When I know I'll have leftover bread, I cut into cubes and keep it in the freezer. Then, I take out what I need when I want to make croutons. Butter: I prefer salted butter, always, but unsalted works here as well. Leftovers keep great in a tightly sealed container on the counter for 2-3 days.
Dinner Recipes That Go With Side Salads
This recipe was originally published in April 2012 and has been updated with more clear directions and yummier pictures.