Steak in just 10 minutes! This recipe for hibachi steak has just 6 ingredients and cooks in about the same amount of time it takes to steam some rice. I use sirloin steak cubes for a super affordable option, but this is also delicious with ribeye steak.
YEAH YEAH YEAH!! ..is my reaction to hibachi steak bowls early in the week in January.
Since the dawn of this blog (you're like, calm down), hibachi recipes and Asian-fusion recipes have been some of our favorites to make, and your favorites to read. The top recipes of all time (and, kind of by a lot) are hibachi shrimp and spicy crab salad (like in sushi!), and honestly they're some of my favorites too.
I think with the hibachi method in general, the hot pan + quick cooking nature of things make them really attractive to us: real people trying to feed our families good food in a reasonable amount of time.
This hibachi steak is no different. It comes together super quickly, has just a few ingredients, and the resulting buttery, soy, beefy sauce that's left in the bottom of the pan is just reeeeeally good drizzled on some rice.
Some quick notes:
What Cut Of Steak Is Used for Hibachi?
For these pictures I used sirloin steak that I cut into cubes myself. This recipe is kind of a cross between Joy of Tokyo-style hibachi and fancy throwing-eggs-in-hats hibachi, if you know what I mean.

You can use any steak you like, but I like sirloin for an affordable option and ribeye to make things feel fancier. Any steak you have or see on sale, though is excellent.
What Other Ingredients Do I Need?
Besides steak, grab some salt and pepper, soy sauce, butter, and lemon juice. You'll need some oil for the pan, and that's it!
Timing This Meal
Ok, let's make steak. To make this a meal I often make sautéed zucchini and onions at the same time (one right after the other or in 2 separate cast iron skillets), and I usually start some rice in the rice cooker so that it's working while I am making the steak.
The key to hibachi is to get a cast iron skillet or stainless steel skillet super hot. I wouldn't use a nonstick pan for this because they aren't supposed to be heated above medium heat, and we want some super brown edges on this steak.
The bigger the better for the pan - I'm using 1.5 pounds of steak here, and a 12-inch cast iron skillet is perfect for this amount of beef.
When the pan is hot, add a drizzle of oil and the steak, cubed and sprinkled all over with salt and pepper.
Let the steak sit and sear on the first side for just a minute or two - as long as it takes to really brown the first side. Since the steak is in cubes we want to cook as quickly as possible to have some pink on the inside of the steaks, so be sure your pan is really hot before starting.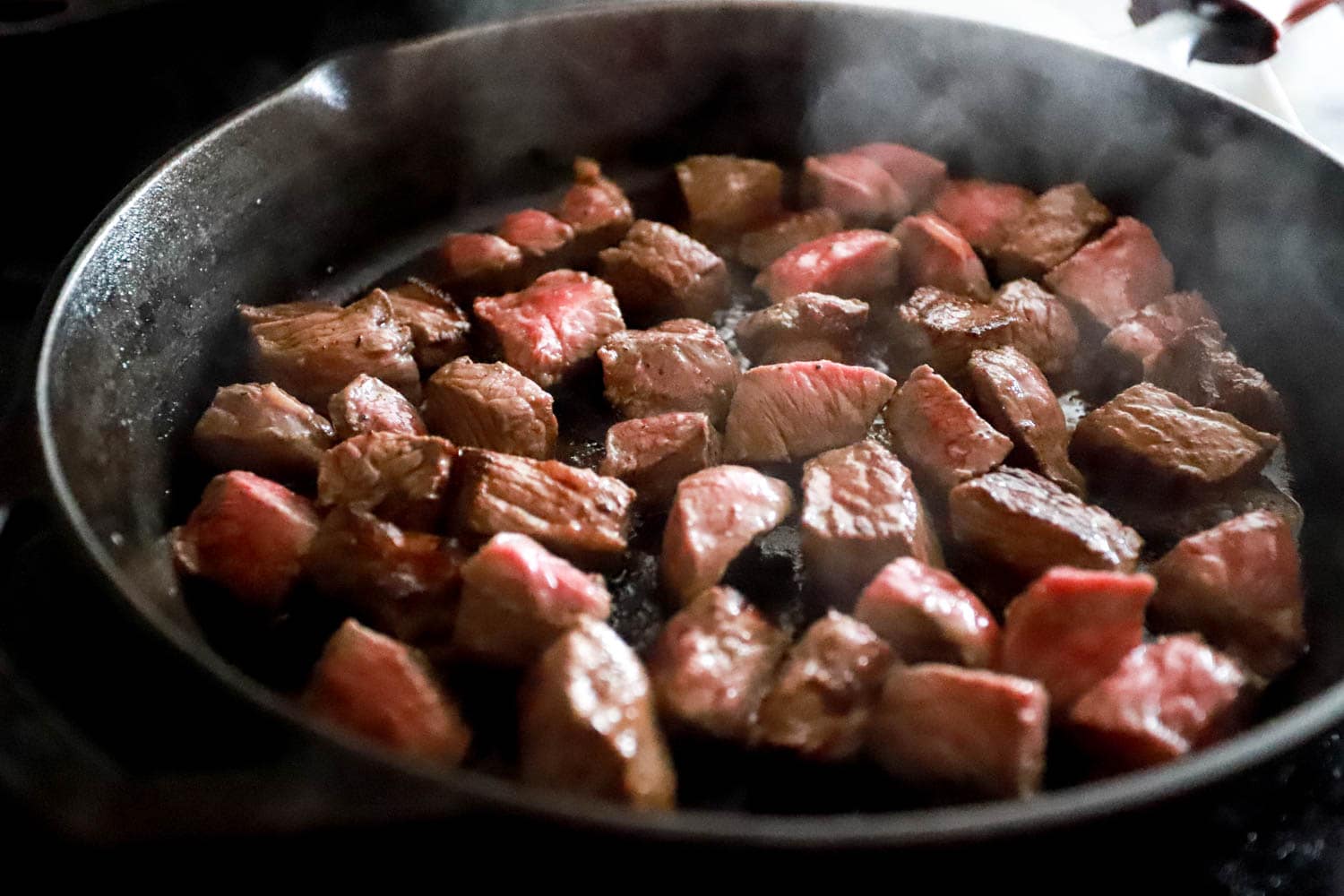 Flip the steak around in the pan once or twice to brown it on all sides, letting it rest in between stirring to brown.
Once you flip the steak (so at the mostly-done point) a time or two, add the lemon juice, butter, and soy sauce to the pan.
Toss everything together for one minute more, turn the heat off, and eat!
I MEAN. I was not kidding about the lemon butter soy sauce in the bottom of the pan.
More Hibachi At Home
That, to me, is the flavor combo that makes this taste like restaurant hibachi. There are some methods that involve a fancy roasted garlic butter mix-in which sounds amazing but also like more work than I'm willing to put in.
The method here for steak could easily be used with chicken pieces, and if you make the hibachi vegetables feel free to add mushrooms, broccoli, or whatever you like!
I also make a version of white sauce with this, kicked up a notch with extra spices and sriracha for a cross between hibachi white sauce and spicy mayo - not a bad thing AT ALL.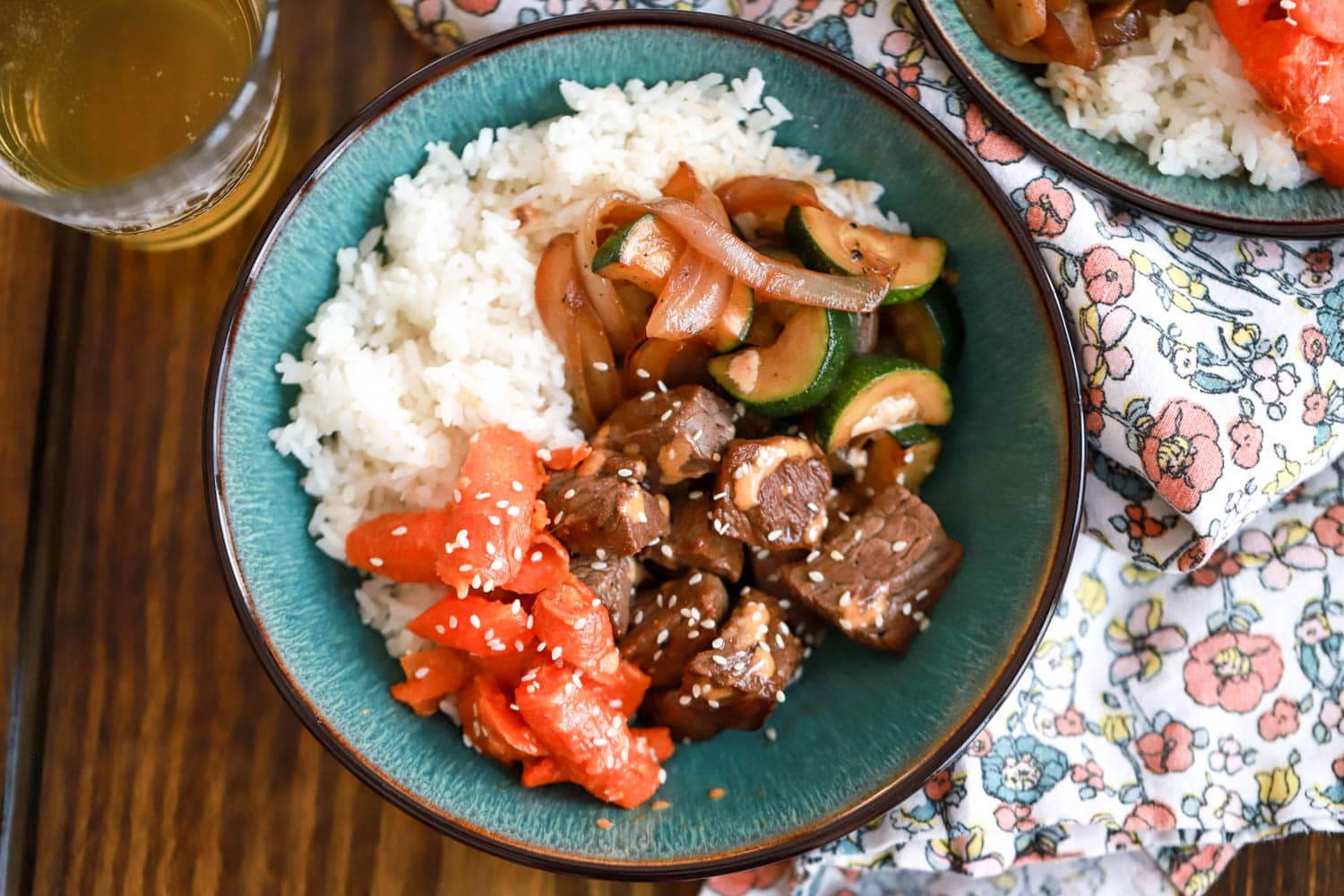 Try this homemade hibachi soon, and leave a note below if you do! I hope you love it as much as we do. Enjoy!
15 Minute Hibachi Steak
The best ever hibachi steak with homemade white sauce! This entire meal comes together in about half an hour and tastes just like restaurant hibachi steak.
Ingredients
Hibachi White Sauce
½

cup

mayonnaise

I love Japanese mayo for this

2

teaspoons

sugar

2

teaspoons

rice vinegar

1

teaspoon

soy sauce

1

teaspoon

sriracha or other hot sauce

more to taste

½

teaspoon

ground sweet paprika

½

teaspoon

onion powder

½

teaspoon

garlic powder
Hibachi Steak
1 ½

pounds

sirloin steak

cubed

salt and pepper

2

tablespoons

soy sauce

2

tablespoons

butter

1

tablespoon

lemon juice
Instructions
White Sauce: Combine all ingredients together and taste: add more hot sauce if you'd like. This gets better as it sits and can be done a few days in advance as part of your meal prep!

Steak: Heat a large cast iron skillet over medium high heat for at least 5 minutes with a drizzle of oil - it should be very hot but not smoking. Sprinkle the steak cubes (1 inch or slightly less) all over with salt and pepper.

When the skillet is very hot, add the steak in one layer and let cook undisturbed for 1-2 minutes until very brown on the first side. Flip the steak around a few times to brown on most sides, cooking quickly to avoid overcooking the steak.

After about 4 minutes (more or less, this depends on the thickness of your steak and how hot your pan is), add the soy sauce, butter, and lemon juice to the pan. Toss everything together and turn the heat off.

Serve with rice, white sauce, and/or hibachi vegetables. Enjoy!
Notes
Make It Gluten Free: Sub gluten free Tamari for the soy sauce and check all labels for a gluten free variation.
Feel free to use any steak you like for this! If you find a thinner steak, decrease the cooking time to be sure the steak is nicely browned but not overdone.
To time this meal quickly, I often start rice, then stir up the white sauce, THEN cook the steak while the first two items are working.
My favorite hibachi vegetables go great with this meal as well!
Extra white sauce will store in the fridge for at least a week and is a yummy vegetable dip for snacking.