This spicy crab salad is just like the filling of a sushi crab roll! Made with just three ingredients, I love this for meal prep to serve over rice or salad for a quick Japanese sushi rice bowl or poke bowl. Check out these crab salad sushi poke bowls for more spicy crab salad fun!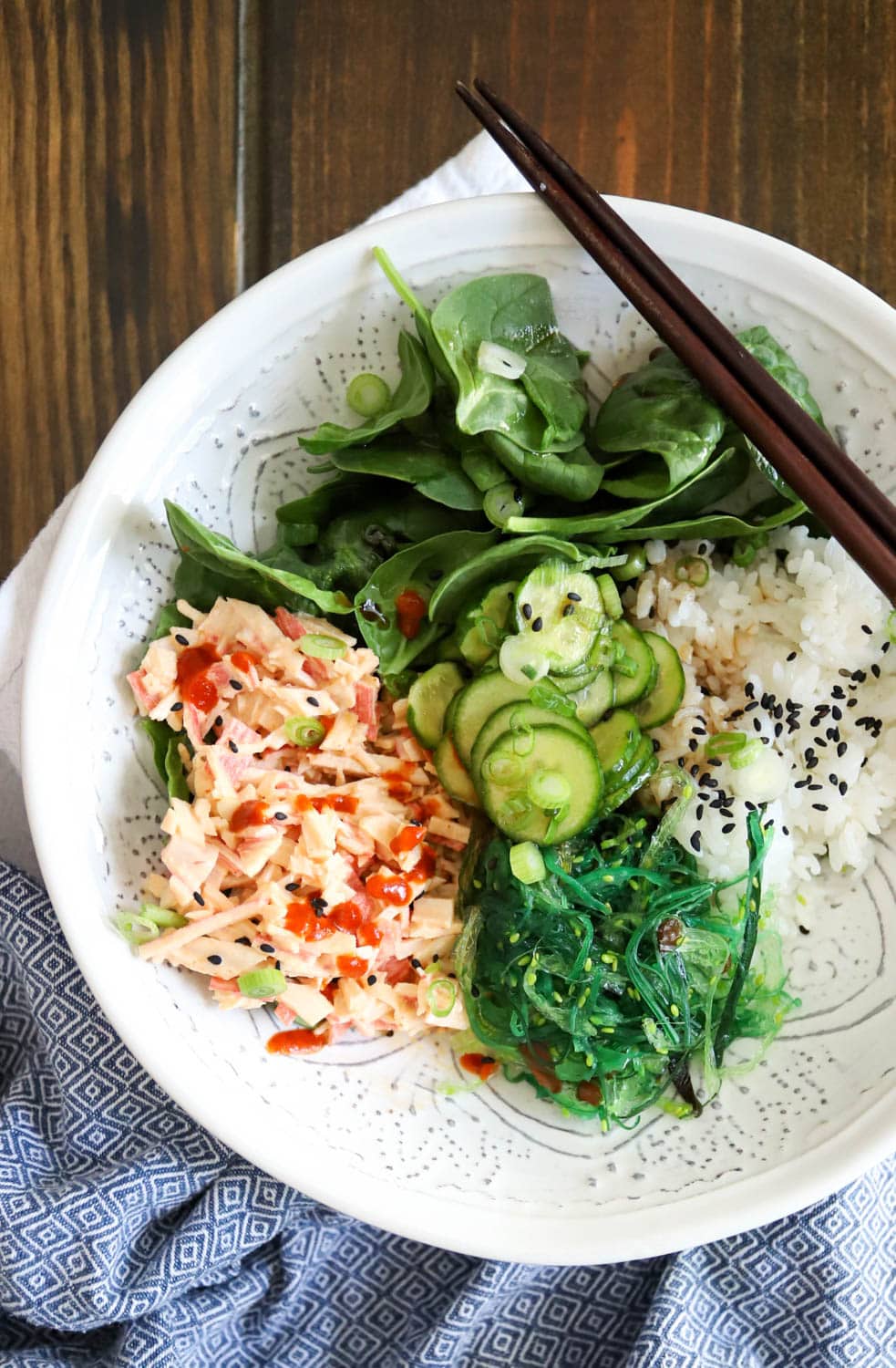 Note: this recipe has been updated with a few new instructions and to be made into a spicy crab poke bowl. Last updated January 2021.
You know how at sushi restaurants sometimes they have Crab Salad Sushi Rolls or Crunchy Crab Rolls but really it's just fake crab mixed with mayo? And sometimes there are Spicy Crab rolls that really are just fake crab mixed with mayo and spicy stuff?
Welp, I love crab salad. And spicy crab salad. And when either of those things are made into a sushi roll? I'm a seriously happy human being.
Spicy Crab Sushi Roll Filling
This spicy crab salad can be as mild or as spicy as you'd like it to be. It tastes like lots of things I've had in various sushi restaurants, and I think you'll LOVE IT.
Three ingredients ARE: imitation crab, mayonnaise (this Japanese kind is worth any extra cost or effort, seriously), and Sriracha.
That's it! These are cheap and widely available ingredients. I use Japanese mayo, which has slightly more vinegar than American mayonnaise. Use any kind you like, though! I don't know why imitation crab is often found in sushi, but it is, here and in Japan. Don't be afraid of it! It's made mostly of white fish and tastes super delicious.
To make spicy crab salad, finely chop or shred the crab with your fingers. Add it to a bowl with the mayo and sriracha, and stir everything together. I like an even texture to the spicy crab salad, but I've also chopped the imitation crab with a knife and loved the results as well.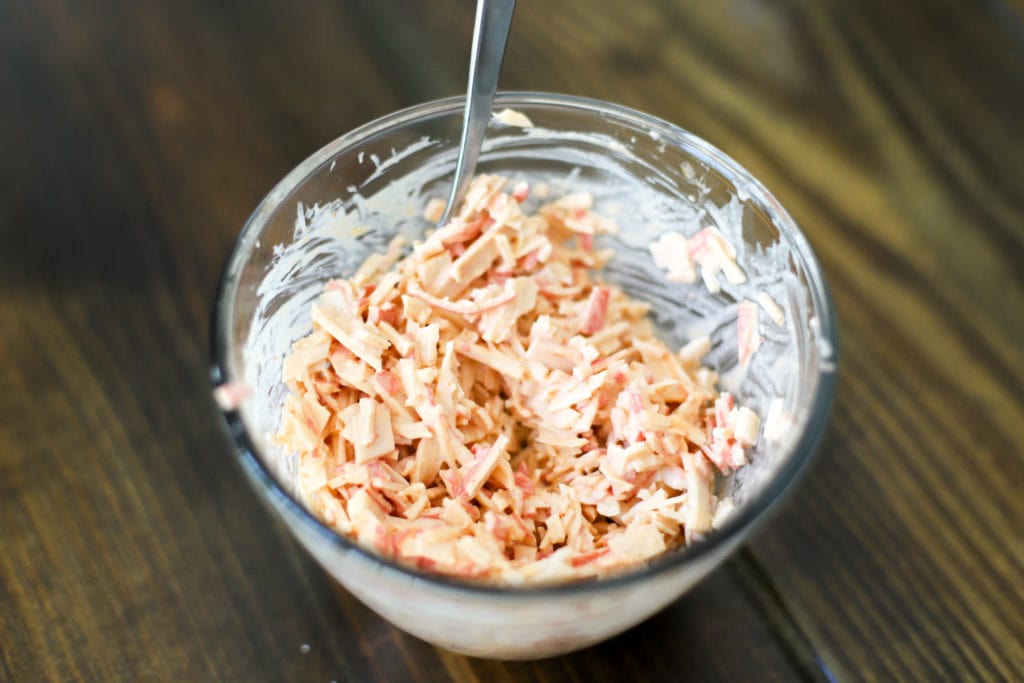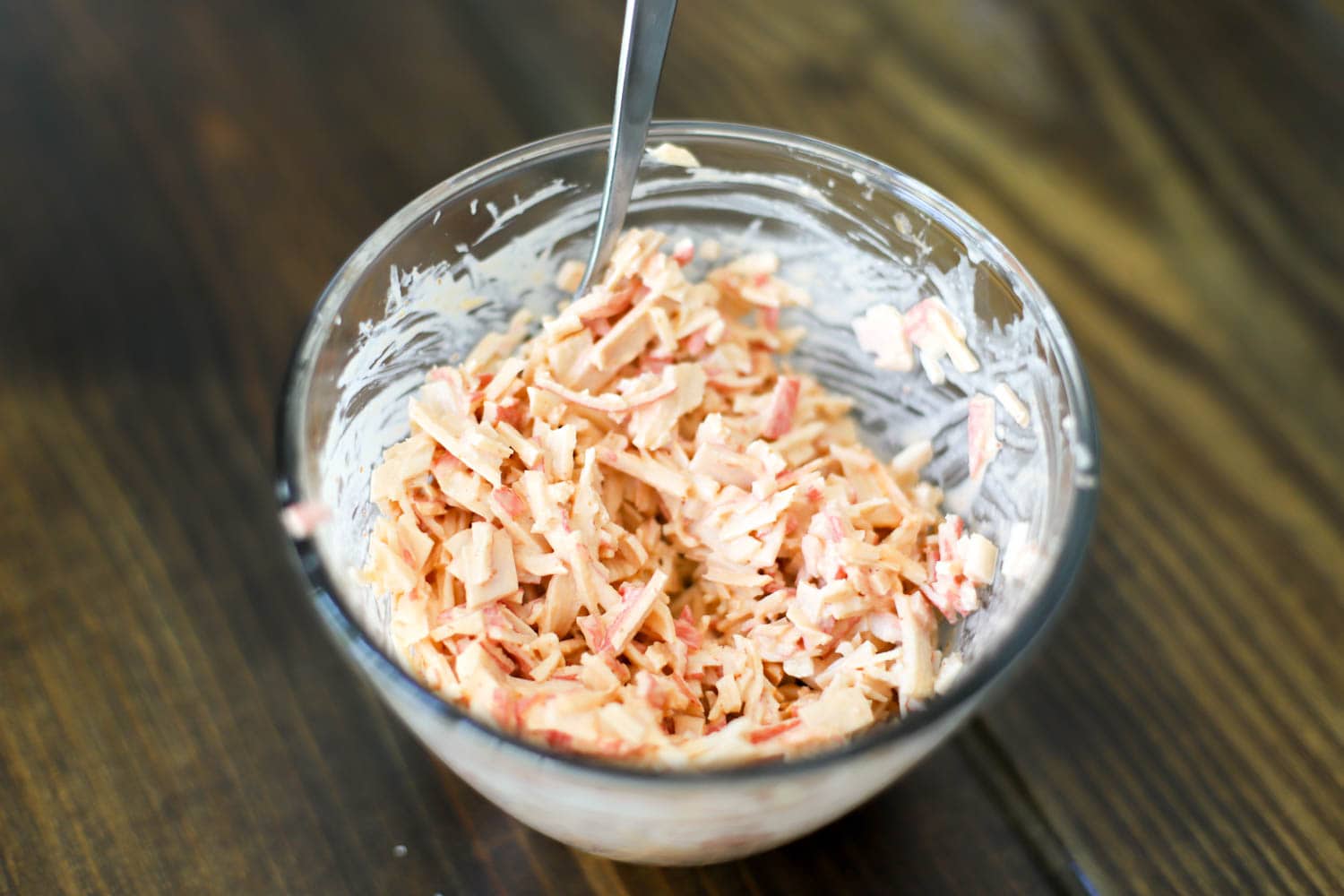 I think this would be super delish on bread....sort of like an egg salad sandwich or something. Am I crazy? Let's do that.
Here's our easy spicy crab salad! We love it in rice bowls, in homemade sushi, or with rice crackers as a fun dip. Enjoy this!
This is so yummy that I turned it into a poke bowl recipe. Find those yummy bowls here!
Print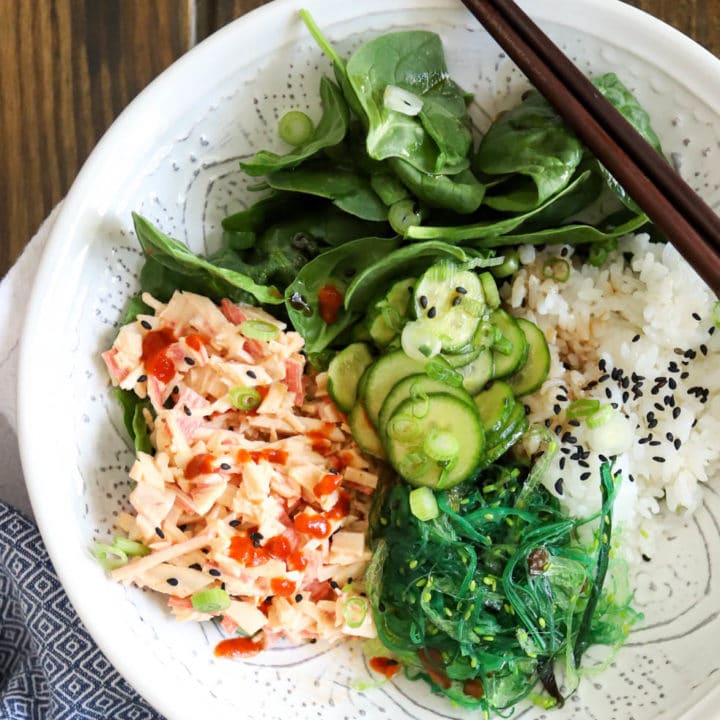 Spicy Crab Salad
---
Prep Time:

10 minutes

Total Time:

10 minutes
Description
Spicy crab salad just like at your favorite sushi restaurant, with just a few ingredients and tons of flavor. Look at you, making your own takeout!
---
8 ounces

imitation crab meat, shredded or chopped

⅓ cup

mayonnaise, Japanese-style if you can find it

2 tablespoons

sriracha, more or less to taste
---
Instructions
Combine the crab, mayo, and sriracha in a small bowl.
Taste – add more mayo if you'd like a creamier salad, or more sriracha for spicier.
Serve with white rice, on sandwiches, with rice cakes, or over a cabbage salad – you can't go wrong with this one!
Equipment
Notes
See my post on the crab poke bowls in these pictures. They are SO good!
Kewpie mayo is my favorite, and I think the flavor is definitely different enough to matter in this dish.
Keywords: crab salad sushi, spicy crab salad, crab salad sushi roll
Stuff That Isn't Recipes: