This easy spicy kani salad recipe is just like the filling of a crab salad sushi roll! Made with just three ingredients, I love this for meal prep to serve over rice or salad for a quick Japanese sushi rice bowl or poke bowl. Check out these crab salad sushi poke bowls for more spicy crab salad sushi fun!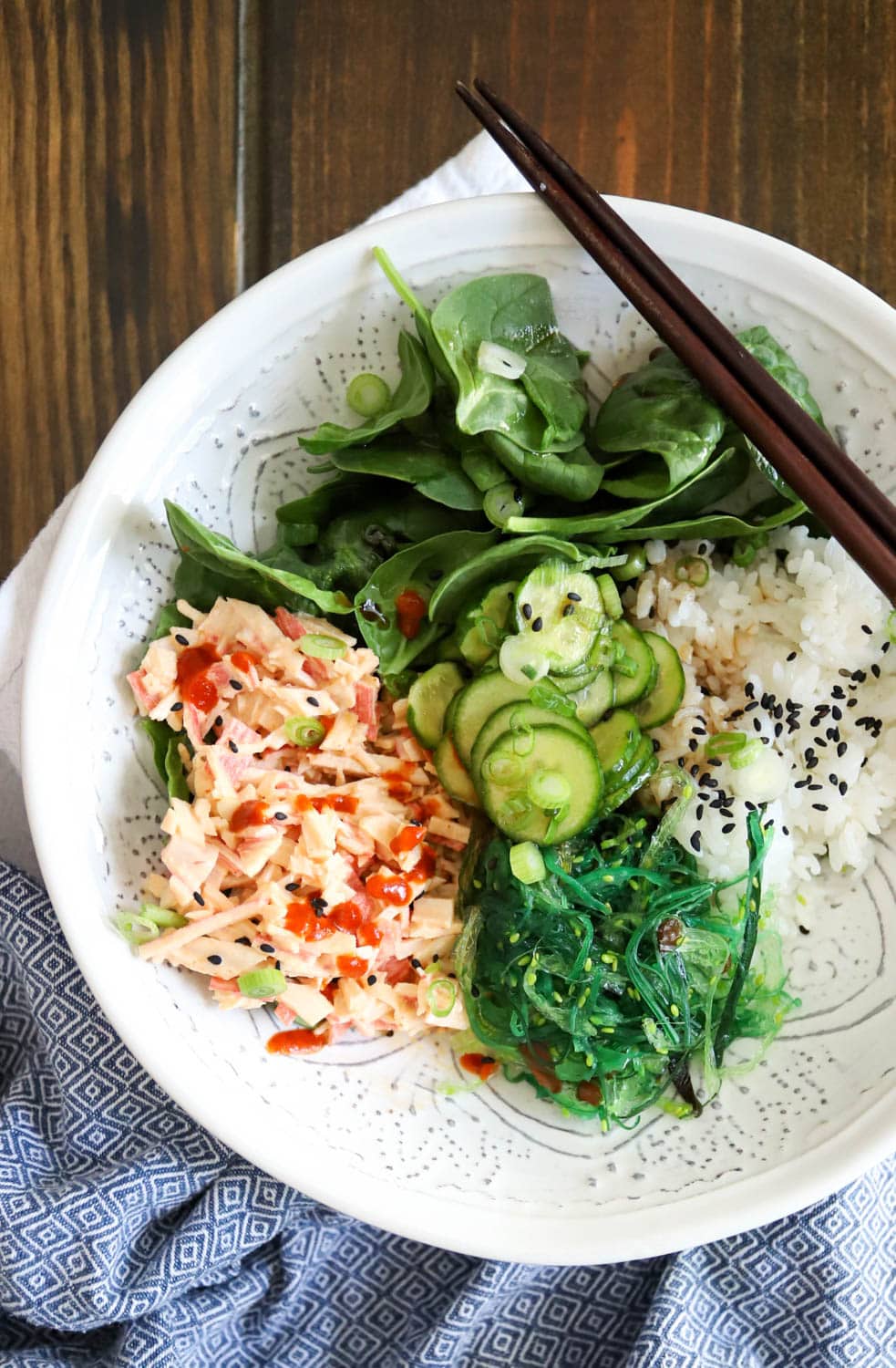 You know how at sushi restaurants sometimes they have Crab Salad Sushi Rolls or Crunchy Crab Rolls but really it's just imitation crab mixed with mayo? And sometimes there are Spicy Crab rolls that really are just fake crab mixed with mayo and spicy stuff?
Welp, I love crab salad. And spicy crab salad. And when either of those things are made into a sushi roll? I'm a seriously happy human being.
Ingredients
This spicy crab salad (also called spicy kani salad) can be as mild or as spicy as you'd like it to be. It tastes like lots of things I've had in various sushi restaurants, but is so easy to make at home.
I learned how to make this years ago from a sushi restaurant where I worked, and while, yes, kani salad isn't strictly authentic Japanese food, it is served and loved all over the world, so it DEFINITELY counts as sushi food.
Imitation crab salad is made from three main ingredients: imitation crab, mayonnaise and Sriracha.
Kewpie mayo is different than other types in that it is slightly more vinegary, and gives the recognizable flavor of spicy mayo from American sushi restaurants in particular.
Mayo + sriracha is all you need to make spicy mayonnaise, and Kewpie makes a big difference in the final flavor.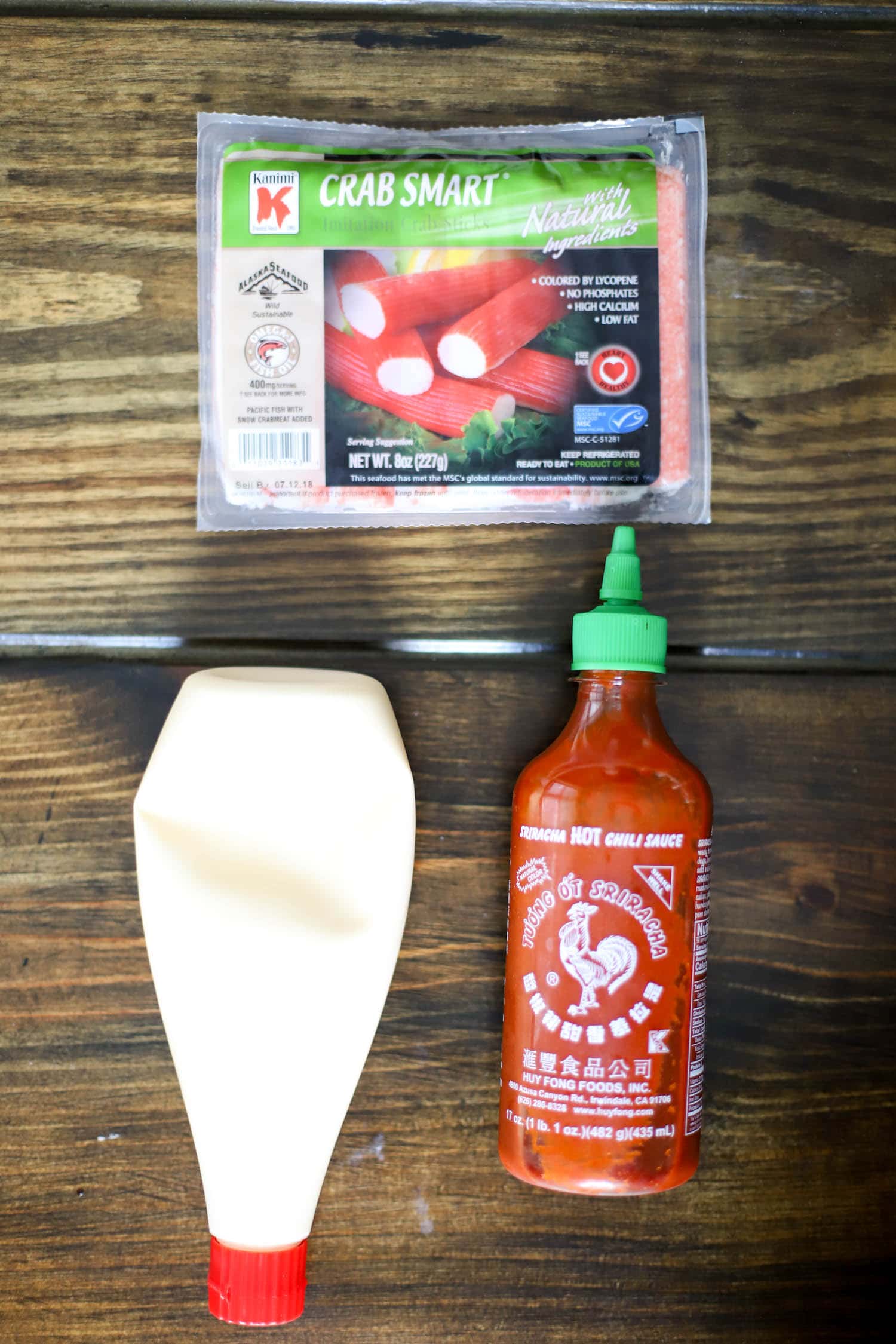 I don't know why imitation crab is often found in sushi, but it is, here and in Japan. Don't be afraid of it! It's made mostly of white fish and tastes super delicious.
Spicy Kani Salad Recipe FAQ
What does spicy kani salad taste like?
Imitation crab (kani) tastes like crab - sweet, mild, and vaguely seafood-esque. The big flavor in this spicy crab salad comes from sriracha and mayonnaise - spicy, creamy, full of umami.
Can you eat spicy kani salad while pregnant?
First and foremost, women all over the world (including in the US) choose to eat raw fish while pregnant for a variety of reasons.

Kani is a fully cooked imitation crab product, so many people who choose NOT to eat raw fish during pregnancy DO eat spicy kani salad and other fully cooked seafood items while pregnant.
Is spicy crab salad cooked?
Yes and no? We don't do any cooking ourselves to make this recipe, but imitation crab, sriracha, and mayonnaise are all fully cooked ingredients. There is no raw meat or seafood in this recipe.
Is spicy kani salad gluten free?
Nope. Almost all imitation crab products aren't gluten free, so check labels really carefully if you need to avoid gluten for health reasons.
Other Recipe Notes
To make this not spicy (plain kani salad), just skip the sriracha altogether. If you'd like a little more flavor, some sprinkles of salt, pepper, and a spritz of lemon juice add a nice flavor.
You can make this ultra fancy by using real crab meat instead! The texture of real crab with mayo is really lovely, highly recommend if you're into that sort of thing. Using real crab meat is the best way to make spicy kani salad gluten free.
I find imitation crab sticks or imitation crab flakes taste exactly the same. Sometimes I can only find one or the other, but really any imitation crab product works great for this recipe.
Step By Step Instructions
To make spicy crab salad, finely chop or shred the crab with your fingers. You can do this a variety of ways - longer shreds or smaller pieces, it's up to you!
Add the kani to a bowl with the mayo and sriracha, and stir everything together. I like an even texture to the dish, but I've also chopped the imitation crab with a knife for larger chunks and loved the results as well.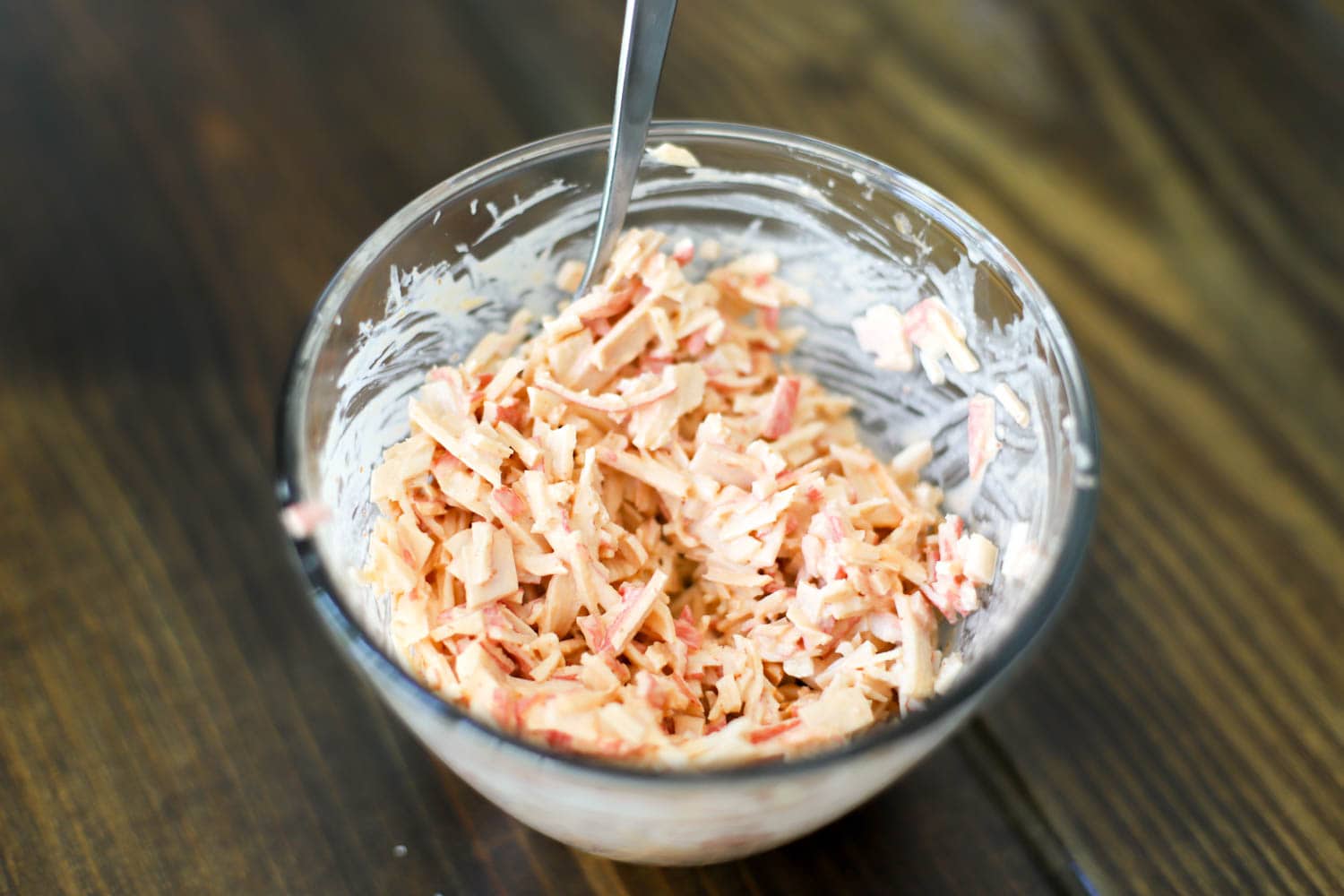 Serving Suggestions
We make this a ton and most often serve it over rice or greens for quick lunches.
If we're going a little bit more involved, I make spicy crab salad poke bowls - one of my absolute favorite dinners ever.
A plain rice bowl is lovely too: sauteed spinach, plain white rice, a drizzle of soy sauce, and the kani salad.
Maybe unusual, but mango and avocado go VERY well with spicy crab salad no matter how you are serving it. The flavors separately or together give a very lovely island feel to the whole shebang.
I also think this would be super delish on bread....sort of like an egg salad sandwich or something. Am I crazy? Let's do that.
Spicy kani salad is also delicious rolled into a burrito with rice.
Here's our easy spicy crab salad! The flavor is so delicious, and for a 5-minute recipe it packs a TON of punch. It's delicious no matter how you serve it. Enjoy!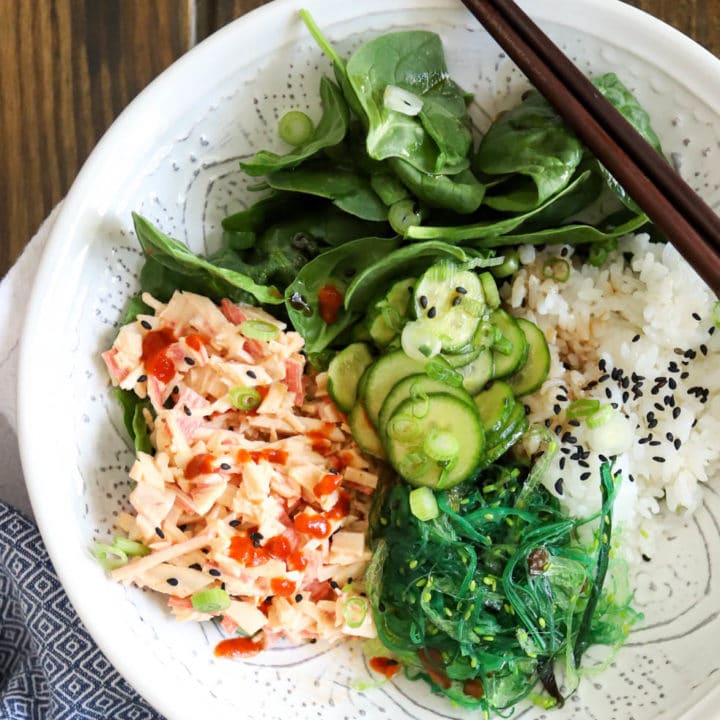 Spicy Kani Salad
Spicy crab salad just like at your favorite sushi restaurant, with just a few ingredients and tons of flavor. Look at you, making your own takeout!
Ingredients
8

ounces

imitation crab meat

shredded or chopped

⅓

cup

mayonnaise

Japanese-style if you can find it

2

tablespoons

sriracha

more or less to taste
Instructions
Combine the crab, mayo, and sriracha in a small bowl.

Taste – add more mayo if you'd like a creamier salad, or more sriracha for spicier.

Serve with white rice, on sandwiches, with rice cakes, or over a cabbage salad – you can't go wrong with this one!
Notes
Make-Ahead and Storage: This kani salad recipe will keep great in the fridge for at least 3 days.
See my post on the crab poke bowls in these pictures. They are SO good!
Kewpie mayo is my favorite, and I think the flavor is definitely different enough to matter in this dish.
This recipe was originally published in 2013 and has been updated with better instructions and images.
Other Favorite Asian Fusion Recipes