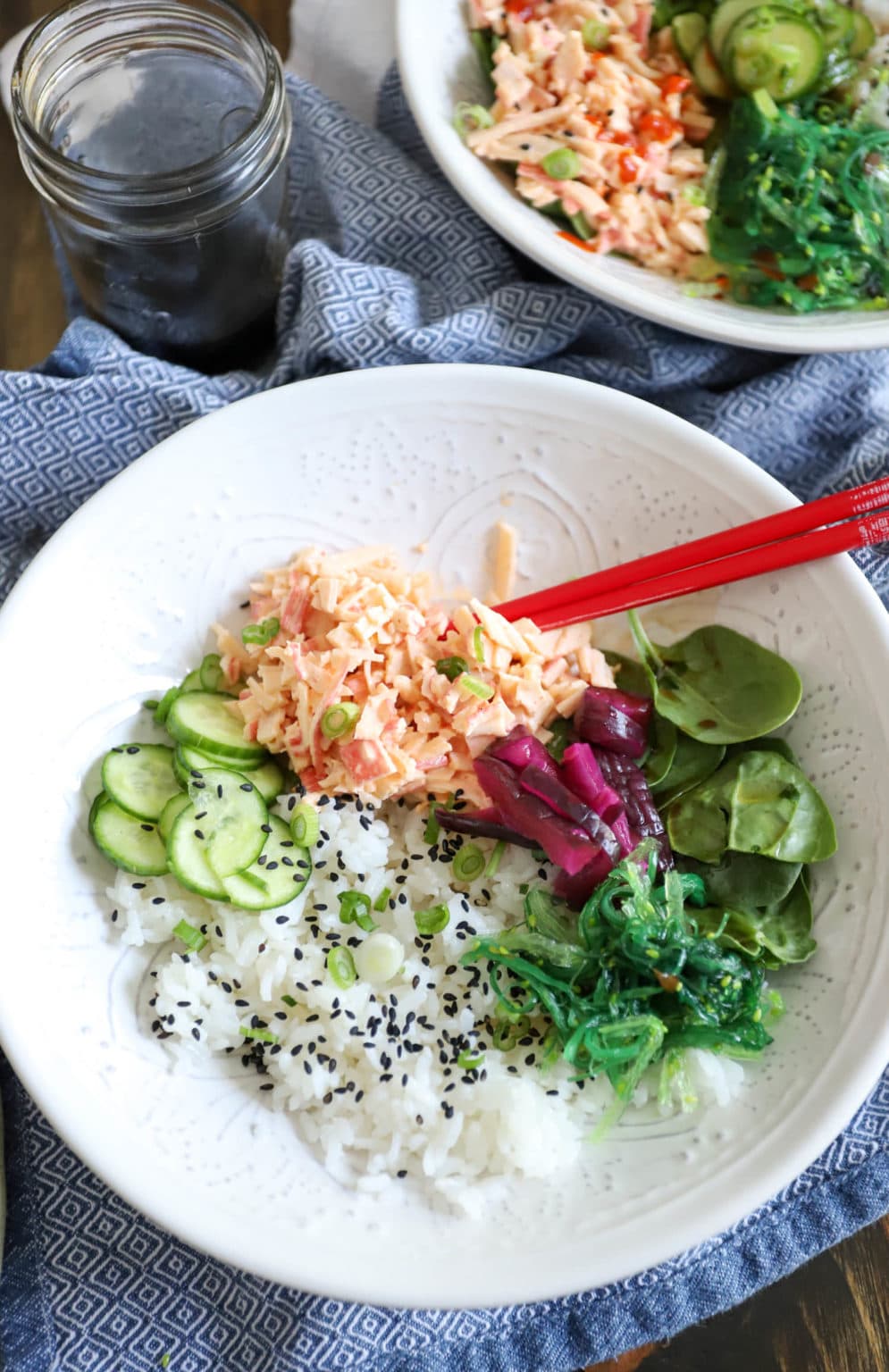 ...what can I say except, you're welcome?
We've been watching a lot of Moana around here lately. Which is PERFECT for this island fusion bowl to start your week, theme movie + dinner totally unplanned. Obviously it goes without saying that the Moana-obsessed toddler in this house would turn her nose up in disgust at the lack of only crackers in this bowl, but it's developmentally appropriate to be a total ass about diverse foods at this age, so I forgive her.
You, however, you will adore this. It's a re-do of one of the most popular recipes on the site, this spicy crab salad. I know there are many that turn their nose up at anything with fake crab and mayo calling itself sushi, and that's fine. But-however-also, this stuff is popular for good reason: it's delicious, and so simple to make on your own. I love spicy crab ANYTHING when we order sushi, right next to my all-raw authentic fare, but the ingredients are so simple and cheap that it seems silly to save spicy crab for special sushi nights.
Enter, poke bowls! All the rage, tons of ways to make them, add as many toppings as your heart desires. We have a few poke places in Greenville that are great and medium-great, and really the main draw of a poke bowl is tons and tons of sushi rice as a bed for healthier meal components. I went with no raw fish here because I know it can be tough to find and intimidating to mess with at home.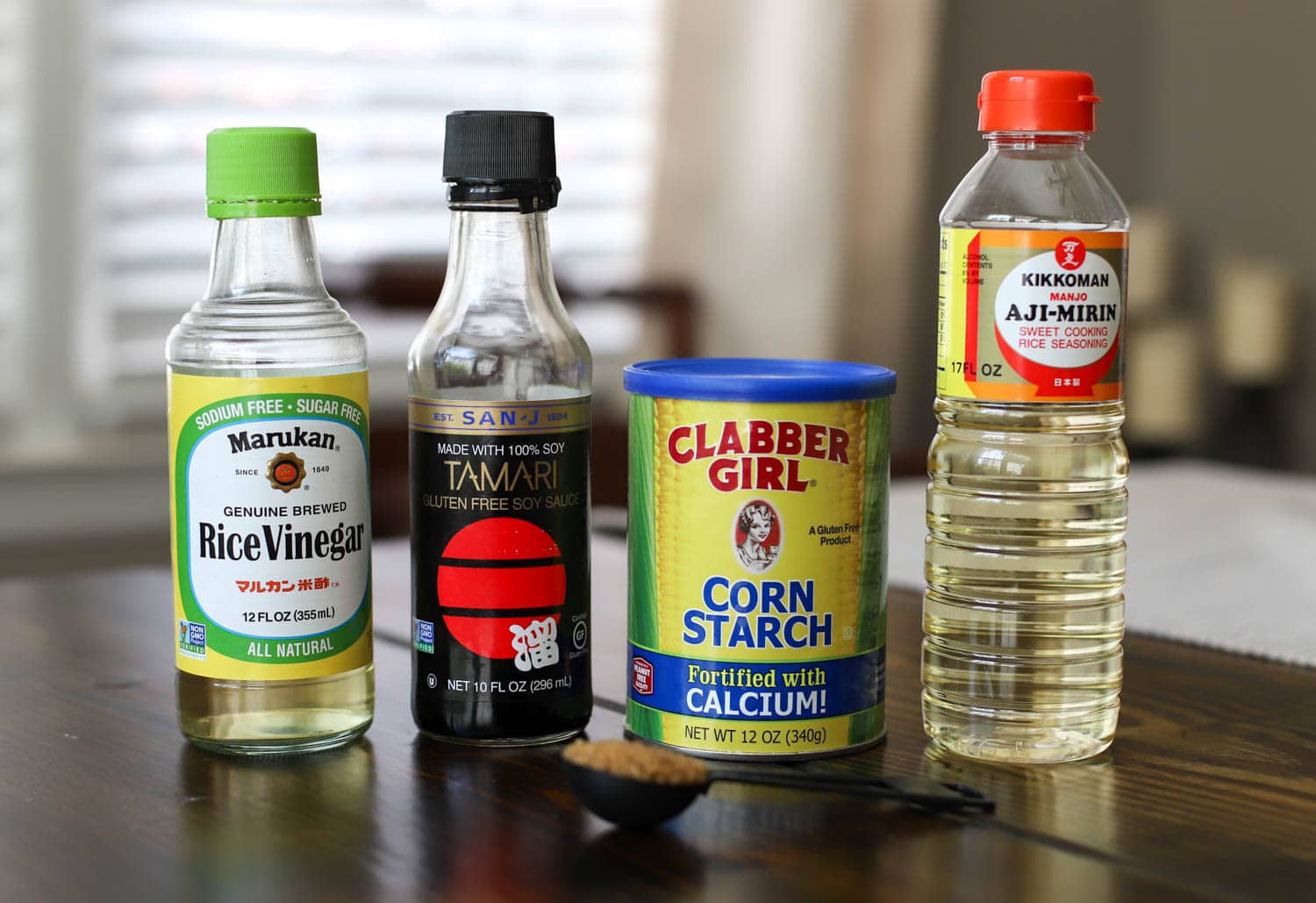 All you have to "make" here is the sushi rice, spicy crab, and sweet soy drizzle. Everything else is chopping and opening containers; pickles, seaweed salad, and any fresh items you love in sushi or on poke bowls. The rice is short Japanese rice cooked and then mixed with a tiny bit of sugar and rice vinegar - I work on this first so the rice is warm but not hot when the rest of the components are ready. Then the sauce! Rice vinegar, soy sauce, corn starch, mirin, brown sugar. Mirin is sweet cooking rice wine and has a pretty specific flavor, so buy some if you've never used it! It makes things super Asian-y and delicious.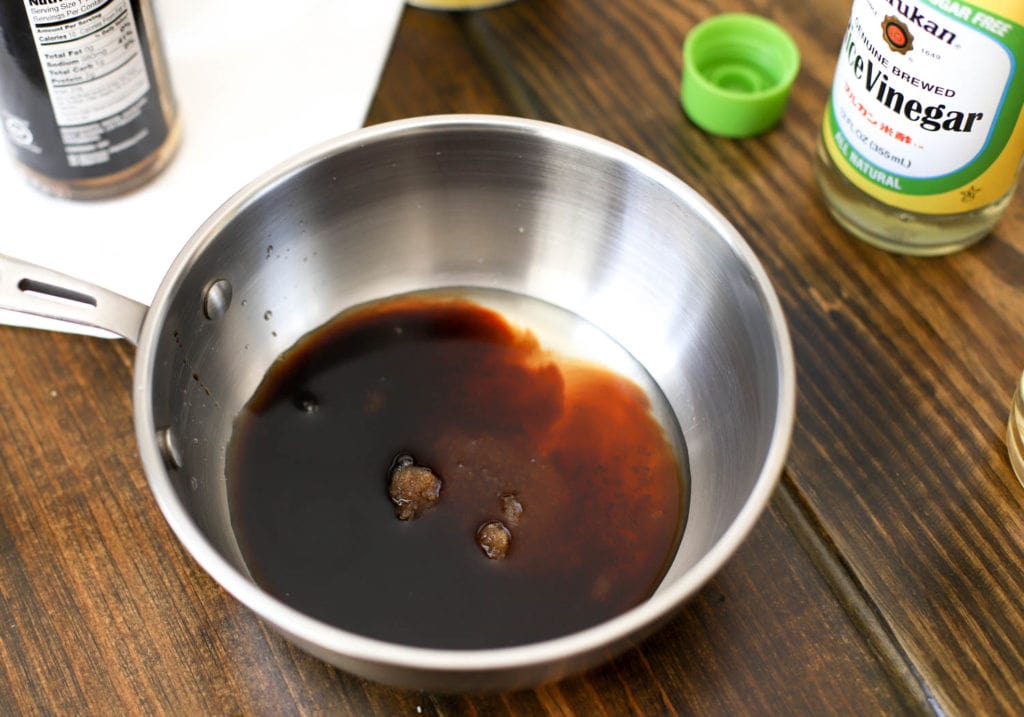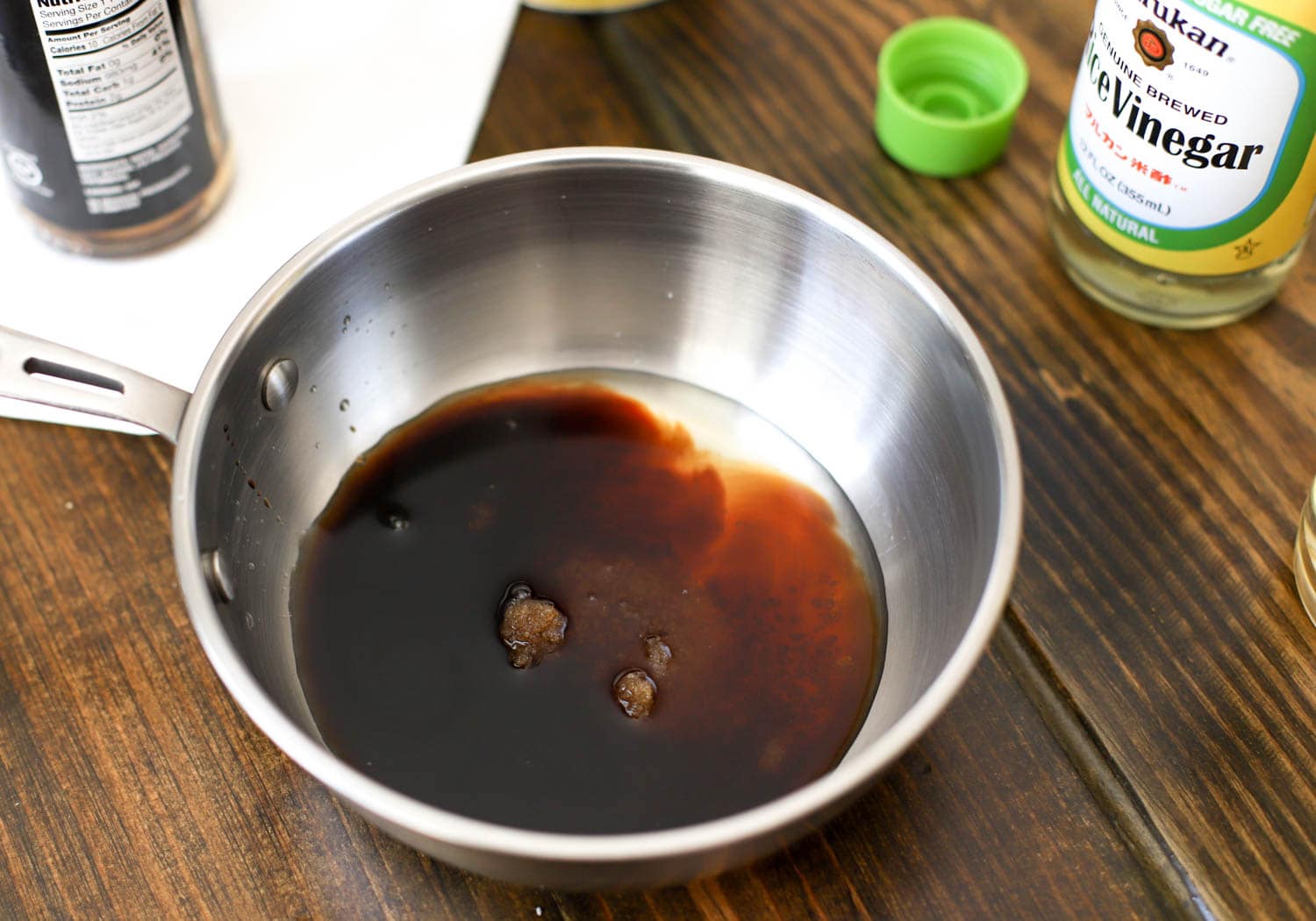 Combine all of the sauce ingredients in a COLD sauce pan. Whisk the cornstarch to dissolve it, then turn the heat to medium. Let the sauce very gently come to a simmer, then turn off the heat after a minute or so. Let the sauce cool to room temperature, it will thicken as it cools.
Then, spicy crab! Three ingredients. Imitation crab, mayonnaise (this is Japanese Kewpie mayo which is suuuuuper yummy), and sriracha.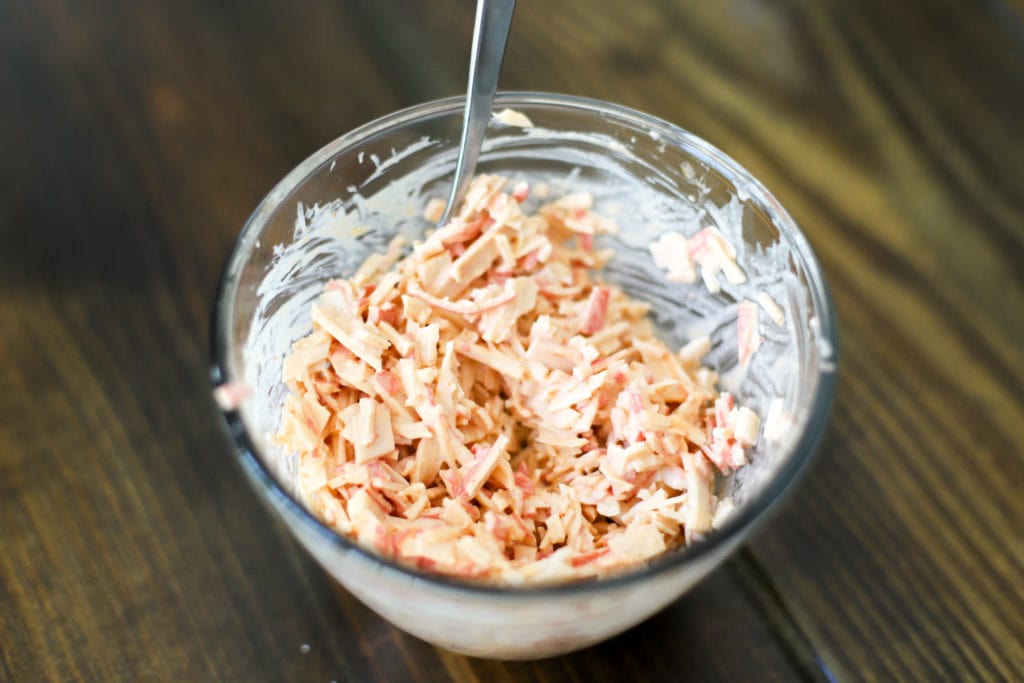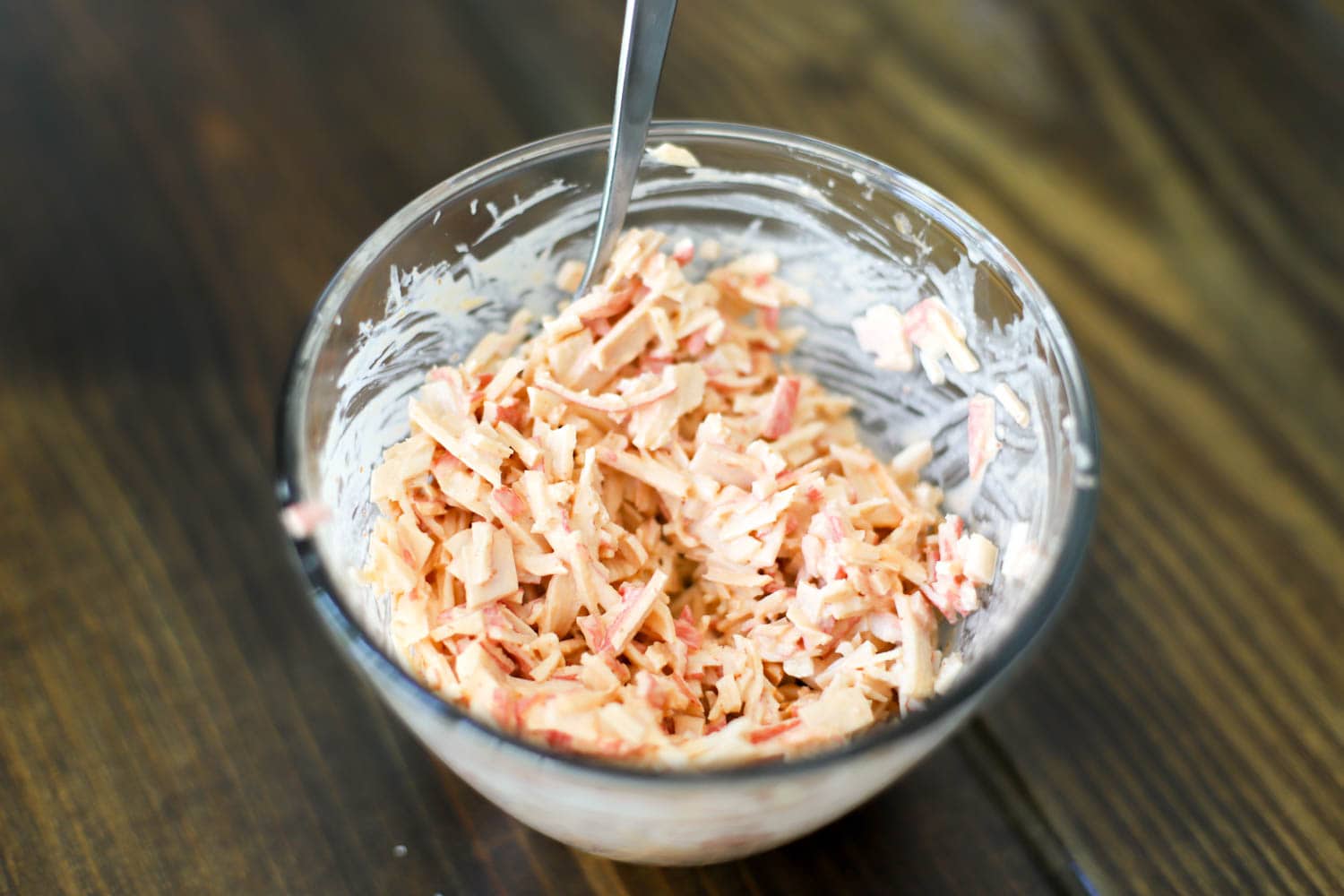 Shred or chop the crab and combine it with the mayo and sriracha, then taste and adjust the seasonings to your preference - the measurements below make for a fairly spicy crab so use less sriracha to start if you aren't sure. The crab and sauce can be made in advance of making the bowls, even a day or two beforehand.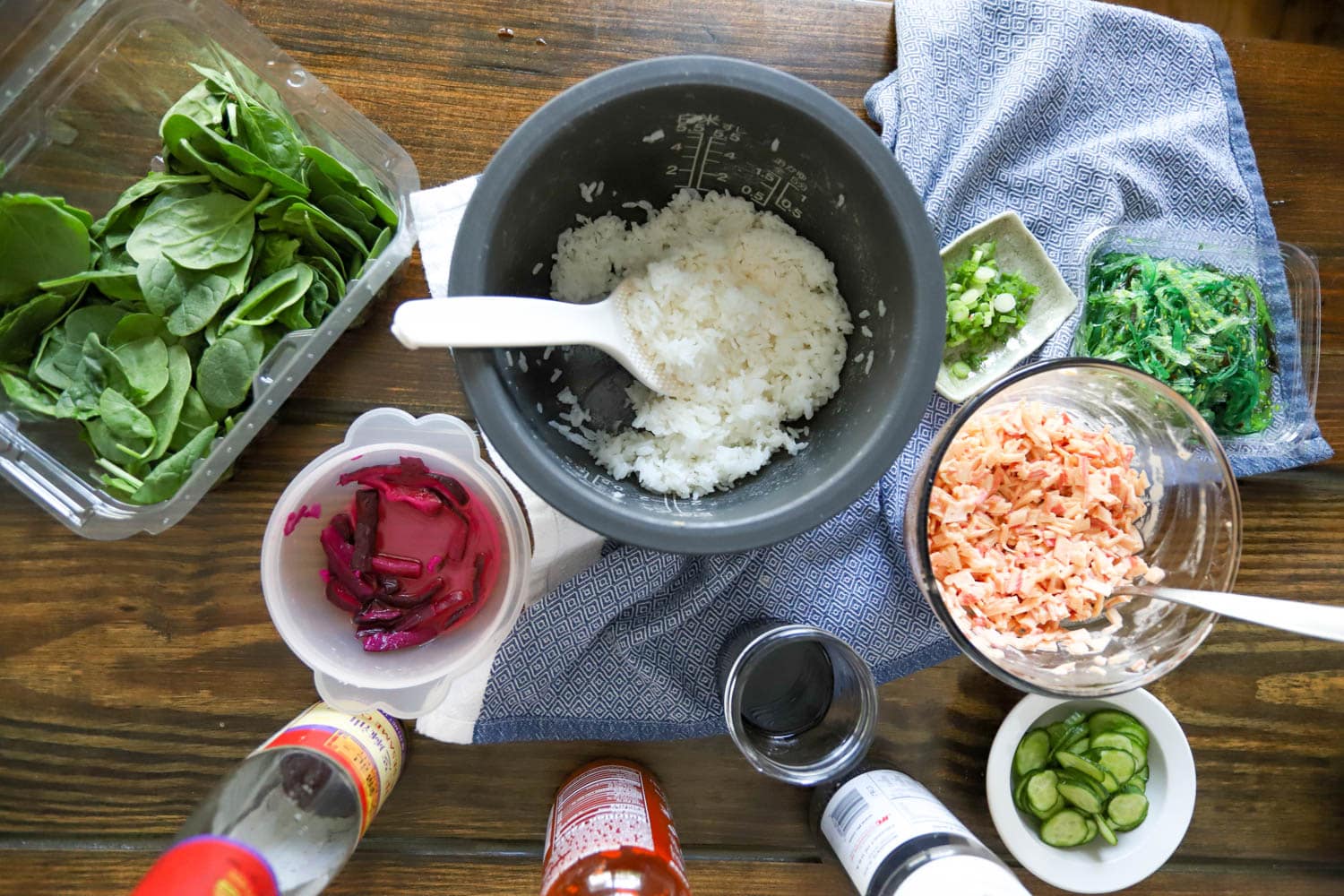 The rest of the ingredients are already made, and you can mix and match based on what you like. I use fresh spinach or another green, seaweed salad, sliced scallions and cucumbers, sesame oil, sesame seeds, Japanese pickles (I keep various kinds in the fridge always), and extra sriracha for the brave among us.
Build your bowl however you'd like, and finish with a drizzle of the poke sauce.
Done!
This is so much fun because you can do extra rice or not much at all for a lower carb option, add any other kinds of veggies you like, even avocado for some healthy fat + creaminess.
If you'd like to use raw fish by all means do so; toss some cubes of fish in the brown sauce a bit before serving.
Versions of this all summer is my reason for the season. Perfect for million degree days, pairs well with beer.
Enjoy! (and enjoy the original spicy crab post here. old posts are the best and worst)
Print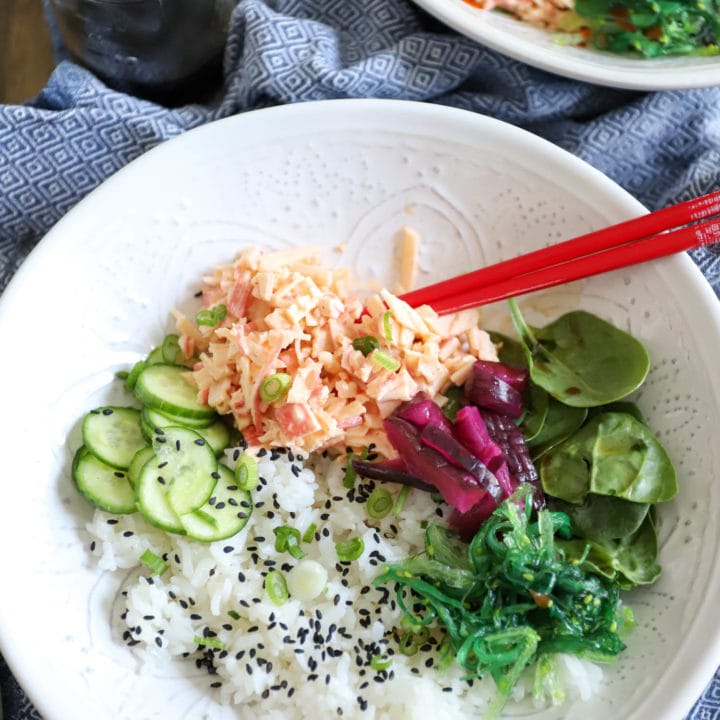 Spicy Crab Poke Bowls
---
Total Time:

1 hour

Yield:

Serves

4

1

x
Description
Spicy crab salad, sushi rice, and a sweet soy drizzle all over your entire life. LOVE these!
---
Scale
Ingredients
Sushi Rice
1 cup

short-grain sushi rice

2 tablespoons

rice vinegar

1 teaspoon

sugar
Poke Sauce
1 tablespoon

brown sugar

3 tablespoons

mirin

2 tablespoons

rice vinegar

3 tablespoons

soy sauce

1/4 teaspoon

cornstarch
Spicy Crab Salad
8 ounces

imitation crab meat, shredded or chopped

1/3 cup

mayonnaise, Japanese-style if you can find it

2 tablespoons

sriracha, more or less to taste
Poke Bowls (use any you like)
seaweed salad
sliced scallions
sliced cucumbers
julienned carrots
cubed avocado
fresh spinach leaves
pickled daikon or other Japanese pickles
sesame oil
sesame seeds
---
Instructions
Make the rice per the package directions. When cooked, sprinkle in the vinegar and sugar. Stir very gently with a fork or paddle to combine. Taste, and add more vinegar or sugar to your preference. Let the rice cool slightly so it is warm but not hot when you're ready to serve.
Whisk all of the sauce ingredients in a small cold sauce pan. Turn the heat to medium and bring the sauce to a simmer. Simmer for one minute, stirring, then turn the heat off. Let the sauce sit and cool while you prep the rest of the bowl ingredients.
Combine the crab, mayo, and sriracha in a bowl. Taste, and add more sriracha or mayo to your preference. Store in the fridge until ready to use.
Assemble the bowls with a bed of rice and/or spinach, top with spicy crab and any other toppings you'd like. Drizzle with the poke sauce and serve immediately with cold ingredients over warm rice. Enjoy!