Delicious, simple tofu steak recipe with a marinade that works in just 15 minutes! If you've never liked tofu much, this is a perfect way to learn to like it. The crispy crust gives tons of texture, and the entire dish is done in under an hour including marinating. Pair this with easy mashed potatoes and broiled lemony green beans or Vegetarian Oysters Rockefeller for a fun vegetarian alternative to steak night!
Hello and hi and back on our bullshit with Eat Less Meat But It Must Be Fabulous.
I'm a lifelong (well, since high school?) tofu lover, but I come across people all the time that admit to wanting to eat less meat but "just can't get into tofu.
I. Get. It. I am very not into bland things, flavorless things, or mushy things (no offense, silken tofu). I find that for folks learning how to love tofu, great texture and flavor are super important. This tofu steak has both of those things.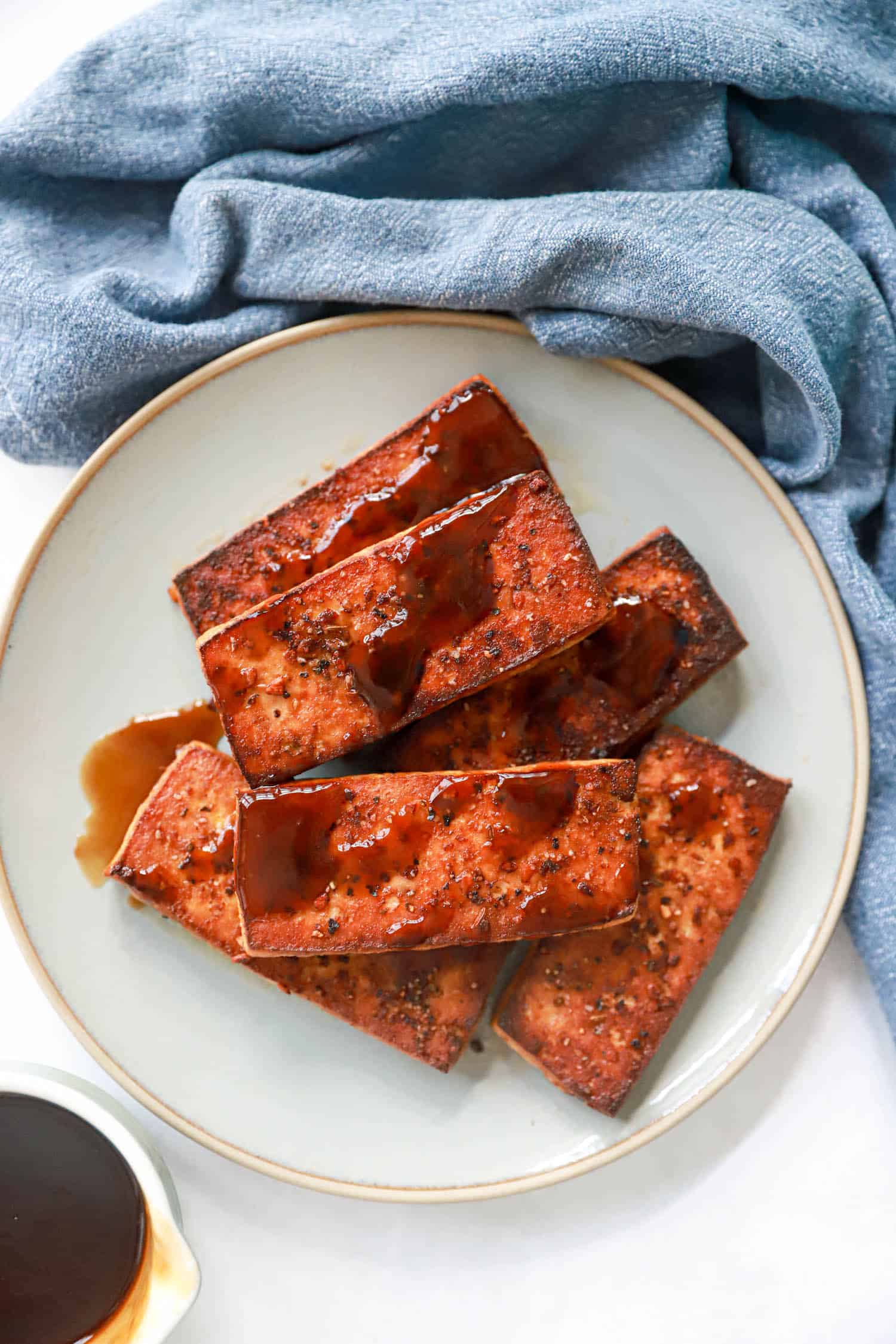 Recipe Notes
Honestly, the first tofu recipe I usually send people is peanut sauce tofu - sometimes we need a sauce to mask some flavors, and fair enough, right?
Once we realize that tofu is VERY mild and takes on any flavor we put near it, we use allllll sorts of sauces and marinades for tofu, sear it up to a lovely crispy, salty, brown miracle, and away we go.
This particular recipe involves a really quick marinade to soak some flavor into the tofu, THEN a crust of steak seasoning and a sear in a nonstick skillet. The result is a crispy on the outside, tender on the inside tofu steak with TONS of flavor.
BONUS POINTS that we use the marinade as the tofu is cooking and reduce it into our own homemade steak sauce for tofu. It is seriously so good, and a great way to avoid wasting the marinade!
Also, there are 8 ingredients. For the times when we just can't even.
It's delicious. Here we go!
Ingredients and Ingredient Notes
You need:
Firm Tofu: to get the meatiest texture, grab extra firm tofu or firm tofu. If you can, press it between two plates topped with something heavy (I stick a can of tomatoes on top usually) for 30 minutes or so before starting the recipe. If you forget to press the tofu, NO WORRIES.
Worcestershire Sauce: The key flavor ingredient in the marinade! NOTE that most Worcestershire is not vegetarian because it contains fish sauce, but there are some great vegan Worcestershire options found at most grocery stores and online.
Soy Sauce: Another big flavor-giver, this gives lots of salty goodness to the marinade. If you need this recipe to be gluten free, use Tamari or gluten free soy sauce.
Maple Syrup to balance the marinade and add sweetness.
Apple Cider Vinegar for delicious tang, although any vinegar you like will work well. I'd avoid balsamic vinegar since it has such a specific flavor.
Montreal Steak Seasoning: Any steak seasoning blend you like is great, I love the really basic classic one. This serves as our tofu steak coating after the pieces have been taken out of the marinade. The black pepper/salt/garlic/onion blend is always wonderful on tofu steaks.
Cooking oil and butter: use all oil to make this vegan, but the flavor of butter with the marinade is really lovely.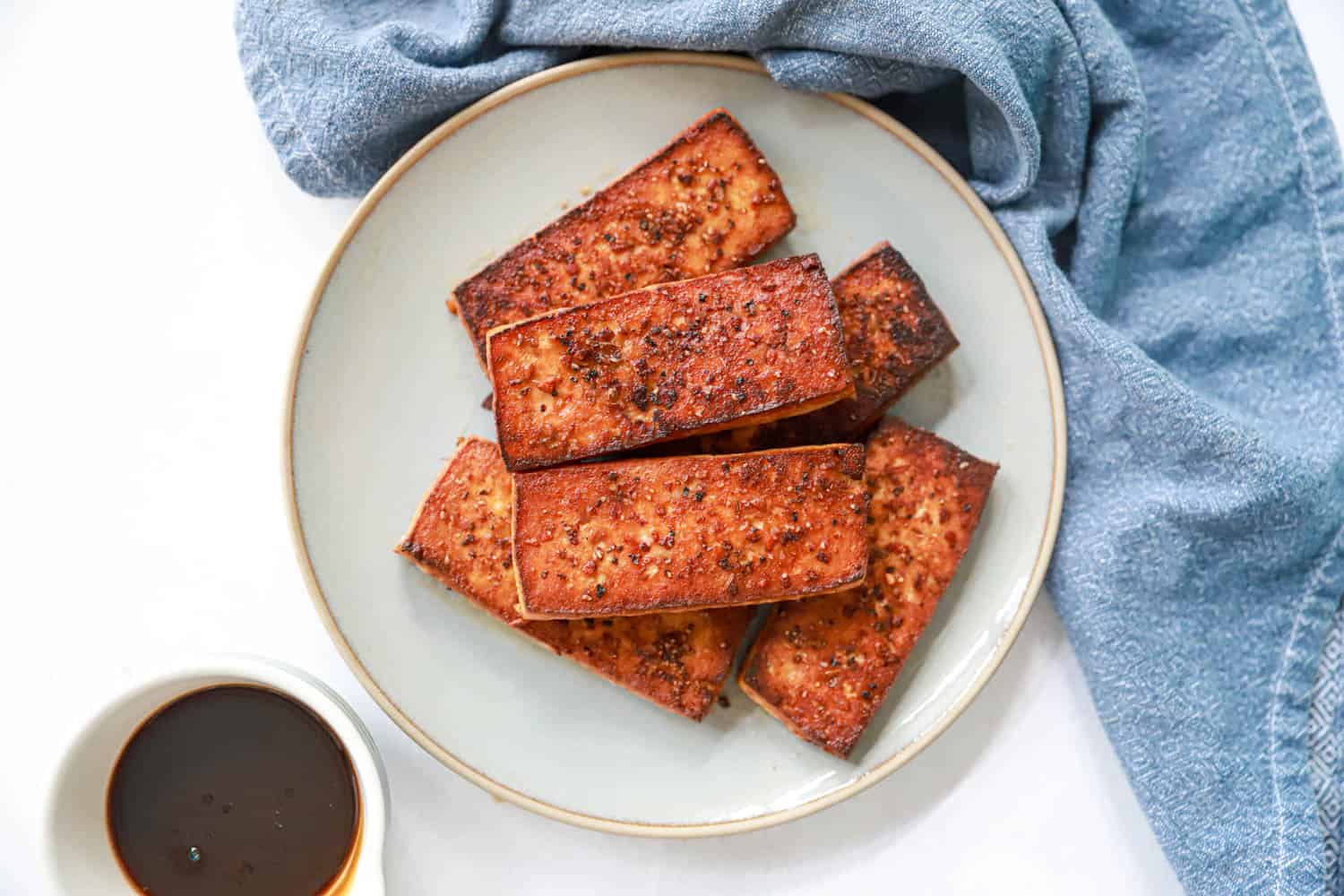 Tofu Steak FAQ
What is Tofu Steak Made Of?
In this case, we're using slabs of firm (or extra firm!) tofu that are treated like steak: a marinade, a steak seasoning, a sear in a pan.
Does Tofu Taste Like Meat?
This depends on your goal. Taste and texture are really closely linked, and tofu doesn't have a meat-like texture. However, the marinade we're using here is similar to marinades used on lots of steaks and chicken. This tofu steak is a GREAT meat substitute.
Is Tofu Steak Vegan?
That depends! In this recipe, there are two ingredients to look out for: Worcestershire sauce and butter. Both of those can contain meat products OR be vegan, so check labels and chose what works best for you.
Tofu Steak Marinade
Note Before You Start: If you can, press the whole tofu block between two plates for about an hour. To press tofu, I stick the block between two plates and top the top plate with a can of tomatoes or something heavy. Pour out any liquid that collects in the bottom plate, then move on with the recipe.
If you forget to press the tofu, It.Will.Be.Fine. Seriously. You'll lose a teeny bit of steaky texture, but do not stress about this at all.
To marinate the steak, whisk together the Worcestershire, soy sauce, vinegar, and syrup in the bottom of a shallow dish. Place the tofu pieces in the marinade. Spoon some of the marinade on top so the tofu is coated on both sides.
Step By Step Instructions
Let the tofu steaks marinate - the timing on this is REALLY variable but I find that at least 20 minutes is great for lots of flavor. If you prefer to marinate a few hours in advance that's fine too!
Flip the tofu pieces over in the marinade about halfway through the time so they get coated evenly on both sides.
When the tofu has marinated, remove it to a plate and sprinkle it on both sides with the steak seasoning.
Heat a large skillet (I like nonstick) to medium heat and SAVE THE MARINADE.
When the skillet is hot, add the tofu steaks in one layer. Do this in two batches if needed, but it's OK if the tofu steaks are close together in the pan.
Let the steaks cook for several minutes on each side until they're nicely golden and there is very little jiggle left in the tofu. I flip the steaks a few times to help them get crispy evenly.
Tofu Steak Sauce Recipe and Method
During this time, transfer the tofu marinade to a small pot and whisk in ½ teaspoon of cornstarch. Bring the mixture to a boil over medium-high heat to thicken, then remove from the heat and transfer to a small dish.
You just made homemade steak sauce for tofu. Boom.
When the tofu steaks are very golden, remove them to a plate to serve. That's it! The inside will be chewy, the outside will be crispy...just lovely.
What To Serve with Tofu Steak
In short - whatever you like! These are just a few of my favorite side dishes to make a full meal.
Leftovers and Make-Ahead
I love the leftovers of these tofu steaks cold, but you can reheat them in the microwave OR in the oven at 350F until they're crispy again and warmed through.
Leftovers last for about 4 days in the fridge.
I think these tofu steaks are great for meal prep grain bowls. You can also simply whisk the marinade up as part of meal prep and then marinate/sear the steaks when you'd like to eat them.
Enjoy this one, it's a great addition to a steak meal for non-meat eaters!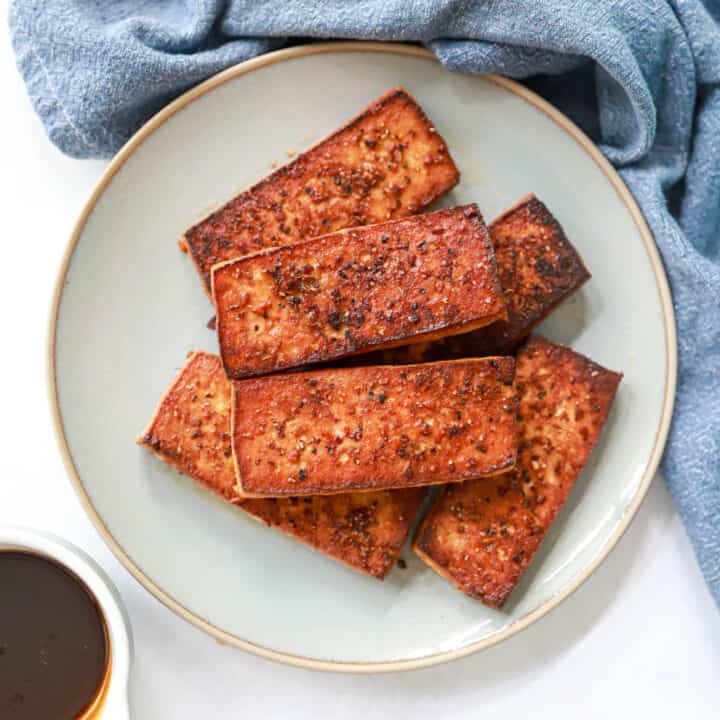 Tofu Steak
THE BEST tofu steak of your life, promise. Quickie marinade, pan-seared, and a homemade tofu steak sauce to bring us home. Make these asap!
Ingredients
1

brick tofu

cut into 6 slices crosswise (14 ounces or so)

¼

cup

Worcestershire Sauce

1

tablespoon

maple syrup

1

tablespoon

soy sauce

1

tablespoon

apple cider vinegar

2

teaspoons

steak seasoning

½

teaspoon

cornstarch

2

tablespoons

olive oil

2

tablespoons

butter
Instructions
If times allows, press the whole tofu block between two plates with a weight on top (something like a can of food) for about an hour before beginning. Discard any liquid, then cut the tofu into planks and proceed with the recipe.

Marinate: Whisk together the Worcestershire, syrup, soy sauce, and vinegar in a shallow dish. Submerge the tofu pieces in the marinade; turning once to coat on both sides. Marinated for 20-60 minutes, flipping the tofu about halfway through the time.

Remove the tofu steaks from the marinade to a plate. Sprinkle on both sides with the steak seasoning. RESERVE THE MARINADE.

Preheat a skillet to medium heat with the oil and butter. Place the steaks in the skillet and sear gently for about 7 minutes on each side until very golden brown on the outsides. Flip about every 4 minutes. The browning will take some time as some of the tofu liquid evaporates; resist the urge to turn up the heat - you don't want to burn the spices.

Sauce: Meanwhile, transfer the reserved marinade to a small COLD pan and whisk in ½ teaspoon cornstarch. Turn the heat to medium and allow the sauce to come to a bubble and thicken. Transfer to a small dish to serve with the tofu steaks.

Serve the tofu steaks drizzled with the steak sauce and any side dishes you enjoy. Yum!
Notes
Tofu: Tofu is generally sold in 14 ounces bricks, some vary by a few ounces. Anything in the 12-16 ounce range will work for this recipe. Choose firm or extra firm.
Make this vegan by omitting the butter and using all oil instead.
Make this gluten free with tamari or GF soy sauce. Be sure to check all labels!
Worcestershire sauce isn't always vegetarian due to containing fish products. If you'd like this recipe to be vegetarian or vegan, check labels carefully and purchase a vegan worcestershire sauce.
This recipe was originally published in August 2012 and has been updated with new images and notes.
More Yummy Vegetarian Recipes