This sour cream guacamole features grated onion and garlic for tons of flavor + no chunks, and lime juice and fresh tomatoes for delicious pico + guac flavor mixed into one. If you love guacamole, you will LOVE this version. Make it a meal by scooping it over green chicken enchiladas!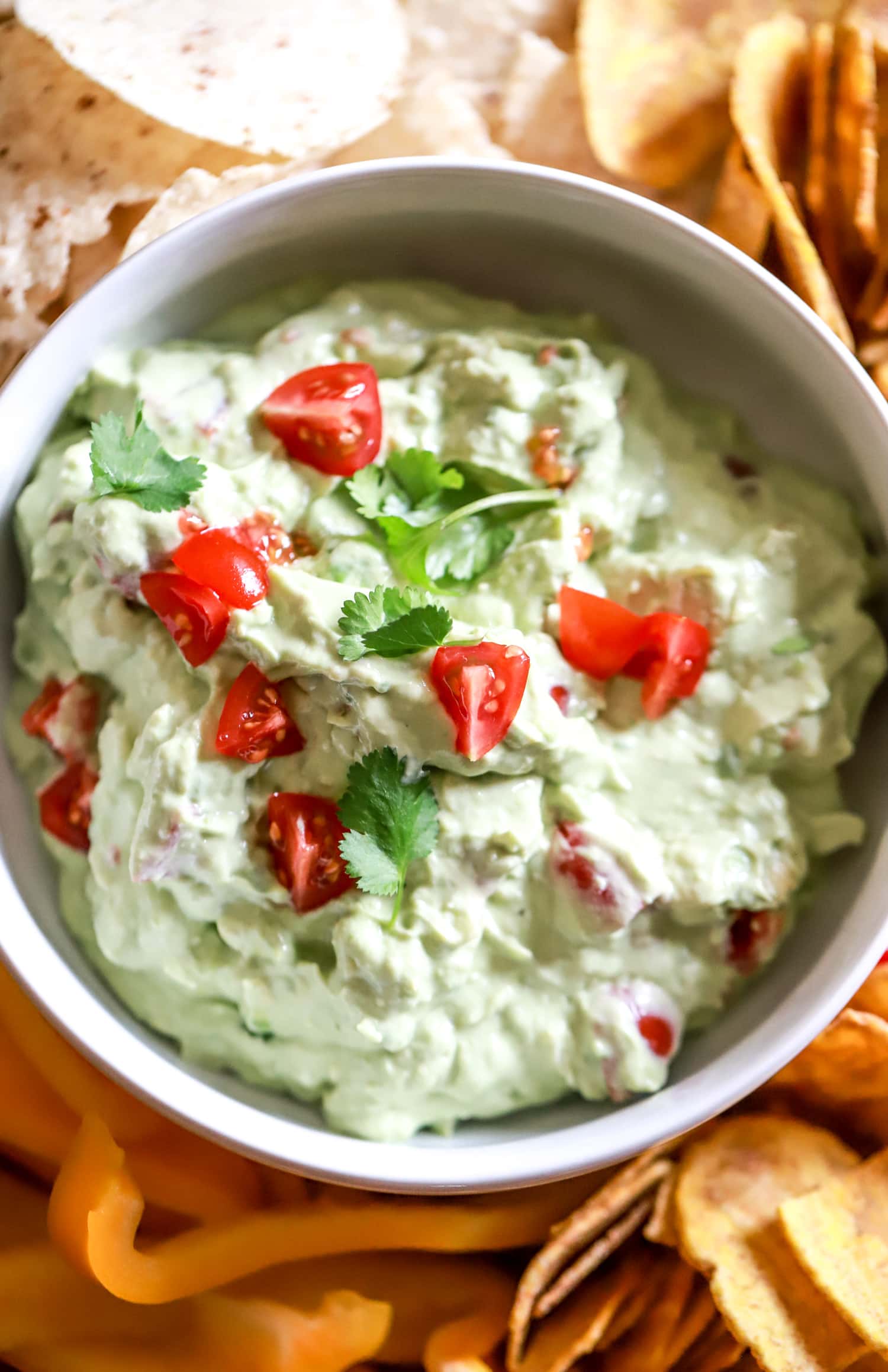 My friend Heather and I have had some pretty extensive happy hours, and over the years we have expanded our "let's just set out some cheese and crackers" offerings to tons of different appetizers, snacks, and spreads. We do breads, cheeses, these tomatoes, fruits and veggies, all in the name of "absorbing the wine." It works for us.
Once we were having one such important business meeting and she said "I made guacamole! But with lots of sour cream." And BOY did she mean it. This was a recipe invented out of necessity, she had half an avocado and other flavorful things that didn't quiiiiite make more than a few chipfulls of regular guac, so this dip came about.
Mostly sour cream, some avocado, flavors for eons. We've both been making it for various other people ever since, and it's been a massive hit with everyone who has tried it. So, while I can't take all the credit for this recipe, it needed to be one that you started making right. this. moment. If you hate guacamole you'll LOVE this. And if you love guacamole you're probably already drooling.
More Easy Mexican Recipes
Ingredients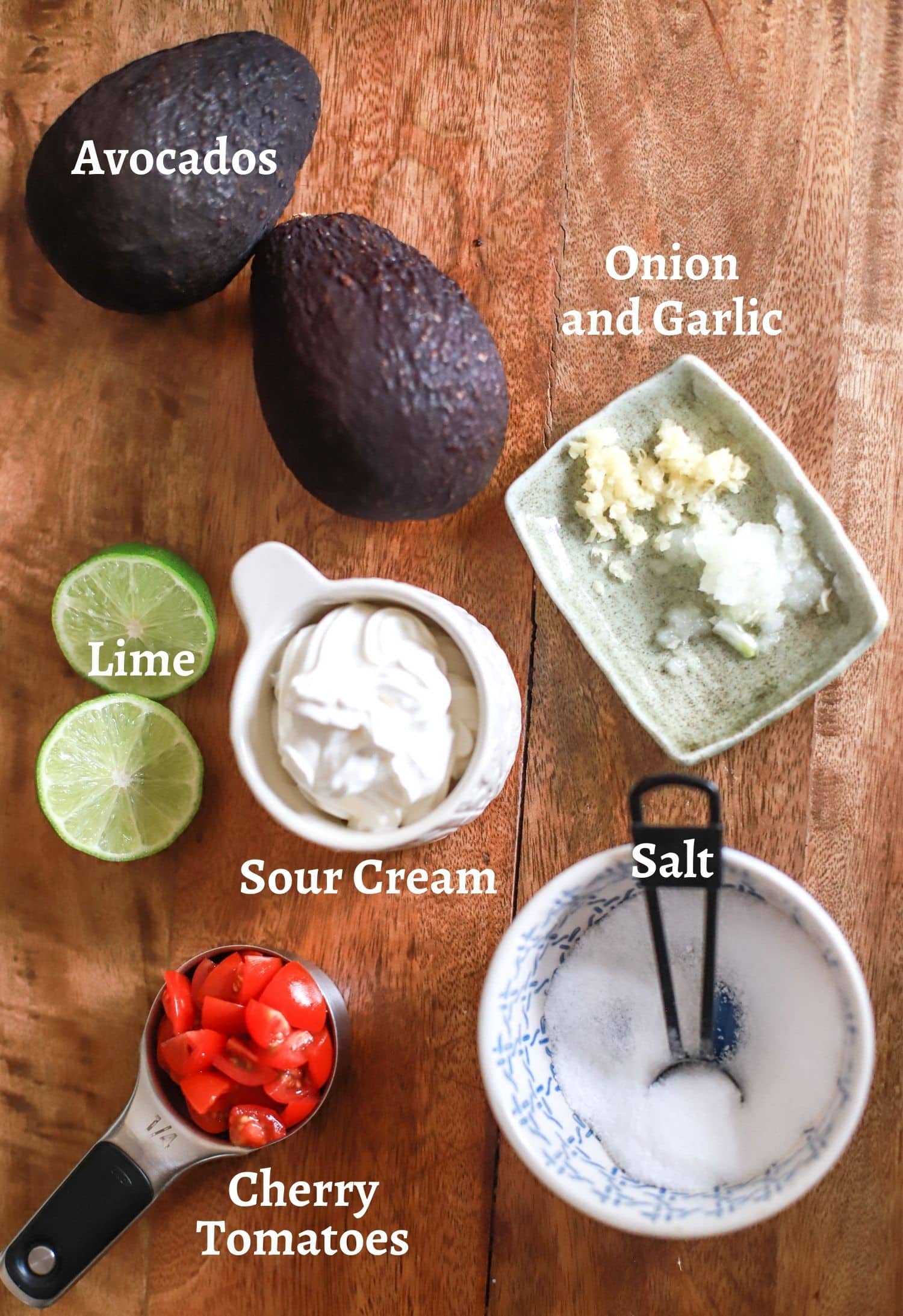 You need sour cream, avocados, lime, salt, diced tomatoes, garlic and onion (that's the watery piles of stuff).
Creamy Guacamole FAQ
Does Guacamole Have Sour Cream In It?
Traditionally, technically no, BUT there are so many variations of guacamole, and sour cream added in is a REALLY nice flavor booster. The sour cream also helps smooth out the guacamole, so there can be a nice contrast between avocado chunks and the smoother sour cream.
Does Sour Cream Keep Guacamole From Turning Brown?
No, sorry. There are some internet rumors that say if you add some mayo to guac it will keep it from turning brown. I've found that this helps a little bit, but isn't a total fix. Avocados are just a fruit that turns brown really quickly when they hit oxygen, so the best bet is to make fresh guacamole.

If you do need to store leftovers, press plastic wrap DIRECTLY on the guacamole (not the bowl, the actual dip), then cover the bowl or container with another lid.
What To Dip In Guacamole
ALL THE THINGS! Of course, guac is often served with tortilla chips, but I love serving guacamole with quesadilla wedges, veggies for dunking, and plantain chips for a sweet/salty combo that is very, very yum.
Step By Step Instructions
I grate the onion and the garlic with a zester so that all the juice gets into the dip but with no chunks of anything too strong-tasting. You can also just mince them together really finely, it's totally up to you.
Start by splitting the avocados in half and carefully cutting them into a small dice right in their skins.
Then add the avocados, sour cream, onion, garlic, lime juice, and salt to a large bowl.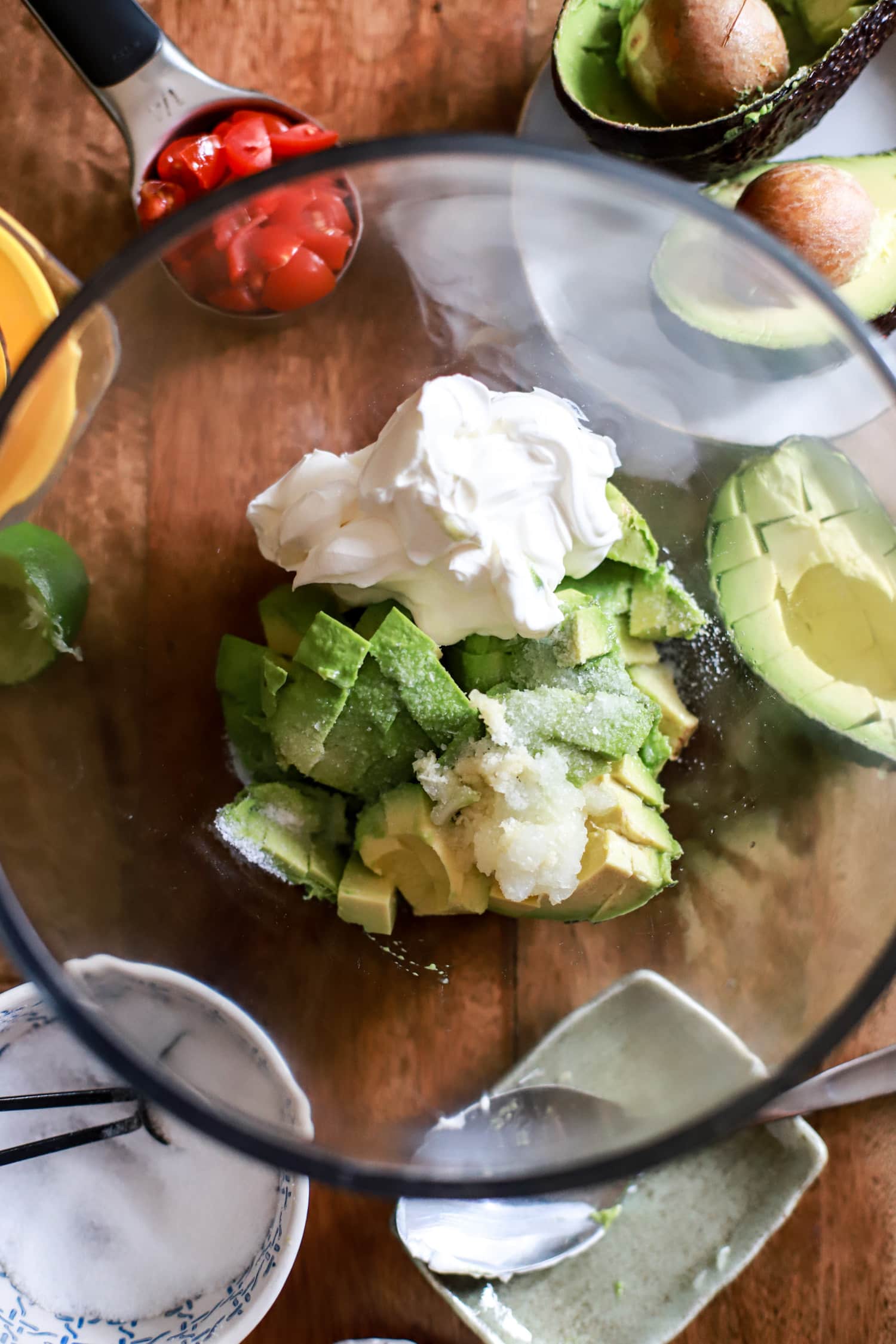 Mash this first part of the dip pretty well with a fork - I like a fairly chunky guacamole, but you can make this as smooth as you'd like.
Taste the sour cream guacamole at this point and see what you think: it should already taste great. Add some pinches of salt if needed; and carefully stir in the chopped tomatoes.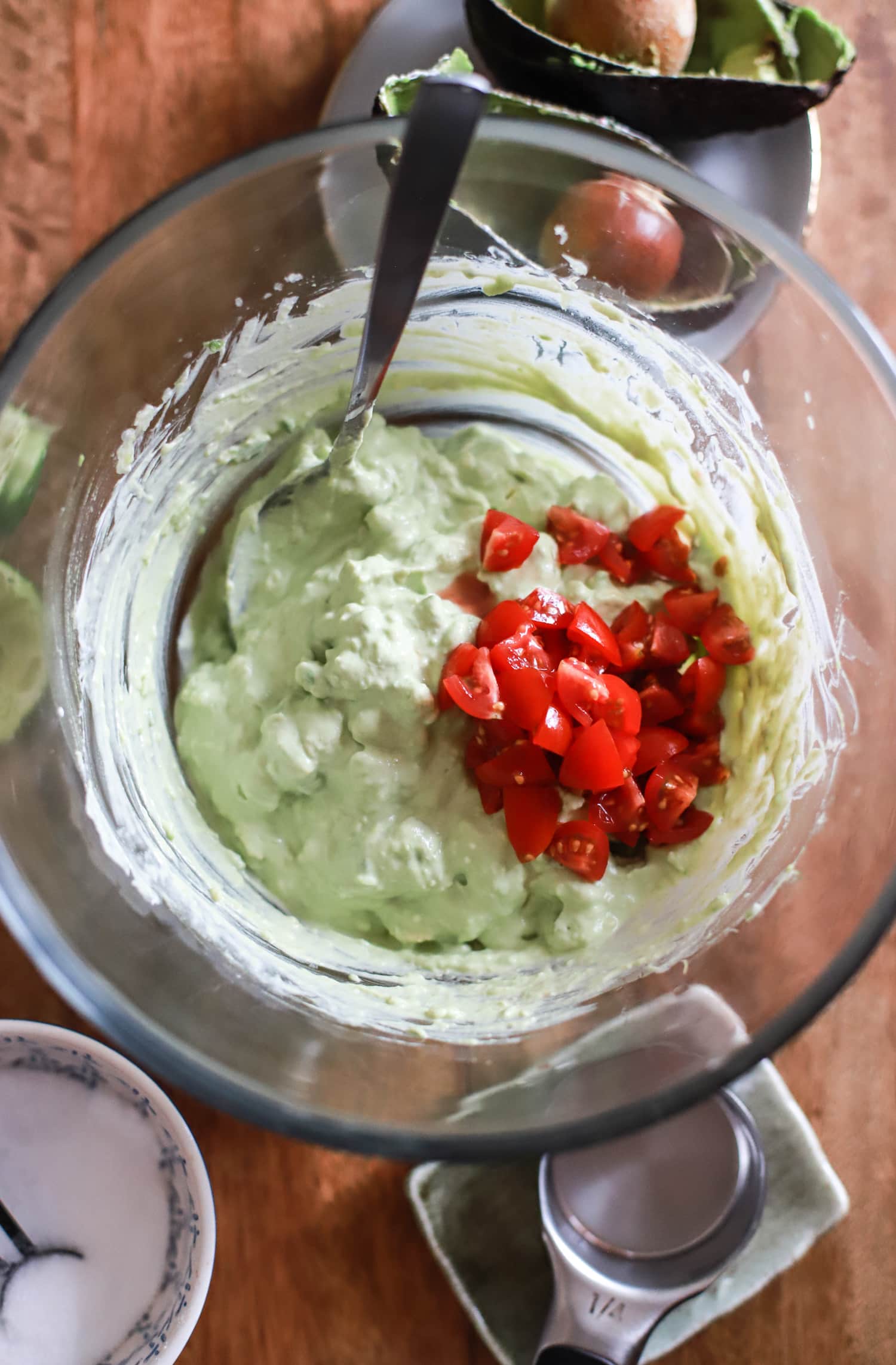 Now, very gently stir everything together and taste it one more time to see if you'd like to add more salt. It's completely up to you, but remember that avocados are pretty bland on their own and need a lot of salt to make their flavor pop. Don't be afraid of an extra sprinkle!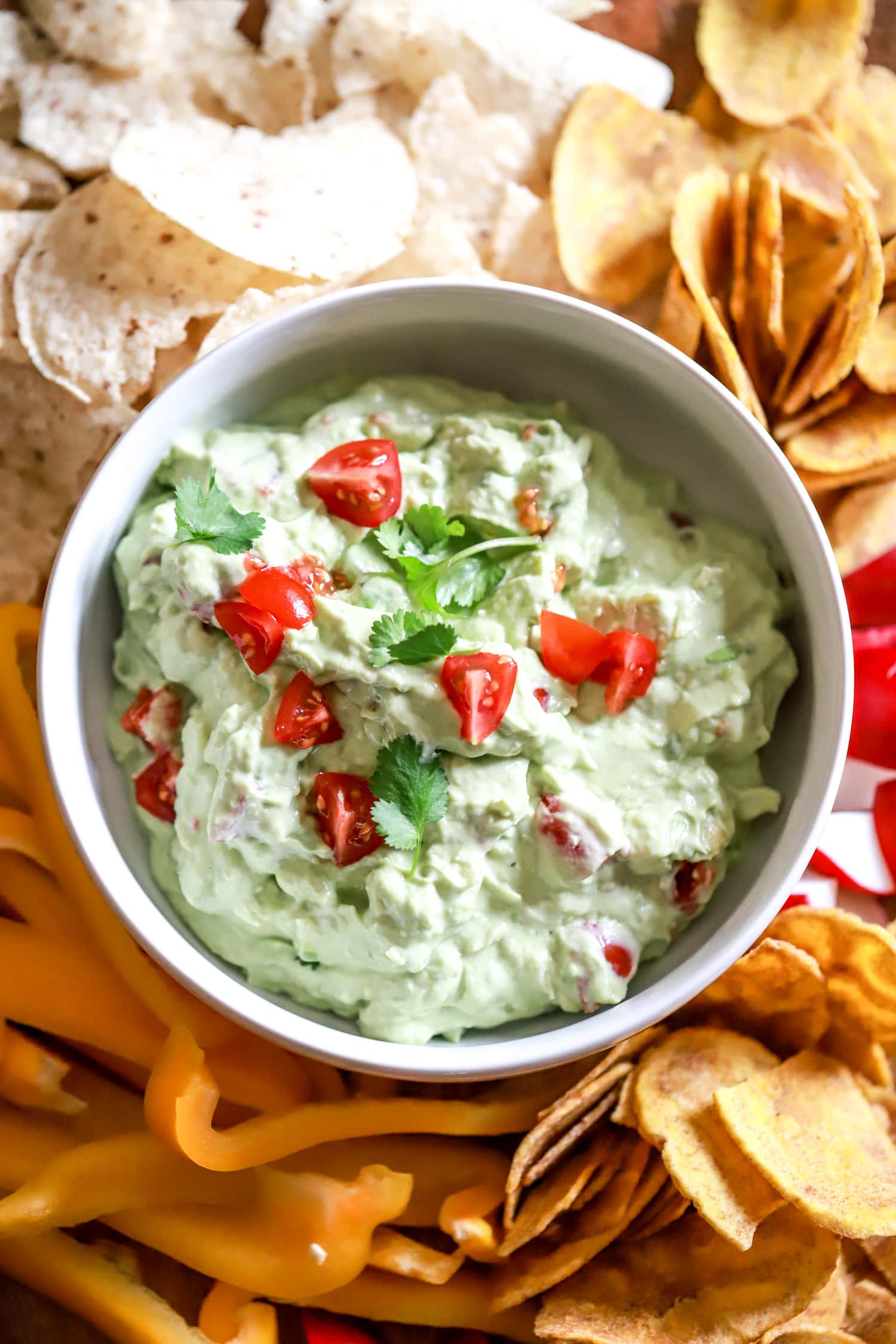 YUM, truly. The easiest gluten free appetizer recipe ever that you can make right when people arrive and it will be gone faster than it took you to make it.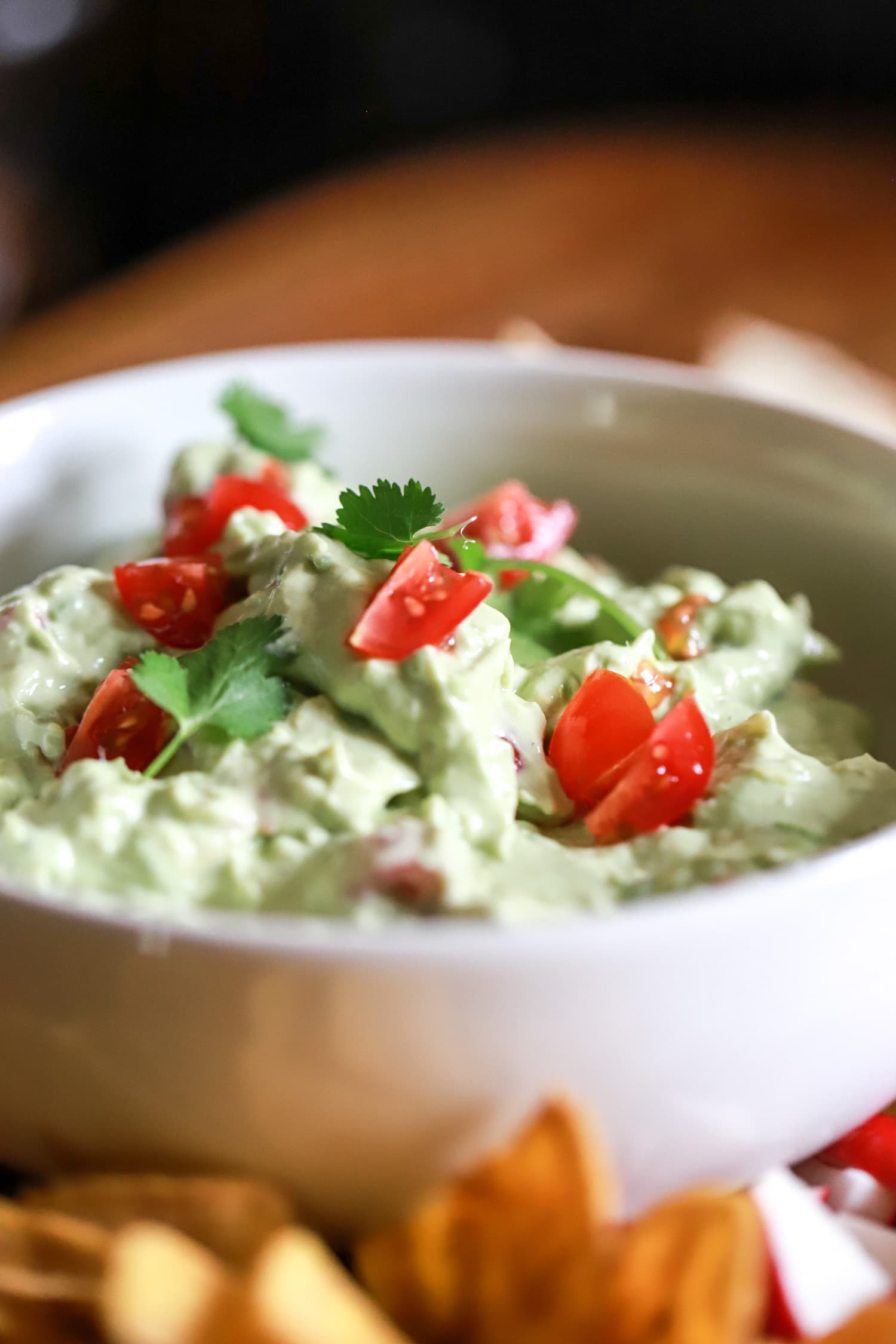 As for the avocados browning if this sits out for too long, they still do. The sour cream kind of hides the off-putting brown color, and of course the dip is OK to eat for a few days after you make it, it's just not very pretty.
Pro serving tip: tortilla chips are great, plantain chips are REALLY great. This is also delicious on top of ground beef tacos, which can for sure be made in advance and jazzed up with this little dip.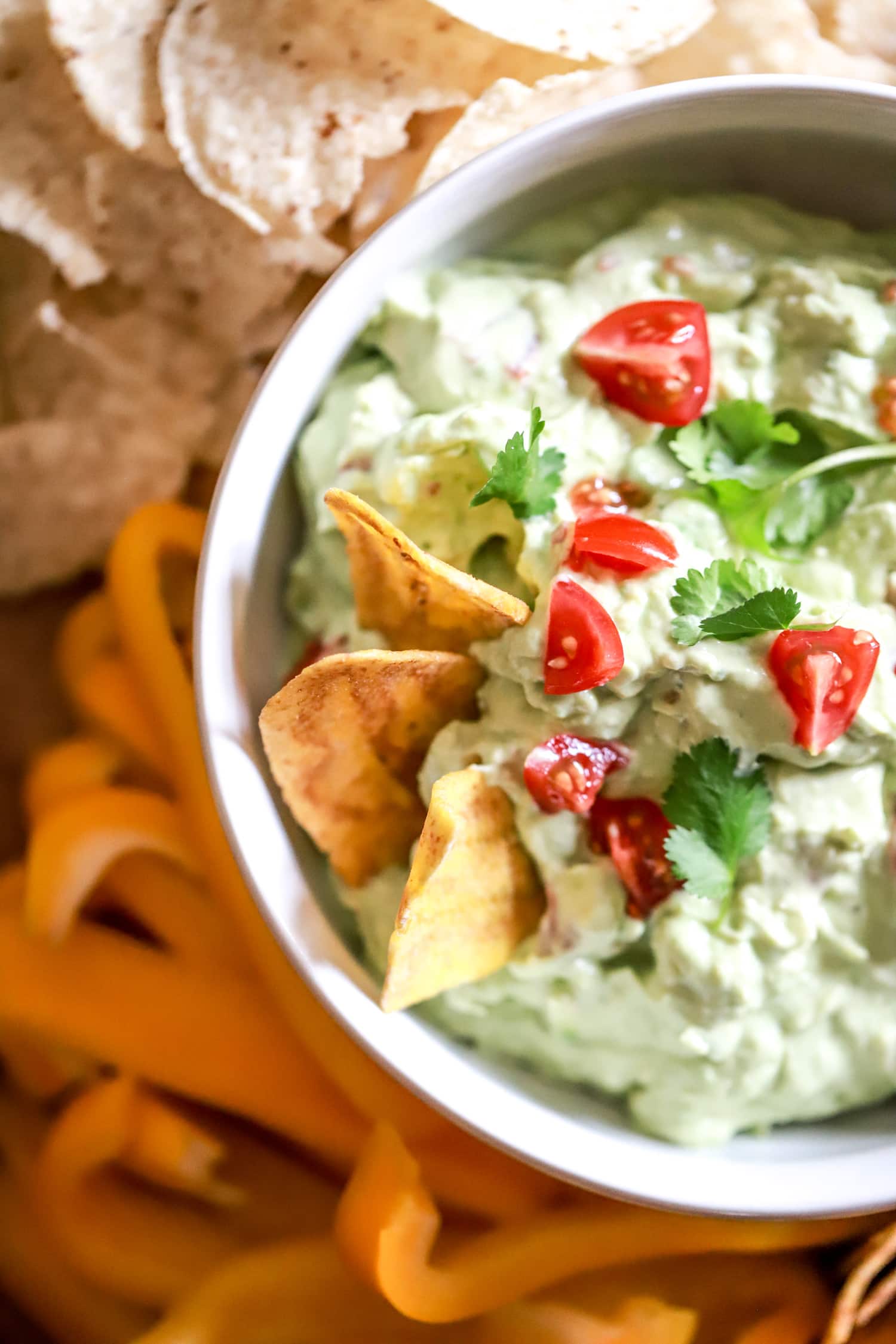 If you'd like to make the whole dish ahead of time, put it in a plastic container and press plastic wrap RIGHT over the dip, then put the plastic lid over that. This takes all of the oxygen off the avocado, which slows down the browning process. But, it's such a quick dip that I like to make it right before I serve it.
To prep this but keep the avocado fresh, mix/measure/chop everything BUT the avocados and tomatoes, then store that in the fridge. Right before serving, mash in the avocados and stir in the chopped tomatoes.
I hope you love this as much as we do: it's a real treat.
Try this soon, and enjoy it!
Print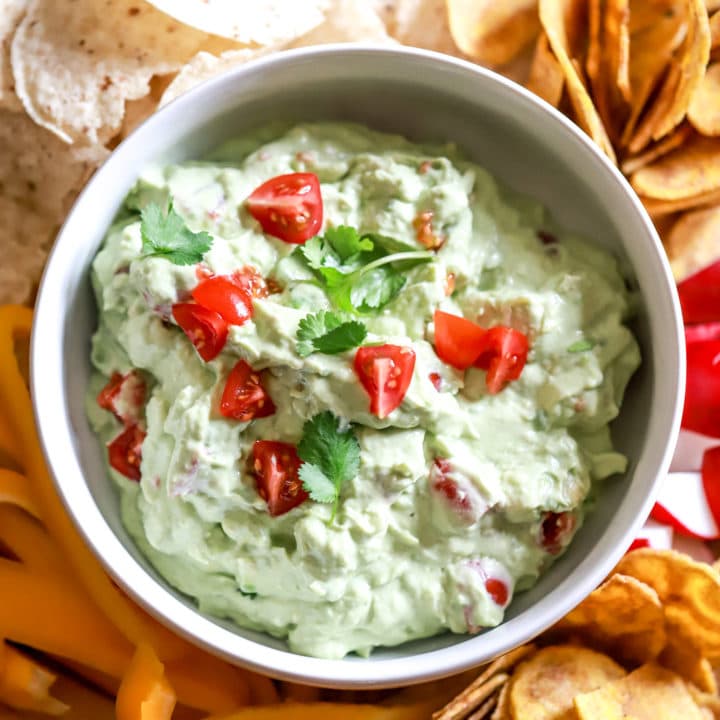 Sour Cream Guacamole
---
Total Time:

15 minutes

Yield:

2 cups

1

x
Description
Sour Cream Guacamole is a delicious, tangy twist on classic guacamole with tons of flavor in just a few minutes. Add it to your next potluck spread!
---
2

ripe avocados

½ cup

sour cream

1

lime, juiced (about

2 tablespoons

lime juice)

1

clove garlic, grated

1 tablespoon

grated onion

¼ cup

chopped tomatoes

½ teaspoon

kosher salt, plus more if needed
cilantro leaves for topping and chips for dipping
---
Instructions
Dice the avocados (I do this with the avocado still in the peel after halving and carefully removing the pit). In a bowl, combine the avocado, sour cream, lime juice, onion, garlic, and salt. Mash with a fork to achieve a fairly smooth consistency. I like to leave some larger pieces of avocado for texture.
Gently fold in the tomatoes. Taste, and add as much salt as you'd like to the dish - remember that avocados generally need a good amount of salt to balance the tart of the sour cream and lime. I generally use close to 1 teaspoon total of kosher salt, depending on the size of the avocados.
Serve with chips immediately. Enjoy!
Notes
I use a microplane to grate the garlic and onion to catch all the juice in the dip. If you don't have a little grater just finely chop/mince the onion and garlic together.
If you'd like to prep this, just prep everything but the avocado in a bowl, then mash and stir in the avocado and tomato at the last minute to prevent it from turning brown.
OPTIONAL: I have made this with ½ teaspoon of ground cumin before, and love this variation. Add a sprinkle of cumin if you'd like a deeper smoky flavor, or leave it out for a brighter fresh flavor.
Keywords: Guacamole recipe with sour cream, Guacamole recipe sour cream, Sour Cream Guacamole,
This recipe was originally published in 2015 and has been rewritten and retested. It's REALLY, good, so good that I can't stop testing it ~just in case.~