Delicious homemade pepita salsa (salsa with pumpkin seeds) in just 5 minutes! Blend up a batch of this and serve alongside sour cream guacamole for a super yummy chips and dip spread.
It is three and a half weeks until Cinco de Mayo. And, in very inappropriate cultural appropriation, I'm super into this holiday for zero reason besides I REALLY like Mexican food. Like, top three flavor profiles for sure. Indian food ranks too.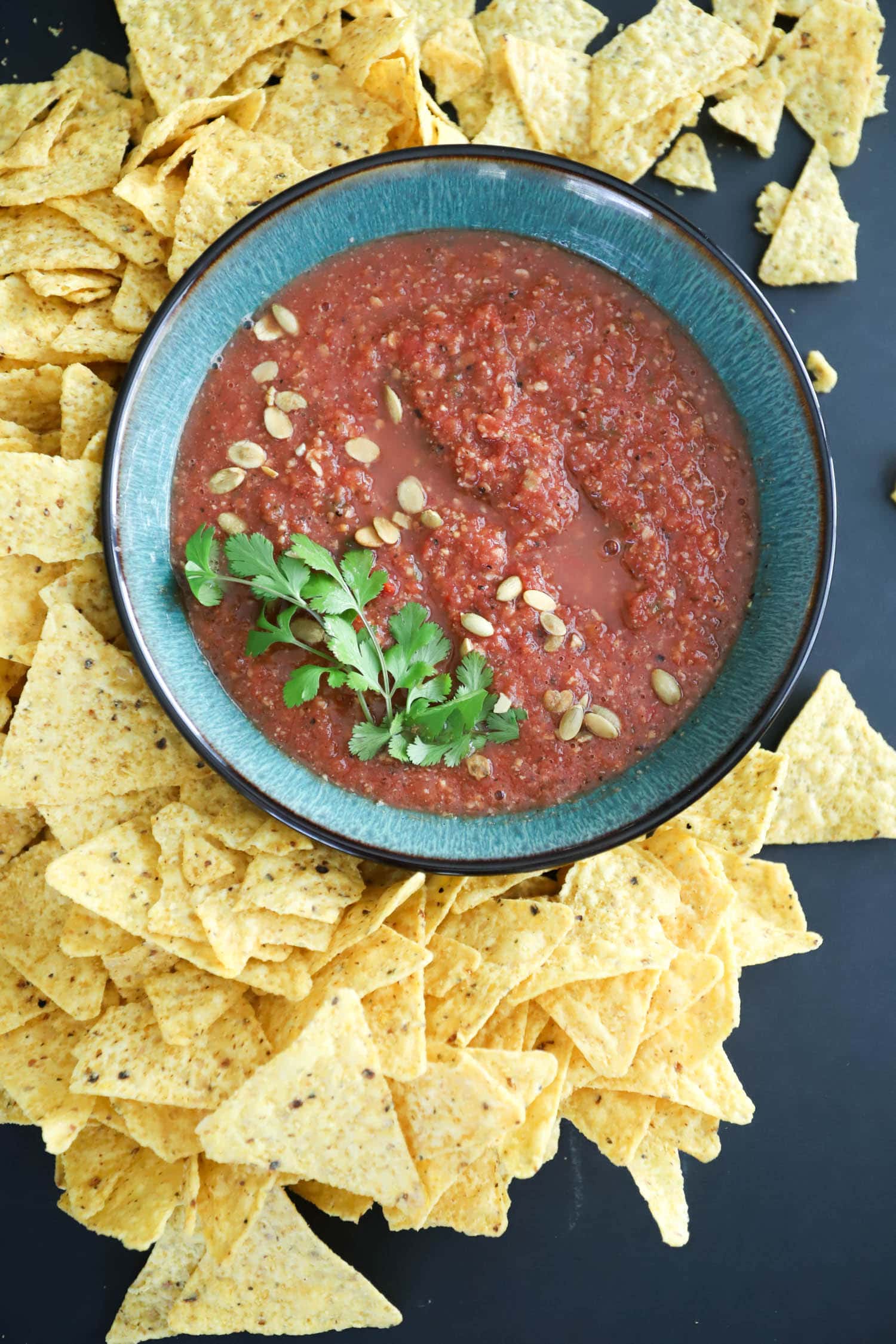 It's also, of course (not to most people, I know), Master's week, and snacks for this weekend are an absolute must. This pepita salsa is gluten free and vegan (if you eat honey or use agave) so can appeal to a ton of people, but has huge flavor and SPICE because we use a whole jalapeno, we don't take the seeds out, and we live for it, JVN style.
Pepita Salsa Ingredients
The ingredients are so simple! Pepitas - roasted, salted shelled pumpkin seeds. I find them usually in the produce or deli section of stores, wherever fancy nuts (heh) are. Then we have garlic, a jalapeno, honey, fire roasted tomatoes, and a lime. A few good pinches of salt, too.
Start by combining the garlic, jalapeno, and pepitas in the bottom of a food processor. Pulse them a few times to chop the pepper and garlic.
Then, add the tomatoes, salt, honey, and the juice of half the lime.
Pulse again to make a smooth-ish salsa. How pureed you make this is completely up to you! I like it pretty smooth like in Mexican restaurants, BUT I usually pulse just to a chunky stage, taste, add more salt or honey, then keep pulsing. If you get the salsa to the texture you like before you make any flavor adjustments, it may be too smooth by the time it tastes right to you.
I serve this with cilantro leaves and a few extra pepitas for crunch + flavor, but both of those things could be skipped, especially since there is no cilantro in this pepita salsa. You could certainly add some, but I wanted the pumpkin seed + fire roasted tomato flavor to really shine through.
How Long Does Homemade Salsa Last?
This homemade salsa will last in the fridge for at least 5 days, maybe longer. With items like this that have a lot of natural preservatives (salt and acid, in this case), I let the food tell me when it's bad. If there is no bad smell or anything funky growing (ew, I know, sorry), it's good to go.
The honey is SO good in here, and really offsets the heat of the jalapeno. If you don't like things super spicy, though, use half of the pepper or remove the seeds and membranes! Just don't do this and then shove your fingers in your newborn's mouth checking for teeth. "Why is he so fussy," she wondered.
Enjoy this! It comes together in just ten minutes or so and will keep in the fridge for several days or even weeks, and I like having it for chips + dip on a weekend and a chicken or fish topper during the week. The pepitas add some extra texture, almost a creaminess, and the sweet heat goes so well with tons of dinner ideas.
What else are you making for the Master's? And Cinco de Mayo!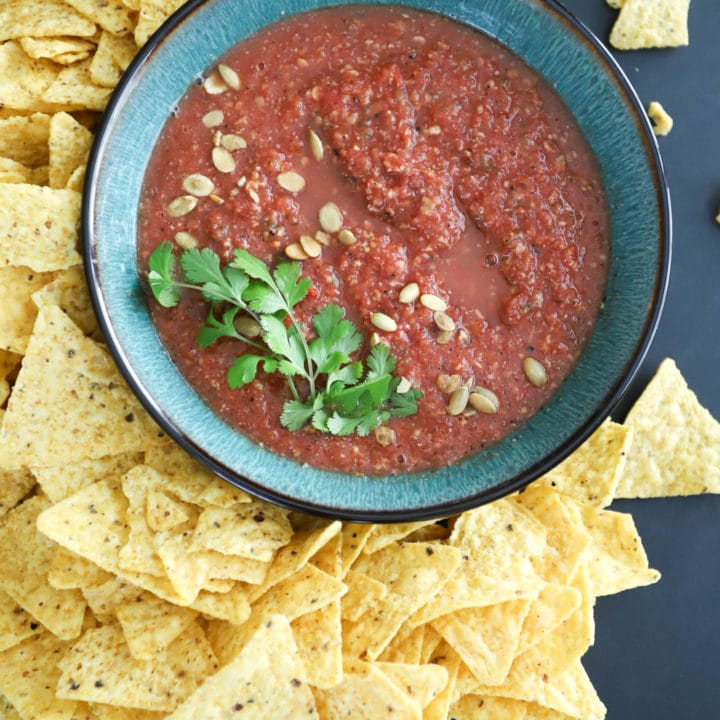 Pepita Salsa
Delicious salsa with a sweet heat and extra texture from pepitas. Perfect for snacking or with dinner over chicken or fish!
Ingredients
⅓

cup

pepitas

roasted/salted/shelled pumpkin seeds

1

jalapeno

cut into chunks (remove seeds for less spicy)

1

clove

garlic

peeled

½

lime

juiced

1

can fire roasted tomatoes

14.5 ounces or so

½

teaspoon

salt

plus more if needed

2

tablespoons

honey

cilantro leaves for topping

optional
Instructions
Add the pepitas, jalapeno chunks, and garlic to a food processor. Pulse a few times to chop the garlic and pepper, then add the rest of the ingredients.

Pulse to create a chunky salsa, then taste. Add more salt, honey, or lime juice to your preference. The salsa should be really flavorful! 

Pulse again until the salsa is the texture you'd like it to be. Top with cilantro and extra pepitas if you'd like, and serve! 
Notes
Nuts and seeds like pepitas can smell a little funky after awhile; I like to keep them fresh by storing them in the freezer if they aren't going to be used right away.