This is of many things currently in my freezer that I'm trying SUPER hard to not eat until after the baby is born, easier said than done. I've been trying to make a thing or two each week to put in the freezer before the baby is born. Mostly I've done sauces to use in quick meals, I froze a bit of slow cooker pork for tacos, and some oatmeal-heavy breakfast-meets-dessert stuff is high on the list for the sake of not just eating a half loaf of bread each morning AND because oatmeal is supposed to be great for lactation but I don't usually run for bowls of straight oatmeal so. Cookies instead!
This particular inspiration came from the fact that I had some frozen blueberries leftover from my sister's inlaw's yard this summer (riddle me that). Part of all this freezer cooking is that we are using up stuff that was already languishing, so I used something from the freezer to make something for the freezer, which is pretty much like saving for retirement, right? Tres meta.
This recipe came straight from Sally's Baking Addiction, and I doubled it and added chocolate chips because chocolate is probably definitely important for lactation.
The base of these cookies is mashed bananas. I made these all in one bowl, no mixer needed. Start with mashing the bananas with a fork until they're fairly smooth in the bottom of a large bowl (I had to transfer all of this to a bigger bowl because I can't see things in my mind).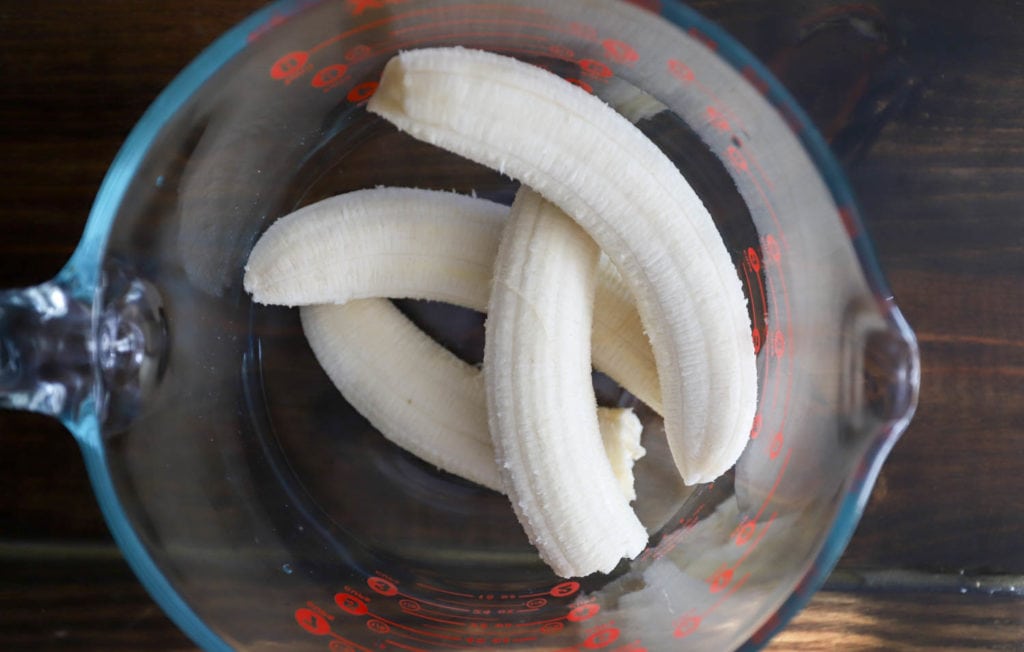 Add all of the remaining ingredients EXCEPT for the blueberries, then stir the batter together really well. It'll take a few minutes, so keep stirring and mashing everything together until it's nice and combined.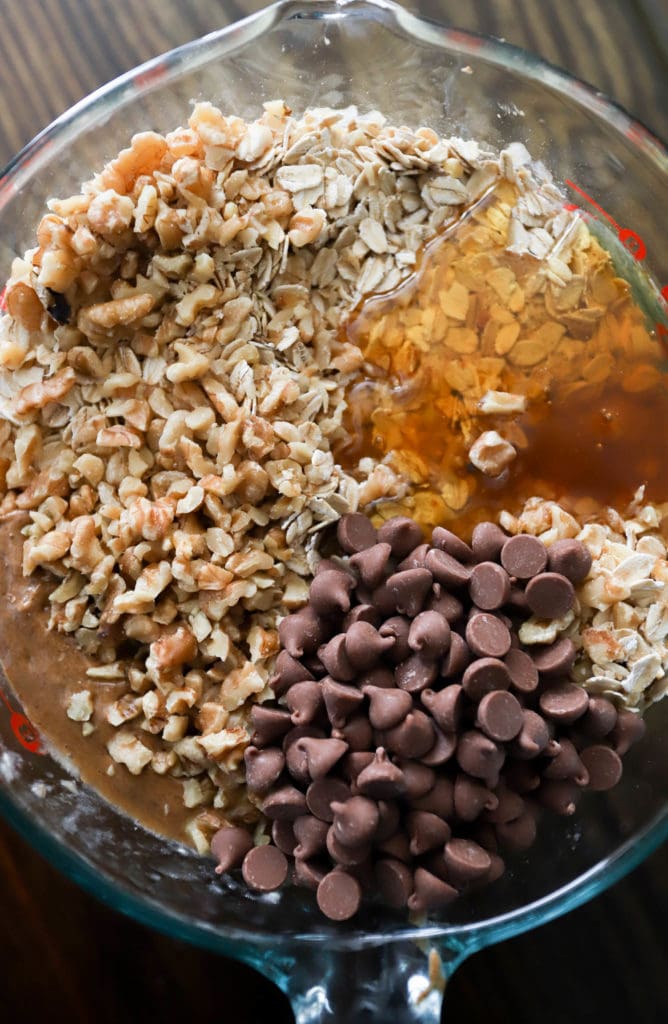 Add the blueberries at the very end and fold them in gently.
These cookies are meant to be big - breakfast sized! I used a third-cup measuring cup that I sprayed with cooking spray to make these nice and even, and got about 20 cookies out of this big batch. Preheat the oven to 325F and mash the cookies down just slightly. They won't spread much, if any, in the oven.
Here they are baked! 18 minutes is perfect for cooked-but-chewy cookies.
Let the cookies rest on the baking sheet for 10 minutes so they don't fall apart, then transfer them to a wire rack to cool.
Breakfast! These were a huge hit with everyone who has tried them so far, and I honestly don't think I'd make any changes next time. The blueberries could be swapped for a dried fruit or even chopped apples if you wanted a change, but the base of the cookie is perfect as-is.
Bonus: these are gluten free and dairy free (minus the chocolate chips, just leave those out if needed), and you can sub maple syrup for the honey to make them vegan.
These are SO good, good for you, and an overall excellent way to start your day. I'll be eating them by the fistful while newborning on the couch with copious amounts of caffeine soon, and I can't wait.
Enjoy!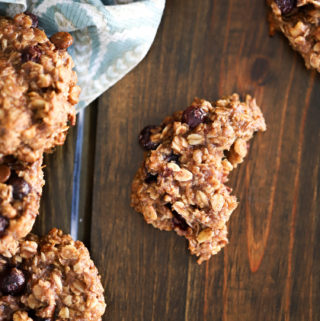 Blueberry Breakfast Cookies
Ingredients
4

medium bananas

very ripe

5

cups

old fashioned oats

2

cups

nut butter

I used almond butter here

½

cup

chopped walnuts

½

cup

chocolate chips

⅔

cup

honey

2

teaspoons

vanilla extract

2

teaspoons

cinnamon

1

teaspoon

salt

2

cups

fresh or frozen blueberries
Instructions
Preheat the oven to 325F and prepare a baking sheet with parchment paper or silicone mats.

With a fork, mash the bananas until smooth until the bottom of a large bowl. add the rest of the ingredients EXCEPT for the blueberries and stir until combined - use your muscles! When the batter is mixed, fold the blueberries in very gently.

Use a ⅓ cup scoop (I use a measuring cup sprayed with cooking spray) to form large cookies on the baking sheet, leaving about an inch between each one.

Bake the cookies in batches for 18 minutes. Let the cookies rest for 10 minutes on the baking sheet, then remove to a wire rack to cool completely. Repeat until all the batter is baked. Makes about 24 cookies.
Notes
I find that the ⅓ cup measure is perfect for a hearty cookie, enough to fill you up for breakfast. You can certainly make them smaller, just reduce the cooking time by a few minutes and bake these until just set so they aren't dry.
These freeze well, just thaw them on the counter for a few hours or in the fridge overnight.
I suppose you could leave the chocolate chips out for health purposes, but why?
Adapted and doubled from Sally's Baking Addiction: https://sallysbakingaddiction.com/good-morning-sunshine-breakfast-cookies/