This spicy candied bacon recipe features just a few ingredients and a quick bake in the oven. Oven baked bacon means no mess, and sugar + spices give huge flavor for the best appetizer, brunch item, or snack! Bacon should always be a snack, let's just agree on that.
Well, well, WELL.
The vegetarian husband has glazed us some bacon.
Last week when we had the epic snow that was very non-epic, my sister stayed the night because her power went out (a light breeze knocks the power out on her street, it's really remarkable), and since calories don't count on snow days Jay made us burgers on Saturday. They were EXCELLENT and involved caramelized onions and super juicy patties and onion buns, but the best part was this bacon on top of the burger. It was so good, in fact, that I decided it could stand alone, and boy can it. I made this last week for my fairly-healthy, mostly-vegetarian family, and it was GONE in approximately 4 seconds.
Now, the Green Jar Spice is famous in our family, we all keep a can around and find that it just fixes any number of sins food-wise. If you have another Cajun or Creole seasoning you like, by all means use that. You can also use my recipe for homemade blackening seasoning if you'd prefer - it's completely up to you.
Spicy Candied Bacon Recipe
In addition to Cajun seasoning of some sort (Tony Chachere's for us!), then bacon and brown sugar. Sometimes I use garlic powder but I often skip it. I like a medium-thickness bacon for this because we want it to stand up on its own for snacking and not crumble to bits like thin bacon can do sometimes when it gets crispy. Medium thickness is ideal. Center cut is great.
This is really just so easy. Preheat the oven to 400F, and cut the bacon slices in half, then arrange them on a baking sheet. I do a sheet pan topped with parchment paper topped with a wire rack for optimal crispiness AND easy cleanup. Then, sprinkle the sugar and spices evenly over the bacon.
Then we just bake! 15-20 minutes until the sugar has melted into the bacon and the bacon is dark at the edges.
Now, when you take the bacon out of the oven it'll feel a little soft, but as you let it cool it'll harden. Let the bacon cool on the racks for about 10 minutes, then EAT. Obviously how you serve this is up to you, but here are some of my ideas:
Like I have here, spicy candied bacon as part of an appetizer or snack spread. On burgers. On BLTs. On grilled cheese with tomato. Crumbled over pasta. For breakfast.
PS if you do make this for breakfast, I beg you to make this copycat Cracker Barrel hashbrown casserole alongside. DO NOT DELAY.
FOR THE SUPER BOWL, DUH.
The end.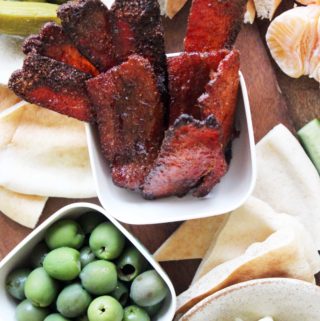 Spicy Candied Bacon
A brunch showstopper, this spicy candied bacon is made even better with a sweet+spicy glaze that is just the MOST extra.
Ingredients
4

slices

medium-thickness bacon

3

tablespoons

brown sugar

1

teaspoon

Creole or Cajun seasoning blend

1

teaspoon

garlic powder
Instructions
Preheat the oven to 400F.

Cut the bacon strips in half to make 8 shorter strips. Arrange on a wire rack set inside a baking sheet. Sprinkle the bacon evenly with the sugar and spices.

Bake the bacon for 15-20 minutes until the bacon is crispy but not burned. Serve for breakfast, on burgers, or as a snack.

Enjoy!
Notes
Note: the spice measurements above are approximate, we're looking for a solid coating of sugar and light but even coating of the spice blend and garlic powder before you bake the bacon. Adjust as needed based on the size of your bacon.
For easy cleanup, I line the baking sheet with parchment paper, then set the rack on the parchment.
Honestly just triple this recipe every time you make it.
I love Tony Chachere's Cajun spice blend!
For breakfast? Copycat Cracker Barrel Hashbrown Casserole is your jam.