Easy ham and cheese quiche recipe with my favorite basic quiche recipe! Use your favorite melty cheese, some savory ham, and enjoy this brunch recipe that is done in just about an hour (mostly hands off). I serve this with my favorite green salad, but this is also a great addition to a Mother's Day Brunch or Easter Brunch spread!
Ooohhhh I'm loving this spring, friends.
Spring is a really nice time for a pandemic to think about ending, you know? We're still in it, for sure, but we're also seeing signs of life. A little more color, a little more vibrancy, all around.
Spring is a great time to bring out some new brunch recipes because Easter and Mother's Day just really go great with a nice brunch, you know? I LOVE a quiche for any kind of brunch (or lunch, or dinner), but ham and cheese quiche may very well be one of my favorite flavors.
This quiche is the only one I ever make, truly. I use the same custard base and add any flavor ingredients I want. The quiche comes out perfectly every time, and it feels different because we make tons of flavors based on the season, what we have on hand, or what we feel like eating.
Ingredients
For this ham and cheese quiche version, I use deli ham and sharp cheddar, but even THAT can be modified. If you make a Honeybaked Ham copycat for Easter (or have leftover ham any time!), this quiche is a great use-up for fancy ham.
Cheese can be any melty shredded cheese you like. I LOVE sharp cheddar, but gruyere, Swiss, or fontina are excellent choices as well.
I buy pre-made crusts from a local grocery store and serve them right in the foil pan EVERY SINGLE TIME. I find it makes homemade quiche even more gratifying to not mess with a crust, but that's just me. If you're more into the labor of love baking thing (also enjoyable), I have a food processor butter pie crust recipe that would be perfect for this quiche.
Method
One thing I love about this quiche method is that it is so, so easy. Mix the cream and eggs together with some good pinches of salt and pepper.
Add the ham and cheese to the bottom of the pie crust.
Pour the egg mixture over the filling ingredients, and pop her in the oven! 375F for about an hour until your quiche is puffy and golden.
AND LOOK. Sometimes life happens and the crust caves in a little and the egg seeps out a little and that's just life, you know?
Honestly I thought about doing these pictures again, but I certainly wouldn't do that if I was serving this to someone. Sometimes when we make quiche the filling gets on the outside of the crust and you're still a good person. The quiche is still a good quiche. It's all good.
Some Other Thoughts:
What can I substitute for cream in quiche?
This recipe works great with milk or half and half, whatever you have on hand! The cream gives a certain richness that is really delicious, but substitutions are also yummy.
What cheese is best in quiche?
Um, many/lots. I love all kinds of cheese in quiche, but in particular I like cheddar, fontina, gruyere, Swiss, or double gloucester, the yellow cheese with chives in it. That's reallllllly good in quiche.
Seriously, ALL good. Look how fluffy the inside of this quiche is! The cheddar blends into the egg mixture and gives so much flavor, the ham is savory and breakfast-y, and wrapped up in a flaky pie crust hug. Just a lot of good stuff going on here.
Throw some salad with yummy vinaigrette on the side of this and call it good.
Happy Spring!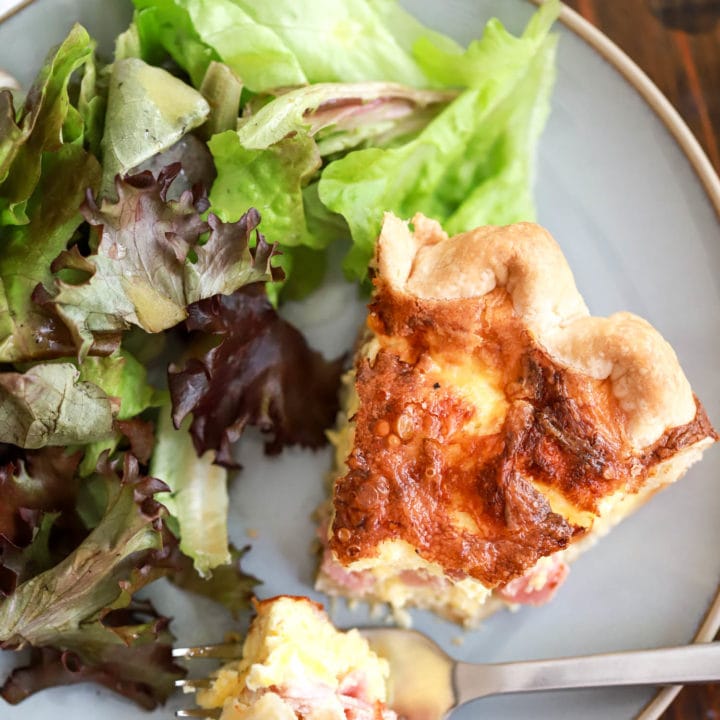 5-Ingredient Ham and Cheese Quiche
Yummy ham and cheese quiche in an hour? YES PLEASE. This comes together easily and is totally foolproof.
Ingredients
1

prepared pie crust

thawed if frozen

1

cup

diced ham

1

cup

grated sharp cheddar

3-4 ounces

4

eggs

1

cup

heavy cream

salt and pepper
Instructions
Preheat the oven to 375F.

Place the ham and cheese in the bottom of the prepared pie crust.

Whisk together the eggs and cream with some good pinches of salt and pepper. Pour the cream mixture into the pie crust over the ham and cheese.

Bake the quiche for 50-60 minutes until puffy and golden. Let cool for about 10 minutes before slicing and serving. Enjoy!
Notes
Use any cheese you like, and deli ham or leftover holiday ham! This quiche base can be mixed up with any additional ingredients you like.
I prefer pre-made crust with this, but of course you can make your own!
This is delicious freshly baked, but also really yummy at room temperature or even served cold. I often make quiches in advance to get out at the last minute for brunch without warming up, and they're delicious that way as well.
More Easy Brunch Recipes