This super yummy recipe for Southern stewed cabbage (sometimes called buttered cabbage!) has just a few ingredients and is so simple to make! I love this on a weeknight for a quick gluten free veggie side dish with some grilled maple chicken, but we've made this for Thanksgiving and everyone loves it as a holiday side dish as well!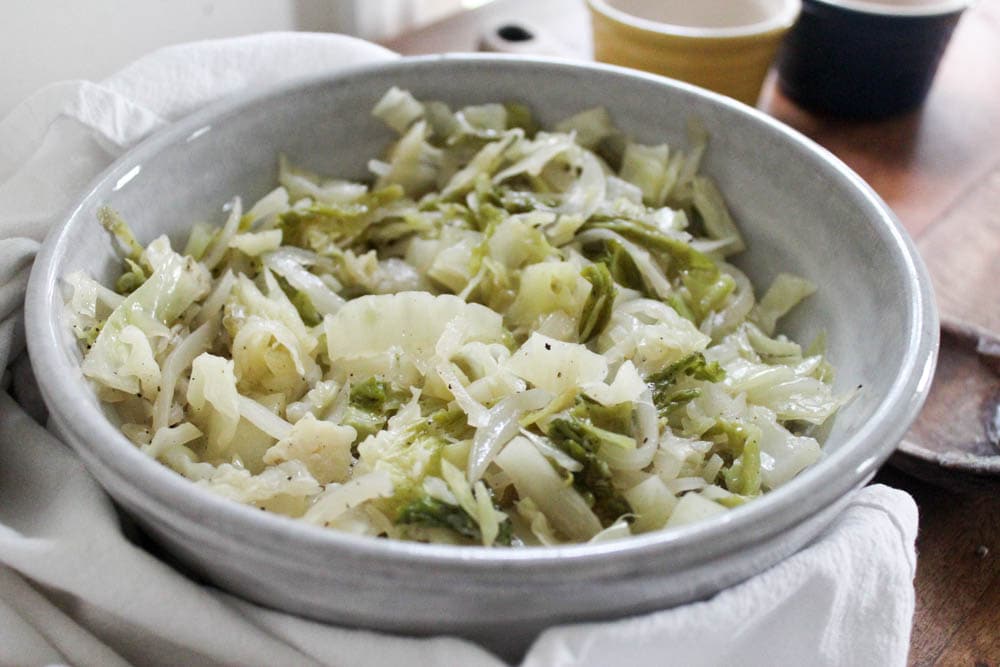 Oh hey! There are a few teeny tidbits you should know. First, last night I dreamed that my incredibly tiny sister Emily had decided to lose some weight because she met some PhD (?) students who were very thin but younger than her and she decided that she needed to lose weight. We were in some sort of a convenience store and I went full WHAT IS WRONG WITH YOU and she got really mad and yelled to our grandparents (?) that I am so mean to her. Then she proceeded to say "it's just the best because once I lose this weight I can set a new goal and lose more!" and then in this convenience store with our grandparents I made her repeat the word anorexia to me the same way I do with Beck when we are working on new words. I'm going to have to call Emily and work....something...out.
All that to say. My sister's husband, Ben, who is absolutely wonderful, also adores cabbage. (the segue we've not known we needed!)
There are gazillions of ways to use cabbage (cabbage roll soup, looking at you!), but this is by far my favorite: a simple stewed cabbage recipe, lots of butter and black pepper, done and done.
Recipe Notes and Variations
This version is a pretty classic southern thing, and everyone has their own version of it, but the short and sweet is that you chop up cabbage, cook it down in some flavorful liquid, and when it's super tender and flavorful douse it with salt and pepper.
Some people steam cabbage for health purposes, some people add spices or herbs, use different kinds of cabbage, tons of options.
As written, this recipe is gluten free.
If you'd like to make this vegetarian, use veggie stock instead of chicken stock.
Make the recipe vegan with vegetable stock and vegan butter, or omit the butter.
Stewed Cabbage FAQ
Can you cook cabbage too long?
That's a personal question! Some people like very soft cabbage, some prefer it a little less cooked with a bit of bite or crunch left. I personally like stewed cabbage to be nice and soft for that lovely comfort food feeling, so I let this recipe cook for a good while which reminds me of classic Southern cooking. That said, after the cabbage reaches a nice soft stage it will eventually start to fall apart, so turn it off before that happens.
How do you boil cabbage without it falling apart?
Short answer: don't overcook it! I find that cooking this stewed cabbage uncovered allows the stock to evaporate around the same time the cabbage is soft but not falling apart; usually 15-20 minutes of simmering time depending on the heat of your stove and how large the pieces of cabbage are.
Ingredients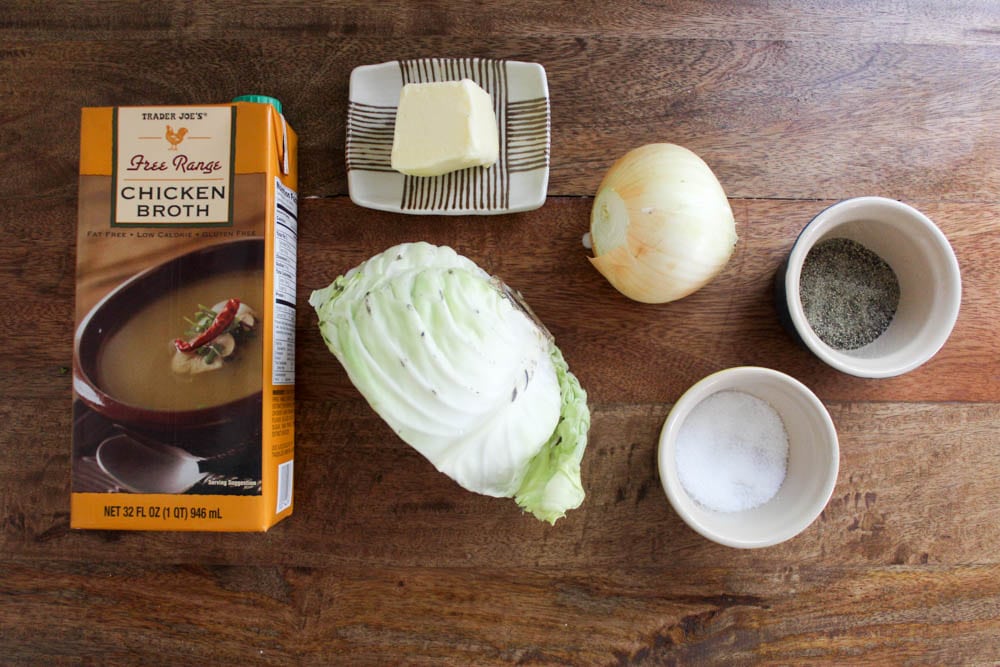 You need! Chicken broth for the stewing. Vegetable stock is also a delicious choice.
Cabbage, obviously. I think half a medium-to-large head of regular green cabbage is perfect for 4 servings, but make a whole head if you're super into cabbage.
Butter, or vegan butter.
Onion, for tons of flavor - it cooks down and gets very mild and sweet, so don't stress if you don't like onions that much.
Salt and pepper for more flavor - veggies should taste GOOD.
Step By Step Instructions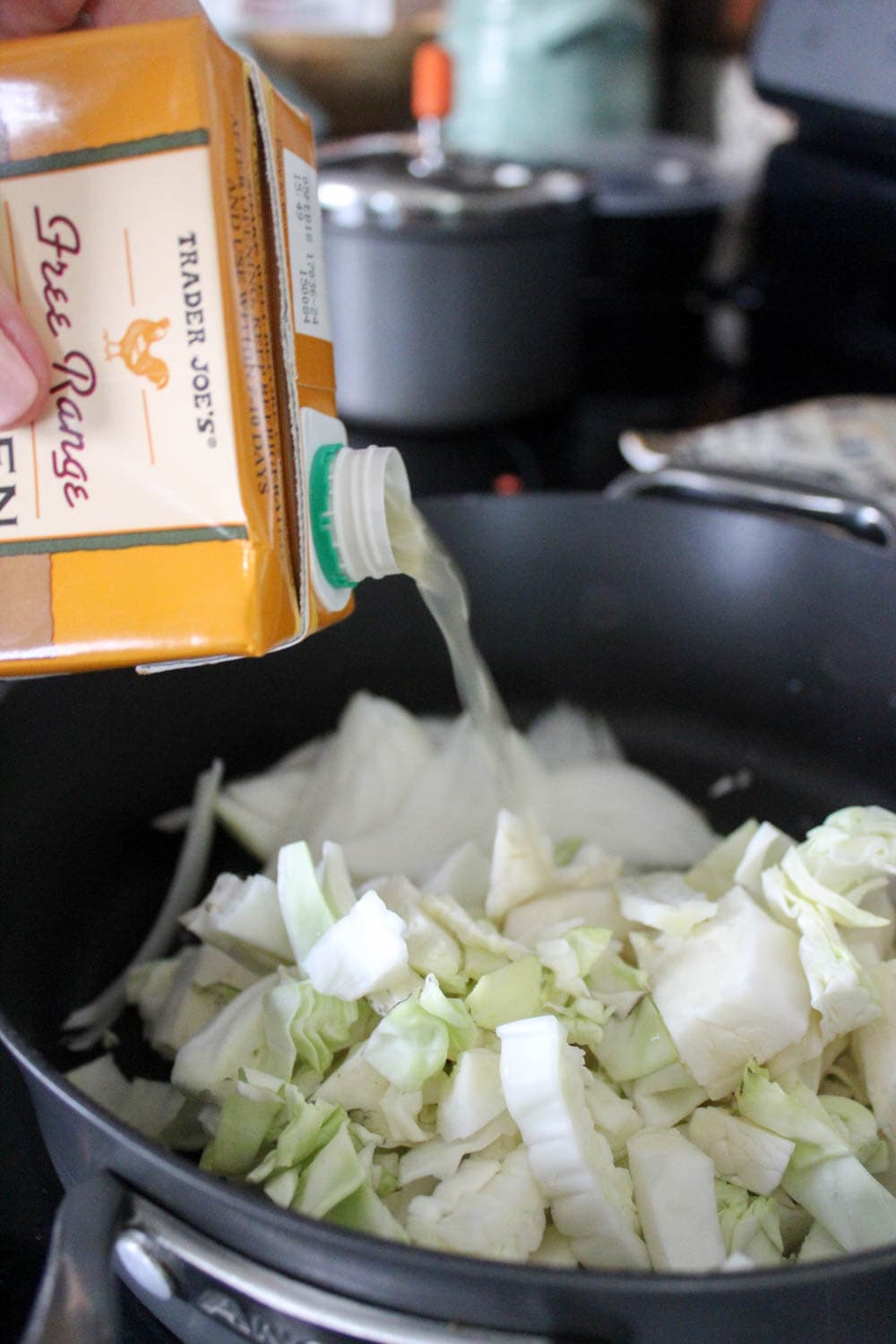 Like most of my recipes, this is more of a method than strict measurements, but there are some instructions below if you'd like.
First, chop the cabbage and thinly slice the onion. Then, add the veggies to a medium skillet over medium heat with the stock.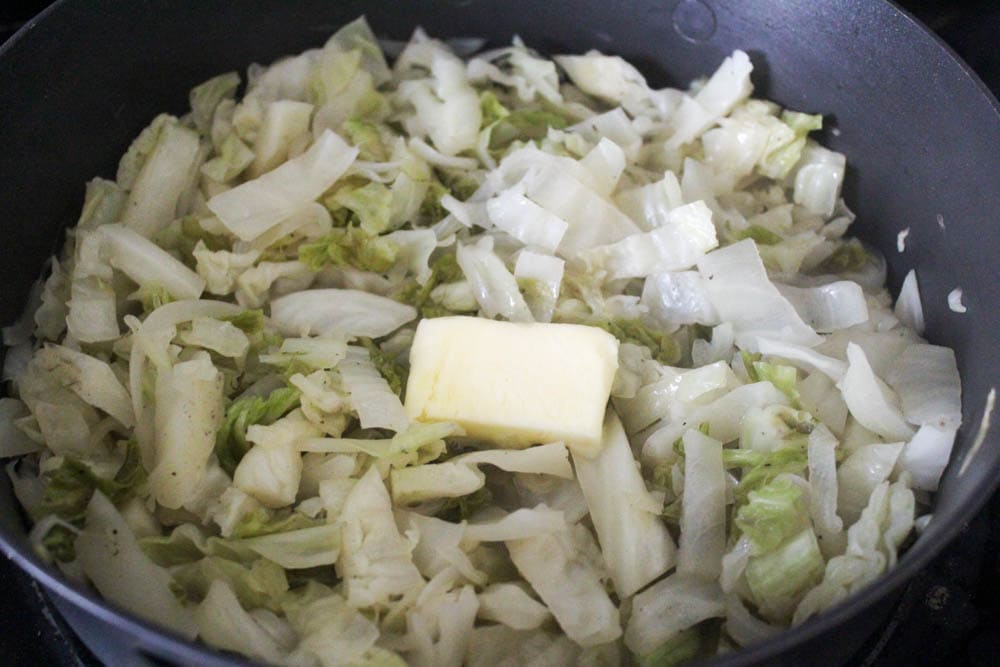 Let the mixture come to a bubble, then reduce the heat to medium-low and let the cabbage simmer uncovered for 20 minutes or so until the liquid is nearly all reduced and the cabbage is very tender.
When the cabbage is cooked through, stir the rest of the butter into the mixture and season with lots of salt and pepper to your preference.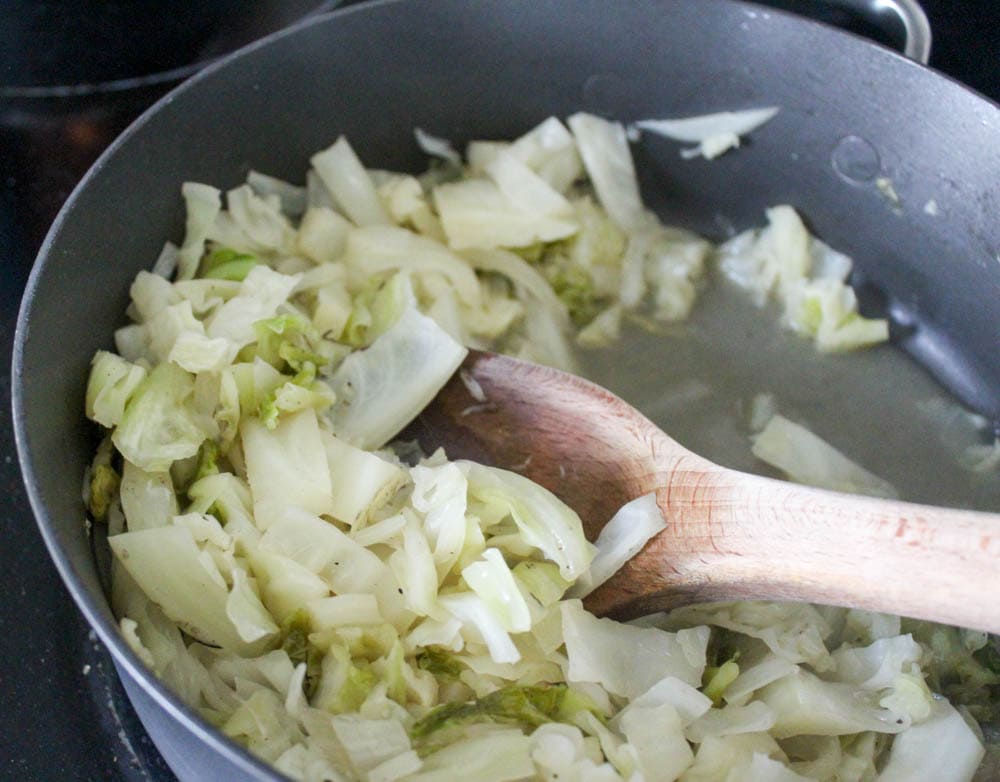 I wait until the end to add salt and pepper because the stock can taste like both, but don't be shy seasoning the dish when you do! Any time you cook, stewed cabbage or anything else, the end result should taste fabulous - anything less than probably requires a few more pinches of salt and pepper.
What to Serve with Stewed Cabbage
Here are some other dishes that I love with this cabbage!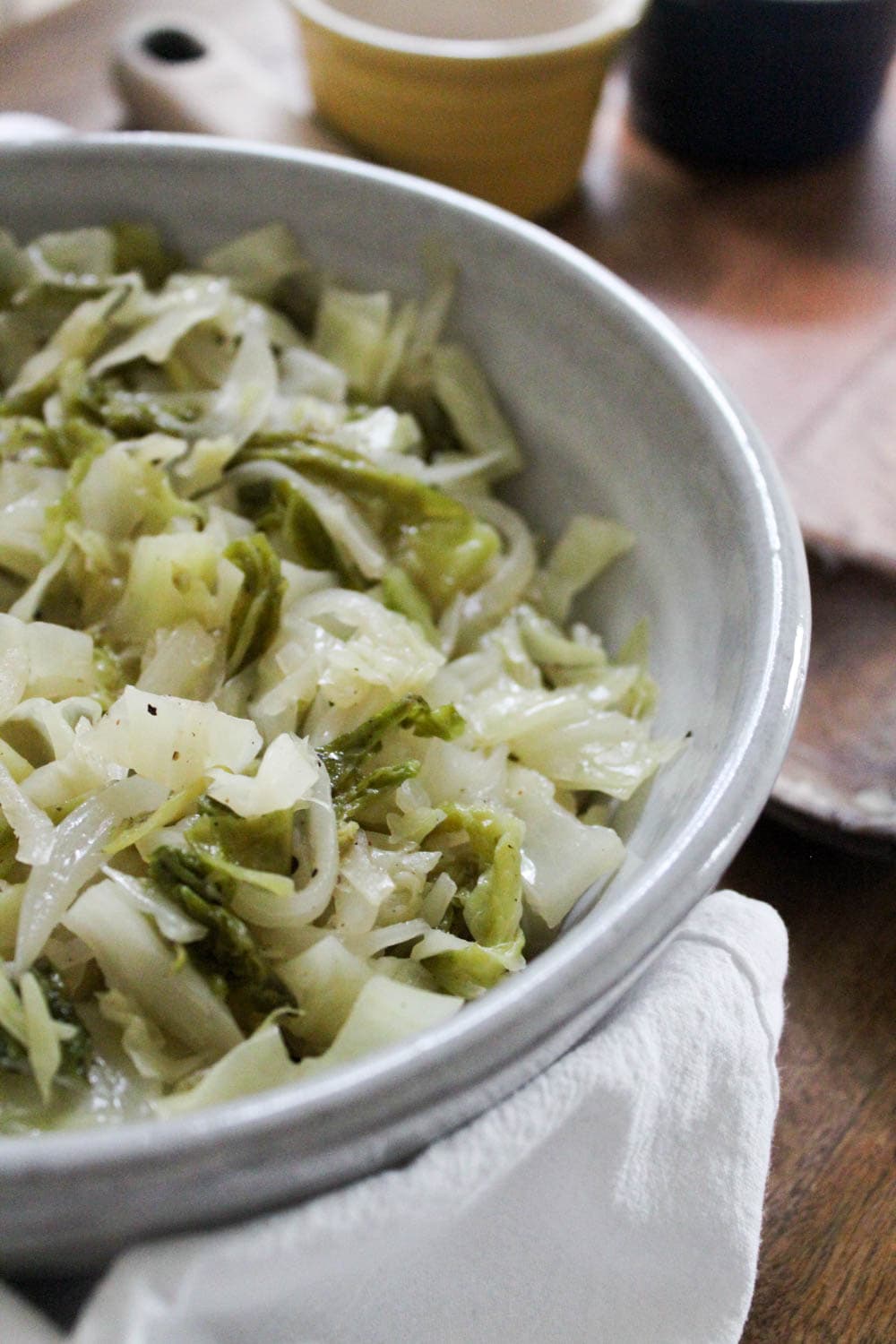 Make Ahead and Leftover Storage
I actually love making this in advance because the dish is DELICIOUS microwaved - feel free to make the whole dish during meal prep and serve it whenever you'd like.
If you'd just like to prep this; cut up the onion and cabbage in advance and store it in the fridge so you can cook whenever you'd like.
Leftovers are yummy in the fridge for at least 4 days, usually longer. Just microwave them to reheat and enjoy.
And there we have it! A lovely, simple, healthy side dish perfect for your favorite meal. This stewed cabbage is so affordable and good for you that it's a great addition to play around with often - add some fresh herbs or other spices to change it up each time.
Enjoy this!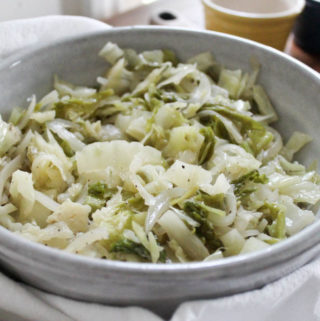 Southern Stewed Cabbage (Buttered Cabbage)
Delicious southern-style stewed cabbage recipe stewed with butter and black pepper for the most simple side dish. If you don't cook with cabbage often, this one is such a winner!
Ingredients
½

head green cabbage

chopped (about 4 cups, give or take)

½

onion

sliced

¼

cup

butter

2

cups

chicken or vegetable stock

plus more if needed

salt and pepper
Instructions
Place 1 tablespoon of the butter in a skillet over medium heat with the onion and cabbage. When the butter melts, pour the stock into the skillet - the liquid should come up about halfway over the cabbage, maybe a bit more.

Increase the heat to medium-high to bring the mixture to a boil, then reduce to medium low to simmer the cabbage for 20-25 minutes, stirring every once in awhile, until the cabbage is very soft.

When the liquid is mostly reduced and the cabbage has cooked down, swirl in the remaining butter, taste, and add lots of salt and pepper to your preference. Enjoy!
Notes
Salt: Because salt content varies widely in butter and stock, I recommend that you add salt as needed in this recipe to your preference. I usually add at least ½ teaspoon of kosher salt, or ¼ teaspoon table salt to start. As written, this recipe is gluten free. If you'd like to make this vegetarian, use veggie stock instead of chicken stock. Make the recipe vegan with vegetable stock and vegan butter, or omit the butter.
More Vegetable Side Dishes