I'm SUPER into curry.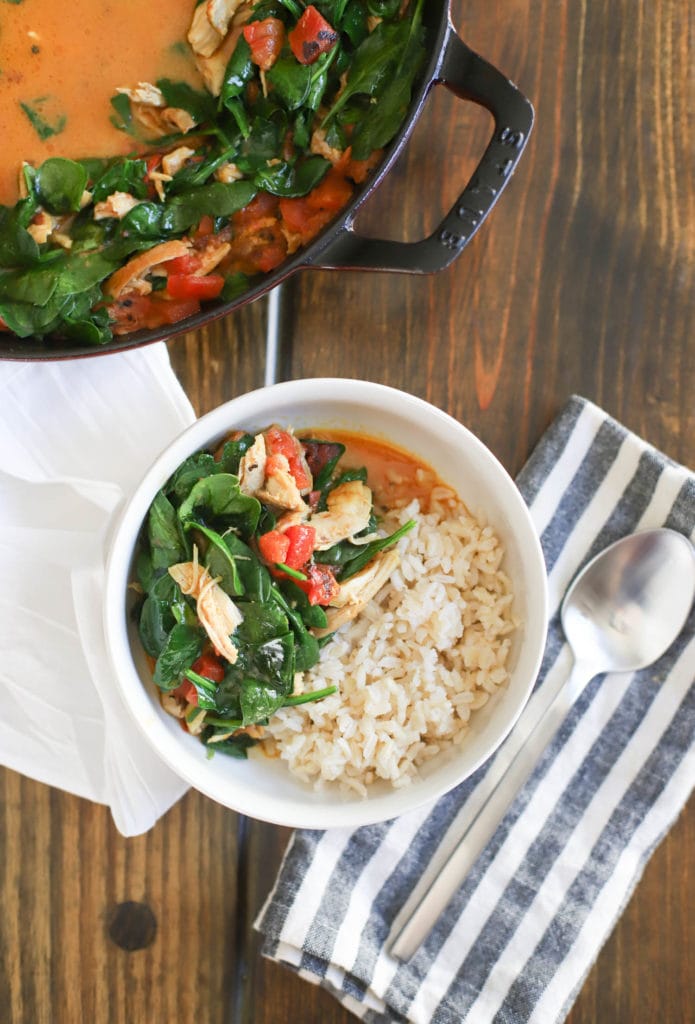 When I was in high school in Tokyo there was a chain of Indian restaurants called Samrat. They had a lunch special that high schoolers could afford, and it was SUCH a treat to be able to go there and try some curries with rice and naan. It was the first time I had much experience with curry outside of curry chicken salad or similar southern foods, and one of my favorite memories of high school - of all things to fixate on in Japan.
Now, one million years later, I spend some weekends making curries with tons of spices, simmered for hours that stink up the house in the best possible way. Or I make this: a chicken curry with just seven ingredients that comes together in under an hour - way less if you happen to have leftover shredded chicken on hand.
Curry in under an hour is mainly my jam with two kids and a bunch of jobs and dogs that eat through walls. Slow-simmering things aren't as common in my kitchen as I'd like them to be, unfortunately.
Even though it's quick, this easy chicken curry has lots of flavor thanks to some good ingredients that do double duty. Chicken bouillon adds enough flavor that we skip onion and garlic, curry powder flavors the chicken and the sauce. Chicken thighs instead of breasts, almost always, honestly. Then we have coconut milk, fire roasted tomatoes, hot paprika (or cayenne!), and baby spinach to balance everything out. I love that we have protein + veggies in a really delicious quick sauce - no need for a side dish.
Start by searing the chicken in the same pan you'll use to make the curry. Preheat a skillet to medium-high heat and sprinkle the chicken with salt and curry powder. Add some oil to the pan and sear the chicken on both sides until golden brown, about 7 minutes each side.
When the chicken is done, remove it to a plate to cool. Turn the heat on the skillet down to medium, and add the bouillon cube, curry powder, tomatoes, and coconut milk. Stir to dissolve and lift any chicken bits from the bottom of the skillet.
At this point, taste the curry sauce and add pinches of salt and cayenne pepper until it's nice and flavorful + spicy to your liking. Shred the chicken, and when the curry has reduced just slightly (10 minutes or so), stir in the spinach and chicken.
Turn the heat OFF and taste the curry again - probably a few more pinches of salt here. I let the spinach wilt just for one minute or so before serving, I really like the just-cooked spinach aspect here.
Serve over rice, with naan, or maybe both for a super good time. Vegetarian option FOR SURE, crisp some tofu like I did in these Tofu Brussels Bowls and use it instead of chicken. Veggie bouillon works for a vegan option!
This is so simple but really dreamy in flavor at the same time, which is the best of both worlds. The coconut adds creaminess AND flavor, the fire roasted tomatoes add tang AND extra flavor - you get the gist.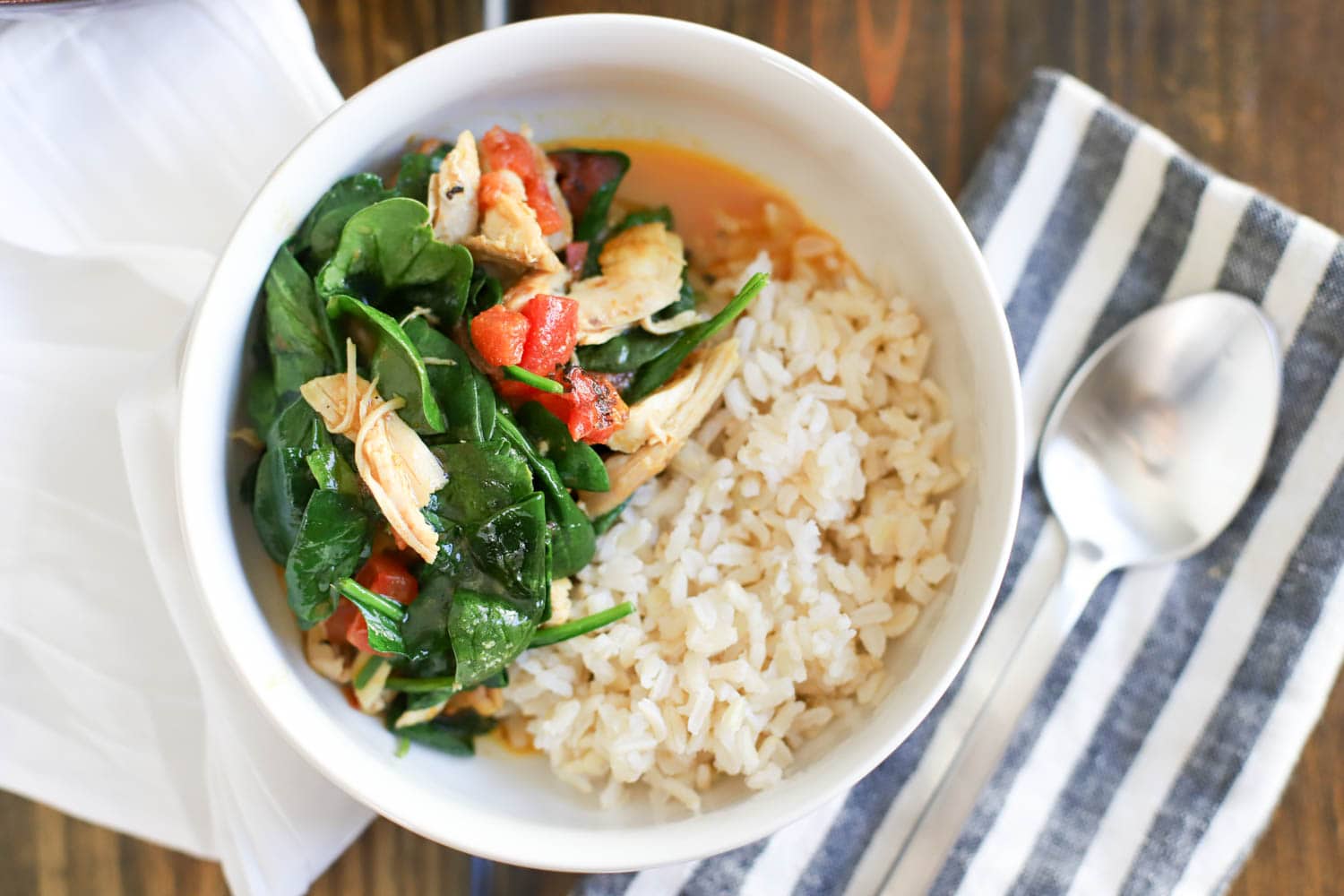 Please do not skimp on salt. The "omg yum" vs "this will be fine for a Wednesday" depends on it. Let there be yum, and usually let there be a few extra pinches of salt.
Enjoy this chicken curry! It makes wonderful leftovers and is easy to make ahead - just make the entire dish minus the spinach and stir that in right before you serve - even microwaving to reheat will be fine in that case!
Omg yum.
Easy Chicken Curry with Spinach and Tomatoes
Made with just seven ingredients, this creamy curry comes together in under an hour and packs huge flavor with just a few simple steps. It's perfect for a weeknight!
Ingredients
1

pound

boneless

skinless chicken thighs

3

teaspoons

yellow curry powder

divided

½

teaspoon

salt

plus more to taste

1

cube chicken bouillon

15

ounces

diced fire roasted tomatoes

(1 can)

15

ounces

coconut milk

(1 can)

½

teaspoon

cayenne pepper

plus more to taste

5

ounces

baby spinach leaves

rice

naan, or both, for serving
Instructions
Preheat a large skillet to medium-high with a drizzle of oil. Sprinkle the chicken on both sides with 1 teaspoon of the curry powder and ½ teaspoon salt.

When the skillet is hot, sear the chicken on both sides until nearly cooked through, about 7 minutes per side. When brown, remove to a plate to rest. Reduce the heat on the skillet to medium and add another drizzle of oil.

To the same skillet, add the rest of the curry powder (2 teaspoons), bouillon cube, fire roasted tomatoes, cayenne pepper, and coconut milk. Stir to combine and dissolve the bouillon. Taste, and add more pinches of salt and cayenne to your preference until the mixture is very flavorful.

Let the curry sauce simmer gently for 10 minutes until reduced slightly. During this time, shred the chicken to bite sized pieces.

Return the chicken (and any juices from the plate, flavor, hello) to the curry and add the spinach. Turn the heat off and stir for one minute to wilt the spinach. Taste and add more salt to your preference. Serve with rice, naan, or both. Enjoy!