One of our favorite all-the-time slow cooker soups, tortellini chicken soup! This is a super easy, all-in-one dish with pasta, chicken, and spinach. There's no searing, hardly any chopping, just one Crock Pot, a few hours of waiting, and dinner is done! This is not terrible at ALL with some homemade focaccia with pizza dough for dunking.
Hello and hi and here's dinner!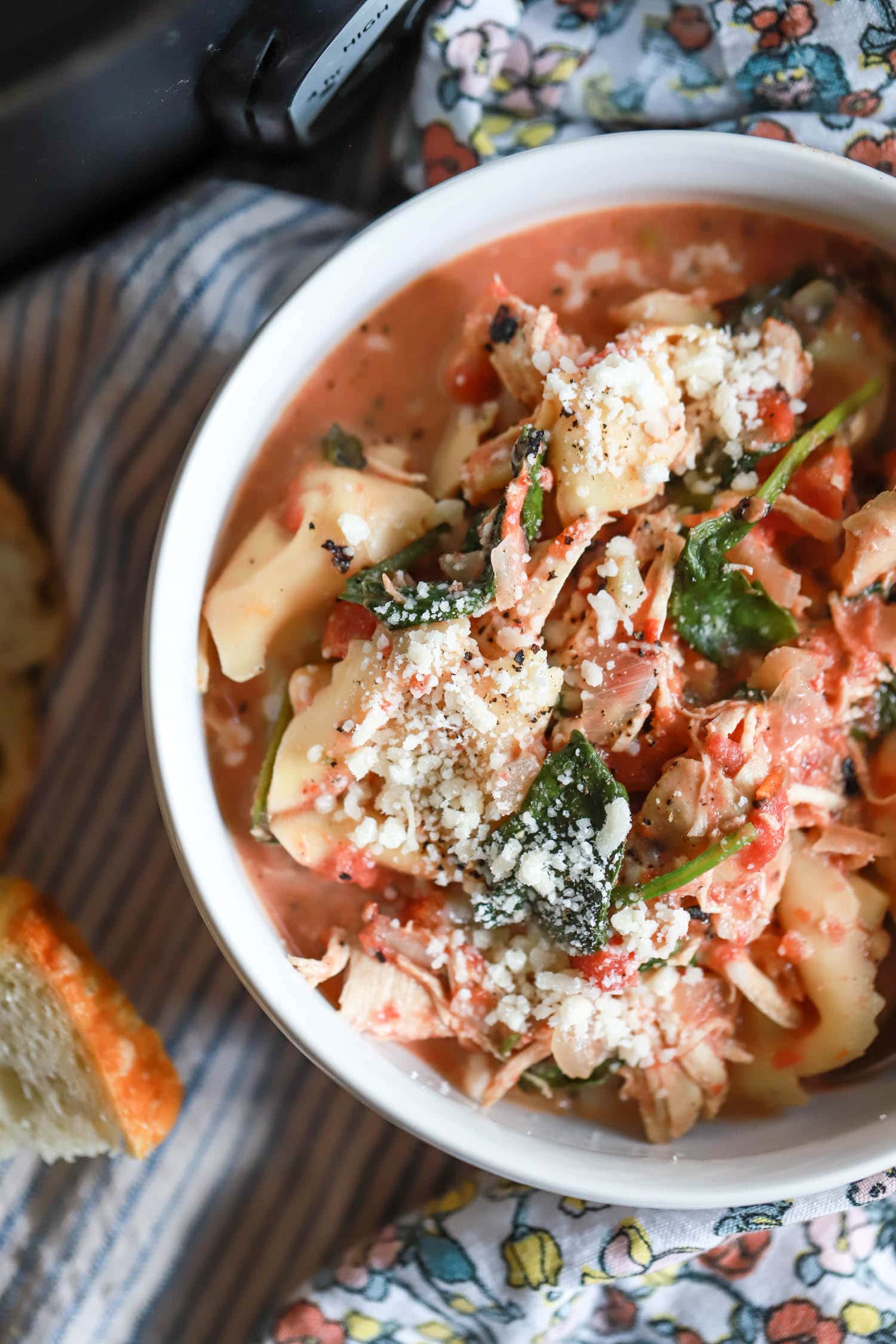 I absolutely can't believe it, but almost exactly one year ago my sister and brother in law came over and brought dinner, a slow cooker tortellini situation with chicken and tomatoes and cream. It was delicious.
We joked about how school would probably be cancelled starting that Monday (they're both teachers), joked about handwashing, joked about...everything.
About 36 hours later the entire world shut down and we didn't see each other for months.
Now, I do recognize that "good" food bloggers (this is not me) shouldn't waste words on feelings and stories, and "real" food bloggers (what is real?) know to add more food words and talk about how important each ingredient is, but here's what I think: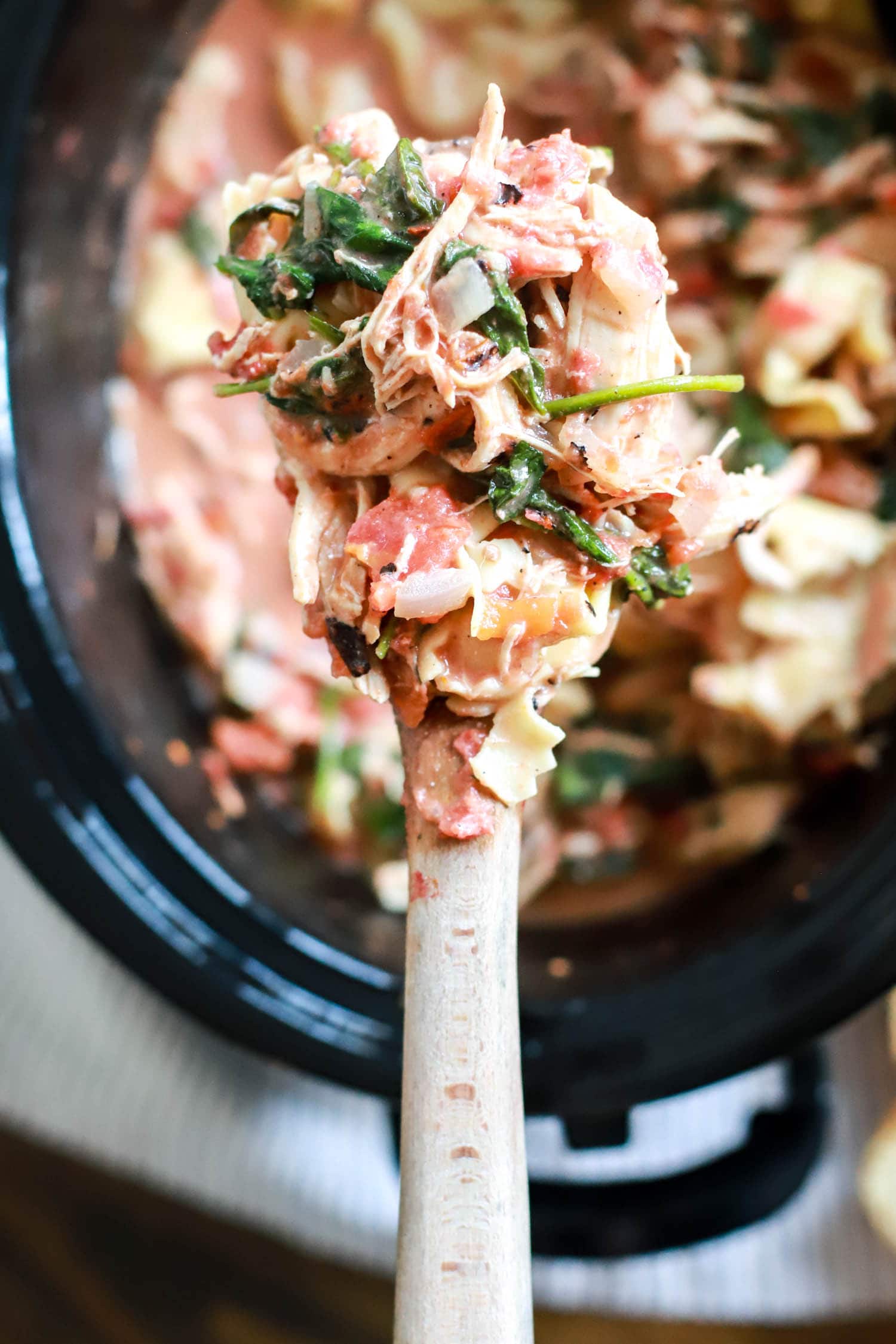 We should not become humans who make recipes one year after the world shut down, millions of people die, and not address what has happened in the time it took me to take these pictures and test this recipe.
We have to talk about how utterly mind blowing it is that this morning I got Jay a vaccine appointment, that we are tentatively making plans to travel this summer, that we might see our friends soon.
And that at this time last year we had no clue any of that was going to be stopping, then resuming.
(ok, let's get to the food)
One thing that has been constant this year (and always, let's be honest) is the more-than-ever What's For Dinner Tonight issue. We aren't going out as much and I do try to cook most nights, but for sure don't have time to make something fresh each evening.
More Easy Slow Cooker Recipes
Enter, allll the slow cooker meals. This is my version of tortellini chicken soup, throw everything in the crock pot, live life, eat, that sort of thing.
Ingredients
One thing that I love about this is that it's completely customizable - whatever chicken you have, any stock, any canned tomatoes, seriously. Use the measurements as a guide, but go nuts with substitutions.
Place the first round of ingredients in the slow cooker, then cover and cook on HIGH for 3 hours or LOW for 6 hours. There are often standard 4/8 hour buttons on Crock Pots, so no worries if you go an hour or two over. The food will be cooked after 3/6 hours, though.
After the first cook time, grab some more ingredients. Cream, tortellini, spinach, and some stock + cornstarch for thickening.
Same thing here - different flavors of tortellini or different types of greens all work no problem. The cornstarch adds a nice thick almost gravy-like consistency to the finished soup, but if you don't have any or forget it'll be totally fine - we move on with lots of things these days.
At this point, gently shred or break up the chicken to bite-sized pieces.
Stir everything together then add some parm because you decide you want the flavor last minute after all of that. Again, moving on with lots of things.
Let the noodles and greens cook into the soup for just a little bit of time - 15 minutes on high or 30 minutes on low, then check the tortellini for doneness. It might need a little more time depending on the brand you buy or if you use frozen tortellini.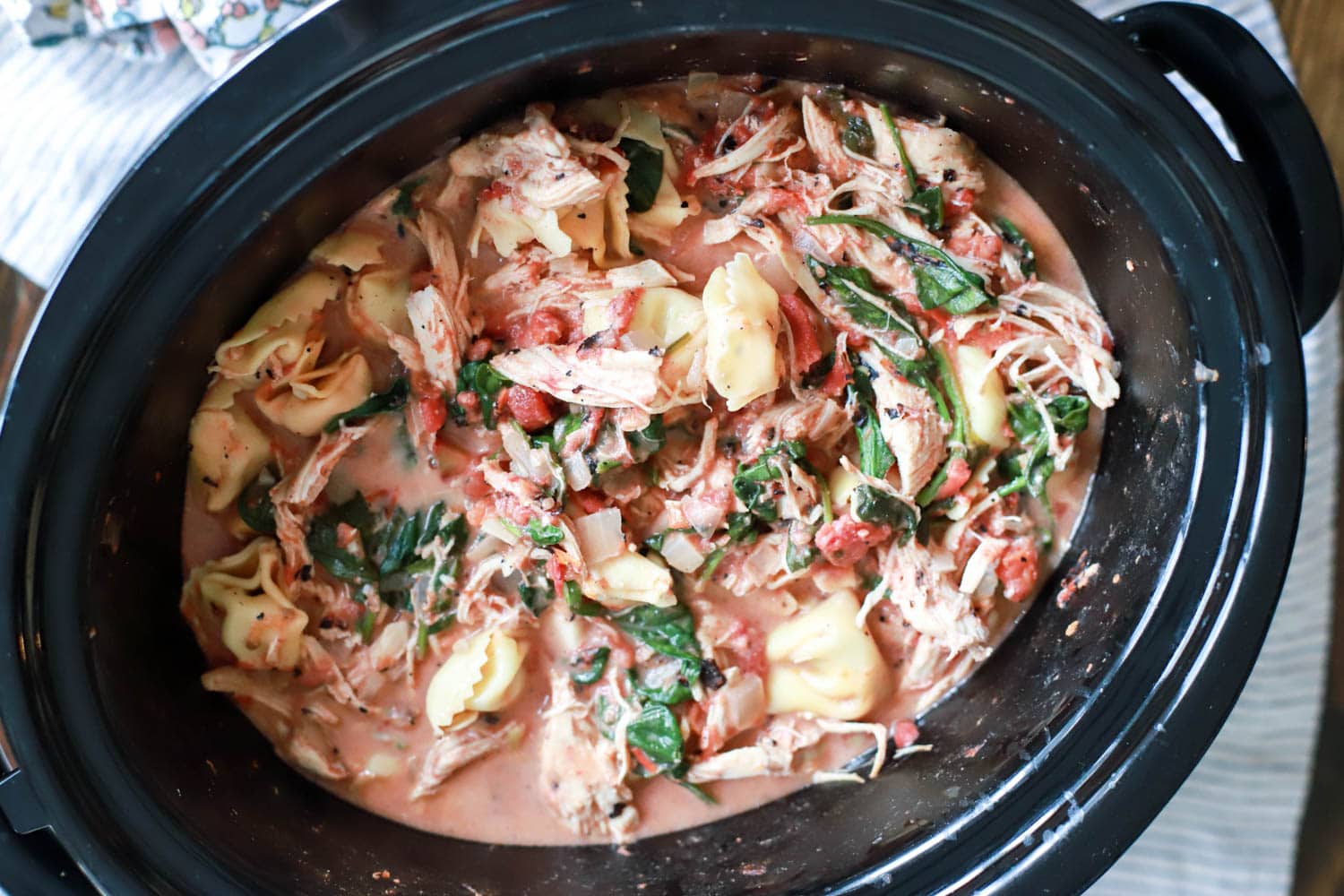 When the tortellini is nice and soft but not mushy, turn the slow cooker to WARM and eat when you're ready! And, listen, I know noodles don't need bread with them, but also sometimes noodles really need bread with them, right?
You get me.
Other Considerations
Can Ravioli Be Substituted for Tortellini?
I mean, sure? It's all kind of the same. Keep an eye on the package directions, and just note that the cooking time might be slightly longer with any pasta you use since they're all slightly different. Go nuts, though, and use anything you have!
Does Tortellini Soup Freeze Well?
Eh, ish. Anything with pasta and dairy isn't great in the freezer, so I probably wouldn't make this as a freezer soup or meal prep soup. To do that, make the soup but leave out the pasta and cream. Freeze, then after thawing add and cook in the cream and tortellini, in the slow cooker or in a regular soup pot on the stovetop.
Do You Cook Pasta Before Adding To Soup?
In this case, no! As long as you use fresh or frozen tortellini (or ravioli!) you're good to go here. If you use dried pasta of any kind you CAN cook it separately to save time, or cook it in the slow cooker with about a cup more stock, and expect it to take a little bit longer.

With any pasta you choose, you may need to adjust the cooking time slightly based on the type of pasta. This recipe was written for fresh cheese tortellini, the kind found in the refrigerator section of the store.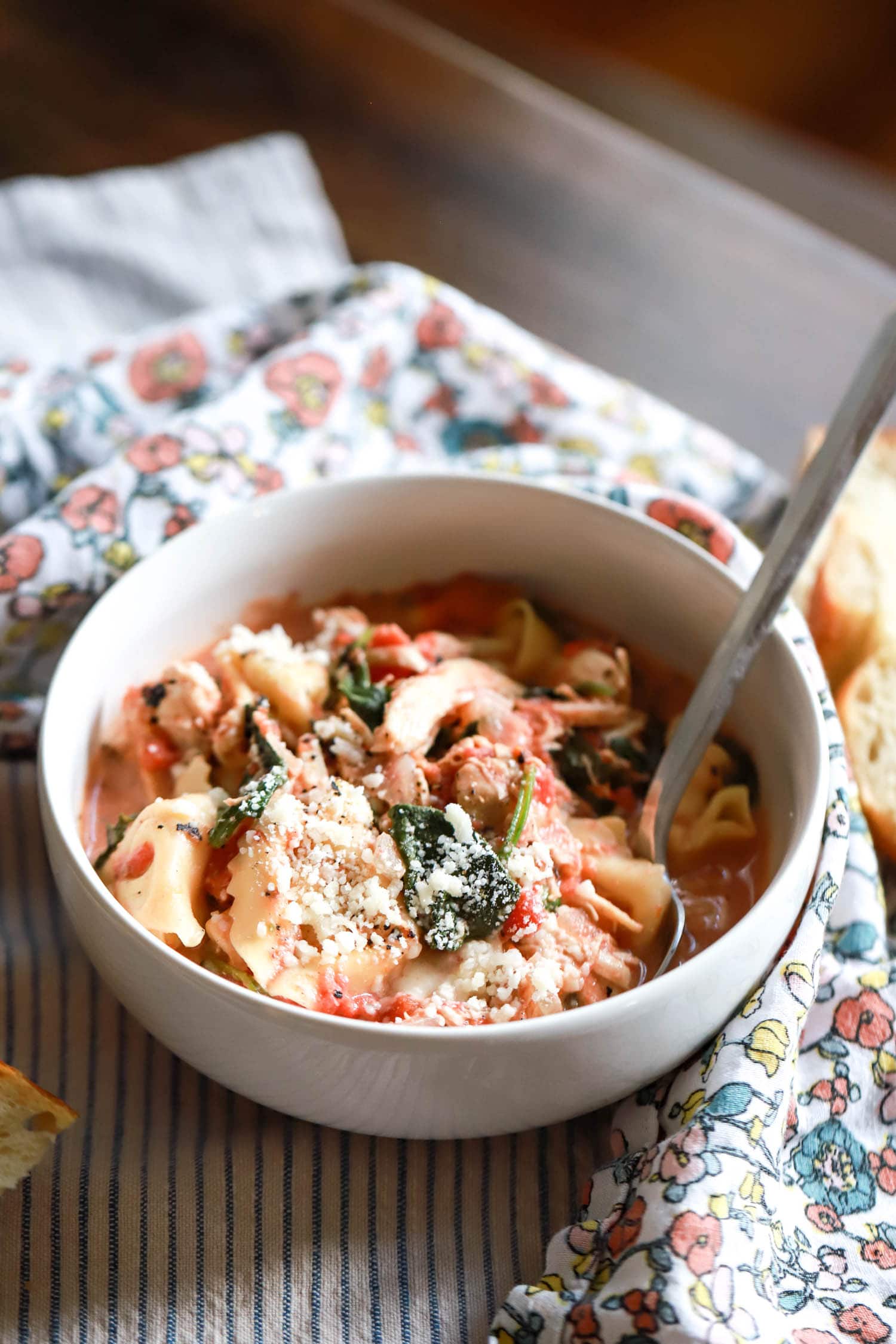 Friends, this is so good. It's comforting, familiar, stupid-simple, totally foolproof, weeknight pantry dinner that just works.
Add this to your list of family favorites. I hope you love it!
Crock Pot Tortellini Chicken Soup
Favorite ingredients (pasta, chicken, cream, hello) in a slow cooker for a few hours = dinner! This is the best ever tortellini soup and it's made with very little effort from you, thank goodness.
Ingredients
2

pounds

boneless

skinless chicken breasts

28

ounces

canned tomatoes

diced or whole work great, or crushed for a saucier situation

½

onion

diced

4

cloves

garlic

minced

1 ½

teaspoons

kosher salt

1

cup

chicken stock

divided

1

tablespoon

cornstarch

2.5

ounces

fresh spinach

about half a box

½

cup

heavy cream

¼

cup

grated parmesan cheese

10

ounces

fresh or frozen cheese tortellini
Instructions
Add the chicken tomatoes, onion, garlic, salt, and ½ cup stock to the slow cooker. Cover and cook on HIGH for 3 hours or LOW for 6 hours.

Combine the remaining ½ cup stock with the cornstarch in a small dish. Gently shred the chicken to bite-sized pieces using 2 forks.

Add the stock and cornstarch mixture, the cream, the tortellini, spinach, and parmesan to the slow cooker. Stir to combine and cook for 15-30 minutes more until the tortellini is tender. Maybe slightly longer for frozen tortellini.

Taste, and add more salt or parmesan cheese to your preference. Turn the slow cooker to warm until ready to serve. Enjoy!
Notes
Use any kind of boneless, skinless chicken you like! Any size, type, etc works fine. Same with tomatoes. Same with greens. Same with stock. Same with tortellini flavor. Follow the measurements fairly closely but the ingredients can be swapped out based on your preference.
For a vegetarian version, swap the chicken for 1 can of drained beans of your choice, or skip the chicken altogether.