This is the best recipe ever for homemade boiled peanuts! Just 6 ingredients and a little bit of patience are all you need for this classic roadside snack. These peanuts are perfect for tailgating and watching sports, and are great on a snack platter paired with jalapeno corn dip (omg) and sour cream guacamole with chips!
You know how everyone, like, loves southern boiled peanuts and talks about them all the time and says you can only get them by the roadside and craves them and eats 8,373 of them when they're around?
It's because they're great. Really great. Tender slow-cooked peanuts, tons of flavoring, just an overall VERY yummy snack.
You can make your own! I make mine in the slow cooker for truly foolproof peanuts every single time. It's SO easy the end result is so fun and delicious, so why not impress some people at your upcoming parties with these?
(PS if you aren't into using the Crock Pot, there are stovetop instructions in the recipe card below!)
Recipe Notes
If you've never had boiled peanuts, the end result yields a texture similar to edamame: a non-mealy bean texture.
The raw peanuts (or fresh peanuts, or green peanuts) are boiled for literally hours, with lots of water and seasoning, until they're VERY cooked with no raw peanut crunch left at all.
In this Cajun boiled peanuts recipe, we use the slow cooker to cook the peanuts overnight. I love this method because the peanuts don't need to be tended to; no need to stir, add water, or do babysitting of any kind.
From there, the peanuts last for several days in the fridge and can be served warm, cold, or at room temperature.
That's one of the best things about these boiled peanuts; they ABSOLUTELY solve the problem of needing to keep things cold OR hot when you're taking something to a tailgate or potluck. Cajun boiled peanuts are good at all temperatures!
Ingredients
Here's what I use for super flavorful, absolutely perfect Cajun boiled peanuts:
11/2 - 2 lbs raw peanuts in their shells: sometimes labeled dried, just avoid anything labeled roasted. I find these in the produce section of my grocery store, or at state farmer's markets.
8 cups water: you'll need at least a 5 quart slow cooker - this makes a large batch!
4 tablespoons Cajun seasoning: I prefer the stuff in the green can, but you can use any kind that you like. Note that this may make for some pretty spicy boiled peanuts depending on the brand you use, but I love that.
2 tablespoons Worcestershire sauce: adds serious flavor to the cooking liquid!
1 tablespoon kosher salt: YES, there is a lot of salt in this recipe, YES you need it all to really permeate the peanut shells and peanuts.
1 tablespoon brown sugar: to balance the salt and spice.
Optional Flavor Variations
2 teaspoons liquid smoke
1 tablespoon Old Bay
(anything that makes the liquid similar to what you'd find in a crab boil, basically)
How to Make Cajun Boiled Peanuts FAQ
What are Cajun Boiled Peanuts?
Simply, these are boiled peanuts with Cajun seasoning. Cajun boiled peanuts are cooked in liquid heavily flavored with Cajun seasoning for hours and hours until they are tender on the inside and VERY flavorful.
How to Boil Cajun Peanuts
Making boiled peanuts is very simple! They get cooked in a seasoned water bath either on the stovetop or in the slow cooker for many hours. In this case, they cook in liquid on HIGH for 12 hours or LOW for 24 hours in the slow cooker.
Do you Have to Soak Raw Peanuts Before Boiling?
Nope! I never do and my boiled peanuts always come out perfectly whether I make them on the stovetop or in the slow cooker.
Step by Step Instructions
Dump everything in: So, you have your raw peanuts. Throw them into the slow cooker with all of the seasonings and water.
Slow cooker magic: Give everything a stir, then put the lid on the slow cooker and cook on HIGH for 12 hours or LOW for 24 hours. Choose whichever setting you have time for!
Taste and adjust seasoning: At some point during the cooking process, at least after the halfway point, taste a peanut and some of the cooking liquid.
Finish cooking: The peanut may still be crunchy on the inside but it should be very flavorful. The liquid should be right on the edge of too salty. If anything tastes bland or watery, add 2 teaspoons more of salt OR Cajun seasoning, then cover and let the peanuts keep cooking.
Done! When the peanuts are done, the shells will be deeply browned and soft. The peanuts will still be toothsome, not mushy, but will also be soft and have no crunch left on the inside.
Serving and How to Eat Boiled Peanuts
These boiled peanuts can be served straight from the slow cooker, no problem.
I like serving these warm or at room temperature, but truly they're delicious right out of the fridge if you've made them in advance.
If using a serving bowl, use a slotted spoon and serve the peanuts with a little bit of the cooking liquid to keep them moist, but not so much that they're swimming in boiled peanut juice. Not a cute look.
To eat boiled peanuts, bite gently into the peanut shell (cooking juice, yum!), and work the peanut out of the shell. It's nice to serve these with a little dish for discarding the shells to keep things tidy.
Make Ahead and Leftover Storage
Make Ahead: You can easily make these peanuts in advance; just keep them in the fridge in their liquid until you'd like to serve them.
To reheat: I like storing these directly in the fridge in the slow cooker, then turning the slow cooker to LOW to reheat these gently before serving. Alternatively, these can be served cold or at room temperature.
Leftovers: Leftovers can be stored covered in the fridge for up to 5 days. They're great for midday snacking!
And there we have it! Creamy, spicy, salty Cajun boiled peanuts that are foolproof and absolutely out of this world. I hope you absolutely adore these!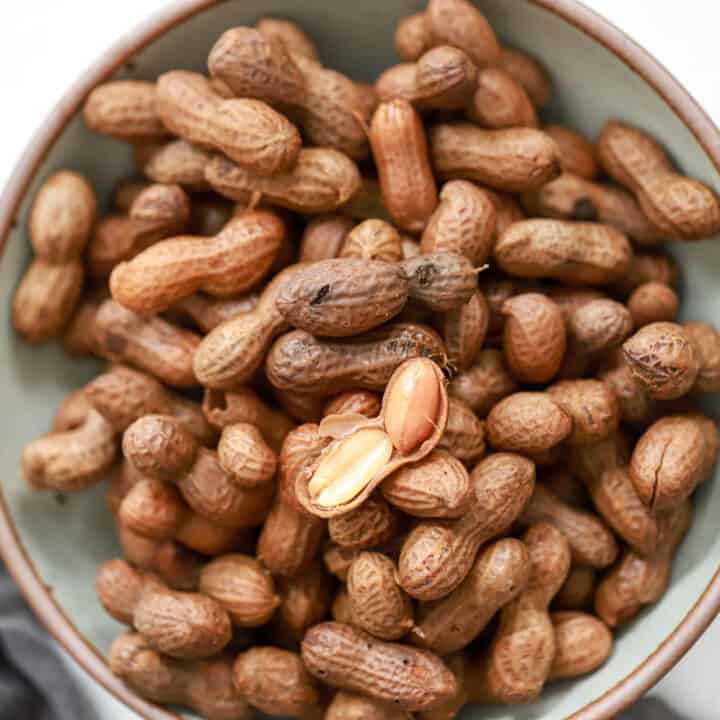 Cajun Boiled Peanuts (In the Slow Cooker!)
The most foolproof boiled peanuts! Full of flavor, and hardly any effort thanks to the slow cooker. You'll love these!
Instructions
Add all ingredients to a slow cooker (at least 5 qts). Stir gently to combine.

Cook the peanuts on HIGH for 12 hours or LOW (preferred) for 24 hours, stirring every 6 hours or so, or whenever you think of it.

During the cooking process, if the liquid dips to beneath the top of the peanuts, add a cup or so more to keep the peanuts mostly submerged in liquid.

After 24 hours, the peanut shells should be deeply soft and the peanuts soft and very flavorful. Serve warm, cold, or at room temperature. Enjoy!
Notes
Stovetop: These peanuts can be cooked on the stovetop set to medium low for about 6 hours – you'll need to add water every hour or so to keep the level up as the peanuts simmer.
Peanuts: Sometimes peanuts in their shells are labeled as "raw" (more fresh) or "dried" (less fresh). In this particular recipe the difference isn't a huge, just don't buy anything labeled "roasted."
Salt: Salt is such a personal preference, and some Cajun spice blends are more salty than others. After about 12 hours on LOW in the slow cooker, taste some of the broth – it should be very salty, and a peanut – it should be still crunchy but fairly salty. If anything tastes bland, add more salt or Cajun seasoning to your preference.
This recipe was originally published in December 2011 and has been updated with better instructions and images.
More Yummy Snack Recipes