Delicious, easy corn dip with cream cheese and jalapenos with just 7 ingredients. Vegetarian, gluten free, and PERFECT for any party or appetizer need! I serve this with Fritos scoops because FRITOS SCOOPS, but it's also really delicious scooped onto tortilla chips or no-knead bread if you're feeling fancy.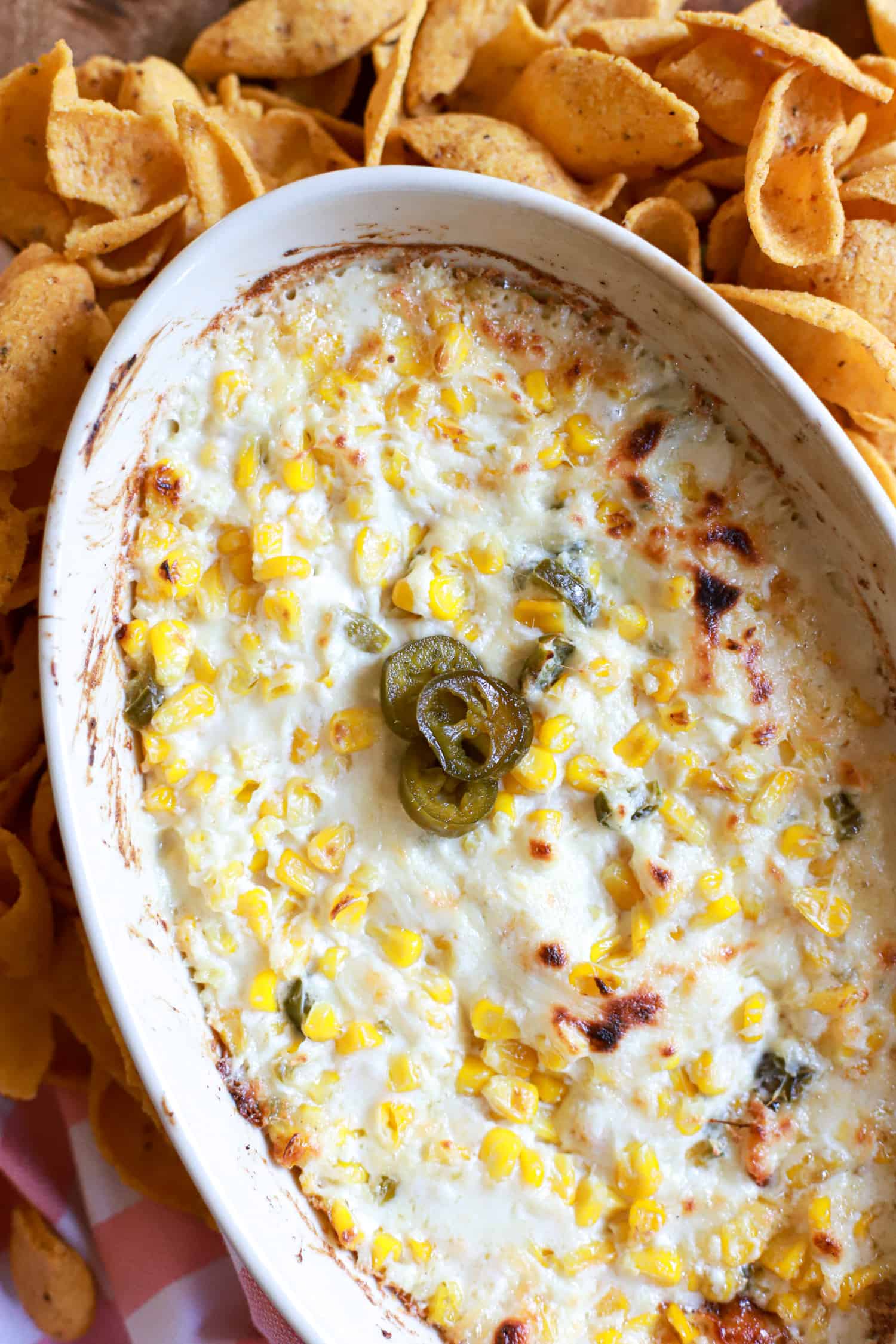 ...with only 7 ingredients! A few basic things, mix, bake, scoop into your open trap.
This corn dip is one of those creamy, super simple classic hot dips that is so perfect for almost any occasion.
I've made this twice in the past 2 weeks, for different crowds, and both times it's been met with massive acclaim and very few leftovers, which is my main measure for success. It's a little sweet, a little spicy, a lot creamy, and the easiest of all the easy dips.
Recipe Notes
This is a VERY simple dip - some ingredients are mixed together, baked until hot, and the dip is done.
The cream cheese does a lot of the heavy lifting here to make things super creamy without needing to make a roux or thickened white sauce.
I use frozen corn and jarred jalapenos, BUT I've also added a chopped fresh jalapeno on instances where I wanted more spice. So, feel free to upgrade your ingredients if that sounds fun to you!
Depending on the jalapenos you use, this dish can be more or less spicy - I change the amount of peppers based on who I'm making the dip for.
Frozen corn, fresh corn, or canned corn all work great in this recipe. It's VERY forgiving!
Ingredients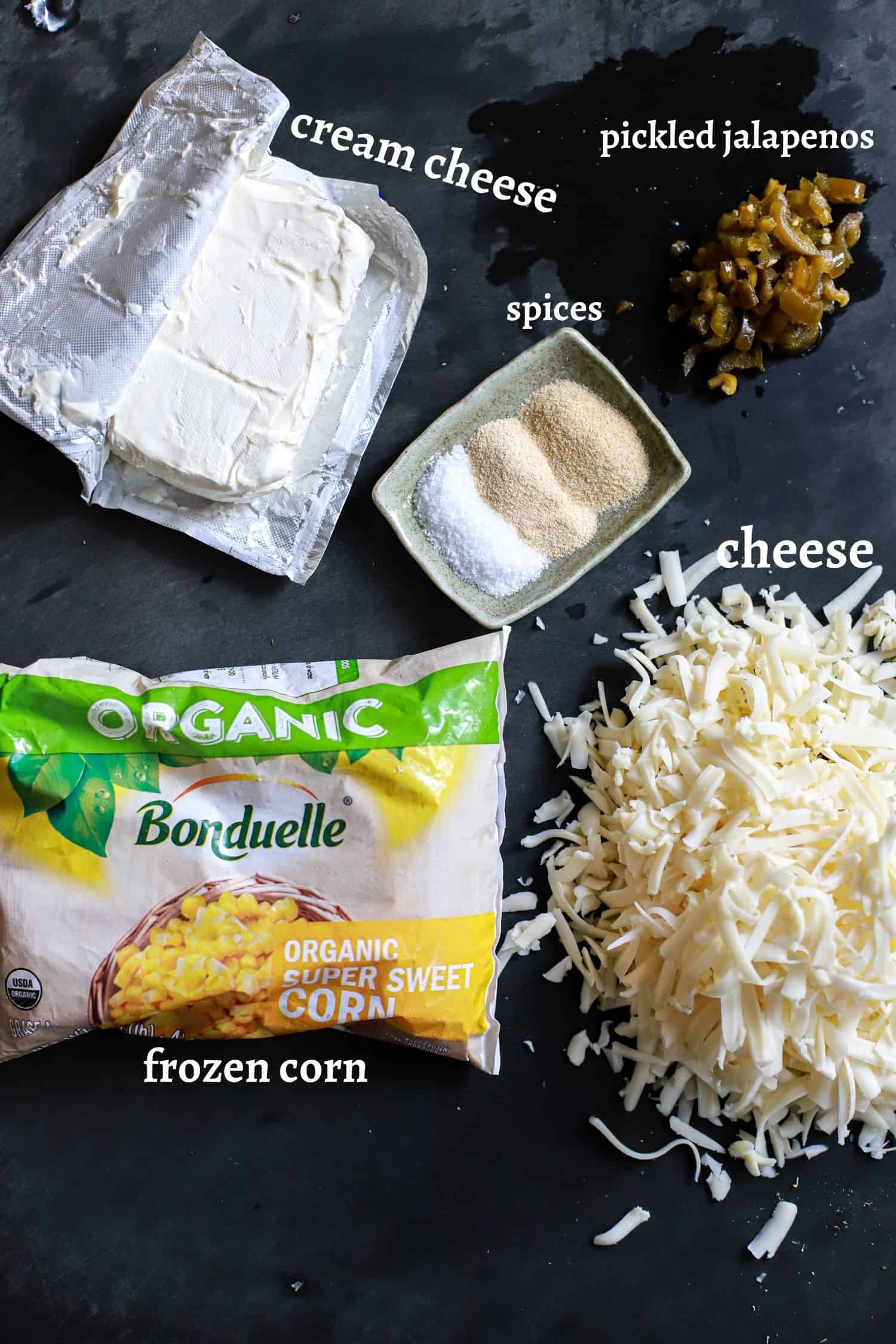 It's just frozen corn, diced pickled jalapenos, cream cheese at room temperature, grated monterrey jack cheese, garlic powder, onion powder, and salt. I leave the corn frozen to keep the dip from drying out when it bakes, which only adds to the convenience factor here.
Ingredient Notes and Variations
Cheese: Use any melty cheese you'd like here! I like to grate my own because I think the end result is a creamier dip. Any Monterey jack cheese, provolone, fontina, or mozzarella would be delicious.
Corn: Canned or fresh corn kernels also work well in this dip - the corn is very forgiving.
Jalapenos: Regular canned jalapenos are delicious in this recipe, but I've also used the Trader Joe's Hot and Sweet jalapenos and LETMETELLYOU that is a super delicious flavor bomb, right there.
Other Fun Things to Add: If you'd like to add some fresh flavors to this corn dip, 2 tablespoons of chopped cilantro, green onions, or diced tomatoes (fresh) would be delicious stirred into the dip before it bakes.
Step By Step Instructions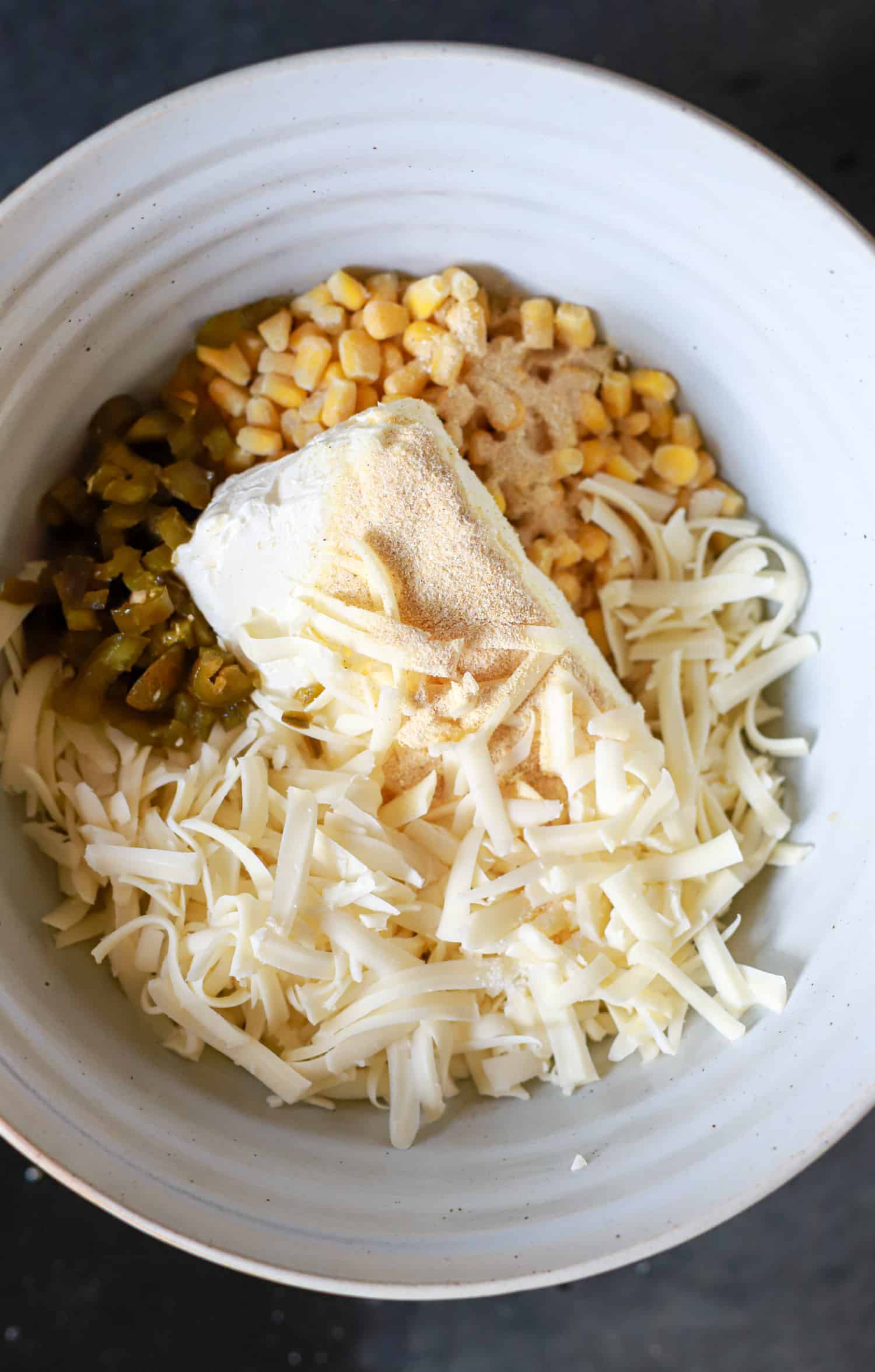 The hardest part is stirring everything together since the mixture is cold if you use frozen corn. Use your muscles! Press the cream cheese into the corn and other ingredients to blend it all together. It will feel weird mixing frozen corn but will be worth it, I promise.
(also, if the corn is thawed that's totally fine too, makes no difference either way)
When the ingredients are combined, press the mixture into a baking dish. A pie plate, 8x8 square, or similar 2-3 qt dish is the perfect size.
Top the dip with any leftover cheese, then bake! 30-40 minutes or so at 375F, just until it's hot and bubbly.
This is the magic, folks. The corn melts and cooks and the liquid from the corn combines with the cheese and cream cheese to become a delicious, absolutely stunning dip.
The whole thing becomes bubbly and the top browns slightly, and THAT'S how you know you're ready to live the dream. The jalapeno corn dip dream, but still.
Serving Suggestions
The key here is to let this rest for about 5 minutes, maybe a touch longer, once you take the dip out of the oven. This lets the cheeses solidify just a little bit so the dip will be creamy but not runny and also not burn your tongue to bits, which is a terrible feeling.
I serve this with Fritos Scoops because there's something about a Frito, right? Love to hate them and secretly love them at the same time. But, any dipper you like works fine.
I you're into the Fritos/Tortilla chips situation, sour cream guacamole or hot buffalo chicken dip also go really well with those dippers. A whole spread of things that can be Scooped? Heaven.
Make Ahead and Storage Tips
Make Ahead: This is one of those wonderful appetizers that can be made in advance and reheated right before serving. I sometimes bake it and then microwave right before I serve, or simply get the dip into a baking dish, cover it, and keep it in the fridge for a few days. Then, bake it freshly when you're ready to eat!
Leftovers: There are hardly ever any leftovers of this dip, but if there are any keep them in the fridge for a few days and microwave the dip for about 30 seconds to reheat before serving again.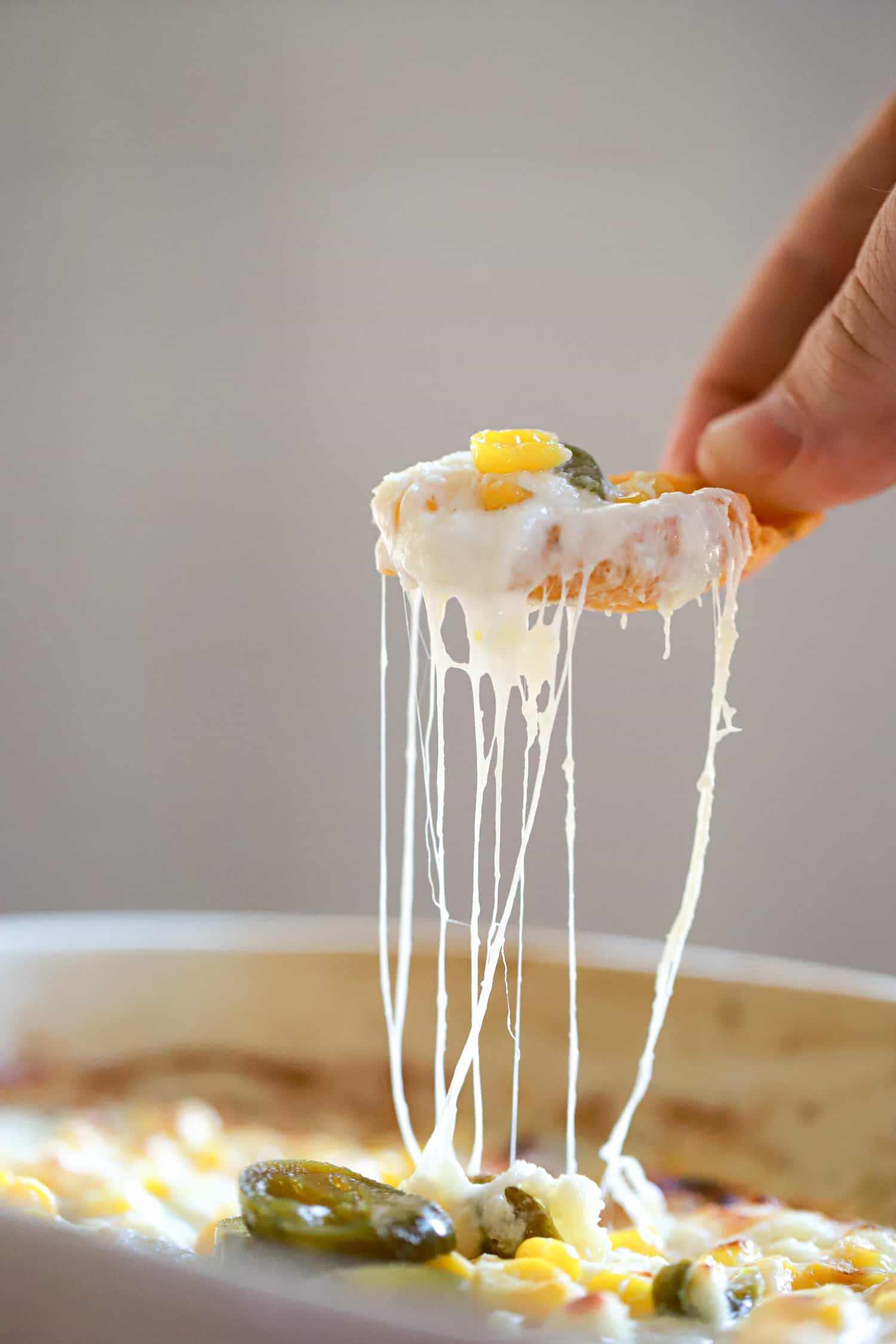 The best part about this corn dip recipe is that you can make a double batch, freeze half, and have one to throw in the oven for random parties any time you need a quick and easy appetizer.
When I dip you dip we dip.
Jalapeno Corn Dip with Cream Cheese
Delicious, easy, melty hot corn dip with just 7 ingredients! Mix everything up in advance and bake right before serving for sweet, spicy dipping goodness.
Ingredients
3

cups

frozen corn kernels

¼

cup

chopped pickled jalapenos

1

teaspoon

salt

1

teaspoon

garlic powder

1

teaspoon

onion powder

8

ounces

grated provolone or Monterey jack cheese

8

ounces

cream cheese

softened to room temperature

Fritos or other chips/crackers for dipping
Instructions
Preheat the oven to 375F. Prepare a medium sized baking dish with some cooking spray.

Combine all the ingredients in a bowl, mashing the cream cheese into the corn. Save a little bit of cheese for the top of the dip.

When the ingredients are combined, press the mixture into a pie plate or baking dish. Top with the remaining cheese.

Bake the dip uncovered for 30-40 minutes until bubbly and browned on top. Let rest for 5 minutes before serving with dippers of your choice.
Notes
Baking Dish: I use an oval baking dish for this dip, but anything that's about 2-3 quarts (8x8 square or similar) will work great.
Corn: This dip works with fresh, frozen, or canned corn kernels. No need to defrost frozen corn kernels in advance unless you want to!
More Easy Appetizer Recipes