Favorite pan fried potato chips are so easy to make yourself at home! These are a great lunch side dish or an offering for a summertime potluck. Just one russet potato makes enough to serve four people, and this recipe is done in an under an hour. I like Greek yogurt onion dip with these.
Let's make chips!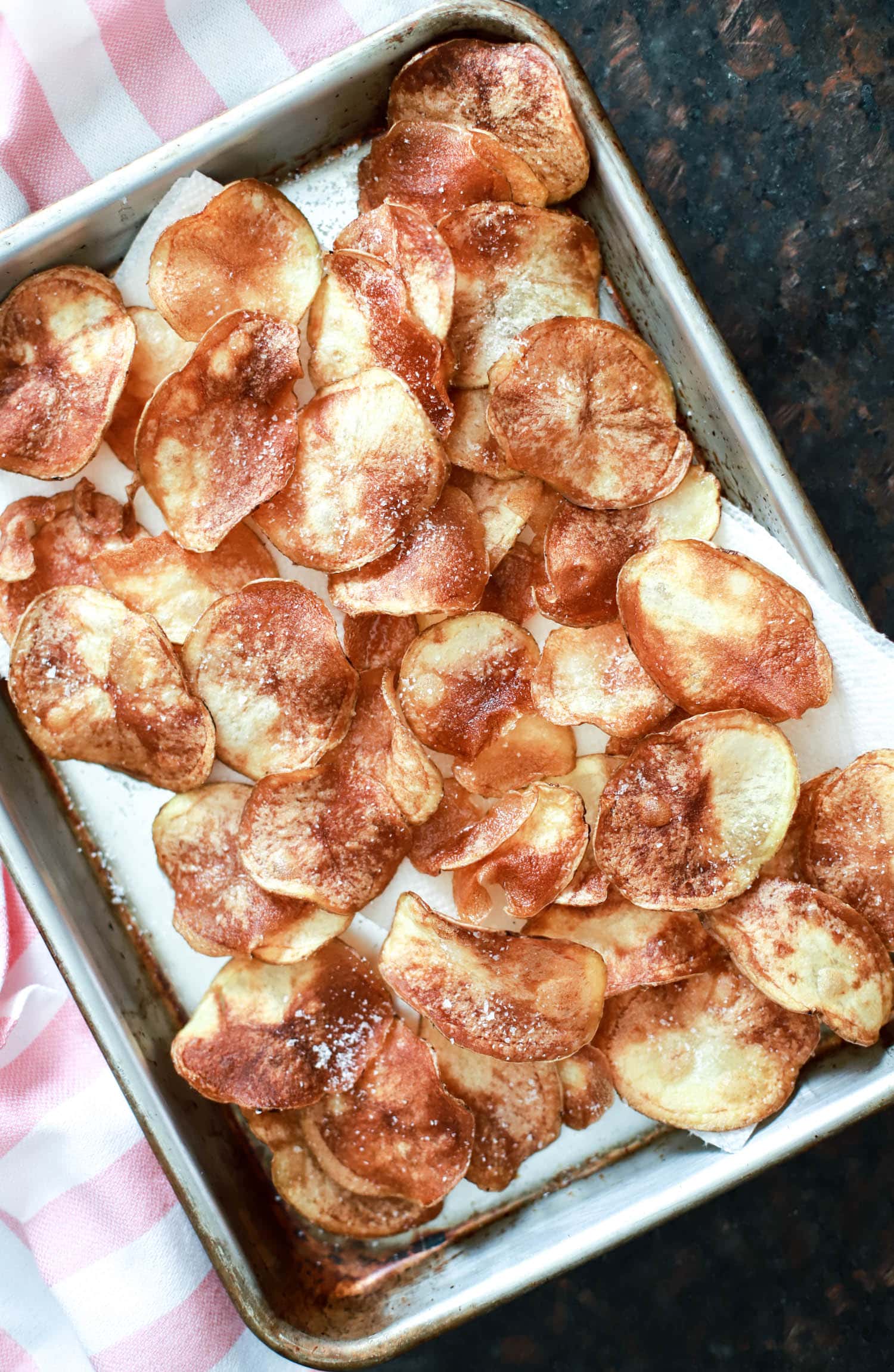 Because our lunches need a yummy side dish every day, right?
How To Make Potato Chips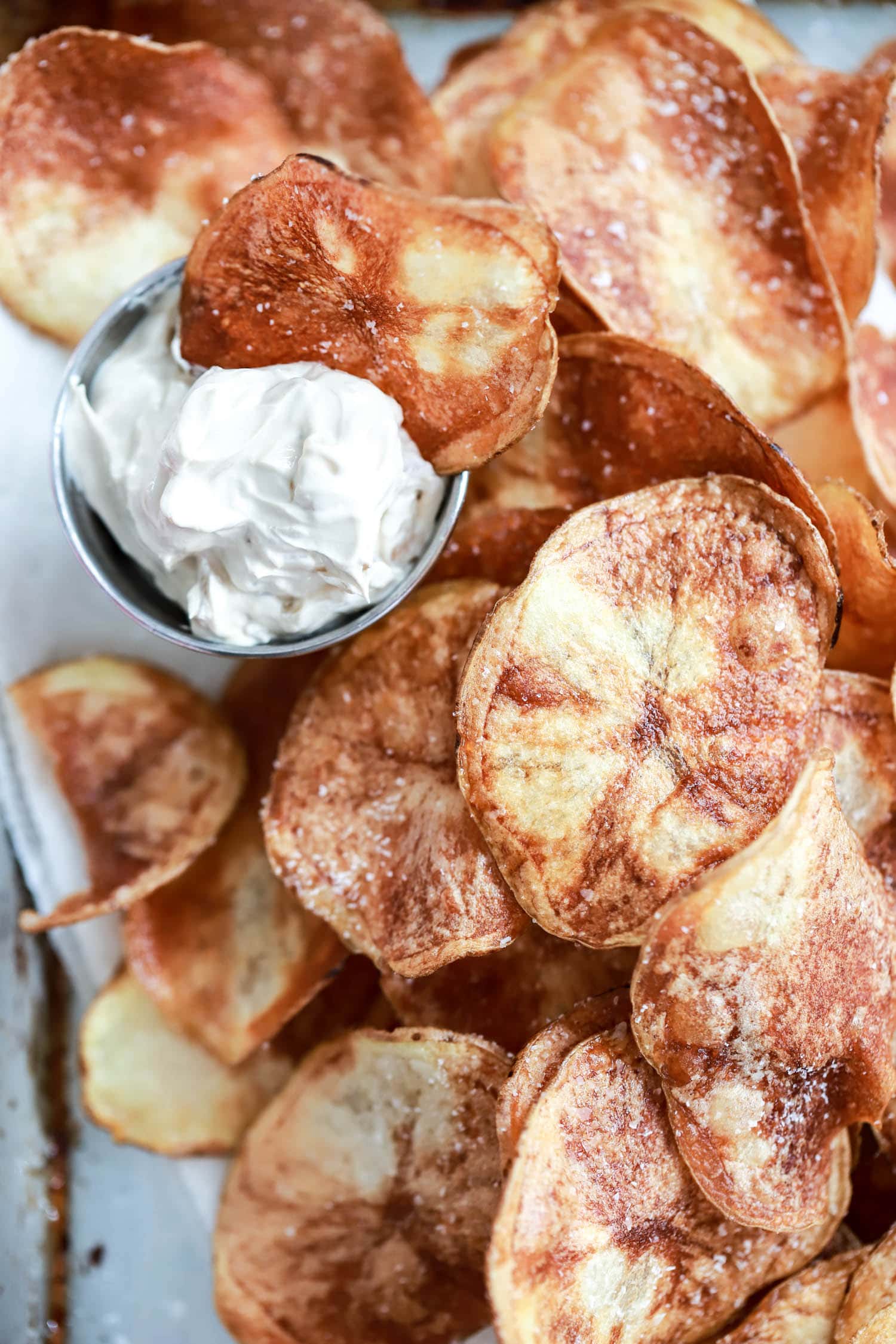 I love making chips at home. I've made these a few times, and they come out crispy and delicious every time. They're easy, too! We do have the little annoyance of some oil splashing around, but we are shallow frying these chips in a pan rather than in a large pot. We accept the splatters as part of what we're doing.
The easy thing about these chips is that once the potatoes are sliced, all you have to do is wait for the oil to heat up, then the potatoes fry quickly. I like to make these for a snack after school or as a side dish to lunch at home when we have time.
Ingredients
For these, you need potato, oil, salt. I use vegetable oil or olive oil, just not anything too fancy or expensive. Same with potato. I usually have russet potatoes on hand but have also made chips with red potatoes and gold potatoes and they're all delicious.
Note that one large potato usually makes enough chips for 4 servings, since we're thinly slicing them using a mandoline. I like making these fresh and eating them right away, but they'll sit out and stay crispy for a few hours if you want to make them in advance.
Step By Step Instructions
The method here is super easy: slice potatoes, soak them, heat oil, fry, salt. That's it! Start by thinly slicing your potato, then placing the slices in a big bowl of water.
I use the thinnest slice available on my mandoline - 1/16th inch. You can make thicker pan fried potato chips, just increase the cooking time by a minute or so to get the chips nice and crispy.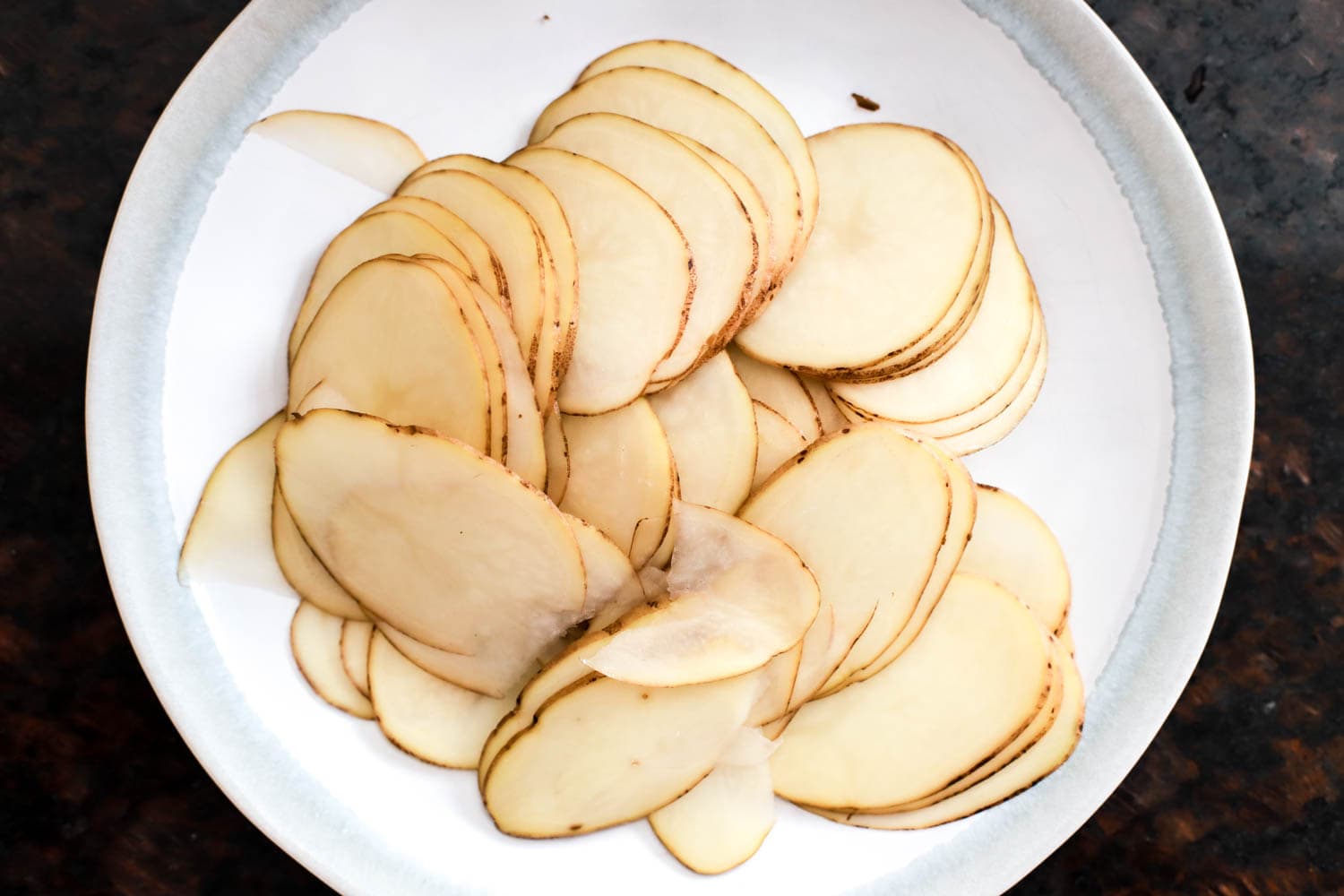 Swish the potatoes around and let them sit in the water just while you heat the oil. Use a candy thermometer to heat the oil to about 350F, or until the oil shimmers, usually medium-low heat for 10 minutes or so depending on your stove. I use a cast iron skillet for these homemade potato chips, but any wide skillet you have will work well!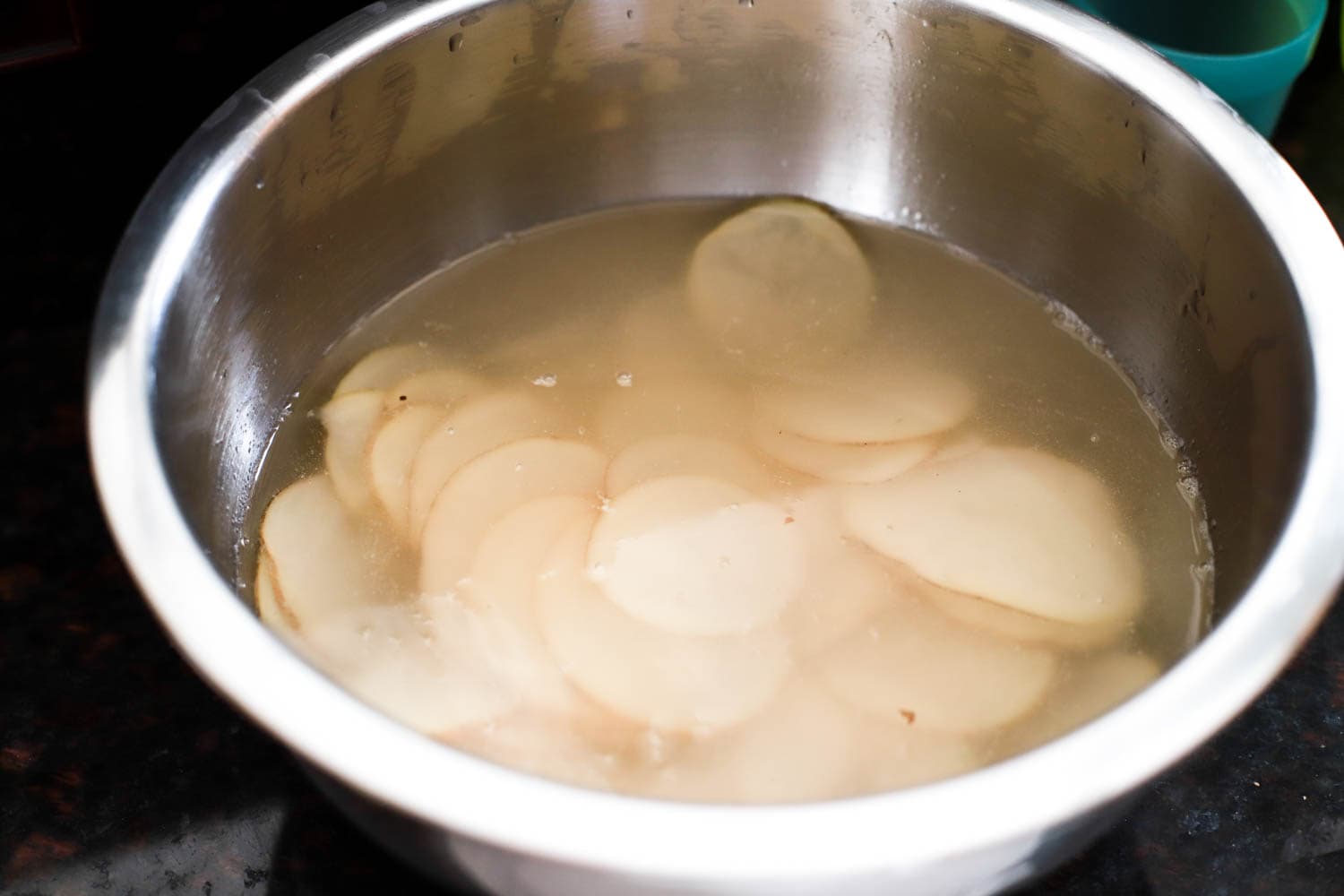 Heat between half an inch and an inch of oil in the skillet. When the oil gets hot, place handfuls of the potato slices on paper towels to dry them off before they go into the hot oil.
If the oil starts to smoke no worries, just turn the heat down, move the pan off the heat for a minute, then return it to the burner.
Now, fry the chips! Place one even layer of potato slices in the hot oil. They should start to sizzle quickly but gently - turn the heat up slightly if they don't, or down if the potato slices start to brown immediately.
Fry the chips in one layer, and turn them once after about 3 minutes when the edges start to brown. Depending on the temperature of your oil, these chips will fry for about 7 minutes total.
When the chips are mostly golden, remove them to a fresh plate with new paper towels and sprinkle them liberally with kosher salt. Let them cool while you fry the rest of the chips.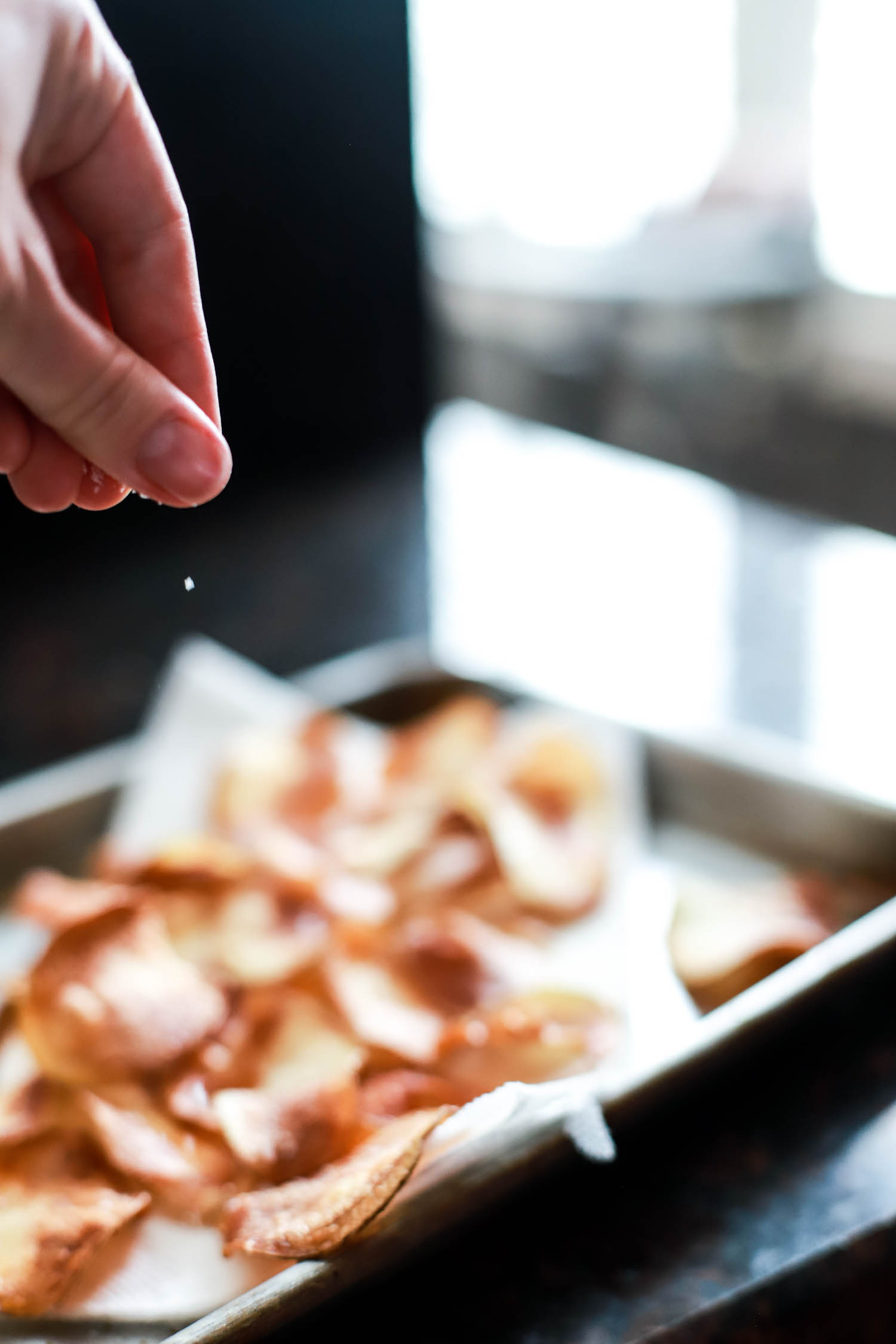 For this one potato, I fry about 4 batches of chips in a 12-inch skillet. The potato slices can touch somewhat while they are frying, just don't put so many that they clump together. Use tongs while the chips fry to move them around and keep them evenly bubbling in the oil.
Don't worry if the chips don't seem super crunchy when you remove them from the oil. They'll crunch up right after they come out of the oil and cool a bit! The key is to keep the oil at a consistent temperature so the fries are golden brown and crispy but not burned at the edges.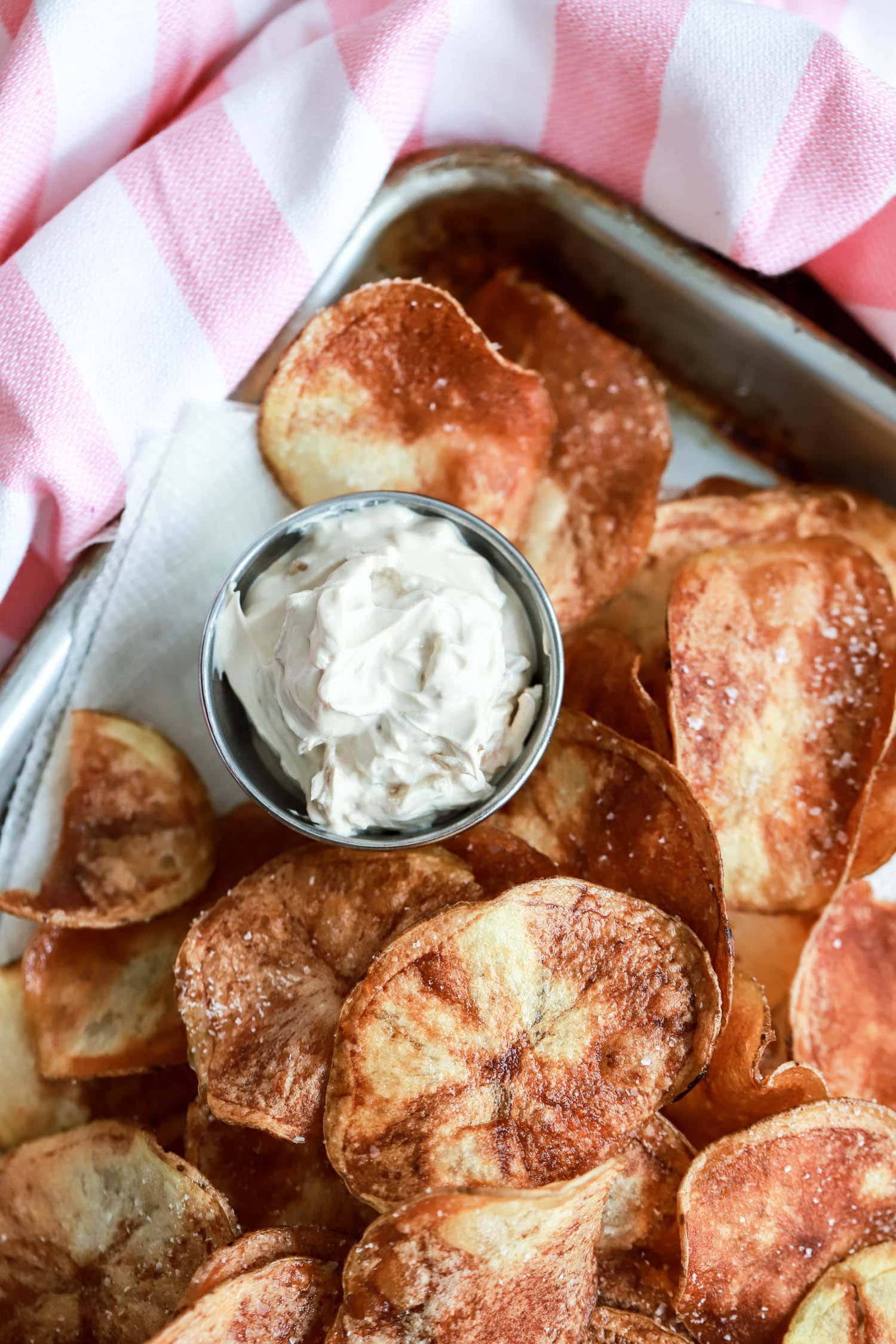 Now, eat! Or don't, in our case. One time years ago I made these all great and perfect, then went to yoga and left them wayyyyyy at the back of the counter. Came home. Paper towel on floor in bits. 7 chips left on the edge of the counter. DAMN DOGS. Both of the dogs in question have since died, and I'm still not over it.
Serving Suggestions + Storage
These are very delicious with a smashburger and homemade ranch.
They're also a fun side dish to cast iron skillet steak!
To store these, airtight containers + just a few days on the countertop will be fine. However, these chips are definitely better fresh.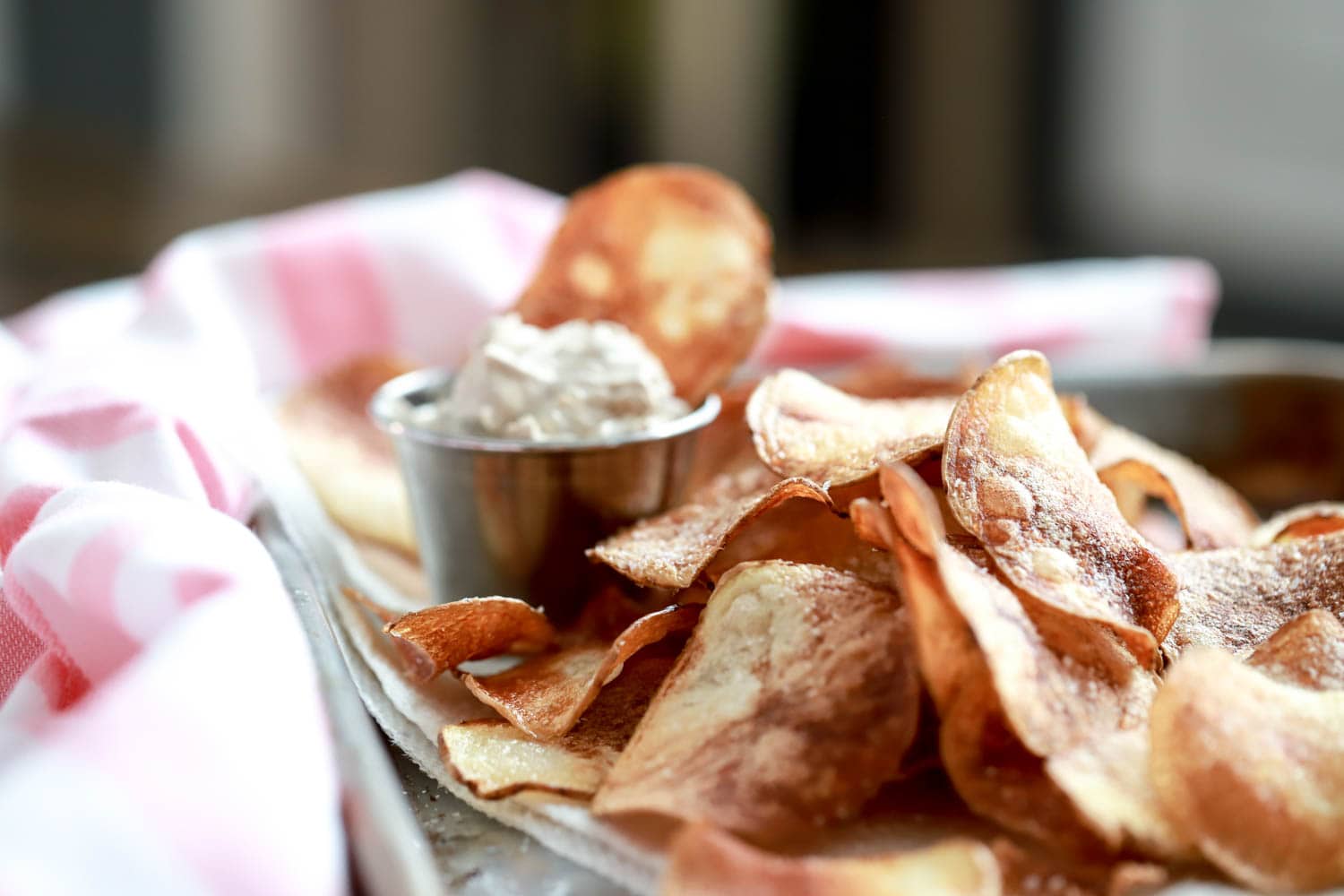 You. Will. Love. These. These potato chips are so light (if that can be a thing with chips), crispy, and so fresh because, well, they are. I love these for a fun weekend lunch, but a bigger batch at a summer cookout would be super delicious as well!
Try these soon, and enjoy!
Pan Fried Potato Chips
Homemade potato chips in just under an hour! These potatoes are light, crispy, and come out perfectly every time.
Ingredients
2

cups

give or take light oil such as vegetable, canola, or light olive oil

1

large russet potato
Instructions
Thinly slice the potato using a mandoline or very sharp knife to 1/16 inch thick. Place the potato slices in a large bowl of water.

Turn a large skillet to medium (or medium-low if your oven runs hot) heat, and add enough oil to the pan to cover the bottom of the pan by about ½ inch.

While the oil heats up, place the potato slices on paper towels and pat them dry.

Use a candy thermometer to measure the temperature of the heat. When the oil reaches 330F-375F (ideally 350F), fry the chips in batches, in a single layer, for 5-7 minutes until light golden brown. Use tongs to flip the chips around in the oil as they fry.

Remove the chips to fresh paper towels and sprinkle with salt while still hot. Repeat with the remaining potato slices until all the chips are fried. Yum!
Notes
I have used all kinds of potatoes for these chips, and they are all delicious! One large potato of any kind is usually plenty of chips for 4 people.
These are best eaten right away, but can be stored uncovered at room temperature for a few hours if you'd like to make them in advance.
I always cook with kosher salt so that's what I used for these, but any salt is just fine for these chips!
I use olive oil in my regular cooking and use it to fry potato chips, but canola, avocado, or vegetable oil all work great for these potato chips.
This post was originally posted in December 3013 and has been updated with new insructions and images.