This old fashioned pimento cheese recipe is absolutely perfect! I love to have pimento cheese homemade with lots of storebought ingredients (crackers, cheese, pickles, etc) for an easy cheese board at a party or for a snack plate dinner! This is extra delicious paired with some homemade focaccia for dunking.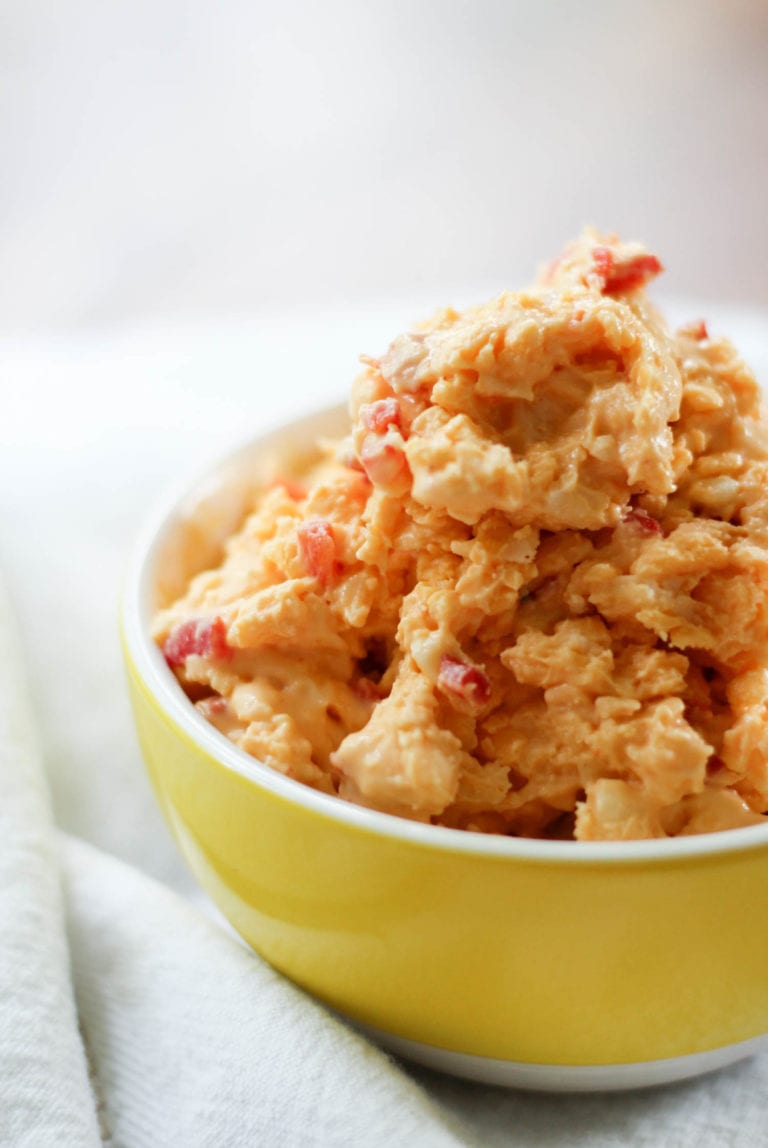 OK SO.
Let us discuss the glory that is pimento cheese, since it's Master's Weekend and we live in the South. Since I started this blog I've made a LOT of pimento cheese, and have tweaked the recipe over the years to a combination that I absolutely adore.
Other people adore it too, and that's not something I say about a lot of the food I make, because I'm insecure. Pimento cheese homemade, though, is something that people of all walks of life really enjoy when it is good. Back when we used to cater this was one of our most-ordered recipes, hands down.
What Is Pimento Cheese?
Pimento cheese is a southern dish of grated cheeses, spices, binders (mayo, sour cream, cream cheese, etc are all used), and jarred pimento peppers. This is a pimento cheese recipe without cream cheese and just enough mayo to hold everything together, which means the cheese and spices SHINE.
Ingredients and Method
I have a few parameters slash requirements for pimento cheese, a few winning must-haves that make this version so delicious. First, cheese is freshly grated. By hand, with a food processor, box grater, or whatever, but from a brick that you break down into shredded cheese.
Next, I use a combination of mayo and sour cream, but not too much of each. I like my pimento cheese to be thick, not gloopy at all, and err on the side of an almost-dry mixture. You can always add more white stuff, but it's awfully hard to take it out once it's in the mixture.
Last, seasonings. I use several spices in homemade pimento cheese, including seasoned salt, which adds something that is hard to describe to the dip, but a certain saltiness and flavor that tastes like a snack, I realize that makes no sense at all. I use measurements below but I always taste and add a little more of whatever I want to taste more of based on the cheese, my mood, the crowd (extra spice if there are no kids around!), etc.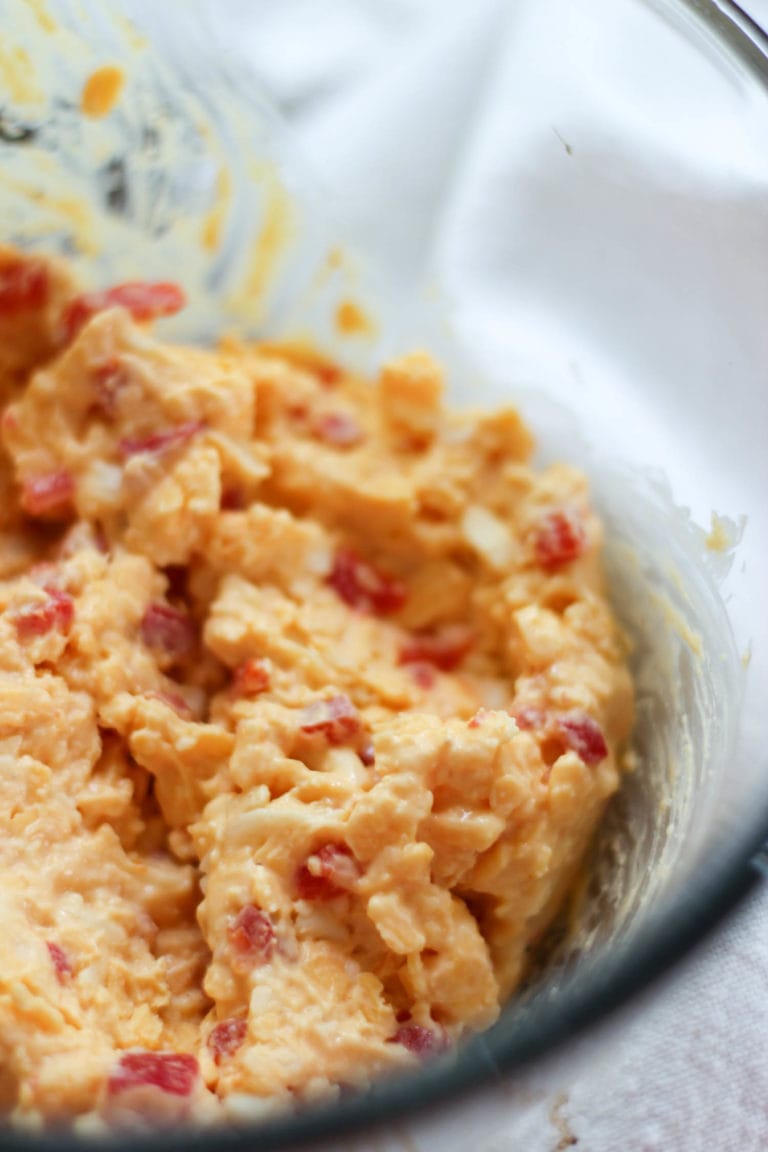 There aren't step by step pictures here because it's like ... drain peppers, grate cheese, throw everything in a bowl. I stir super gently to keep the cheese intact, then I taste and add more seasonings, then it's done! Serve this right away or let it hang in the fridge for dipping, sandwiches, topping BURGERS, you name it.
This is PARTICULARLY good on crackers with green tomato jam. The combo of sweet + savory is one of my absolute favorites.
Simple and delicious, I can't tell you enough to make this soon for football, keep it in your arsenal for holiday parties, summer potlucks, just everything fun needs some homemade pimento cheese. It lasts for several days in the fridge, so make a big batch and enjoy for a few days!
Enjoy!
Print
Pimento Cheese
---
Total Time:

20 minutes

Yield:

3 cups

1

x
Description
Old Fashioned Pimento Cheese Recipe with just a few easy ingredients! This is one of our favorite cold appetizers for holiday parties or tailgating!
---
8 ounces

cheddar cheese, freshly grated

4 ounces

mozzarella cheese (not fresh, the kind in a block), freshly grated

1

roasted red pepper, drained on paper towels and finely chopped (or

two ounces

drained chopped jarred pimentos)

½ cup

sour cream

⅓ cup

mayonnaise

1 tablespoon

Sriracha or other hot sauce

1 teaspoon

Worcestershire sauce

½ teaspoon

onion powder

½ teaspoon

garlic powder

½ teaspoon

seasoned salt
---
Instructions
Combine all ingredients in a medium bowl. Stir gently to combine the seasonings without mushing the cheese too much.
Taste, and adjust the seasonings or spice level to your preference. If the pimento cheese seems very dry, add a tiny bit more sour cream and mayo, in equal amounts, to achieve a texture you like.
Devour!
Notes
I love love love this on its own with crackers, but it is REALLY yummy with something sweet such as apple slices or green tomato jam. Balance your flavors, man!
Keywords: pimento cheese recipes, recipe for pimento cheese, what is pimento cheese, pimento cheese homemade, homemade pimento cheese, pimento cheese easy recipe