Our 100% favorite plant-based weeknight dinner that we eat at least every other week! Perfect spicy peanut sauce (make it in advance!), crispy pan fried tofu, and slaw with whatever greens you have make for the most delicious vegan rice bowl dinner that is healthy and comforting.
I don't think I've ever said this about anything before (I probably have), but this is hands down our favorite dinner.
We have other things that we love, other things that are in regular rotation, for sure, but this is our dinner. One that we've tweaked and crafted over the years and every time we have it we kind of sink into this "it's healthy but comforting" haze of joy.
I first found this spicy peanut sauce tofu on Pinch of Yum, and have used the Thai Peanut Sauce for a gazillion applications since. The crispy fried tofu, though, is the best use of it, and here's why: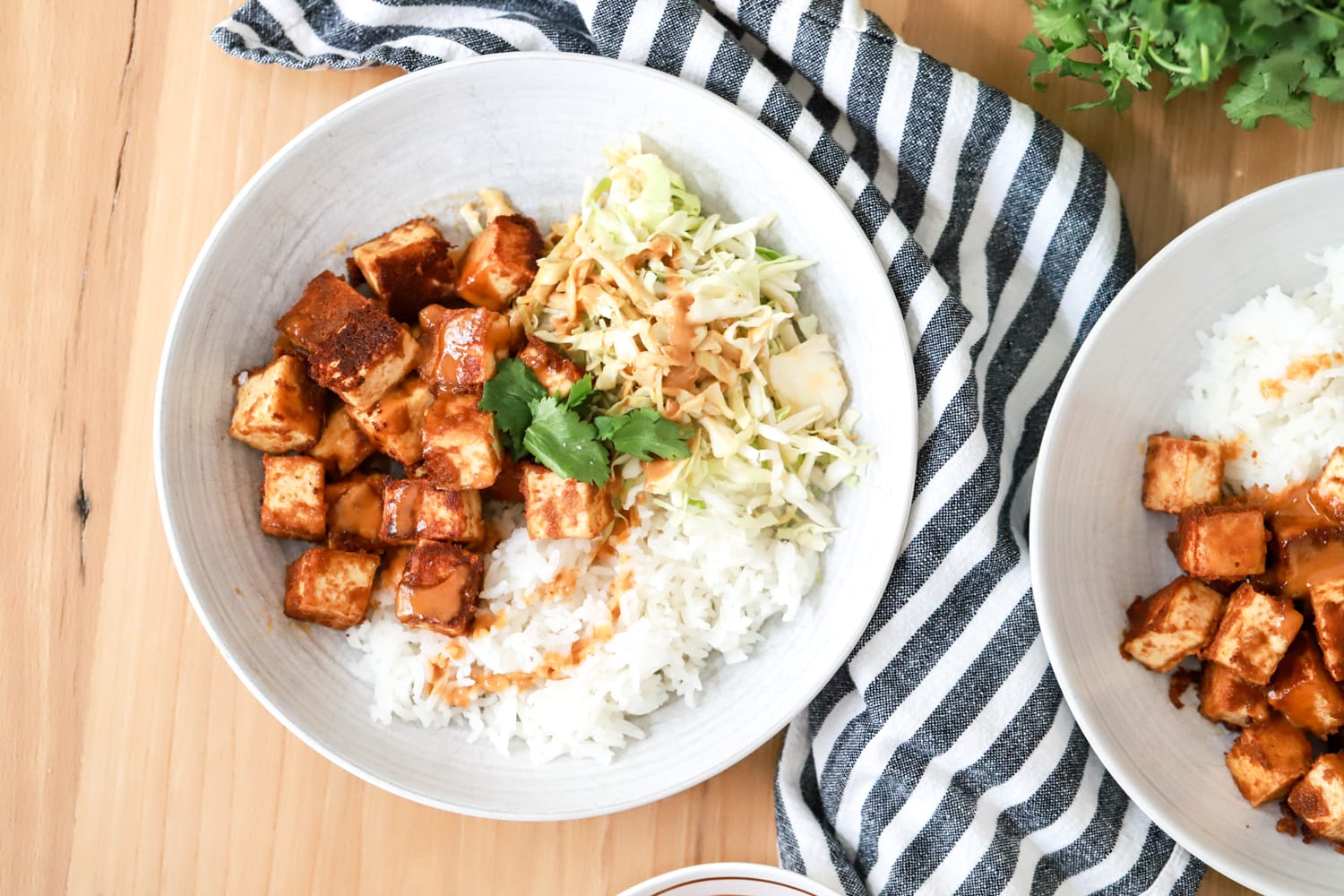 The peanut sauce is used raw and cooked, which basically means we have two sauces for the price of one, and it can be made in advance.
The dinner is vegan but totally satisfying from the peanut butter in the sauce, can be easily made gluten free, just lots of good stuff here without being "steamed broccoli and baked chicken breast" healthy, which is a sad kind of healthy.
Ingredients
The BEST part about this is that the sauce gets made in advance in the blender, then really all we have to do is crisp some tofu, cook some rice if you're into that, and find something green. I've made this with zoodles, sliced Brussels, bok choy broccoli slaw, kale, even lettuce, and literally any raw green is delicious.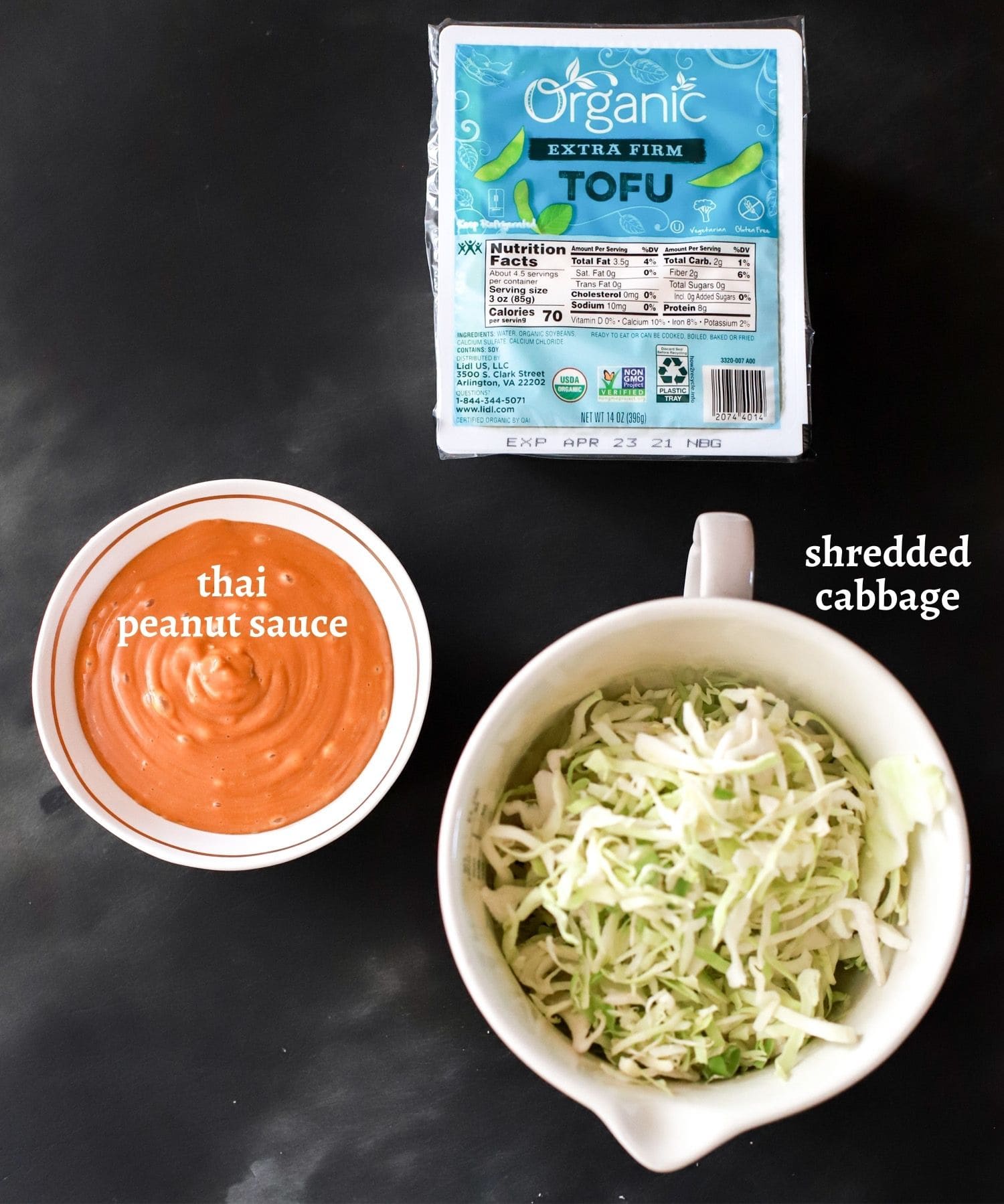 My PERSONAL favorites are raw bok choy or cabbage. I think Jay would say zoodles.
In this particular instance we're using bagged shredded cabbage from Trader Joes, aka take all the help you can from the store.
Pan Fried Tofu Method
The tofu takes about 20 minutes to cook, so for timing this dinner out I gather all my ingredients and start the tofu: it needs some time to warm up and start to really fry once the liquid evaporates.
Once the tofu is in the skillet, I drizzle some of the peanut sauce over the greens we are using and stir it together to marinate for 15 minutes or so. Then, I start the rice.
At this point, the tofu should be sizzling just slightly. We start the tofu in a cold pan and let it warm gently so that the liquid evaporates and it firms up slightly.
Then, flip the tofu around every 5 minutes or so until you start to see some nice golden color. The trick is to stir/flip, then let the tofu sit so it browns, then repeat.
I rarely have the patience to truly brown all 6 sides of each cube of tofu, so take your time and let the tofu get mostly crispy without worrying too much about it. Keep the heat on medium-low so the tofu continues to dry out without burning on the outside.
After 15-20 minutes, when the tofu is cooked to your liking, add about ¼ cup of the spicy peanut sauce to the skillet. Stir the sauce around, and here's the magic.
The peanut butter starts to cook and crisp at the edges of the tofu, the soy sauce cooks and browns a little bit, and just SERIOUSLY trust this process. It's so, so good.
Meal Prep Note:
I make the spicy peanut sauce for this well in advance. It keeps really well in the fridge, and you'll use about half a batch for this recipe.
When I make the peanut sauce, I also chop up a bunch of raw veggies for Peanut Chopped Salads. The entire process takes under an hour, and during that time I've prepped for two different meals.
Plated with the slaw with the raw peanut sauce, the flavor and texture contrast is amazing. Light, tangy green stuff, mild white rice, deeply flavored peanut sauce tofu. Can. You. Even.
You can, and you should. For a vegan dinner, this has all the makings of straight up comfort food, and I hope it's something you'll make again and again. Enjoy!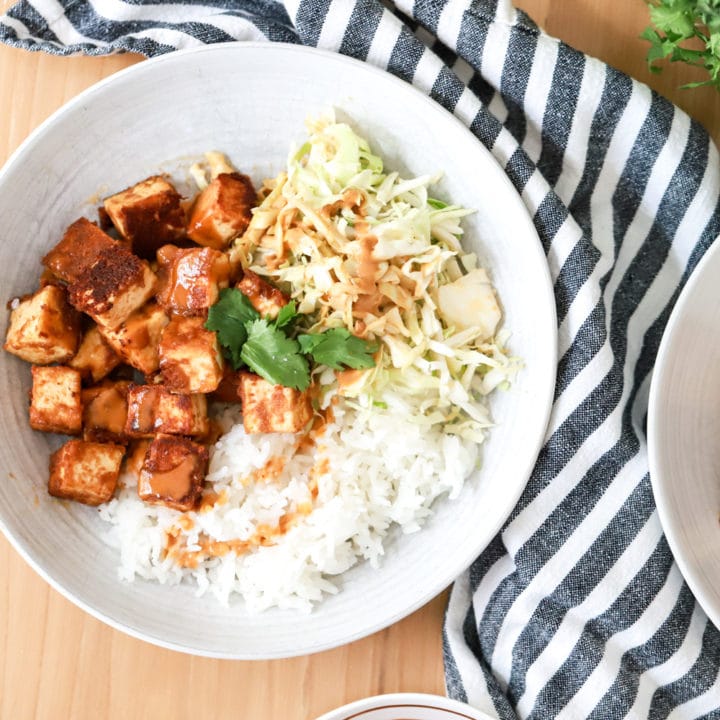 Pan Fried Tofu with Thai Peanut Sauce
Crispy tofu fried in a spicy peanut sauce that doubles as a dressing for cabbage or any green stuff you like. Serve with rice for a completely delicious vegan rice bowl dinner!
Ingredients
Peanut Sauce
½

cup

creamy peanut butter

⅓

cup

sesame oil

¼

cup

soy sauce

¼

cup

rice vinegar

2

tablespoons

chili garlic paste

2

tablespoons

sugar

1

clove

garlic

peeled

1

piece

fresh ginger

about ¼ inch long
Crispy Tofu Bowls
1

brick tofu

cut into cubes

3

cups

shredded cabbage or other greens of choice

cooked white rice

cilantro leaves or lime wedges for serving
Instructions
Make the sauce by combining all ingredients in a blender until very smooth. If the dressing is thicker than you'd like it to be, add a tablespoon of water at a time and blend again until it reaches the desired consistency.

Add the tofu to a large nonstick skillet in a single layer with a drizzle of oil. Lightly fry the tofu over medium or medium-low heat for 15-20 minutes until the liquid from the tofu has evaporated and the sides of the tofu are golden brown. Stir/flip the tofu every 5 minutes or so during this time, being careful to not let it burn.

While the tofu is cooking, cook the rice (if not already) and drizzle a few tablespoons of the peanut sauce over the greens. Toss to combine and let sit while you finish the tofu.

When the tofu is browned, add ¼ cup of the peanut sauce to the skillet. Stir to coat the tofu in the peanut sauce and let it cook, sizzle, and crisp for about 2 minutes.

Serve the crispy peanut tofu over the rice and with the cabbage (or greens) with cilantro, extra peanut sauce, and lime wedges. YUM.
Notes
This peanut sauce recipe will make about 2x what you need for this dinner, which serves 2 generously. It stores great in the fridge for a week or more.
Gluten free if you sub soy sauce for Tamari and check all other ingredient labels.
Use any greens you like! I have used lettuce, kale, bok choy, and sliced raw brussels and all are delicious.
More Vegan Favorites