Creamy, spicy buffalo chicken dip is one of our favorite GF appetizers for tailgating and football watching! I use this interchangeably as a buffalo chicken salad for sandwiches or buffalo chicken dip served with crackers and veggies. This is THE BEST buffalo chicken dip ever, trust.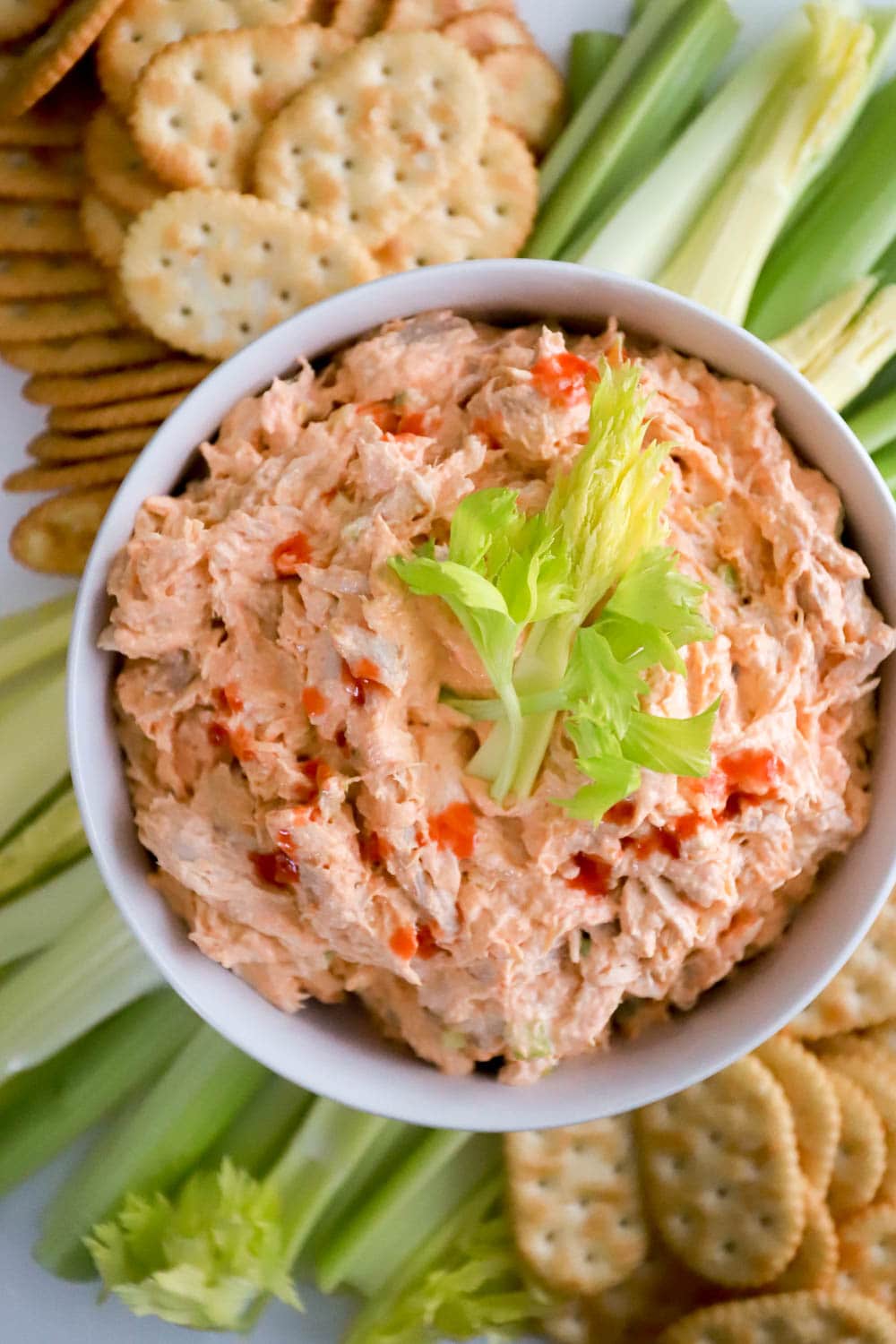 Hellooooo, football season. This is what we are making for our watching, our tailgating, our drafting, all of it.
....and thus begins a new round of football food to celebrate fall.
I recognize that "chicken salad dip" isn't really a thing, but I want you to know that there are multiple things that can be done with this here little creation. I have called it buffalo chicken salad dip for years, but REALLY this is a buffalo chicken situation that can be used as a cold appetizer dip OR a chicken salad. It's an either/or/both/best kind of deal.
Recipe Notes
This is like the buffalo chicken dip that I make and serve hot, but has cream cheese as the base, which is nothing short of epic. TRUST me, you want cream cheese with your buffalo chicken from now on whenever you can get it. Cream cheese in chicken salad isn't very common, but it balances out the spice of the buffalo sauce and works really, really well here.
The other great thing about this dip is that you can make it in 10 minutes. Really. I use a rotisserie chicken to make this come together super quickly, and have also used canned chicken breast OR leftover grilled chicken. All versions are delicious!
This recipe is gluten free exactly as written, which is nice for folks that are never quite sure what they can or can't eat without getting sick.
Cold Buffalo Chicken Dip Ingredients
Once we break down a rotisserie chicken, gather up celery, garlic powder, onion powder, salt, cream cheese, mayo, and hot sauce. Anything labeled as wing sauce will work! I love Frank's and Texas Pete.
Ingredient Notes + Tips and Tricks
Try to give the cream cheese a few hours on the counter to get really soft. If you forget to get it out, microwave it for 15 seconds or so before you proceed with the rest of the dish.
For the rotisserie chicken, I save all the bones/skin/everything but the meat and make homemade chicken stock with it.
If you like a crunchy buffalo chicken salad, double the amount of celery!
Step By Step Instructions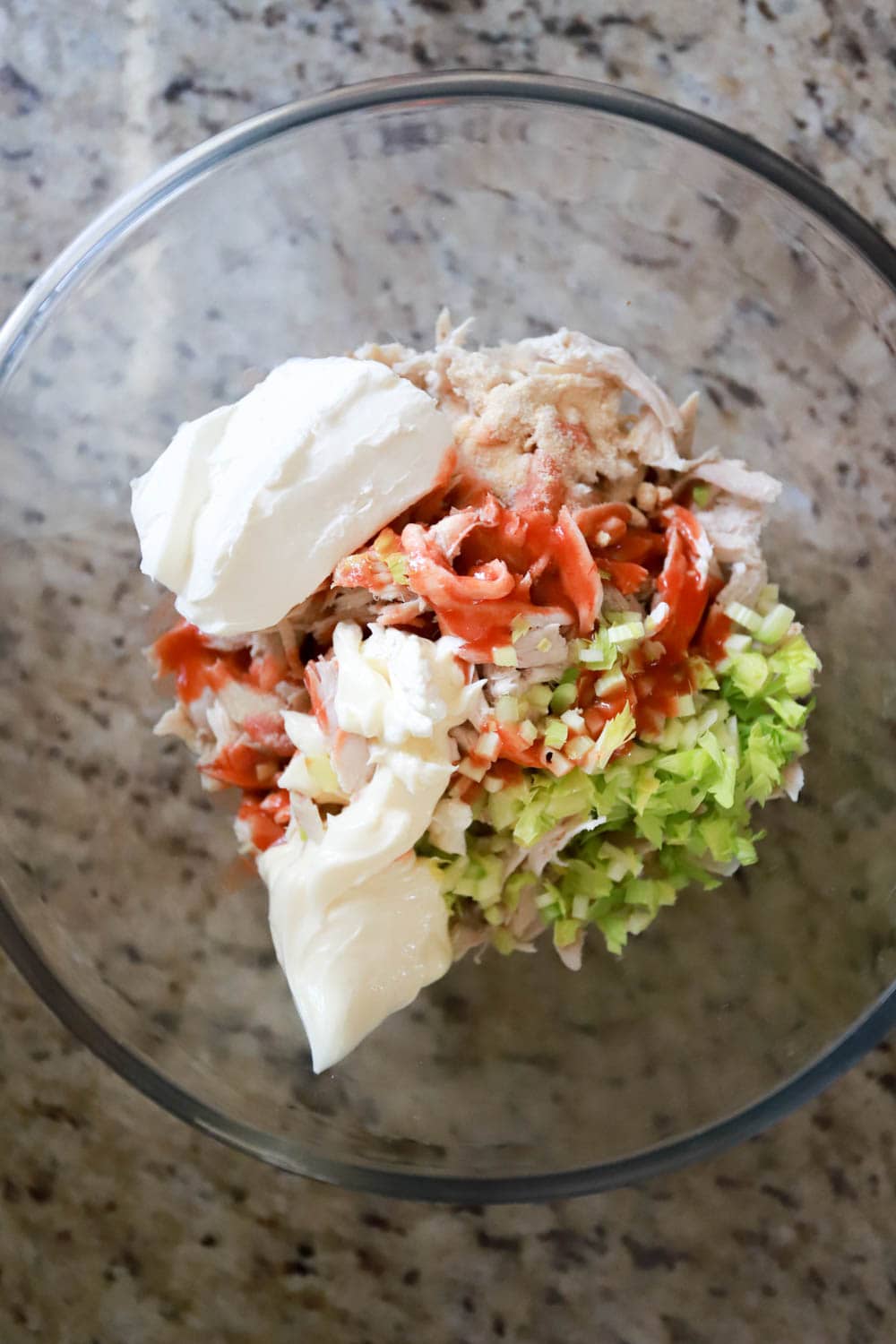 Easiest ever, add all the ingredients to the bowl and gently mix to combine!
Having the cream cheese at room temperature helps a lot, and I use a fork to mix the dip without mushing the chicken too much.
YUM! That's it. Taste the buffalo chicken dip and add more hot sauce or salt if it needs it. You can eat this right away, or store it in the fridge for a few days before serving. Just fluff it up with a fork right before serving.
Serving Suggestions
If you REALLY want to go nuts, PLEASE drizzle some more hot sauce over the top. It adds a nice kick to individual bites - the tang over top of the creamy cheese and salty chicken is really great.
I love this in a bowl with crackers and veggies on the side - extra simple and yummy.
Serve this in wraps or on sandwiches for lunch!
Homemade focaccia is a verrryyyyy yummy dipping option for this dip.
Buffalo chicken dip on a baked potato, kind of melted?
Tortilla or pita chips? Let's use it for all the things!
If you're into make-ahead snacks like this one, some slow cooker boiled peanuts are a REALLY nice Other Thing To Make.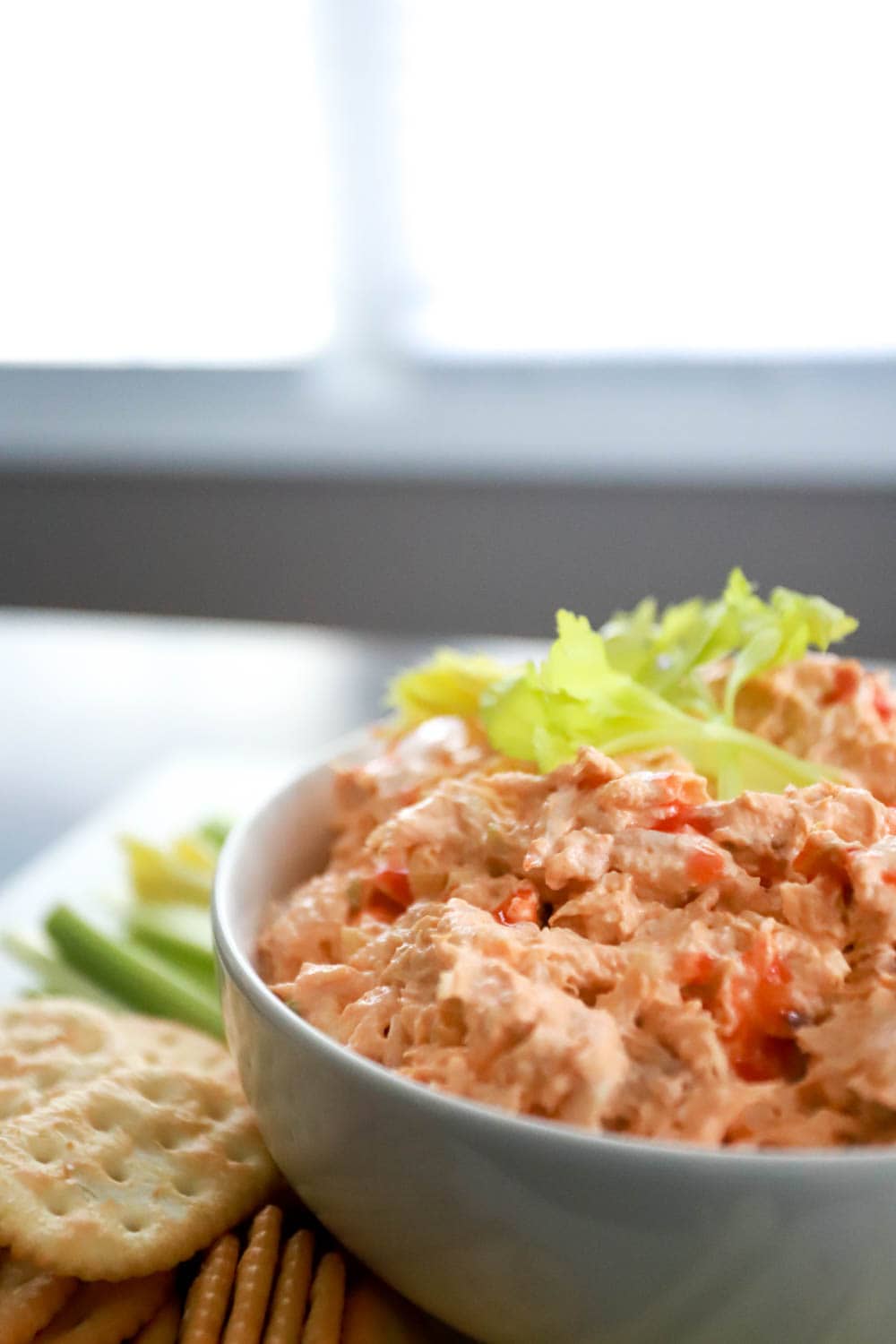 I hope you love this! It is so easy to make, goes with so many things, and is just very, very yummy all around.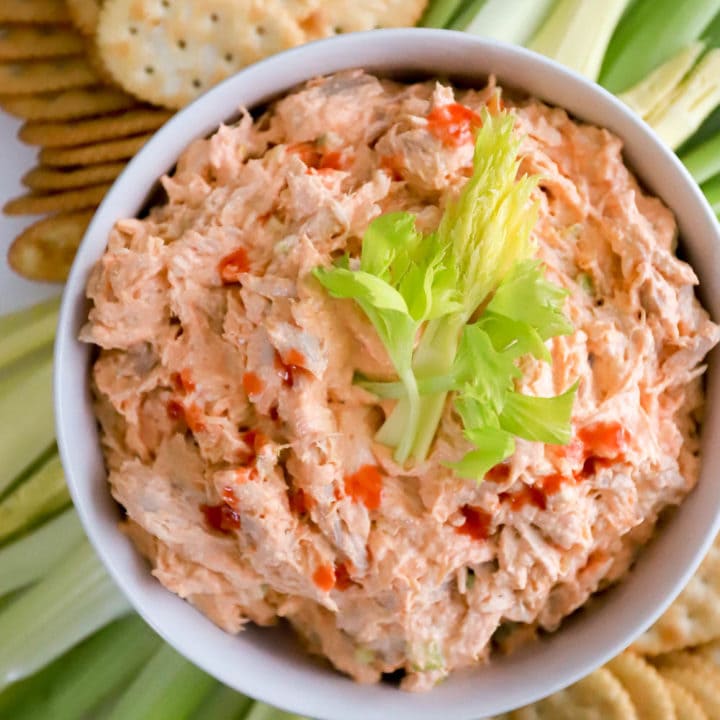 Cold Buffalo Chicken Dip
Tangy, creamy buffalo chicken dip that is super quick to make thanks to rotisserie chicken. This is one of the most popular recipes on this site, and is 100% delicious!
Ingredients
1

rotisserie chicken

bones/skin removed, shredded

1

rib celery

finely diced

½

teaspoon

garlic powder

½

teaspoon

onion powder

1

teaspoon

salt

8

ounces

cream cheese

softened to room temperature

½

cup

mayonnaise

⅓

cup

hot wing sauce such as Frank's
Instructions
In a large bowl, combine all ingredients and gently combine to coat the chicken in the seasonings.

Taste, and add more hot sauce or salt to your preference.

Serve immediately or store in the fridge for up to 3 days.

Serve with veggies, crackers, or with bread for sandwiches.
Notes
Chicken: I use a rotisserie chicken here to save time, but any cooked chicken you like here works great! Aim for 3-4 cups of shredded meat. This is also a great use for leftover chicken. Make Ahead: This recipe is perfect for make-ahead and can be kept in the fridge for up to 4 days. Chicken Stock: I use the skin and bones of rotisserie chicken to make my own stock. Combine the chicken parts in a large pot with a quartered onion, two carrots cut into large chunks, 1 stalk of celery cut into large chunks, 2 teaspoons of salt, and 1 chicken bouillon cube (optional but yes please do this it's delicious). Cover with water and bring to a boil, then let the stock simmer for an hour. Drain, reserve, freeze, and look at you go, recycling and making your own ingredients!
This has been one of the most popular recipes on this site for more than 5 years and was recently updated with new tips, tricks, and photographs. It was originally published in August 2013 and was updated in 2019 and again in September 2022. Enjoy!
More Easy Appetizer Recipes to Love!