Yep, recycling a recipe.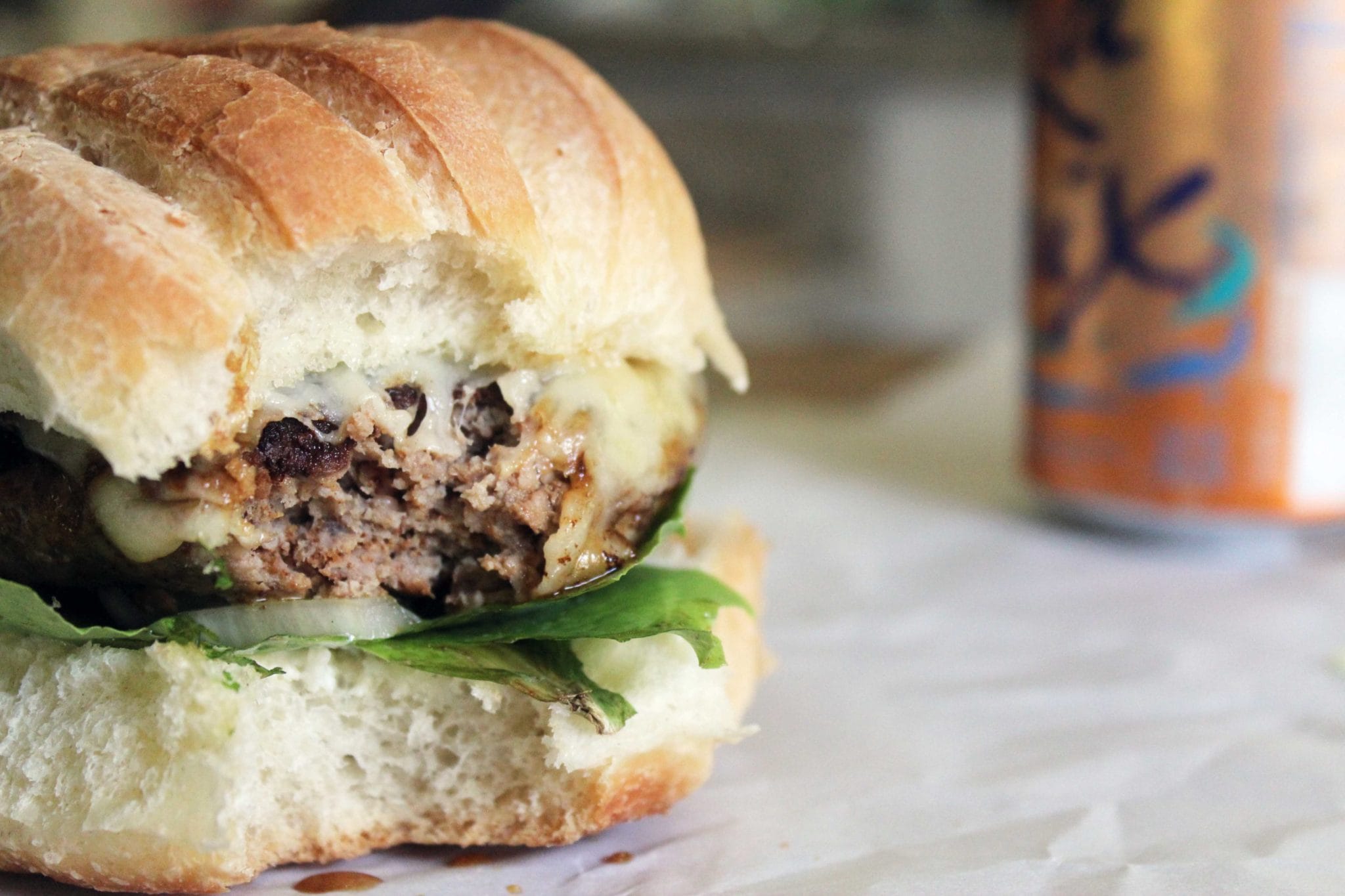 BECAUSE IT'S SO GOOD. One of the most fun things about WordPress for an obsessed-with-numbers person like me is the stats page, which I look at several times a day to see what you people are into. I can see how many readers have been around, which is about the same each day, but I can also see what random posts are getting a lot of attention. Sometimes they'll get picked up by HuffPost or whatever, but sometimes Pinterest does the work for me and all of a sudden a random recipe will be getting lots of traction.
That's this recipe! These turkey burgers from last summer, and it's kind of perfect because it's MONDAY so why not have a burger, and the weather here is warming up and we're talking about yard work and new flowers and grilling out, and a burger just fits so nicely into all of that. I'm having some serious 3-month-old-baby-and-stress-at-work hormonal issues, too, and unhealthy foods help me feel better a lot. And then I complain that I still look pregnant, BUT LET'S DEAL WITH THAT LATER.
My point is, these are excellent burgers, they're made with turkey so they're healthy, and a Monday burger should probably be a thing, right? Other blogs make salads on Mondays, so I'm here to balance that out for you.
I made these last summer when I was just about 15 weeks pregnant, had no clue I was having a girl, Jay hadn't broken his leg yet....it feels like a different world.
How was your weekend? We had a TON of family stuff including a lunch at my parents' house on Saturday for several birthdays that happen all at once (including mine, I turn 30 in a few weeks, send eye cream), and my dad was rocking Beck trying to help her have a nap. And APPARENTLY he was overheard making up a little song, as people rocking babies tend to do, and it went "Oh, Beck, why are there blisters on your lips? You've been having too many nips!" all singsongy, and that is hilarious because my dad is a relatively stoic engineer.
In other news, my champion husband is walking around and helping with the baby as much as he always has, and we had family over this weekend (on a different day) so I had an excuse to clean nearly the entire house, and THAT was amazing. I got fresh flowers, too, and tossed a ton of old yucky potted plants that were outside and DONE due to winter. A clean house and a burger for your Monday, maybe?
Enjoy!
Print
Spicy Turkey Burgers + Garlic Lemon Mayo
---
Prep Time:

15

Cook Time:

15

Total Time:

30 minutes
¼ cup

mayonnaise

1

clove grated garlic

1 tablespoon

lemon juice
salt
pepper

⅔

pound ground turkey

1 teaspoon

onion powder

1 teaspoon

chili powder

¼ teaspoon

cayenne pepper, plus more if you'd like

2

hamburger buns

2

slices deli swiss cheese
sliced onion and lettuce, for serving
---
Instructions
Combine the mayo, garlic, lemon juice, and a pinch of salt in a small dish. Set aside until ready to serve (in the fridge if you make this well in advance).
Toast or broil the burger buns lightly.
Preheat a large skillet to medium-high heat with a drizzle of oil. Preheat the broiler to high. In a bowl, mix the turkey meat, onion powder, chili powder, cayenne pepper, and generous amounts of salt and pepper with your hands. Form into 2 patties.
When the oil in the skillet shimmers (usually about the time you've finished making the patties), add the burgers and cook for 5-7 minutes on each side until cooked through. Top with the cheese and broil for 1-2 minutes until the cheese.
Assemble the burgers: spread garlic mayo on both sides of the bun. Add sliced onion and lettuce, top with a burger, and serve!