The absolute best weeknight beef curry recipe ever! Indian ground beef curry with potatoes with tender carrots and onions make this the perfect one dish weeknight dinner. The entire dish is done in under 45 minutes, and leftovers are even better the next day.
YES welcome to fall and to one of our absolute favorite weeknight dinners. I love any and all curry - from all regions of the world, with all types of mix-ins, homemade, from restaurants, you name it.
This curry is perfect for weeknights - it uses ground beef for a quick cook time and has a delicious, mild curry sauce thanks to madras curry powder - very flavorful, very non-spicy.
If you don't have a "curry at home" recipe in your rotation, this ground beef curry recipe is THE ONE to start with, I promise.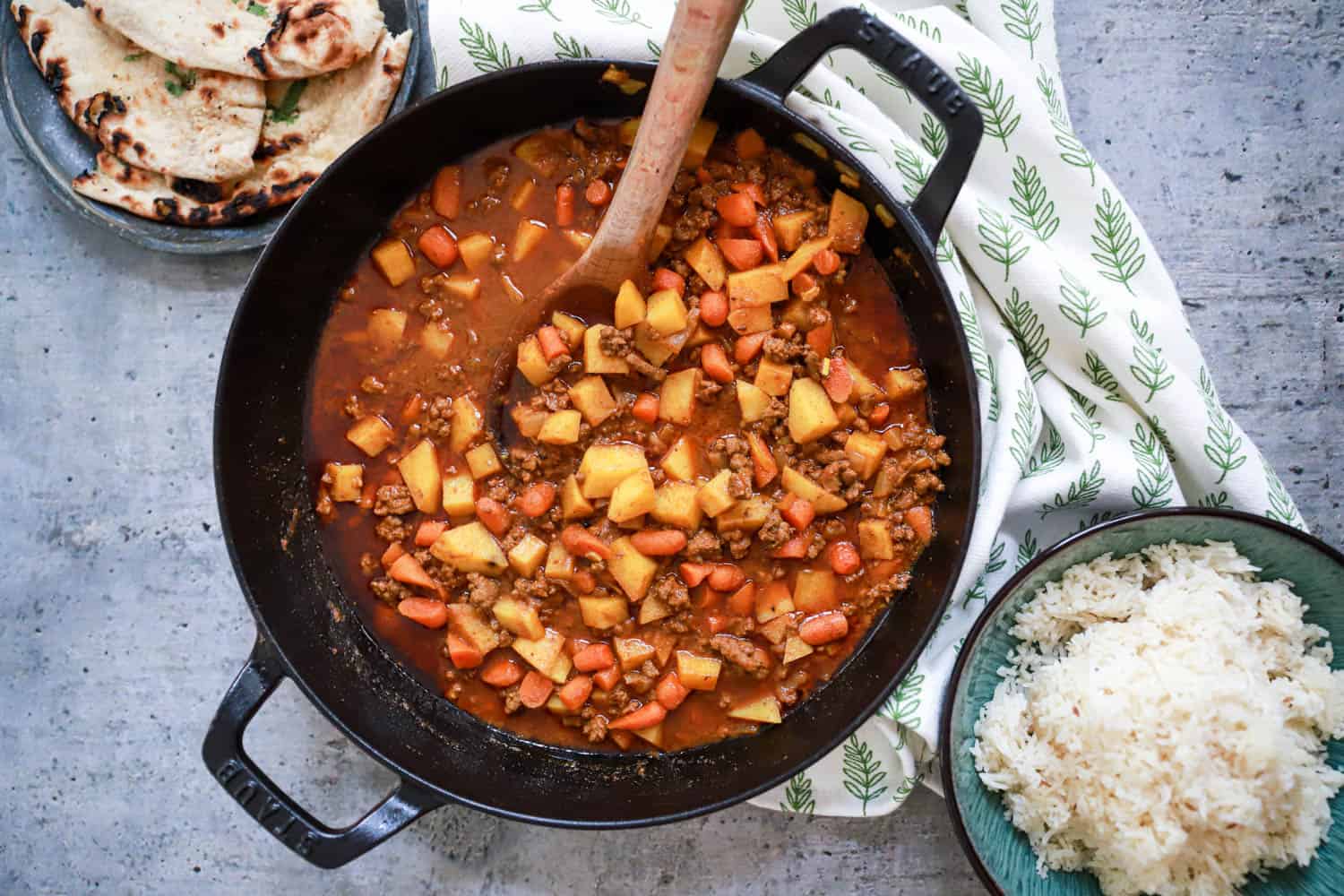 Recipe Notes and FAQ
The method for this curry comes from my BIL's mother who has been making this curry for him with roti his entire life. She hails from India via Guyana, and any time I'm lucky enough to have her curry is a very, very good day. Variations of this recipe are sometimes called Keema Aloo, Keema meaning ground or minced meat.
Madras Curry Powder: This curry uses Madras curry powder, a Southern Indian spice blend (eventually made globally popular in England) that is used a lot in Western version of Indian beef curry. If you can't find Madras curry powder (I get it at Whole Foods or online), a blend of HALF garam masala and HALF yellow curry powder tastes nearly the same.
This version uses ground beef to make the cooking faster - stewed beef curries are incredible but take longer to cook and tenderize, so this is our curry-in-a-hurry shortcut.
The curry is gluten free BUT thickens into a gorgeous gravy consistency thanks to the addition of chopped potatoes. Definitely don't skip them.
Vegetables: I add carrots (and sometimes peas or other veggies) to the curry to avoid having to make a vegetable side dish. You can skip the carrots altogether, or add some chopped cauliflower, squash, or green beans. Lots of veggies work well in this recipe!
Ingredients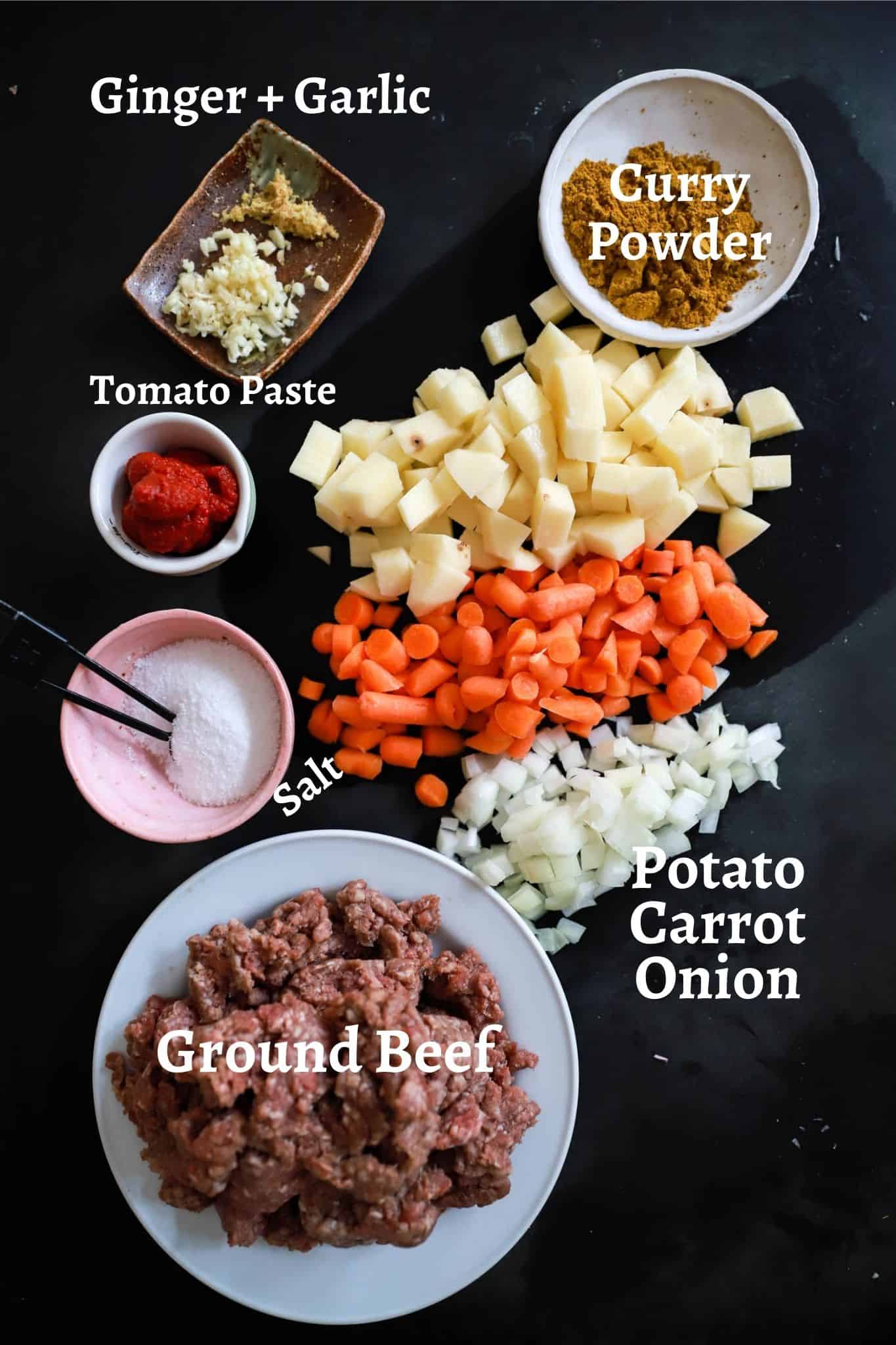 The ingredients here are simple! I made a few notes below with some variations I like.
Ground beef: 80/20 is my favorite, but use what you like.
Onion, carrot, potato: cubed to bite-sized, your call on whether or not to peel the potato.
Garlic and ginger: The tubed paste works here, or freshly grated garlic and ginger using a zester. I keep fresh ginger in the freezer and just grate the amount I need when I use it in recipes. No peeling necessary!
Tomato paste: for tang and flavor.
Madras curry powder: OR half garam masala, half yellow curry powder.
Water and salt: round things out to make a saucy, super flavorful curry! Salt will be added a few times since the potato will absorb some salt and the flavor will change as the curry cooks.
Spicy Variation: Most curry powders are very mild - they have a lot of flavor, but not a lot of heat. If you'd like to make this a spicy beef curry, add cayenne pepper OR a hot chili powder ¼ teaspoon at a time until the curry is as spicy as you'd like.
Additionally, some curry powders may be labeled "heated" or "hot," those are already spicy!
Step By Step Instructions
The cooking method here is very simple. I love having everything chopped and prepped in advance, then all we do is add ingredients a few at a time to cook everything evenly and build great flavor.
First: Preheat a large skillet to medium heat with a drizzle of cooking oil (whatever you usually sauté foods in!). Add the onion with a sprinkle of salt and stir every minute or two to soften and lightly brown the onion.
When the onion is soft, add the beef to the skillet. Let it sizzle and sear for a minute or two, then break it up with a spoon and continue cooking the beef for about 5 minutes.
Pro Tip for Cooking Ground Meat: Anytime you're cooking ground beef, give it a few minutes between stirring to sizzle and really start to brown, then stir/crumble a bit more. Repeat this a few times until you have lots of deeply browned bits of meat, which will make the final dish more flavorful.
When the beef is crumbly and brown, add the potato and carrot to the skillet. Stir the veggies into the ground beef mixture for about 2 minutes to soften just a bit.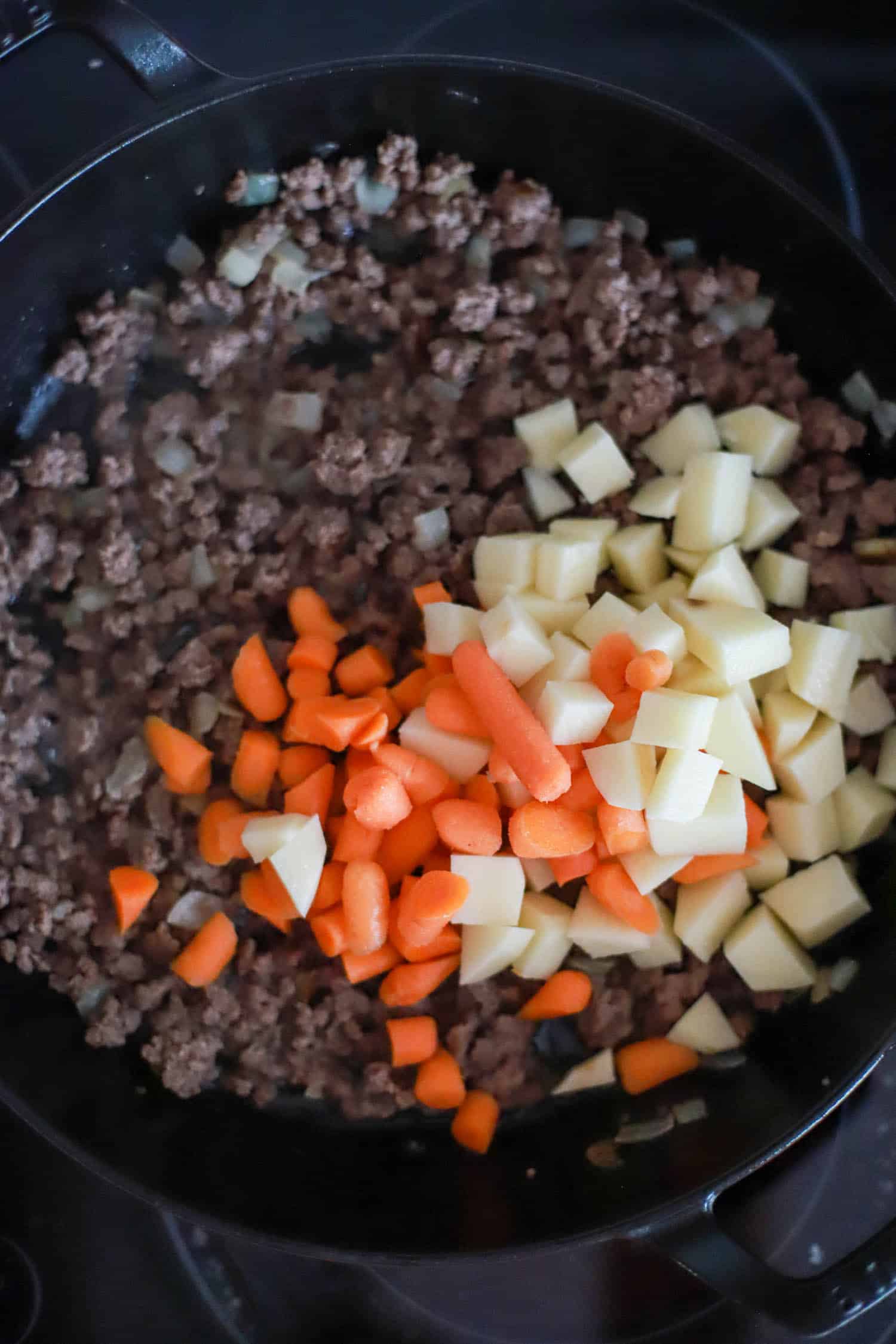 On The Heat of the Skillet: As you are adding each ingredient, the food should be sizzling but not burning. Add a drizzle of oil if the pan feels dry, and reduce the heat if the pan is scorching or the veggies are browning too quickly.
After the veggies, add the curry powder, salt, garlic, ginger, and tomato paste to the skillet. Stir THAT together and get ready for the most glorious smells, promise.
The curry/ginger addition just needs to cook for one minute, then pour the water into the skillet. Stir to scrape up the bottom of the pan and mix all the seasonings into the curry.
At this point the curry will be fairly liquid; the gravy will thicken as the potato cooks and releases some starch. Turn the heat on the stove down to LOW and cover the skillet with a lid or foil if the pan you chose doesn't have a lid.
Simmering and Serving
Simmer the curry for 30-40 minutes until the potatoes are tender and the curry gravy has thickened. During the simmering time, stir the curry once or twice.
This is also a great time to prepare rice, naan, or anything else you'd like to serve alongside the aloo keema.
When the curry is done, taste it for seasoning. It should be VERY flavorful, add a few good pinches of salt to get it right where you'd like it to be.
YUM, right? So simple, so fragrant, so delicious and you made it all on your own.
Make Ahead and Leftover Storage
Make Ahead: The best thing about curry is that you can make it ENTIRELY in advance and reheat it in the skillet or even in the microwave. It's delicious reheated and a really perfect meal prep meal.
Freezer: This curry freezes really well since it is dairy free, just store it in glass storage containers in the freezer and reheat it in the microwave or on the stovetop.
Leftovers: Leftovers keep well in the fridge for up to a week; I store lunch-sized portions with a scoop of rice for quick microwave lunches.
Whether you love curry or are new to it, you will LOVE this ground beef curry recipe. It's a perfect recipe to learn how to make an easy curry at home. I hope you and your people love it!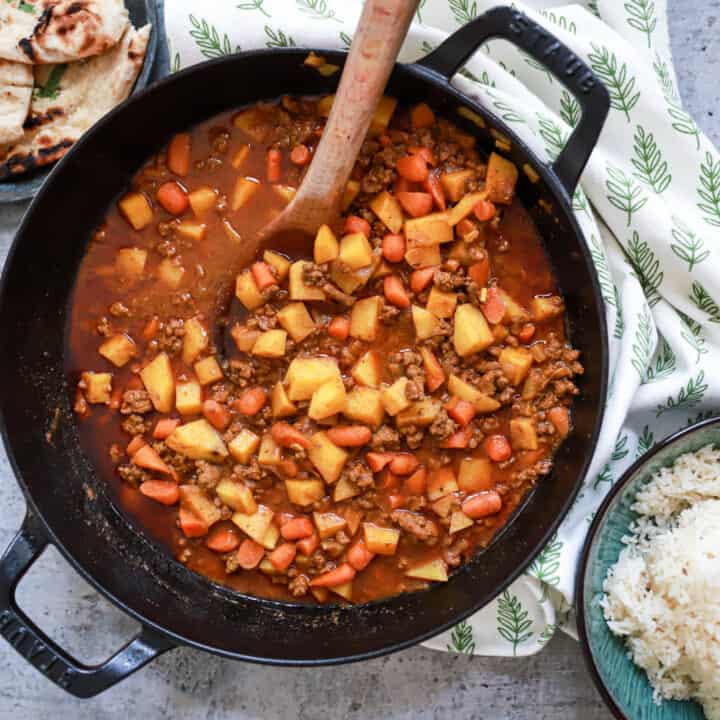 Ground Beef Curry (Aloo Keema)
Make your own mild ground beef curry at home! This recipe is done in 45 minutes and is absolutely foolproof and delicious.
Ingredients
¼

large onion

diced

2

medium carrots

diced

2

medium potatoes

peeled (optional) and diced

1

pound

ground beef

3

cloves

garlic

minced or grated

½

inch

fresh ginger

grated (see note)

¼

cup

tomato paste

3

tablespoons

Madras curry powder

(see note)

1

teaspoon

kosher salt

2

cups

water

rice and/or naan, optional for serving
Instructions
Heat a large skillet to medium heat with a tablespoon or two of oil - whatever you like to cook with.

Add the diced onion and sauté for 3 minutes or so, stirring as you go, until the onion is brown.

Add the beef and let it cook and brown, breaking it up with a spoon as you go.

When the beef is brown and crumbly, add the carrot and potato to the ground beef mixture. Stir for 3 minutes to soften the veggies slightly. (if the veggies start to stick, reduce the heat)

Add the garlic, ginger, tomato paste, curry powder, and salt to the skillet. Stir for 1 minutes to evenly distribute the flavor components.

Add the water to the skillet and let the mixture come to a simmer. Stir well to scrape the bottom of the skillet. Simmer the curry for 30-40 minutes, covered, until the potatoes are tender/cooked through and the curry has thickened.

Taste the curry and add more salt until the curry is very flavorful. Serve with rice and naan, if you'd like. Enjoy!
Notes
Potatoes: I like gold or russet potatoes for this recipe, but honestly any potato you like will work well.
Garlic and Ginger: The garlic and ginger can be fresh or in paste form here, OR you can use ginger-garlic paste which is often found in Indian kitchens. If using pastes, go for about 1 teaspoon ginger paste and 1 tablespoon garlic paste.
Ginger: I keep fresh ginger in the freezer and grate it using a zester from frozen. There is no need to peel the ginger when you use it this way, and it lasts forever in the freezer!
Curry: Madras curry powder is easily found online, but you can also substitute HALF garam masala and HALF yellow curry powder for the Madras if you have that on hand instead. Both variations are delicious.
More Yummy Curry Recipes