Make onions the STAR of the show with this classic Southern sweet onion casserole! This version uses sweet onions, has 9 ingredients, and can be made in advance for a yummy weeknight side dish with grilled chicken or as part of a Thanksgiving or Easter dinner. Bonus points for this being a Ritz Cracker topped casserole! (aka the best kind)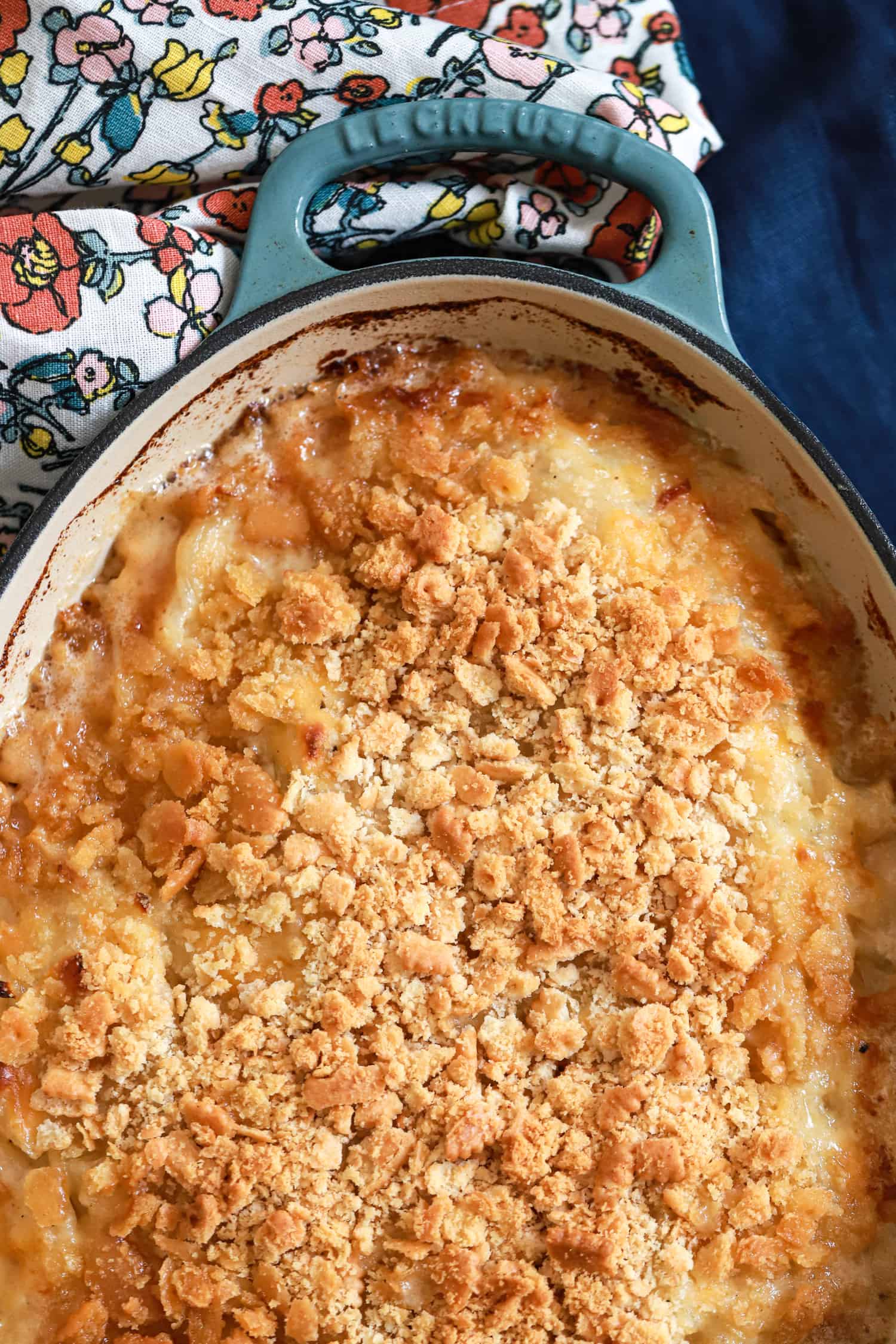 Onion casserole. Heard of it? Had it? It's new-ish to me; my MIL brought us a version she made earlier this summer with just "I'm bringing onion casserole" and I just immediately knew I had found my new favorite veggie side dish.
I love a casserole, as we well know. I also really like onions, and sweet onions + cheesy stuff + Ritz cracker topping? Count.Me.In.
(By the way, two casseroles in one dinner is NEVER a bad thing; a squash casserole is another great Ritz-topped side dish that we love!)
Recipe Notes
This is one of those super simple casserole recipes with one little step that takes awhile: halfway caramelizing the onions. After that, we mix soft, sweet, mostly cooked onions with cheese and sour cream and spices, top with crackers, and bake into submission.
I need to tell you that the end result of this onion casserole recipe is SO MUCH MORE than the sum of its parts. Onions are cheap, humble, and flavorful but often used to flavor other things. This caramelized, sweet, cheesy casserole, though, is just WOWOWOW. Doesn't feel like a throwaway ingredient at all. Makes you want to do more things with onions always.
The point, of course, is that adding cheese + dairy + crackers to literally any vegetable is a good method.
Ingredients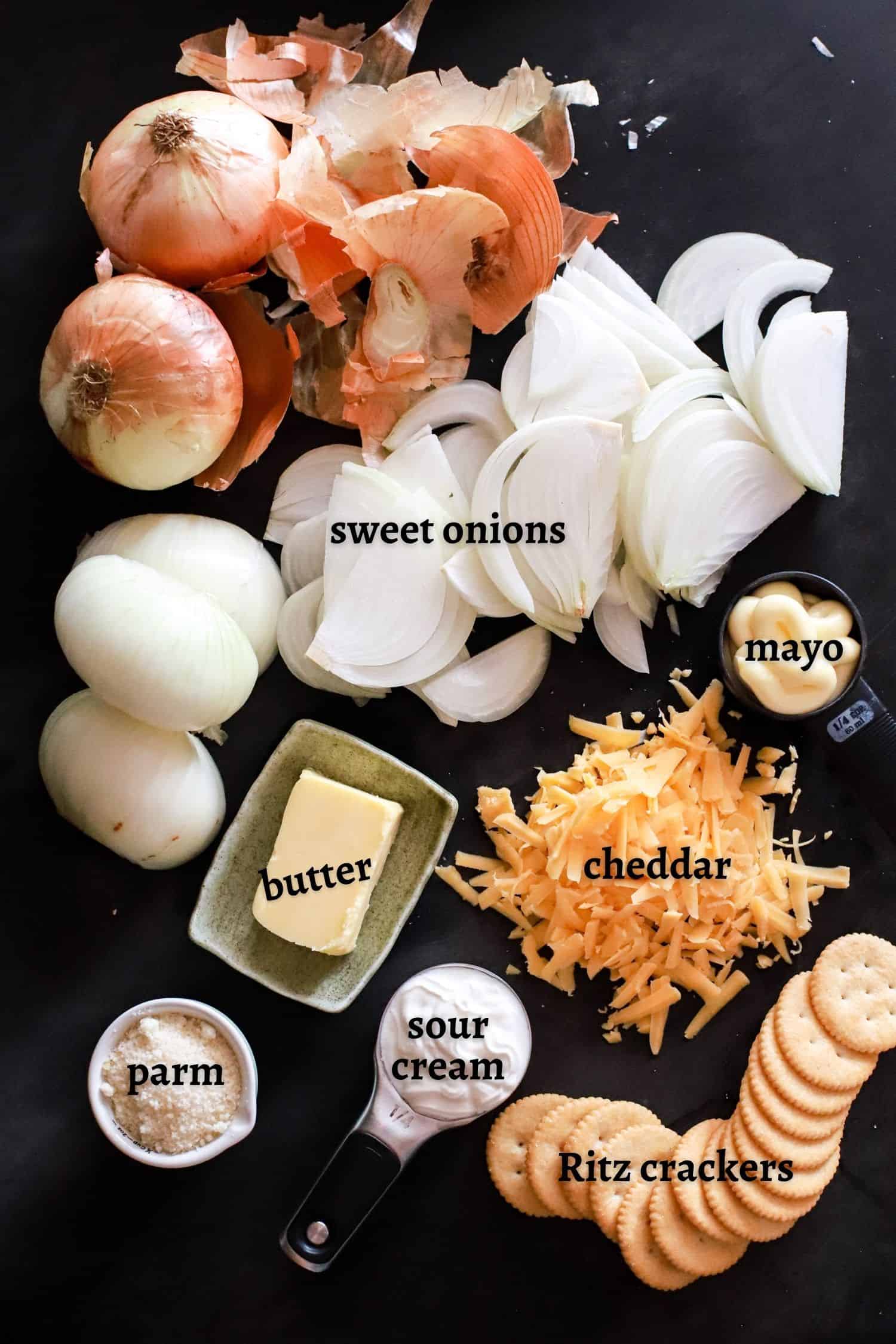 We need! Thinly sliced onions. Butter to cook them in. Cheddar cheese and grated parmesan cheese, mayo and sour cream for creaminess, crackers for topping. Salt and black pepper for flavor. Again, can't say enough how very simple this is.
Meal Prep Pro Tip: When slicing the onions for this recipe, slice a few extras and store them in the fridge for a few days, then use them in hibachi veggies for a quick easy rice bowl dinner!
Ingredient Notes
Casseroles always beg the question: can I make this casserole healthy? I mean...yes, but why not make grilled or roasted onions, instead? To me, casseroles have a certain mandatory creaminess that works using full-fat dairy ingredients, in the amounts the recipe calls for.
I wouldn't use low fat or fat free dairy. You could use all sour cream or all mayo, but it would change the flavor a little bit.
You can definitely substitute another melty cheese in place of the cheddar like Swiss or provolone - both are really yummy.
Serving: This casserole goes with so many main dishes: in particular I like this as a side dish to smoked turkey with a roasted sweet potato and snappy asparagus. A VERY good dinner, yes yes yes.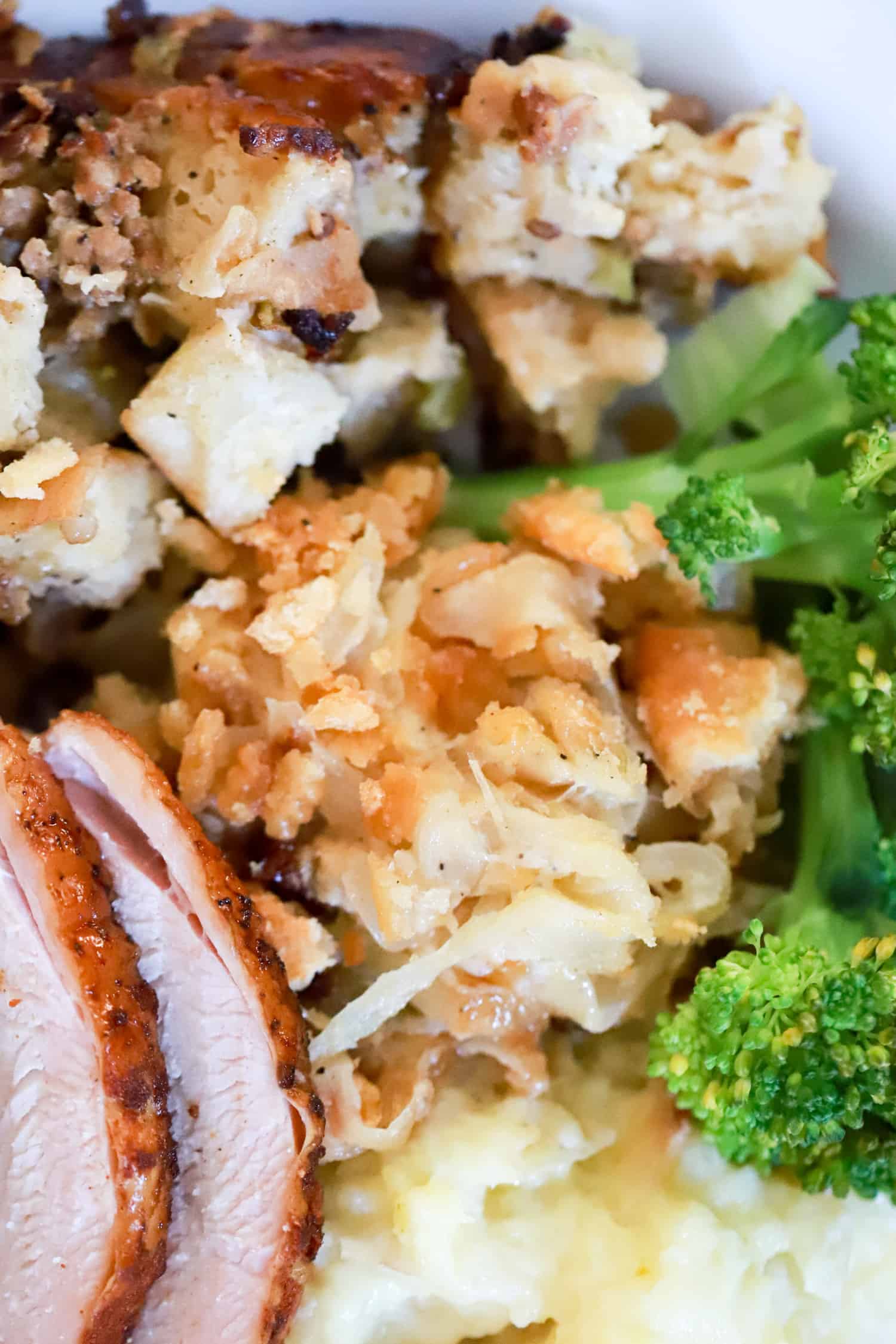 Onion Casserole Recipe FAQ
Which Onions Are Best for Casseroles?
I like sweet onions for this casserole - Vidalia or anything labeled sweet. However, regular yellow or white onions would work fine for this dish; the end result may just be a bit sharper. I've used both and as long as you cook the onions down properly, they'll sweeten up and be delicious.
Can I Make This In Advance?
YES AND YES. Highly encouraged, in fact. Make the casserole all the way to the last baking step, then cover and keep in the fridge for up to 4 days. When you're ready to eat, bake the casserole until it's hot and bubbly.
Can I Make This Gluten Free?
Sure can! Just use a GF topping like GF crackers or crushed potato chips.
What Can I do With Too Many Yellow Onions?
Um, hello, absolutely this onion casserole recipe! Of course, onions keep a long time so it's not usually important to use them right away, but onion casserole is a GREAT way to get rid of too many onions.
How to Make Onion Casserole: Step By Step Instructions
The Thing That Takes Time with this recipe is slicing and caramelizing the onions. We only cook the onions about halfway, but it still takes 45 minutes or so of low and slow, just a little bit of stirring, to soften the onions before we assemble the casserole.
For the onions, heap them in a skillet with the butter and some salt and pepper. Let the onions cook gently over low heat for 45-60 minutes until they're translucent and very soft.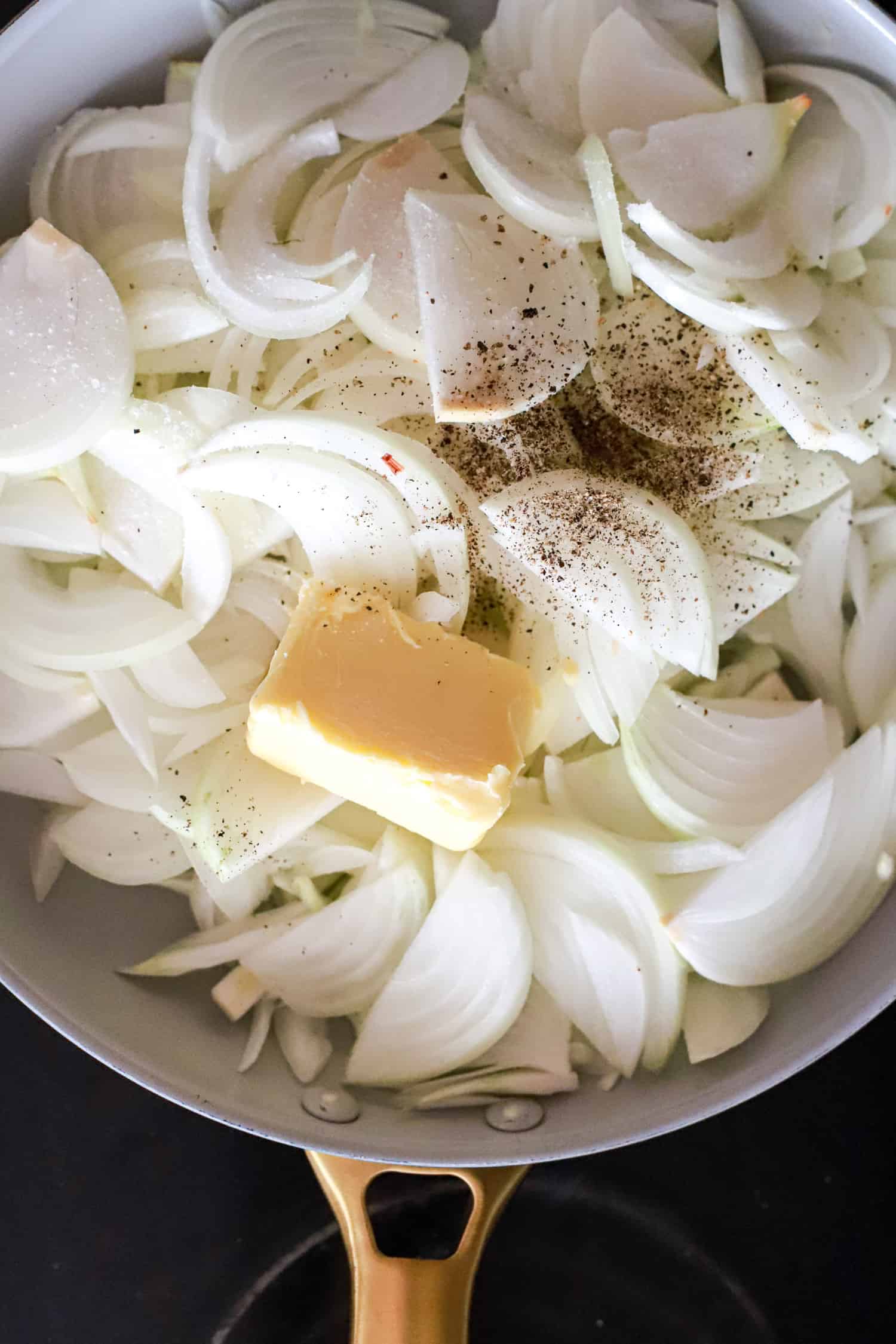 During this time, keep an eye on the heat. If the onions aren't cooking at all, increase the heat to medium. If they sizzle and start to brown, turn the heat way back. The onions will reduce and release their liquid but shouldn't be browning like in a stir fry.
When the onions are done, combine them with the rest of the casserole ingredients - everything but the crackers. I do this in the skillet, but you can transfer everything to a large mixing bowl if you prefer.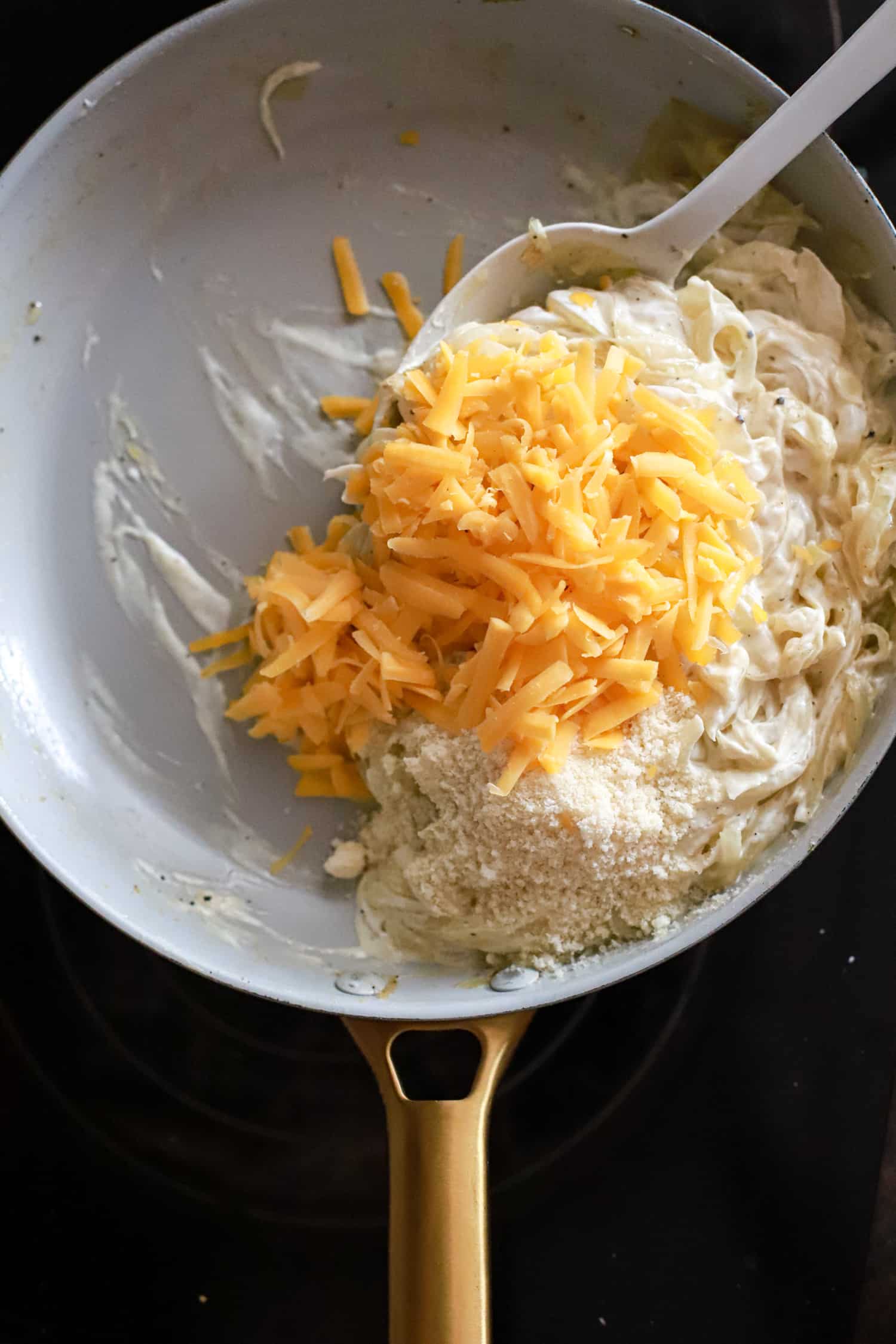 Taste the onion mixture here and add more salt and pepper if you'd like - everything should be mixed together smoothly and taste REALLY good.
Scrape the onion casserole mixture into a baking dish, and sprinkle the Ritz crackers all over the top. At this point, you can cover the casserole and keep in the in the fridge for a few days, or bake it right away for eating.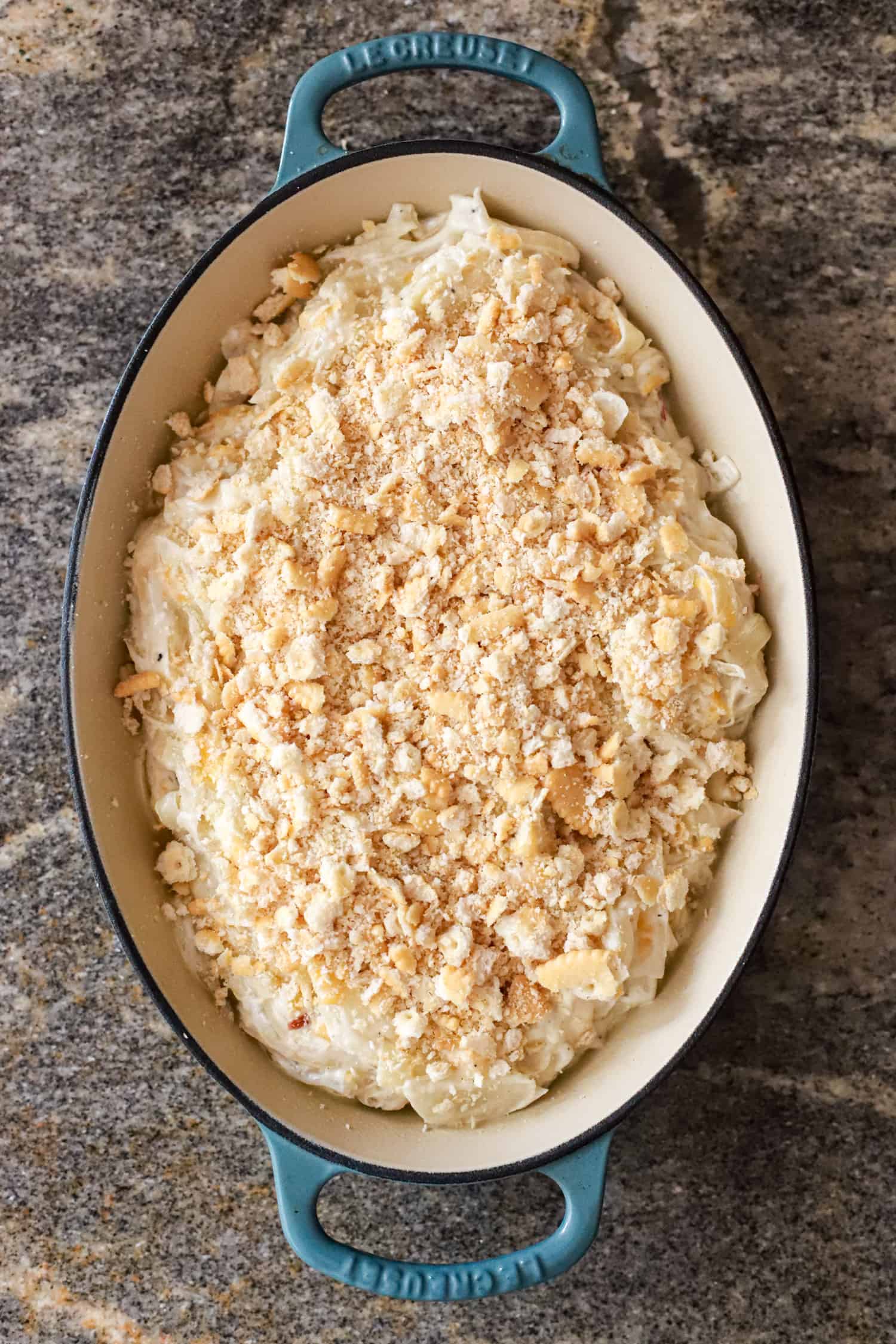 To cook, bake the casserole uncovered for 357F until hot and bubbly all the way through. If, during baking, the crackers start to get too brown, place a piece of foil over the casserole loosely to avoid burning the topping.
Casserole = done! I can't say it enough, the creamy center, mild onion flavor, and crunchy cracker topping is everything I love about a casserole, perfect for Thanksgiving, Easter, Sunday dinner, or any time a cozy, comforting side dish is called for.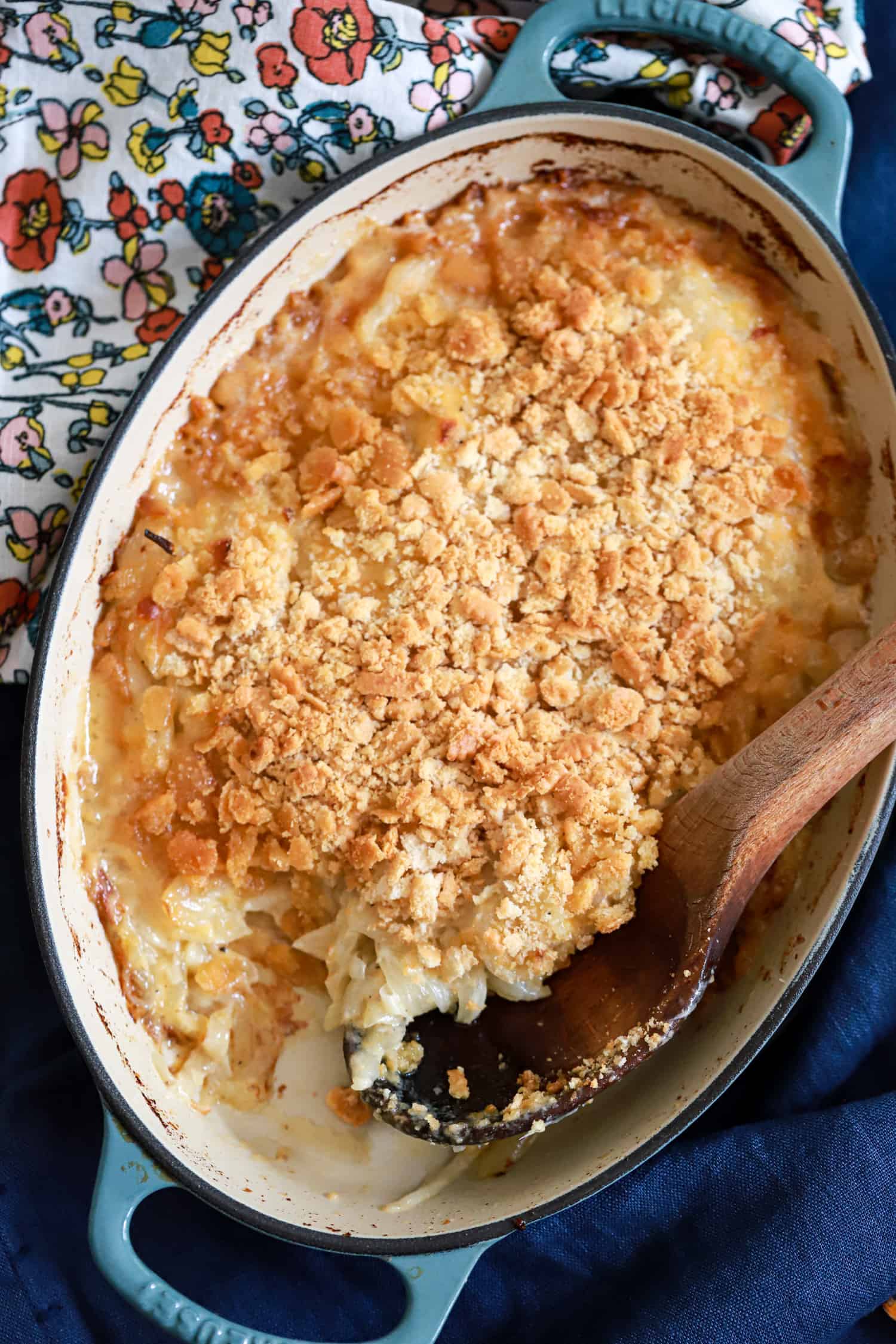 Try this onion casserole soon, and leave a comment if you do! I'd love to know what you think.
Enjoy!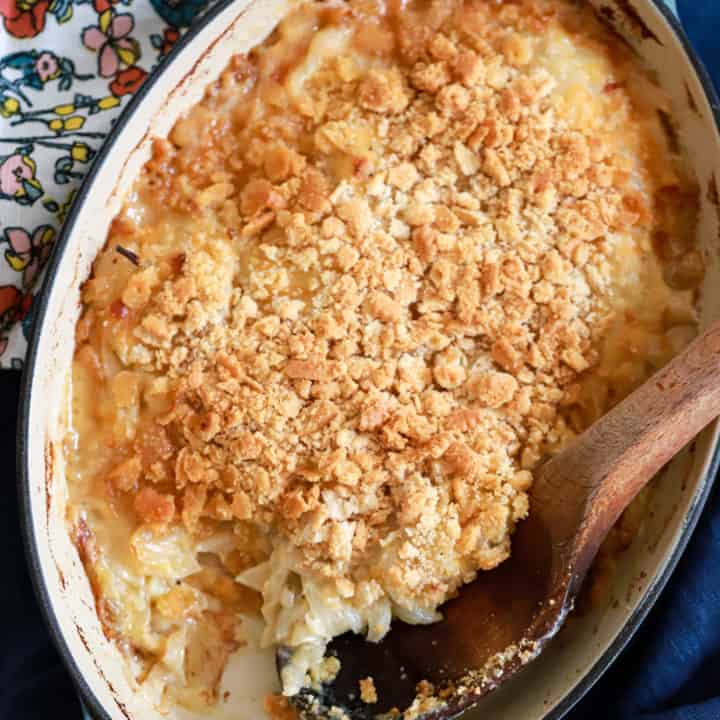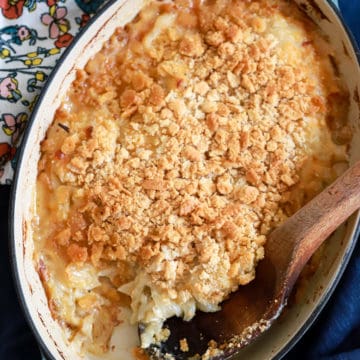 Vidalia Onion Casserole
Creamy caramelized onions, cheese, and crispy cracker topping aka HEAVEN in a casserole. Onions are the star here! If you've never deep-dived into Southern casserole life, now is your moment!
Ingredients
2

pounds

sweet onions

thinly sliced

½

stick butter

1

teaspoon

kosher salt

Black pepper

¼

cup

mayonnaise

¼

cup

sour cream

¼

cup

grated parmesan cheese

2

ounces

grated cheddar cheese

about 1 cup

15

Ritz crackers

or similar, crushed
Instructions
Preheat a large skillet to low heat. Add the butter, onions, salt, and several grinds of pepper.

Sauté the onions for 45-60 minutes, stirring every few minutes, until the onions are soft, translucent, and slightly golden. You may need to adjust the heat during this time depending on your stove; the onions should barely be sizzling and not browning, but should release liquid and cook down considerably.

When the onions are soft, transfer to a large bowl. Prepare a 3-4 qt baking dish with cooking spray.

Mix the onions with the mayo, sour cream, parmesan, and cheddar. Taste the mixture (YES YUM) and add more salt or pepper if you'd like.

Scrape the onion mixture into the prepared baking dish and top with the crushed crackers.

Bake at 375F for 30 minutes until bubbly and golden on top.
Notes
Cheese: Any kind of parmesan you like will work well for this casserole. I prefer cheddar grated from a block for more melty/creaminess. Full Fat Dairy: To avoid strange flavors/additives/sugars, I recommend regular, full fat sour cream, mayo, butter, and cheese. Any of them can be substituted with alternatives, but in general using original versions of ingredients like this will yield better flavor and texture. Baking Dish: Use any small-to-medium baking dish you like for this onion casserole! An 8x8 glass baking dish is the perfect size. Make Ahead: This dish can be made in advance and baked right before serving. Store it covered in the fridge for up to 4 days, then bake uncovered until hot and bubbly when you're ready to eat. If the casserole is coming straight out of the fridge it might take a few extra minutes in the oven to heat all the way through.
Other Vegetable Side Dishes