This apple crisp recipe without oats comes together quickly in less than an hour and is the perfect healthy fall dessert. It can be made in advance and reheated, and the addition of pecans, flaxseed, and hemp hearts to the strudel topping gives the best texture.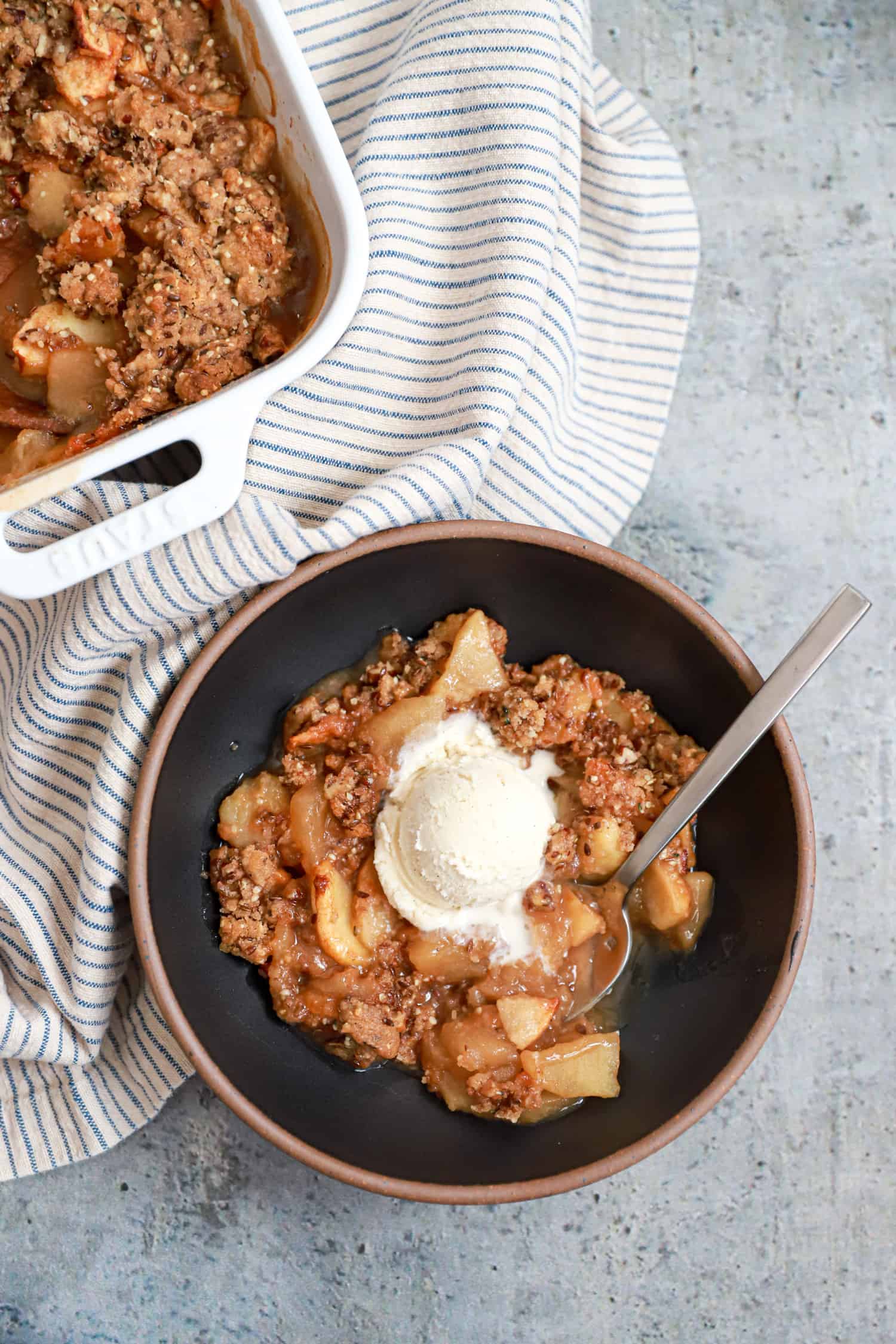 HELLO favorite fall dessert, I heart you.
This easy apple crisp recipe is one of my absolute favorite uses for apples, especially in the fall when orchard apples are everywhere and just.so.good. Gooey filling, crunchy topping, ice cream on top?
Sign. Me. Up.
Recipe Notes
A lot of apple crisp recipes have oats in the topping, but there's something about a tender strudel topping that is just SO yummy, almost like a sugar cookie on top of the most delicious apple mixture. I like both versions, but an apple crisp recipe without oats was really calling my name when I was developing this.
To add SOME texture and nutrition, I like to add what I think of as "healthy sprinkly things" that honestly can be skipped, swapped in and out, totally your preference. In this version of apple crisp I added hemp hearts and flax seeds to the topping mixture, and the result was "omg try this asap."
That said, if you don't have those two ingredients you can sub uncooked quinoa, chia seeds, or even coconut flakes for a wonderful flavor and texture. All versions are delicious.
The filling for this apple crisp is simple: apples, sugar, cinnamon, and cornstarch. The result is a gooey, almost jammy filling that could 100% be used as a very delicious apple pie filling recipe.
Ingredients and Ingredient Notes
First, gather ingredients!
Use any apples you like. I peel and slice them, but peeling isn't strictly necessary - I've made it both ways and with or without skin are delicious. Slicing them gives a really nice apple pie filling-like texture, but you could dice the apples as well!
With the apples we add cornstarch to thicken the mixture, lemon juice, cinnamon, and sugar.
The topping starts with melted butter - sub melted coconut oil or vegan butter to make this recipe vegan.
The topping comes together with flour, baking soda, sugar, and cinnamon.
I add crunch with chopped pecans, but chopped walnuts would work too.
Texture for the topping comes from hemp hearts and flax seeds. These are TOTALLY OPTIONAL but really yummy. You can also substitute them with any seedy thing you like - chia seeds, uncooked quinoa, and coconut flakes would also be a delicious addition to this apple crisp.
Sugars: I like brown sugar for the filling and white sugar for the topping, but honestly the sugars are interchangeable here - use all white sugar or all brown sugar if you prefer.
Step By Step Instructions
Once your apples are chopped and ingredients are measured, the apple crisp comes together quickly. First, preheat the oven to 350F while you assemble the crisp.
Start by adding the apples to a large bowl with the lemon juice, cornstarch, cinnamon, and sugar. Stir to combine the mixture evenly.
In a separate bowl, combine the ingredients for the strudel topping: Melted butter, flour, sugar, salt, baking powder, cinnamon, hemp hearts, flaxseeds, and pecans.
Mix all of THAT together - yum yum yum, SERIOUSLY. I imagine baking this into cookies like shortbread would work really well, if I try it I will report back.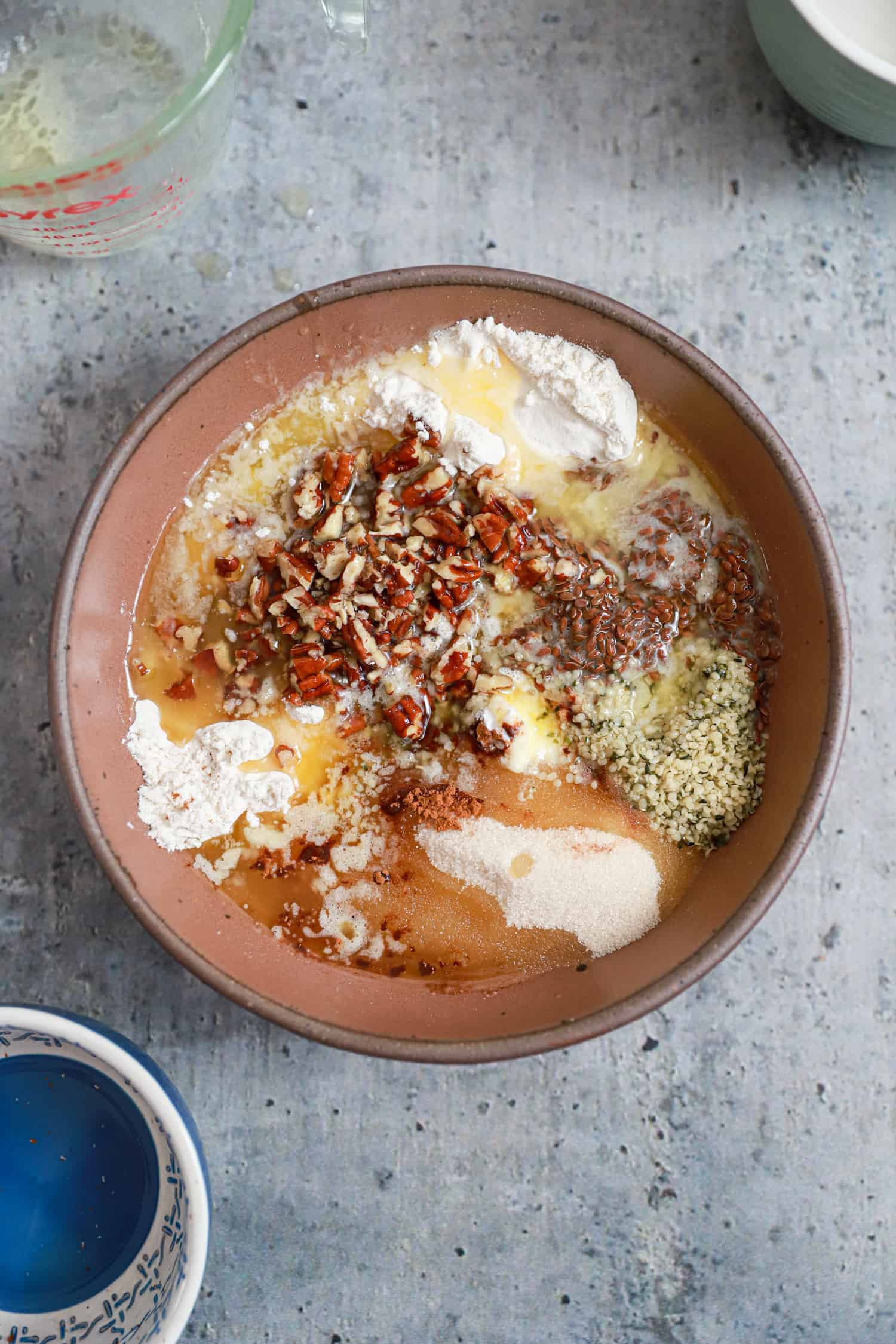 Now, spread the apple mixture in the bottom of a baking dish - 9x9 square or equivalent will work well.
Top the filling with the strudel topping. It will be sticky and clumpy, so use your hands to spread it out without mashing it too much - it absolutely doesn't have to be perfect and some bits of apple peeking through are fine.
NOTE that the baking dish you choose can feel a little small. If the apples are slightly heaped up it's fine, they cook way down in the oven.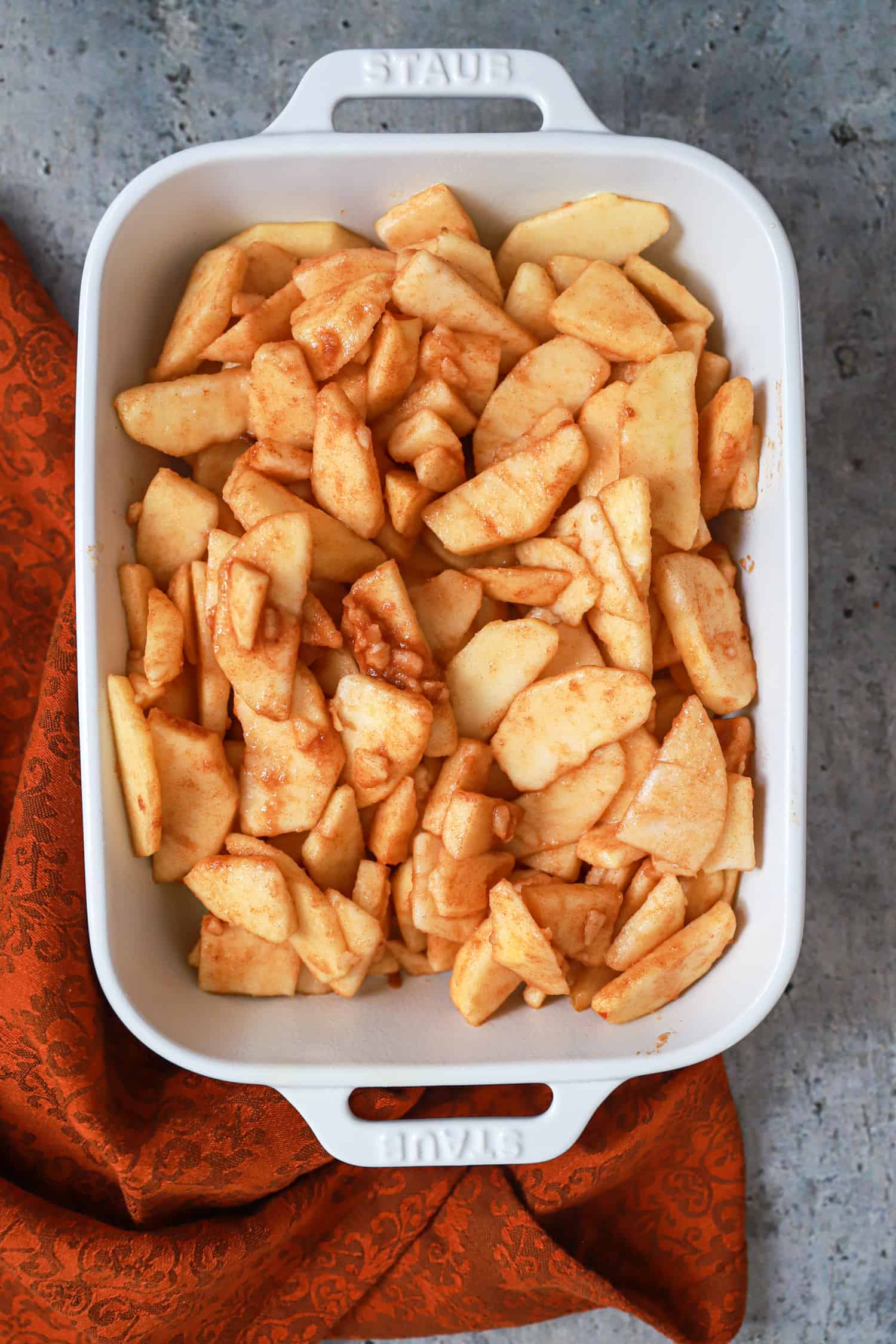 Make Ahead Moment: At this point, you can stick the apple crisp into the fridge for a few hours or covered for a few days until you're ready to bake it. It's also fine to leave out on the counter if you're going to bake it later in the day.
Bake the apple crisp at 350F for 45-55 minutes until the edges are bubbling and the top is lightly browned. (yes yes, house smells amazing during this time)
I MEAN. Seriously. The fall smells, the tender apple filling, crispy buttery topping. Just really all good things all around.
Serving Tips
This is yummy right out of the oven, but let the apple crisp rest for at least 5 minutes so the filling sets just a little bit. I also like this warm (an hour or so out of the oven) or at room temperature; baking it early in the day works perfectly well for a dinner party where it makes the most sense to do lots of things in advance.
I honestly love this plain, but warm apple crisp with whipped cream and vanilla ice cream are also really, really delicious. Warm apple pie-like filling, cool rivers of melty ice cream...HELL YES.
Make Ahead and Leftover Storage
The biggest PITA about this recipe is peeling and chopping the apples. If you'd like to do that in advance you can, just toss the sliced apples with the lemon juice before storing in the fridge so they don't turn too brown.
You can make the entire dish in advance and bake it, let it cool, and keep it in the fridge. Let it come to room temperature or reheat it at 350F for 15 minutes before serving to crisp the topping up.
You can also (take two) make the entire dish in advance and keep it in the fridge for up to 3 days WITHOUT baking it first, then bake it right before serving as the instructions below say.
I SERIOUSLY cannot express what a wonderful, easy, healthy fall dessert this is. It's yummy year around, but feels extra special in the fall with orchard apples, if you're lucky enough to get some. Try this soon, I hope you love it!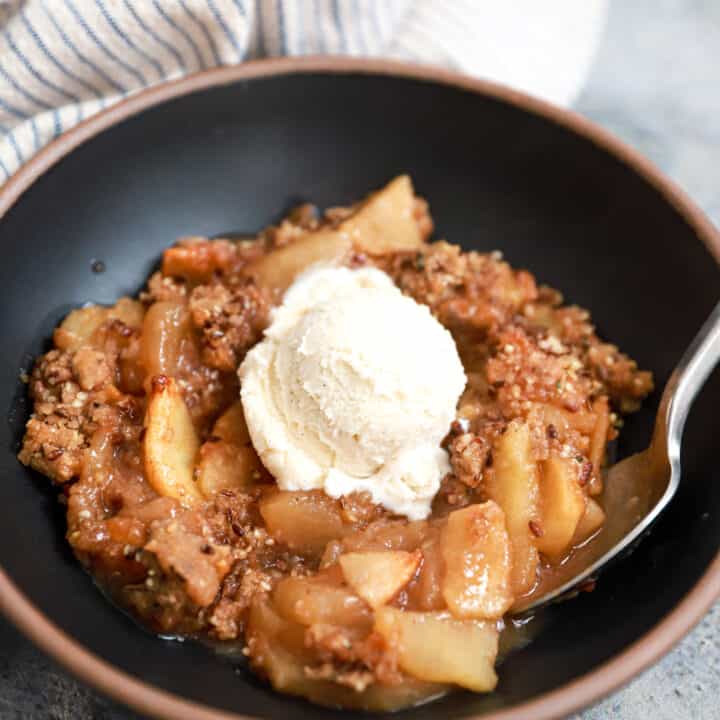 Easy Apple Crisp Without Oats
Hands down the best fall dessert: juicy apple filling, crumbly shortbread topping, crunchy pecans and melty vanilla ice cream rivers running around the whole mess. YES, apple crisp wins.
Ingredients
Filling
5-6

large apples

peeled and sliced

2

tablespoons

lemon juice

⅓

cup

brown sugar

1

tablespoon

cornstarch

1

teaspoon

ground cinnamon
Topping
½

butter

1 stick, melted

½

cup

flour

½

cup

sugar

¼

cup

chopped pecans

2

tablespoons

hemp hearts

2

tablespoons

flaxseeds

1

teaspoon

cinnamon

1

teaspoon

baking powder

½

teaspoon

salt
Instructions
Preheat the oven to 350F.

Combine the apples in a large bowl with the rest of the filling ingredients. Spread the filling into a medium-sized baking dish.

In a separate bowl, combine all of the topping ingredients. The mixture will be clumpy and slightly crumbly. Arrange the topping over the apples, using your fingers if needed to spread it out. Don't obsess over this; it will even out as you bake the apple crisp.

Bake the crisp for 45-55 minutes until bubbly and browned on top. Let rest for about 5 minutes before serving with ice cream or whipped cream (or plain!). YUM.
Notes
Cinnamon is so lovely and warming in this recipe, but swap it out with pumpkin pie spice for even more fall flavor!
Make this gluten free by swapping the flour in the topping for a cup-to-cup GF flour blend.
Make this vegan by swapping the butter for vegan butter or melted coconut oil.
Crunchy Texture Things: I love this with the hemp seeds (I find them at Trader Joe's) and flaxseeds. You can leave these out if you don't feel like using them, or you can swap the same amount of any little texture/flavor ingredient you like. Chia seeds, uncooked quinoa, and flaked coconut all work really well!
I love brown sugar in the filling and white sugar for the topping, but you can use all of one kind of sugar if you prefer with very little difference.
This recipe was originally published in November 2011 and has been updated with more clear instructions and better photos.
Apple Crisp FAQ
Can You Make Apple Crumble Without Oats
YES! This version has a shortbread-like topping with texture from pecans and other superfood seedy things.
How Do You Make Apple Crisp Without Brown Sugar?
Substitute the same amount of white sugar, the result will still be absolutely delicious.
How Do You Make An Apple Crisp Not Watery?
With any fruit dessert, something to thicken a cooked fruit is important for that jammy-but-not-soupy consistency. Tossing the fruit with flour or cornstarch before baking helps soak up some of the yummy fruit juices that are released during cooking.
Other Super Easy Foolproof Dessert Recipes