Hello, summer! The most delicious strawberry cream cheese pie with no Jello and no sweetened condensed milk! This version uses cornstarch to thicken the strawberry layer and has a base of sweetened cream cheese whipped with fresh cream for a decadent, creamy layer. Make this pie with your favorite pie crust; graham cracker or pastry pie crust both work deliciously!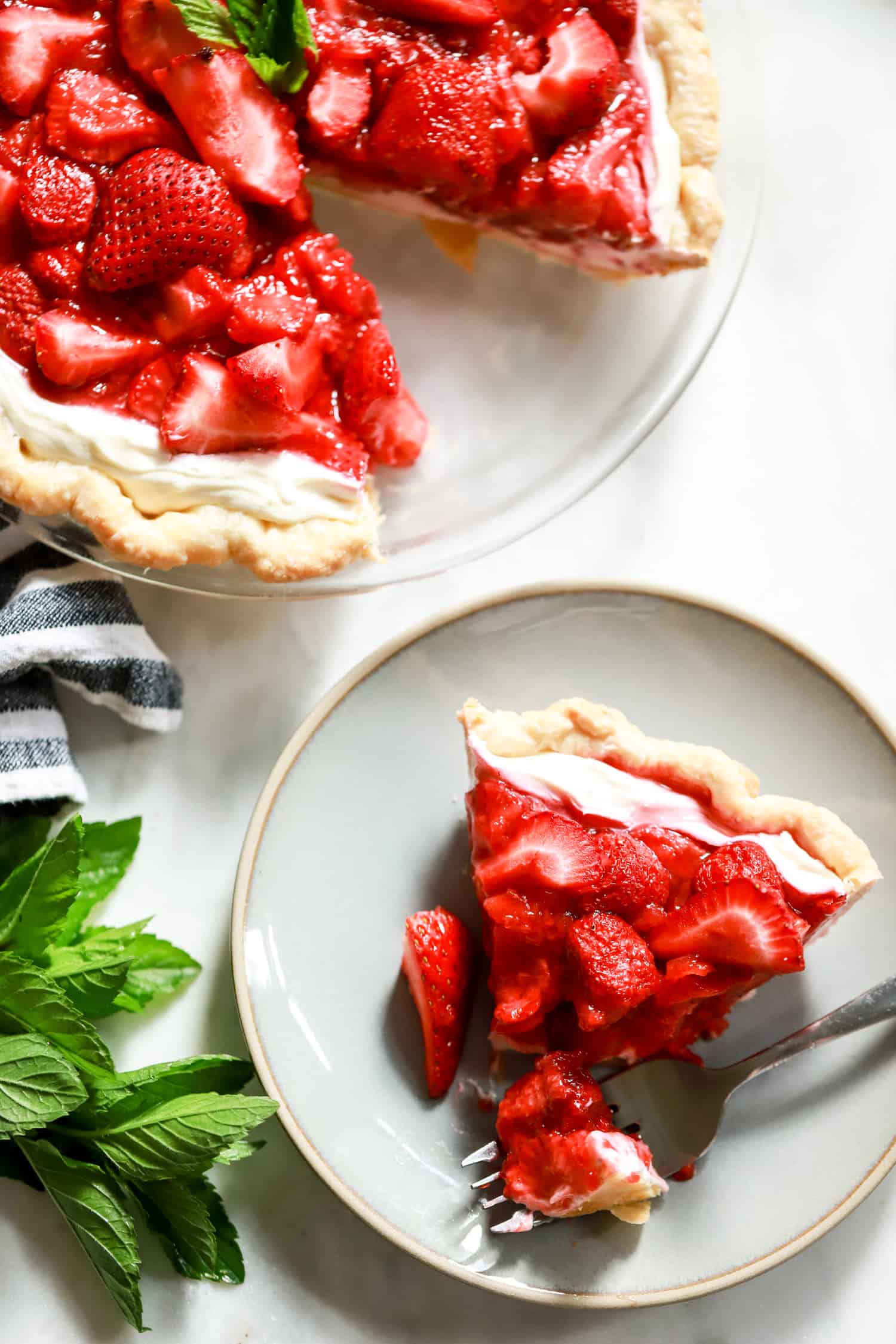 Ok strawberry season, I see you.
We have been going through literal gallons of local strawberries since the season started, and every year we go through the "they're just so much better in season, right?!" conversations that we have every year. I mean, of course local, in season stuff is better.
Strawberry pie is one of my favorite ways to use up bunches and bunches of strawberries, and there are tons of variations on strawberry pie. This is a strawberry cream cheese pie with a fluffy cream cheese layer, lightly sweetened berries, and flaky pie crust because I just like it better than graham cracker crust.
PS, if you have extra strawberries, turn them into a salad with my favorite strawberry cucumber salad!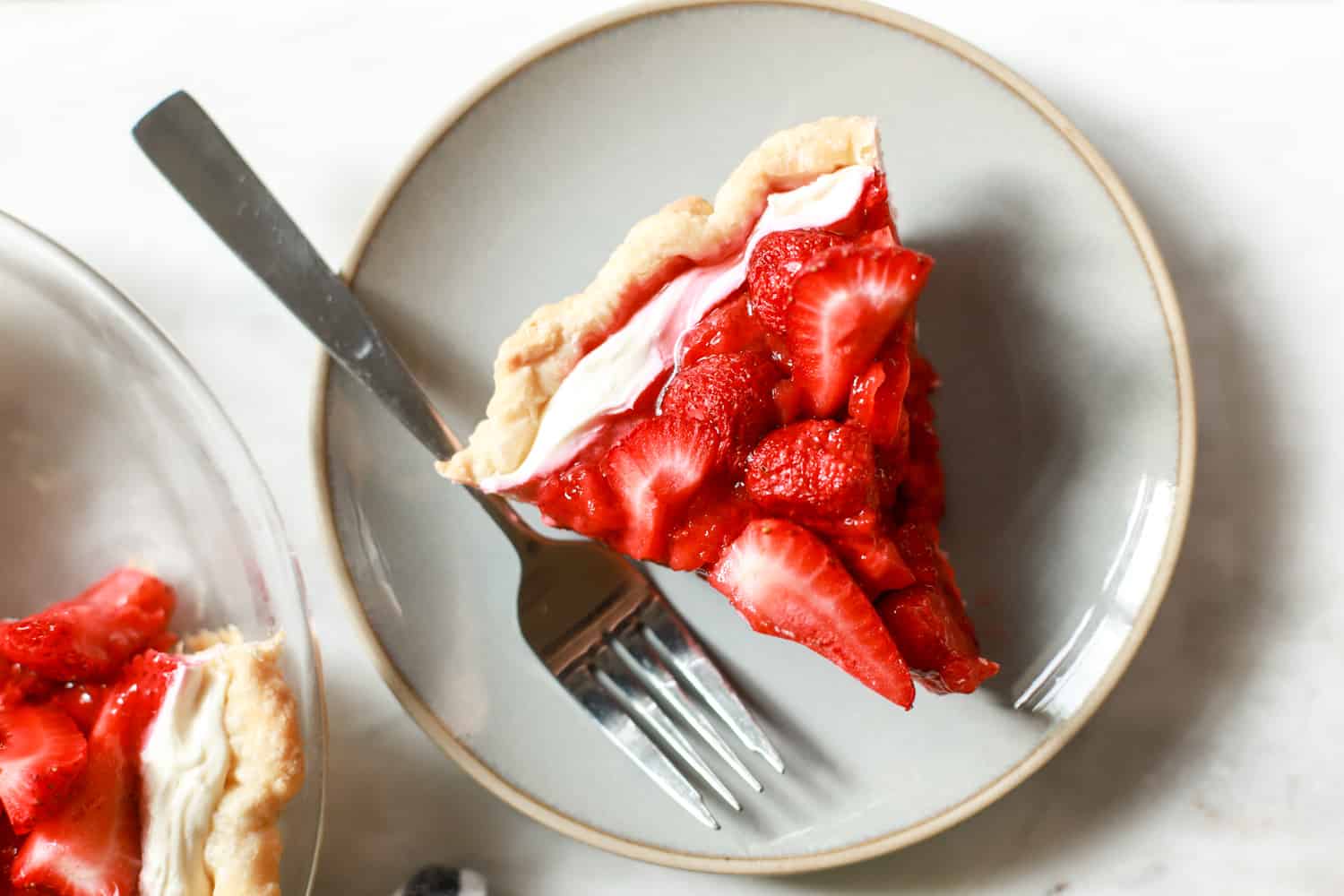 Ingredients
There are two things that are often found in strawberry cream cheese pie: sweetened condensed milk and Jello. This version has neither of those things, and I think the result is a pie that tastes much fresher (more strawberry flavor, less gelatin/sugar) and holds up a little bit better. Instead of sweetened condensed milk I used powdered sugar for structure and heavy cream for lightness and yummy flavor.
To hold the strawberries together, I use cornstarch and sugar just like in my easy strawberry pie. That's a great option if you aren't into dairy or want to use even more strawberries.
Lots of strawberry pies have graham cracker crusts, and that would work great here. I really love pastry pie crust, though, so I bought a storebought crust and baked it then cooled it - the pie filling doesn't get baked into the crust in this recipe.
Par Baking Pie Crust Without Weights
When baking an empty pie shell, be sure to fill it with something to help hold its shape. There's a kitchen gadget called pie weights for this, but I don't have them because there are a lot of kitchen gadgets in the world.
Instead, I use sugar because it's always in my house. To par bake (or blind bake, or pre bake) the pie crust, I line the empty crust with aluminum foil, then fill that with sugar. Then I bake the pie crust per the package directions (usually 400F for 20 minutes or so), then remove it from the oven.
I let everything cool together for a bit, then dump the sugar back into the container and bake with it later. Dry sugar doesn't change much, if any in the oven, so no need to throw it away and waste it.
How do you make strawberry pie filling from scratch?
In this pie, combine some water and cornstarch to make a slurry, then add to a skillet with fresh strawberries and sugar just until the mixture bubbles. Turn the heat off, and the filling will thicken as it cools in the pie crust.
How do you thicken strawberry pie filling?
There are all sorts of ways to thicken strawberry pie filling: using strawberry jam, Jello, or cornstarch and water. I like cornstarch and water the best for strawberry pie filling because it allows the flavor of the fresh strawberries to shine through the most.
How to Make Strawberry Cream Cheese Pie
Once the pie crust is baked and cooling, cut up the strawberries and measure the rest of the ingredients.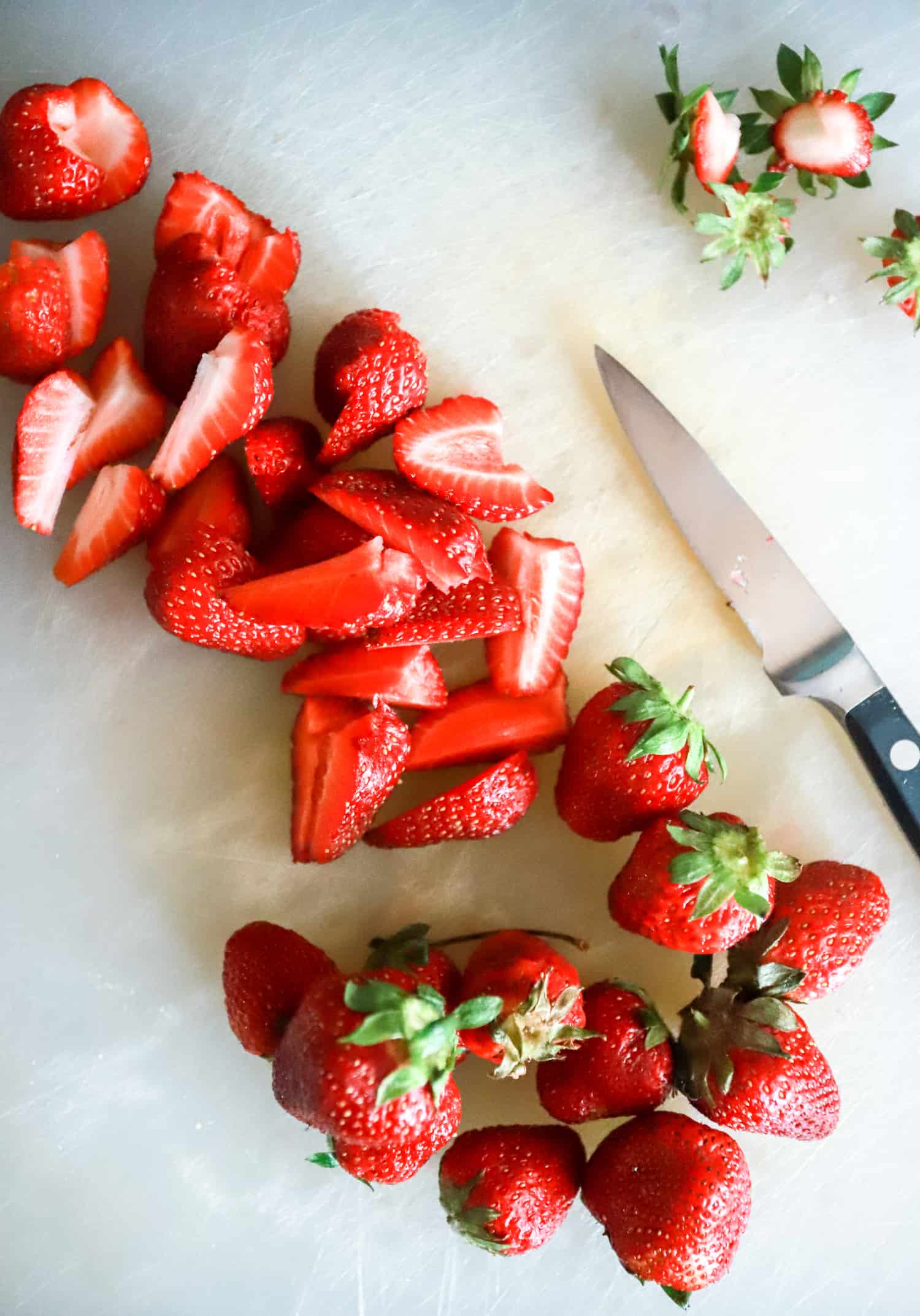 Then, make the cream cheese filling. Start by adding the heavy cream to the bottom of a bowl or the bowl of a stand mixer, then whip the cream until it's fluffy - 5 minutes or so.
Next, add the cream cheese and powdered sugar and beat together until the mixture is smooth and creamy and VERY YUMMY.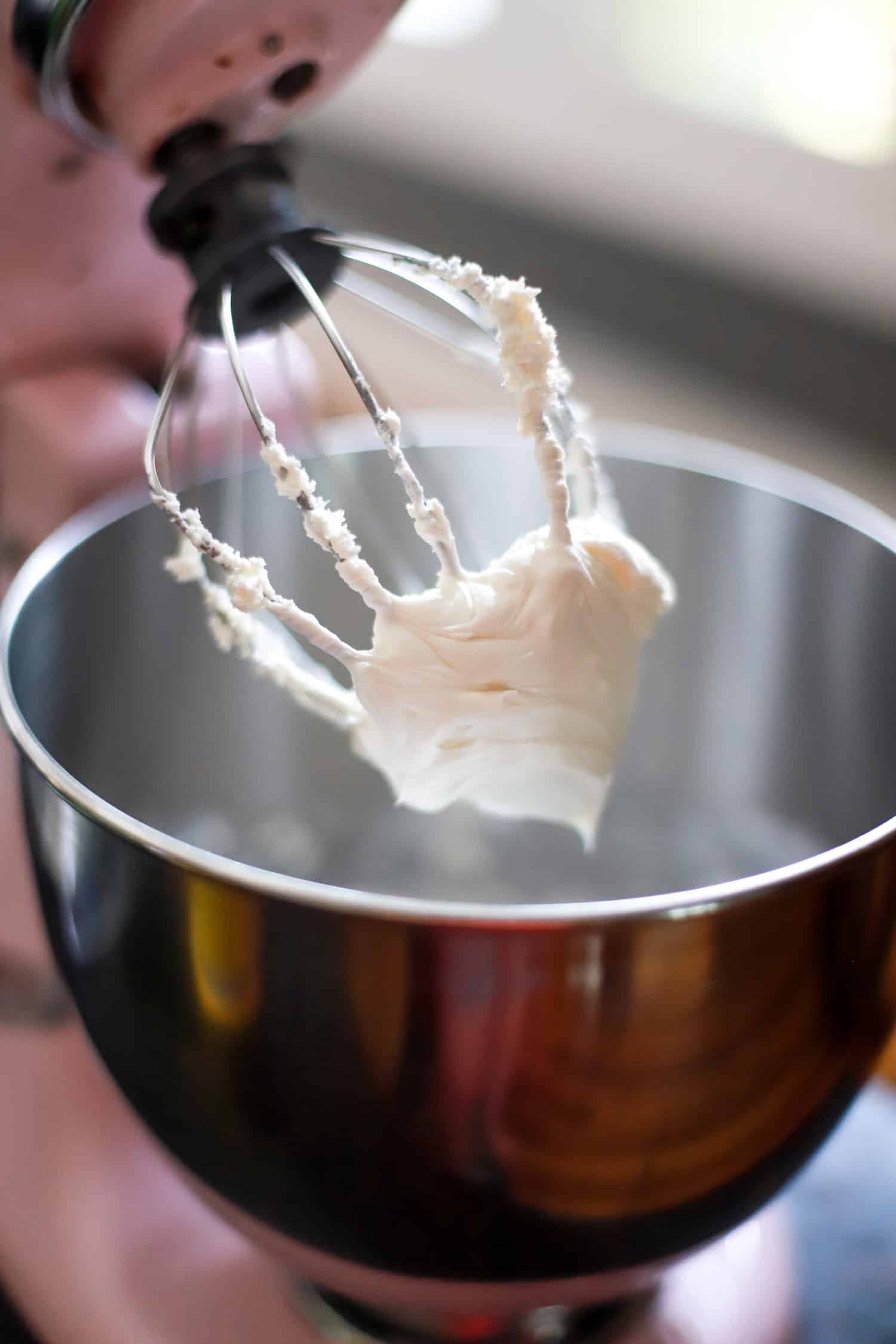 Now, strawberries! Strawberries, sugar, cornstarch, and water are all we need.
Preheat a medium skillet to medium heat, then add all of the filling ingredients. Stir together quickly - so the cornstarch incorporates with the strawberries, and turn the heat off as soon as the liquid bubbles. This activates the cornstarch and lets the mixture thicken then hold together once it cools.
Now, we have a cream cheese mixture and strawberry filling cooling, so let's build the pie:
Spread all of the cream cheese mixture all over the inside of the pie crust, including up the sides to make a little well for the strawberries. Pour the strawberry filling right into the center of the cream cheese mixture - this is mostly for looks so you can see the cream cheese layer, but it also prevents the crust from getting soggy if the pie sits in the fridge for a few days.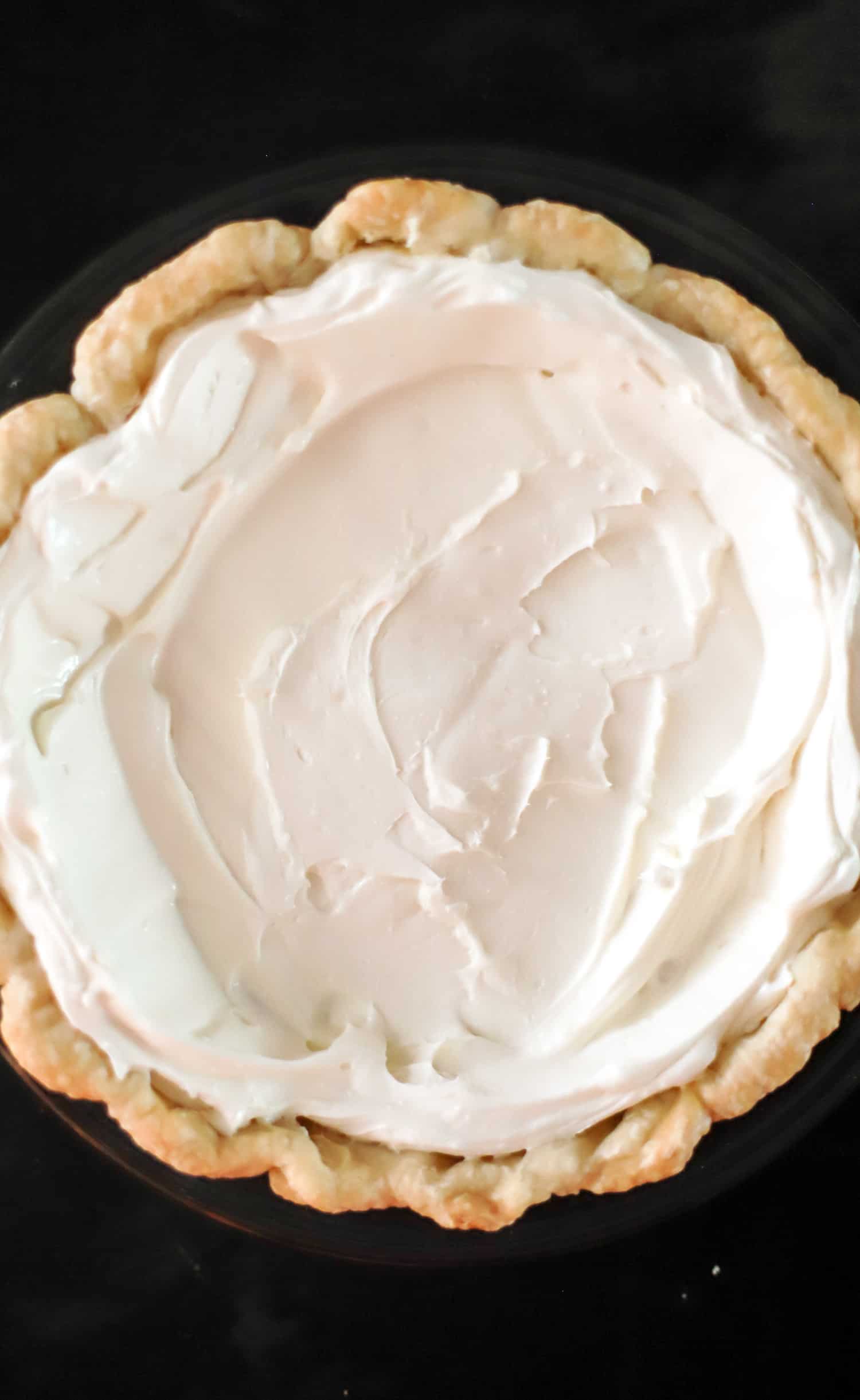 Let the pie chill for at least 2 hours, preferably longer, and loooooook at this beauty.
Magic happens in the fridge, for real. The strawberries hold together beautifully, the cream cheese layer props everything up, the flaky pastry crust is just a dream.
I know I know, lots of people are all CHOCOLATE OR IT'S NOT DESSERT, but this is a very excellent summer dessert recipe that I'm super into.
Try it soon, I hope you love it!
Print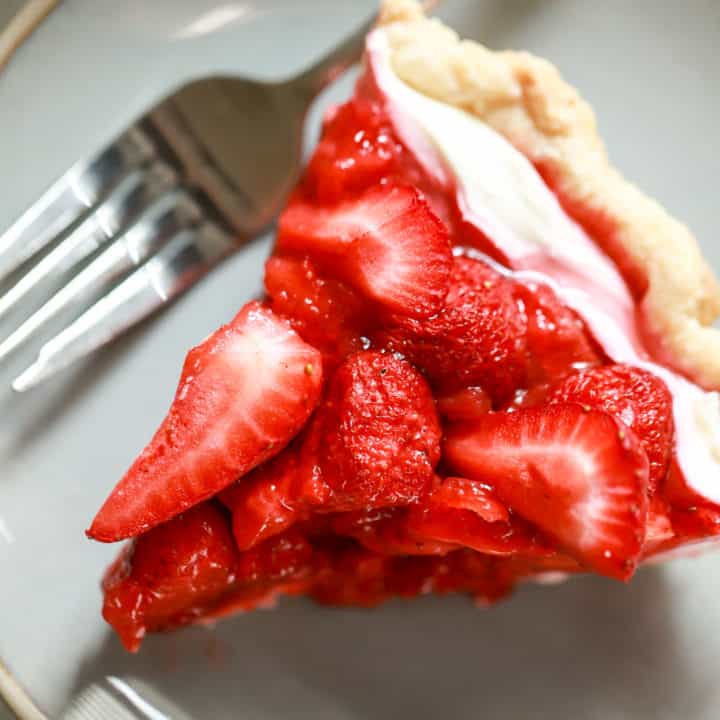 Strawberry Cream Cheese Pie
---
Total Time:

4 hours, mostly chilling

Yield:

1

pie

1

x

Diet:

Vegetarian
Description
Fresh summer strawberry pie filling scooped over whipped cream cheese sweetened with powdered sugar = a hug from the sunniest season. Make this all summer long!
---
1

pie crust, parbaked and cooled

¼ cup

heavy cream

8 ounces

whipped cream cheese

¼ cup

powdered sugar

1

pound strawberries, hulled and halved or quartered if large

⅓ cup

water

3 tablespoons

cornstarch

2 tablespoons

sugar
---
Instructions
Filling: In a mixing bowl or the bowl of a stand mixer, beat the heavy cream for about 5 minutes until fluffy and soft peaks form. Add the cream cheese and powdered sugar and continue to beat until smooth and combined.
Strawberries: Whisk together the water and cornstarch. Heat a medium skillet to medium heat. When the skillet is hot, add the berries, sugar, and cornstarch mixture. Stir until the mixture bubbles and thickens, then turn the heat OFF. Let the berries cool slightly.
Scoop the cream cheese filling into the prepared pie crust. Use a spoon or spatula to scrape some of the filling up the sides of the crust, essentially lining the crust with the cream cheese mixture.
Fill the crust/cream cheese mixture with the still-warm strawberries, mounding them up in the center of the pie.
Chill the strawberry cream cheese pie for at least 2 hours, preferably 4 hours or more. The pie will be fine uncovered in the fridge for one night; after that tent it loosely with foil or plastic wrap.
To serve, slice the pie straight from the fridge and enjoy cold or at room temp. Enjoy!
Notes
Crust: I use a storebought pie crust for this, but often strawberry pies are served with graham cracker crust. To parbake, line the empty pie crust with foil and fill with sugar, dry beans, or pie weights. Bake according to package directions until cooked through, then let cool completely. If you use the sugar method, the sugar can be reused in baking, just let it cool before you put it back in a container.
Make In Advance: This pie keeps really well lightly covered in the fridge for at least a few days. The strawberries may release a little bit of liquid, but the crust and cream cheese layer form a nice barrier to keep things sturdy.
Frozen Strawberries: I only tested this recipe with fresh strawberries, but I think frozen strawberries would work really well, just eliminate the water from the cornstarch mixture. Instead, toss the frozen berries with the sugar and cornstarch and cook in a skillet just until some of the liquid releases and thickens.
Prep Time:

20 minutes

Cook Time:

15 minutes

Category:

dessert

Cuisine:

American
Keywords: Cream cheese strawberry pie, strawberry pie with cream cheese, Strawberry cream cheese pie
More Easy Dessert Recipes