Favorite baked rice that is one of the easiest casseroles to make! All the ingredients to into a baking dish (my favorite Staub, always!) and bake to a perfectly light, fluffy, mushroom rice casserole with onions that caramelize themselves in the broth and seasonings. YUM.
Hey, gluten free Thanksgiving side dish! With it being so early this year, I'm pushing hard to be sure we get all the recipes in this week and next for planning purposes, and then we have recipes to use up all the leftovers, YUM.
First, though, thank you for all the sweet words about Will! At 3 days postpartum I am totally healed and acclimated to having two children, and everyone is sleeping wonderfully, and the time change was obviously no issue for anyone.
HAHAHAHAHA no what I meant to say was we need a lot of carbs to get through this. So let's start here! This was actually Jay's idea based on something he ate growing up, one of those cup of broth/stick of butter types of recipes that involves a few cans of consome and maybe a packet of French onion soup mix or similar.
Now, to be very clear, I LOVE recipes like that. They're nostalgic, easy, delicious, all of the things. I also like re-imagining them with, say, less packaged sodium and a few more veggies, but with similar comfort factors. In this version we definitely have some butter and beef flavor but we also have tons of extra flavor from mushrooms - I went for the blends that aren't a million dollars but ARE a step up from regular white mushrooms.
The onions and mushrooms get roasted on top of the rice, everything bakes together in the oven (so no simmering!), and this works PERFECTLY made in advance for Thanksgiving or another holiday party.
Let's not waste time.
Baked Rice Ingredients
You need! Rice, butter, rosemary, oregano, beef broth, an onion, and whatever mushrooms you like. Definitely some salt, and probably more than you think since rice absorbs a lot of salt as it cooks. We want flavor!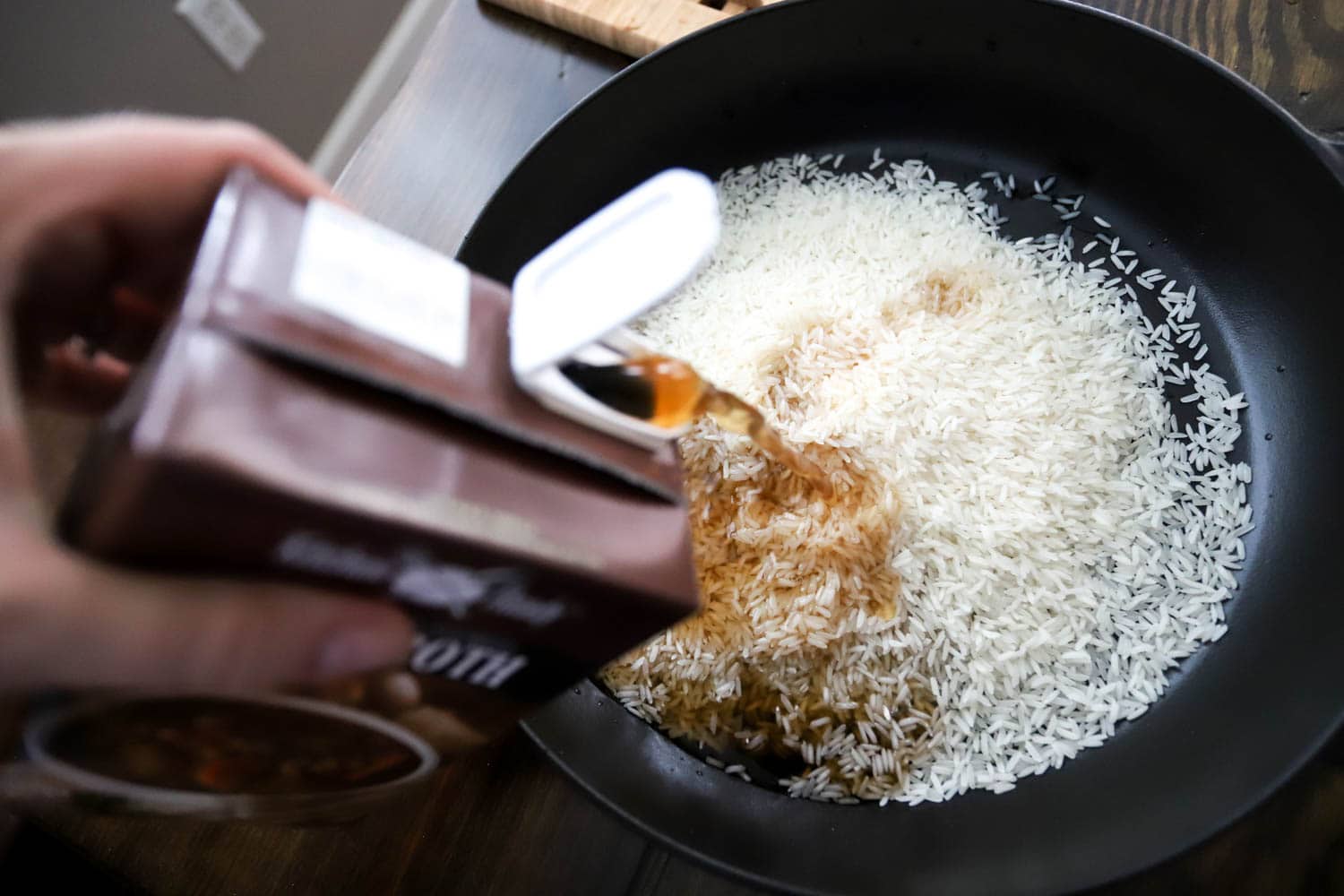 Start by adding the rice, broth, and oregano and rosemary to a big baking dish or skillet with a lid - something that can go in the oven. Preheat the oven to 375F.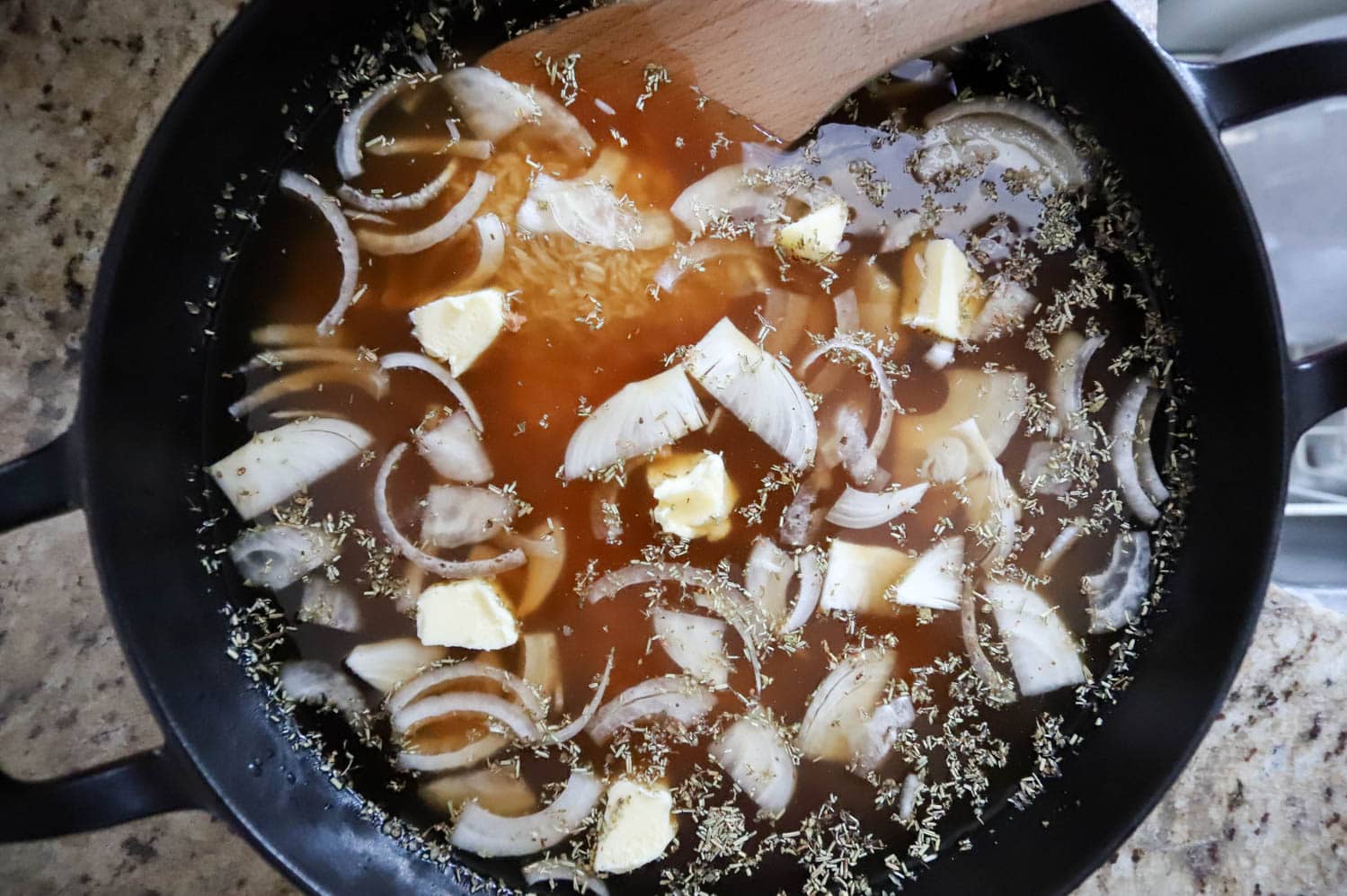 Slice the entire onion thinly, then stir half of the onion slices into the raw rice mixture. Cube half of the butter and toss THAT into the skillet.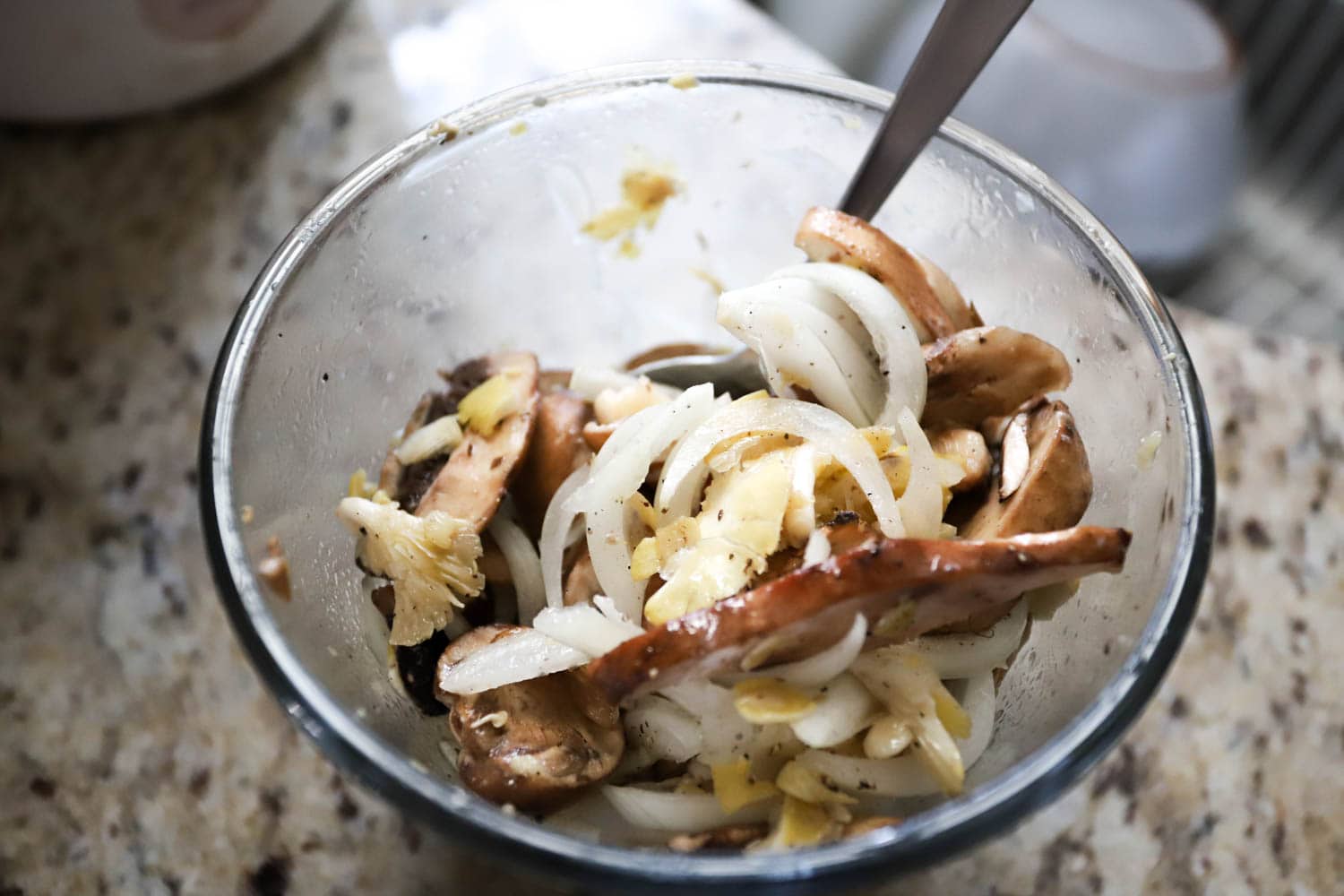 Now, cover the rice (my skillet, this Staub has a lid, but tin foil works fine here!) and bake it for 30 minutes at 375F while you prepare the mushrooms. Melt the rest of the butter in a little bowl, then stir in the mushrooms and the rest of the onion slices with good sprinkles of salt and pepper.
After 30 minutes, take the rice out of the oven, uncover it and stir it, then smooth it out into one layer. Scatter the mushroom mixture over the top with any butter drizzled in from the bowl. The rice will be soupy and uncovered at this point, but you can DEFINITELY taste it and add some pinches of salt if it seems bland. Do that!
Put the rice back in the oven UNCOVERED, and bake it for 30 minutes more. The rice will finish cooking, the mushrooms and onions will roast and get golden brown, and here's our carby we-deserve-this side dish of the year.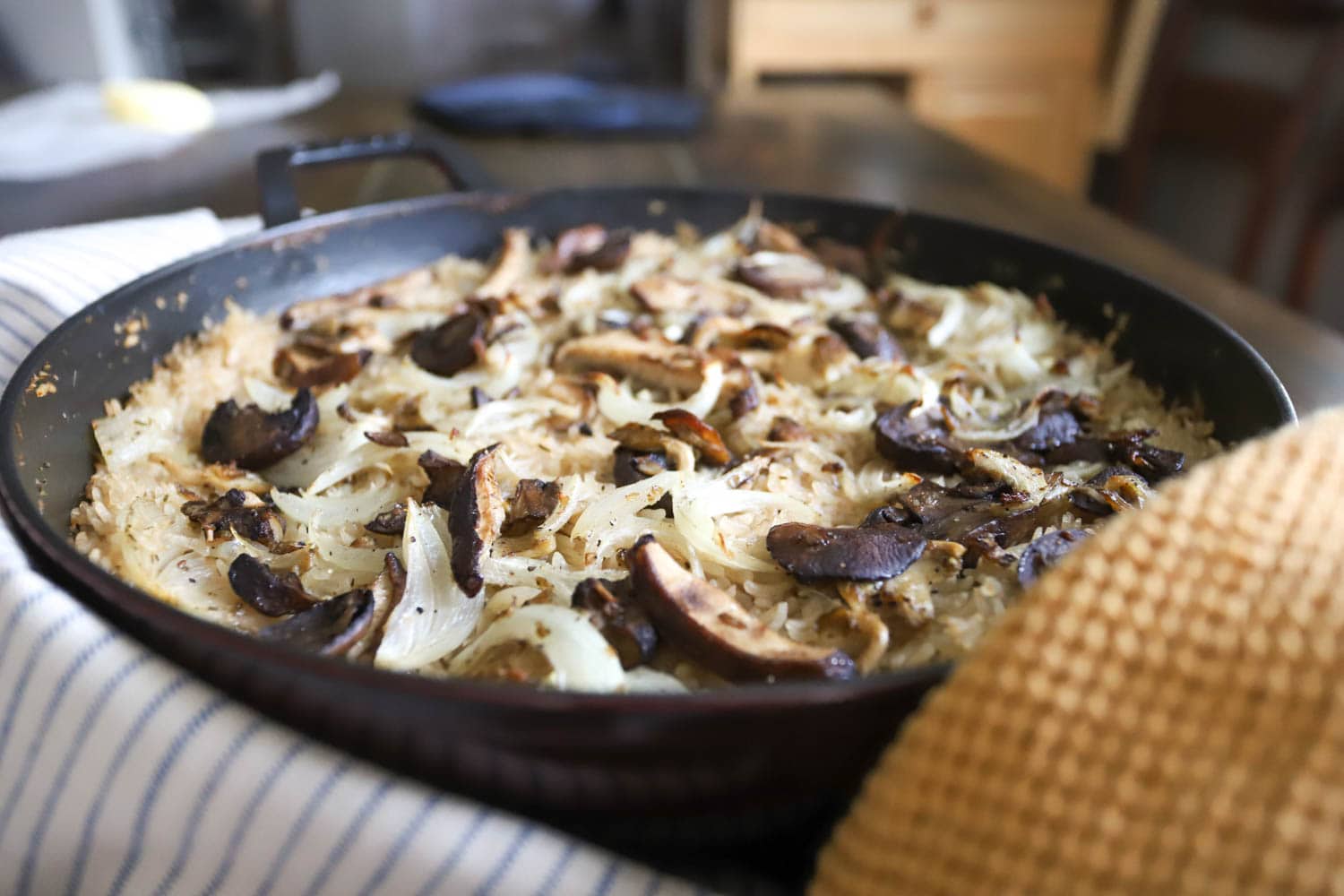 FLAVOR, people. I adore the flavors here. The beefy and buttery rice and spices give a distinctly holiday feel to the dish, and the mushrooms and onions on top are so savory and earthy. You can a thousand percent make this in advance and heat it up right before you eat, even in the microwave if you need to for the sake of space. The leftovers are great hot or cold, and with gravy drizzled over the whole thing....stahhp.
I give thanks for this, one of the best ever gluten free side dishes. Enjoy it!
Print
Baked Rice With Mushrooms
---
Prep Time:

15 minutes

Cook Time:

1 hour

Total Time:

1 hour 15 minutes

Yield:

Serves

8

or more

1

x
Description
Perfect for Thanksgiving or other large meals, this can be made ahead, bakes entirely in the oven (so no simmering!), and yields a buttery, flavorful rice dish that everyone will love.
---
2 cups

uncooked jasmine rice

5 cups

beef stock (or a combination of stock and water)

1

large onion, thinly sliced

1

stick butter

½ teaspoon

salt

½ teaspoon

dried oregano

½ teaspoon

dried rosemary

4 ounces

mixed sliced mushrooms
---
Instructions
Preheat the oven to 375F.
In a large ovenproof baking dish (anything with a lid, like my favorite Staub!), combine the rice, stock, half of the onion slices and spices. Cut half of the butter into cubes and scatter over the rice.
Cover the baking dish (with a lid or foil if you don't have a lid) and bake the rice for 30 minutes.
Meanwhile, melt the remaining butter in a small dish. Add the mushrooms and onions to the dish with a sprinkle of salt and stir to combine.
After 30 minutes, remove the rice from the oven. Uncover it, stir, and taste: the rice won't be fully cooked at this point but add a few sprinkles of salt if you think it needs it.
Spread the mushroom mixture on top of the partially cooked rice.
Return to the oven uncovered and bake for 30 minutes more until the liquid is absorbed and the mushrooms are roasted. Sprinkle once more with salt if desired and serve.
Notes
This can be made vegetarian by subbing veggie stock for the beef broth.
Keywords: baked mushroom rice, baked rice, mushroom rice recipe, mushroom rice casserole, mushroom rice
More Favorite Side Dishes