The easiest way to make seared steak in a cast iron skillet! Exactly how to make NY Strip Steak on the stove with easy, buttery shallot sauce made right in the steak pan drippings makes the most fun date night at home. This entire recipe has just 5 ingredients and takes less than 30 minutes. I particularly love the shallot sauce served over rosemary steamed potatoes or mushroom rice.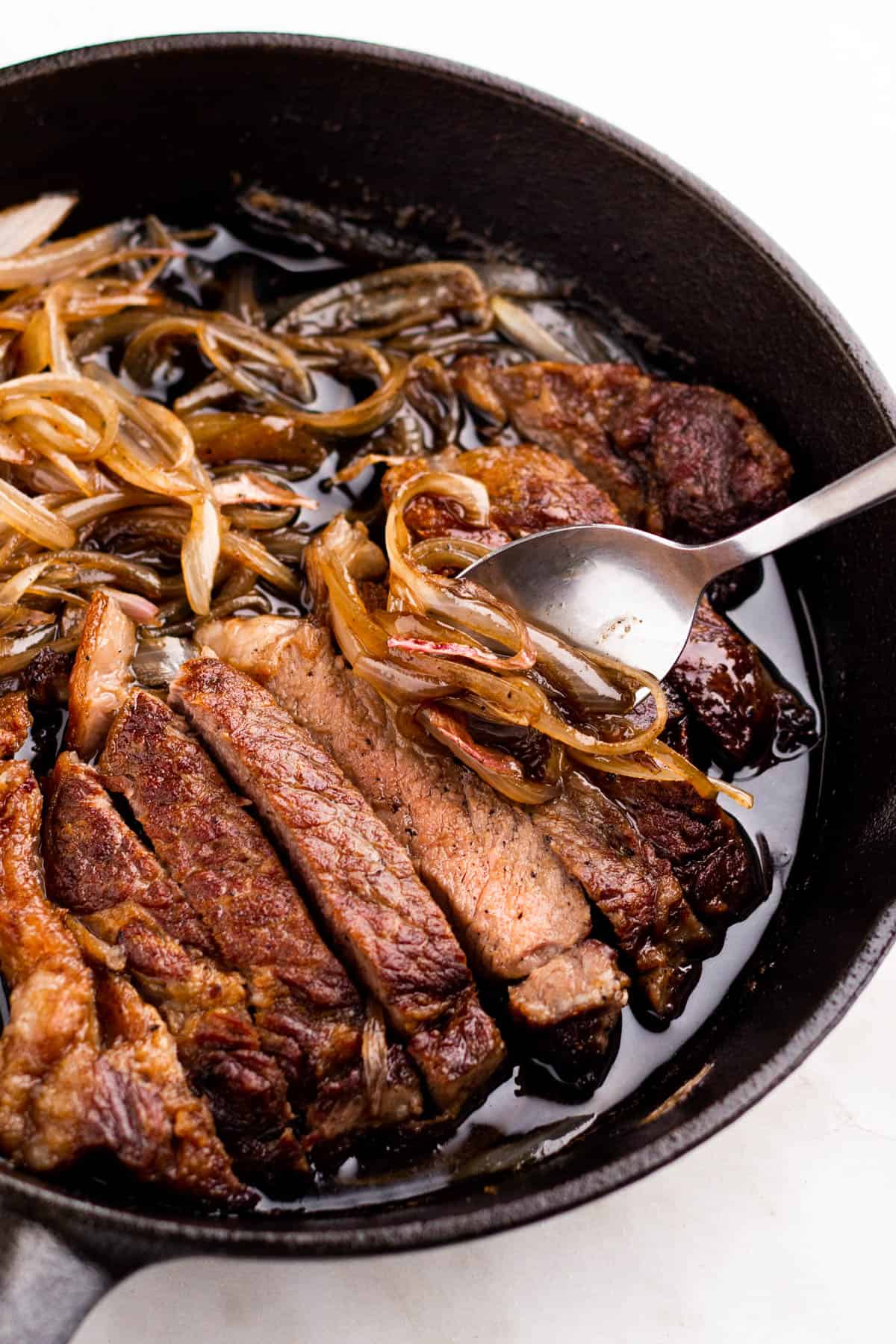 Hi! How is your week going? I think the older we get the more we say it, but what a week. We're struggling to stay afloat in a very busy season, and with a lot of in and out, dinners together to reconnect are definitely part of that plan.
I love a Nice But Very Easy mid-week meal when we're super busy, and this is by far our favorite way to eat New York strip steak (or honestly any steak). We eat it with some kind of roasted veggie that can cook while the steak works, and dinner is DONE in 30 minutes, maybe less.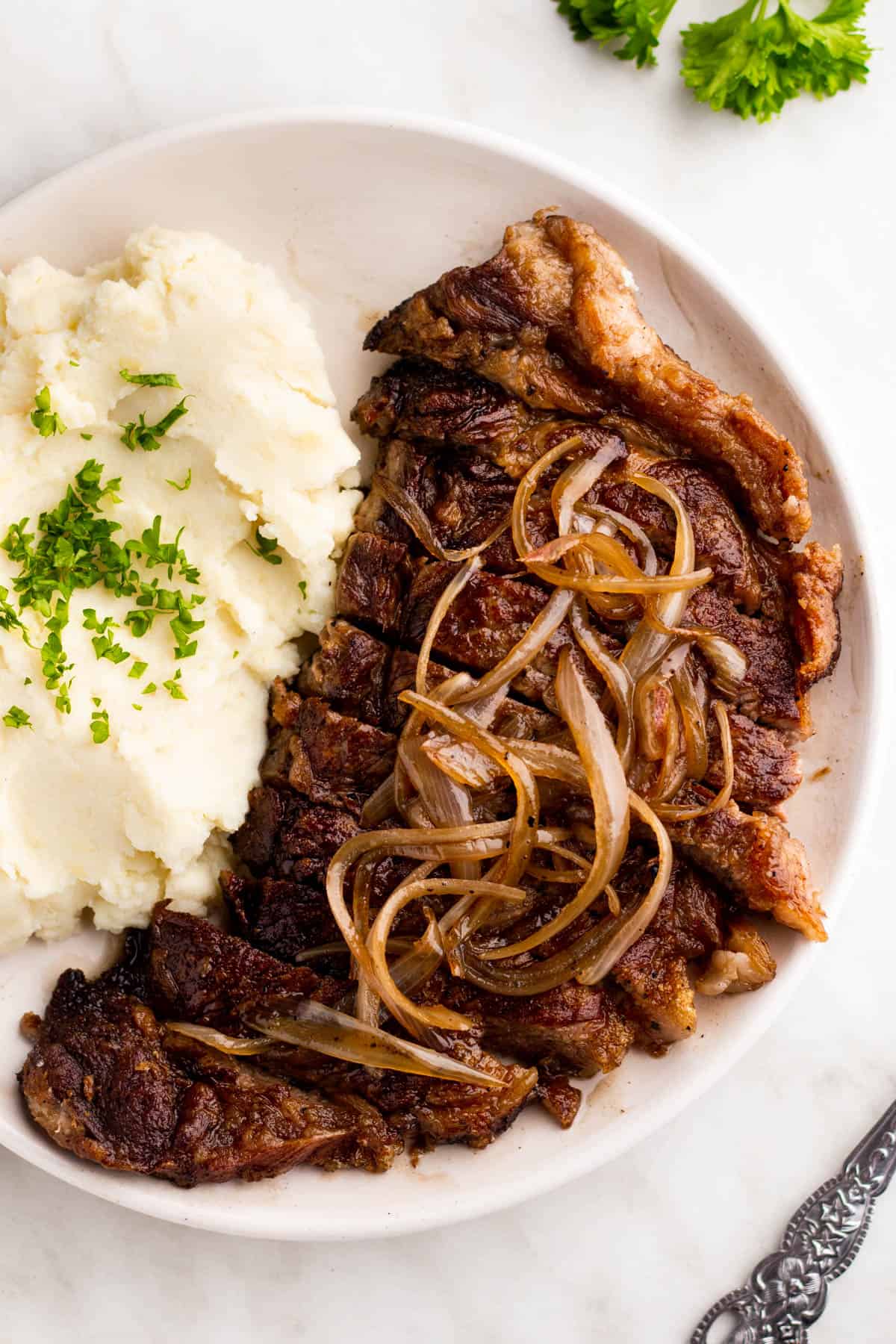 Recipe Notes: How to Cook NY Strip Steak on the Stove
A few notes on the process: I use a cast iron skillet every single time. No grill, nothing nonstick, and the crust meat gets in cast iron is just SO good. I use butter + oil for flavor and high heat, and kosher salt not pepper. I think pepper can get too spicy/sharp with super hot cooking, but by all means pepper your steak if you're into that.
The sauce here is a very simple shallot sauce cooked in the beef drippings while the steak rests, nothing fancy, and holy flavor it's so good. I've done this with regular onion too and the results are equally delicious.
The best part about the shallot sauce is the timing: You have to let the steak rest anyway while the pan is still super hot, so we just take advantage of the "wait for the steak to rest" time with a quick pan sauce using the drippings from the steak. It takes NO extra time and adds so much flavor.
Let's steak!
Ingredients and Ingredient Variations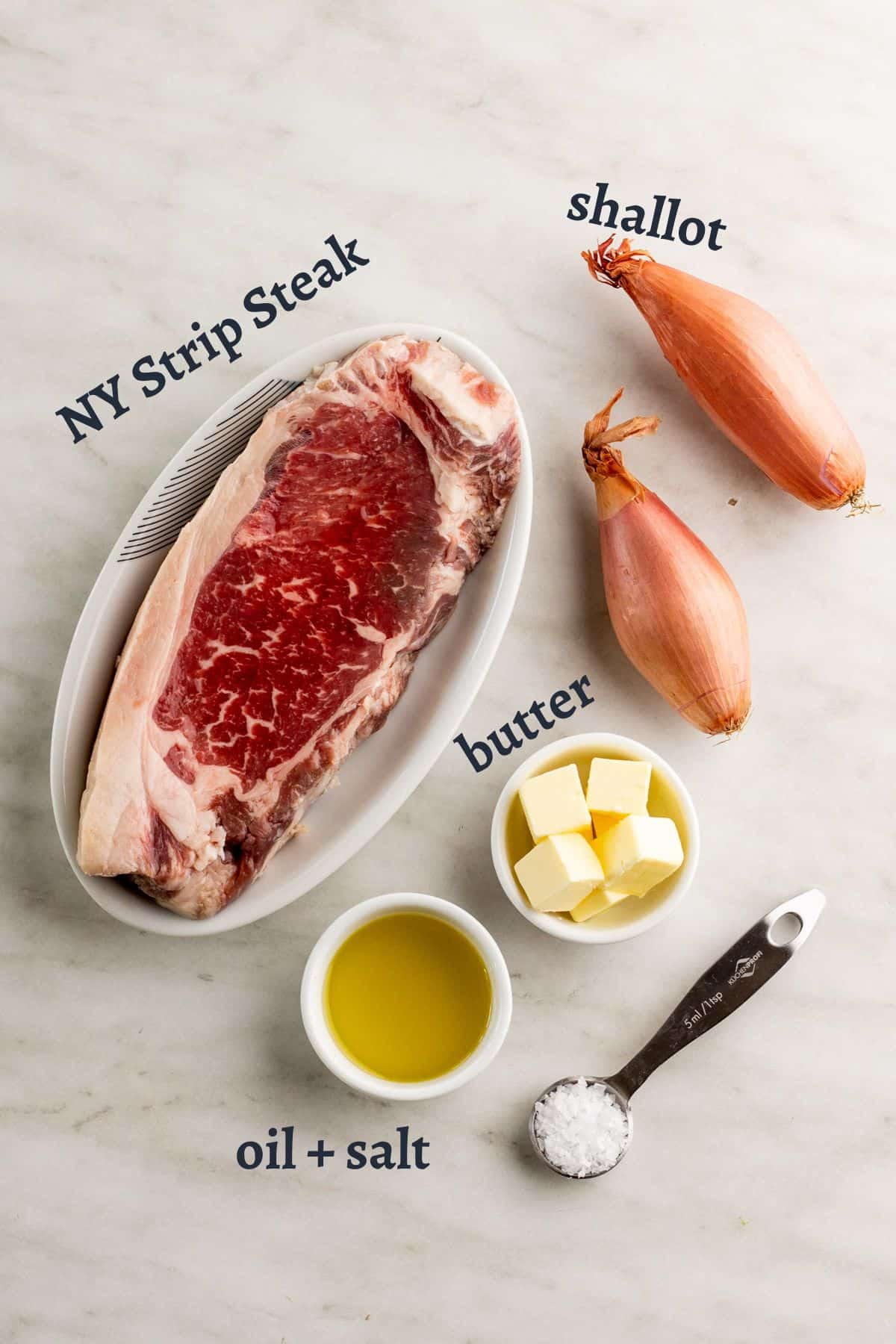 Five ingredients for our beef entrée AND the sauce.
Steak: I love New York strip for this method, but a ribeye or other boneless, 1-inch steak will work well too if you prefer.
Oil and butter: The oil heats the pan and the butter adds flavor. I always use regular salted butter and it makes everything taste SO good.
Shallots: Again, use as many as you'd like - two is usually perfect for us. Thinly sliced onions or even leeks would work well with this same method if that's what you have.
kosher salt: Salty beef is just really, really good. Don't skimp.
Step By Step Instructions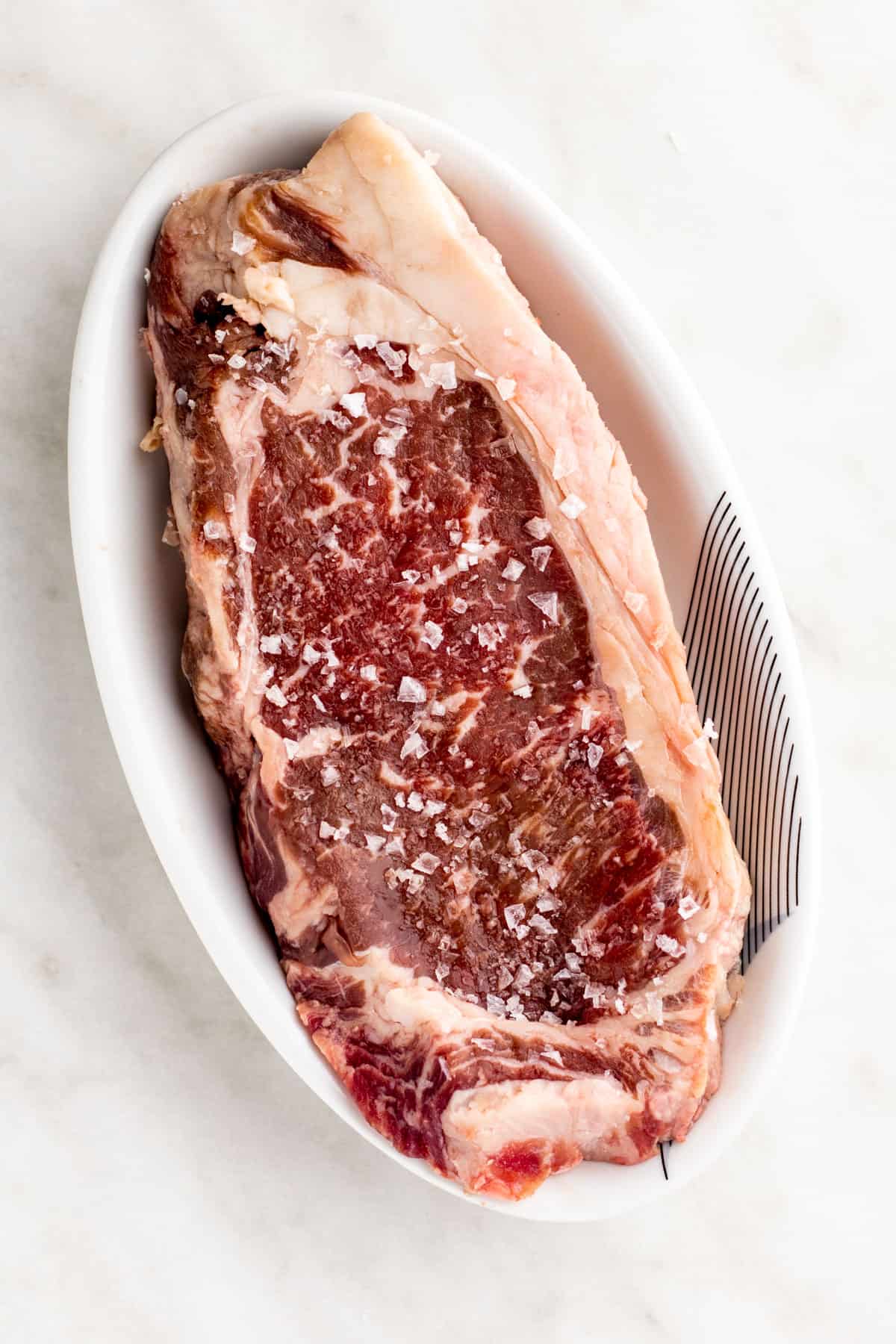 Before you cook the steak, let the meat rest out of the fridge for at least 20 minutes so it isn't super cold when you start to cook it. Sprinkle the steak with salt on both sides.
Pro Tip: I do one steak (12 ounces or so) for two people and that's more than enough, but if you are cooking for more people just be sure that your skillet is large enough to hold the steaks you're cooking with a few inches between each piece of meat so that they'll still get nice and crispy at the edges.
While the steak is resting, preheat a cast iron skillet to medium-high (my stove has a 10-point dial and I preheat at a 6) with the oil. Sprinkle the meat with salt very liberally on both sides.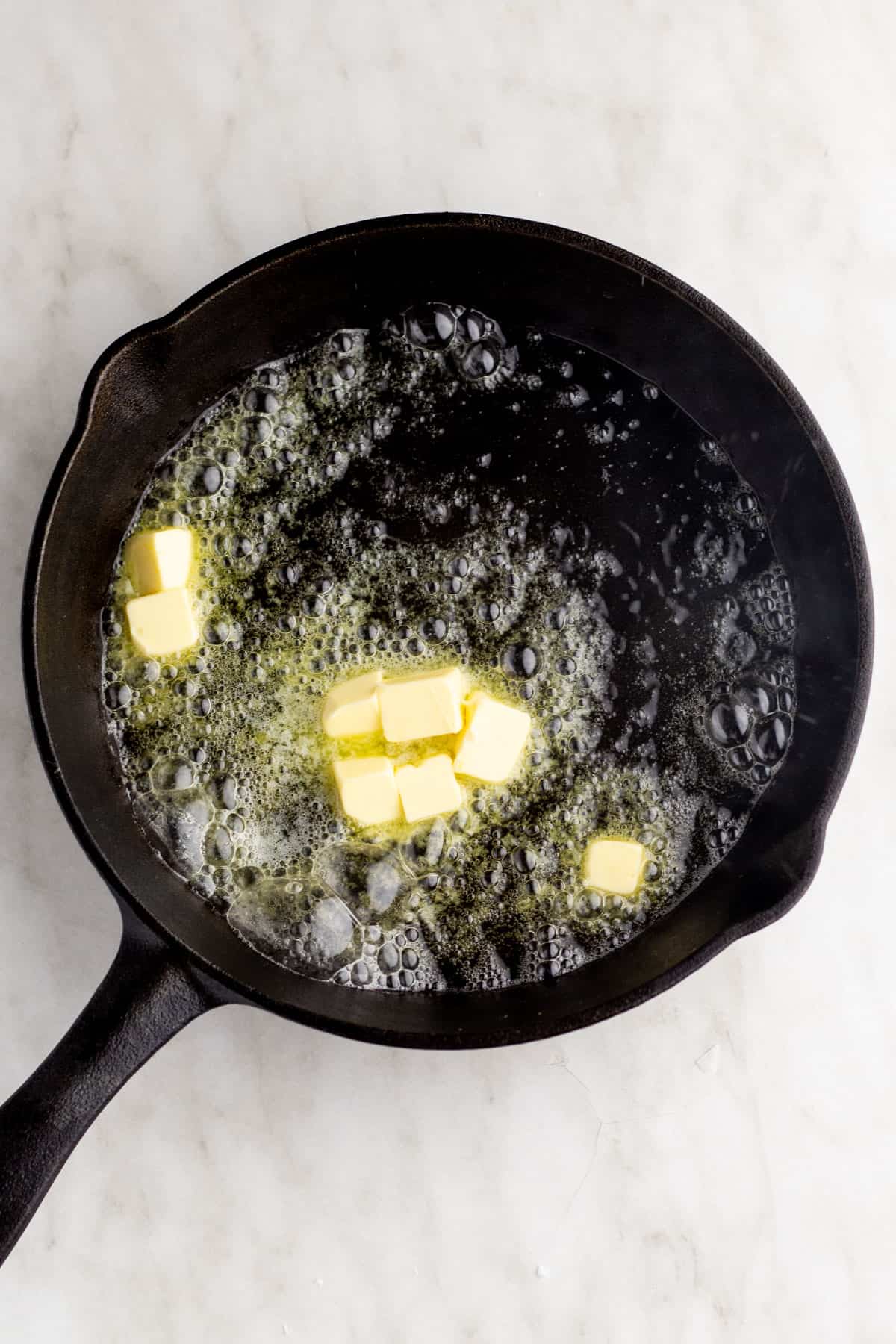 When the skillet is hot, add the butter and swirl it around in the skillet until it foams and sizzles.
Add the steak to the hot skillet and leave it alone while it cooks. You'll flip it one time and that's it, no moving it around or messing with it.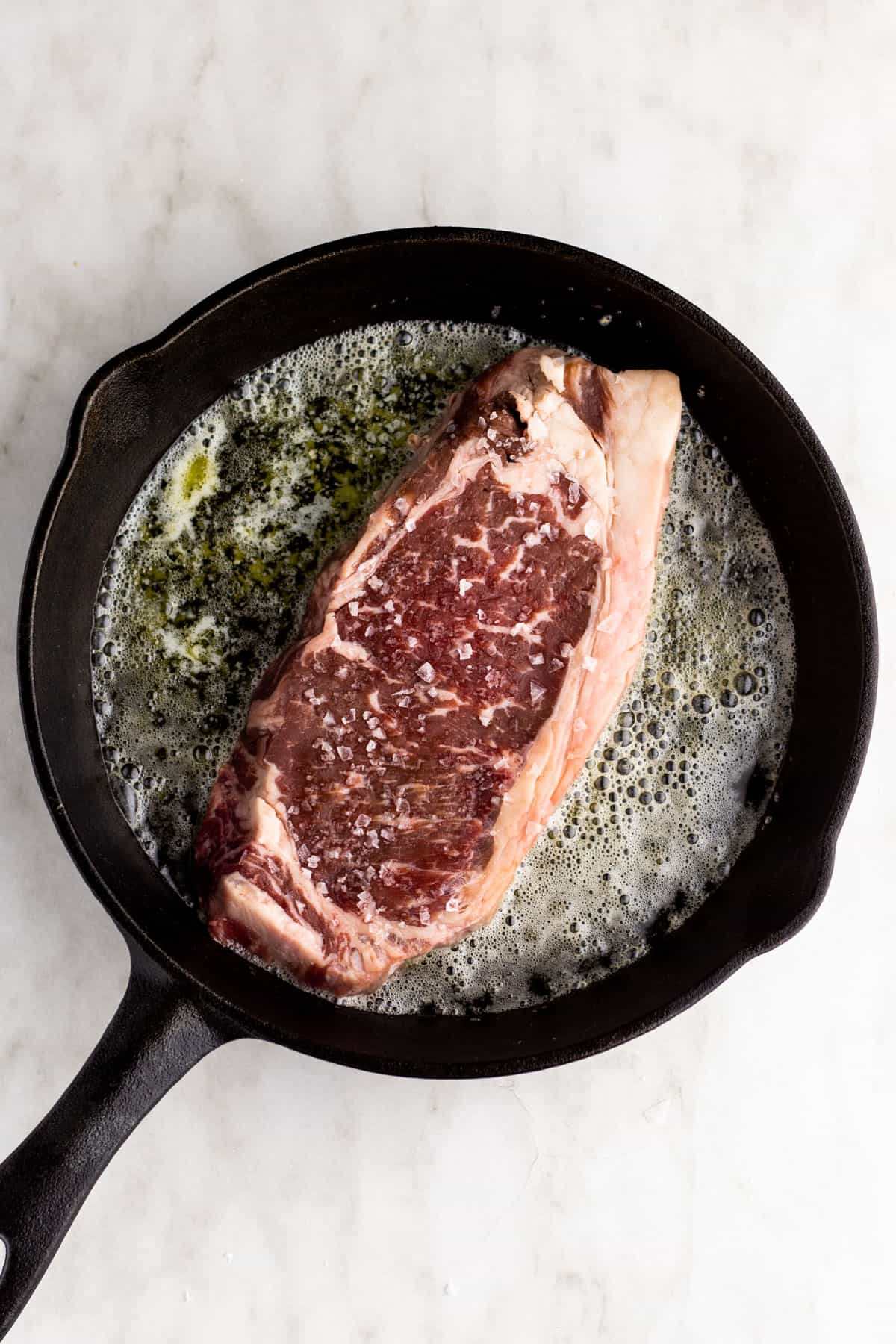 Another Pro Tip: If the steak doesn't sizzle A LOT when you add it to the skillet, take it immediately out and let the pan preheat for a few minutes longer. Because this is a quick cook we need the skillet hot enough to get a really good sear on the steak!
Now: How long to cook NY strip steak on the stove. For a steak that is about an inch thick I do 5 minutes on the first side, flip the steak, then let it cook another 3 minutes before taking it out to rest. This yields a medium rare steak, which is perfect for us.
If you'd like to get all sorts of specific (not my style, but yes it's a thing that real cooks do), you can use a candy thermometer or a meat thermometer to take the inside temp of the steak. 135F is usually nice for a medium-rare situation; the meat will continue to increase in temp a bit to about 140F as it rests.
How Long To Let Steak Rest
Remove the steak to a plate to rest for several minutes and turn the heat down on the skillet to low.
I do this for at least 7 minutes, but usually 10 or more. I don't mind room temperature steak and the shallot sauce will warm the meat back up.
The key is to rest the steak so the juices redistribute (they're essentially boiling inside the steak so if you cut the steak when it's super hot they'll run out of the steak and it'll end up dry and flavorless), so the meat will be warm/room temperature but the steak will be juicy and delicious.
If you'd like to keep the steak warm, cover the plate tightly with foil while the steak rests.
During the resting time, I make the pan dripping sauce and finish any other side dishes I'm making, yell at the kids, etc.
Shallot Sauce for Steak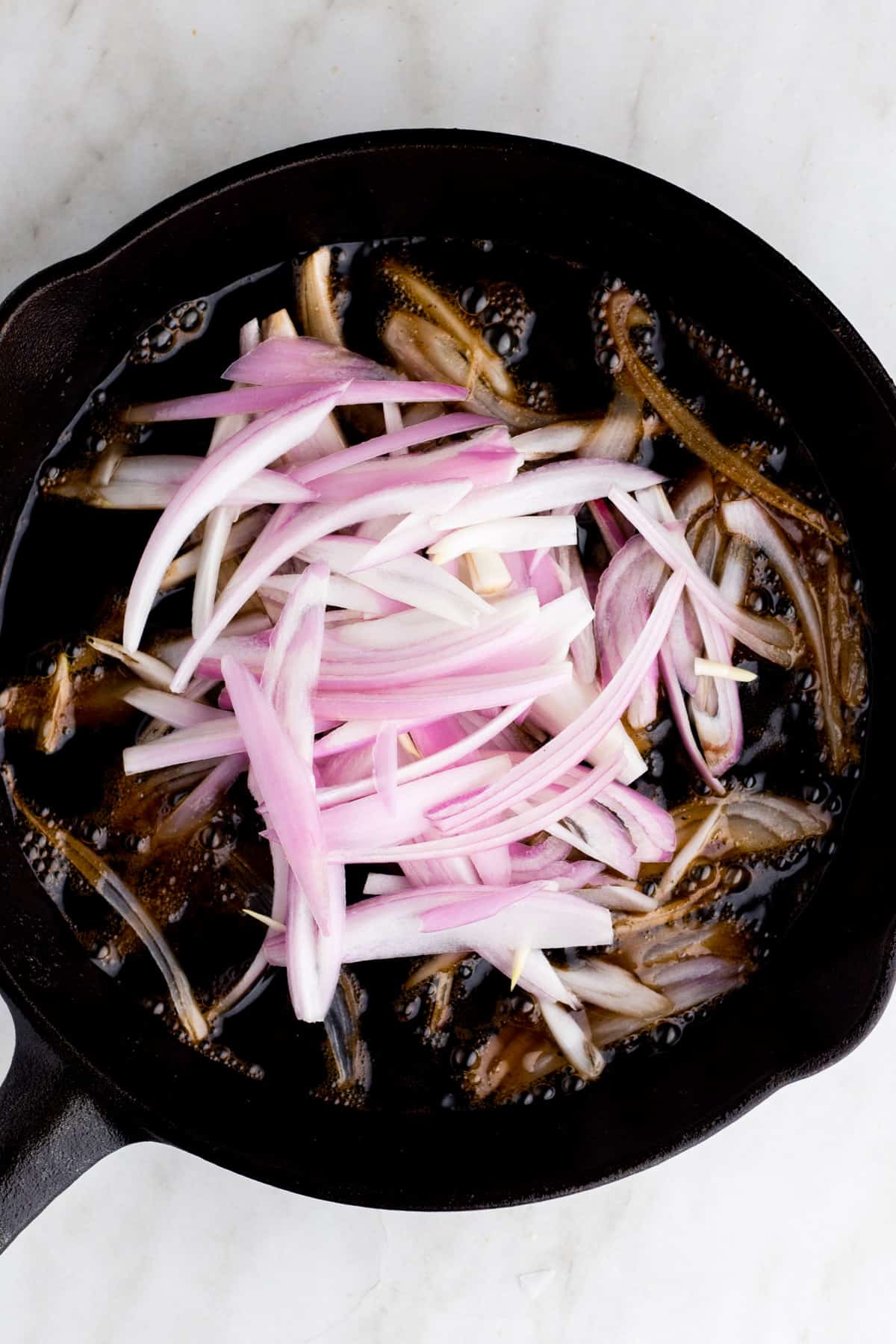 While the steak is resting, we make the pan sauce!
The pan will be super hot after cooking the steak, so turn it to LOW or even off if it's very smoky.
Add the shallots to the skillet with a sprinkle of salt and stir them to cook and pick up the beef drippings from the skillet. They'll cook and brown and soften and be the BEST topping for the steak.
After about 10 minutes, thinly slice the steak and marvel at how perfect it is. The juices shouldn't run out, but if you lose any try to reserve them and put them in the skillet with the shallots.
Add any steak drippings from the resting plate back into the pan with the shallot sauce, too!
Spoon the shallots over the steak, and we're good to go. You can do this in the pan like I did in these pictures or directly onto serving plates.
So simple, so flavorful. I love the simplicity of using the pan drippings since you have to let the steak rest anyway. You can add some beef stock or Worcestershire sauce to the shallots if you're feeling fancy, but they are honestly so good without anything added to it.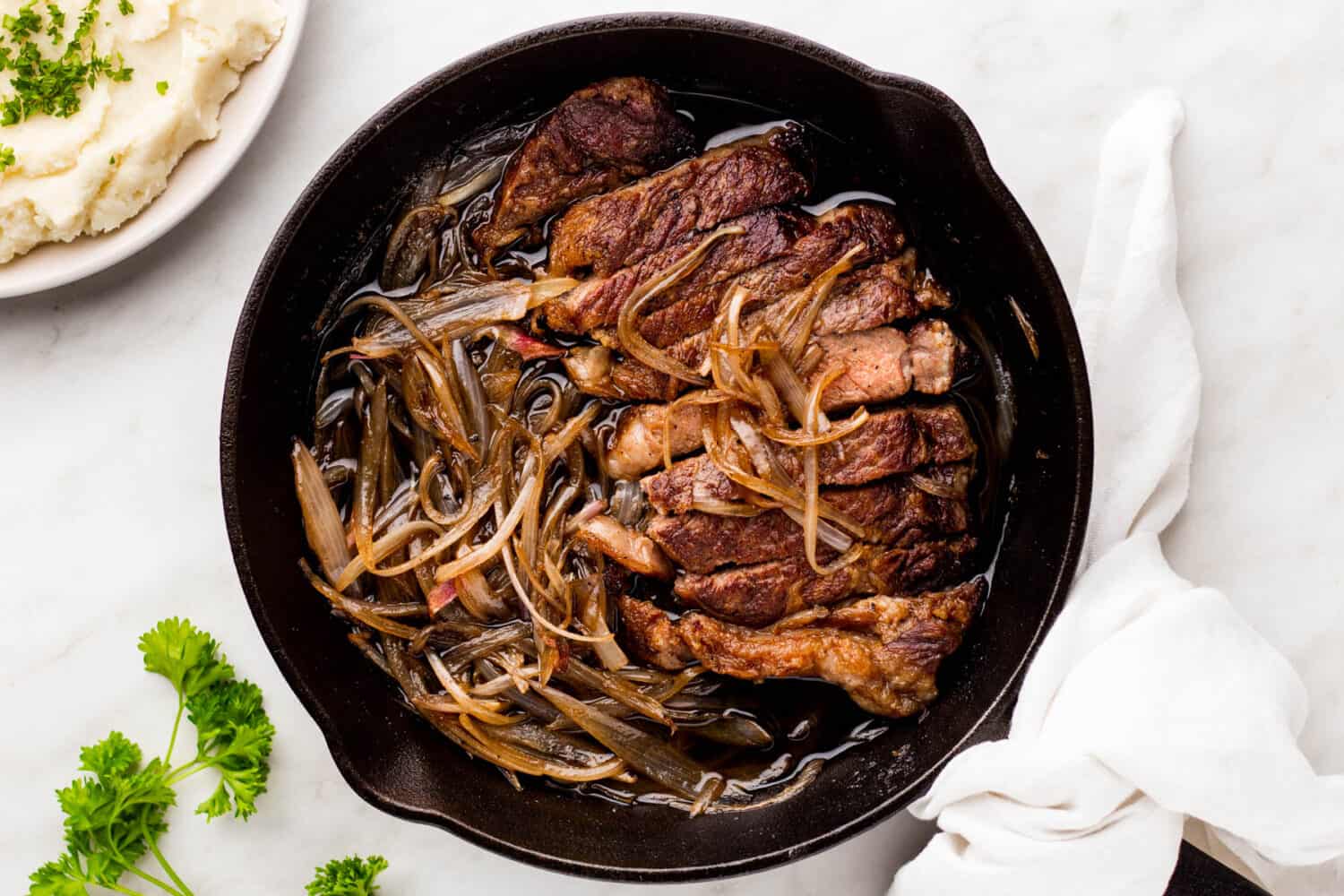 What to Serve with NY Strip Steak
I love this steak on its own with some no-knead bread and a quick green salad, but if I'm making this on the weekend I love making slightly heavier side dishes! A steakhouse dinner at home situation is just so fun to me.
Side Note Pro Tip: if I know I am serving some vegetarians, I make a batch of tofu steak to go along with the same side dishes! It's inclusive and delicious.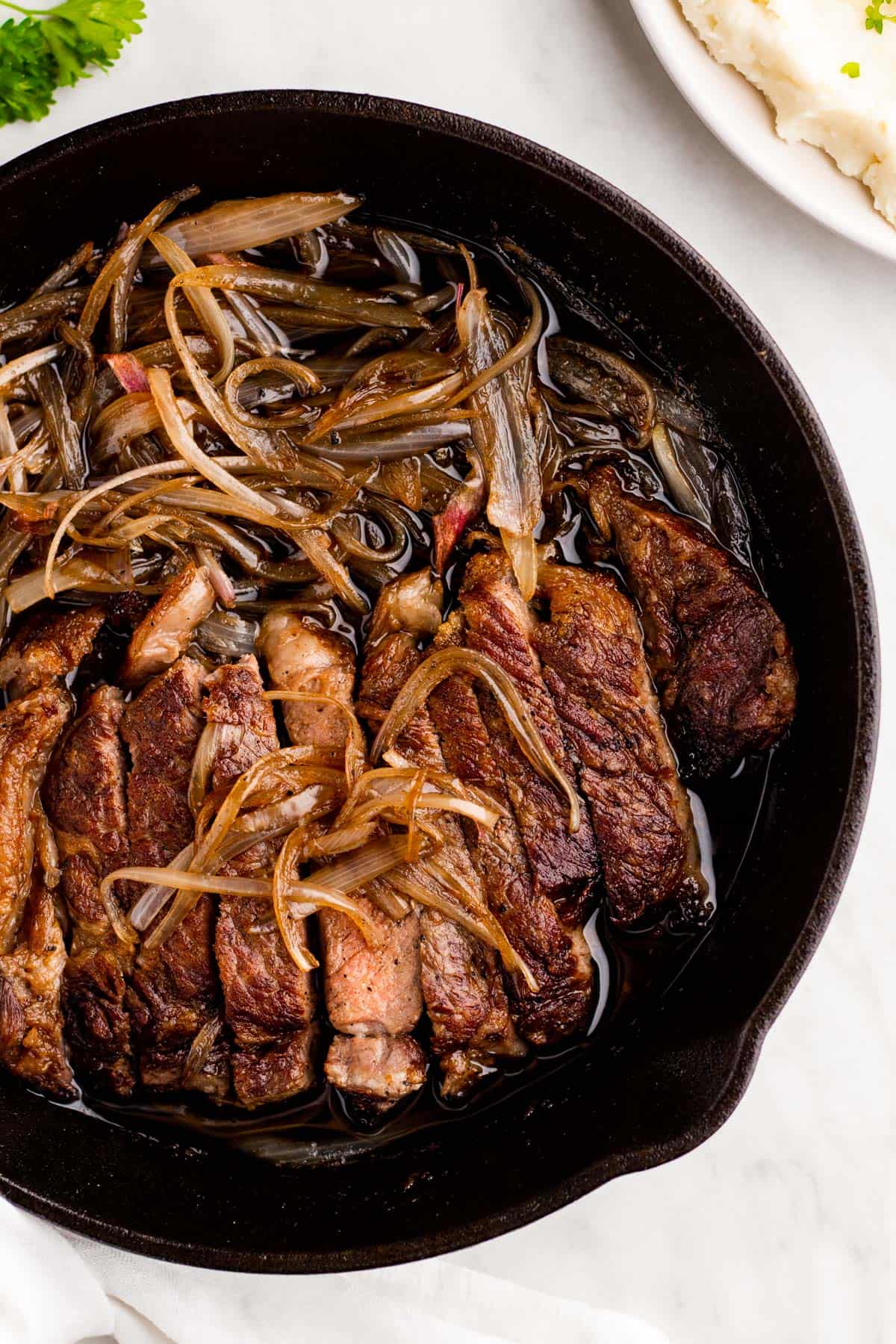 Leftover Steak Pasta
NOW, I don't think you'll have tons and tons of leftovers here, but if you did - leftover sliced steak pasta with ricotta is absolutely out of this world and a delicious way to really transform steak leftovers.
Have some steak for dinner this week! Chicken needs a break. I hope you love this!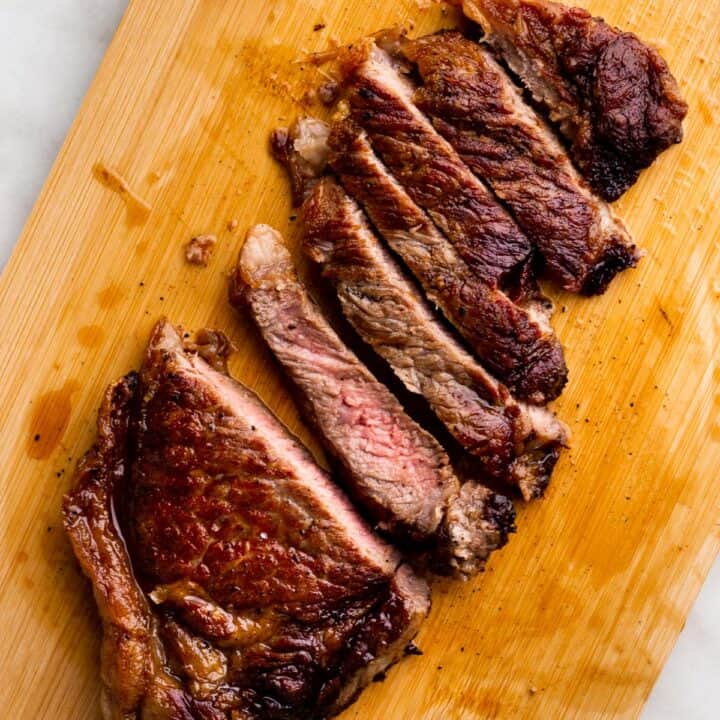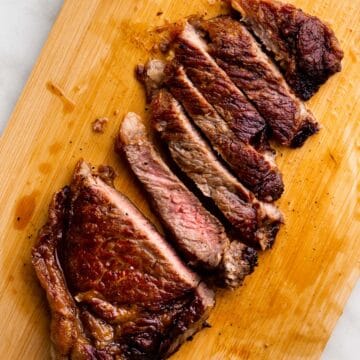 Cast Iron New York Strip
Strip steak in a cast iron skillet is reliable, quick, and this method has a few tips to keep your steak extra juicy with tons of flavor. The best tip ever: Use the drippings from searing the steak for a quick pan sauce!
Ingredients
1

boneless New York strip steak

about ⅔ pound (10 ounces or so)

1

teaspoon

kosher salt

1

tablespoon

olive oil

2

tablespoons

butter

2

large shallots

peeled and thinly sliced
Instructions
Let the steak rest out of the fridge at room temperature for at least 20 minutes. Preheat a cast iron skillet to medium-high with the olive oil. Sprinkle the steak with the salt on both sides.

When the skillet is hot, add the butter to the pan and swirl it to melt. When the butter foams and browns slightly, add the steak to the skillet. Don't touch it or move it for 5 minutes. After 5 minutes, flip the steak (it should have a nice dark crust, let it cook for another minute or two and increase the heat if needed) and let it cook without disturbing for 3 minutes more.

Remove the steak to a plate to rest for at least 10 minutes (cover with foil if you like your steak to stay as hot as possible). Reduce the skillet heat to low, and add the shallots to the pan. Stir the shallots for a few minutes to soften and turn brown, then remove the skillet from the heat while you slice the steak.

When the shallots are done and the steak has rested, thinly slice the steak against the grain and remove any large pieces of fat.

Top the steak with spoonfuls of the shallots, and serve with your favorite side dishes. Enjoy!
Notes
This method is for a boneless strip steak, 1 inch or slightly less thick. Reduce the cooking time slightly for very thin steaks, and increase for thicker steaks. This method would work well with any boneless steak you enjoy such as ribeye or sirloin.
Steak Temperature: If you'd like to be very specific with your steak temperature, use a meat thermometer to test your steak for doneness, 130F for rare to 150F for medium, keeping in mind that the steak will continue to cook by about 5 degrees once it is removed from the heat.
Leftovers keep nicely in the fridge for 2-3 days and are delicious served for lunch on top of a house salad.
This recipe was originally published in September 2017 and has been updated with better instructions and more tips and tricks.
More Easy Weeknight Protein Ideas