Ok so we agree that the weather firmly dictates what we desire to eat, right?
Because today it is pouring rain and freezing and dark AND it's my first day alone with both kids, and is it too early to plan on making myself mashed potatoes for lunch? Or ordering a burger that costs $5 to be delivered for a 50% upcharge?
I'm not above it, is my point. Send funny memes.
Onward, though, in our Thanksgiving planning! We have about ten days to go, and these potatoes should a thousand percent be on your menu. They have very few ingredients and are ridiculously delicious thanks to a few tricks. The first trick is to boil the potatoes whole. This takes a bit (ok, a lot) longer, but the flavor of the potatoes stays IN them instead of floating out into the water, and the resulting texture is closer to a smashed baked potato, which I adore. The second "trick" is...a lot of butter and salt. I don't know a different way to say that, but butter and salt make potatoes taste amazing, so we use a lot of it here.
For make-ahead purposes, these could be made easily on Monday or Tuesday of next week, and then baked right before you eat on Thursday. Starchy sides hold up so well in the fridge, and I love them for that reason - anything I can make in its entirety before the day of the big meal is a huge win.
For these, you need! Yukon gold potatoes, a clove of garlic, half and half, butter, and chives. Salt and pepper, so I guess 7 ingredients if you're counting those two.
Start by placing the potatoes whole in a big pot and covering them with water by about 3 inches with 2 tablespoons of salt. Yes, tablespoons, and I promise the potatoes won't be too salty. Cover the pot, turn the heat to high, and bring the potatoes to a boil. When the water boils, remove the lid and reduce the heat just a bit so the water boils but isn't splattering everywhere. Boil the potatoes for one hour until they're nice and tender. During this process the water may evaporate, just add more as needed. A big pot with extra water works great for this.
When the potatoes have boiled, drain them in a colander and let them cool until you can handle them. Peel the potatoes with your fingers or a knife (I use my hands to really only remove the peel and none of the potato), then place the potatoes back in the pot with the butter, half and half, and the minced garlic clove.
Mash the potatoes with a hand masher until they're fairly smooth, adding salt and pepper as you go. I ended up adding 1 ½ teaspoons of salt and several grinds of pepper, but add as much or as little as you'd like for the potatoes to be FLAVORFUL. I know there is this "they're going to be under gravy" belief in which you can just plop something bland on a plate, but why? Why not have everything taste good separately and together? This will be the cross I die on. That and healthcare for all.
When the potatoes are mashed and creamy but with some texture left, spread them in a baking dish. When you'd like to serve, bake them at 350F for about an hour until golden on top, and behold the butter that comes to wave while you cook these beauties. SAY HI BACK, DON'T BE RUDE.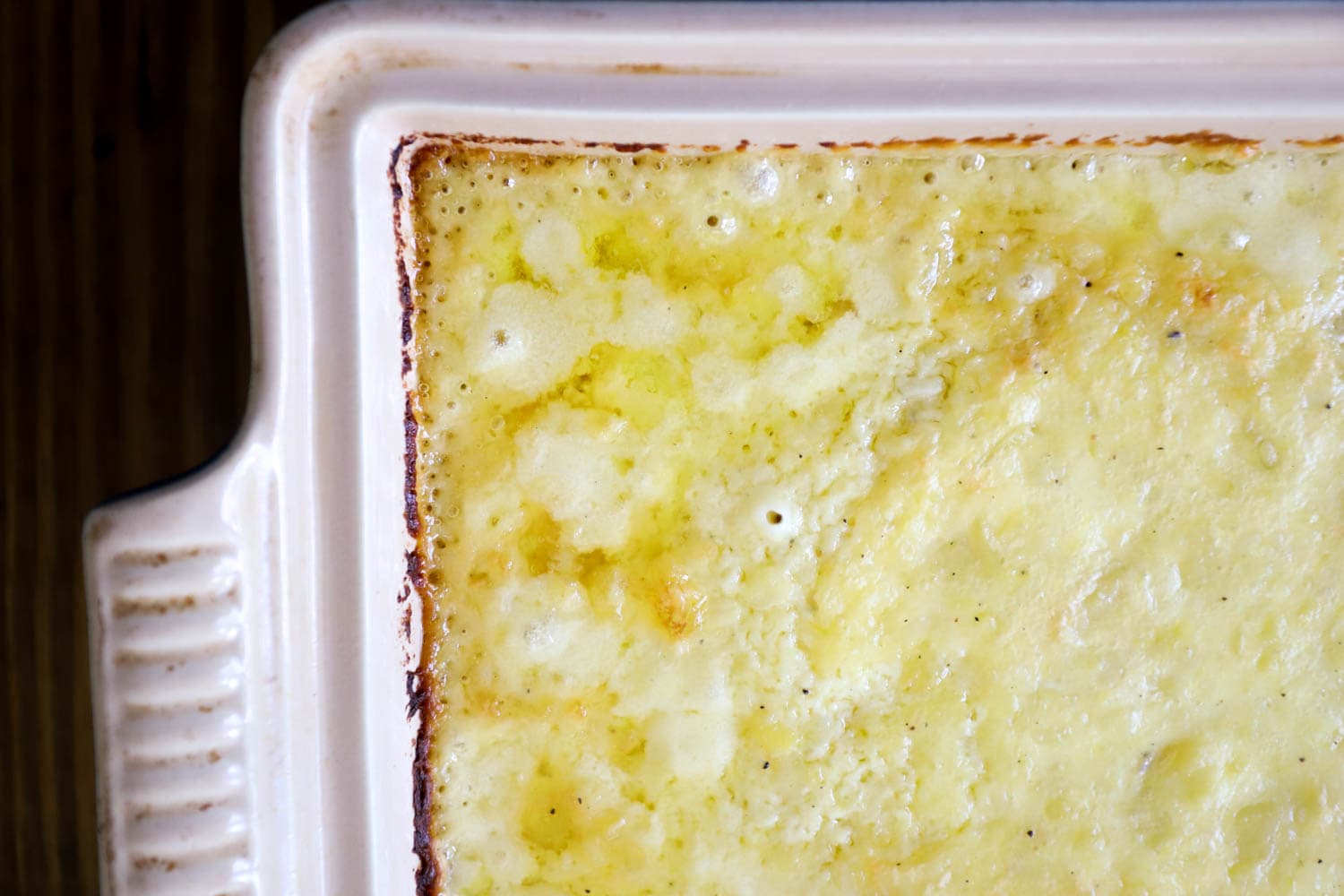 Garnish with chives and maybe some extra pepper and coarse salt. Serve with your Thanksgiving meal or for lunch today, depending on the day you're having.
These are insanely good. They're simple enough that you really taste the potato shine through, but they aren't dull or bland in the slightest. If you have two Thanksgivings, make a double batch and take these to everyone you see next week!
5-Ingredient Baked Smashed Potatoes
Buttery potatoes, mashed by hand to leave some texture, with just a few ingredients that enhance the wonderful potato flavor but are still decadent enough for a holiday. These can be made in advance and baked on the day you'd like to serve them.
Ingredients
4

pounds

yukon gold potatoes

salt and pepper

3

sticks butter

3

cups

half and half

1

clove

garlic

minced

snipped chives or sliced scallions

for garnish
Instructions
Place the whole potatoes in a large pot. Fill the pot with water, covering the potatoes by 3 inches or more. Add 2 tablespoons of salt to the pot.

Cover the pot and place it over high heat on the stove to bring the water to a boil. When the water boils, remove the lid and reduce the heat to medium-high to maintain a boil. Boil the potatoes for one hour until they are tender, then drain and let cool until you can handle them.

Peel the potatoes with your fingers or a sharp knife and place them back in the pot. Add the butter, half and half, and minced garlic with 1 teaspoon salt and several grinds of pepper. Use a handheld masher to mash the potatoes into the half and half and melt the butter, stirring with a spoon as you go until the potatoes are smooth with some pieces of potatoes left.

Taste the mixture and add more salt and pepper to your preference. Spread the potatoes in a large baking dish, about 9x13, and chill in the fridge for up to four days, or bake right away.

Before serving, bake the potatoes uncovered at 350F until hot all the way through and slightly browned on top. Scatter chives over top and some extra salt and pepper if you'd like.

Enjoy!