Delicious broiled chicken thighs with Greek chicken marinade! This version of honey lemon chicken has a quick and easy marinade and is done in under half an hour because the chicken is broiled quickly. Serve these on their own, in pita for chicken gyros, or as part of a Mediterranean charcuterie board!
This has recently become one of my favorite ways to serve chicken, especially in the summer - Greek-style with tangy tzatziki sauce, broiled in the oven for a quick and easy weeknight dinner situation.
Greek flavors are some of my favorites, and I love a whole meal that is lemony, oregano-y, and honey-esque. Lemon, honey, olive oil, garlic, and oregano are cornerstone flavors of Greek food and can be mixed and matched in a thousand ways to create different dishes!
Step By Step
These chicken bites are super simple and only have a few steps. For me, I start by figuring out what I'm going to serve these with, then marinate the chicken and make the rest of the meal while the chicken marinates and broils.
The chicken marinade gets whisked quickly, and chicken cut into bites.
Chicken marinates, at least 20 minutes but longer if you have it.
Chicken broils for 7 minutes, DONE. That's it!
Ingredients
The ingredients for the marinade are simple; lemon, vinegar, honey, olive oil, salt, and oregano. For the record, the marinade is VERY delicious as a pasta salad dressing or as a marinade for pork or shrimp.
Ingredient Variations
I like to use chicken thighs cut into bite-sized pieces for this recipe, but you can use larger chicken pieces and/or chicken breasts if you prefer.
Any vinegar you like is great. White vinegar, rice wine vinegar, or apple cider vinegar work well in this marinade. Red wine vinegar is my preference, but use anything you have!
My preference is to use fresh oregano for sprinkling at the end on this recipe and dried oregano in the marinade, but you can sub 1 sprig of fresh oregano for the dried in the marinade, or use dried oregano in the marinade and skip the fresh oregano altogether.
Broiled Chicken Thighs Method
I like to broil the chicken because it's way less messy than cooking it in a skillet AND is done faster and cooks more evenly. You can absolutely skewer and grill OR sear this chicken in a pan on the stovetop, though!
Use a slotted spoon to remove the chicken from the marinade, then discard the marinade. Arrange the chicken on a baking sheet with parchment paper and sprinkle it lightly with salt.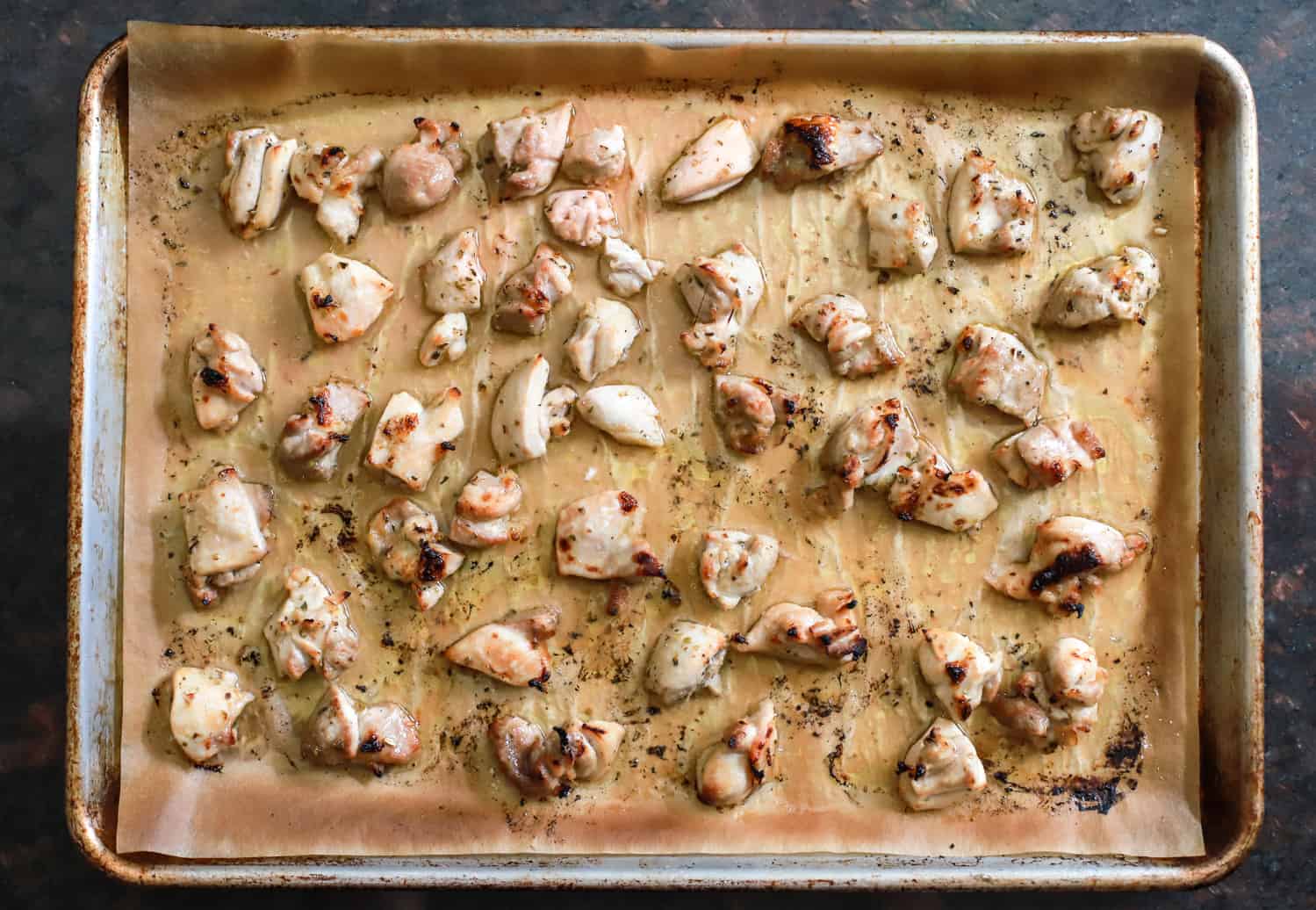 Preheat the broiler to high, broil the chicken for 5-7 minutes, and that's it! Delicious, perfectly cooked chicken bites in just a tiny amount of time.
Serving Suggestions
I serve this with tzatziki and rice with a roasted veg of some sort for a quick dinner, but I also like having these on a plate with toothpicks and tzatziki as part of a Mediterranean charcuterie board or similar.
The benefit of keeping ingredients separate like in these pictures is that everyone can build their dream Greek rice bowl dinner, even if it's completely different than someone else's!
For leftovers, I like these chicken thighs over salad for lunches and stuffed into pita with crunchy lettuce for a yummy restaurant-worthy sandwich. The leftover chicken is delicious cold!
I LOVE this chicken for so many reasons, mainly, though, that everyone loves a honey lemon marinade situation. Make these soon, make these often, I hope you love them!
Greek Chicken Thighs
Delicious bites of chicken thigh broiled to perfection in a crazy good honey lemon Greek chicken marinade? Sold.
Ingredients
1 ½

pounds

boneless

skinless chicken thighs, cut into bite-sized pieces

1

lemon

juiced

¼

cup

red wine vinegar

¼

cup

honey

¼

cup

olive oil

1 ½

teaspoon

kosher salt

plus more for sprinkling

1

teaspoon

dried oregano
Instructions
Whisk together all of the marinade ingredients. Add the chicken pieces and let sit for 15-30 minutes. Meanwhile, preheat the broiler to high and prepare a large baking sheet with parchment paper or aluminum foil (for easy clean up!).

Using a slotted spoon, remove the chicken pieces to the baking sheet in a single layer and lightly sprinkle again with salt. Discard the marinade carefully.

Broil the chicken for 5-7 minutes until slightly darkened at the edges and cooked through.

Serve over rice or with pita wedges and tzatziki. Enjoy!
Notes
Fresh Oregano: If preferred, you can use one sprig fresh oregano, chopped, in place of the dried oregano in the marinade. I prefer to use dried oregano in the marinade and some fresh leaves for garnish, but that's just me. Vinegar: White vinegar, rice vinegar, or apple cider vinegar would all be delicious if you don't have red wine vinegar. I'd avoid balsamic as it would change the dish significantly, but Balsamic Chicken Bites doesn't sound terrible so maybe try it and report back? Serving: This chicken is delicious over rice with any veggies you like. You could also serve it with tzatziki, hummus, and grape leaves with pita as part of a larger build-your-own-Greek-heaven situation, which would be very fun.
This recipe was originally published in August, 2011 and has been updated with new measurements and instructions. The recipe has been a favorite of ours for over a decade!
More Easy Greek Recipes