Yummy spiced ground meat (use beef, lamb, pork, or even venison!) that goes over hummus for a protein-packed, savory appetizer or main dish. Use this for dipping, to stuff into pitas, or to make yummy grain bowls!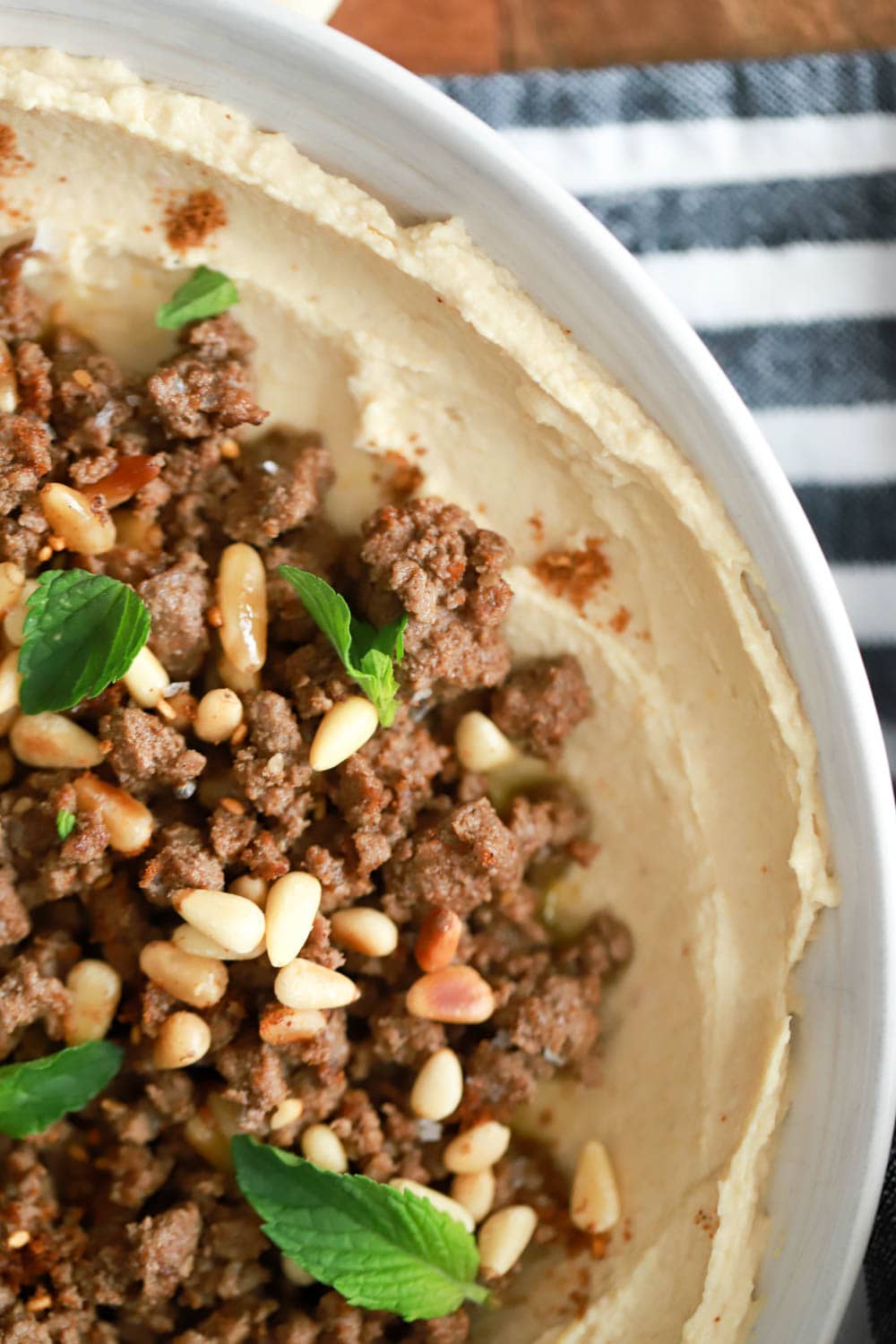 Spiced ground meat with pine nuts and hummus, just so ya know.
Story time. (I know, I know). In regular life I go to NYC twice a year for work, and my sister has lived in Brooklyn for a few years now. WELL. This recipe is a copycat of one of her fave restaurants, 12 Chairs Cafe (Brooklyn, but there is a Manhattan location as well!), which please for the love of god order something takeout from them so they don't close.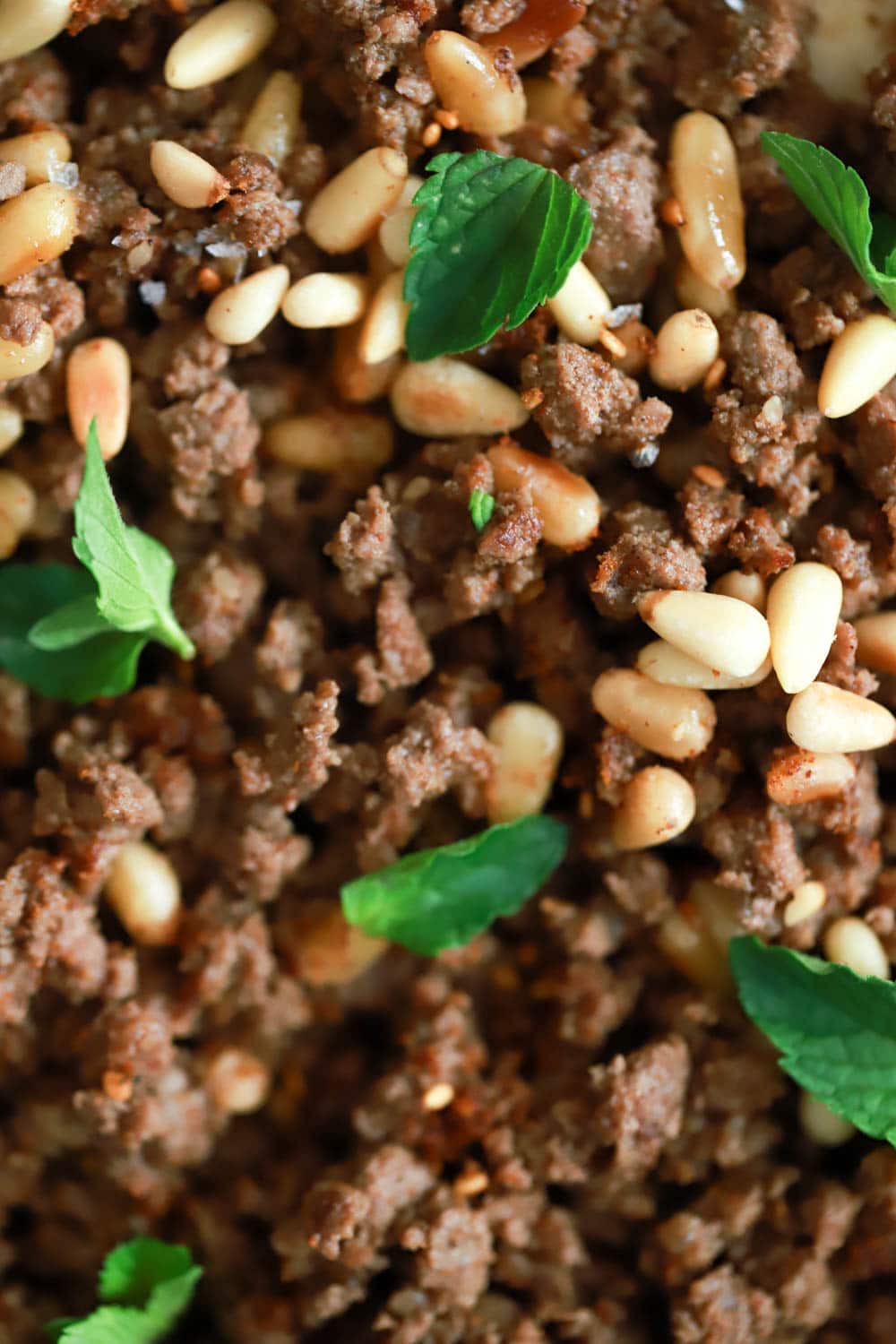 Their menu is Israeli/Brunch-heavy, and I've been a few times and have literally never tried anything NOT yummy. One thing we always get is a variation of hummus: wonderful, garlicky hummus with stuff on it.
There is a whole hummus section on the menu, all served with pillowy, warm pita bread that is some of the best I've ever had. The hummus is described exactly as it is: hummus falafel, hummus, and HUMMUS MEAT, which leads us to this recipe.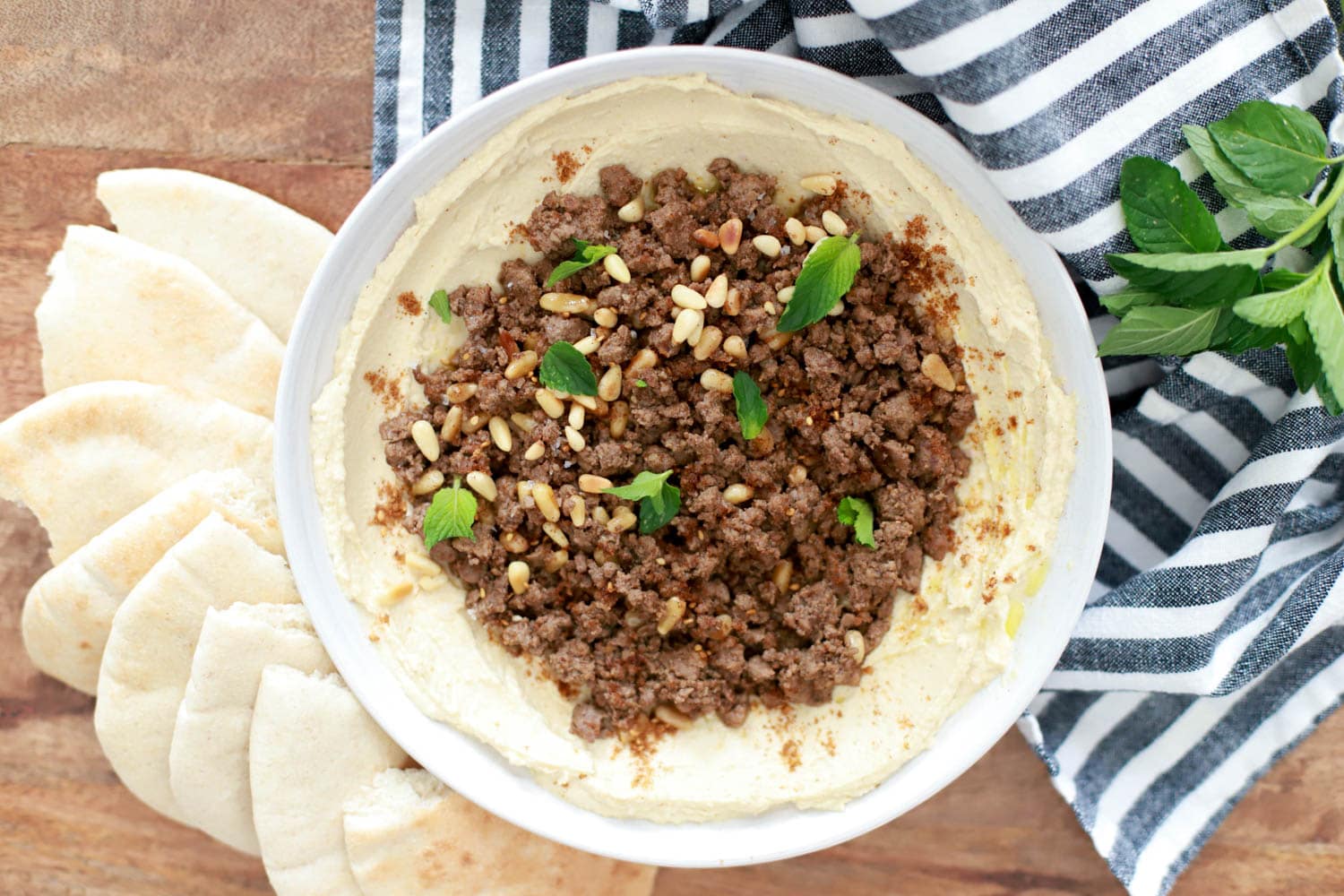 We're talking creamy, earthy, garlicky hummus as a base. Savory, salty, spiced meat with the tiniest bit of sauce and toasted pine nuts folded right in. Zaatar for topping if you're into that, fresh mint to be fancy, or not.
I can't express to you how yummy this is. It's a ground meat mixture, so can be made way in advance, even frozen, and warmed up right before you'd like to serve. As for the hummus, you can make shortcut hummus with lemon tahini dressing like I showed you last week (see how we're just building one thing on the other? I planned this.), or use storebought hummus and make the meat mixture the star of the show.
To go alongside, homemade or storebought tzatziki are really delicious and refreshing to contrast with the savory flavors of the beef!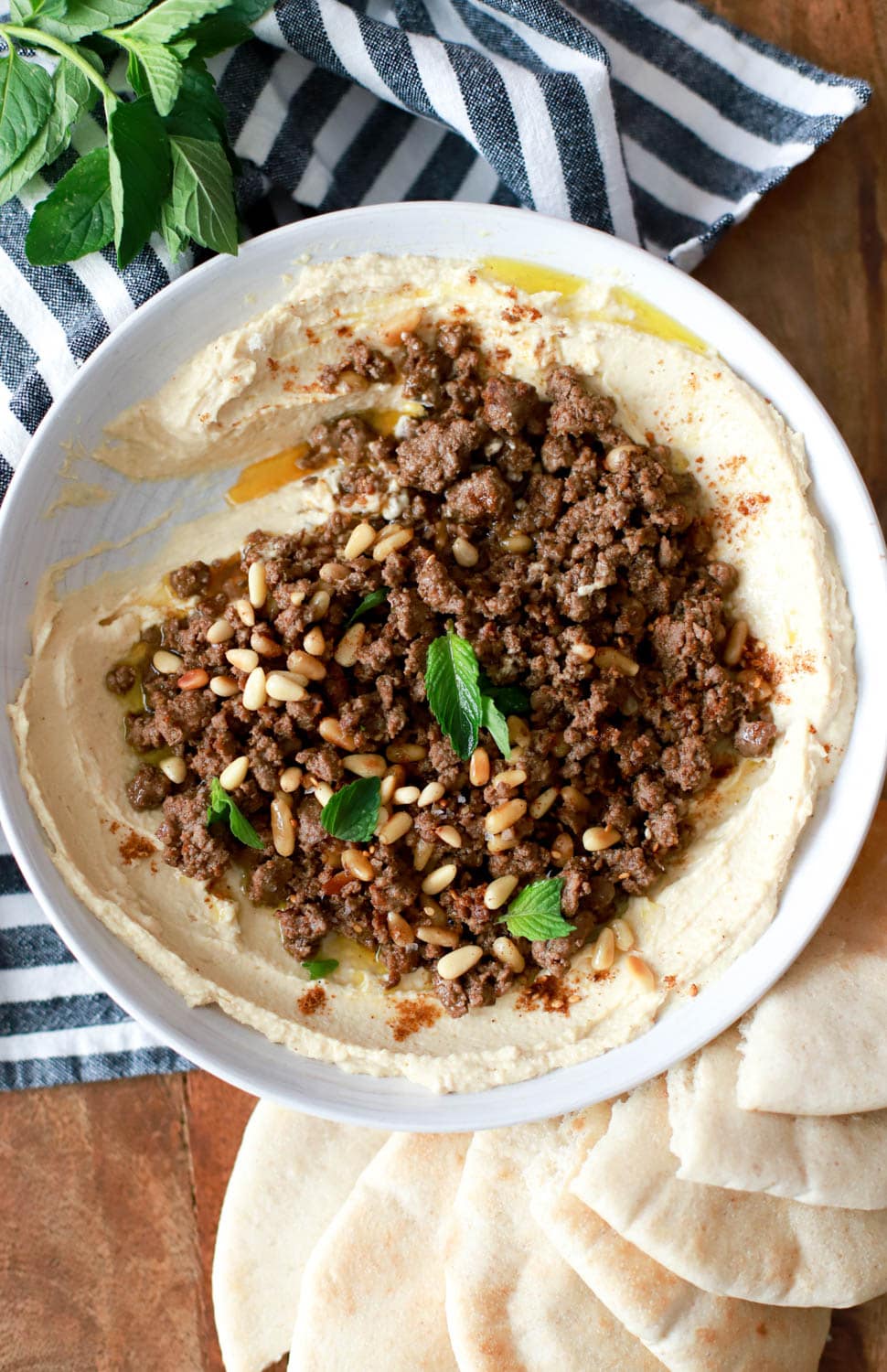 This is like making taco meat but Middle-Eastern-esque. Now: 12 Chairs Cafe is an Israeli restaurant, and I made this version using some "of the region" flavors I had on hand. So, fusion. We need toasted pine nuts, ground meat (I used venison here, tastes like ground beef, better for our area don't @ me), beef stock (or whatever you have), smoked paprika, salt, cumin, zaatar, and butter.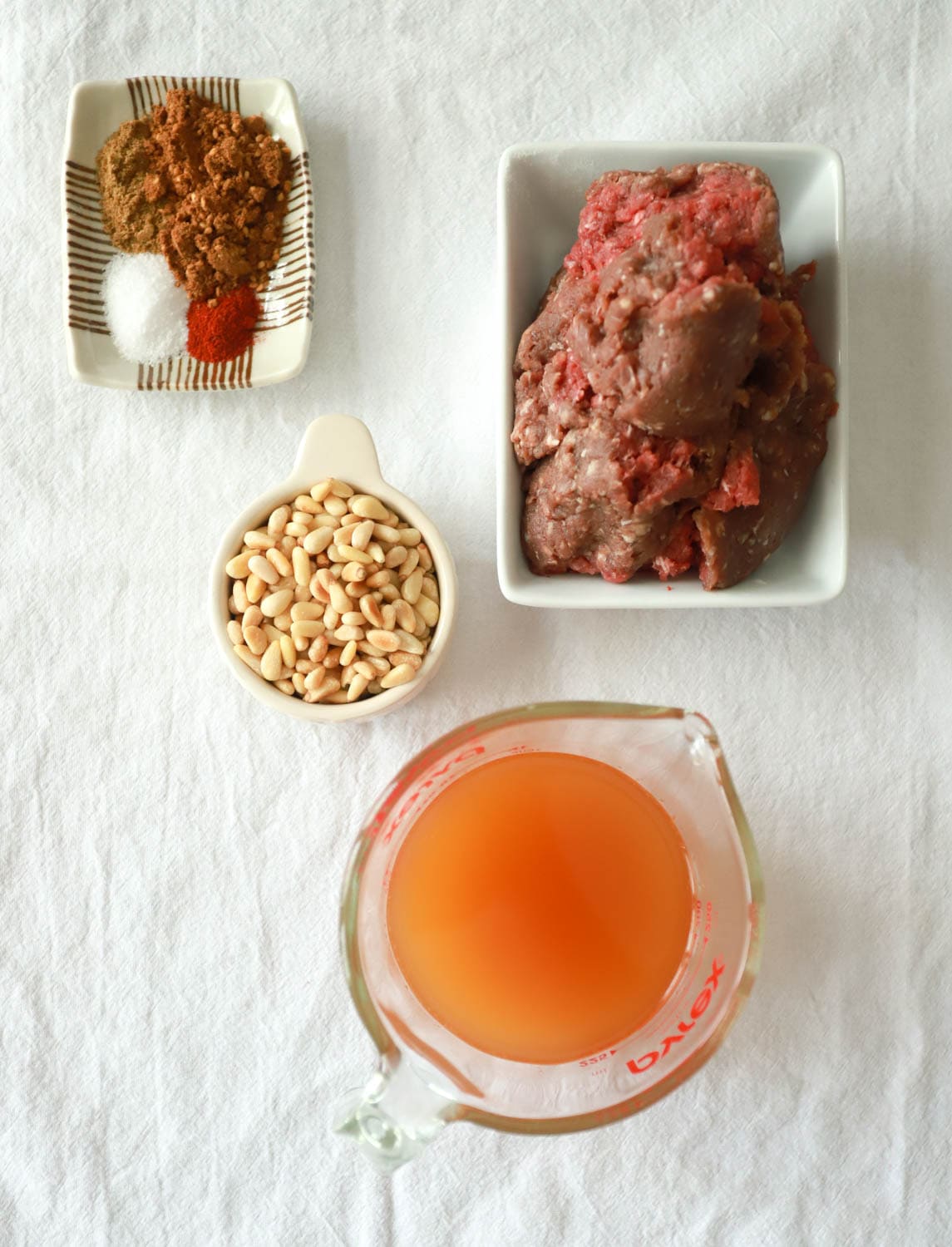 A note on zaatar: you can buy it online, or at lots of grocery stores, or google how to make your own. I always have it because it has tons of spices in it that I don't necessarily keep on hand. You can skip it and use some coriander and sesame seeds, but it won't be the same. I'd buy it for this recipe and then figure out how else to use it (start with roasted zaatar cauliflower and never look back).
Let's Make Spiced Ground Meat and Hummus
First! Skillet. Hot. Butter. Brown the meat and crumble it well. Dump in the spices, and stir to coat the meat in the spices.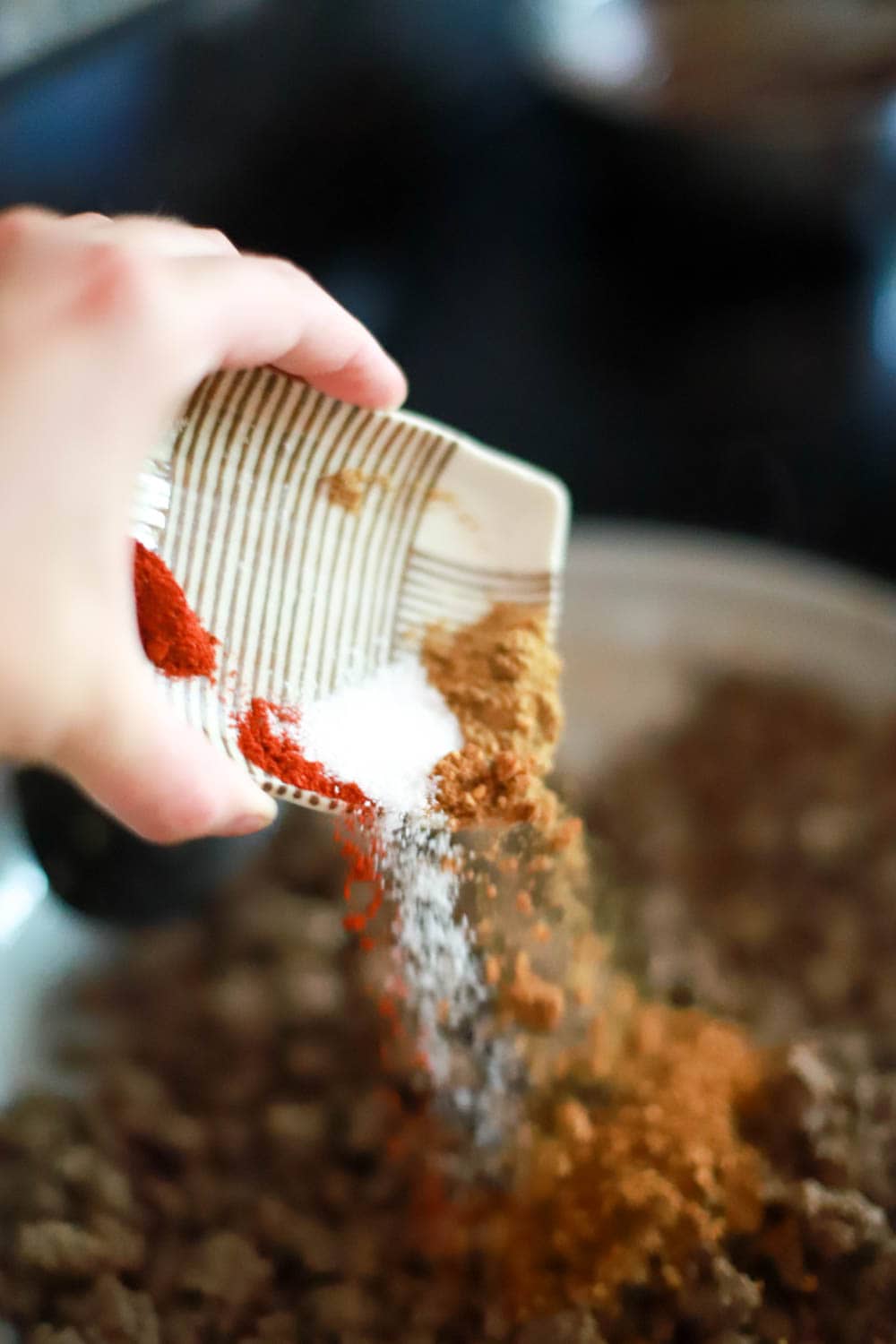 Add the stock and reduce the heat to low, then let the meat simmer for ten minutes or so to reduce the liquid by about two thirds. We want the meat to be saucy but not soupy.
As the meat is reducing, taste it and add more salt if you'd like. It should taste REALLY REALLY good.
When the meat has simmered and is saucy but not soupy, add the pine nuts.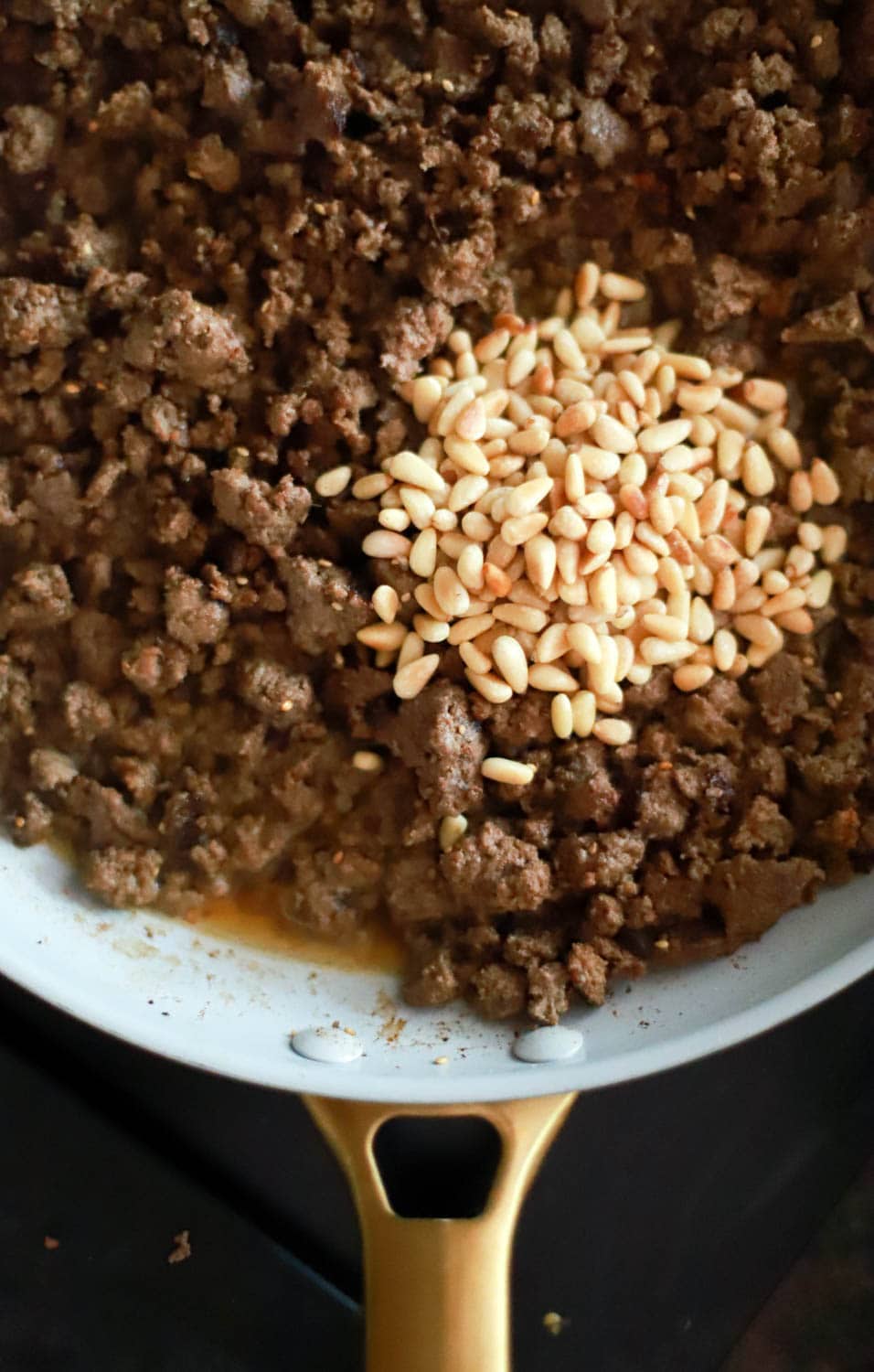 Stir! Done.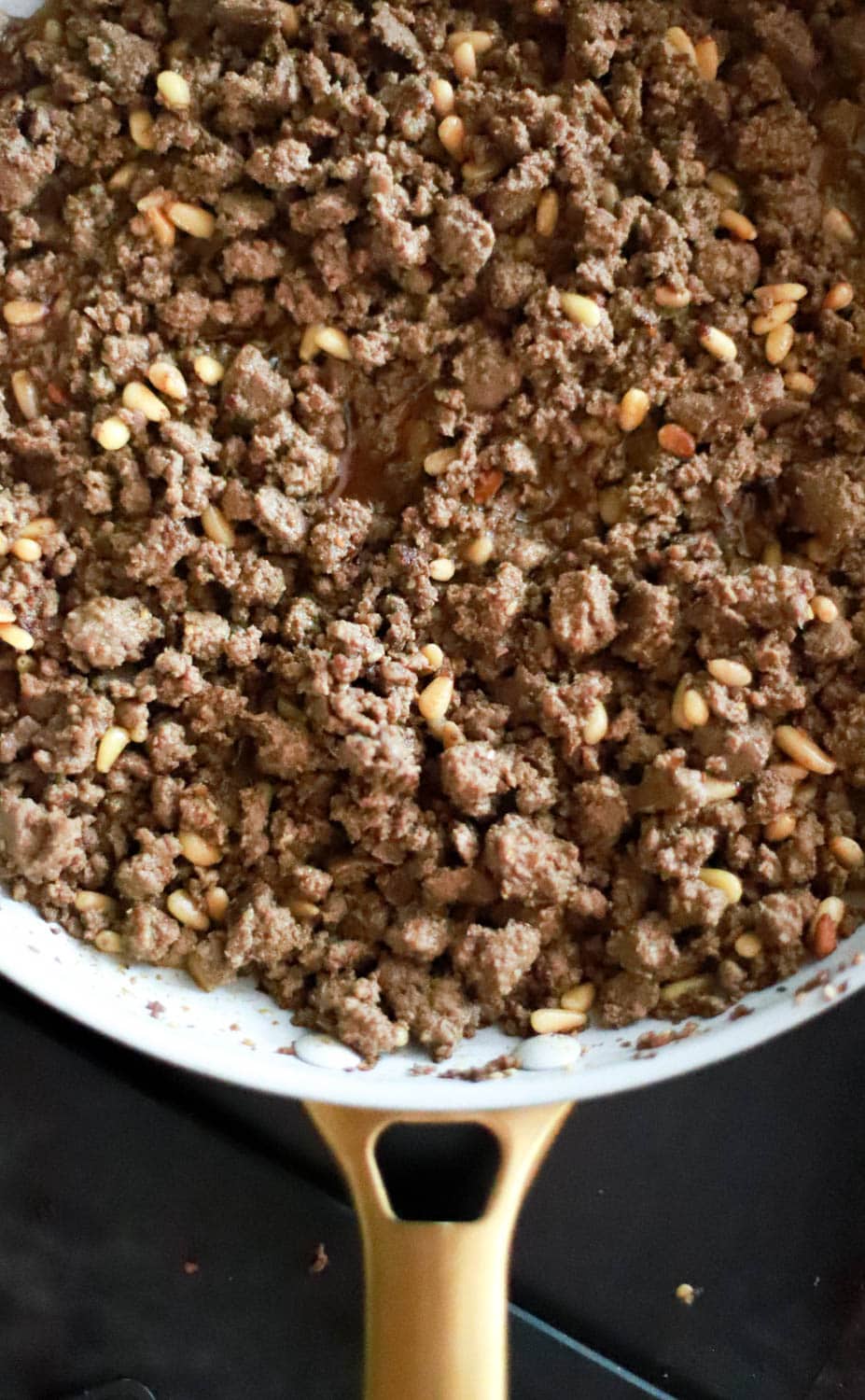 Now, we build our plate. I use a shallow bowl (we eat dinner out of these shallow bowls but they work for everything!) and make a big swoop of hummus around the edges.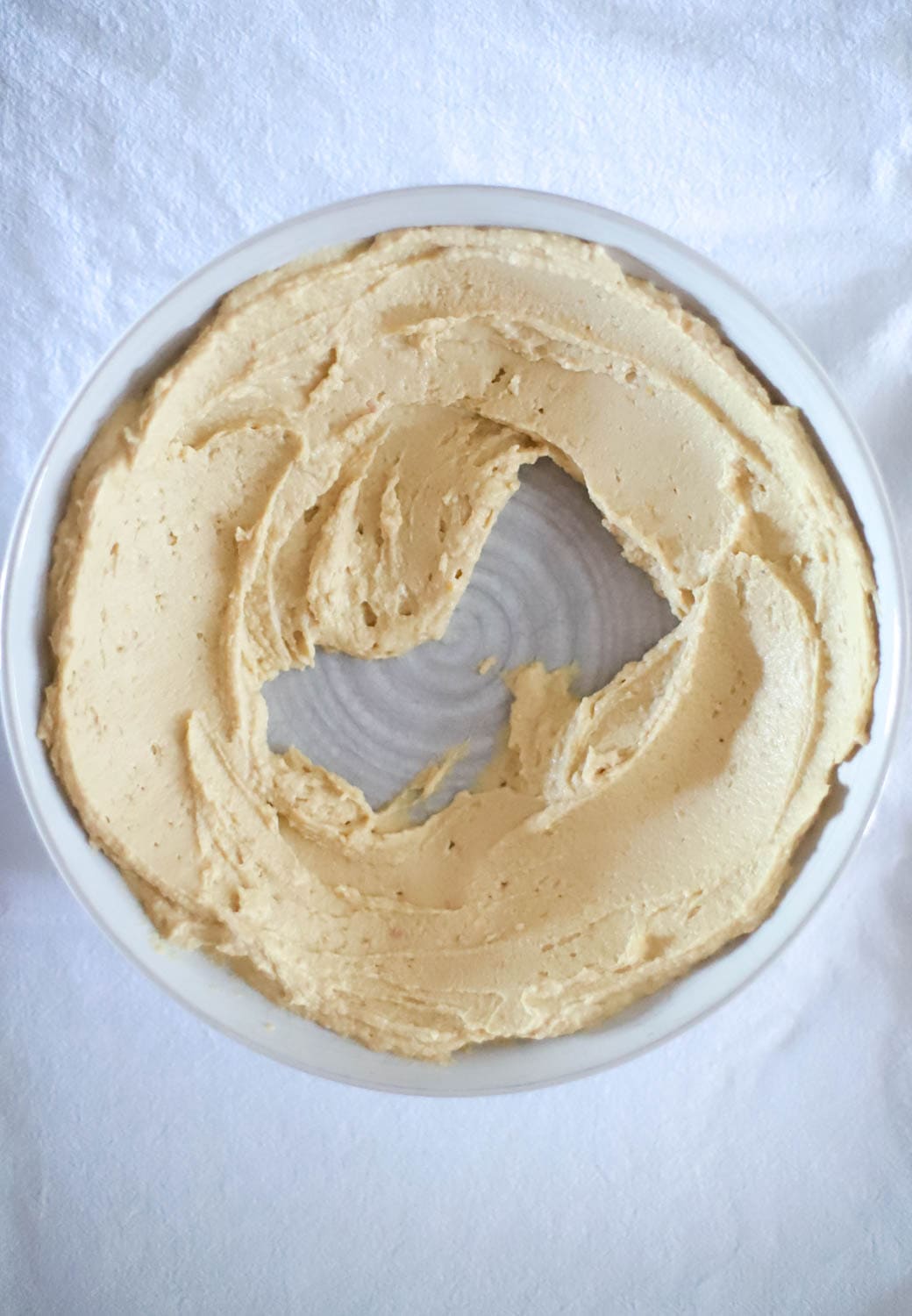 Then meat! Hummus meat, nice to meat (heh) you.
Toppings? I say yes. Options are! Fruity olive oil, flaky salt, fresh mint, more smoked paprika, pine nuts, or zaatar. If you used all of those toppings you'd be doing it like I do, but I tend to go overboard.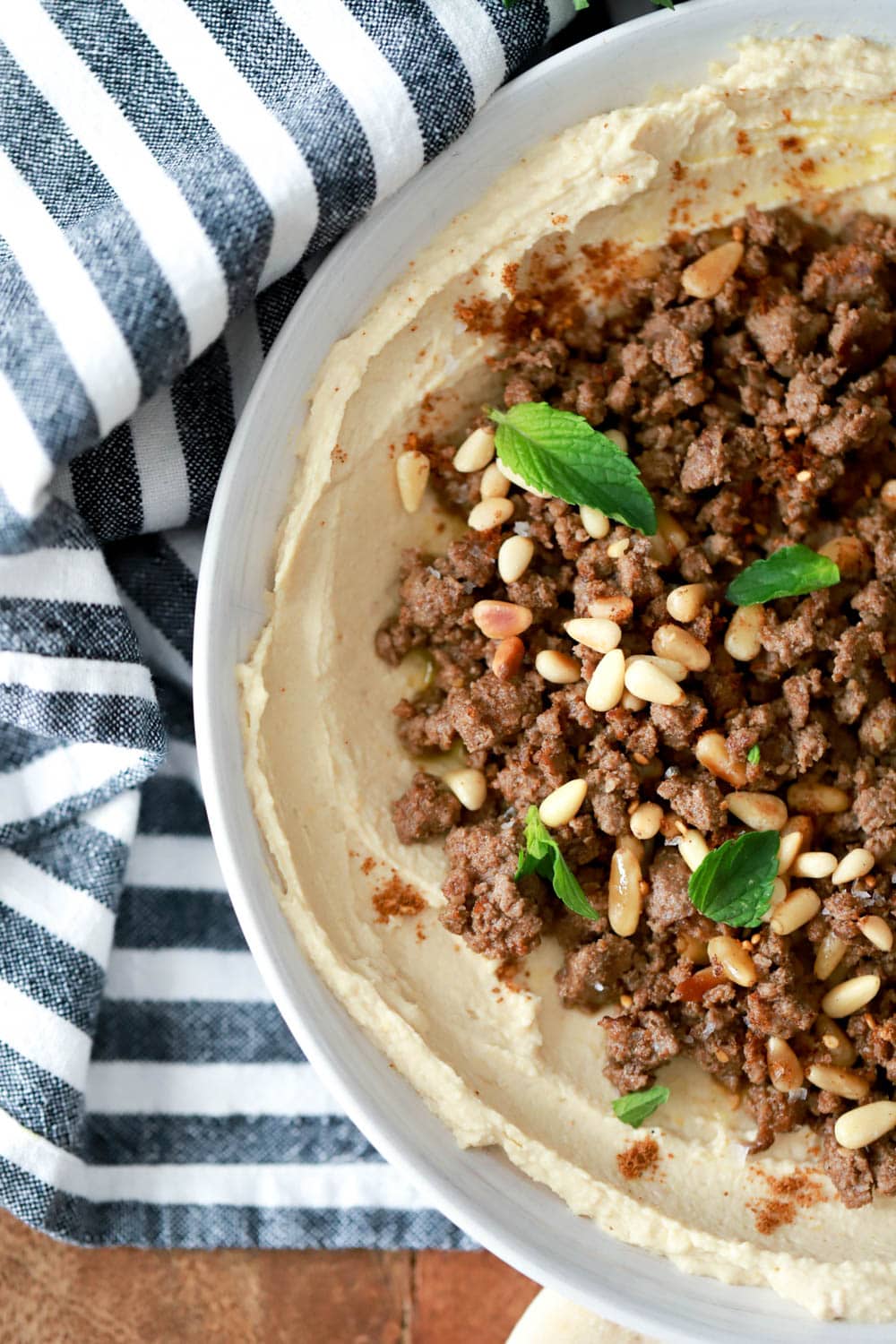 Fluffy pita for sure. Maybe some veggies on the side for dipping, and this could be dinner for me.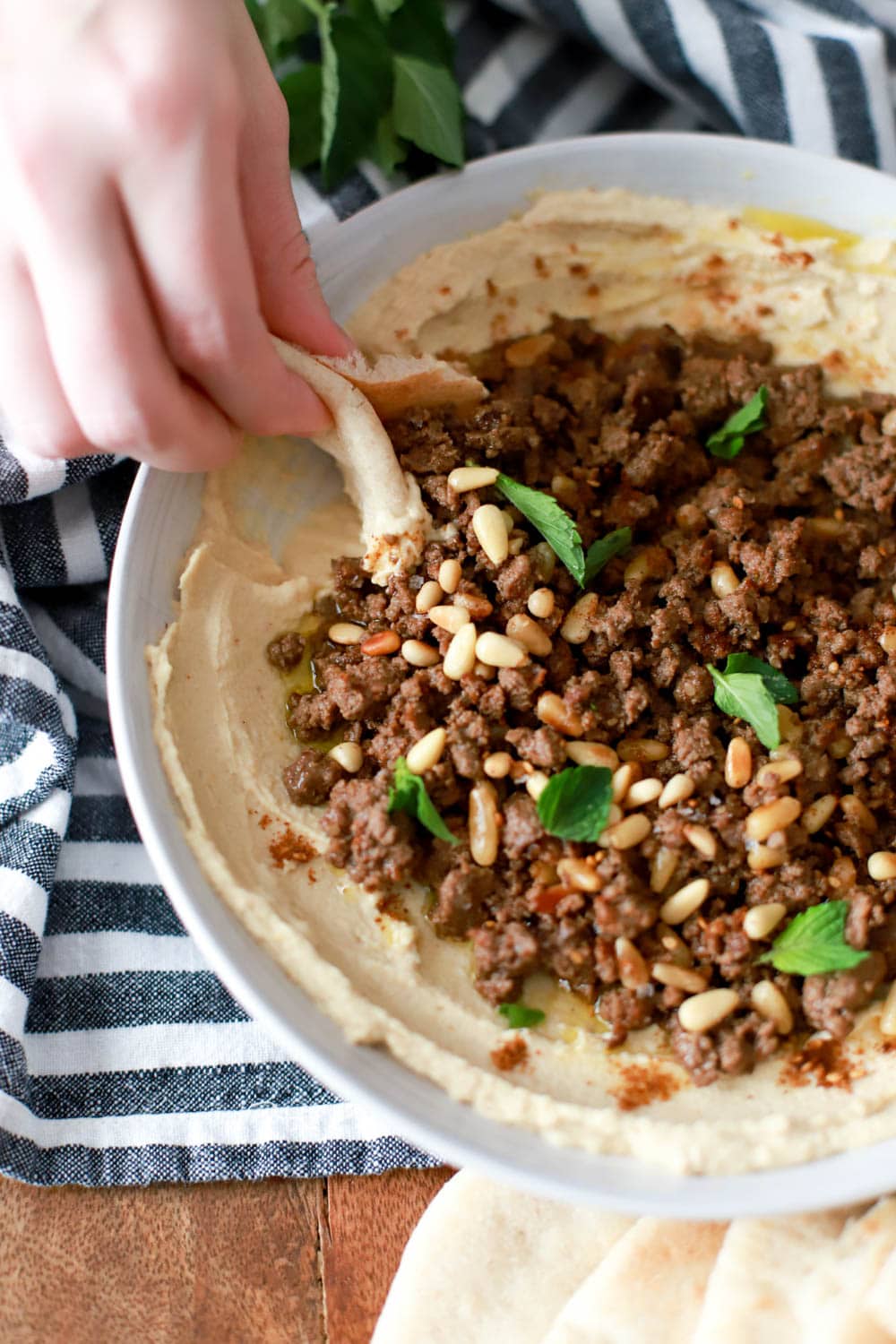 AND AND AND. Next week we're making it into a whole big Mediterranean hummus board that I want to make once a week for the rest of my life.
Hummus meat for the win! Thank you, 12 Chairs Cafe, for this excellent inspiration, sorry that this is not in any way authentic, we can't wait to come back.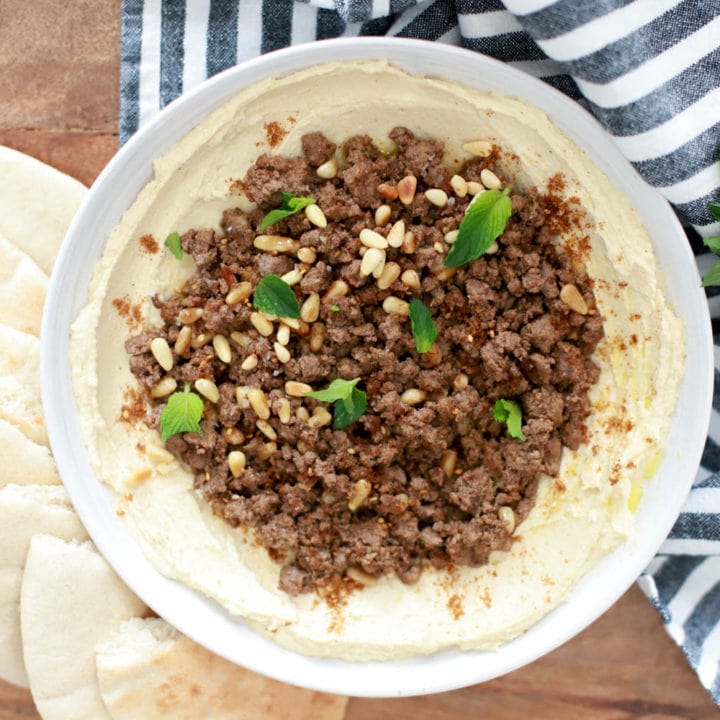 Spiced Ground Meat and Hummus
Yummy spiced ground meat (use beef, lamb, pork, or even venison!) that goes over hummus for a protein-packed, savory appetizer or main dish. Use this for dipping, to stuff into pitas, or to make yummy grain bowls!
Ingredients
1

pound

hummus

use my shortcut hummus recipe!

¼

cup

toasted pine nuts

2

tablespoons

butter

1 ½

pound

ground beef

2

tablespoons

zaatar

1

teaspoon

kosher salt

1

teaspoon

ground cumin

½

teaspoon

smoked paprika

1 ½

cups

beef stock

pita bread for serving

TOPPINGS: Fresh mint leaves

flaky salt, olive oil, pine nuts, more zaatar
Instructions
Preheat a large skillet to medium-high heat. Add the butter with a drizzle of oil and add the ground meat.

Cook the meat, breaking it up with a wooden spoon as you go. When the meat is browned and crumbly, add the zaatar, salt cumin, and smoked paprika.

Stir to coat the meat with the spices and let the spices toast for 2 minutes or so. Add the stock and reduce the heat to medium-low.

Allow the meat to simmer for about 10 minutes until the stock is mostly reduced - the meat should be saucy but not soupy. Taste the meat and add more salt if needed - it should taste excellent. Stir in the pine nuts and turn the heat off.

To serve, make a bed of hummus and spoon the spiced ground meat with pine nuts right in the center. Add toppings if you'd like. Serve with pita and anything else you'd like for dipping. Enjoy!
Notes
Storebought hummus works GREAT here, or you can get really meal preppy and make a batch of lemon tahini dressing, then use THAT to make shortcut hummus, or use any hummus recipe you like.
This recipe is also a part of the larger hummus board featuring tons of other yummy things!
This recipe was inspired by the HUMMUS MEAT at 12 Chairs Cafe in Brooklyn, which I love and adore and can't wait to go back to.
some links in this article are affiliate links, but none of this article is sponsored. thank you for reading, making, and clicking!