Super cinchy basic chicken marinade that we use for everything! This is my favorite kid-friendly chicken recipe, and it couldn't be easier: three ingredients, cook the chicken however you'd like, and enjoy! We use this easy chicken marinade often for grilling, but this is also a delicious way to make seared chicken breasts or broiled chicken thighs indoors. Mainly: yum.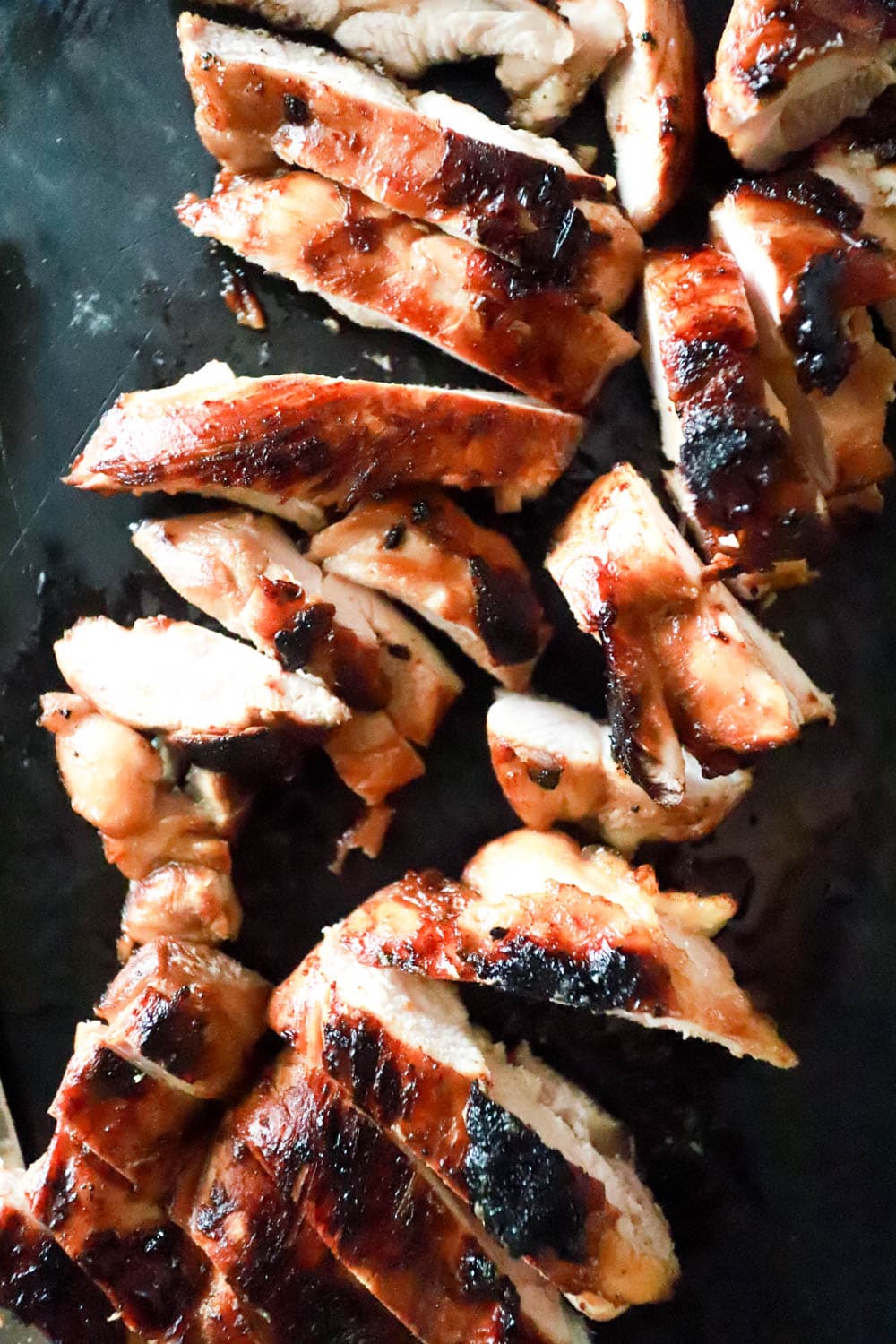 Maple marinated chicken, HELLO.
We've been messing around with a collection of "regular" recipes that are 1. easy to make and 2. our kids will eat, and we've struck gold with this one. I wrote on Instagram that in Pandemic Life (especially dead of summer) we did some kind of family grilling a night or two a week. The main purpose of this was to have fewer dishes, but it ended up being a fun way to try out some different foods that the kids hadn't been exposed to.
We make marinated chicken thighs or marinated chicken breast at least every week, and grilling is easy because it gets the spattering OUT OF THE HOUSE. I've messed around with a few easy chicken marinade recipes, but in the end it was always: something tangy, something savory, something sweet. The combo of just these three ingredients, maple syrup, Worcestershire sauce, and apple cider vinegar give us everything we need for tons of flavor.
Maple Glazed Chicken
Easy chicken marinade for grilling goes like this! Whisk the ingredients together, add chicken. Let sit for as long as you can - I often start this around lunchtime to give 4 or so hours for the chicken to marinate, but even 20 minutes is enough for lots of flavor here.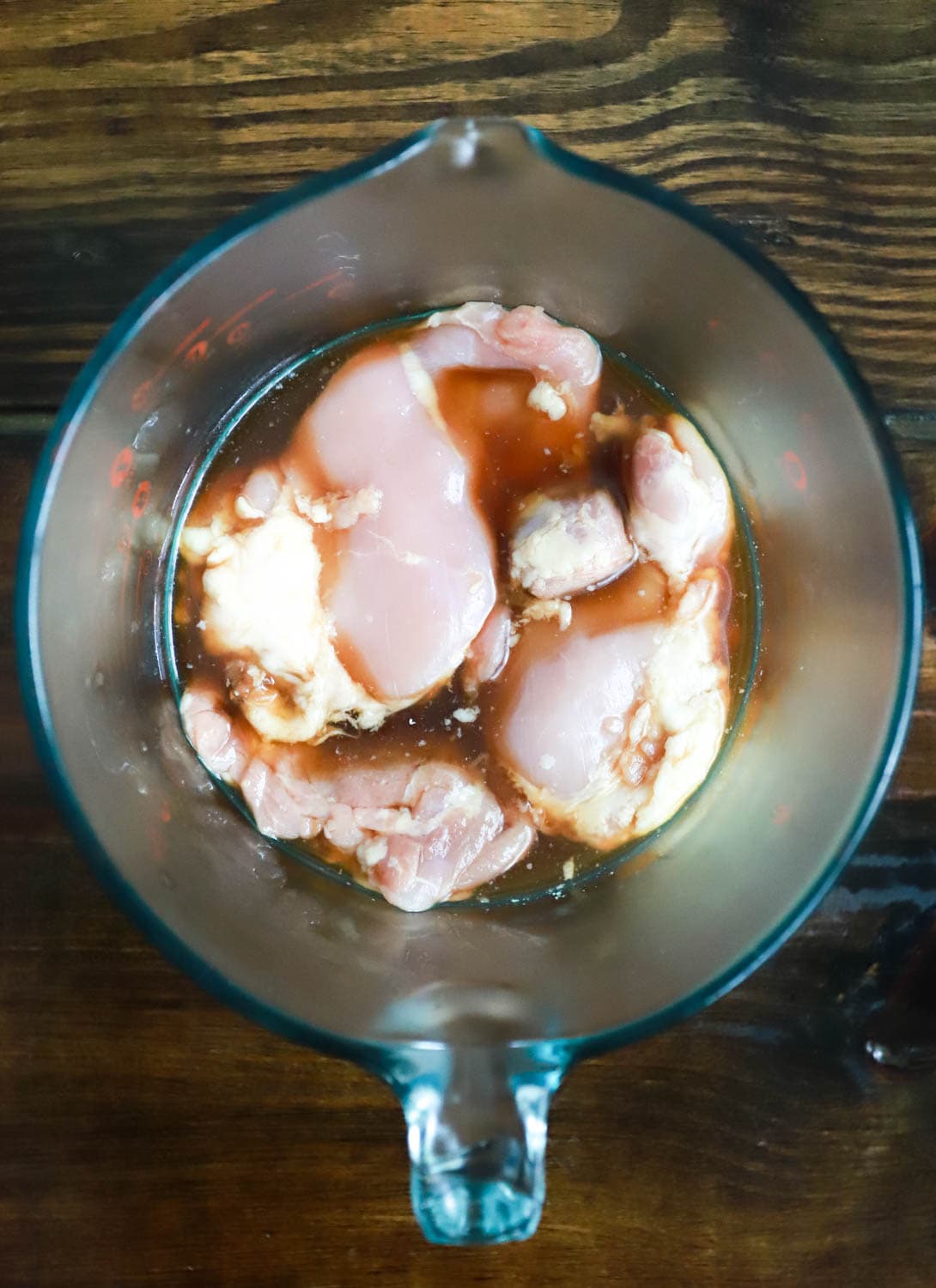 When you're ready to cook, pick a heat source. I've grilled this maple glazed chicken, seared it in a nonstick skillet and cast iron skillet, broiled the pieces, and honestly it all works. However YOU feel comfortable cooking chicken is how you should cook this.
Take the chicken out of the marinade and sprinkle it with salt on both sides.
Note that the recipe doesn't have any oil. That usually works fine on a grill, but if you're cooking this inside I would drizzle some oil over the chicken or in the pan before you add the salt.
Cook the chicken until it's just cooked through, then let it rest for about 5 minutes before slicing and serving however you'd like.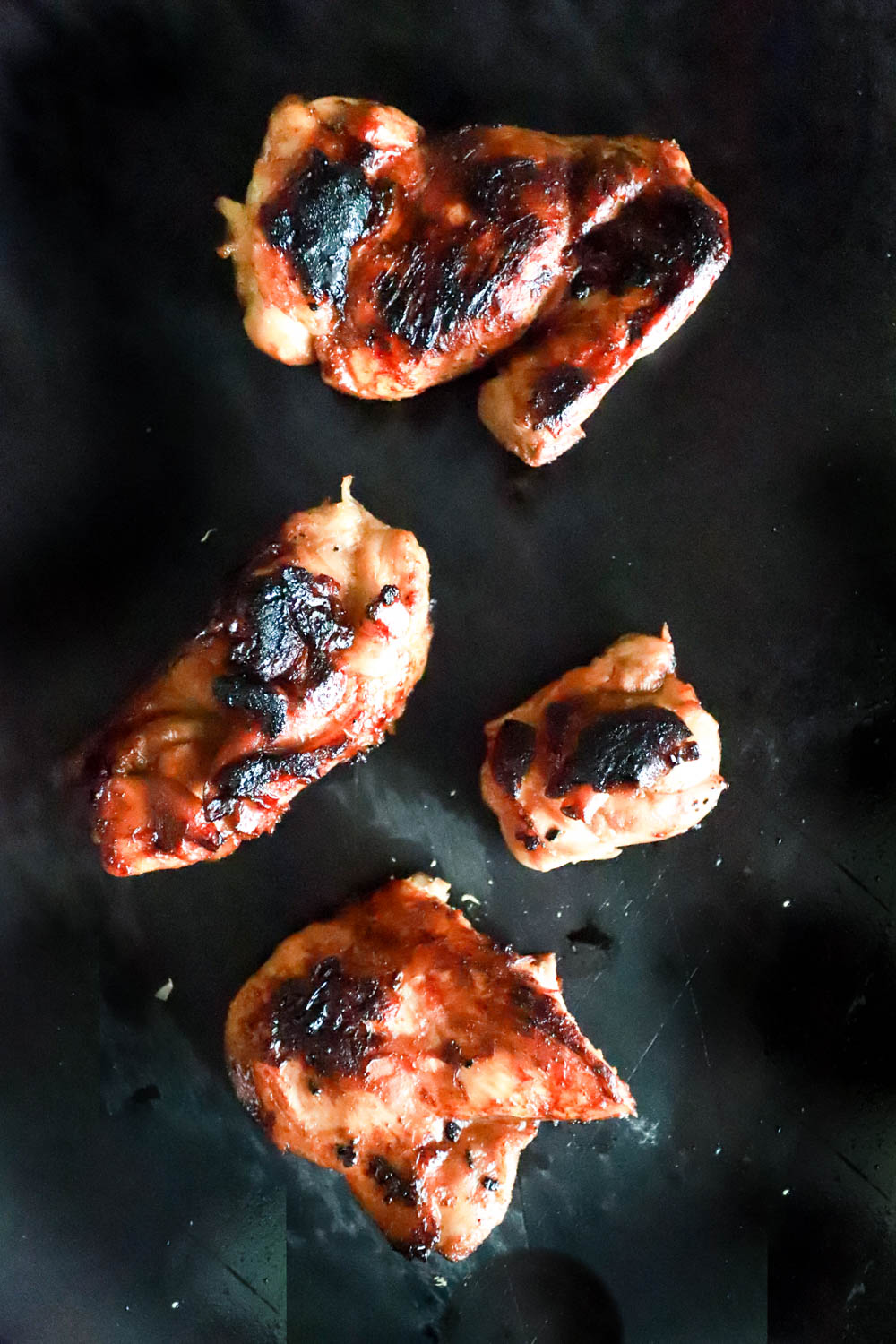 We serve this over salad a lot, but I also love it with broiled green beans and mashed potatoes for a classic square dinner meal, OR with crispy smashed potatoes because anything that resembles a french fry goes down a little easier, right?
Make-Ahead and Vegetarian
For meal prep, we make a double or triple batch of this, cook it all, and use it on salads or in wraps for cold lunches throughout the week. I don't freeze already cooked meat (unless it's in a stew or curry or similar) because it gets a weird texture to me when it's thawed. Some people freeze grilled chicken, though!
Our kids love this, so having extra in the fridge is nice for a "throw food on plate, eat, you monster" kid friendly chicken recipe. Maybe it's just my kids, but "waiting politely until 5:30" is honestly not a skill we possess every day.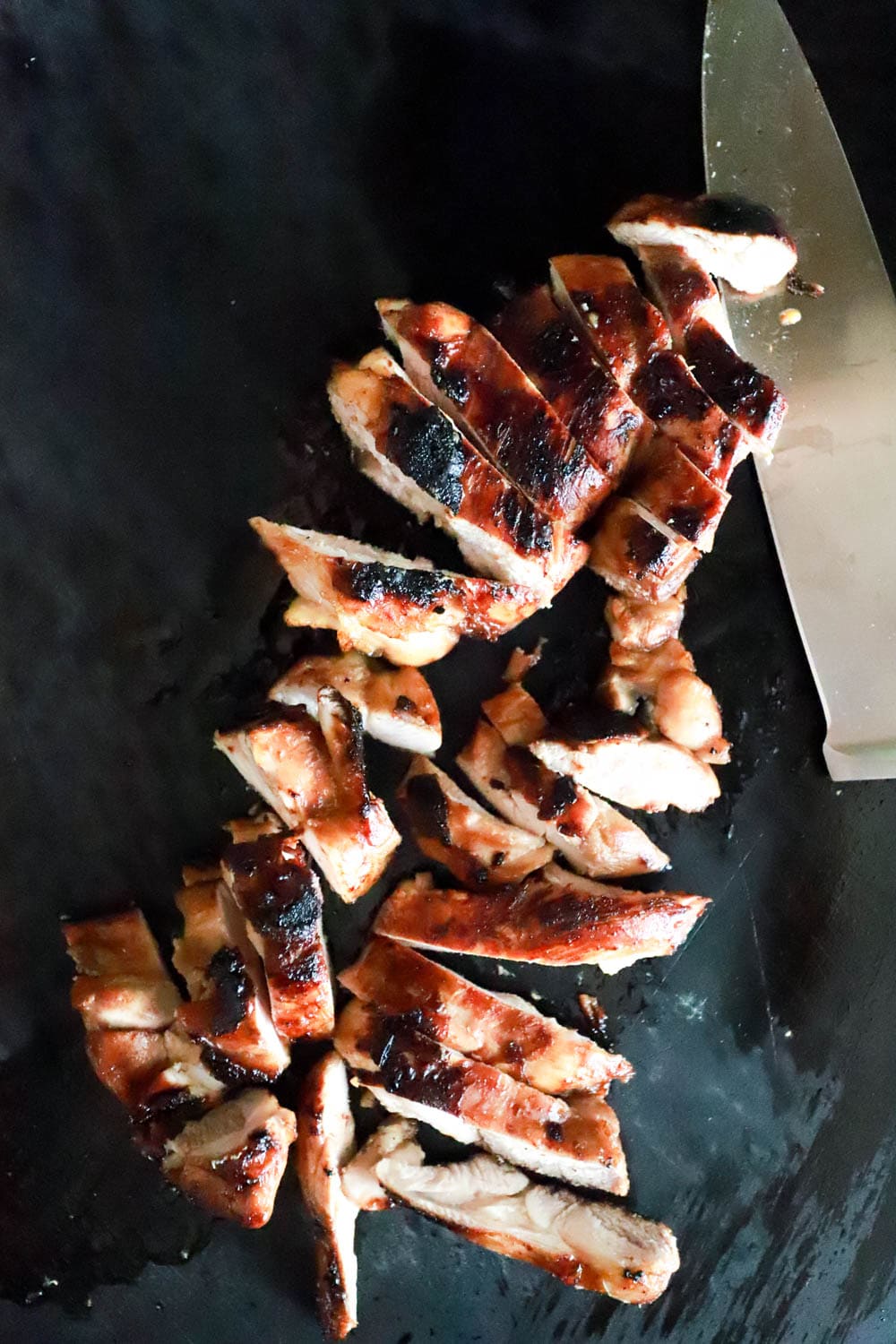 Could I use this as a basic marinade for tofu? Um, yes yes yes. Same deal, cook the protein however you like, but this would be delicious on pork chops, tofu, shrimp - lots of things!
Aaaaaand that's it! Basic chicken marinade, to have and to hold, love of my life. Honestly I've made some marinades with a gazillion ingredients, and sometimes those are fun to play with, but this particular combination of these 3 ingredients has been so delicious for us all summer. Besides the salt right before cooking, I don't think this is missing anything.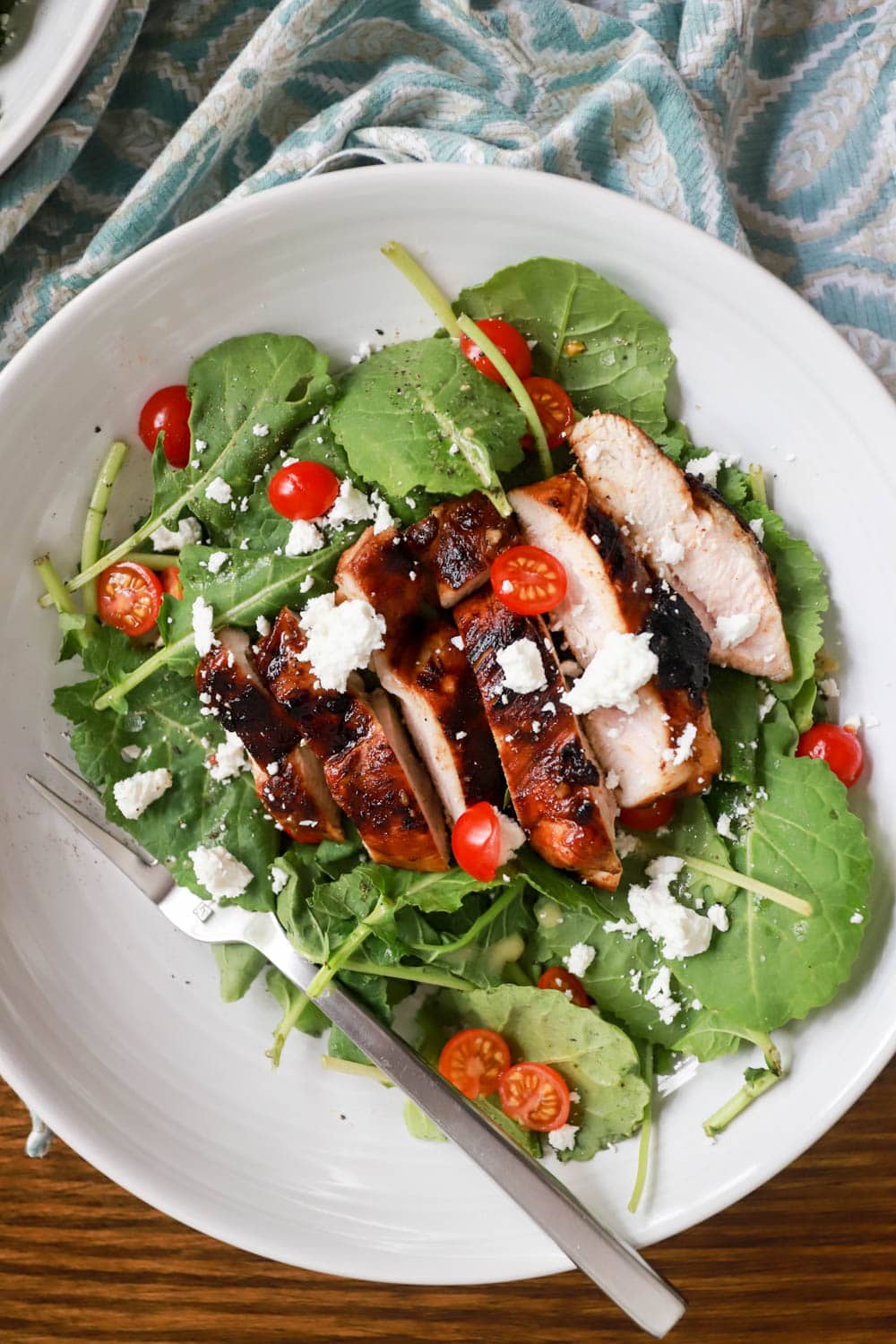 Plus: When this is cooked and charred the syrup gets all sticky, and if we call this maple glazed chicken it is DEFINITELY a fall recipe, right? v basic.
Enjoy this! It's a favorite around here.
PS! If you're like me and gathering a stash of kid friendly recipes with chicken, my easy baked chicken tenders recipe are super duper easy and delicious winners!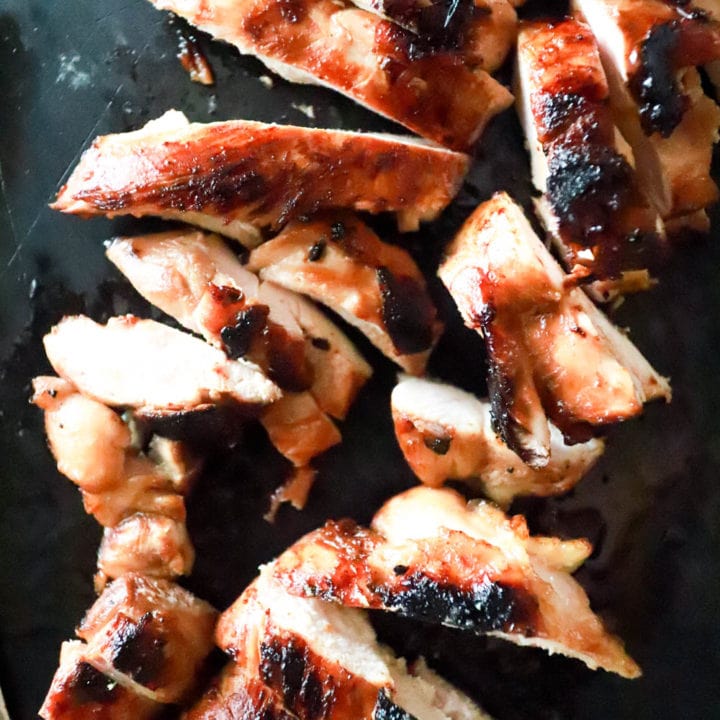 3-Ingredient Basic Chicken Marinade
Easy and delicious basic chicken marinade that works with any kind of chicken you like! The sweet + tangy + savory combo makes this the perfect kid-friendly chicken recipe, and charred on the grill adds even more flavor. Memorize this recipe and use it with your favorite side dishes!
Ingredients
1

pound

boneless

skinless chicken thighs or breasts

¼

cup

maple syrup

¼

cup

apple cider vinegar

2

tablespoons

Worcestershire sauce
Instructions
Whisk together the syrup, vinegar, and worcestershire sauce. Add the chicken and let marinate, 20 minutes or up to 4 hours.

When ready to cook, preheat a grill or grill pan for direct-heat grilling (medium-high or so).

Grill or sear the chicken for about 7 minutes on each side until charred and cooked through.

Let rest for 5 minutes before slicing and serving with your favorite dinner.
Notes
We grill our chicken when the weather allows to cut down on dishes, but this chicken marinade works for searing inside, a grill pan, or even broiling. Depending on your preferred cooking method, the time will vary, but aim to cook the chicken until it's juuuuuust done (165F if you're using a meat thermometer) and then remove from the heat so the chicken doesn't dry out.
This recipe doesn't contain oil, so if you cook this indoors use some oil or cooking spray to cook your chicken. I recommend a cast iron skillet for good searing indoors.
Serving suggestion: Your favorite side dishes!