Our favorite all-the-time simple house salad recipe! The BEST combo of green stuff, crunchy stuff, cheesy stuff, and homemade croutons all blanketed in a delicious honey lemon vinaigrette. I love this with a crispy fried chicken cutlet as a whole meal, or as a side dish with steak and veggies.
When it comes to cooking, I have increasingly decided that one of each kind of thing is fine when it comes to things I make. I have a BEST brownie, a best pasta, a best bread, instead of constantly trying different versions of things.
With that kind of cooking, I get really good at the recipes I make, and get to tweak and adjust over the years to make them just like I like them.
That's the deal with this basic salad recipe. It's a combo of flavors that go SO well together with all sorts of textures and ingredients that make this salad really interesting.
The short version is: This is a green salad with honey lemon vinaigrette, but it's a really, really good version of a simple salad with lots of good stuff in it.
If a salad is boring I won't eat it, basically.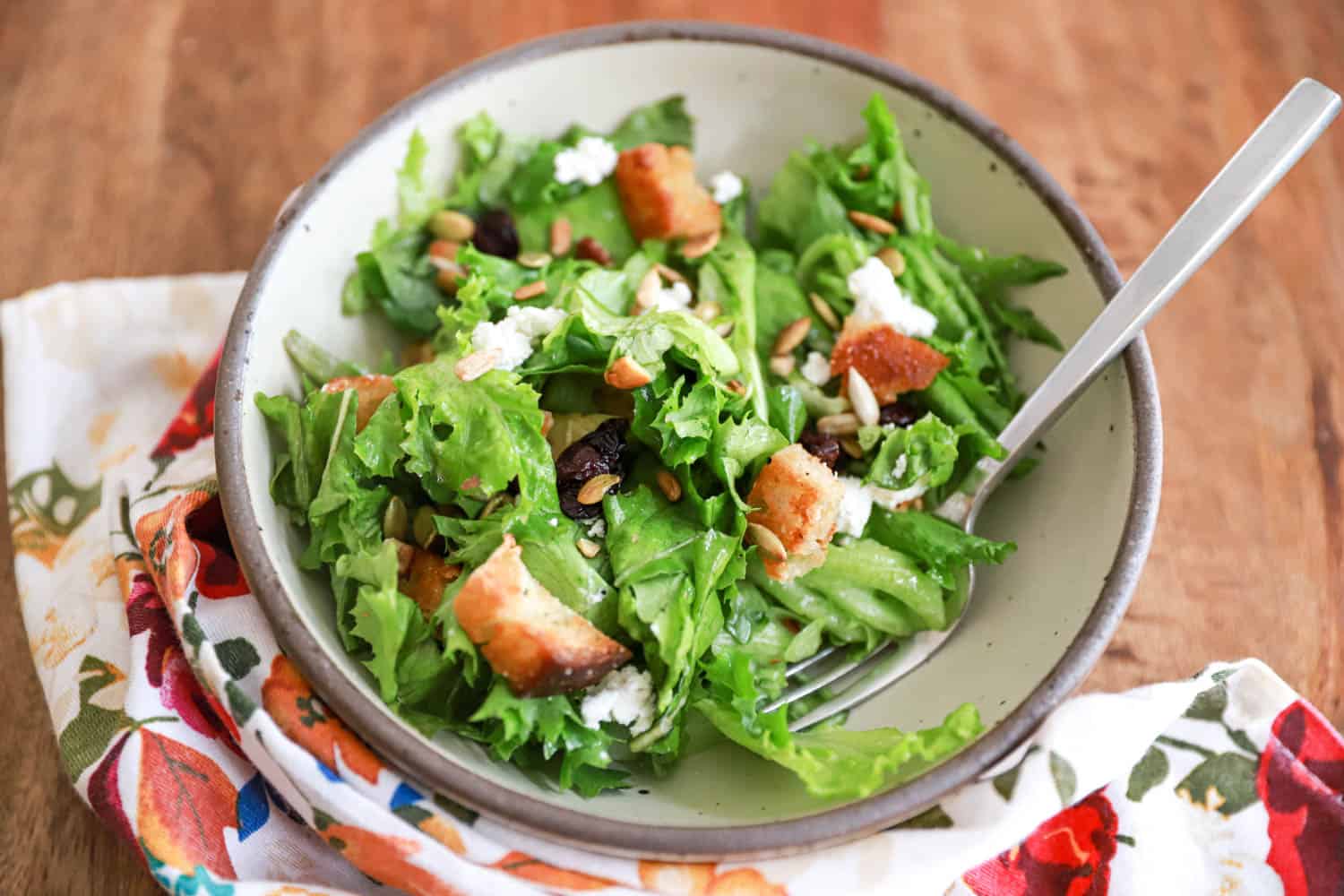 Recipe Notes and FAQ
This is a salad that is endlessly customizeable, but the trick is: you need crunchy croutons and nuts, a creamy cheese, a sweet dried fruit, and a light vinaigrette. All of those things can be swapped based on what you like, but this is my absolute favorite combination of ingredients.
The goat cheese mixes a tiny bit with the ranch to create a creamy effect without using any cream or mayo, and it is SO yummy. Trust.
I usually make this salad vegetarian, but you can absolutely add a little crispy bacon or pancetta - extra salty crunch for the win, always.
Are House Salads Healthy?
Ok, tbh I don't love the word healthy because it can mean a lot of different things to a lot of different people. This particular house salad is fairly light and has lots of nutritious ingredients + some protein from cheese and nuts.
What is Usually in a House Salad?
The answer to this question varies WIDELY, and in America I usually see two types of house salads: a steakhouse salad that might have cheese, bacon, tomatoes, cucumbers, and ranch dressing. OR a green house salad (sometimes called a bistro salad!) with a vinaigrette, nuts, a little cheese, and maybe a few other veggies mixed in. This salad is the second kind of house salad.
Salad Meal Prep Tips
I love having this house salad for lunch during the week, and having lots of the ingredients prepped in advance means I can just toss the ingredients with the dressing and be good to go.
Here's what I do in advance:
Wash the lettuce and store it in the fridge. I don't tear it or chop it in advance - I find it browns more that way.
Mix up the dressing - it's fine on the counter in a jar for a few days.
Make the croutons - they also get stored at room temperature in a bag or airtight container.
Toast the walnuts or whatever nuts I'm using - I had a blend to use up for these photos.
Honey Lemon Vinaigrette Recipe
Whether I'm making the salad all at once or prepping the dressing in advance, the salad dressing is the first thing I make.
Gather up lemon juice, olive oil, honey, salt, pepper, and a clove of garlic.
Whisk the ingredients together or shake them up in a mason jar with a tight fitting lid, and done! I use a Microplane teeny zester to grate the garlic directly into the lemon juice so that the garlic kind of melts into the dressing. YUM.
Salad Ingredients
Once I have the dressing made, I prep and gather up the rest of the ingredients.
You can absolutely swap out any of these ingredients, but this particular combination to me is seriously SO good.
Dressing: The punchy acid with the salt, sweet honey, and fresh garlic is just SO good on this salad. I make a lot of dressings, but this is by far my favorite homemade salad dressing recipe.
Greens: I use whatever local salad greens I have, or the Living Lettuce types of greens from the store. Any salad green you like is great, though!
Dried Cherries: These give more sweet/tart contrast and are yummy with the goat cheese.
Goat Cheese: Plain, crumbled with a fork, tossed with the rest of the salad for a tart/creamy effect.
Toasted Walnuts: I do this in advance and sprinkle them on all sorts of things all week. Pecans or mixed nuts and seeds are great in this salad, too!
Garlic Butter Croutons: Storebought croutons, sure. But making your own is SUPER simple, and very next-level in terms of flavor. It's also a great way to use up leftover bread! I didn't repost all of the images for crouton-making here, but the instructions for making croutons are in the recipe card below.
Salt and Pepper: A VERY easy way to make your salads ultra next level is to season the greens directly as you're preparing the salad. The little bit of extra flavor from the salt and pepper makes homemade salads feel very restaurant-style.
Step By Step Instructions
Once the salad ingredients are prepped, we just assemble and go!
I only add the dressing once I'm right about to eat, and I only make enough salad for the people I'm serving. Since the dressing gets tossed with the greens, the salad tends to wilt somewhat quickly, so leftovers aren't great.
Into a bowl, I add greens with a little bit of dressing - a tablespoon or less per person (2 cups of greens) AND a sprinkle of salt and pepper. This is the secret tot making really good salads at home!
Toss the greens with the dressing, salt, and pepper, then add the dried fruit, nuts, goat cheese, and croutons to the bowl.
Toss very gently once more, and serve! Taste the greens and add a little more dressing if you'd like.
What to Serve with a House Salad
I love this salad alone for lunch, and sometimes I top it with a protein like a freezer chicken cutlet OR leftover grilled marinated chicken.
For dinner, here are some of my favorite things to have with this salad on the side:
The list goes on and on, but the point is this: this is a truly wonderful house salad to have on hand for a main dish or a side dish, and you'll absolutely love it. Try it this way once, then change it up every time to make it your own!
Favorite House Salad
The best house salad! As a main dish, as a side dish, as a potluck offering - sky's the limit!
Ingredients
Dressing
1

lemon

juiced (3 tablespoons or so)

¼

cup

olive oil

2

tablespoons

honey

1

teaspoon

kosher salt

see note

1

clove

garlic

finely minced or grated with a zester

¼

teaspoon

black pepper

several grinds from a grinder
Croutons
2

cups

cubed bread

3

tablespoons

butter

½

teaspoon

salt

¼

teaspoon

onion powder

¼

teaspoon

garlic powder

fresh black pepper
Salad
8

cups

salad greens

¼

cup

dried cherries

¼

cup

toasted chopped walnuts or mixed nuts

2

ounces

goat cheese

crumbled with a fork

salt and pepper for seasoning
Instructions
Dressing
Shake all ingredients together in a mason jar or whisk together.

Taste the dressing, and add more salt to your preference. Store until ready to use.
Croutons
In a skillet, warm the butter over medium heat.

When the butter melts, add the bread cubes and toss every few minutes for 5-10 minutes until the bread is lightly toasted.

Sprinkle the salt, onion powder, garlic powder, and as much pepper as you'd like all over the croutons.

Keep tossing and stirring to coat everything evenly in the butter and spices until the croutons are deeply golden brown.

Transfer to a plate to cool completely before storing or serving on.
Salad
Place the greens in a large bowl and season with about 2 tablespoons of the dressing and a sprinkle of salt and pepper. Toss and taste; the greens should be very flavorful. (see note about adding salad dressing in advance)

Add the croutons (about 1 cup), dried cherries, nuts, and goat cheese to the bowl. Gently toss and taste again; add more salt or dressing if needed.

Serve the salad on shallow bowls because it tastes better that way. Enjoy!
Notes
Make-Ahead: The dressing can be made up to a week in advance. The croutons can be made 3 days in advance and stored in an airtight bag or container on the counter.
Find more tips and tricks on making your own croutons in the original post for garlic butter croutons.
Salt: The measurement here is for kosher salt. Iodized or table salt will cause the dressing to be too salty. If using sea salt or fine salt (table salt), start with ½ teaspoon then add more if needed. The dressing should be very flavorful but not overly salty.
Leftover Storage: If anticipating leftovers, do not dress or salt the greens before serving - do this one serving at a time and leave the rest of the salad naked. Dressed/salted greens tend to wilt very quickly and won't hold up well as leftovers.
This recipe was originally published in July 2012 and has been updated with new instructions and photos. Gosh that was a long time ago.
More Yummy Veggie Side Dishes