My favorite steamed potatoes recipe ever! Steamed baby potatoes with herb butter cook on the stovetop with just a few ingredients. I love baby yellow or Yukon Gold potatoes for this, but any small potato you enjoy works great! These are particularly delicious made into a meal with cast iron skillet salmon or prime rib and a lemon kale salad.
Say hello to our new favorite GF side dish! Tiny baby potatoes, simmered and steamed and lightly crispy from butter + salt, tossed in any herbs you have, just super duper simple happiness all around.
These steamed potatoes are simple and quick to make - I serve them all the time and just change the herbs I use so they go with whatever I'm serving them with!
Recipe Notes and Variations
This recipe starts kind of like steamed broccoli - a little liquid in the bottom of a pot, potatoes, and a tight fitting lid.
I add flavor with butter, kosher salt, and fresh herbs - literally any kind of herb you like works great. I love rosemary because salty, buttery, rosemary potatoes are just absolutely heavenly.
After the potatoes have steamed in the stock we let the stock reduce all the way down so that the outside of the potatoes can get a little bit crispy. It is SO good.
These potatoes are gluten free as written, which is a nice little bonus to have in our back pockets.
Make these vegetarian by using veggie stock, or vegan with vegan butter and vegetable stock.
The great thing about these baby potatoes is that they are cooked whole so we're talking a quick rinse, no chopping, no mess, just throw potatoes in the pot and go.
Steamed Potatoes FAQ
Can You Steam New Potatoes?
Yes! You can actually steam any kind of potato, but I prefer to use small potatoes or new potatoes. The skin is more tender and the insides get nice and fluffy when steaming.
How Long Does It Take To Steam Potatoes?
This depends on the size of the potatoes! Usually small/tiny potatoes steam in about 25 minutes cook time, and larger ones will take longer. I let them steam for 20 minutes to start, then check them with a fork every 5 minutes after that until the potatoes are very tender.
What is the Best Potato for Steaming?
Mostly: any kind you like! I love small gold or red potatoes in particular for this recipe, but any potato you like will work great.
Ingredients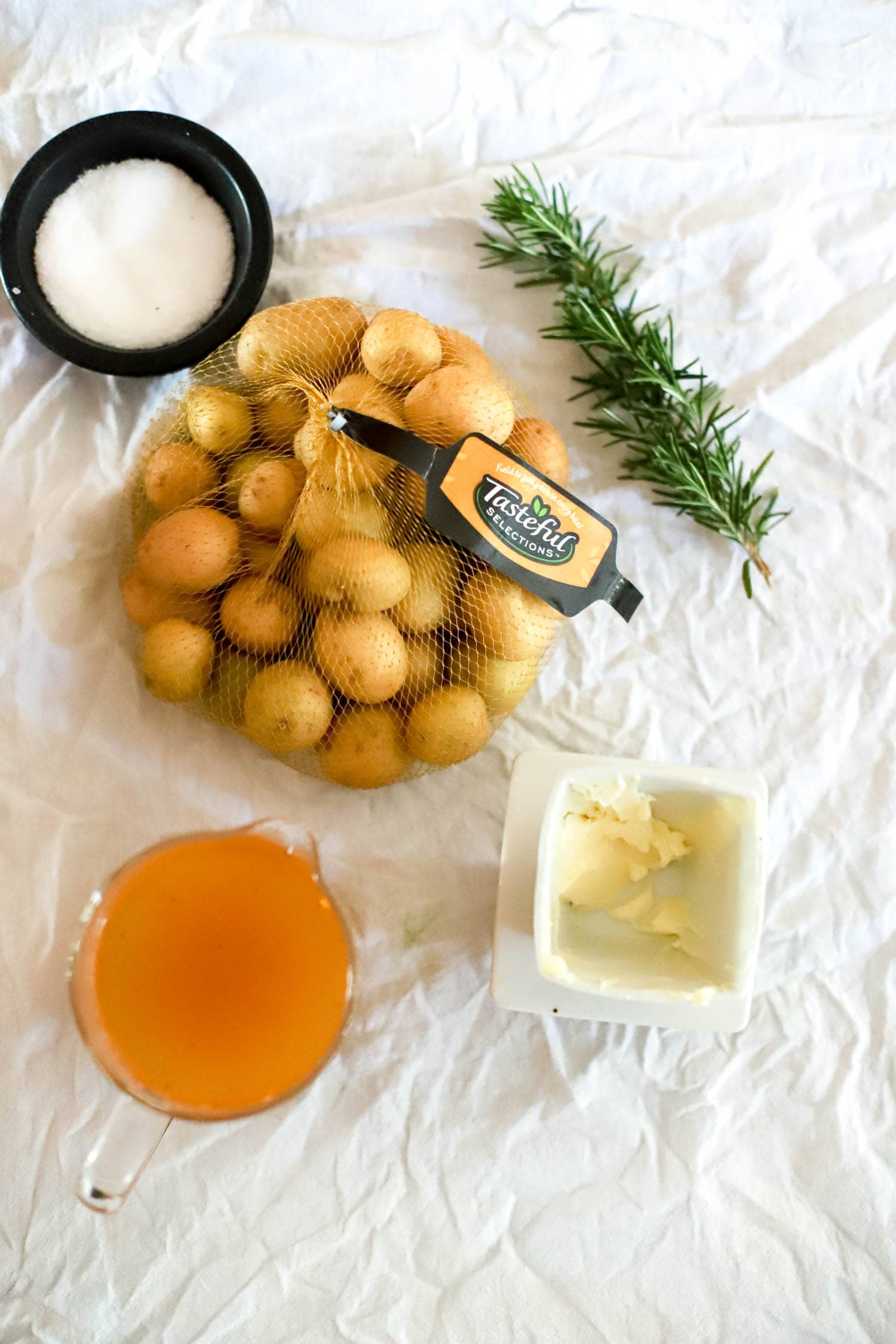 Here's what we need! Small or baby potatoes - I use 4-6 potatoes per person depending on how big or small the potatoes are. Then we have salt, butter and olive oil, stock, and some green stuff for topping. Although, the green stuff can be skipped if we're being honest.
For herbs, I love rosemary and parsley or a combo of both. BUT, any herbs you like will be great here. Chopped scallions or chives, thyme, dill, anything you like, or nothing at all in the green department.
If you prefer to not mess with fresh herbs, salted buttered baby potatoes are not sad on their own, promise.
Step By Step Instructions
You'll need a pot with a lid - that's important! I use a small soup pot.
Give the potatoes a little wash (I do this in advance and call it meal prep), then put them in the bottom of a pan with a drizzle of olive oil. Turn the heat to medium and shake the potatoes around to coat them in the oil.
Add a good sprinkle of salt to the potatoes at this point, too. Potatoes can tolerate a lot of salt - don't hold back.
When the potatoes are hot and coated in oil, pour stock over them to cover the potatoes by about half. The amount here will depend on your pot, but I use 1-2 cups for 4 servings of potatoes, in general.
Cover the pot with a lid and adjust the heat so that the stock is simmering but not boiling.
Let the potatoes simmer and steam for about 15 minutes, then check them for doneness. The cooking time will REALLY depend on how big your potatoes are. Stick a fork in the potatoes - if it glides in and out easily they're done!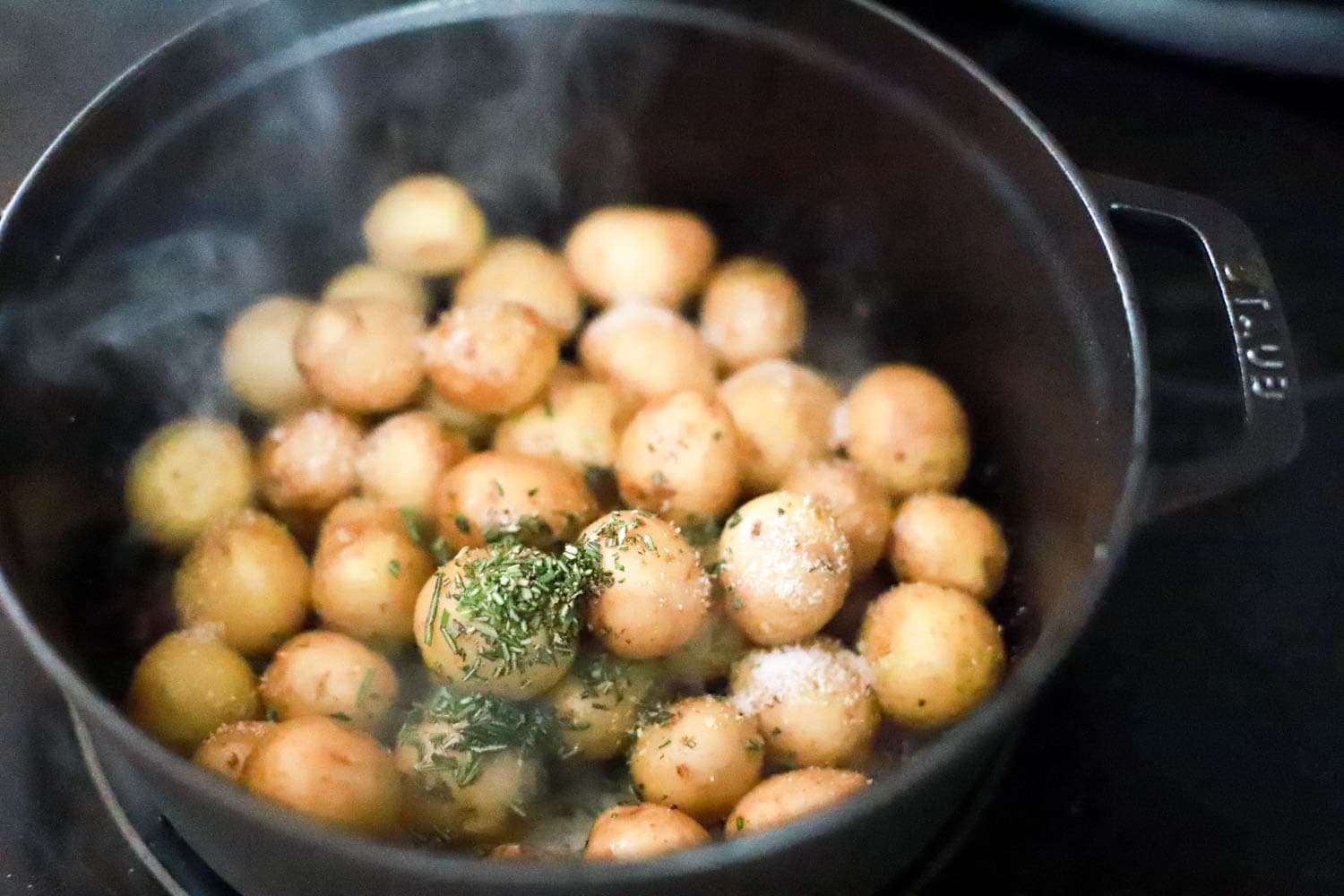 These take anywhere from 15-25 minutes for me but, again, that depends on the size of your potatoes and how hot your stove is. Each time you check the potatoes, give them a stir so that the bottom layer doesn't get too brown.
If the pan gets a bit dry as you're checking the potatoes, add stock ½ cup at a time until the potatoes are cooked through.
To Finish: When the potatoes are tender all the way through, take the lid off and let any remaining stock evaporate. Add the butter, herbs, and a little more salt to the pot, and shake and stir everything together.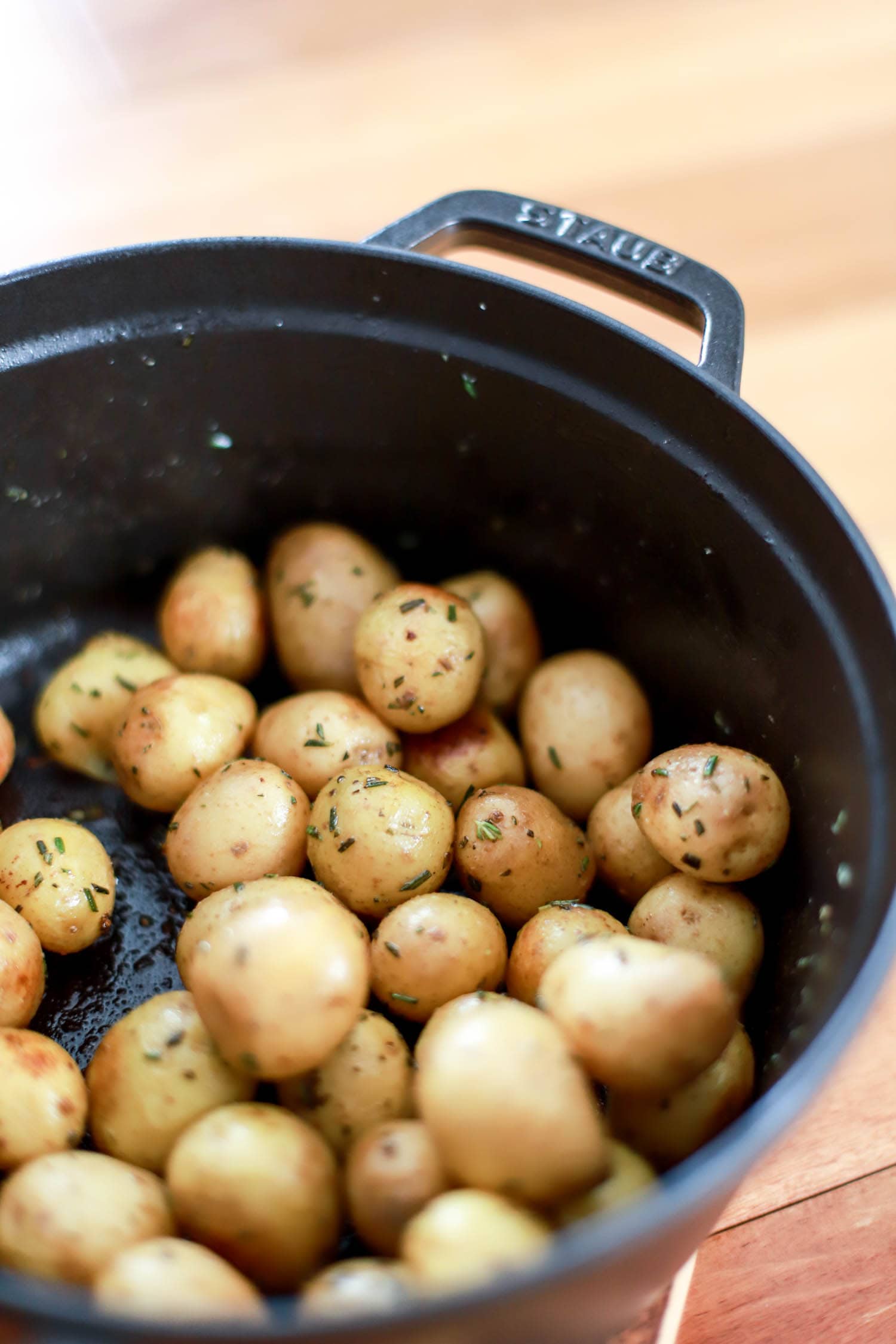 What we end up with here is tender, fluffy potatoes on the inside, slightly crispy skins from the hot pot, and tons of flavor from butter and herbs.
Shaking the potatoes around and then letting them sit for a minute or so will help to get some nice crispy bits on the bottom of the potatoes.
All.Good.Things.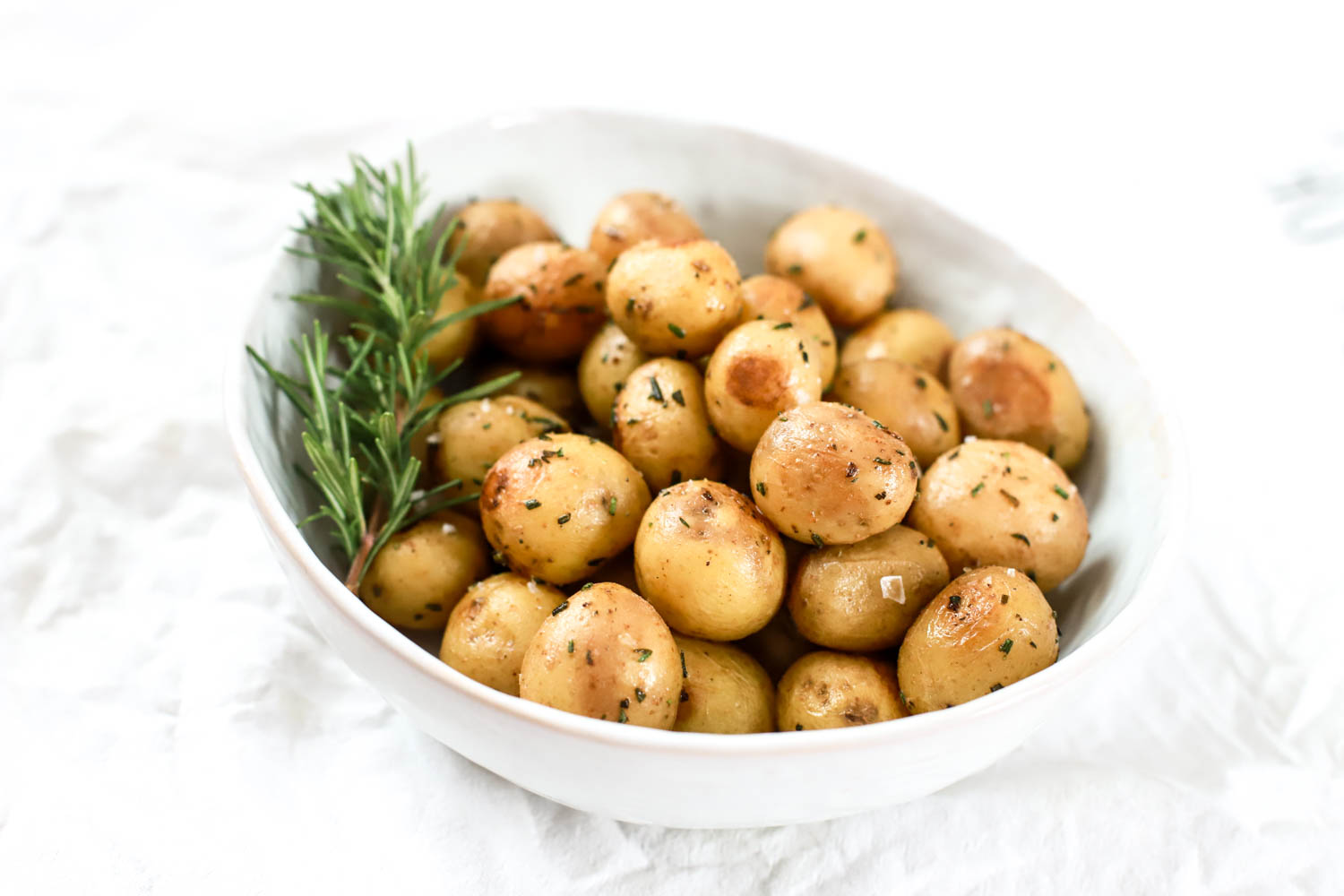 Serving and Leftover Storage
I love these for a gluten free weeknight side dish, but they're also great for Easter or any other holiday paired with some copycat Honeybaked ham and asparagus casserole, aka the most holiday of holiday meals ever invented in America, right?
Leftovers keep great in the fridge for a few days, I heat them up in the microwave until they're warm again.
Other Recipes to Serve with Steamed Potatoes
Enjoy these! They're so simple, go with everything, and turn out perfectly every time. You will love them!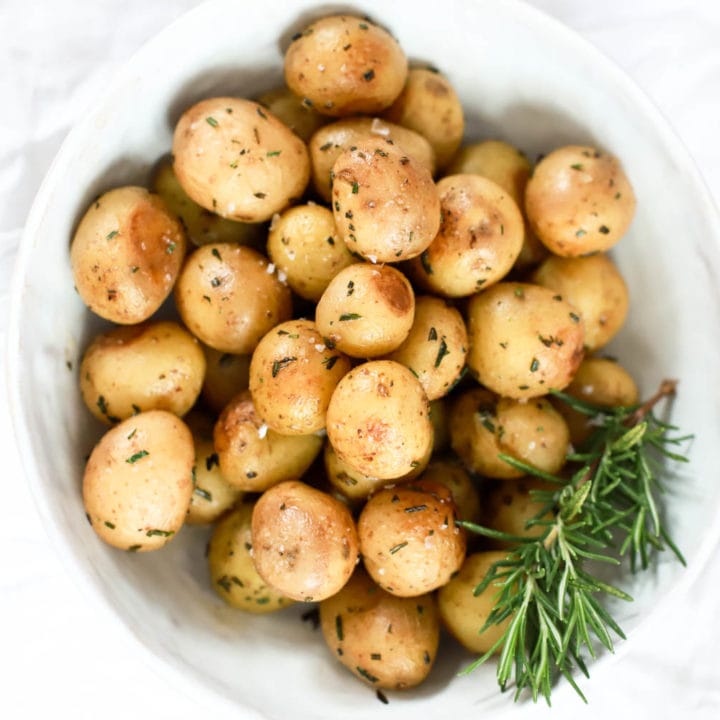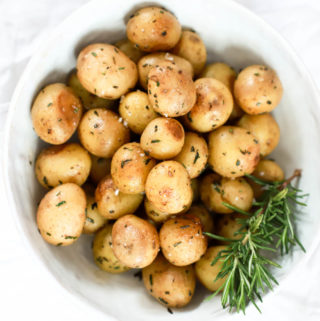 Tiny Steamed Potatoes
Super yummy baby potatoes with just a few ingredients! Add any fresh herbs you like for flavor and enjoy this no-fuss 30 minute gluten free side dish. YES.
Ingredients
1

pound

tiny potatoes

scrubbed clean

2

tablespoons

olive oil

1

cup

chicken or vegetable stock

1

teaspoon

kosher salt

2

tablespoons

butter

2

tablespoons

fresh chopped herbs
Instructions
In a small pot with a tight fitting lid, add the oil and potatoes over medium-high heat. Toss the potatoes in the oil.

Add the stock and salt to the pot. Put the lid back on the pot and turn the heat down to medium low. Steam the potatoes for 20-25 minutes until tender, shaking the pot (carefully!) every 10 minutes or so until the potatoes are tender when pierced with a fork. **If at any point the pan become dry before the potatoes are fully cooked, add ½ cup more stock at a time to keep a little liquid in the bottom of the pot.**

Remove the lid from the potatoes and let them continue to cook until all the stock has evaporated, still shaking the pan or stirring every few minutes. Allow the potatoes to get slightly crispy in some places while this is happening.

Add the butter and herbs to the pot. Stir to combine and serve as desired. Enjoy!
Notes
Use any fresh herbs you like here! I like rosemary and parsley, or a combo of both.
To make vegetarian, sub veggie stock for chicken stock.
To make vegan, use vegan butter or more olive oil.
These work best with tiny potatoes, not larger ones cut into pieces. Having no cut surface area on the potatoes yields a better crackly skin.
This post was originally published in December 2011 and has been updated with new instructions and images.
More Starchy Side Dishes