One of my best "use the oven at all times" Thanksgiving tips: plan an easy side dish that can roast or broil while the turkey rests and is carved.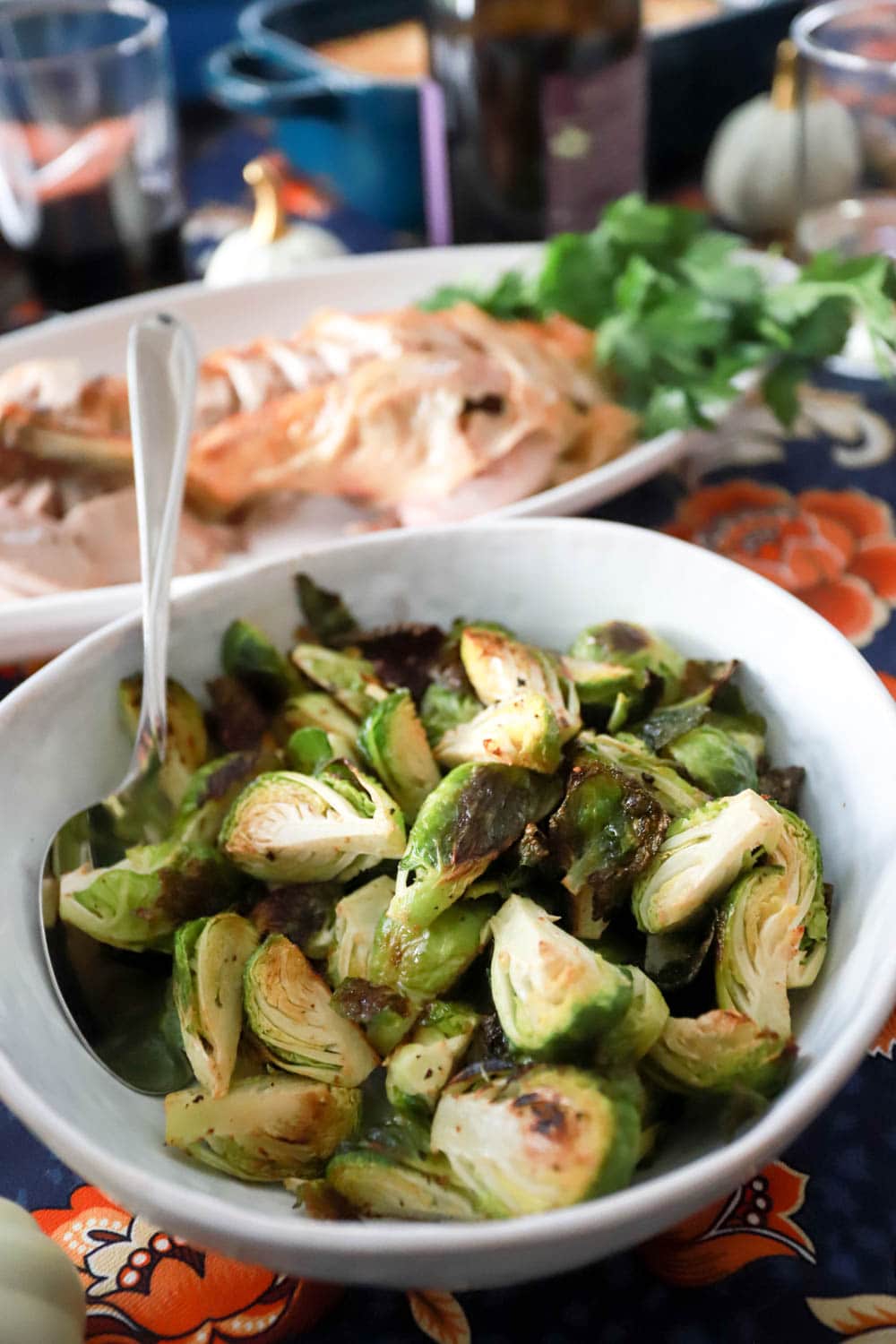 EVEN IF you have a few casseroles that need to reheat at the same time, having one veggie that comes out of the oven fresh right as you're ready to eat makes a really nice balance to what can be a pretty heavy meal.
This technique can apply to tons of veggies, like this 5-minute asparagus from last year or these broiled lemon green beans. This year, I'm doing spiced, roasted Brussels sprouts. They get washed/prepped early in the week, then tossed with butter and spices early in the day. It's a raw veg, so no need to clog up fridge space. They hang out on a baking sheet prepped and ready, roast in the oven while the turkey gets its beauty treatment, and done! A vegetable for those of us that like some vegetables with our butter.
How to Make Roasted Brussels Sprouts
I love this technique and spice blend because it would go really well on almost any veggie: carrots, turnips, butternut squash, you name it. Just adjust the cooking time accordingly. Here we have salt, sugar, and chili powder. Simple!
Wash and trim the Brussels sprouts, cutting them in half if they're large. The key is to keep them all about the same size so they'll roast in the same amount of time.
Toss the sprouts in a bowl with the melted butter and all of the spices. Arrange them on one or two baking sheets in a single layer. Throw any leaves that have fallen off on the pan as well - don't throw them away! They get super crispy and delicious in the oven.
When the oven is free, crank the heat to 450F and roast the Brussels sprouts for about 15 minutes until they're crispy at the edges and tender but not mushy. This is when you'll (someone else, make them do it) carve your turkey, refill (your) drinks, insist that small kids pee and wash hands because otherwise they will HAVE TO GO RIGHT NOW the second you sit down.
Refill that drink again if you need to.
Enjoy these spiced, oven roasted Brussels sprouts! They're a wonderful addition to a Thanksgiving table and we adore them.
PS chop up leftovers the next morning for chorizo veggie hash!
Roasted Spiced Brussels Sprouts
Roasted Crispy Brussels Sprouts are coated in BUTTER and a super simple spice blend. These are done in 15 minutes and are so delicious!
Ingredients
2

pounds

brussels sprouts

washed, trimmed, and halved or quartered to bite sized

½

stick butter

melted

1

teaspoon

salt

1

teaspoon

sugar

1

teaspoon

chili powder
Instructions
Preheat the oven to 450F.

In a large bowl, toss all of the ingredients together. Arrange the sprouts in one layer on a baking sheet (use two if you need to).

Roast the sprouts for 15 minutes, rotating the pans once during roasting. Remove the Brussels from the oven when they are tender and crispy at the edges.
Notes
Keep any Brussels leaves that fall off when you're cutting them up. They roast super crispy (think kale chips) and are so delicious!
When I make these for Thanksgiving or another big meal I prep them early in the day and pop them in the oven right as the turkey/main dish comes out to rest.