This seriously good sour cream squash casserole with Ritz cracker topping is one of my favorite casserole side dishes for any dinner! We make this all summer long with yellow OR zucchini squash and pair it with grilled chicken and baked potatoes, but it's also absolutely perfect for Easter and Thanksgiving dinner!
Oh, squash casserole, how I love you.
I love Southern food, which works well since I live in South Carolina. I didn't grow up eating a ton of classic old school casseroles, but I have WAY MORE THAN made up for it in my adult years.
I'm quite proud of that. (In fact, the most-shared recipe on this site is asparagus casserole, which is also particularly delicious)
This yellow squash casserole with sour cream and Ritz crackers is one of my favorite Southern sides! It goes so well with any dinner items you love, and the best part is that it can be made in advance.
Not joking about my love of squash casserole: I also have a pimento cheese squash casserole and squash casserole mac and cheese that are seriously amazing.
It's so simple to have a yellow summer squash casserole ready to go in the fridge, then add some quick grilled chicken, steak, or shrimp to make an easy summertime dinner.
Recipe Notes and Make-Ahead Tips
The method for this squash casserole recipe is: prep ingredients, sauté the veggies, mix in some creamy stuff, and bake!
I use a combo of sour cream and mayonnaise in most casseroles - the mayo adds really important body to the casserole and the sour cream adds tang. The casserole DOES NOT taste like mayo, I absolutely promise.
This casserole can be made up to 4 days in advance and kept in the fridge, or kept in the freezer for several months. My grandmother often makes squash casseroles in the summer and freezes them for Thanksgiving!
To make ahead for the fridge OR freezer, make the casserole as written until the last baking step. Cover the casserole tightly and keep it in the fridge or freezer, then bake it until hot and bubbly when you'd like to serve it.
The casserole can be baked from frozen OR thawed - whatever the spirit leads you to do.
Squash Cass FAQ
How do you keep squash casserole from getting watery?
Two things: Cooking the squash in advance like in this method, and the mayo and cheese help hold things together! If, after the sautéing step, your squash still feels really watery, drain it in a colander over the sink for 10 minutes or so while it's cooling.
Can you freeze squash casserole after baking?
You could, but I prefer this method of cooking the squash first, mixing it with the flavorful creamy stuff, then freezing it BEFORE the final baking step. This method ensures the casserole still tastes freshly baked (because it is!).
What can I substitute for sour cream in a casserole recipe?
If you can help it, I wouldn't - the sour cream and mayo work so well here. But, using all mayo or full fat Greek yogurt would work in a pinch, OR using the same amount (⅓ cup) of cream of cheddar soup would be delicious.
Ingredients and Ingredient Notes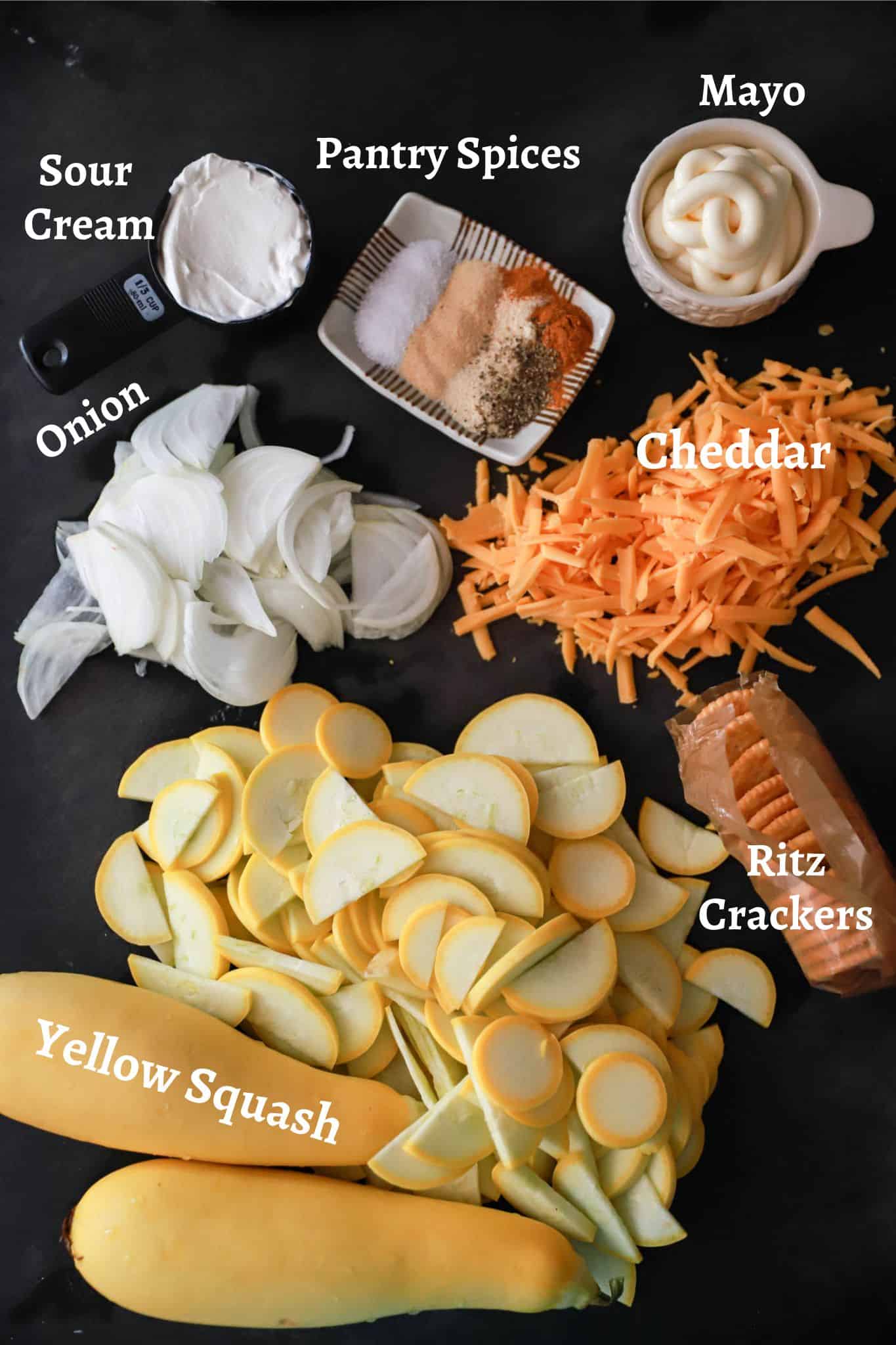 Yellow Squash: this exact recipe can be made with yellow squash (or crook-neck squash, or summer squash), or zucchini. Both work great! Thinly slice she squash to about ⅛ inch slices, but don't obsess over it because life is awfully short.
Onion: thinly sliced for sweetness and flavor.
Spices: Salt, onion powder, garlic powder, pepper, and cayenne pepper if you'd like to add a little bit of spice!
Mayo and Sour Cream: Please, please use full fat. This (and nearly all!) recipe was tested that way, and the texture and flavor will be different with alternative dairy and mayo products.
Grated Cheddar Cheese: Use any kind you like!
Ritz Crackers: The OG, the magic, double the amount if you want - no one will be mad. Buttery Cracker Topping is my actual entire personality right now.
Other Casseroles with Ritz Cracker Topping
Step By Step Instructions
The thing that takes the most time here, truly, is cutting up all the veggies. Everything else is very simple!
Start by adding a drizzle of oil with the squash, onion, and spices to a large skillet over medium heat. (to save time, I turn the pan on then slice the squash while I'm waiting for it to heat up, adding handfuls of the squash as I go to save cutting board room)
Stir the squash mixture together for about 10 minutes until the squash has softened and a good amount of the liquid has evaporated.
The timing here will depend on your stovetop and pan; just stir every minute or so until the squash is soft.
When the squash has cooked, transfer the mixture to a bowl and let it cool for five minutes - this is just so the cheese doesn't immediately melt into a gloopy mess. (I use this time to grab a baking dish and spray it with cooking spray)
When the squash has cooled, add the cheddar cheese, sour cream, and mayo to the bowl.
Stir everything together, and taste; add some more salt if the mixture tastes bland at all! Then, transfer the mixture to a prepared baking dish and sprinkle the Ritz crackers all over.
Now, at this point you can cover the casserole and store it in the fridge or freezer for later, OR you can pop it straight into the oven to bake.
When you do bake the casserole, it's 375F for 30 minutes or until hot and bubbly and golden brown (maybe a bit longer if the casserole is coming from the fridge or freezer).
Leftover Storage and Serving
YEP. Look at this beauty. Let it sit for just a few minutes before serving it so it's not too runny when you serve it.
Leftovers can be stored in the fridge for up to a week; just microwave them a bit to reheat.
Creamy, mild, cheesy, and delicious buttery texture from the Ritz cracker casserole topping. I can't think of many things I love more, truth be told.
If you're struggling with an abundance of garden squash, if you're super into make-ahead veggie dishes, if you love casseroles - this is definitely the dish for you.
Try it soon, and enjoy!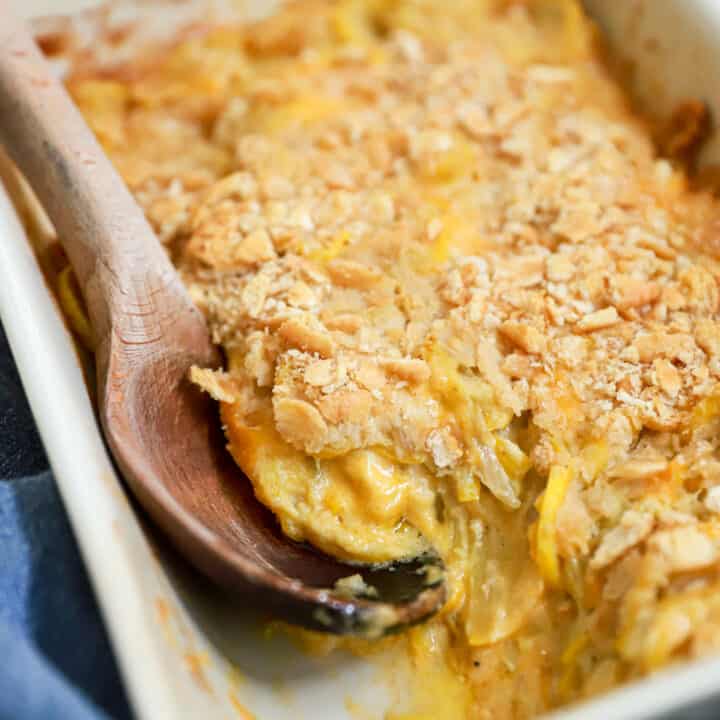 Squash Casserole
YES here's to our favorite year-round casserole! Squash casserole is a great use-up for an abundance of summer squash OR perfect in cooler months with yellow or zucchini squash from the store.
Ingredients
5

medium squash

thinly sliced (about 3 pounds total)

1

medium onion

thinly sliced

1

teaspoon

kosher salt

1

teaspoon

onion powder

1

teaspoon

garlic powder

½

teaspoon

black pepper

½

teaspoon

cayenne pepper

optional for spice

⅓

cup

mayonnaise

⅓

cup

sour cream

1

cup

shredded cheddar cheese

about 3 ounces

15

Ritz crackers

crushed
Instructions
Preheat a large skillet to medium heat with a drizzle of cooking oil, the squash, zucchini, salt, onion and garlic powders, and pepper(s).

Sauté the veggie mixture for about ten minutes, stirring as you go, until the veggies are soft and most of the liquid has evaporated. Transfer the mixture to a large mixing bowl.

Let the squash mixture cool for 5-10 minutes. Meanwhile, prepare a baking dish with cooking spray.

When the squash mixture has cooled, add the sour cream, mayo, and cheese to the squash. Stir to combine and taste; add more salt and pepper until the mixture is very flavorful.

Transfer the mixture to the casserole dish and top it with the crushed crackers. (this is the point you will stop if making the casserole in advance)

When ready to eat, bake the casserole at 375F for 30 minutes or until bubbly at the edges and hot all the way through.

Let the casserole rest for 5-10 minutes before serving with your favorite meal. YES.
Notes
Make-Ahead: This casserole can be made entirely in advance up to the last baking step (do that right before serving) and kept COVERED in the fridge for up to 4 days or in the freezer for several months. To bake, use the instructions above but know that you may need a bit more time to bake from frozen - just let it go until the casserole is hot all the way through. Leftovers: can be stored in the fridge for a week or so, just microwave portions to reheat and enjoy. Dairy: This recipe was tested with full fat mayo, sour cream, and cheese. All three are highly recommended.
This recipe was originally published in March 2012 and has been updated with better instructions and images to make the recipe even more foolproof. I hope you love it!
What to Serve with Squash Casserole
I actually love this as part of a veggie plate using a combo of the sides below. You can also make it more hearty with a protein choice!