What is Potatoes Romanoff? Only the best twice baked potato casserole recipe in the world! Envision: leftover baked potatoes, fused with cheese, butter, sour cream, and seasonings. I love this for a super easy Thanksgiving side dish that can be made ahead, but it's also delicious as a meal prep side dish served with my favorite marinated grilled chicken for dinner!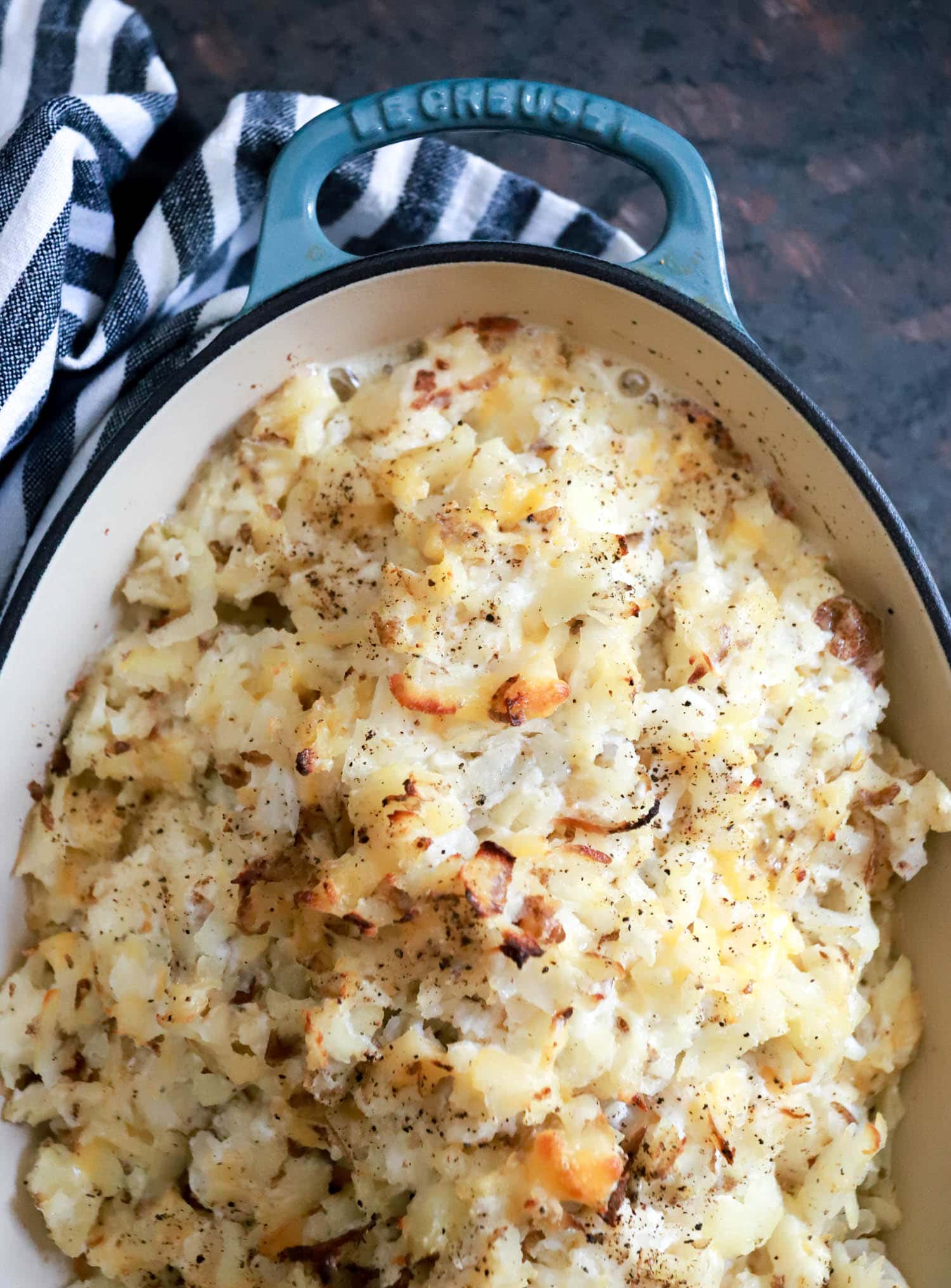 Great news!
We are staving off election and pandemic jitters with carbs and dairy.
What can I say except, you're welcome? (listening to a lot of Moana recently, Will's choice)
Ok so. When we set out to create our Thanksgiving menu for this year, we knew that everything I made needed to be super appropriate for 2020. To me that was small batch stuff, not many ingredients per recipe, and boat loads of nostalgic, comforting feelings.
Nothing hard, nothing weird, basically. We've had plenty of that this year.
The results have been realrealreal good so far, in my very vain opinion. I LOVE Thanksgiving for the "mostly the same each year" comfort it brings, and this year have been craving that even more. It's the strong desire for normalcy when there is none, I think.
So! The 2020 carb. I wanted a new potato dish because last year we made a super classic best ever stuffing, and potatoes are cheap, easy to deal with, keep around etc. TO ME, there is nothing more comforting than a baked potato, so twice baked potato casserole was the decision.
Potatoes Romanoff is a classic steakhouse side dish, to be fair, but I simply can't envision anything wrong with a cheesy, sour creamy potato bite covered in turkey gravy, you know? To me, this is the side dish to end all side dishes, total crowd pleaser, easy to make in advance, etc.
Potatoes Romanoff Ingredients
You need! Baked potatoes, onion, salt, pepper, cheese, sour cream, and butter. Seven ingredients INCLUDING salt and pepper again, you're welcome.
The trick is to make the baked potatoes in advance and keep them in the fridge overnight. This gives a really nice texture to the final dish and keeps the baked potatoes in the twice baked potato casserole from getting all gummy when you add the ingredients together.
The other thing that helps keep this Potatoes Romanoff recipe nice and fluffy is using a box grater to grate the baked, chilled potatoes. Grate the skins as well, and grate the cheese while you have the grater out.
Now! We verrrrryyyyy gently mix all of the ingredients except for the melted butter together. You can use a spoon or for for this, but I actually like to use a wide shallow dish and my fingers to just barely combine the potatoes with the cheese, sour cream, and onion. The mixture may seem slightly dry, but everything will get nice and creamy in the oven as the cheese melts.
The goal is to coat the potato pieces in the sour cream and seasonings without breaking up the grated potato, and have cheese running through everything for cheesy twice baked potato-esque bites.
Now! The whole mixture gets spooned into a baking dish and heaped up - use a baking dish slightly smaller than you think so that you get a nice mound of potato in the middle. This is a small roasting pan, about 9 inches long and 2 inches tall. This medium roasting dish would be perfect as well.
Sprinkle the potatoes Romanoff with a little more salt and pepper, and drizzle with the melted butter.
Now, this can all be done entirely in advance. You can stick the baked potato casserole in the fridge at this point, covered, for a few days.
When you're ready to bake, 375F for 30 minutes or until the potatoes Romanoff are hot all the way through and golden on top. The temperature here is really flexible to accommodate other Thanksgiving side dish recipes - any temperature from 350-450F would honestly be fine to get these potatoes hot all the way through.
I mean. See? Steakhouse meets Thanksgiving meets living our best pandemic life.
The result here is fluffy potato with tangy sour cream and sharp cheese running throughout the whole thing, with the onion barely there adding a little bit of savory flavor without screaming I'M AN ONION, as onions can do sometimes.
Like the best iteration of a baked potato you've had in your life, locked and loaded to be part of every Thanksgiving menu henceforth.
I hope you love these! They'll definitely be one of our side dishes at Thanksgiving, whatever that ends up looking like, but we've also had them with regular weeknight meals, prepped on the weekend for a "stick that in the oven while I grill some chicken you make a salad hurry the kids are losing it" dinner situation.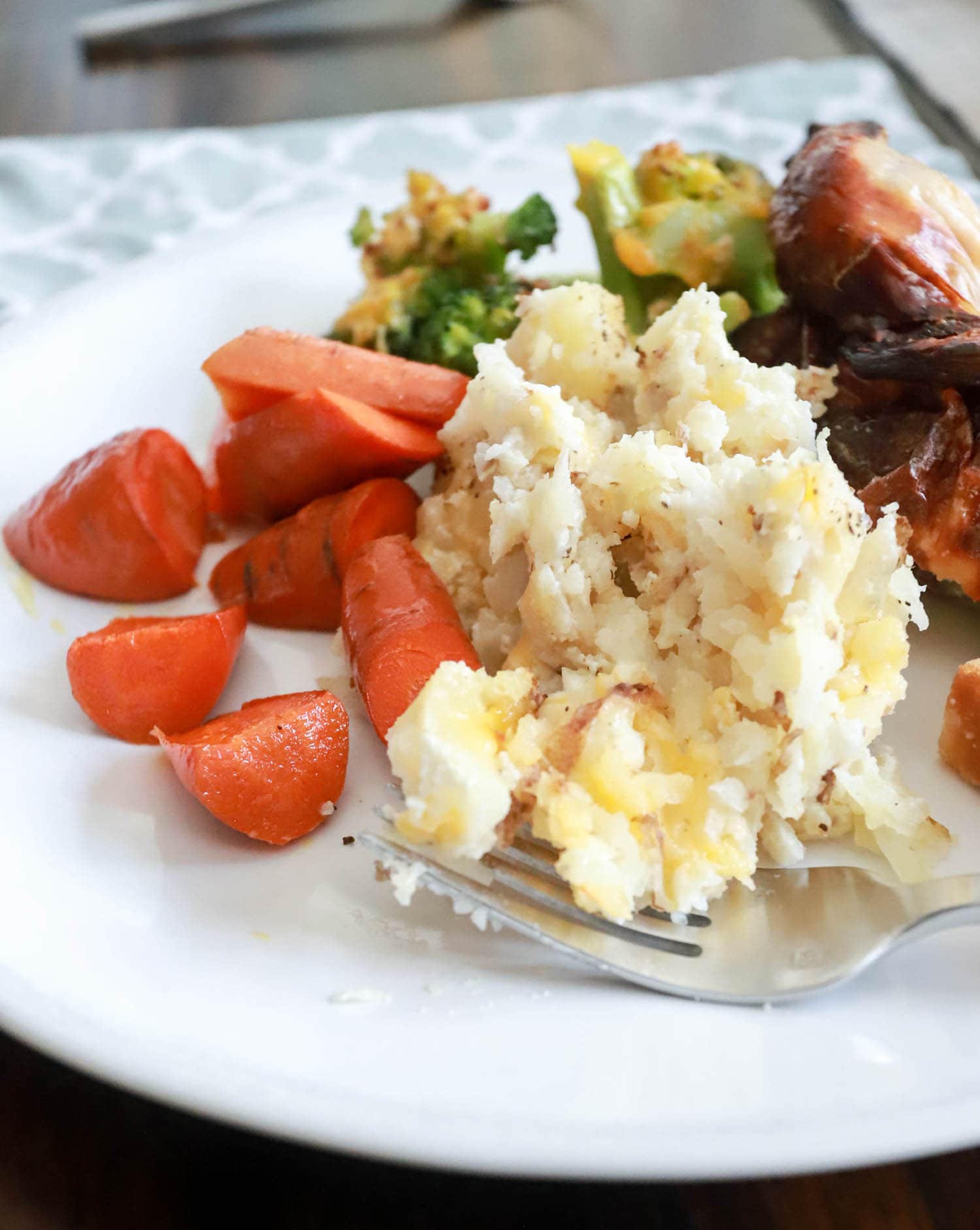 No matter what. Potatoes Romanoff are the best, and you deserve the best.
Enjoy!
Potatoes Romanoff
Delicious, easy twice baked potato casserole with just seven ingredients. Potatoes Romanoff is a classic steakhouse side dish, but I love it as a vegetarian make-ahead Thanksgiving side or even a weeknight dinner treat!
Ingredients
1

large baking potatoes

scrubbed (1.5 lbs - 2 lbs total)

¼

cup

minced onion

1 ½

teaspoons

kosher salt

pepper

1

cup

grated sharp cheddar cheese

1

cup

sour cream

2

tablespoons

melted butter
Instructions
To bake the potatoes, pierce all over with a fork and wrap in aluminum foil. Bake the potatoes for 1 hour at 425F, then refrigerate still wrapped overnight. This is also a great use for leftover baked potatoes!

To make the casserole, very gently grate the refrigerated baked potatoes, skin and all, on a box grater.

In a shallow dish or large bowl, combine the grated potatoes, onion, salt, several grinds of pepper, cheese, and sour cream. Mix very gently – I like to use my fingers to do this. The idea is to mix the ingredients without mushing or breaking the potato pieces.

Transfer the potato mixture to a baking dish, heaping the mixture to mound in the center of the casserole. Pour the melted butter over the Potatoes Romanoff and sprinkle with a bit more salt and pepper. This can be done in advance!

When ready to bake, preheat the oven to 375F. Bake the Potatoes Romanoff uncovered for about 30 minutes until hot all the way through and lightly browned on top. YUM.
Notes
Refrigerating the baked potatoes achieves the texture needed for this recipe. Try not to skip that step! If it happens you're still a good person and this will still be delicious, though.
To prep this dish, you can make the baked potatoes in advance OR make the whole casserole up to step 4, then bake right before eating.
If you are baking several other side dishes at the same time, this can be baked at 350, 400, really any other temperature, just until hot all the way through and lightly browned. The temp and time don't matter as much as the hot + crispy top end result.