Delicious, simple German potato salad with NO mayonnaise that is done in just 30 minutes! Crispy bacon, sweet onions, and a bright vinegar dressing make this side dish absolutely shine as part of an Octoberfest celebration or a big fall dinner! This is VERY yummy with chicken cutlets OR pork schnitzel, and red cabbage and apples rounds out the meal beautifully.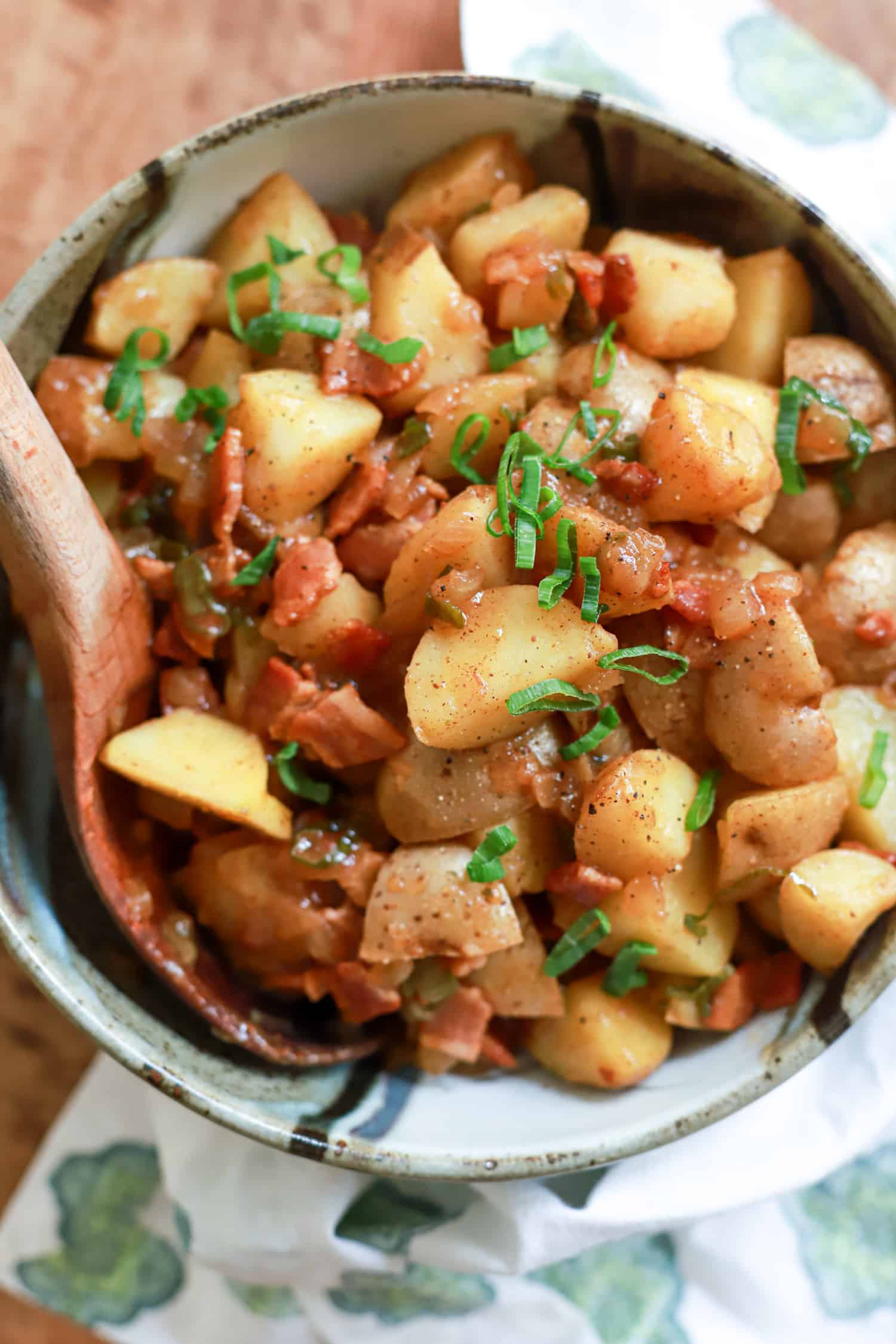 I'm a big fan of German food, mainly because I think that sauerkraut is one of the most delicious things ever, right up there with ANYTHING ELSE PICKLED EVER. Lots of the elements German meals have some kind of acid, including apple cider vinegar in these yummy potatoes.
What I love about German potato salad is that you can serve it hot or cold, and there's no mayo so you can let it sit out all the live long day without being concerned about deadly food borne illnesses.
To be fair, I never concern myself with food borne illnesses, but that's another story.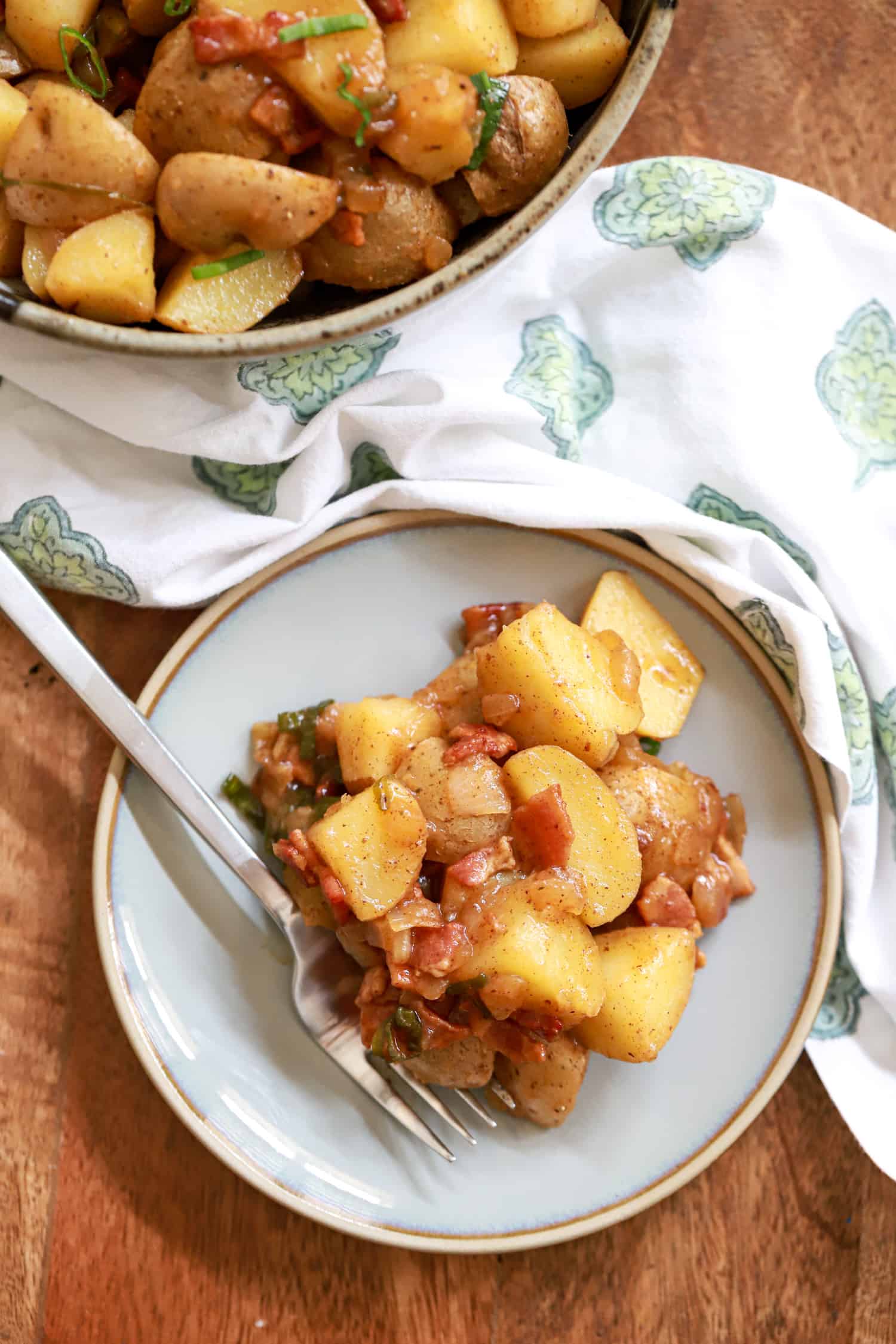 Recipe Notes
What is the difference between German and American potato salad?
Mostly, the dressing! German potato salad is a vinegar-based potato salad, in this case apple cider vinegar, and is often served warm or at room temperature. American potato salad has a mayo and/or sour cream-based dressing and is served cold. There are also lots of regional variations to both types of potato salad.
The gist of this easy German potato salad is this: we boil some little potatoes, we make a warm dressing, we toss everything all together, amen.
The base of the dressing includes sauteed onions and crispy bacon, with scallions and apple cider vinegar to round out the salty/sweet flavors. I MEAN.
I love this recipe because the bacon makes it hearty, but the entire thing is very simple to make and very different from a traditional American potato salad with a mayo-based dressing.
German potato salad works REALLY well served at room temperature, but you can also make it in advance and serve it cold from the fridge OR warm right after you make it, and we love a versatile recipe.
PS if you're really into potato salad, as you should be, here's a loaded baked potato salad and a salt and vinegar vegan potato salad, both very, very yummy if I do say so myself.
Ingredients and Ingredient Variations
Potatoes: I like small gold potatoes, but honestly whatever kind of potato you like can work. You'll scrub them and cut them into large bite-sized chunks.
Bacon cut into chunks or small strips (lardons). Omit the bacon to make this recipe vegetarian.
Diced Onion gives sweetness to the recipe because we saute it in the bacon fat as part of the dressing. Yes, yes we do.
Chicken stock flavors the dressing/sauce, and deglazes the bacon drippings. Sub veggie stock if you'd like, no problem.
Apple Cider Vinegar gives delicious tang to the dressing. If you don't have any, red wine vinegar or plain white vinegar work as well.
Sugar and Salt to flavor the potatoes and balance the tang of the vinegar.
Scallions tossed all throughout the salad for a nice sharp freshness.
Step By Step Instructions
First, let's get the potatoes started, then we'll make the sauce.
Place the potato chunks in a pot with lots of salt and cold water. Cover the pot with a lid, bring the water to a boil, and boil the potatoes for 7-9 minutes until the potatoes are barely fork tender but not mushy.
Drain the potatoes and set them aside.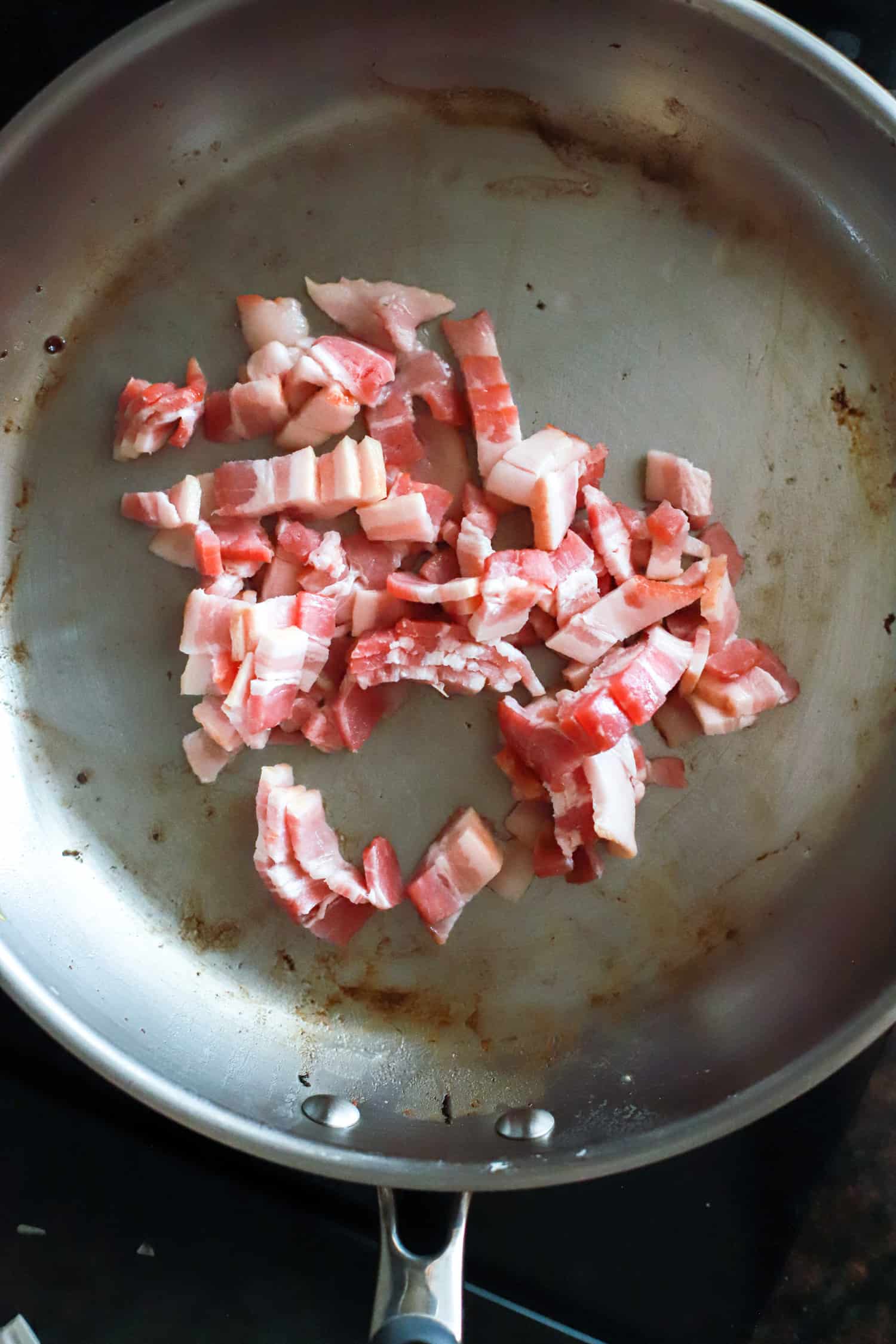 While the potatoes are working, let's make the warm bacon salad dressing.
Place the bacon in a large skillet over medium heat. Start the bacon in a COLD pan so it renders its fat slowly - we don't want to burn the bacon before it releases a good amount of bacon fat.
Let the bacon crisp and render for 5-7 minutes, stirring as you go. The bacon fat in the skillet is what makes the potatoes taste SO GOOD.
When the bacon is NEARLY crispy, add the onion to the skillet, and let it cook for about 4 minutes to soften and brown a bit. We want to add the onion to the bacon BEFORE the bacon is done so it doesn't burn.
Splash in the vinegar, stock, salt and sugar. Stir or whisk together to form a sauce. When the mixture bubbles and the sugar dissolves, turn the heat OFF.
Last, add the cooked potatoes! Throw them right into the skillet, or if you made the sauce in a smaller skillet transfer everything to a big bowl.
Stir the potatoes together with the bacon dressing while they're still warm so that they absorb all the epic sauce you made.
Taste the salad, and add as much salt as you'd like, or even another splash of the vinegar if you'd like a tangier salad.
Serve the potatoes covered with the scallions and just omgomgomg.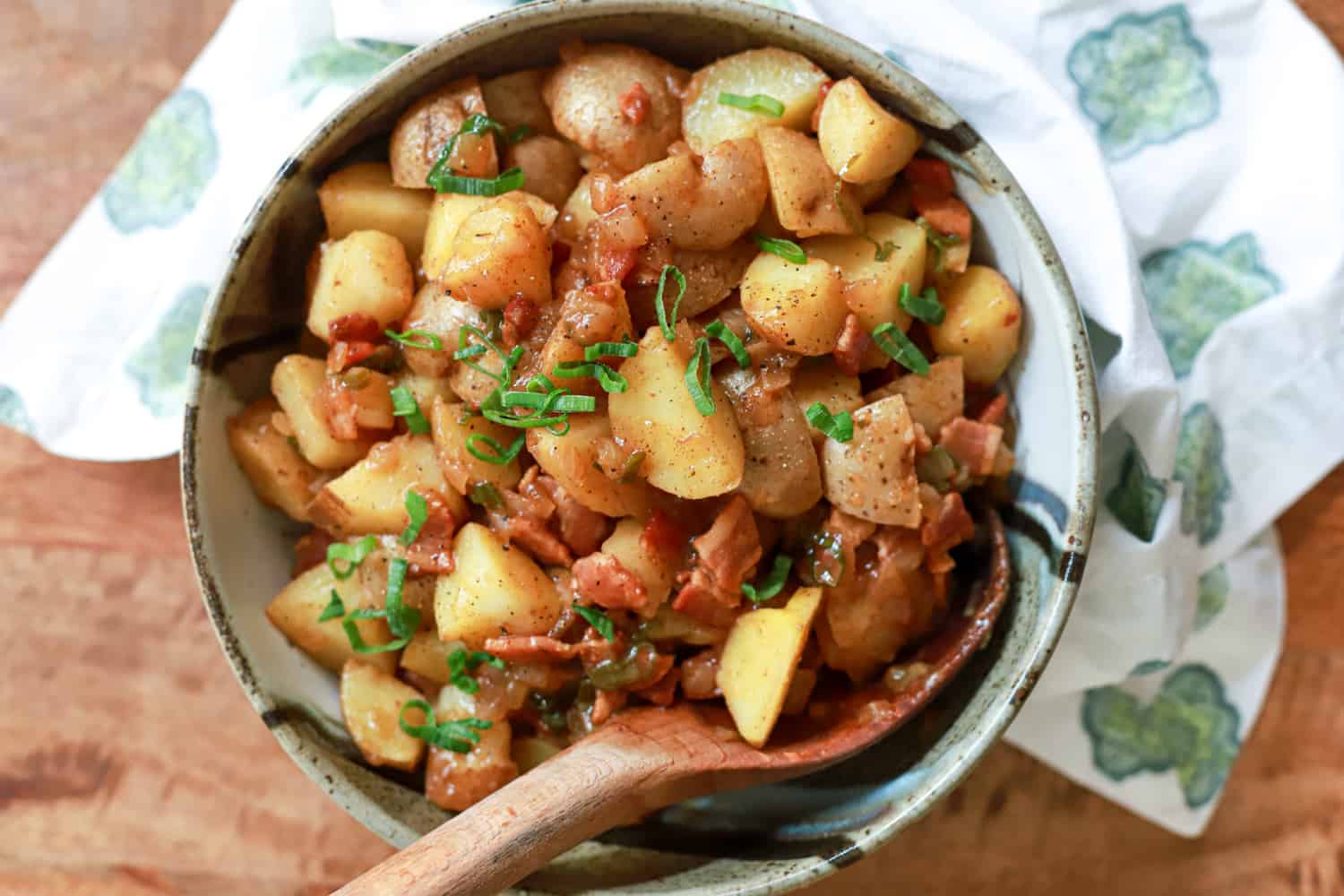 Make Ahead and Leftover Storage
I love this straight after it's made, left out to cool in a serving bowl for maybe 20 minutes for a warm German potato salad situation.
If you'd like to make this in advance, just get it out of the fridge about 30 minutes before you'd like to serve it so the bacon dressing melts a little bit. Not to be too graphic, but cold bacon fat isn't quite as delicious as the warm version.
Leftovers keep great in the fridge for up to a week.
What to Serve with German Potato Salad
Let's make it a meal! Here are some of my favorites to serve with German potato salad!
I can't even tell you enough about these flavors. Vinegar and scallions and bacon are such a THING, and the onions are soft and kind of caramelly and sweet from the sugar.
I've tried a ton of potato salad recipes, and I think this is the BEST version of German potato salad I've ever had. Just YES. Add this to your fall cooking arsenal, and go. to. town. Enjoy!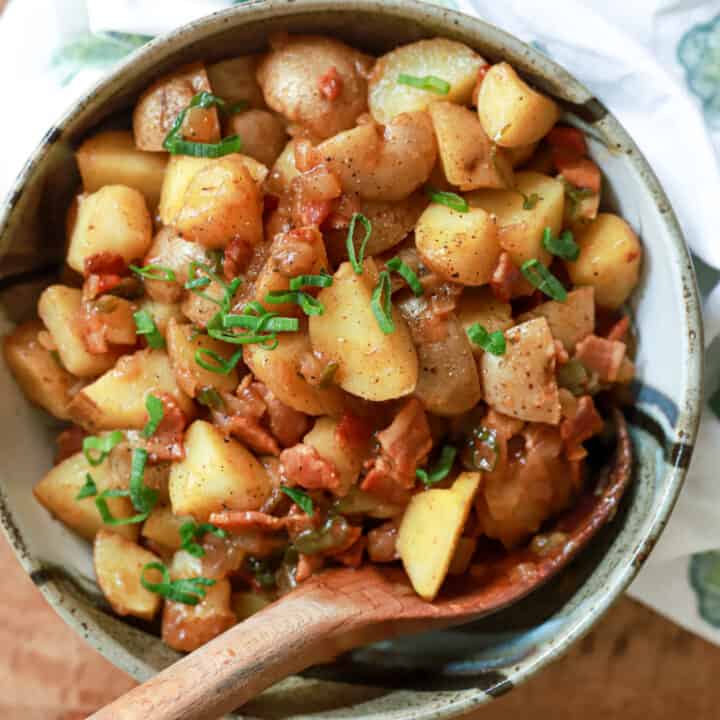 German Potato Salad
The BEST German potato salad with hot bacon dressing! Perfect for Oktoberfest or anytime you want to make a no mayo potato salad, this version can be served cold or warm.
Ingredients
3

pounds

small yukon gold potatoes

halved or quartered to bite-size

5

slices

bacon

chopped or cut into little bits (lardons)

½

medium onion

diced

½

cup

chicken stock

⅓

cup

apple cider vinegar

1

tablespoon

sugar

½

teaspoon

salt

3

scallions

thinly sliced
Instructions
Place the potato chunks in a large pot and cover with water by at least two inches. Add about 1 tablespoon of salt to the water for flavor.

Bring the pot of water to a boil. Once the water is boiling, boil the potatoes for 7-9 minutes until just tender but not mushy. Drain the potatoes and let cool slightly.

Meanwhile, add the bacon to a skillet over medium heat. Let the bacon warm and begin to sizzle.

When the bacon is warm but not fully cooked (after about 3 minutes), add the diced onion to the skillet. Stir for 3-5 minutes until the onion has softened and browned slightly, then turn the heat off the skillet.

To the hot bacon and onion mixture, add the stock, vinegar, sugar, and salt. Whisk the dressing and immediately pour over the still-warm potatoes, OR toss the potatoes with the dressing directly in the skillet.

Stir the potatoes gently with the dressing and taste; add more salt or vinegar to your preference. The salad should be very flavorful.

Top with the sliced scallions and serve. This salad is best served slightly warm or at room temperature. Enjoy!
Notes
Make-Ahead: This recipe can be made in advance and kept covered in the fridge for up to 4 days. I like to bring it to room temperature before serving, then taste and sprinkle with a bit more salt AND a few drops of vinegar to waken it back up.
Potatoes: I love mini gold potatoes in this recipe, but any small potato you like, or regular gold potatoes cut into chunks work just fine.
Recipe is gluten free as written, vegan without the addition of bacon and swapping in veggie stock.
Vinegar: Apple cider vinegar may be substituted with white vinegar or plain rice vinegar.
This recipe was originally published in June 2014 and has been updated with new images and better instructions. I hope you love it as much as readers always have!
More Potato Recipes to Love