Homemade chicken cutlets for the feezer! These thin-sliced chicken breasts are breaded then cooked right from frozen for the best meal prep entree ever. These can be pan-fried OR baked, and both cooking methods result in crispy, juicy chicken that is absolutely delicious. Think of this as a grown up version of my baked breaded chicken tenders.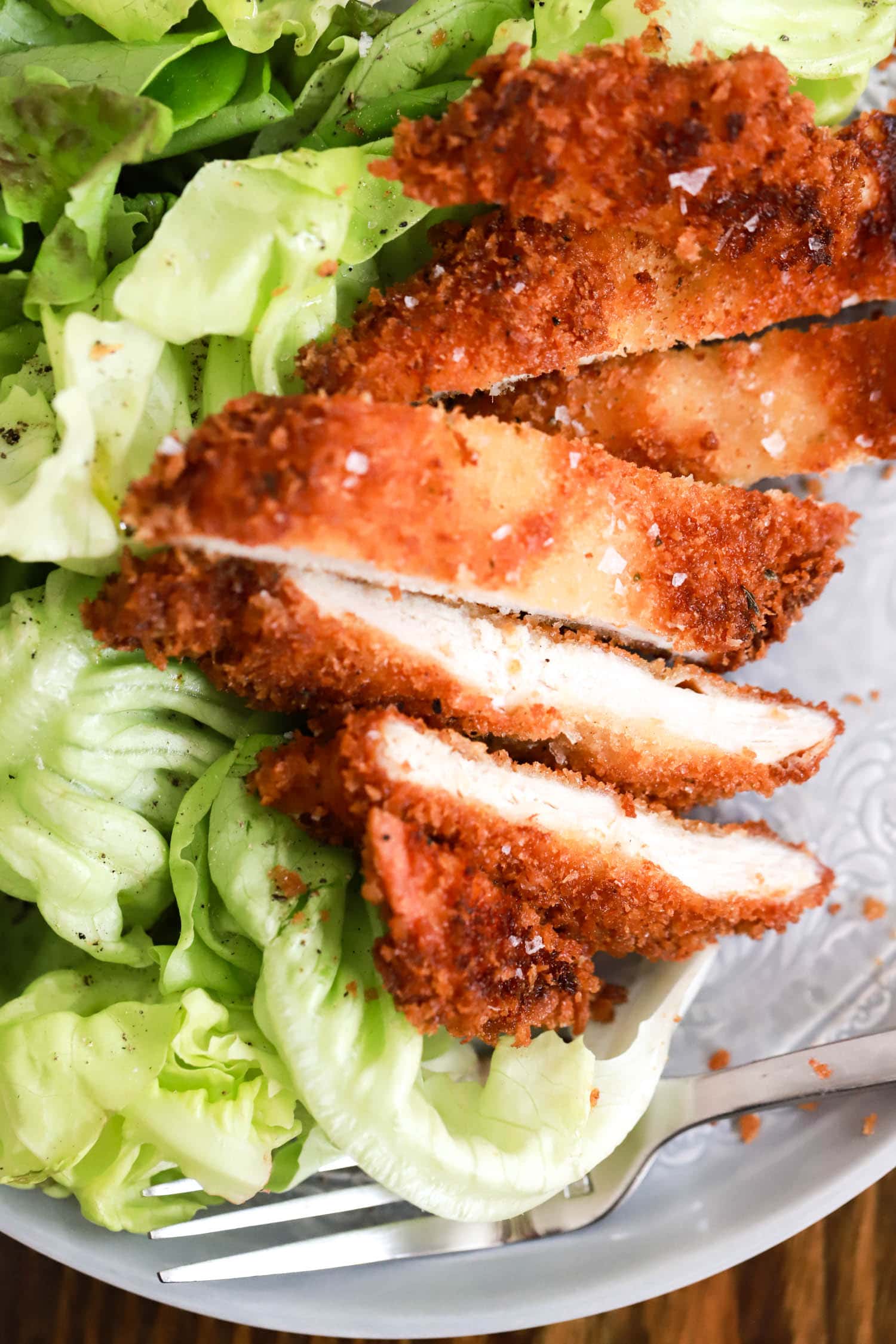 Let us make ourselves some chicken cutlets, keep them in the freezer, and call it good. I am so, so into freshly fried or baked crispy chicken without any effort.
One of my favorite things to meal prep is the officially-named Pain-In-The-Ass foods: things that need to be breaded, or obsessively measured, or requires tons of chopping - basically anything that can't be seriously thrown together.
What I find with recipes like that is that the TIME factor usually comes from getting out equipment or measuring ingredients, so even making a double batch of something doesn't take nearly twice the amount of time.
So, whenever I can, I double down on meal prep and make extras of things that I love to have during the week but never have time to make.
More Recipes to Make Ahead and Freeze
These chicken cutlets are made similarly to my homemade chicken tenders that I also keep in the freezer. For both recipes I bread the chicken then freeze it flat on a baking sheet in a single layer, then move to stasher bags for freezing.
The breading method for these chicken cutlets is super simple and foolproof, and the reward is crunchy, golden brown crispy chicken for dinner without any breading effort because you already did that. A gift to your future self!
First: chicken.
I use boneless, skinless chicken breasts that I cut in half right through the middle to make two thin, flat pieces.
Then, I place the pieces in a ziplock bag and pound them with a cast iron skillet (that I use to fry the chicken if I'm cooking it right then!) until thin and even all the way across.
You can see in these pictures that the chicken widens considerably after it's been pounded (I'm sorry). Don't worry about the thickness necessarily, more that there aren't any super thick or super thin pieces to the chicken. One even layer of chicken is what we're going for, somewhere in the ¼-1/2 inch range.
As an alternative, I sometimes find things called "thin-cut chicken breast" in the grocery store. You can buy those if you don't want to deal with cutting and pounding the chicken flat, just follow the chicken cutlet breading steps below.
Chicken Cutlet Breading Ingredients
Once the chicken is nice and thin, gather up the rest of the ingredients for breading the chicken. In addition to the breading ingredients, put out a large tray for the chicken once it's breaded.
Everything is super basic here, and I say when in doubt use what you have. Regular bread crumbs? Seasoned bread crumbs? It's all fine.
To bread the chicken, pass each piece lightly through the flour, then light into the egg wash, then into the breadcrumbs.
Press as many breadcrumbs as you can into the chicken, turning it over a time or two to really get a nice crust on the chicken cutlet. Then, place the breaded chicken cutlets on a large plate or tray.
At this point, you can fry the chicken, or do what I do and stick the pieces in the freezer! This may take some wiggling and some time: sometimes I stick one tray in the fridge for dinner that night, or one tray in the freezer/one in fridge, then the second one in the freezer once the first batch has frozen.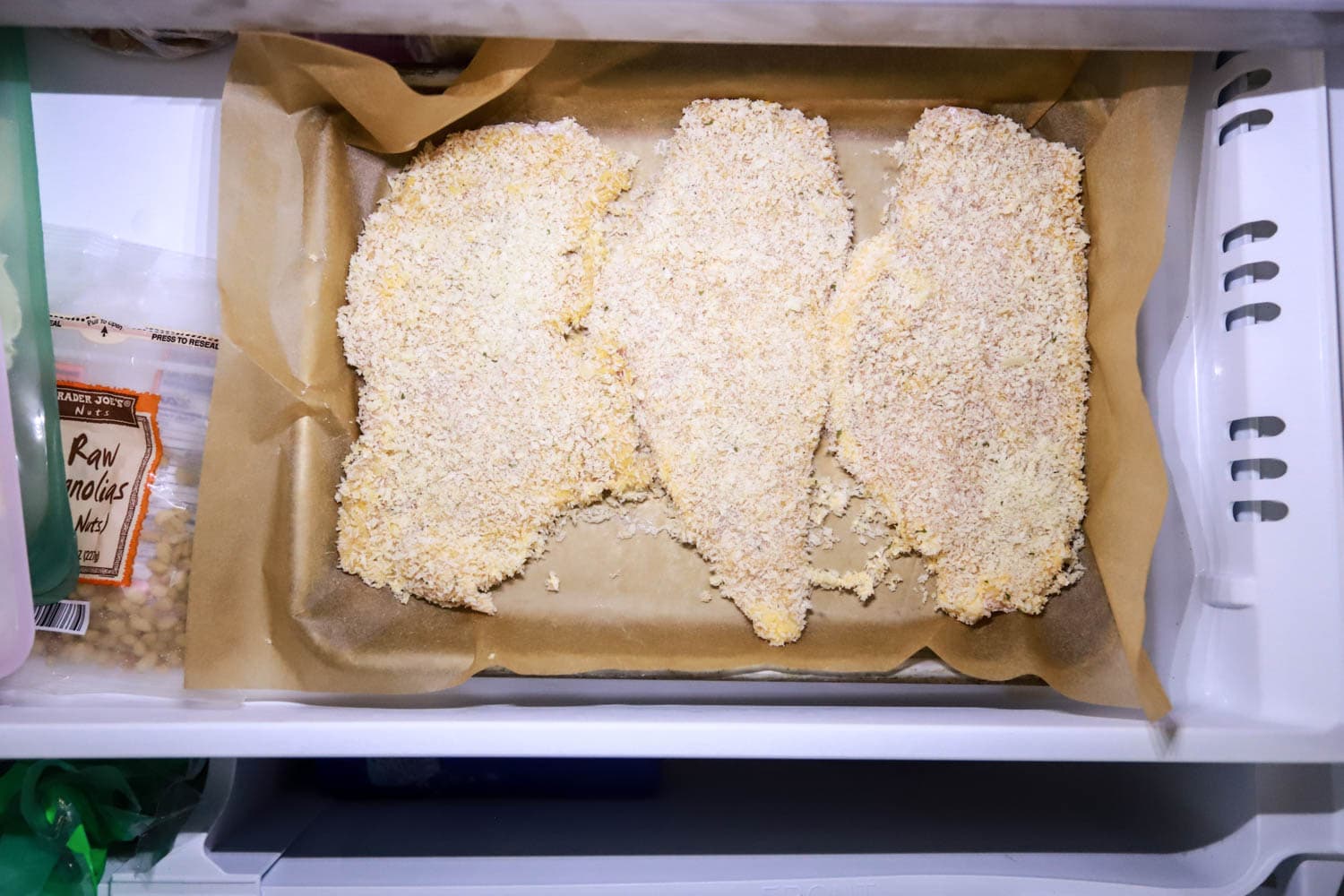 If you aren't eating the chicken right away, transfer it to freezer containers after a few hours, and breathe a little easier knowing that you have thin-cut breaded chicken cutlets in the freezer just waiting for their moment.
Cooking Crispy Chicken Cutlets
To cook these beauties, we can go with fried chicken cutlets or baked chicken cutlets. These images are of the fried method, but I use shallow frying or baking interchangeably and honestly both are delicious.
AND, both methods work from frozen, double triple home run bonus for not having to thaw anything out (because we pounded the chicken so nice and thin!)
Fried Breaded Chicken Cutlets
To fry, heat a thin layer (about ⅓ inch) of light oil in the bottom of a large skillet. This skillet is 12 inches and is the perfect size for 2 cutlets plus room to actually, you know, fry.
Fry the chicken cutlets over medium heat (350F if you're checking) for 5-7 minutes on each side until they are golden brown and crispy.
If you add the chicken to the oil and it bubbles really aggressively or the chicken turns brown in less than 2 minutes, turn the heat to medium-low or even low to cool the oil down and give the chicken time to cook all the way through.
Now, I have cooked these from frozen and from freshly breaded and the method is exactly the same. Because the cutlets are so thin, I find that as long as the crust takes at least 5 minutes to brown the chicken will be fully cooked BUT the breading prevents the chicken breast from drying out.
As a reminder, chicken is cooked through when its internal temperature is 165F. Feel free to test the temp if you have a meat thermometer.
Baked Breaded Chicken Cutlets
To bake these chicken cutlets, place them on a baking sheet OR a cooling rack set inside a baking sheet and preheat the oven to 425F. Spray both sides of the chicken cutlets with cooking oil.
Bake the breaded chicken cutlets for 10-12 minutes, then flip them gently, and bake for 10 minutes more. The cutlets won't be quite as dark, but they'll still be crispy and delicious AND bonus points for not splattering any oil in the kitchen.
For both methods, as soon as the chicken is cooked, remove it from the heat and sprinkle with a bit of salt for extra flavor and crunch.
Serve with...anything you like! Potatoes romanoff is a huge treat, with some super quick broiled green beans or asparagus to round things out would be absolutely delicious.
I have also baked these after frying with some marinara and cheese for a quick chicken parm and let me just say....yes, do that.
I personally love this for a "feels fancy while kids are napping should be working" lunch with greens, salt, pepper, and lemon juice. Maybe treat yourself with a freshly fried chicken cutlet for lunch soon?
I can't tell you enough how utterly delicious these breaded chicken cutlets are. They turn out perfectly every time and are so much fun to pull out for a weeknight dinner where baked or grilled chicken just doesn't feel like enough, you know?
I know you know.
Enjoy these!
Crispy Chicken Cutlets
Crispy chicken cutlets baked or fried, and kept in the freezer for the quickest weeknight dinner! This is one of the best freezer meals ever, and such a treat for your future self.
Ingredients
2

pounds

boneless

skinless chicken breasts

½

cup

all-purpose flour

2

teaspoons

kosher salt

several grinds black pepper

2

large eggs

3

cups

panko bread crumbs

oil for frying or spray oil for baking
Instructions
Prep: Cut the chicken pieces in half crosswise, to form 2 thinner pieces. Place the chicken pieces in a ziplock bag 2 or 3 at a time, and seal the bag. Use a large heavy skillet or meat mallet to gently pound the chicken to about ⅓ inch and all one even layer.

Set Up: Once the chicken is all pounded out, arrange the breading station. Place the flour on a plate or shallow dish and mix with the salt and pepper. Whisk the eggs lightly in a separate dish. Pour the breadcrumbs in a third dish. Place a 4th container (a large plate or baking sheet) in the same area for the breaded chicken cutlets.

Bread: Bread each piece by lightly dipping it in the flour mixture, then lightly in the egg, then finally in the bread crumbs. Press as many bread crumbs as you can into the chicken, then place the breaded chicken flat in one layer.

Freeze: Flash freeze the chicken by placing the entire tray (this may need to be done in batches) in the freezer. Let the chicken freeze for at least one hour, then transfer to storage bags or containers for long-term freezing.

(this chicken may be cooked from frozen or from fresh, choose baking or frying method. there is no need to thaw these chicken cutlets once they are frozen)

Bake: To bake the chicken cutlets, preheat the oven to 425F and arrange the frozen (or fresh!) cutlets on a baking sheet OR on a rack set inside of a baking sheet for slightly more browning. Spray both sides of the chicken with cooking spray or spray oil. Bake the cutlets for about 25 minutes total, flipping once halfway through, until the breading is crispy and the chicken's internal temperature measures 165F.

Shallow Fry: Preheat a large skillet to medium (medium-low if your stove runs hot) with about ⅓ inch of oil. When the oil shimmers, add the chicken a few pieces at a time and fry for 5-7 minutes on each side until golden brown and crispy. If the chicken browns too quickly, reduce the heat to allow the breading to brown slowly and the chicken to cook all the way through.

With both cooking methods, remove from the heat and immediately sprinkle with a bit of salt before slicing and serving. Enjoy!
Notes
Servings: Even though one "piece" of this chicken is only a half of a chicken breast, I find that these can sometimes be shared by 2 people. The breading bulks them up, and they're deliciously filling!
This recipe can be scaled way up - there is nothing wrong with breading 25 pieces of chicken at once and keeping them in the freezer for months!
If you'd prefer to not cut or pound the chicken, you can look for pre-sliced "thin chicken cutlets" and bread them using the instructions above.