Creamy, luscious 5-ingredient Roasted Garlic Mashed Potatoes! These come together in under an hour, but the roasted garlic can be made in advance for even more hurried nights. These are very delicious with a cast iron skillet steak and some 5 Minute Asparagus, just saying.
Oh, hello 5 ingredient steakhouse-worthy side dish that is the absolute love of my life.
It's the best ever mashed potatoes (with skins!), it's roasted garlic, it's buttery, creamy, comforting goodness.
There are a gazillion ways to make mashed potatoes, and IMO almost all of them are great. I love a super silky mashed potato (why does it remind of me of kind of a janky cruise?), but I also love a little bit of texture from potato skin and potato chunks.
Mashed potatoes are wonderful because gluten free potato recipes are easy to come by and almost universally adored, which means that lots of eaters can enjoy mashed potatoes. Also they're just supremely yummy, so there's that.
These roasted garlic mashed potatoes are made with Yukon Golds which are hands down my favorite potato for mashing. They have lots of yummy flavor and mash smoothly. I chop them fairly small so that there aren't any massive pieces of skin in the potatoes (this helps them boil quickly, too!), and the roasted garlic + butter throughout the potatoes are just SO yummy.
First: Roasted Garlic for Mashed Potatoes
I like to roast the garlic way in advance so that I'm not rushing to get it done while I'm making an entire meal. I either make it at a random time during the day (it's fine to sit out), or in advance as part of a meal prep ingredient hour or two on a weekend day.
To roast the garlic, preheat the oven to 425F and grab a tiny little pan like this one. Cut the garlic heads in half CROSSWISE, then place the heads cut side up on the pan. Cover with foil, roast for 30 minutes, and done!
At this point, let the garlic cool and you can use it for anything you'd like, including these mashed potatoes. Once the garlic is cool, use your fingers to squish out the roasted garlic into a little dish for storage or to hang out while you prepare the rest of the recipe.
Equipment for This Recipe
(PS, if you want to see other things that I use in my kitchen and home DAILY, they're in my shop!)
Ingredients
Now that we've roasted our garlic, it's time to gather the rest of the ingredients for the mashed potatoes.
I love that this recipe has just 5 ingredients - salt isn't in this picture, and you can use some pepper if you'd like. That said, I like the ingredients as-is. You can use a little less butter or milk instead of half and half, but the end result won't be quite as creamy.
If you prefer to peel your potatoes or use another type of potato to mash, go for it! All potato paths are delicious with the roasted garlic.
Step By Step Instructions
For the potatoes, I leave the skins on - they're so good that way! Scrub them really well, then dice them up fairly small so that the cooking time will be short and the mashed potatoes won't have any large chunks of potato skin in them.
Then, here's how it goes down:
Boil the potato chunks with salt for 10 minutes until they're super tender. Drain 'em.
Mash them with the roasted garlic, butter, half and half, salt.
Taste. Die. Serve.
Quick note that to boil the potatoes, put them in a large pot, cover them with COLD water, then bring the heat to high and let the water come to a boil, THEN start the 10 minute timer. Test a potato to be sure it's very tender before you drain the potatoes.
Also, don't be afraid of salt in boiling water for pasta or potatoes. Even if the water is SUPER salty, the end result will be flavorful, not overly salty, food. Promise.
Make Ahead and Storage
I love making mashed potatoes in advance (say, early in the day on Thanksgiving) and keeping them in the pot (heat turned off) for several hours. To reheat, just turn the heat back to low and stir a few times to reheat the mashed potatoes. You may need a splash of milk or half and half to thin them out a little bit; use a few tablespoons at a time to thin out the potatoes.
To make these a few days in advance, store them in the fridge (I stick the whole pot in there if there's room) or a storage container. The potatoes can be microwaved to reheat or put back on the stovetop, and will keep in the fridge for at least 3 days which makes them a great make-ahead side dish.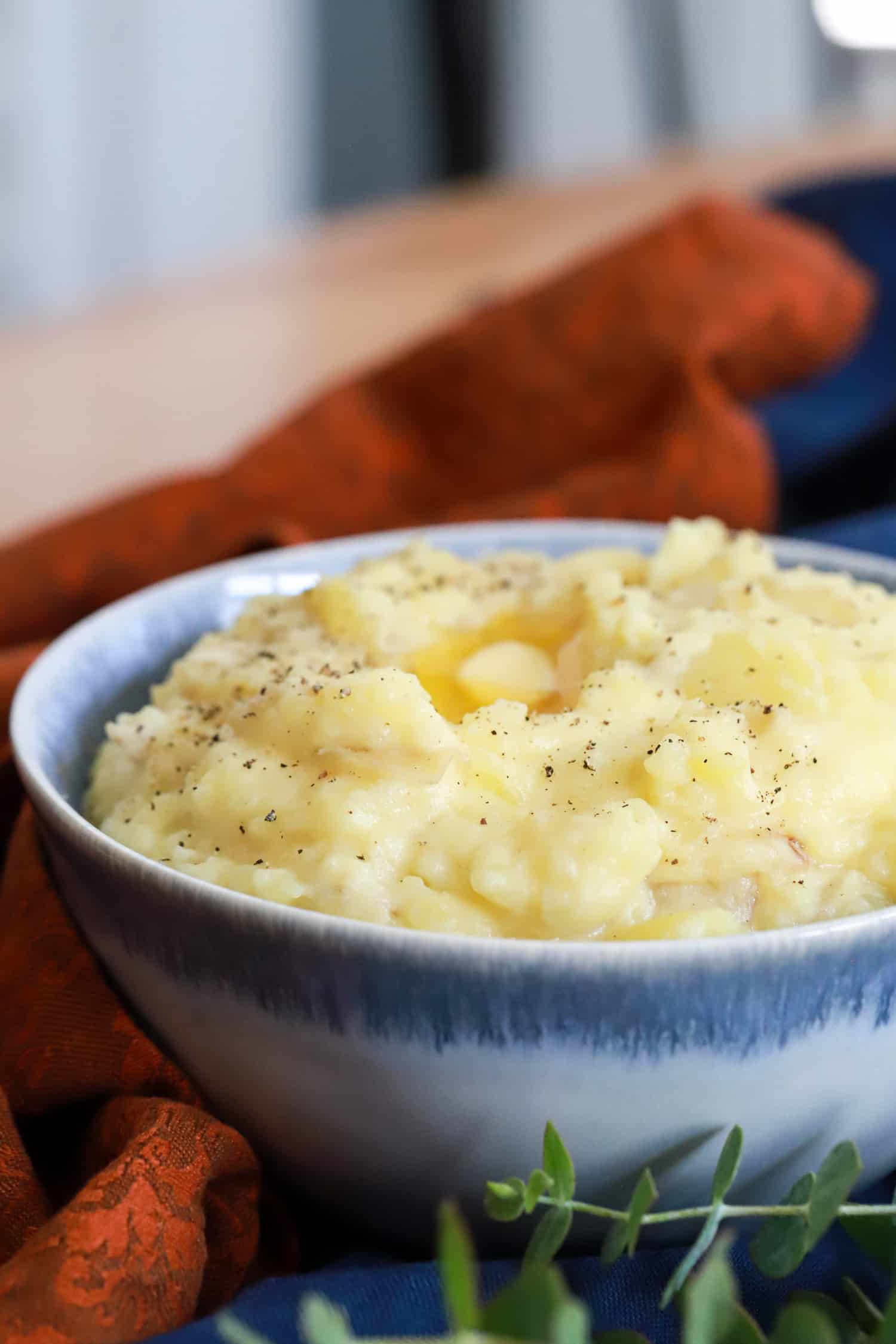 NOW. We did it. A delicious, vegetarian, gluten free potato recipe with tons of flavor that everyone will love. Make these soon, make these often, and enjoy the roasted garlicky goodness that comes from these!
Yukon Gold Mashed Potatoes with Roasted Garlic
Creamy roasted garlic, creamier mashed potatoes, best EVER potato side dish, hands down. Ready for gravy, yes please!
Ingredients
2

heads garlic

2.5

pounds

Yukon Gold potatoes

diced

1

teaspoon

kosher salt

1

cup

half and half

1

stick butter
Instructions
Roast the Garlic: Cut the heads of garlic in half crosswise (so you have 4 halves) and place them cut-side up on a small baking dish. Cover tightly with foil, and roast for 30 minutes at 425F. Remove from the oven and let cool.

When the roasted garlic is cool, squish the cloves into a small dish and mash lightly with a fork to break up any large pieces of roasted garlic.

While the garlic cools, make the mashed potatoes. Place the diced potatoes in a large pot and cover them with water by about 2 inches. Add a tablespoon or so of salt to the water to flavor the potatoes.

Turn the heat to high to bring the water and potatoes to a boil, then boil the potatoes for 10 minutes, uncovered, until the potatoes are fork tender. Drain the cooked diced potatoes and return to the hot pot off the heat.

Using a spoon or potato masher, add the salt, half and half, butter, and mashed roasted garlic to the cooked, drained potatoes. Combine gently and taste; add more salt until the potatoes are very flavorful or pepper if you'd like. If the potatoes are too thick, splash in more half and half or some milk until they thin out to your preferred consistency.

Serve immediately, or keep at room temperature for a few hours until ready to serve.
Notes
Roasting the garlic can be done in advance! Simply roast, cool, and squish the cloves in to a small dish with a lid. The roasted garlic will keep in the fridge for at least 3 days.
To make these in advance, make the entire recipe then reheat gently on the stovetop in the pot, or in a bowl in the microwave. If the mashed potatoes are too thick, splash in a little bit more half and half or some milk, about 2 tablespoons at a time until the consistency is to your liking.
I use small or medium Yukon Gold potatoes for this recipe, but any kind of gold potatoes you like will be delicious in this recipe.
You can make these mashed potatoes vegan by subbing unflavored almond milk and vegan butter!