The best crispy baked chicken wings! Gluten free, not fried, and the MOST delicious dry rub recipe for wings you've ever tasted. These take a bit of time in the oven, but are otherwise so easy and foolproof to make!
aka IT'S SUPER BOWL WEEK.
It is no secret in this world that I don't care a lick about sports. I'll get excited by proxy when a home team does something good, and I care-ish about the schools I went to, but only as far as it relates to me brightening somewhat when someone informs me that they've won something. Brightening somewhat, that's as far as I'll take it.
The food, however, is an aspect of sports that I'm alllll about. And excuse to eat gooey corn dip or mozzarella sticks, basically. Why is it that watching really fit people do really fabulous things makes us want to eat the most garbagy garbage there is?
Wings aren't garbage, for sure, and we healthy-ed these up even more by baking them. I'll be the first to say I love fried foods, but wings kind of don't matter to me. If the flavor is great and the dippers are yummy I honestly don't prefer a fried wing over baked or grilled, except for the crispy skin.
Soggy chicken wing skin is just the most sad thing, so much so that I'll pull it off and not even eat it. So I wanted baked wings, but I wanted them to be crispy. So I read up, used this recipe for inspiration, ADDED to the cooking time, and boom.
Twice-baked dry rubbed wings. The blue cheese ranch is just a bonus, but a bonus that adds so much to a delicious platter of low carb baked chicken wings!
Ingredients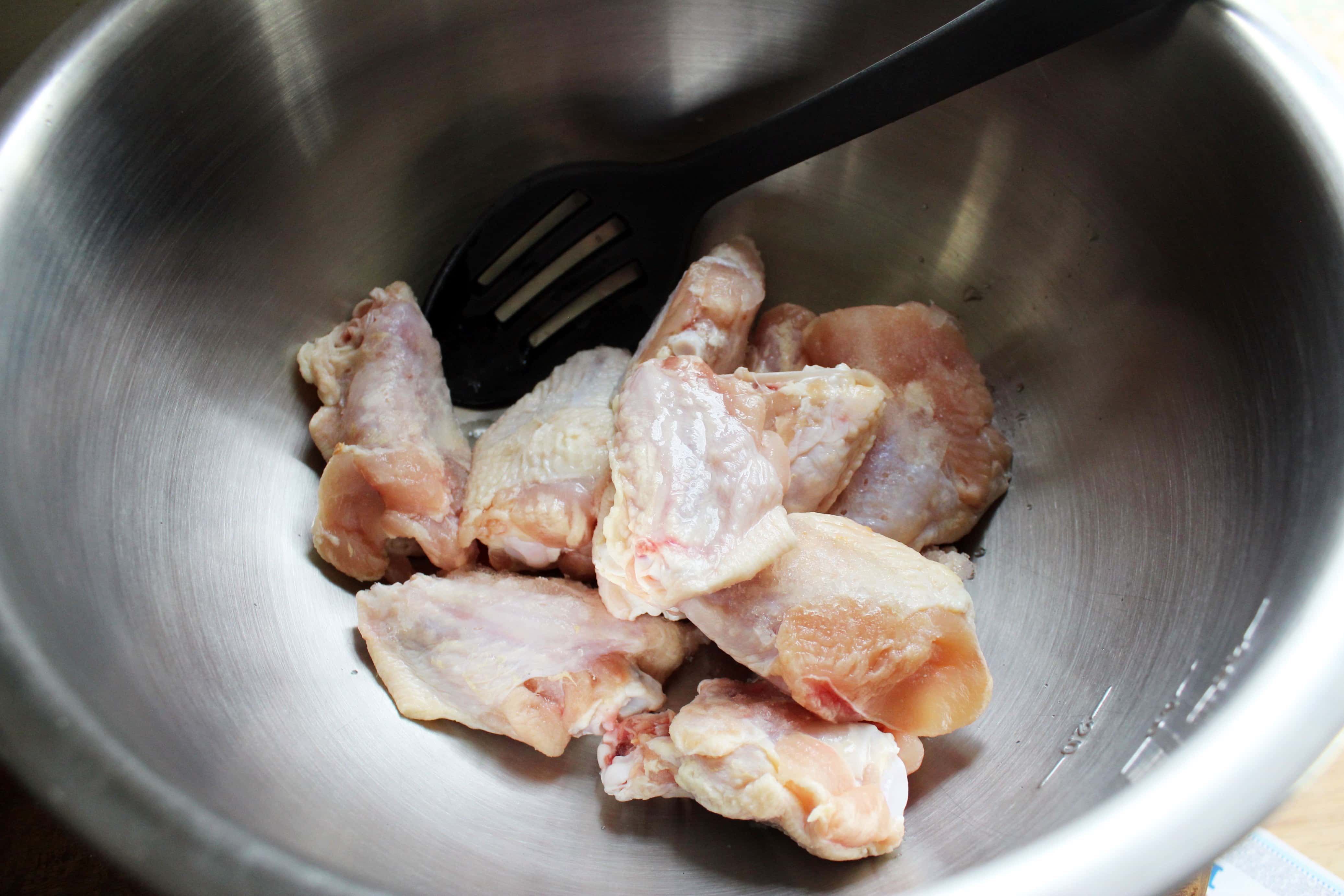 For this recipe, you'll need about 3 wing portions per person.
I bought frozen wings already cut (the wing tip removed, and the drummette removed from the....other part that is like a forearm? I know it's called the flat), but sometimes butchers sell the whole wing. You can cut them up yourself or ask a meat counter person to help you!
If you don't have or prefer not to use seasoned salt, you can sub it in the wings and the blue cheese ranch dip with kosher salt or whatever salt you cook with.
Dry Rub Ingredients
Seasoned salt, garlic powder, onion powder, hot paprika (or cayenne pepper!), chili powder, baking powder (for crispiness), and black pepper.
Note that this recipe is only for 12 wings but can be easily multiplied - just use several pans or bake the wings in batches so the racks aren't crowded while you bake them.
Step By Step Instructions
To prep the wings, prepare a cooling rack set inside a baking sheet - baking the wings on the rack lets hot air circulate all around them which helps the skin get crispy.
Then, gather up the spices you'll need for the dry rub and mix them together in a small dish. Preheat the oven to 250F.
Dump the spices all over the wings, and stir to coat the wings evenly.
Arrange the wings on the baking rack set up skin side up, then we bake! First, 45 minutes at 250F to start cooking the wings and rendering the fat in the skin.
After the first baking period, take the pan out of the oven and increase the heat to 425F. Flip the wings so they are skin side down, then put them back in the oven for 20 minutes. The oven doesn't have to be all the way to 425F when you put the wings back in, just do it as soon as you flip them.
After 20 minutes, remove the wings again, flip them back to skin side UP, and bake them for another 20-30 minutes until they're golden and crispy on the outside.
Homemade Blue Cheese Ranch Dip
While the wings are baking, make the ranch! It's mayo, sour cream, onion powder, garlic powder, seasoned salt, parsley, and crumbled blue cheese. You could skip the blue and add some dried or fresh dill for plain homemade ranch dip, but this is a base I used for lots of different creamy dips or dressings.
Add the ingredients to a bowl, and stir it up!
Stir, taste, adjust, boom. I like just a hint of blue cheese, but you can add more crumbles if you'd like! If the dip tastes bland or sour cream-heavy, add a bit more seasoned salt or kosher salt to mellow the flavor somewhat.
Serving
I serve these with lots of raw fresh veggies, mainly as an excuse to eat more of the ranch. The flavor from the dry rub is mild with just a small kick, and feel free to increase the hot paprika or use cayenne pepper if you'd like.
Obviously the benefit of baking is health-related, but also THE MESS AND SMELL from frying is completely avoided. The house ends up smelling like the dry rub, which is only a good thing.
The wings, in their final form, don't taste like a HEALTHY BAKED WING situation at all. They are crispy, succulent, and have tons of delicious flavor from the dry rub.
Pro tip: you can use the dry rub on pan seared or grilled pork chops or chicken, too! It's really good on lots of protein options.
Make Ahead, Prep, and Storage
If you think about it, you can absolutely make the dry rub in advance and coat the wings the night before. Just keep them in the fridge until you're ready to bake.
If you don't have room in your fridge for the wings overnight, just mix up the dry rub so it's ready to go when you'd like to start working on the wings.
These are delicious cold as leftovers and keep well in the fridge for about 3 days.
The blue cheese ranch can be made up to 3 days in advance. It's also REALLY good with homemade potato chips on the side!
I hope you love these easy baked wings! The final result is so special and they'll get gobbled up as soon as you set them out. Enjoy!
Dry Rubbed Baked Chicken Wings + Blue Cheese Ranch
BEST dry rub recipe for wings that get baked in the oven! No frying mess, delicious blue cheese ranch dip, best football snack EVER.
Ingredients
WINGS
12

chicken wing portions

1

tablespoon

baking powder

2

teaspoons

seasoned salt

1

teaspoon

garlic powder

1

teaspoon

onion powder

1

teaspoon

chili powder

½

teaspoon

hot paprika

or more if you like heat!

½

teaspoon

black pepper
BLUE CHEESE RANCH
¾

cup

sour cream

¼

cup

mayonnaise

1

teaspoon

onion powder

1

teaspoon

garlic powder

½

teaspoon

seasoned salt

2

tablespoons

crumbled blue cheese

2

tablespoons

chopped parsley
Instructions
WINGS: Preheat the oven to 250F. Combine all of the spices and the baking powder. Pour the spice mixture all over the wings in a bowl, and stir to coat the wings evenly.

Arrange a baking rack inside of a baking sheet. Place the wings in one layer on the baking rack, skin side up. Bake the wings for 45 minutes.

Remove the wings from the oven and increase the oven heat to 425F. Use tongs to flip the wings to skin side DOWN, then return them to the oven for 20 minutes (it's ok at this point if the oven isn't all the way to 425F).

Remove the wings from the oven, flip them back to skin side up, and bake again for 20-30 minutes until the skin is crispy and golden.

Serve with raw veggies and blue cheese ranch.

BLUE CHEESE RANCH: Combine all ingredients in a bowl. Taste, and add a few more pinches of seasoned salt or kosher salt if needed. If you'd like a stronger blue cheese flavor, add more crumbles!
Notes
If you don't like blue cheese, leave out the crumbles to make regular ranch, or add 2 tablespoons of chopped fresh dill to make dill ranch.
This recipe is fairly small, but can be easily multiplied - just don't crowd the wings on cooking racks. You may have to increase the cooking time if you do 2 racks at once, or bake wings in a few batches.
Kosher salt may be used in place of the seasoned salt.
More Easy Appetizer Ideas